Key West, the southernmost city in the continental USA, is a wonderful place for an RV adventure. The word key comes from the Spanish word cayo, which means small island. At only 4 miles long by 2 miles wide, it may be small but Key West is full of fun and exciting things to see and do. This popular tourist destination is known for its amazing weather, beautiful ocean views, and laid-back "Jimmy Buffet" island atmosphere.
A good way to get started and learn about the island is to take a city tour. The Old Town Trolley and the Conch Tour Train both offer a narrated tour of the island's top sights along with interesting historical facts and colorful anecdotes. You can hop off at your leisure to visit attractions or dine and then reboard to continue the tour. Since parking in Old Town is at a premium, these tours are a great way to get around the island. Here are some of our "must-see" sights while you are in Key West.
Guest Post by Robin Buck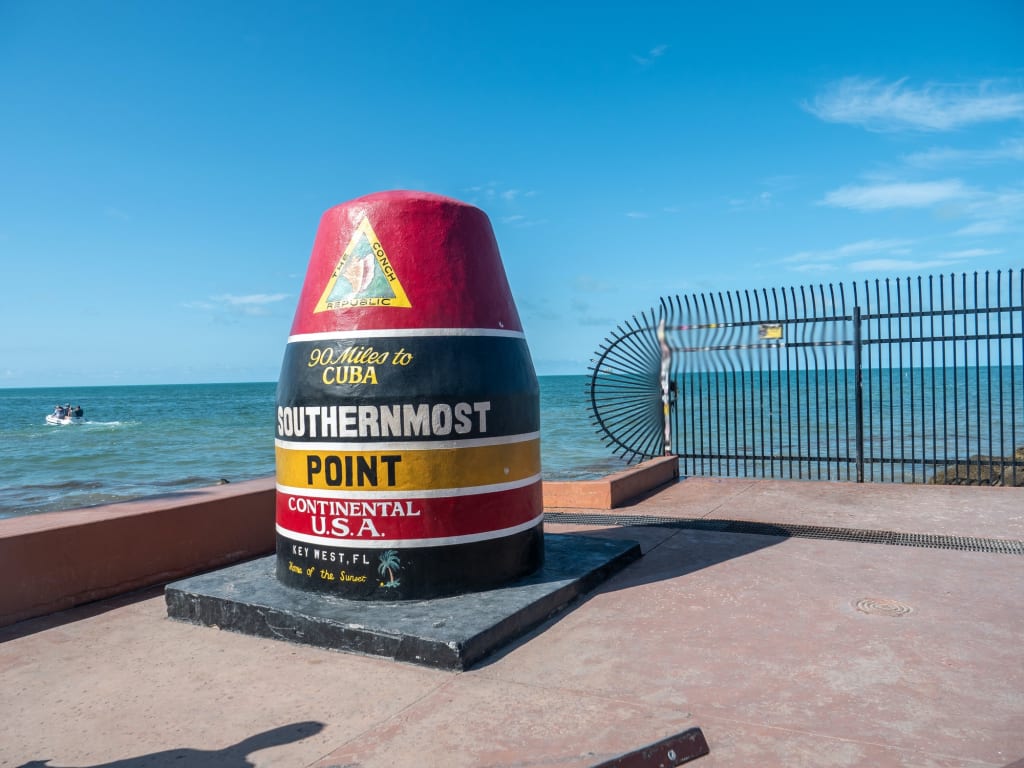 Stop At The Landmark Photo Ops
Two iconic landmarks celebrate the island's southernmost location. One of the most photographed spots is the Mile Marker 0 sign that commemorates making it all the way to the end of the road…and literally the end of the country! This road is US 1 and is a driving adventure itself as you travel 113 miles across 42 bridges (one bridge is 7 miles long) from Miami. The beautiful ocean views are a sight to behold as you cross the long chain of coral and limestone islands that make up The Florida Keys to finally arrive at Key West and Mile Marker 0.
The other photo spot is the Southernmost Point Buoy. This iconic landmark is a made of concrete with colorful red, white, and black stripes. At 12 feet tall and 7 feet wide, it marks the lowest latitude spot in the continental US. As you stand next to it you are only 90 miles from Cuba. Be sure to take your picture here with a view of the Atlantic Ocean behind you.
Explore The Entertainment Mecca
There are many options for entertainment in Key West. Duvall Street is the famous main drag and the place for bars, outdoor cafes, shops, restaurants, galleries, and other attractions. At night, visitors flock here to experience the legendary party atmosphere of the city. Only about a mile in length, Duval Street stretches from The Gulf of Mexico on one side of the island to the Atlantic Ocean on the other side.
Every evening another type of entertainment takes place at Mallory Square Dock along the water. The Sunset Celebration is a place to see a variety of performers like fire dancers, balancing acts, and magicians. The nightly arts festival also has craft exhibits, food carts, and fireworks. It's a great place to be entertained while watching the sun set over the Gulf of Mexico. Afterwards, the adjacent boardwalk offers a host of restaurants, bars, and gift stores.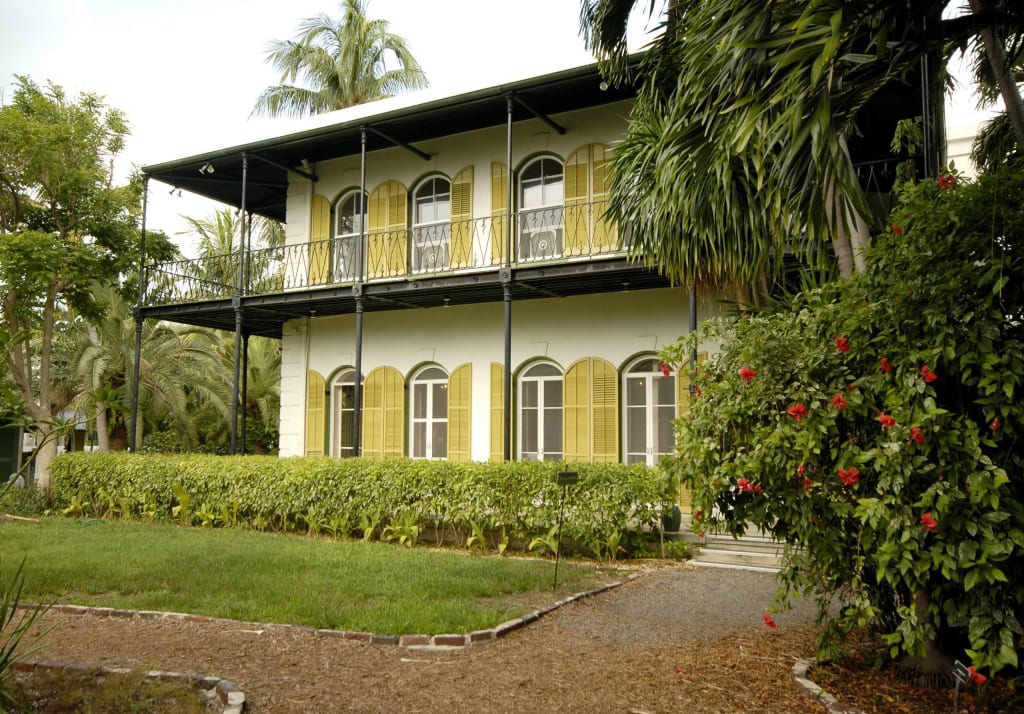 Discover Key West's Historical Intrigue
Did you know that Key West was once the largest city in Florida and the wealthiest city per capita in the whole US? Its wealth grew initially from the shipwreck salvage business then eventually transitioned to hand-rolled Cuban cigars. The Great Fire of 1886 ended the cigar industry on the island and is the reason that all the houses today have metal roofs. After that the harvesting of natural sponges was big business, but today tourism is the leading industry in Key West. Make sure to check out these top historic sites to get a glimpse of the people and events that made the island what it is today.
Hemingway House:
One of the most interesting historic sites we visited was the Hemingway Home and Museum, where Ernest Hemingway lived and worked in the 1930s. During his time in Key West, he completed a majority of his works including A Farewell to Arms and For Whom the Bell Tolls. The beautiful historic home with its wrap-around porches is filled with family furnishings and photos. Not to be missed are the 60 cats that live on the property and are descended from the 6-toed cat Snow White, a gift to Hemingway from a ship's captain. The museum even has its own veterinarian to care for the cats, many of whom are also 6-toed. The guided tour was well worth it to learn all about this talented man.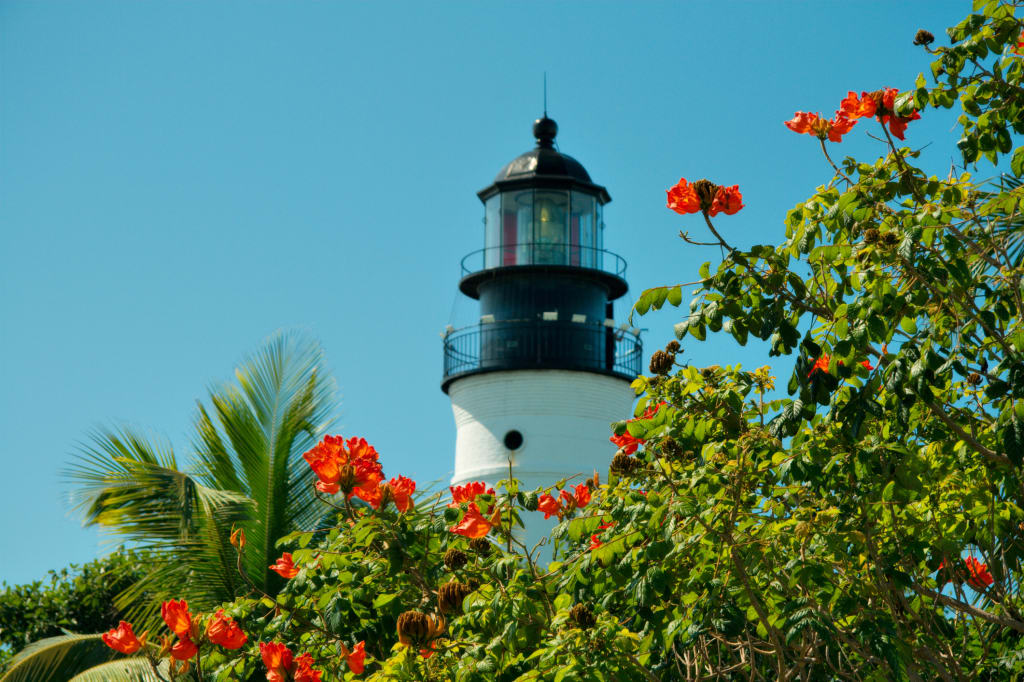 Little White House:
One of the most historic places on the island is the Harry S. Truman Little White House, which served as a functioning White House and presidential retreat for 6 US presidents. In addition to Truman, William Howard Taft, Dwight Eisenhower, John Kennedy, Jimmy Carter, and Bill Clinton have all spent time in this restful location. We enjoyed seeing the wooden 2-story house and original furnishings as well as hearing stories of official meetings and business that went on there. Top level scientific experiments, presidential summits, and peace talks were some of the interesting happenings at this island retreat that sits in the heart of Key West.
Lighthouse Museum
It is fun (and some extra exercise!) to climb the 88 steps to the top of the lighthouse to take in the spectacular view of the island and surrounding water. It was built in 1847 to assure the safe arrival of ships as they navigated the shallow waters off of the Florida Keys. The adjacent museum was once the Light Keepers Quarters and houses various lighthouse artifacts as well as information on the maritime history of the Keys. Interestingly, the first keeper was a woman, which was nearly unheard of in the 19th century.
Shipwreck Museum
The Shipwreck Museum is a popular attraction where you can experience what shipwreck salvage operations were like in 1856 Key West. "Wreck ashore, wreck ashore" was the rallying cry for salvage operations that built the great city back in the 1800s. Live actors, video footage and artifacts combine to reveal the story of shipwrecks, sunken treasure, and fortunes during a time when Key West was one of the richest cities in America. The recreated 19th century warehouse contains 2 floors of shipwreck information and treasures, as well as a 65-foot lookout tower.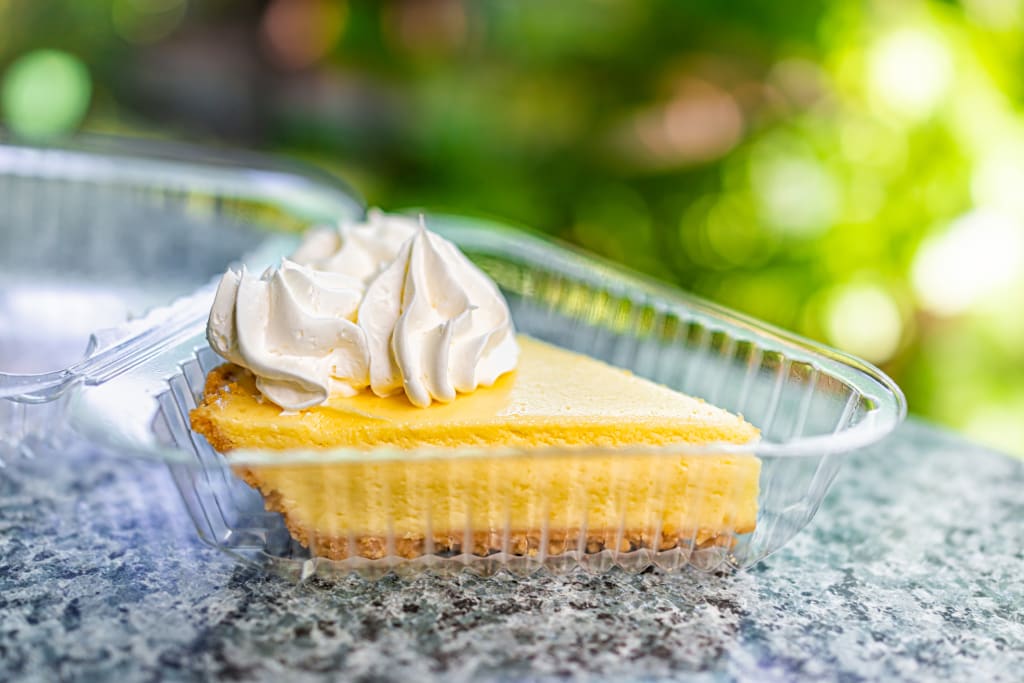 Sample Delicious Island Foods
You will love all of the great foods to try on the island, especially if you are a fan of fresh seafood. Conch fritters are a local delicacy where the mollusk found inside the conch shell is breaded and fried like a hush puppy. Fresh fish hoagie style sandwiches can be found at many places and are usually made from grouper, mahi mahi, or snapper. Key West specialties include local sweet spiny lobster and pink shrimp. Also, don't miss the amazing flavors of authentic Cuban food that can be found throughout the island.
My husband is a seafood lover, but my favorite foods centered on the local sweets. Most well-known is key lime pie, the creamy and tart dessert that is found on almost every menu in town. Not only is pie very popular here, but all things key lime flavored. Since I love tart things, we sampled all of the options we could find including strawberry key lime pie, chocolate covered key lime pie on a stick, key lime pie ice cream, key lime truffles, key lime fudge, and even a frozen key limarita. Not to be left out, we even had key lime sauce on French toast at breakfast. They were all great, but the key lime pie is still my favorite.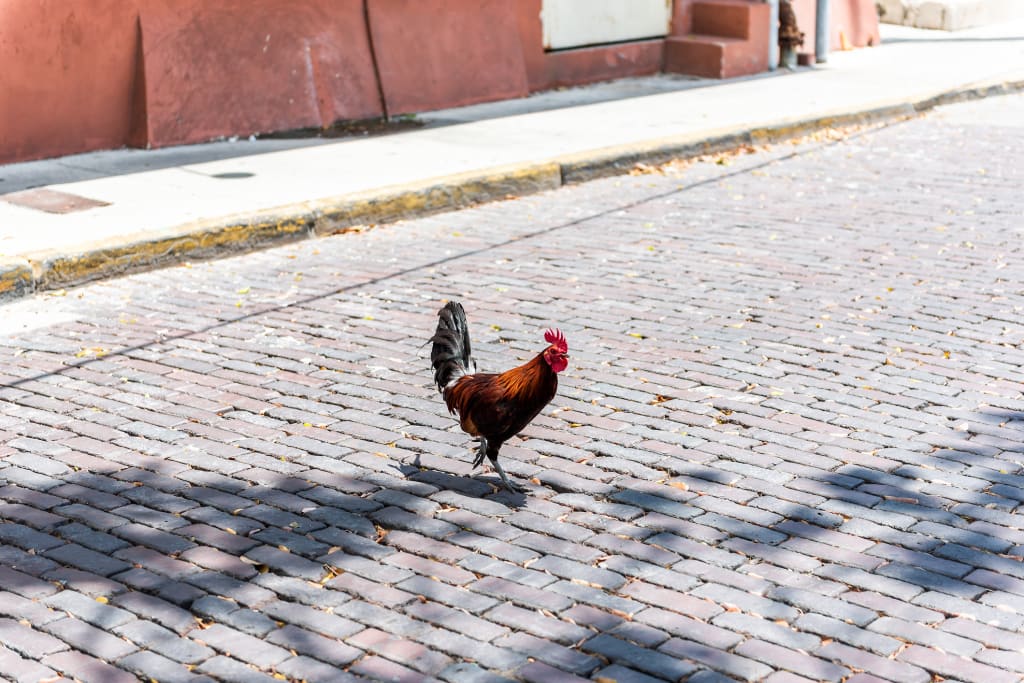 Enjoy Animal Encounters
Chickens
One very unique thing that you will notice quickly in Key West is the abundance of colorful chickens and roosters roaming about on the streets. The chickens were originally brought over from the Caribbean and raised for food. During the 1860s, migrating Cubans brought roosters over for the sport of cockfighting. Eventually people did not need to raise their own food and cockfighting was outlawed. Today's descendants of these animals are a protected species and a local source of pride that have free rein in the town.
Aquarium
A popular attraction for people of all ages is the Key West Aquarium. This was actually the island's first tourist attraction as it attempted to attract visitors and recover economically from the Great Depression in 1934. Here you can learn all about the waters surrounding the Florida Keys and the marine life that live there. Daily shark and turtle feedings, Touch Tank, Stingray Bay, and a large variety of fish make this a fun place for the whole family.
Butterfly and Nature Conservatory
We loved visiting the glass-enclosed habitat of hundreds of winged creatures at the Butterfly and Nature Conservatory (twice!). We saw over 50 species of butterflies flying about as we walked through the beautiful area filled with flowering plants, soothing waterfalls, and many colorful tropical birds. There is lots of information on the butterfly's life cycle, habitats, and even a whole section of live caterpillars to explore. The center's two bright pink flamingos provide lots of entertainment as they splash about in the little pond. Rhett and Scarlett were so named for their obvious affection for each other—they were even born on Valentine's Day. You can check out the center on their live webcam.
Get Wet And Enjoy Ocean Activities
The beaches in Key West are not as wide and expansive as beaches in other parts of Florida. The large coral reef that sits 5 miles offshore provides a natural breaker and so there is little surf and sand deposition here. There are many water activities that you can do in Key West from fishing charters to sunset cruises to snorkeling and diving excursions. We enjoyed the 2-hour Key West Kayak Eco-Tour where we explored the backwaters of the island and learned about the mangroves and marine life with our knowledgeable guide. Handling the horseshoe crabs, jelly fish and a variety of cool, yet slimy creatures was a favorite of my husband…but I was happy to just look. Another fantastic opportunity from Key West is a visit to Dry Tortugas National Park.
Once you visit Key West you will understand why it draws millions of visitors a year. With average temperatures in the 70s and 80s year-round, you can enjoy the area no matter when you visit. Delicious food, a wide variety of entertainment and activities, and lots of history and attractions will keep you enthralled with this beautiful island. While it's a drive to get all the way to Key West, you will be so glad you experienced this very unique and fun tropical paradise!
Robin and her husband, Mike, are Air Force veterans and empty nesters who travel full-time in their Entegra Anthem motorhome. Always ready to explore, they love nature and wildlife, meeting new friends, and discovering America's many hidden gems. Robin chronicles their adventures and experiences on her travel blog RVing with Robin.