Calling all animal lovers! If you are like me, you can't pass up a chance to interact with and learn about animals. We always seek out animal sanctuaries, rescues, refuges, aquariums, and even zoos when we are traveling. On a recent RV trip to Florida, it was exciting to learn that there are quite a few places where you can swim with dolphins. We jumped at the opportunity to spend the day at Discovery Cove and had the experience of a lifetime.
While there are other places in Florida to have a dolphin encounter, we chose Discovery Cove in Orlando. The location is very convenient, especially if you are already going to be in this popular tourist area to visit Disney World, Universal Theme Parks, or one of the hundreds of other attractions. Additionally, we liked that Discovery Cove is its own all-inclusive day resort that includes not only dolphins but many other opportunities for animal interactions and water fun.
Guest Post by Robin Buck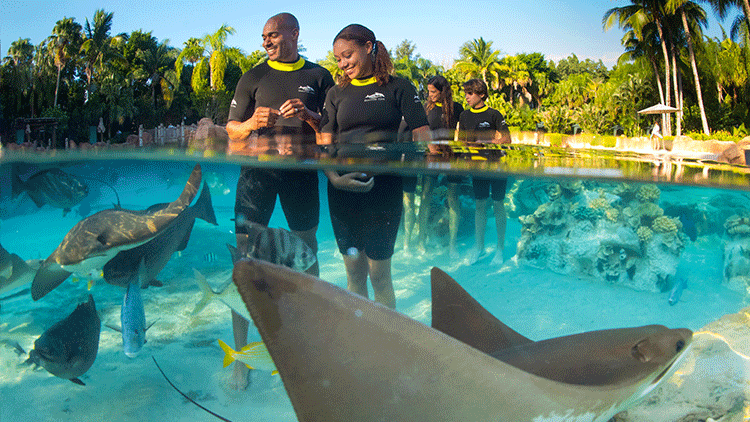 All-Inclusive Resort
Prepare to enjoy the whole day in this wonderful park. The place is beautifully landscaped with white sand beaches and tropical lagoons. You can relax in a shaded cabana, lounge along the beach, or float in the lazy river to cool off. Your entry fee includes a buffet breakfast and lunch, plus all the snacks and drinks you could want during the day. They provide wetsuits or swim vests, snorkels, masks, towels, lockers, pool noodles, and even animal-friendly sunscreen. No money is needed at all unless you want to purchase a souvenir from the gift shop!
The basic entrance ticket for Discovery Cove includes unlimited access to five different areas of the park. You can swim in Serenity Bay and float along the Wind Away Lazy River past sandy beaches, through a rain forest, and under cascading waterfalls. Besides the swimming and beach fun, there are lots of opportunities to see and interact with a variety of animals. We snorkeled in the Grand Reef where 10,000 animals live in their stunning 2.5-acre manmade coral habitat. You can also walk through the Explorer's Aviary, a large free-flight area with hundreds of colorful birds. The Freshwater Oasis has water trails that give you an up-close view into a playful otter habitat.
For an additional fee, you can add optional experiences to your day at Discovery Cove. Our two favorite upgrades included the Dolphin Swim and being a Trainer for a Day. Other options included an underwater walking tour in the Grand Reef with a dive helmet, swimming with sharks, feeding rays, a flamingo mingle, and animal trek to see small birds and mammals. These fun experiences book up fast, so be sure to reserve spots far in advance. Discovery Cove limits the number of visitors per day, so it is nice that the park never feels crowded.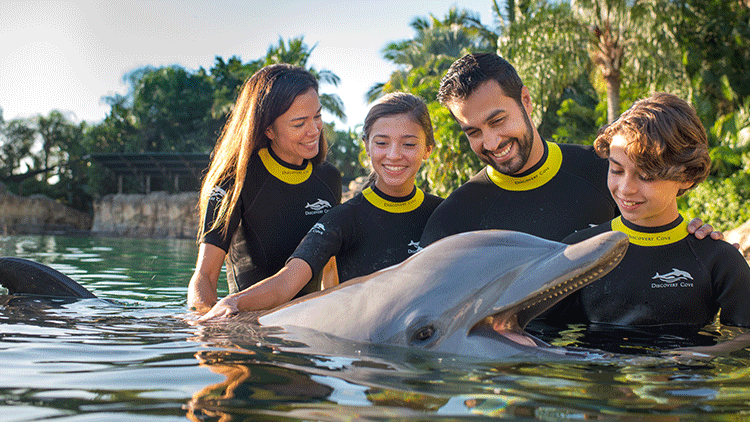 The Dolphin Experience
When it is your scheduled time for the dolphin encounter the trainers will make sure you have your wetsuit and will go over safety information. To protect the animals, you can't bring your own camera to the dolphin area, but a Discovery Cove photographer takes great shots that you can purchase. Next your small group will go down to the water and learn some interesting facts about dolphin habits, behaviors, and communication abilities. Because they work with the dolphins on a daily basis, the trainers have a great relationship with the animals. They also know their personalities and the things they like.
The Dolphin Lagoon is divided into three main sections, so several groups are in the water at the same time but spaced far away from each other. You mainly work with one special dolphin during your swim, but at times others come over to interact as well. We enjoyed hearing specific details about our dolphin, Kailani. The 13-year-old bottlenose dolphin is a natural entertainer and seemed to be having fun during our time together.
As we lined up in the shallow area of the pool, Kailani swam by us, and we got to pet along her back. I was surprised by the feel of her skin which was very smooth and rubbery. Then we were able to individually pet and hug the dolphin and of course get lots of photos. She even gave us a kiss!
Next, the trainer showed us hand signals to try with our dolphin. We used the signals to encourage Kailani to wave, spin in a circle and make cute sounds. I say encourage her because none of the dolphins are ever forced to perform– they are allowed to do what they feel like doing for that day. However, they genuinely seem to love interacting and of course getting their fish treats. The trainer did some additional demonstrations with the dolphins and Kailani's mother, Coral, joined us for some social time too.
Then we moved into a little deeper water one at a time for the dolphin ride. Kailani swam up to us and we gently held onto her dorsal fin as she glided through the water. It was so smooth to ride with her to the other side of the pool. As a grand finale, several dolphins joined up to do flips around the pool for us. The whole experience lasted about 30 minutes in the water.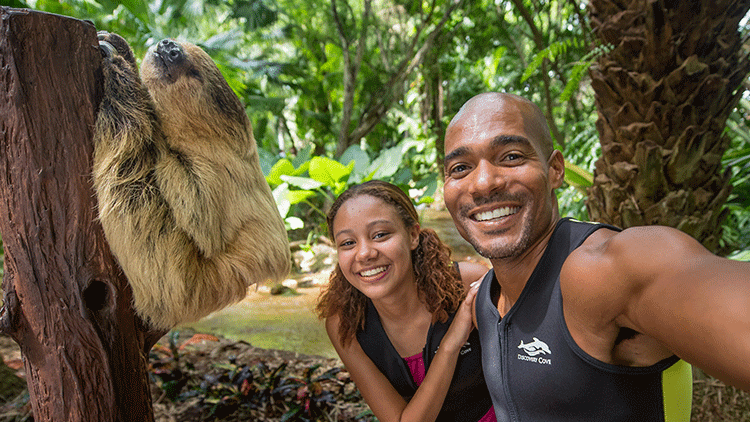 Trainer For A Day
I wanted to make our day as special as possible, so we also added the optional Trainer for a Day experience. This option lasts about 4 hours and includes a second session with the dolphins. Our trainer did more demonstrations with Kailani and answered many of our questions. It was fun to have a photo session with the dolphins and additional time to pet them. We also got another dolphin ride, this time where Kailani swam upside down when she carried us across the lagoon.
Besides the additional dolphin swim, we also had trainer-led encounters with a sloth and several colorful birds. We watched feeding sessions with the otters in the Freshwater Oasis and various fish in the Grand Reef. It was fun to see a group of flamingos in their adaptation training session on the grounds. We enjoyed detailed information and question and answer sessions as we learned about all of these creatures. The trainers truly have the best interests of the animals at heart and their care is top-notch.
Another favorite part of our Trainer for a Day was seeing the dolphin fish preparation area. It was amazing to learn about the intricate detail that is involved with tracking the food and activity scheduling of 42 different dolphins. Food is managed based on the number of dolphin encounters and each animal is different. There is a large tracking board where totals must be calculated each day because they change every day. Most trainers start out serving some time in this important area where they get a much greater appreciation for what it takes to feed and train these amazing animals.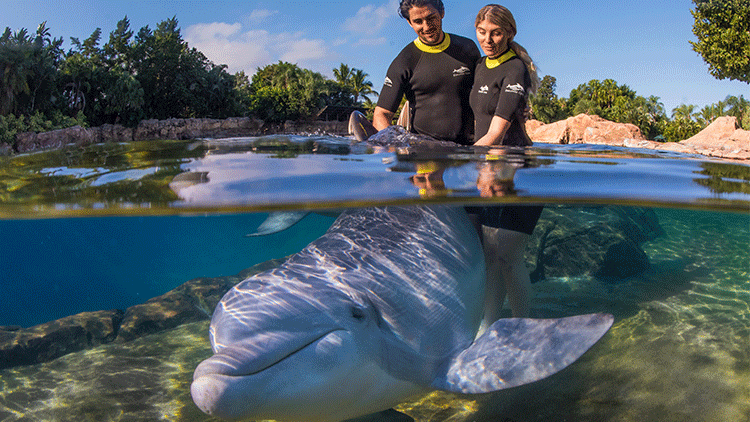 A Bucket-List Day
Overall, our day at Discovery Cove was another truly great experience in our ongoing RV adventures! The whole place is beautiful and made us feel like we were on a tropical island. Everything we could need was provided and the day was so carefree. All of the animal encounters were fun…especially the dolphin swim. It was an amazing bucket list kind of day!
Robin and her husband, Mike, are Air Force veterans and empty nesters who travel full-time in their Entegra Anthem motorhome. Always ready to explore, they love nature and wildlife, meeting new friends, and discovering America's many hidden gems. Robin chronicles their adventures and experiences on her travel blog RVing with Robin.