Traveling in an RV means living in a smaller space while you are on the road. Room is at a premium when you've only got a few hundred square feet, right? Well just because you are in an RV doesn't mean you have to give up having your favorite things along. There are lots of simple modifications you can make to increase your RV space.
Furthermore, since traveling can involve a lot of camp set up and break down, you can also make some changes to keep life easier on the road. Making sure things are organized and accessible will ensure that you love the journey even more. Without spending a lot of time, energy, or money, these tips and tricks you can do yourself will go a long way in making your travel life smoother and more enjoyable.
Guest Post By Robin Buck

Shelving Uses Vertical Space:
We all struggle with finding room for everything in our RV cabinets. Tall cupboards often end up having a lot of wasted space, so we added a shelf to double the storage room. You can buy wire shelving in many different sizes—we even found some that were adjustable which made them really easy to fit. If you are handy, you can make shelves out of plywood instead. Adding extra shelving takes advantage of vertical space and gave us more room for dishes in the kitchen, for food in the pantry, and even for clothes in the bedroom. This small modification made a significant difference in our RV storage capacity.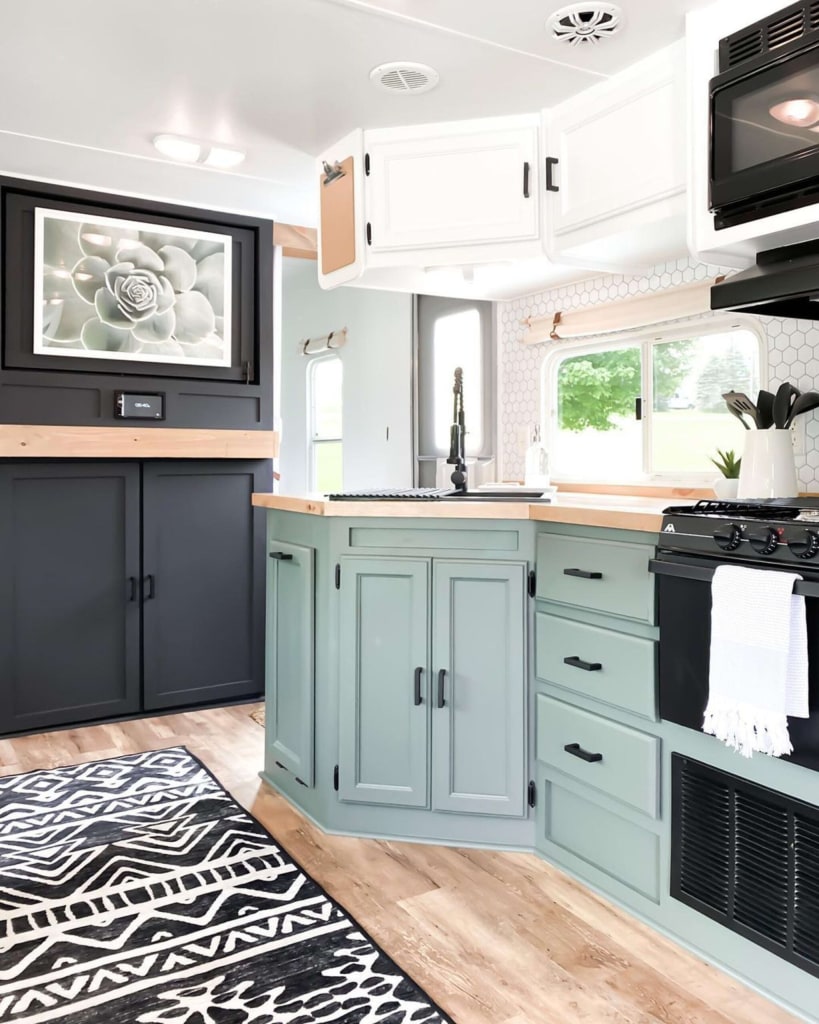 Nesting Increases Storage:
We love having a full kitchen and being able to cook our meals in the RV. Storing all of the pots and pans, utensils, and accessories can be a challenge though. We discovered items that nest or collapse really save a lot of space. Nesting cookware like Magma pots or Tupperware mixing bowls give you multiple pieces in the space of one. I was excited to find collapsible colanders and measuring cups which fold flat for easy storage. Speaking of folding flat, you can also use collapsible storage containers throughout your RV and then fold them up when they aren't needed.
Organizers Provide More Space:
If you need more drawer space, you might try using a hanging organizer in your closet. They are a great way to make use of your closet's dead space and have individual cubes where you can store t-shirts, sweaters, hats, and accessories. RVs also typically lack enough space for shoes, which can end up in piles on the floor. So, keeping with the vertical space idea, we added a few shoe racks below our hanging shirts in the closet and we found a horizontal hanging shoe rack that fit along our bed's footboard. Both solved our shoe dilemma, so no more tripping over shoes!
Being Travel Ready:
One of the best tips for more easy RV living is to move-proof your RV. You don't want to have to spend a lot of time stowing things away every time you get on the road. A great way to safely secure decorations and other items is to use magnets, command strips, or Quake Hold museum putty to keep them in place. Using baskets, caddies, and hooks also keeps items where you can get to them easily but without having to worry about them during travel. 
You also want to keep the items on your shelves from toppling over during the drive. Another simple modification my husband did was to add a 3-inch clear plexiglass barrier strip in front of my cabinet shelves in the pantry and medicine cabinet. Now I can easily see items on each shelf, but they don't fall out every time I open a cabinet after parking. We have found that drawer dividers are also great for keeping contents from shifting into a big pile during a move.
This same concept works in our refrigerator, definitely a place that you don't want things falling over or out at you when you open it. You can use tension rods to hold things on the shelves, or we like clear bins that hold bottles and jars safely during travel. Move-proofing our RV has dramatically cut down on travel prep time as well as settle in time for us!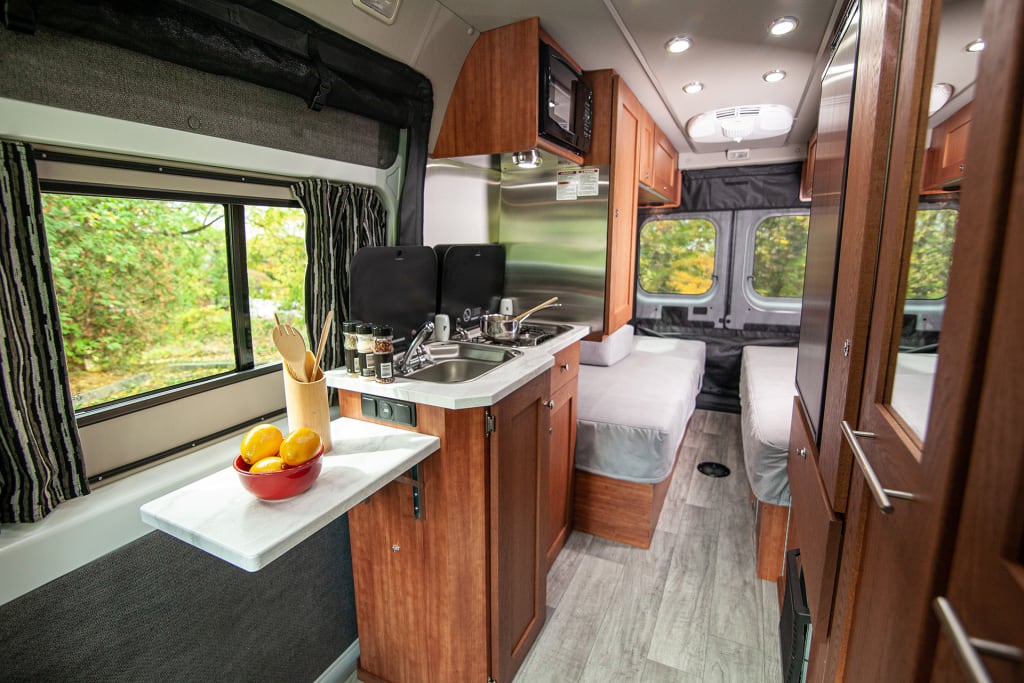 Modify Counter Space:
A useful modification in the kitchen is a stovetop cover. Many times, an RV has limited counter space or prep area. When you are not using the stove burners, a cover can extend the space you have to chop foods and prepare recipes. The same goes for sink covers. You can purchase either of these simple modifications from an RV shop or dealer. We have a handsome wood stovetop cover that blends nicely with our décor.
Having a Nixplay digital photo frame keeps all of our photos in one spot and easy to see. This prevents the need for photo frames sitting around while letting us enjoy seeing all of our great family and travel photos. Anything you can mount on the wall or under the cabinets will also save counter space, such as paper towel holders, spice racks, and even toaster ovens.

Find More Bathroom Space:
Most RV bathrooms are the opposite of spacious, so finding room for your toiletries and supplies can certainly be a challenge. One area you can modify is adding a holder for things like shampoo, conditioner, and soap in the shower. We use a wall-mounted dispenser with sections for each product. It is easy to fill and saves a lot of room. Anything that keeps bottles and supplies off the floor and from bouncing around during travel will do the trick.
Using the space on the back of your bathroom door can also be a game changer. If you need more room for towels, a hanging towel rack will fit the bill. I have a friend who uses a clear hanging shoe organizer to store her jewelry where she can easily see it and get to it. Or you can use this space to add extra hooks for bathrobes.
Increase Shower Pressure:
One of the biggest complaints in RVs is the water pressure in the shower. An easy modification is adding a high-pressured shower head, which not only makes the shower spray better but can also help you save water. This is especially helpful if you have long thick hair like me. Oxygenic makes a great shower head that is super easy to change out with your current one.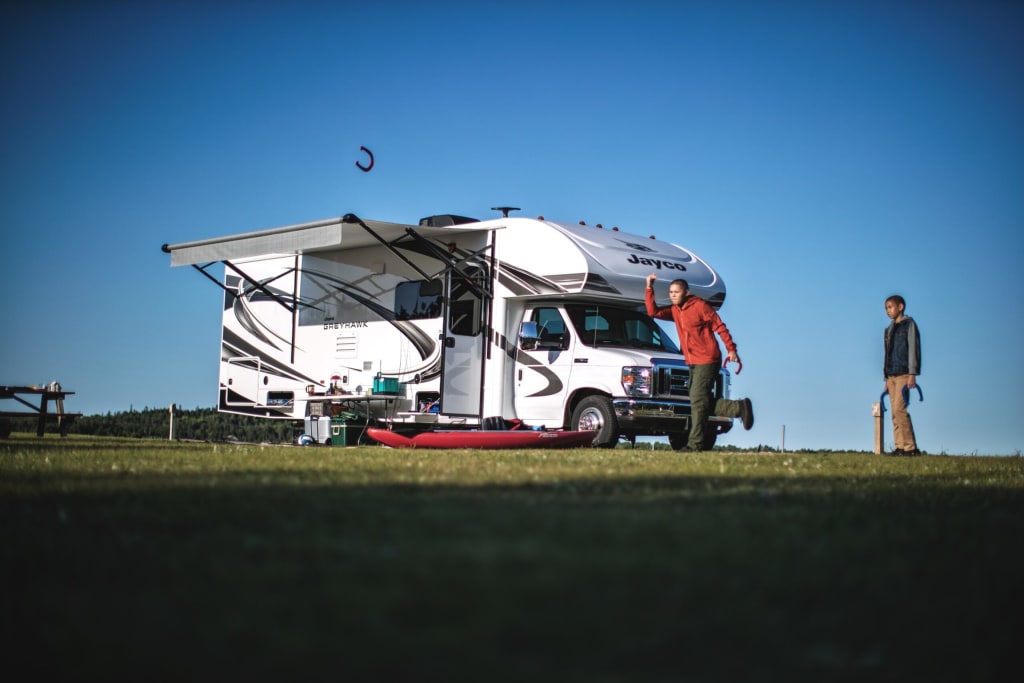 Organize Outside Storage:
Your RV storage bays are great for keeping all of those outdoor items and extra supplies. Putting them in large storage totes will keep things organized and together. We put like categories together and label the bins, so things are easier to find. Just like inside the RV, adding shelving can take advantage of wasted vertical space in the storage bays. My husband built a grouping of PVC pipe in the ceiling of the bay area to hold the various poles and rods that we carry. Now they stay securely in place and are easy to find and use.
One thing we don't have to store anymore are jack pads—the ones you put under your camper's jacks when you park. They are especially helpful if you are parked on muddy, sandy, or rocky surfaces. We solved this problem by installing permanent SnapPads to the feet of our jacks. Not only does it keep our jacks more stable, but now we don't have to store and move heavy jack pads each time we travel. A big bonus is that we spend less time setting up the RV.
These are just a few of the easy changes you can make to personalize your RV. Having the right RV upgrades and modifications can really go a long way towards making your travels smoother. You have more space to bring the things that matter to you and your essentials are organized and easy to find. Traveling days are much easier and faster without having to take out and put away so many things with each stop. Making these small changes will ensure you have time and energy for the stuff that really matters…having fun!
Robin and her husband, Mike, are Air Force veterans and empty nesters who travel full-time in their Entegra Anthem motorhome. Always ready to explore, they love nature and wildlife, meeting new friends, and discovering America's many hidden gems. Robin chronicles their adventures and experiences on her travel blog RVing with Robin.