What weighs 800-1200 pounds, can be up to 10 feet long, and is found in the waters around Florida? The answer is a cute marine mammal called the manatee. A celebrity in Florida, the manatee draws thousands of visitors a year to see them in their winter migration home. While you can spot manatees in Florida year-round, the peak season for observing them is November through April.
Manatees are large mammals that are sometimes called sea cows. They look a little like a walrus to me but are actually more closely related to the elephant. The gentle giants move slowly through the water and graze for 7 hours a day eating up to 150 pounds of plants. Hundreds of these amazing creatures flock together to enjoy the warmer water temperatures in Florida during the cool winter months. If you are planning an RV trip to Florida, here are some great tips for where you can enjoy the manatees.
Guest Post by Robin Buck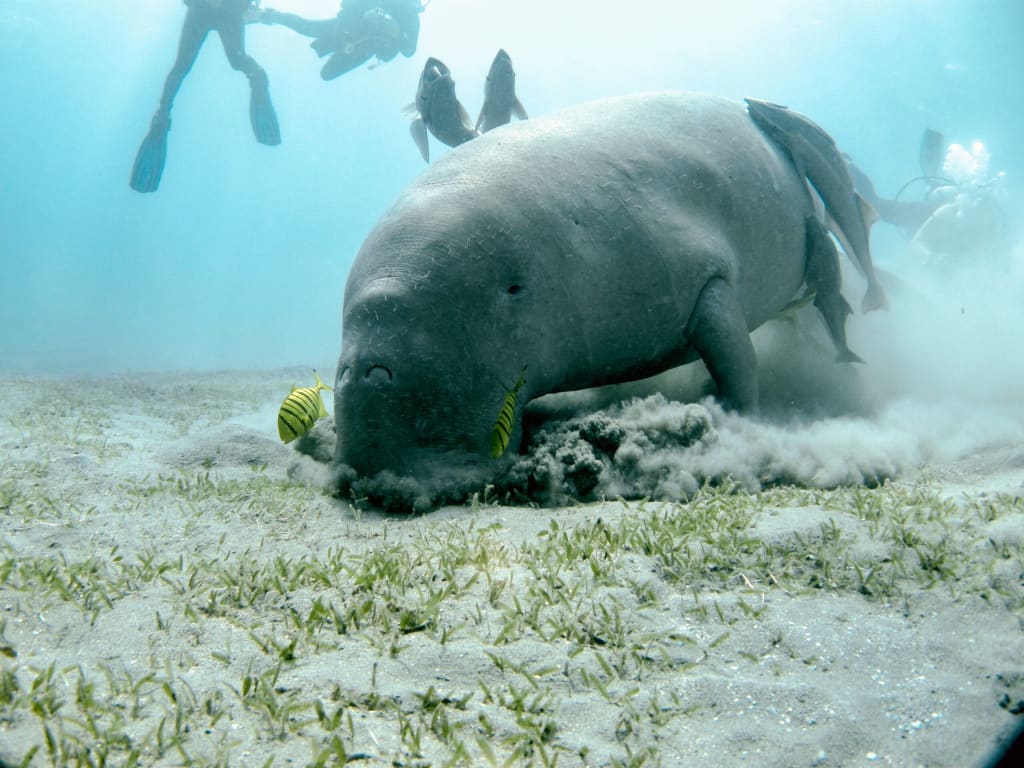 Blue Spring State Park
Our favorite place to see the manatees is Blue Spring State Park in Orange City. The constant 72-degree spring water makes this one of their favorite winter gathering sites in Florida. Interestingly, although the manatees look plump, they don't have a lot of body fat or a very fast metabolism, so they depend on the warm water for survival. We saw 427 manatees the day we visited (I'm not sure who gets the job of counting them, but a board with the day's total is posted at the entrance!).
There is a very nice boardwalk that extends 1/3 of a mile from the St John's River to the origin of the spring. You can take a leisurely stroll under the canopy of beautiful trees and stop at viewing points along the way for close up pictures. The crystal-clear water gives you an amazing look at these gentle creatures just a few feet away. The Save the Manatees organization has a webcam where you can watch the manatees in real time and get an up-to-date count of how many are in the spring.
Blue Spring State Park can get crowded, so I would advise going early in the day. Once parking is full, you will have to wait for a space to open up. There are many other activities to enjoy here after you see the manatees. Birding, hiking, and kayaking are just a few options as well as a visit to the Thursby House, a museum and interpretive center about Florida's frontier days.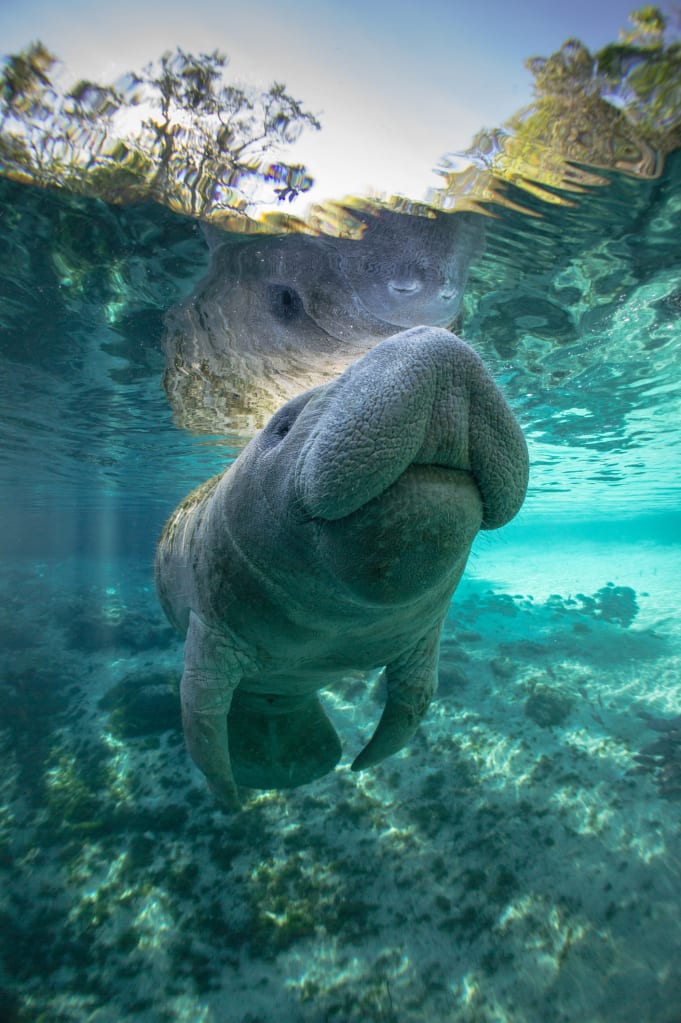 Crystal River
The largest concentration of Florida manatees can be found in the Crystal River area. The Crystal River National Wildlife Refuge is the only national wildlife refuge in the US created specifically to protect the manatee, which is Florida's official marine mammal. Three Sisters Springs is a complex of springs that are part of the refuge and provides a warm water sanctuary for between 500-1000 manatees each winter. It is also the only place where you can swim with manatees.
Three Sisters Spring has a boardwalk also and includes an elevated viewing area at the mouth of the spring. The turquoise water and lush vegetation of this unspoiled natural area are so beautiful. The only downside of this location is that you cannot park at the refuge. Instead, there is a trolley that takes you from the Visitor Center every 30 minutes.
Citrus Country calls itself the manatee capital of the world and is a little more commercialized than some of the other regions. There are many local outfitters that offer boat tours, kayaking, and swimming with manatee experiences. They are experts on places to see the manatees, on rules for where you can be in the water, and on how to safely have an in-water encounter with the animals in their own natural environment. A good thing about this area is that some manatees can be seen here year-round.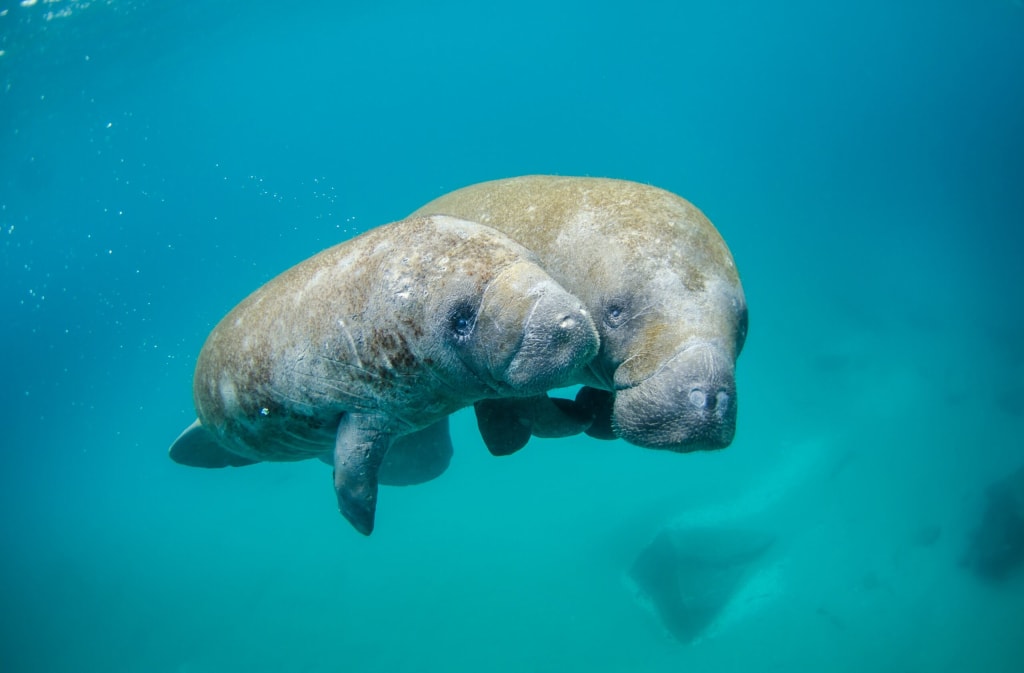 Tampa Electric's Manatee Viewing Area
Many Florida manatees return annually to the warm discharge waters of the power station at Apollo Beach in Tampa. The Big Bend power station circulates the bay's water for cooling and then sends it back out warm and clean, providing a warm refuge for the manatees. In fact, the discharge canal is now a state and federally designated manatee sanctuary. Tampa Electric has an inside display area with exhibits that explain the power generating process and their environmental efforts.
The Manatee Viewing Center has a 900-foot boardwalk that overlooks the warm water area where the animals gather. Although the water here is not crystal clear like some of the springs, it is still a great place to see many manatees. The center also has a Rays Touch Tank, where you can feel rays as they swim around. Outside the center there is a ¾ mile trail where you can walk past marsh and coastal habitats to a 50-foot-high observation tower. A benefit to this manatee location is it is free for all to enjoy at no cost.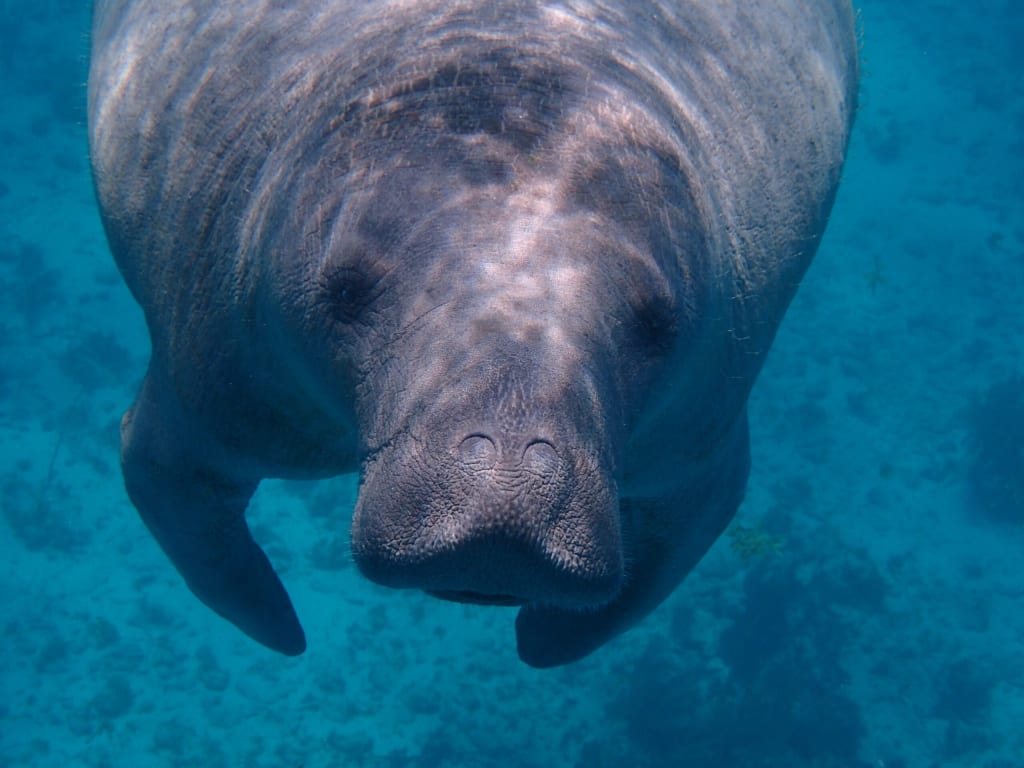 Manatees In Captivity
If you are not able to see manatees in their natural setting, you can always visit them in other locations. Homosassa Springs State Wildlife Park has captive manatees that live in the spring. You can see some rescued manatees and others undergoing rehabilitation via an underwater observatory. Lowry Park Zoo in Tampa has a great manatee exhibit and also a manatee hospital where over 500 manatees have been treated and many returned to their native habitats. The Miami Seaquarium is one of the original leaders in manatee rescue and is at the forefront of manatee rehabilitation techniques.
These are just a few locations where you can experience the wonder of the manatee. They can be found in many places along Florida's coasts and waterways, so it is likely you can find them wherever your travels take you. We even spotted a few manatees in Everglades National Park on a guided kayak tour. I hope you get the chance to observe these graceful and gentle giants of the sea. It will be a fun experience you won't soon forget.
Robin and her husband, Mike, are Air Force veterans and empty nesters who travel full-time in their Entegra Anthem motorhome. Always ready to explore, they love nature and wildlife, meeting new friends, and discovering America's many hidden gems. Robin chronicles their adventures and experiences on her travel blog RVing with Robin.