We have a motorhome specifically because I wanted to travel while still having the comforts of home. My days of tent camping and roughing it were over! I'm typically a 'full hookup campground with all the amenities' type of gal. While we like to hike, kayak, and explore national parks, I know I can come home to all of the conveniences that I am used to.
However, I have learned that there are some benefits to boondocking … on occasion. Being able to camp without all of the amenities allows us to stop somewhere without having a reservation. Boondocking can also save you money that would have been spent on campground fees. Lastly you can access some off the beaten path places that are peaceful and have incredible views. If you are like me and a little nervous to give it a try, here are some tips on how it all works.
Guest Post: Robin Buck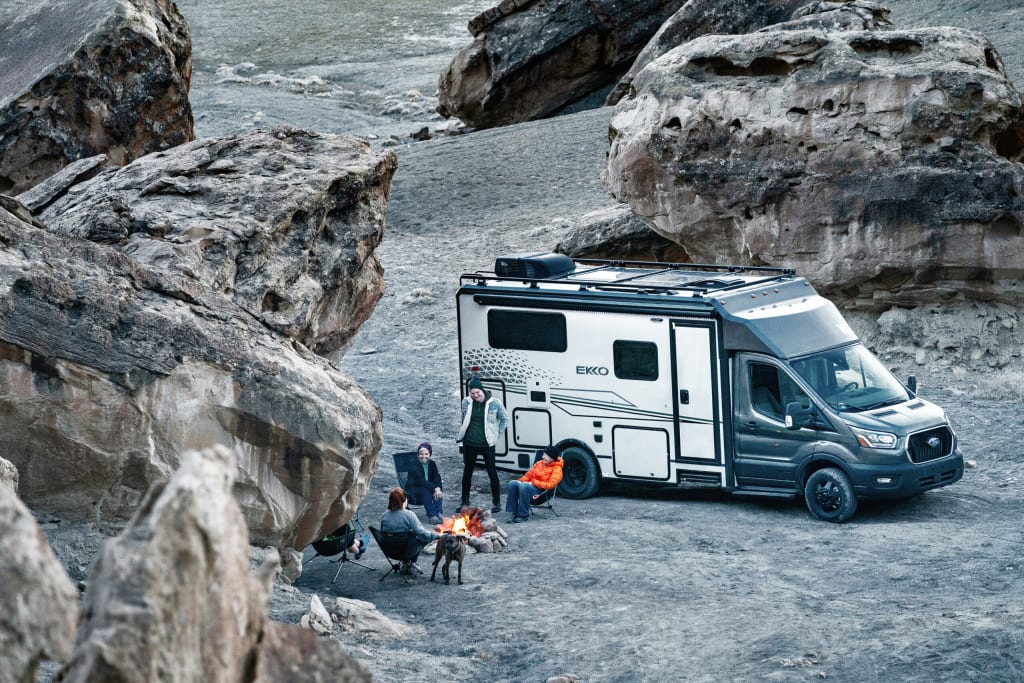 What Is Boondocking?
Boondocking is basically any RV camping situation where you don't have hookups for water, sewer, or electrical power. It means you are parked and are responsible for all of your own needs. Some other names are dispersed camping and off-grid camping. While boondocking takes place outside of a developed campground, the related term dry camping also means no hookups but can take place at a campground.
The appeal of boondocking for many is the freedom to take the road less traveled. You can avoid the crowds at campgrounds and spend time away from the fast pace of life's hustle and bustle. Being self-sufficient gives you the ability to explore more remote or wilderness areas and reconnect with nature. And of course, the fact that the price is very low or even free makes it a great deal.
How Does It Work?
Since boondocking is all about being self-sufficient you will need to be able to provide for your energy, water, and waste needs. You can't plug your RV into an electrical outlet like at a campground so you must have a power source to run your appliances. Our motorhome has a built-in generator, but you can also buy a portable generator if your RV doesn't have one. The good thing about generators is they can power high energy items like a microwave or air conditioner.
Another power option for providing energy is an inverter, which can power smaller things like lights, TV, and small appliances. The inverter has a limited run time before needing to have the batteries that support it recharged. Recharging can be done by running your vehicle engine or using a generator, both of which require fuel. You can also recharge batteries with solar panels, but you must have sunlight and it is a slower process.
Boondocking also requires that you take care of your own water needs. Water is important for toilets, bathing, and cooking while you are camping so you should start with a full tank of fresh water in your RV. Not only do you have to bring your own fresh water, but you also have to pack used water out. Make sure grey and black waste tanks start off empty so they can hold your wastewater.
Conservation of water is key to managing all of these functions while you are away from services. Things like using bathrooms elsewhere during the day can save on water used for flushing. Skipping a few showers or using wipes instead will also help conserve your water supply. If you grill food and use paper plates for meals, you can keep your water use for dishes down. Many people prep all of their food beforehand to save time and clean up.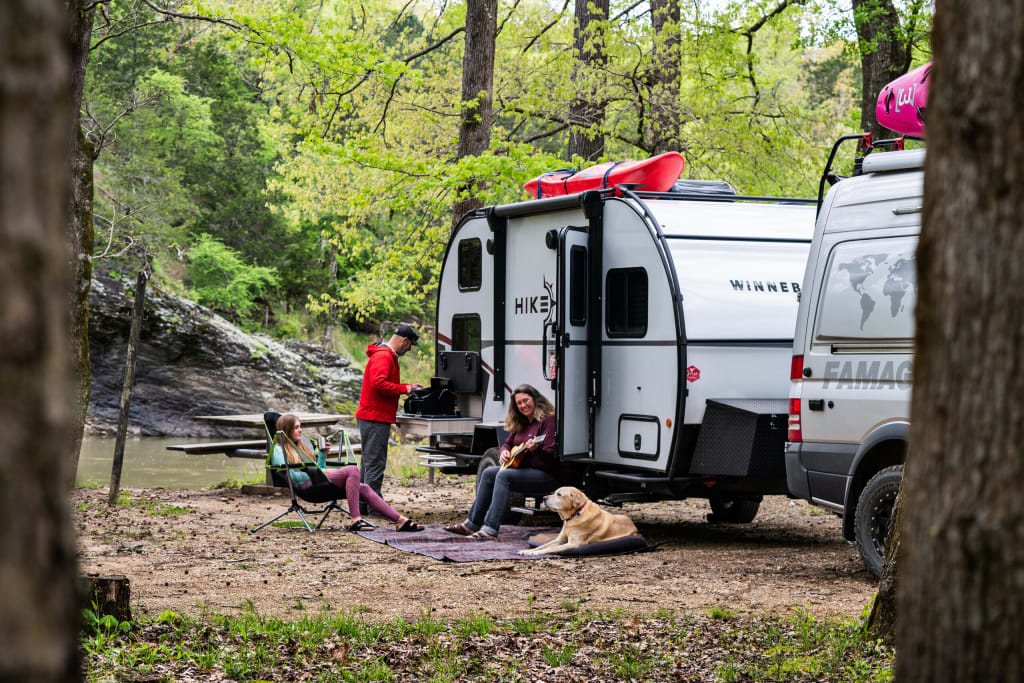 Where Can You Boondock?
One of the easiest ways to try out boondocking is to do a quick overnight stop at a business parking lot. We do this often if we are just traveling through an area and need to sleep before moving on. We have stayed at Walmart, Cabela's, and Cracker Barrel parking lots, which generally welcome Rvers (always call beforehand to verify). Many casinos also have RV parking available, and their huge lots are easy to maneuver in. We avoid truck stops which are very loud and stay busy throughout the night, making sleeping difficult.
Another easy way to do an overnight stop is a stay at a Harvest Host location. This is a paid membership that connects members to unique local businesses that allow overnight stays. We have truly enjoyed the fun experience of staying at wineries, museums, golf courses, and farms. For a one night stay you will not have to worry too much about your supply of water or other amenities. Another organization called Boondockers Welcome is a community of hosts who allow parking on their private property for up to 5 nights.
As you ease into boondocking, the next step might be dry camping at a campground or park that offers a spot without hookups. The price is much cheaper than full hookups so it will save you money. You can get accustomed to providing your own energy source and managing water but will have access to public toilets and showers. This makes dealing with water conservation so much easier. We were able to easily stay 9 days like this because we could use the campground facilities.
Once you feel comfortable, you can try camping on Bureau of Land Management (BLM) land in western regions, national forest land, or other public lands. This is where the more serious boondockers go and where you can truly get off the grid. You may or may not find other campers at a location and there are usually no amenities at all. You will be providing for all of your needs in this situation. Two websites that offer help in finding free campsite areas are Free Campsites and Campendium. Make sure to check out any rules for length of stay or generator use in the area you pick to camp.
What Else Should I Know?
Now you know about supplying your own energy source and water, but there are a few other factors to take into consideration before you go boondocking. Make sure you charge up all phones, cameras, and electronics while you have full access to power (and anytime you are running the generator). You might consider a battery bank for recharging items if you will be gone more than a few days. If you have any alkaline battery powered devices like a lamp, fan, or radio they can help you conserve power.
If you are going off-grid, make sure to check the weather before you go and to let someone know where you will be. I would also consult maps, photos, or reviews to ensure that your rig can handle the terrain. Fuel up your RV and have extra food, water, and clothing on board in case you end up staying longer than planned due to bad weather or other problems. We have found having a cell-phone booster can be handy if you are in an area with weak signal.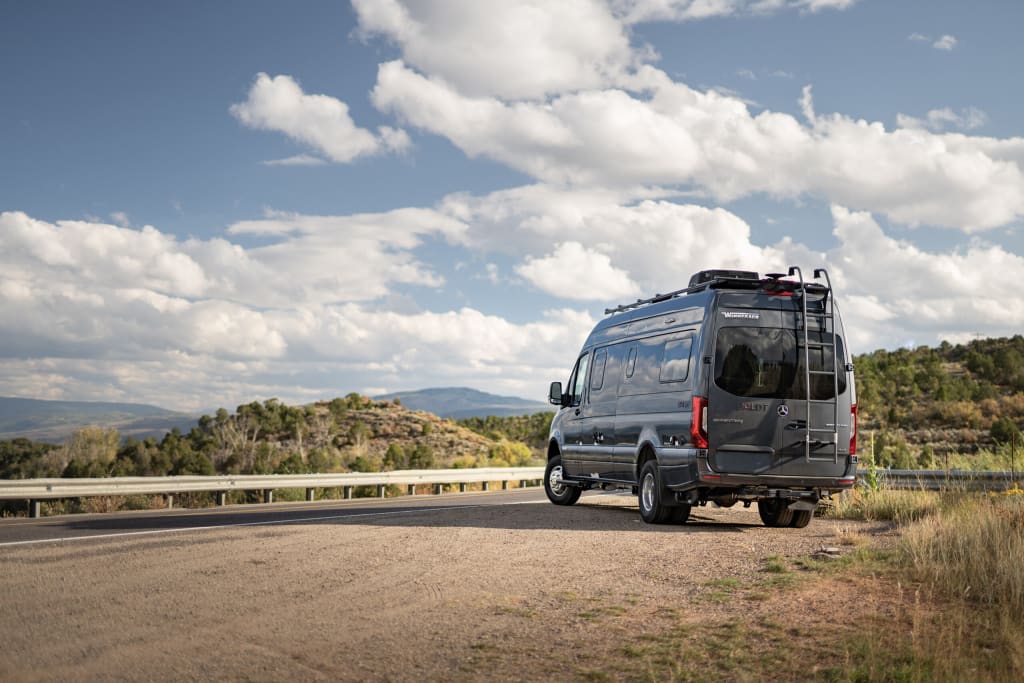 Give It A Try!
While it can sound a little scary to think of camping in your RV without any of the conveniences you are used to in a campground, don't let that squash your sense of adventure. Start slow and try things out for a short amount of time before you really venture out into the wilderness. After a successful overnight or two, your confidence will build, and you will learn what you need to be self-sufficient. You may just find that you love being away from the crowds and enjoying the beauty of nature on your own.
Robin and her husband, Mike, are Air Force veterans and empty nesters who travel full-time in their Entegra Anthem motorhome. Always ready to explore, they love nature and wildlife, meeting new friends, and discovering America's many hidden gems. Robin chronicles their adventures and experiences on her travel blog RVing with Robin.