During our spring and summer RV travels, we enjoy seeing stunning wildflowers and the colorful butterflies that can be found flitting about them. Who doesn't love watching these graceful creatures that are considered by many to be the most beautiful insects in the world? Luckily it is easy to find butterflies around plants and flowers in parks, meadows, and botanical gardens in almost all areas of the country.
A great place to ensure you can see butterflies year-round is a butterfly exhibit, garden, or display. The Butterfly Website lists 35 states that have butterfly exhibits and 17 states with butterfly festivals. Make sure to check out these links for a location near your next travel destination. Florida has a large selection of sites listed, and we were lucky to visit Butterfly World near the Fort Lauderdale area.
Guest Post By Robin Buck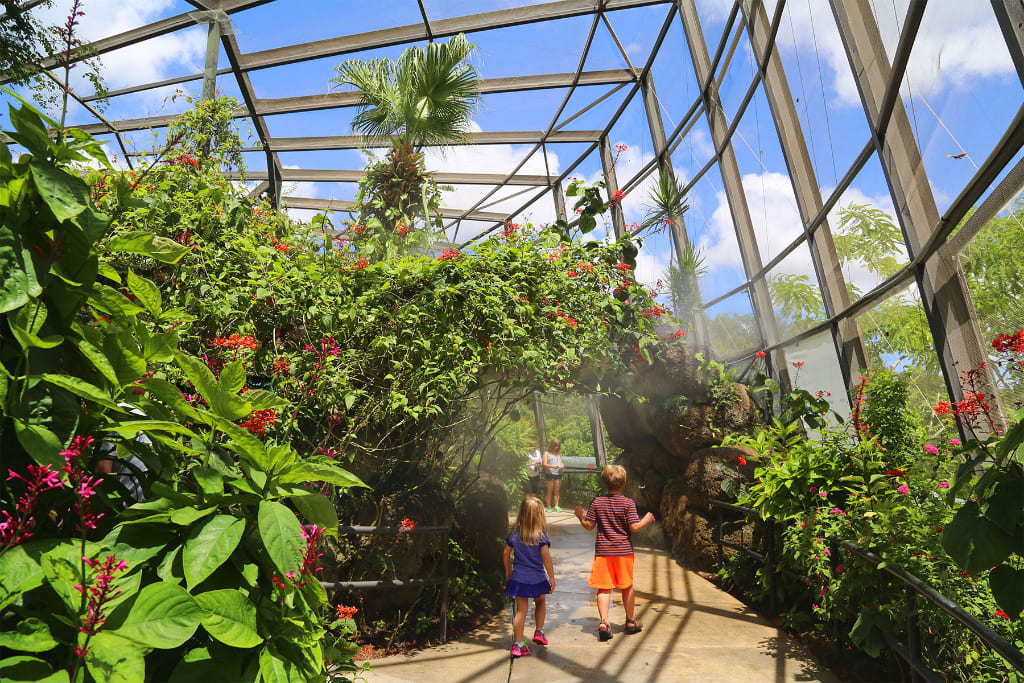 All Photos By Butterfly World
Butterfly World
You are sure to be amazed when you arrive at Butterfly World. It is the largest butterfly park in the world and is home to more than 20,000 live butterflies from every corner of the globe. Within its 3 acres are butterfly aviaries, botanical gardens, a working butterfly farm, and a research center. There are thirteen different areas to explore providing entertainment for the whole family. The informative brochure and map will help you get the most from your self-guided tour.
Learn How It All Begins
The first stop on your tour is the Laboratory where the miracle of metamorphosis begins. In one place you can witness the four stages of the butterfly's life cycle from egg to caterpillar to pupa to adult. The glass enclosed area is also where research and conservation efforts happen. We really enjoyed watching different butterflies emerge from the cases of hanging pupae in the Hanging Garden and Butterfly Emerging Area. Can you believe that Butterfly World has raised over 1,000,000 butterflies?!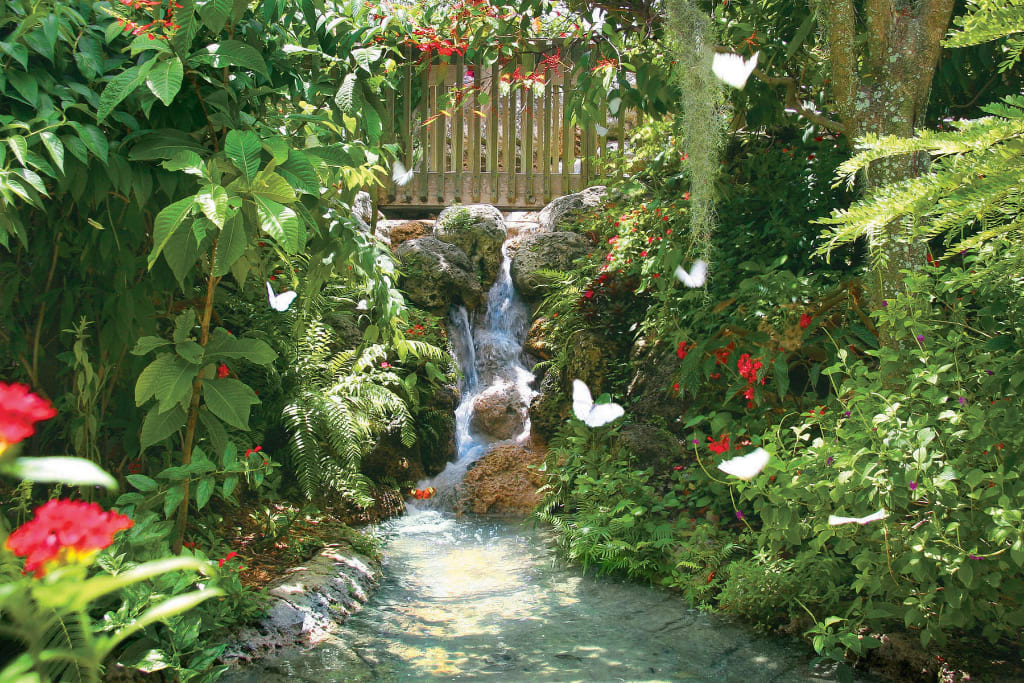 Walk Among Butterflies
Two different aviaries allow you to walk among the butterflies as they gracefully fly around among beautiful plants or bask in the sun. In the Paradise Adventure Aviary, you can observe amazing colors and interesting types of butterflies from 5 continents. The Tropical Rain Forest has pathways that lead to a cave and waterfall where thousands of exotic butterflies and free flying birds soar in their tropical environment. I expected to have to search to see butterflies in the aviaries, but they were truly everywhere you looked!
See Beautiful Gardens
If plants are your thing, you will have no trouble finding beauty here. The Grace Gardens area offers a large variety of blooming plants surrounding the banks of a small lake in the center of Butterfly World. The nearby Vine Maze houses one of the largest collections of passion flowers in the world. In the Rose Garden you'll find the perfect place to take in the delightful fragrances of over 20 varieties of delicate roses. For those who want to start their own butterfly garden at home, the Butterfly Garden Center sells a variety of plants that attract butterflies. You can pick up a free gardening sheet that lists recommended plants for your area of the country, or you can sign up for a monthly gardening class if you want.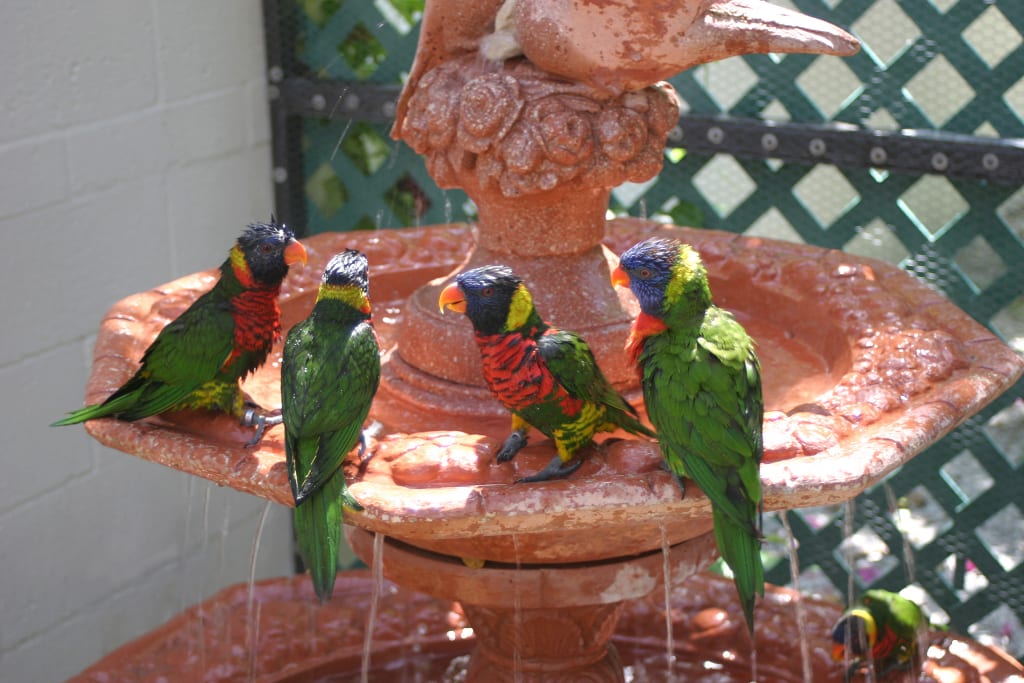 Watch Amazing Birds
The Tropical Aviary has many varieties of colorful birds that sing and fly about right next to the walkways. I was able to get up-close pictures of them as they landed on nearby tree branches. The Jewels of the Sky Aviary is another fun spot to watch domestic, rare, and exotic birds buzzing about their flower-filled habitat. One of my favorite experiences was getting to feed the Lorikeets at the Lorikeet Encounter area. These brightly colored birds are originally from Australia and will hop onto your hand or arm to sip a cup of nectar.
Visit The Museum And Zoo
The Butterfly Museum has enormous displays of mounted butterfly specimens. The colors and sizes are so varied in the large frames that cover the walls. The largest species can measure up to 12 inches from wingtip to wingtip and the smallest pygmy butterfly has a wingspan of only half an inch. The next room houses the Bug Zoo where cases of live scorpions, hissing cockroaches, tarantulas, and other creepy crawlies can either thrill you or gross you out!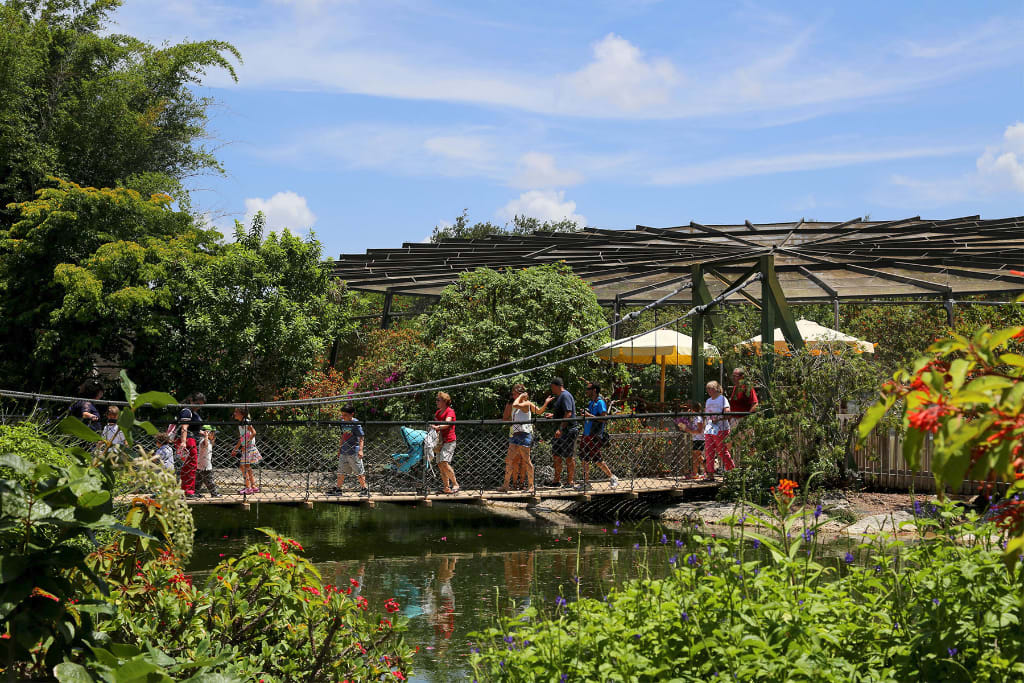 Have A Relaxing Visit
We finished up our visit with a snack at the Mariposa Café and a visit to the well-stocked Gift Shop full of nature-related gifts and souvenirs. It was a fun day at Butterfly World marveling at all of the beautiful butterflies and birds. You feel like you are immersed in a garden paradise as you walk among the large collection of flowering plants and lush vegetation. Butterfly World has been a favorite stop on our travels. We highly recommend this chance to experience learning about and walking among thousands of brilliantly colored butterflies.
Robin and her husband, Mike, are Air Force veterans and empty nesters who travel full-time in their Entegra Anthem motorhome. Always ready to explore, they love nature and wildlife, meeting new friends, and discovering America's many hidden gems. Robin chronicles their adventures and experiences on her travel blog RVing with Robin.