Have you ever thought about hiking but weren't sure how to get started? You may be surprised to learn that it's very easy to take part in one of the fastest growing outdoor activities in the world. One of the best things about hiking is that you don't need any special experience or expensive gear to get started. People of almost any age and with any budget can enjoy getting out on the trail. And not only that but hiking also offers many physical and mental health benefits so it's a great way to stay in shape.
When you travel in your RV you have access to amazing hiking locations and breathtaking scenery. Hiking allows you to get off the beaten path and immerse yourself in the beauty of nature as you explore new places. In no time this fun, low-impact activity will have you experiencing the great outdoors while you get some exercise at the same time. With a little planning and preparation, it can be a great experience for the whole family. Here are my tips to help you get started.
Guest Post By Robin Buck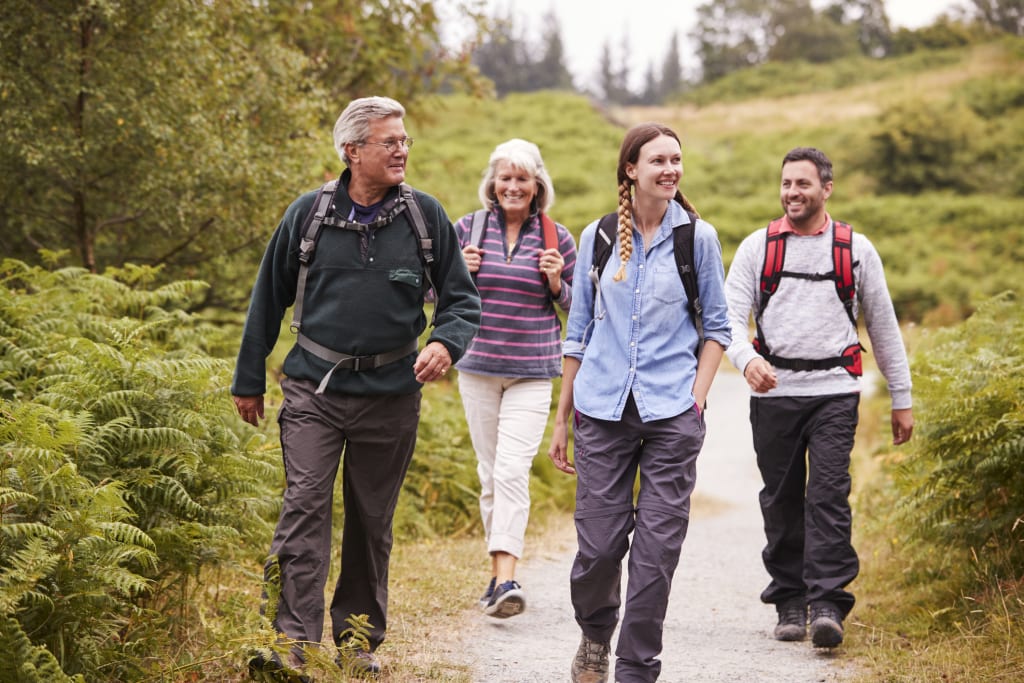 Planning for a Hike:
Even though you are excited about having amazing hiking adventures, starting small and working your way up is good advice for beginners. You should select a trail that you can handle at your fitness ability and give yourself time to build up to more difficult levels. A good starter hike might be a 2-4 mile trek with less than 200 feet of elevation change. There are many guidebooks and hiking websites to help search for trails near you, but other options could be talking to locals or park rangers for suggestions. In fact, state parks are a great place to start out because they usually have well-marked trails with a variety of distances and difficulty levels.
Once you select a trail, make sure to get a map to guide you. You will need to become familiar with the trail route, taking note of the elevation, terrain, obstacles, or places where other trails intersect. Look at the length of the trail you select and keep in mind that the average person hikes about 2 miles in one hour (less in steep elevations). Determine if the trail is a loop or if you go out to a certain point and then retrace your steps to get back. Check the locations of restrooms and parking areas and don't plan on leaving valuables in your car.
Look at the weather forecast and decide on a day for your hike. Knowing the temperature and outside conditions will help you decide how to dress and what to pack for your hike. Stay current as the day gets closer to avoid any surprises. If inclement weather is forecasted, it is best to reschedule your hike.
Invite a friend or family member to go with you. It's always best to hike with a companion, not only in case you have any trouble but because its fun to explore with others. And most importantly, let someone know where you are going and when you plan to be back…just in case.
Finally, while you may love your dog don't bring him along unless you know pets are allowed. National parks do not allow dogs on any trails, but some state and local parks do. If they are allowed, pets must be on leash at all times. Just as with people, your four-legged friend may need time to work up to longer distances.
Preparation for a Hike:
Once you know the weather conditions, pick out your clothing for the hike. You don't need designer clothing or particular brands. The most important thing is to be comfortable and be able to move freely. Synthetic fabrics are usually better than cotton, which can become damp if you sweat.
Wearing lightweight layers will allow you to adjust easier to the weather and add or remove clothing as needed. Breathable pants and tops in summer will keep you cool and guard you from bug bites, ticks, and poison oak. A wide-brimmed hat and sunglasses are good options for protecting your face and eyes. In colder weather, you can wear long underwear or leggings under your pants. Don't forget a jacket, wool cap, and gloves as needed.
The last thing you want on a hike is for your feet to hurt. Wear comfortable, sturdy shoes that have a closed toe and a good sole. You don't need to buy expensive hiking boots or special shoes, just use what you have as long as they feel good and are broken in. You don't want blisters! We started off with the sneakers we already owned.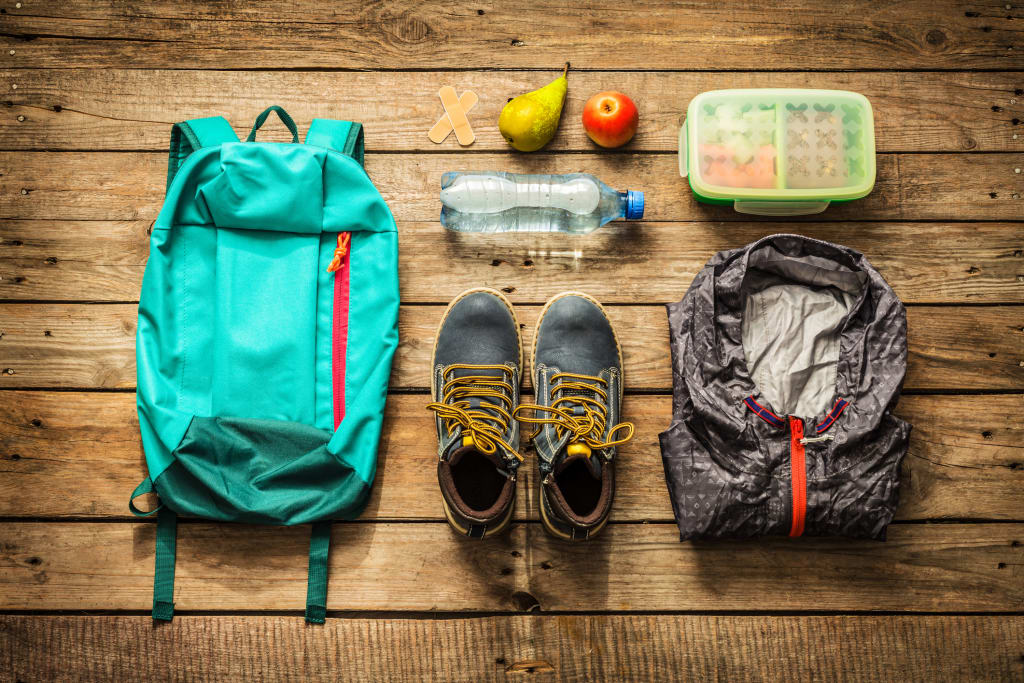 Packing for a Hike:
Packing for an easier beginner hike doesn't require a lot of supplies, but there are still some essentials you should always take with you. Having enough water to drink is a key item. Even though you might not feel like you are exerting yourself, you can easily become dehydrated outdoors. Also pack some snacks to keep your energy up. Some easily packable items are trail mix, dried fruit, granola bars, protein bars, and beef jerky. If you are bringing a dog, include extra water for him as well.
Knowing the terrain and area you will be hiking in will help you to be prepared. Remember to bring your map of the trail. Carry a small tube of sunscreen to prevent sunburn which can happen more easily especially at higher altitudes and in cloudy weather. Don't forget bug spray if your trail is in an area with mosquitos or ticks. When we were in the mountains of Glacier and Yellowstone National Parks, bear spray was highly recommended for all hikers.
Have a cell phone, a battery pack, and a flashlight in case of emergency. If you on a rocky trail or one that has some elevation, hiking poles can really help with your footing and balance. We love our poles and feel they really make our hikes easier. I like to bring a camera so I can share the wonderful views and scenery with others later on. A camera strap or cellphone lanyard will prevent them from accidental dropping. Stick to the essentials and pack lightly so you will not get too tired while carrying your backpack.
While on the Hike:
While you are hiking, make sure to follow proper trail etiquette. Stay on the designated trail to avoid damaging delicate plants and habitat areas, as well as not getting lost. Be respectful of any wildlife you see and observe from a safe distance. Leave what you find –don't remove anything from the area so others can experience the same natural beauty that you did. Dispose of all waste properly (including dog waste). Should you meet others on the trail, remember that hikers going uphill have the right of way over those going downhill.
Go at your own pace and don't forget to stop and take in all of the sights that nature has to offer. Enjoy the view and don't forget to have your camera handy to preserve those memories. Walk quietly, keep your eyes peeled, and you will be amazed at the wildlife you see. Sip water often and have a snack. It's easy to lose track of time while you are having fun but keep an eye on the clock so that you will be off the trail before sunset.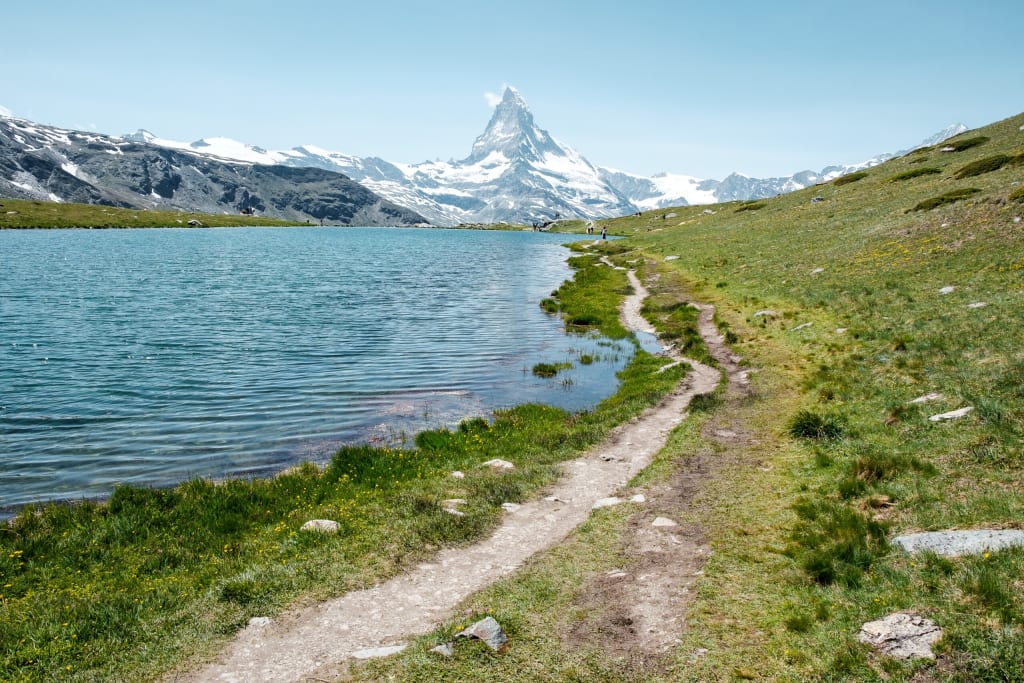 Get Out There and Have Fun:
With a little bit of preparation and planning, you can really have fun and enjoy the great outdoors. That's why you got your RV in the first place, right? Research has shown a connection between time spent in nature and reduced anxiety, stress, and depression. So, get out in the fresh air and improve your physical and mental well-being! Hiking offers the opportunity to reconnect with family, friends, and the beauty of nature. Follow these tips and you can plan the perfect hike.
Having a great experience on your beginning hikes can help you develop a lifetime habit of outdoor fun. You might start out small at first, but before long you can work at increasing your distances and difficulty. One day you might even decide to hike the Appalachian Trail or another unforgettable destination. But even if you just stick to hiking in your hometown or nearby parks, it's an easy way to have lots of adventure with minimal risk. You're ready to go out and have your own great hiking experience!
Robin and her husband, Mike, are Air Force veterans and empty nesters who travel full-time in their Entegra Anthem motorhome. Always ready to explore, they love nature and wildlife, meeting new friends, and discovering America's many hidden gems. Robin chronicles their adventures and experiences on her travel blog RVing with Robin.