When we started considering the full-time RV lifestyle, I asked several friends who full-time RVed with kids, to share their budget. How much does this lifestyle cost? We had been traveling around the world with our kids full-time and had a good grasp on how much that cost. But RVing? 
If you are new to this world, you probably have the same question. And if you are trying to set yourself up financially to start RVing full-time with kids, you should probably make an educated guess to ensure you have what you will need on the road. So yes, it Depends. The million-dollar answer… I know… I'm sorry guys, but it really does depend on so many things – mostly your personal preferences, and the type of rig you travel with. In simple words, the cost of full-time RVing with kids should cost you anywhere from $3,000 to $6,000 a month. Let's look at what impacts that cost and help YOU figure out how much your adventure will cost. 
There are three main components to the cost of full-time RVing with kids. Those will cover 75% of your monthly expenses: campground choices, gas/diesel, fixed costs. The rest is similar to the cost of living at home, some higher, some lower – groceries, experiences, fast consumer goods. 
Guest Post and Photos by Laura Georgieff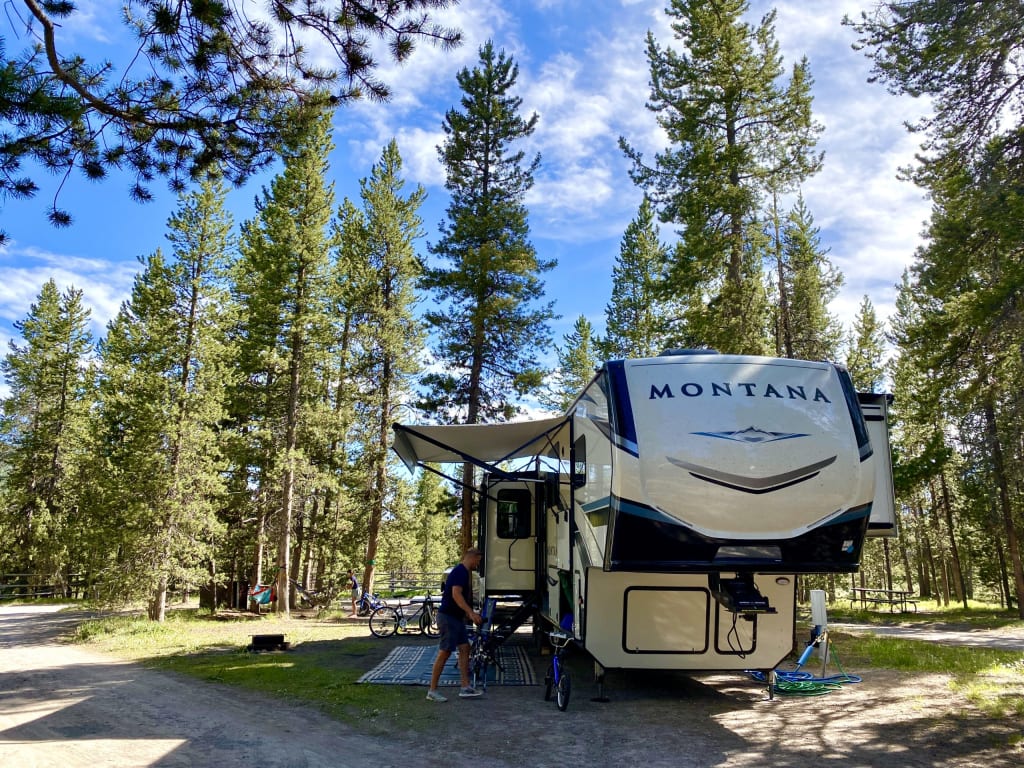 Campgrounds Choices
Campgrounds vary greatly in price and this is where you will be able to most impact your monthly budget on the road. Some families boondock over 300 nights per year, which costs them absolutely nothing, outside of the initial investment in solar panels, bigger tanks, and a rig that can sustain traveling off-roads. 
In general, you can assume the following costs: 
Boondocking on federal land, at WalMart / Cracker Barrel: $0 / night
State parks and national parks – no hookup: $7 – $20 / night
State parks and national parks – hookups: $25 – $50 / night

 

Regular campgrounds: $50 / night (generally $35 to $60 / night)

 

Higher-end campgrounds: $60 – $200 / night

 
Where you decide to camp will dictate a lot of your full-time RVing monthly budget. We like to stick to an average of $35 to $50 / night. The most we've spent in all of our full-time RVing years was $80 in D.C. and at a Jellystone Campground in Kentucky. If your average can be around $50 / night, you're looking at $1,500 / month in campgrounds.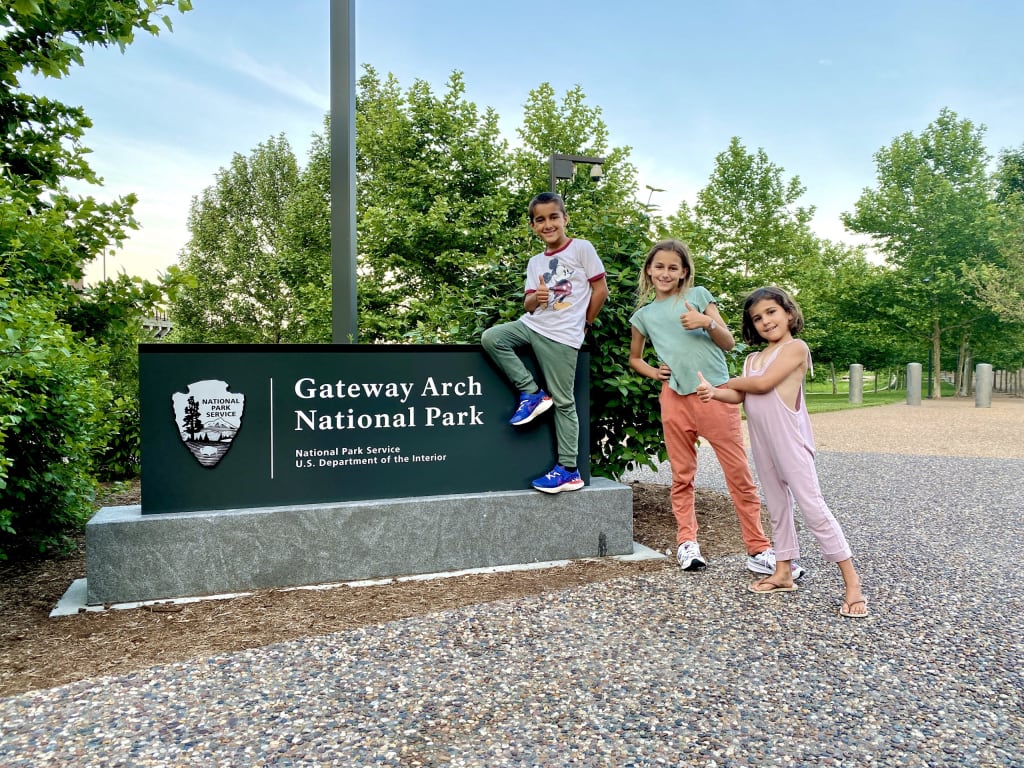 Tips To Lower Campground Costs
While we are on the campground cost topic, let me give you a few tips and programs worth investing in, to lower your monthly campground costs. 
Good Sam Membership
The Good Sam membership starts at $30 / year and gives you 10% OFF the nightly rate at over 2,000 campgrounds around the U.S. It comes with other discounts, including gas / diesel, retail, and dump services. 
KOA Rewards
For $33 / year, you get 10% OFF all of your KOA stays. We love staying at KOA's, they are a treat for the kids and we've stayed there so much that we qualified for a free year of KOA Rewards this year. You will also accumulate points with every stay, which you can redeem for cash on camping nights. With the KOA Reward program, we make our $50 / night budget work at KOAs, which is awesome! 
Thousand Trails
If you're considering full-time RVing with kids, it won't be long until you hear about Thousand Trails. There are other membership programs out there, but we have Thousand Trails and I feel like it is the one most often purchased by full-time RVing families. 
You can either pay for an annual camping pass – $630 / year and $70 for each additional zone (you may need to add 1 or 2 zones, or none at all). The annual camping pass gets you access to all the campgrounds in your zone, free of charge. You can stay up to 2 weeks for free, or can hop from campground to campground if you stay 4 nights or less. We did 6 weeks in Oregon and California entirely free in the summer last year, thanks to our membership! 
If you're thinking about full-timing for several years, most families buy a deeded interest in Thousand Trails and get up to 3 weeks (instead of 2) and additional park-to-park benefits. 
Our Thousand Trails membership has more than paid back and it is nice to get nice parks with full hookups free of charge!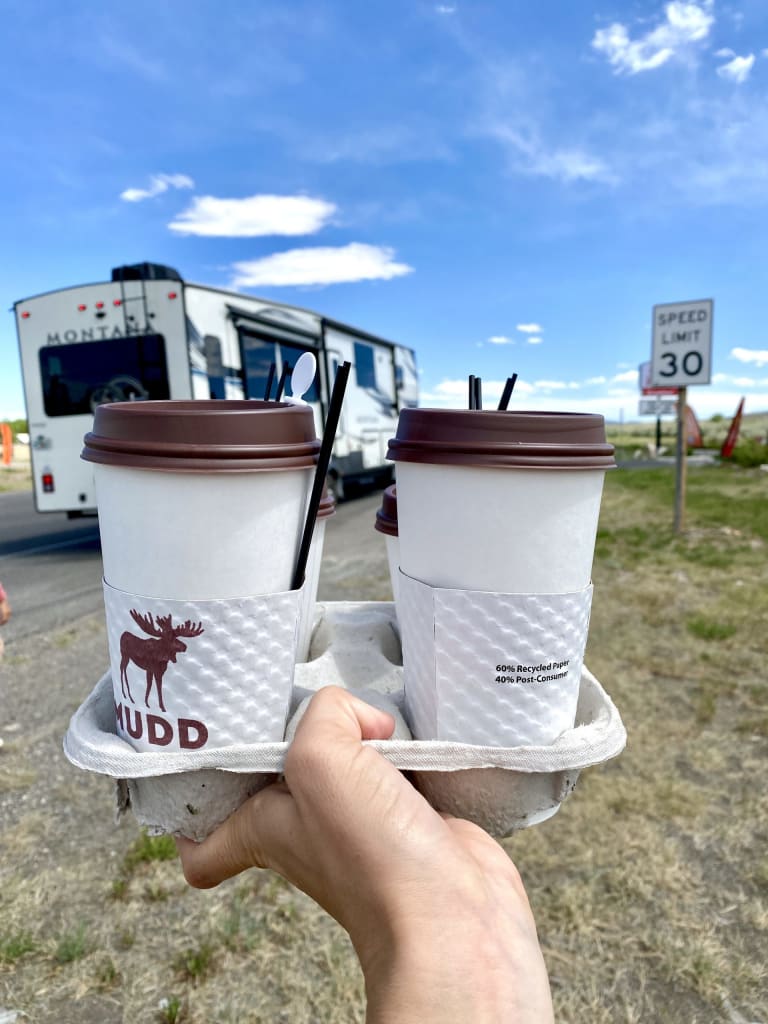 Passport America
We love our Passport America membership. For $44 / year, we get 50% OFF at over 1,200 campgrounds. Each campground comes with its rules for when the discount can be applied. But it is easy to make your money back in as little as 1 to 2 nights! We've used ours a ton and the app is a nice way to start trip planning. 
AAA
AAA comes with a bunch of benefits worth signing up for anyways! When I call a campground, I always ask if they have Good Sam / AAA / Passport American discounts. While a lot of campgrounds do Good Sam and AAA, some only do AAA and it usually gives you 10% OFF the nightly rate. Worth looking into!
Harvest Host
Harvest Host is just a fun program to join! For $99 / year, you get access to over 3,000 locations of boon docking. You need to be equipped to boon dock (have the battery power or solar to spend a night unhooked, and be self-contained). If you do, you get access to wineries, breweries, farms, museums, churches, and golf courses, allowing you to spend the night on their properties. They ask that you spend $20 at the local business hosting you and you are typically limited to 24 hours on their property (1 night). 
This is an excellent program for long travel days when you need a quick stopover and don't want to spend $50 on a campground. If you ask me, I'd rather spend $20 and get Christmas gifts for the family, or a meal, and spend the night boon docking along the highway, than pulling into a campground and spend $50 for a few hours of sleep. 
Fuel Costs
Fuel is the second largest expense you'll incur on your trip. Estimating how much you will spend on a monthly basis will depend on two variables: the vehicle you drive and how often / far you move. 
Many full-timing families spend 2 to 3 weeks at each campground – sometimes longer. Moving less often and shorter distances means lower fuel costs. Our family travels quickly and we only spend 1 to 4 nights at any campground. We can easily spend $500 / week in diesel. 
The vehicle you drive is another factor. Are you burning diesel or gas? Do you get 8 miles per gallon, or 12 miles per gallon? Are you a small van, a 45-ft diesel Class A, a truck pulling a large fifth wheel, or a small trailer? 
And lastly, where in the U.S. are you? Last summer, Oregon and California soared at $5.30 / gallon, while the east coast was under $3.50 / gallon. We are all dreaming of those prices right now… but that's another story. 
Think about your fuel consumption and how many miles you think you'll be driving each month, to get a better idea. I would budget for $100 to $200 / week – $400 to $800 / month. But that could be as little as a $50 tank on your tow vehicle if you stay put and just run to the grocery store, or $1,500 if you're crossing the United State in a couple of weeks. 
Fixed Costs
Make sure to account for your fixed costs: 
Insurance on rig and all of your vehicles
Health insurance for all members of your family

 

Insurance and HOAs if you keep your home
Roadside services
Any memberships mentioned above, which should in turn lower your campground and emergency costs
It is easy to overlook those as you plan your trip, but when that $3,000 rig insurance renews, you want to make sure you had budgeted for it.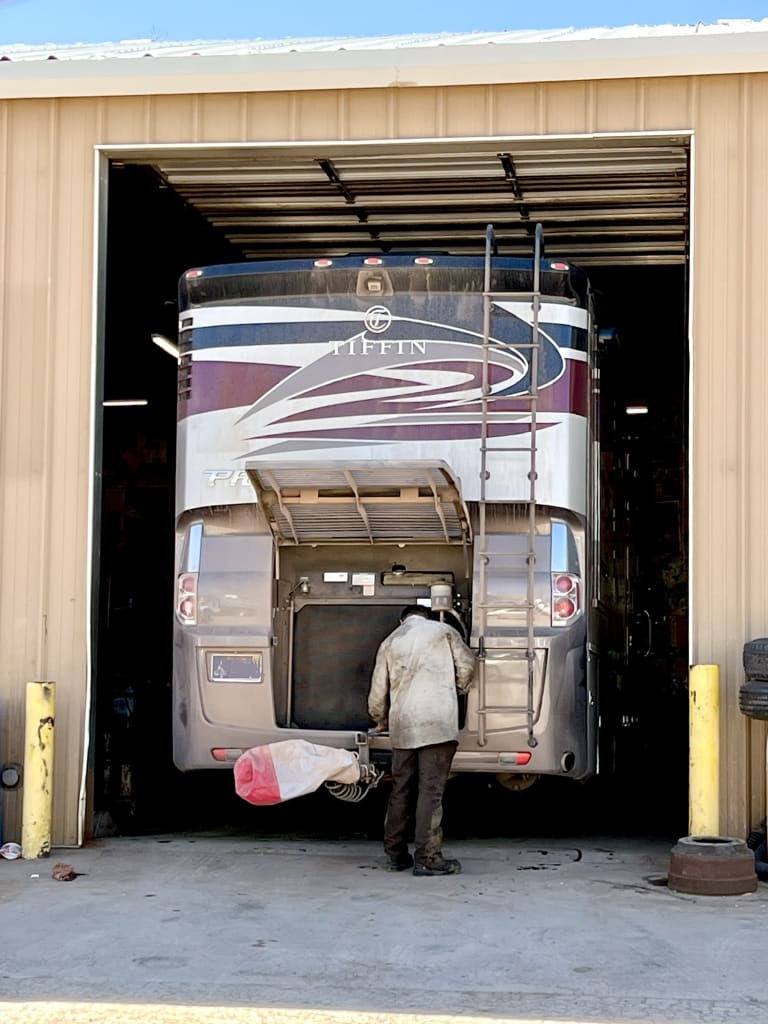 Maintenance / Emergency
Do not underestimate the cost of maintenance of your rig and vehicles. The more engines you drive (i.e., Class A or C + tow vehicle + generator), the higher your maintenance costs. 
Those costs might be once-a-year, or more, depending on the mileage you drive. Again, slower travel means lower costs. 
Accidents and repairs are to be expected when you put your equipment through the full-time living regimen. If you need to leave your rig at a repair shop for a few days, you will need accommodations. Check whether that is included in your insurance coverage. 
Plan for the worst and expect the best – assume that you will need $2,000 / year in maintenance and up to your insurance deductible in emergency costs. At around $4,000 / year, you're looking at $300 / month. 
Groceries
Groceries are a personal preference. Are you a Whole Foods or organic shopper? Or more of a Walmart / Aldi shopper? 
We air on the cheaper side and have loved discovering new grocery stores in the different states. That means signing up for half a dozen membership cards and unsubscribing from their emails 🙂 but I would say that we spend around $170 / week in groceries, versus $150 / week at home.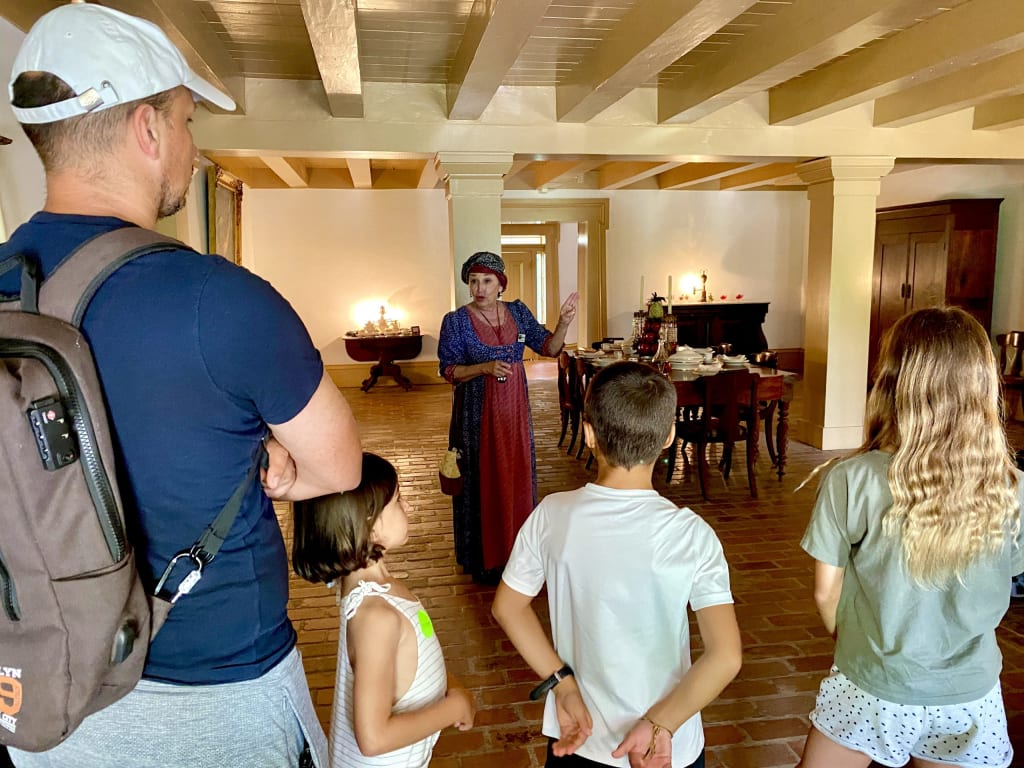 Experiences
This is an area where you can go all out, or decide to save. Some families sign up for tours, visit theme parks, helicopter tours, diving outings, surf lessons, paying museums, and other premium experiences. Those can quickly add up and will really depend on your budget and preferences. 
We mostly participate in free experiences. We hike the national parks, participate in free ranger-led activities and talks, and have an ASTC membership that gives us access to hundreds of free science museums around the country. 
I honestly don't feel that we could add any more to our agenda, but we could surely swap those free experiences for paying ones. 
Our budget is close to $0 / month. Yours could be higher. 
Consumer Goods
Typical full-timing families report major savings in consumer goods – think gifts, clothing, toys, home décor, things…
Your space is limited and you will soon realize how little you actually need and use. You will also quickly understand how much you used to purchase, that you did not actually need! 
Kids' clothing might be your highest budget, since they grow, get dirty, make holes… but your space is very limited and you will think over every purchase. We go months without making a single purchase. The kids have all the toys they need, all the clothes they need. We, adults, have all of the electronics we need, all of the appliances we need. When it comes to décor, we left with a miniature Christmas tree, the size of an adult hand, and an LED garland. 
You may only spend about $100 / month (or less) on consumer goods. Your highest expense may be homeschooling curriculums.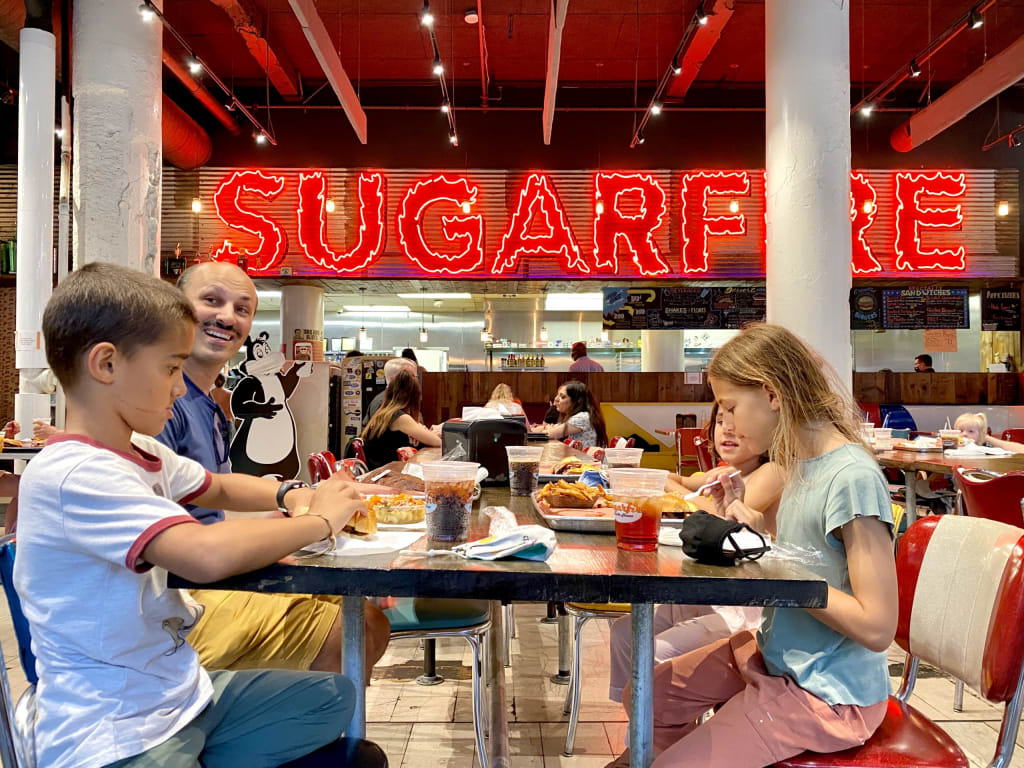 Eating Out
The beauty of camping is traveling with your kitchen and all of your cooking and baking staples. You can even bring your favorite appliances. Many full-time RV families spend close to nothing on eating out.
We've never eaten out at home… and find ourselves doing it more on the road. We move quickly, which means that we can have long driving days and late nights in the national parks. Grabbing a bite on the way back to the campground is easy and convenient. We may spend as much as $100 / month on eating out. You could spend a lot more, or a lot less.
The Cost Of Full-Time RVing With Kids
Let's put all of this together and come up with a rough monthly cost for full-time RVing with kids. We will assume a $50 / night on campgrounds in this first scenario: 
Campgrounds: $1,500

 

Fuel: $500

 

Fixed costs: $1,200

 

Maintenance / emergency: $300

 

Groceries $175

 

Experiences: $75
Eating out: $100

 

Consumer goods: $100

 
Total: ~$4,000 
Keep in mind that your fixed costs could be a lot lower. I am assuming $3,000 of RV insurance, $9,000 of health insurance, and $2,000 of memberships and roadside service insurances, per year. 
A scenario where you'd spend $75 on campgrounds each night could run you ~$4,750. And if you decided to boon dock or work camp your way through the year, you could look at closer to $3,000 per month. 
Take all of those numbers with a grain of salt. You might need to increase the Eating Out and increase your Groceries, increase Experiences and decrease Consumer Goods. Your fuel costs may vary greatly from those scenarios (we spend at least twice as much in diesel, but less in average on campgrounds). 
Play with those numbers and adjust them to your travel style, to get an idea of how much full-time RVing with kids can cost YOU.