Eco Friendly Camping Tips
"We need the tonic of wildness… we can never have enough of nature." – Henry David Thoreau
Are you looking for ways to go green in 2020? RVers have the grand fortune of experiencing the most exquisite parts of our country from the comfort of their home. With that luxury comes the responsibility to take care of wild spaces and help preserve their existence for generations to come. If you've wanted to take easy and practical steps to making your RV lifestyle more eco-friendly but aren't sure where to start, remembering the simple age-old mantra, "reduce, reuse, recycle" is a great first step. Below we've outlined simple transitions that are easy for every RVer to implement in their everyday life, whether on the road or in the wild. Check out the details below.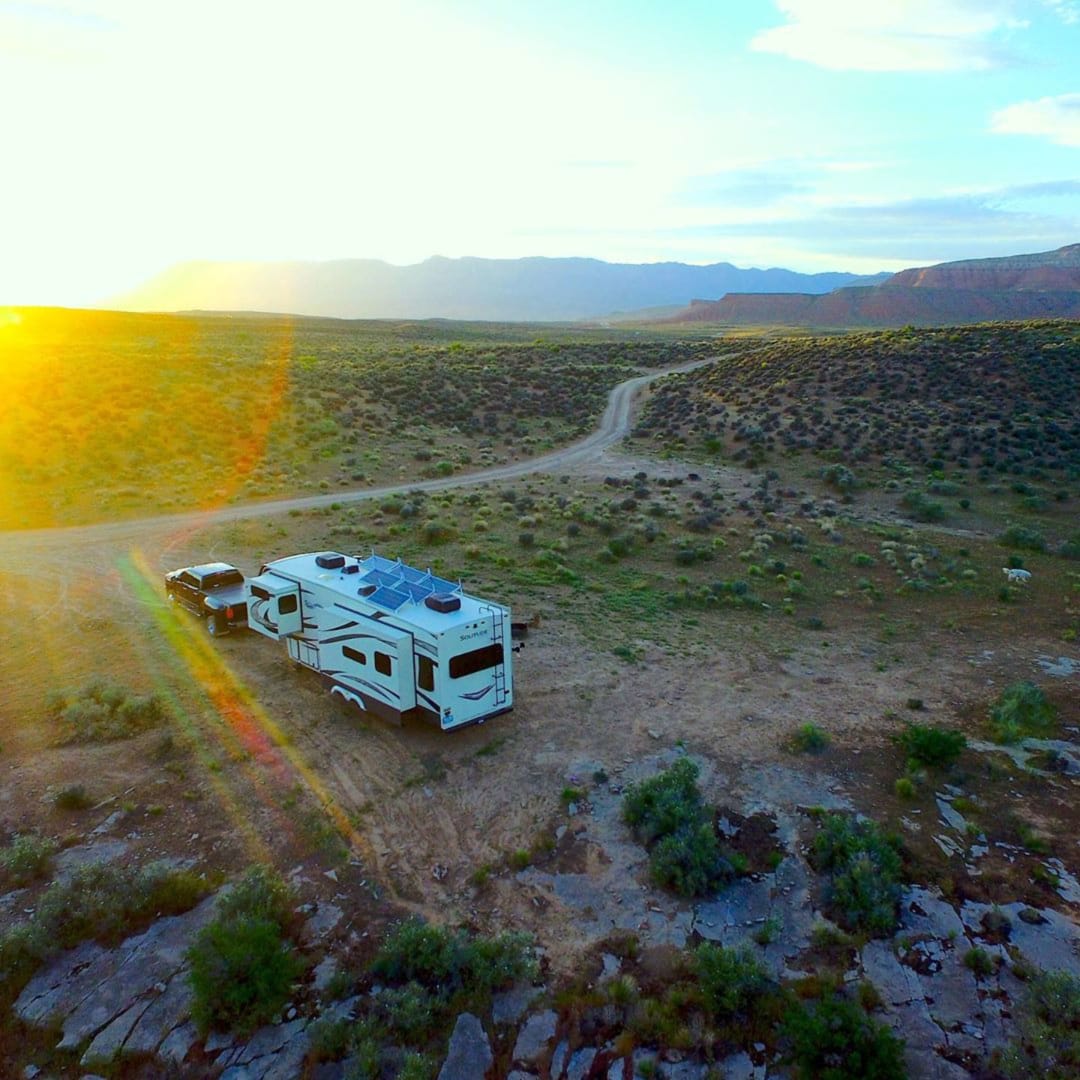 Photography: @pulling_chocks
SOLAR POWER
Going solar is one of the most efficient ways to transition your RV over to clean energy consumption. If you enjoy dry camping, solar allows you the comfort of your amenities without powering up your generator (and releasing emissions). Solar power is less expensive then a generator, allows you the freedom to travel, emits no noise (unlike a generator) and provides renewable clean power that is available every day of the year. To learn more about powering your RV with solar energy, check out our post on Going Solar in Your RV.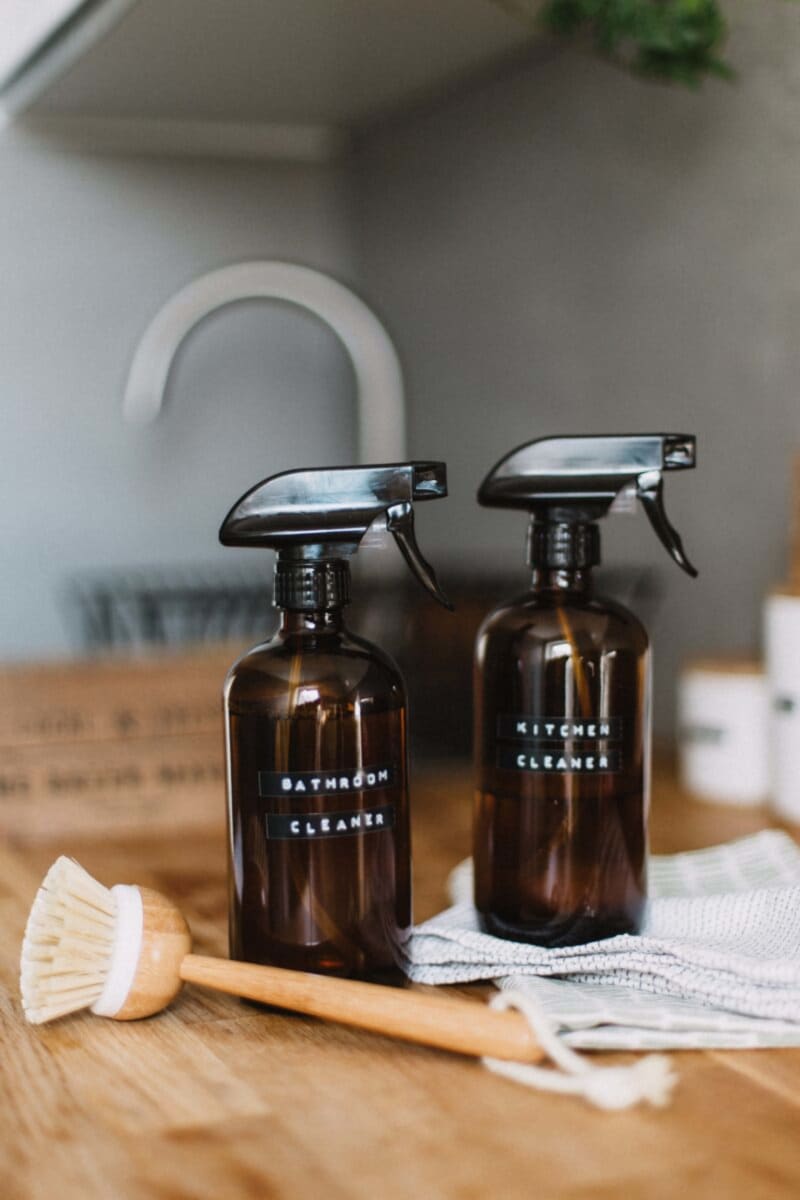 NON-TOXIC CLEANING SUPPLIES
Eco-friendly cleaning products are first and foremost safer for you, safer for the environment. Making the change over to natural cleaning products is easy. Simply opt for cleaners that are free of toxic chemicals (from phthalates to perchloroethylene, ammonia, and sodium hydroxide). EWG's Guide to Healthy Cleaning is an excellent resource to check which ingredients you need to steer clear from when purchasing cleaning supplies. Buying eco-friendly, non-toxic supplies is incredibly easy in 2020 as there are dozens of companies making green cleaning mainstream. When browsing the isle of the grocery store look for brands like Dr. Bronner's, Method Home, and ECOS. Want to try making your own home cleaners? You can while enjoying eco friendly camping! Check out our post on How to Make your Own RV Cleaning Supplies.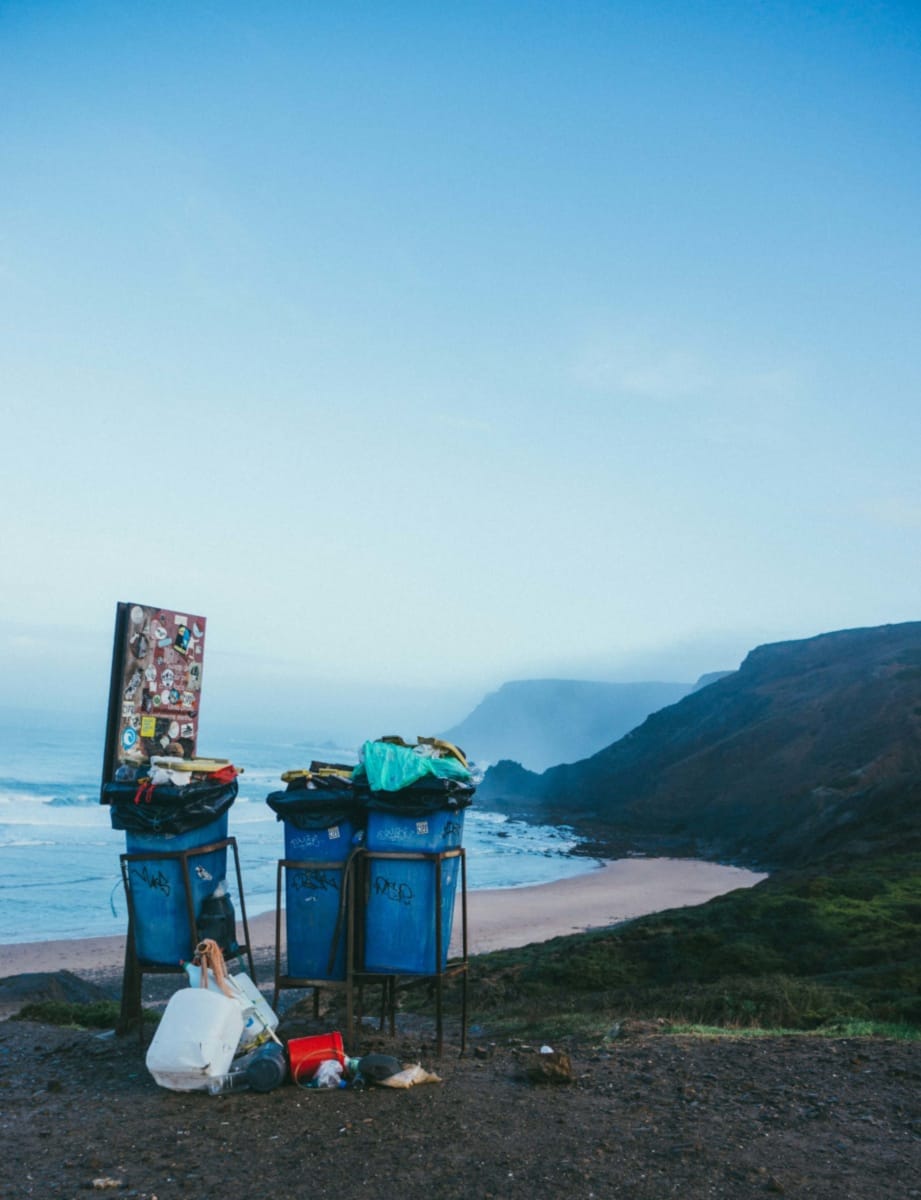 Eco friendly camping
REDUCE AND REUSE
Following these simple principles can be revolutionary as they are the most effective way to avoid creating unnecessary waste in the first place.
Benefits of reducing and reusing as stated by the EPA (The United States Environmental Protection Agency):
– Saves energy
– Prevents pollution caused by reducing the need to harvest new raw materials
– Reduces greenhouse gas emissions that contribute to global climate change
– Helps sustain the environment for future generations
– Saves money
– Reduces the amount of waste that will need to be recycled or sent to landfills and incinerators
– Allows products to be used to their fullest extent
Practical ways to implement reduce and reuse principles:
– Buy used! Everything from furniture to camping gear, clothing, and beyond.
– Purchase items with little to no packaging.
– Opt for reusable over disposable (face masks, grocery bags, paper towels, etc)
– Fix what's broken before throwing away.
– Borrow, rent, or share items that you use infrequently.
– Donate what you don't need before throwing it away.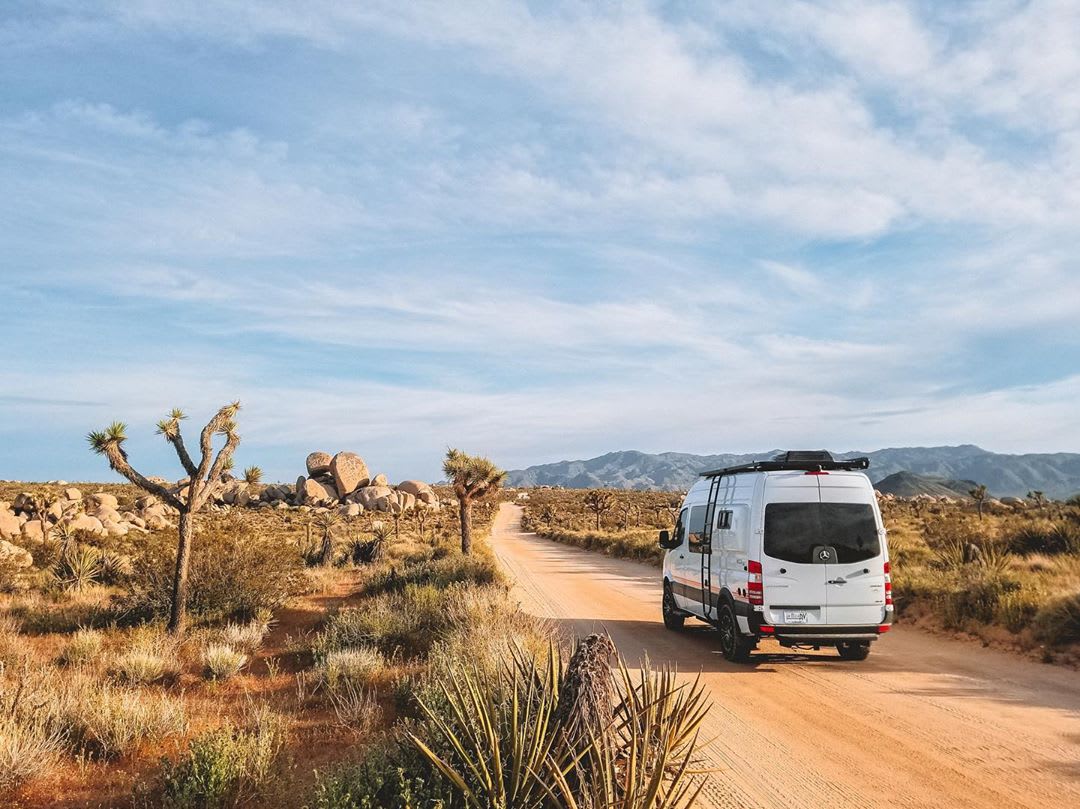 Photography: @storytelleroverland
CAMP IN DESIGNATED CAMPSITES
And travel on designated trails while you're at it. This is incredibly important when it comes to preserving natural vegetation and wild spaces. What might look like dirt or weeds to us can actually be a thriving ecosystem. While dispersed camping (no services) is legal there are a few camping rules and regulations to be mindful of before you go to ensure your experience is safe and to keep the lands natural resources unspoiled for others.
Regulations of Dispersed Camping as Stated By USDA.gov: 
– You need to be self-contained as no amenities such as water, restrooms, or trash receptacles are provided.
– Max stay in one spot is 16 days
– Campsite must be 100 feet from any stream or water source
– Pack-in and pack-out. This means everything you bring must leave with you
– Abide by the Leave No Trace Principles. For a refresher on those 7 principles, you can click here.
– Follow fire restrictions
– Be bear aware
– Dispersed camping is not allowed in the vicinity of developed recreation areas that include campgrounds, picnic areas, and trailheads.
– Do not drive in meadows. Instead, take existing forest roads to prevent unnecessary damage
– Keep campsite within 150 feet of a roadway
– Camp on bare soil if possible to avoid killing plants/grass
– Do not level or dig trenches
– If your RV does not come with a bathroom there, practice proper disposal of human waste. Regulations are: dig a hole six inches deep at least 100 feet away from any water source. Fill the hole with dirt and take your toilet paper with you.

Photography: Mountain Modern Life
SWITCH TO LED LIGHTING
This is probably something you've heard before and with reason. Switching over to LED lighting is simply more energy efficient and cost effective. On average, "residential LEDs use at least 75% less energy and last 25 times longer than incandescent lighting" as reported by Energy.gov. To learn how to install LED lights in your RV, check out this great tutorial by Mountain Modern Life.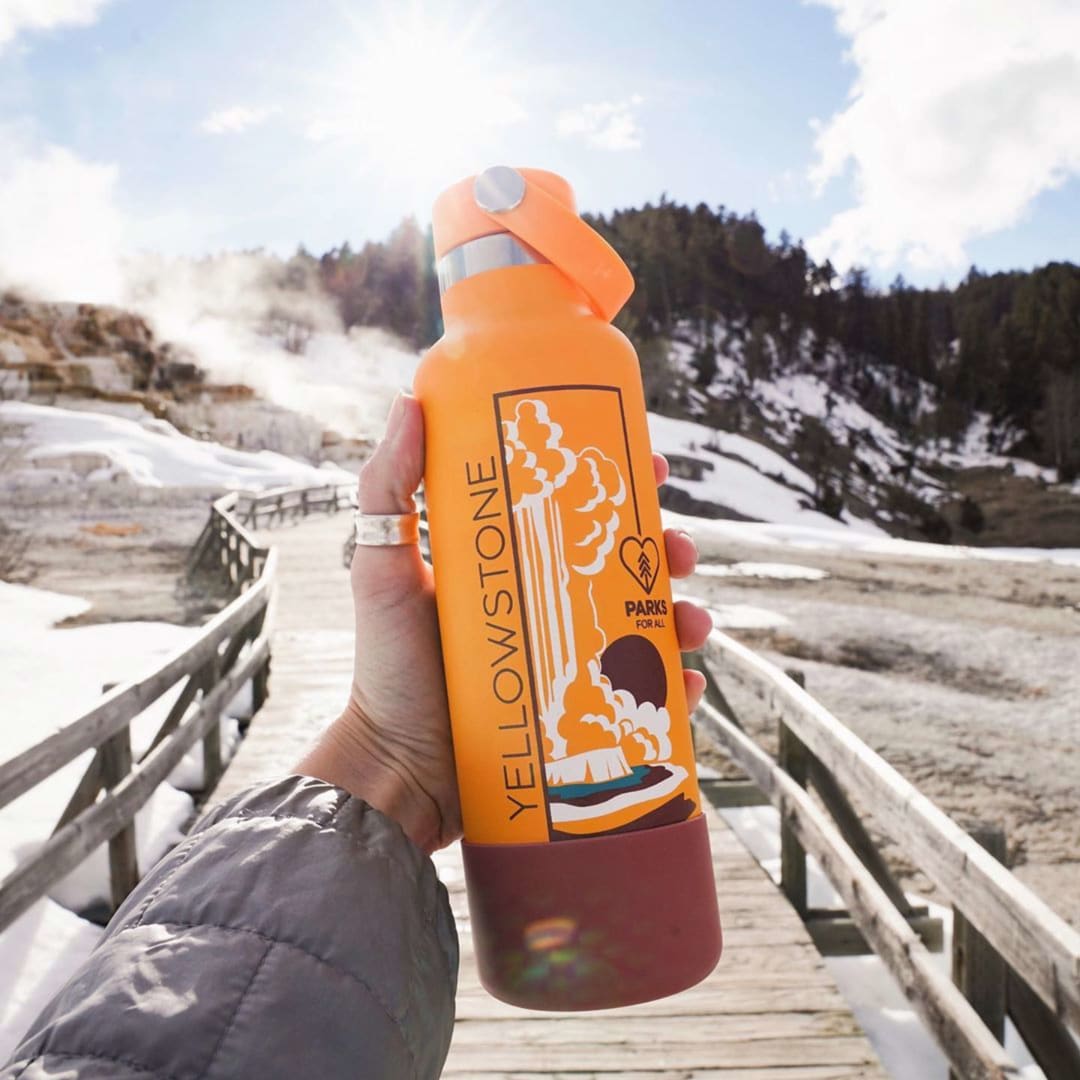 Photography: @hydroflask
REUSABLE WATER BOTTLES
Plastic water bottles are much like home phones, they're outdated. While you might be in the habit of buying plastic water bottles, we promise, it's incredibly easy to break. Once you do, you'll never go back, especially when you learn that more than 8 million tons of plastic bottles end up in the sea each year. There are dozens of brands that sell high-end reusable water bottles (we've included a list below) that are engineered to make your drinking water the perfect temperature for hours on end and are BPA free. To get in the habit of using your refillable water bottle, remember to keep it with you at all times. You might want to buy a few – one for your purse/backpack and one for the RV. Anytime you stop for gas, go to a restaurant, go into a national park, fill up with the free water stations available to you. The mantra for leaving one's house goes, "phone, keys, wallet" but we like to say, "phone, keys, wallet, water bottle!"
Top-Rated Reusable Water Bottle Brands: 
– Hydroflask
– Yeti
– Miir
– Klean Kanteen
– Stanley
– Snow Peak
– S'Well
– Larq
– Healthy Human
– CamelBak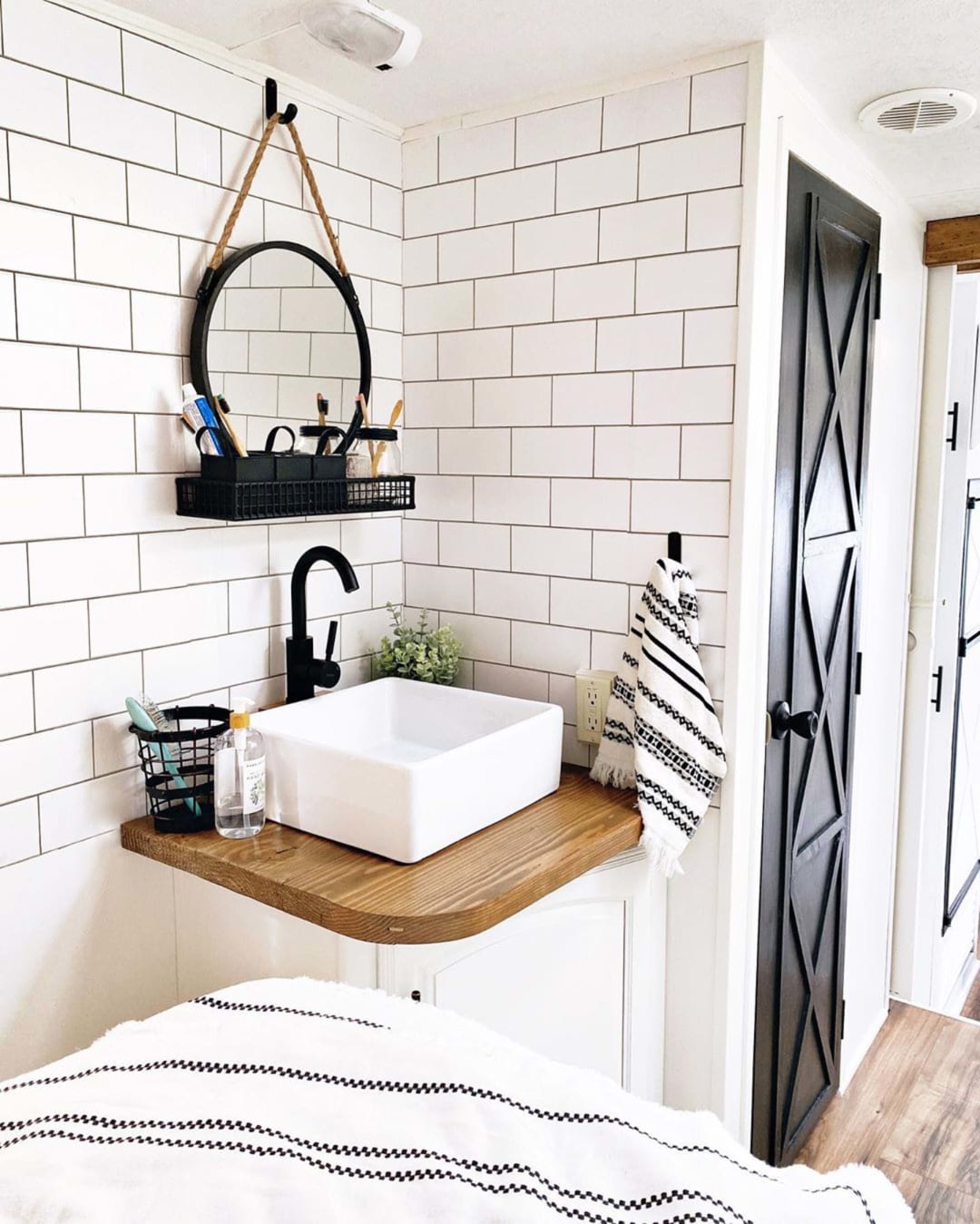 Photography: @trzdiydesign
LOW-FLOW WATER FAUCET AERATORS 
While many RVers are naturals when it comes to conserving water, it can never hurt to be a little extra cautious. Instead of constantly thinking about your water consumption, you can let your faucets do the work for you buy purchasing a faucet aerator. This inexpensive RV gadget reduces water consumption without sacrificing water pressure. Add it to both your kitchen and bathroom sinks for optimal water savings. Click here to browse the many aerator options for your RV.
Are you looking for safe saving options for your RV space? Check out our recent post featuring practical RV Organization, Storage, and Space Saving Tips for Every RVer. If you're looking for an RV to carry you into the fall season, check out our inventory over at La Mesa RV.
Enjoy these eco friendly camping tips