Ever dream of packing up and taking on the open road for an extended, adventurous getaway? Do you find yourself wishing you could conquer your travel bucket list, one wonder at a time, from behind the wheel of your RV? If you have, then you may be an overlander at heart and we've found just the place to tap into your inner road warrior.
A few months ago, we took our Winnebago Travato and charted our map for Overland Expo West in Flagstaff, Arizona. This massive event is held at the beautiful Tuthill County Park, only minutes away from the gateway to the Grand Canyon and Four Corners region.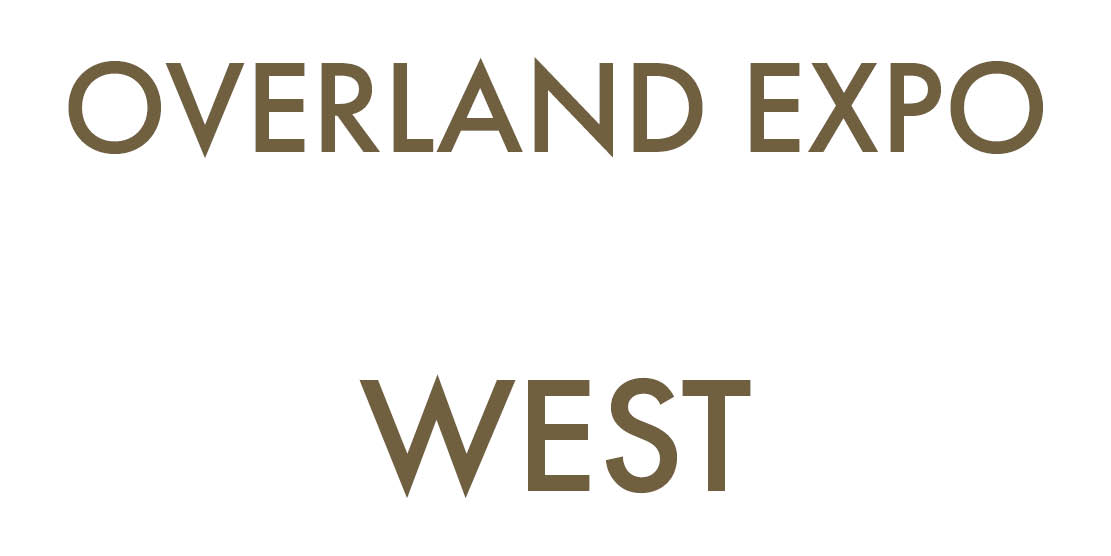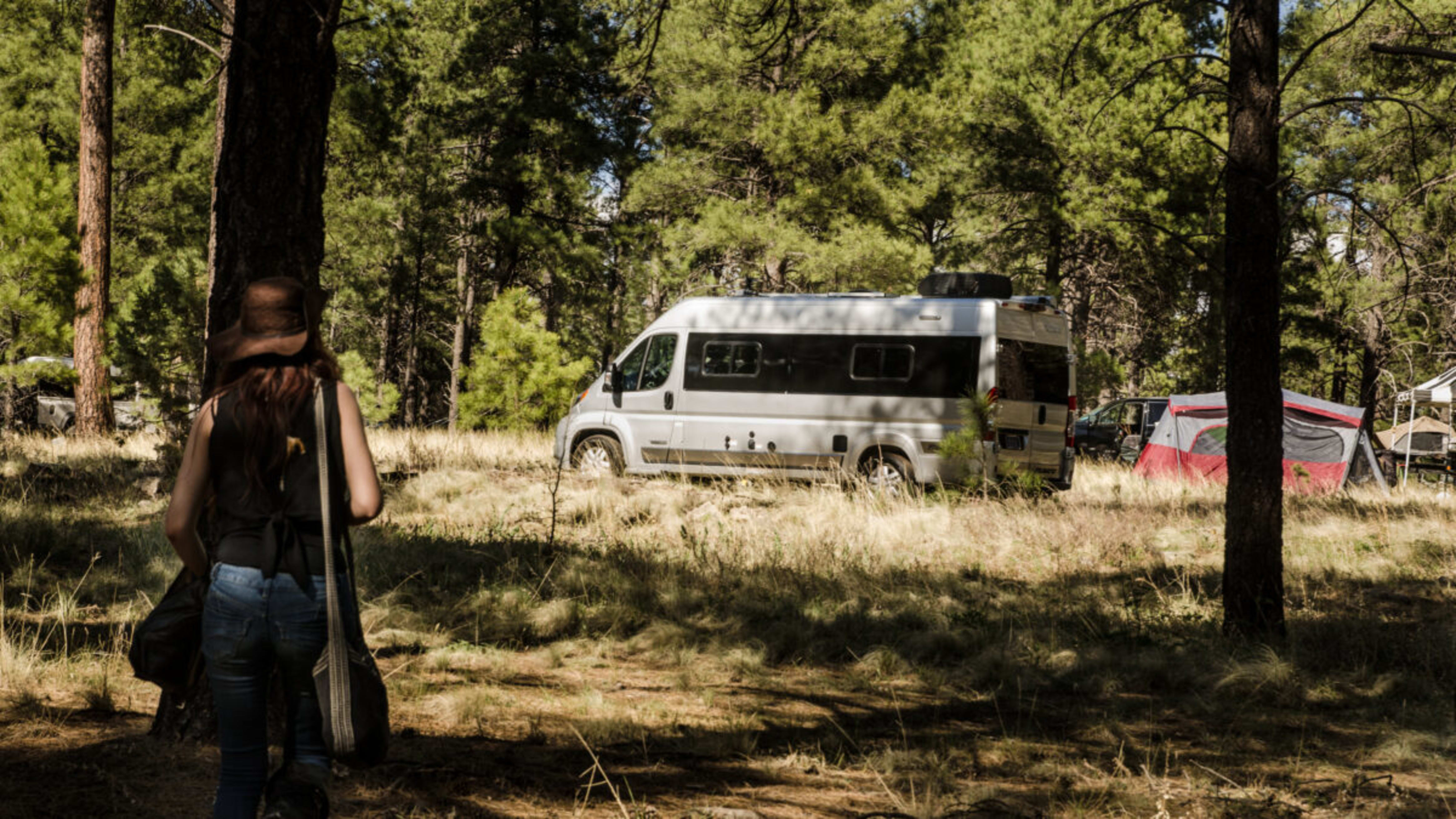 Campers and RVers alike from all around the country gathered to nestle into the cool and shady pine forest with easy access to campgrounds, food vendors and miles upon miles of trails to explore during down-time, both on and off-site.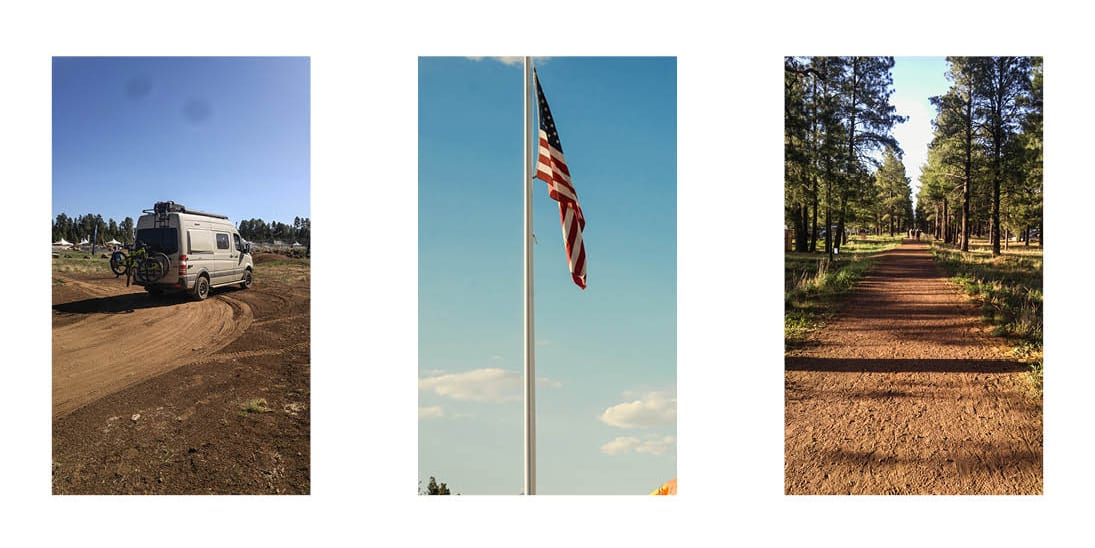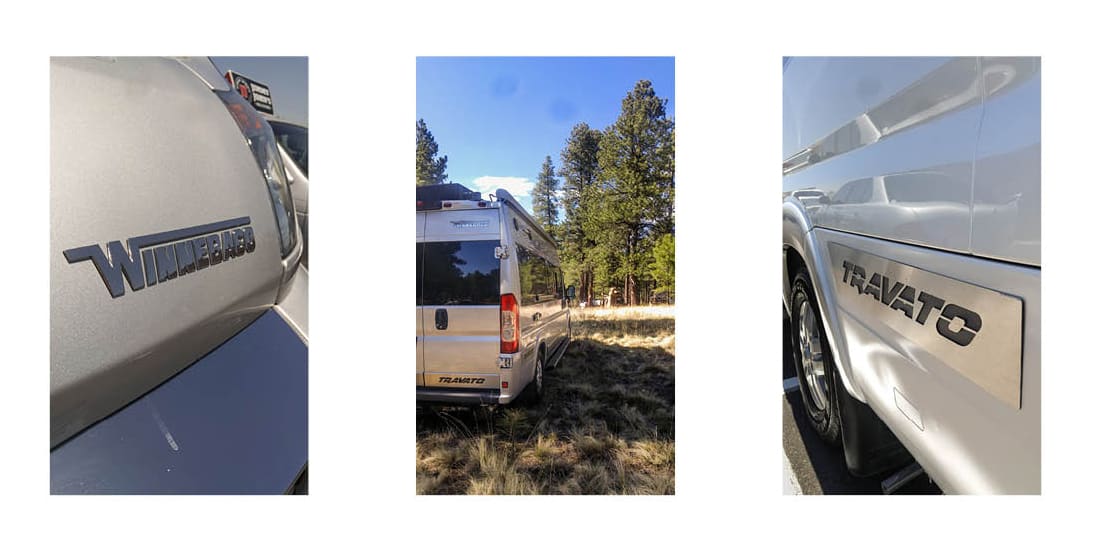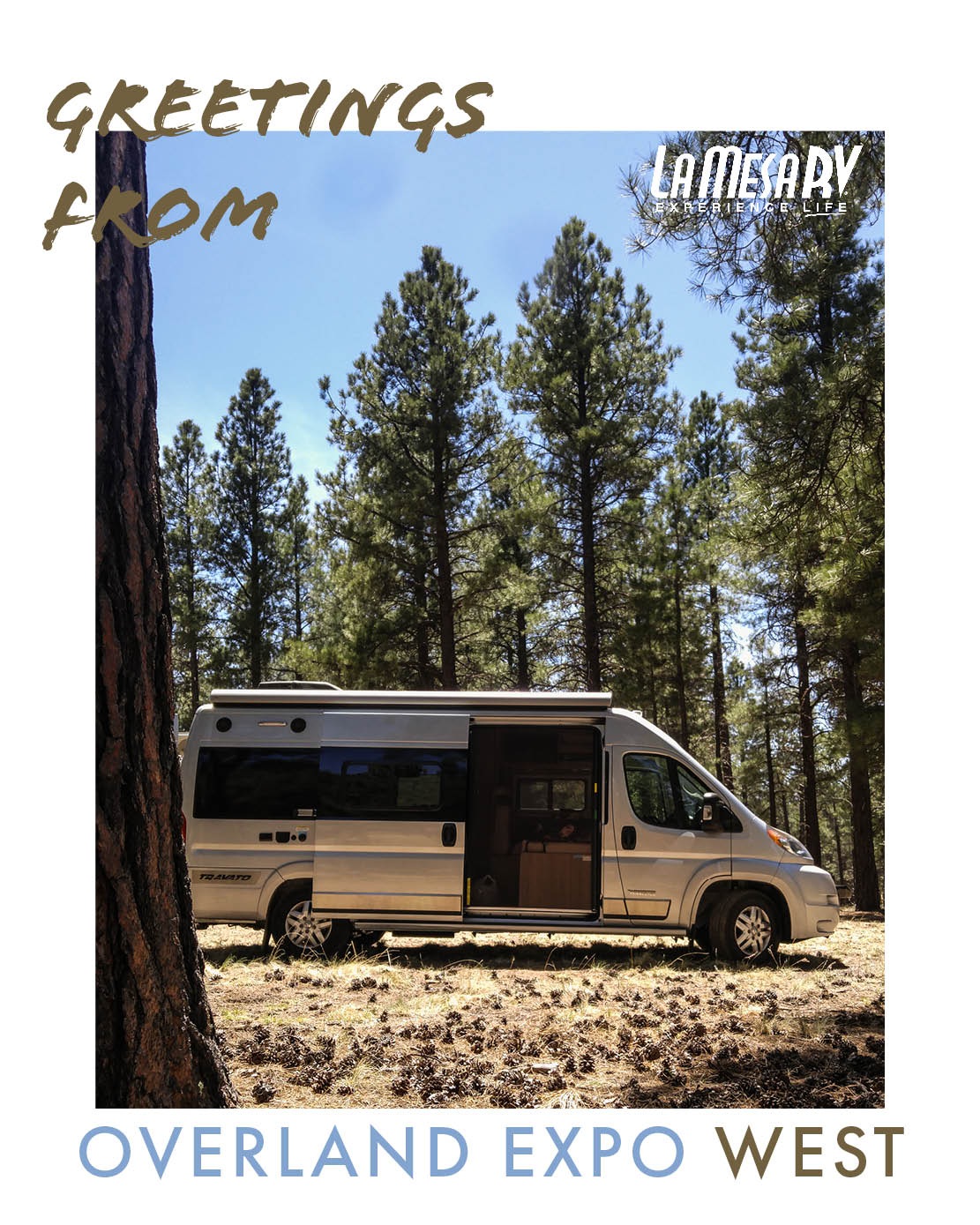 With it being our first year participating in this massive weekend event, there were plenty of grounds to scout and cover. So, here are some highlights for this amazing weekend celebration of outdoor travel culture!
So…What is Overlanding?
For any Overland Expo newcomer, it's a fair question to ask.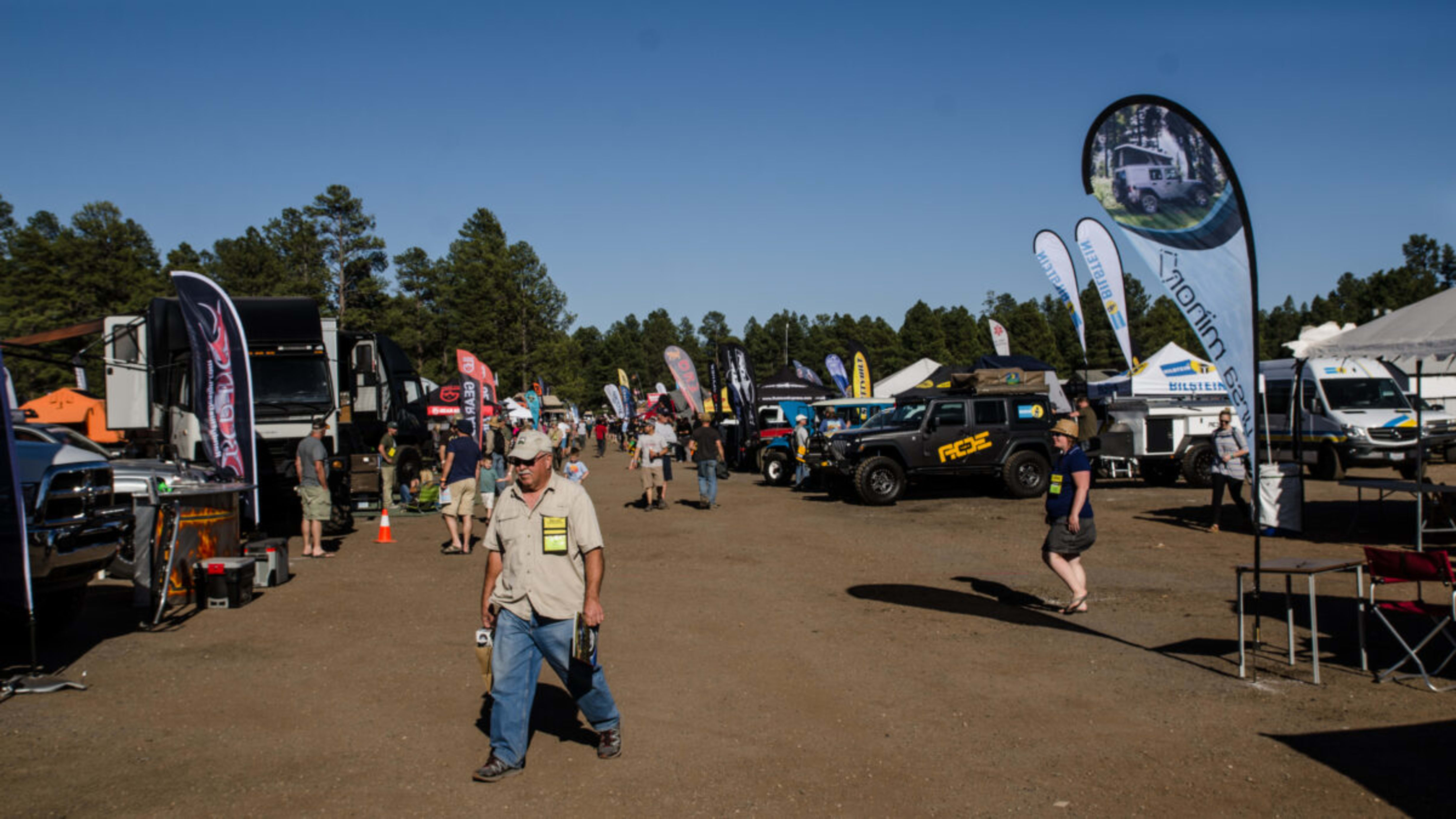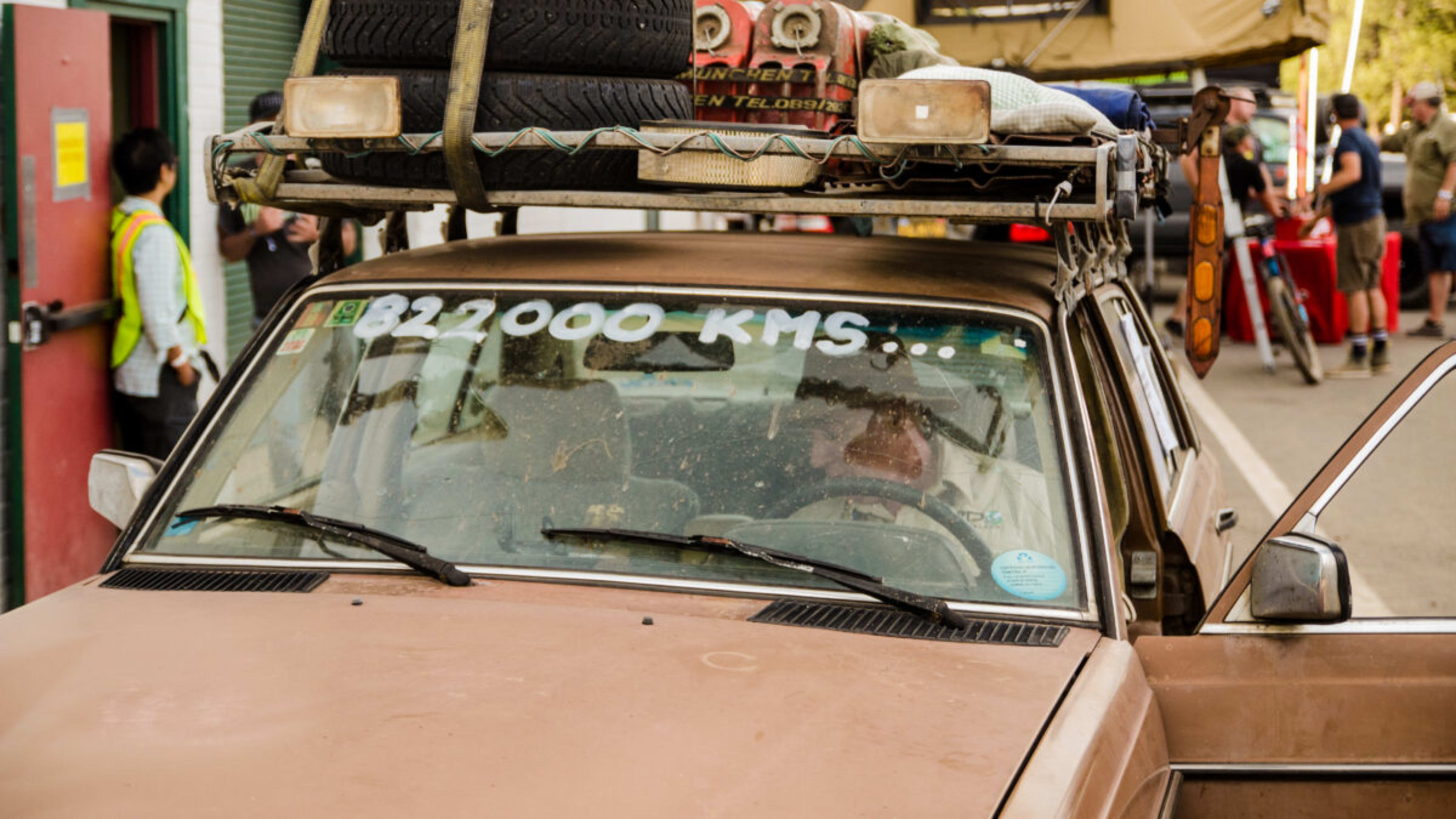 The Man Behind it All!
As defined by Overland Bound community founder, Michael Murguia – Overlanding is simply defined as vehicle dependent travel. That's it! Simple right?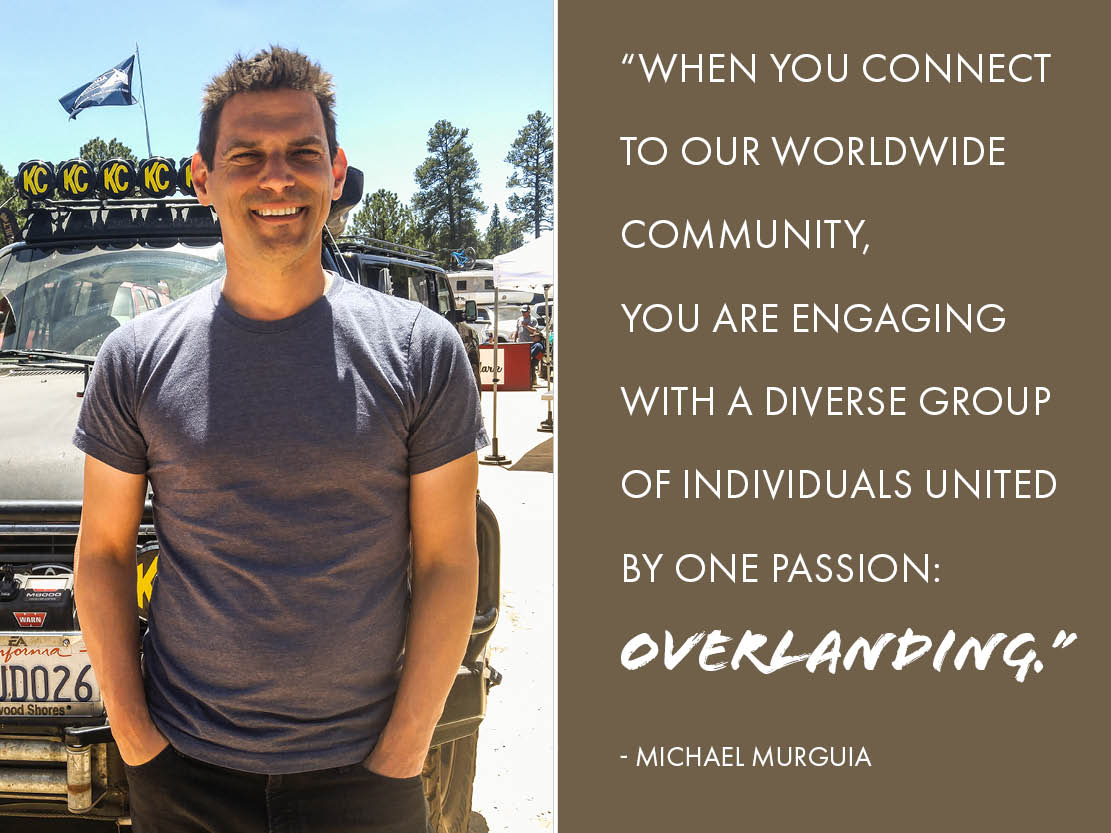 This epic community is purposed for both the preservation and exploration of the great outdoors. We got a chance to catch up with Michael and his epic rig at Overland Expo West, and here's what he had to say:
LMRV: How would you define overlanding to someone who's never heard of the term before?
Mike: The way we define overlanding is that it's vehicle dependent travel. We don't define it much more than that because we don't want to exclude people, and another thing we say is that it doesn't matter what you drive. Along with that, we say that it does matter where you drive it. So, you have to be safe and you have to be aware.
LMRV: How did you get into the overlanding culture?
Mike: I grew up in the great outdoors. My father was a forest ranger and our family business was a logging company up in Nor Cal. So, I just grew up outside. A few years back, in 2010 – all kinds of things happened in my life, like life will do. We go through these dark periods and I turned back to the great outdoors… I came out going, 'You know what? More people need to know that they can do this'. So, we started Overland Bound to share information and resources in hopes of getting more folks outside.
LMRV: What's your overlanding vehicle setup look like?
Mike: My setup is "bone-stock" in the interior. We've got armor on the outside because we do go off-road and we are prepared for going off-roading. But, you don't need to spend a lot of money to start out in overlanding and that's really important. You don't have to be intimated by all the gear that you see is out there. You can get started in simple ways. You just need shelter, you need food, you need water and you need to be safe.
LMRV: What's the greatest lesson you've learned during your overlanding travels?
Mike: Oh, boy! Do not leave your ignition on for more than two days if you're 900 miles South of the border in Baja Mexico. Also, drive an automatic – but on a more high-level note, be prepared! Everybody has a different idea of what 'safe' is so I can't answer the question for you of 'will it be safe?' All I can say is that you want to be prepared for wherever you're going."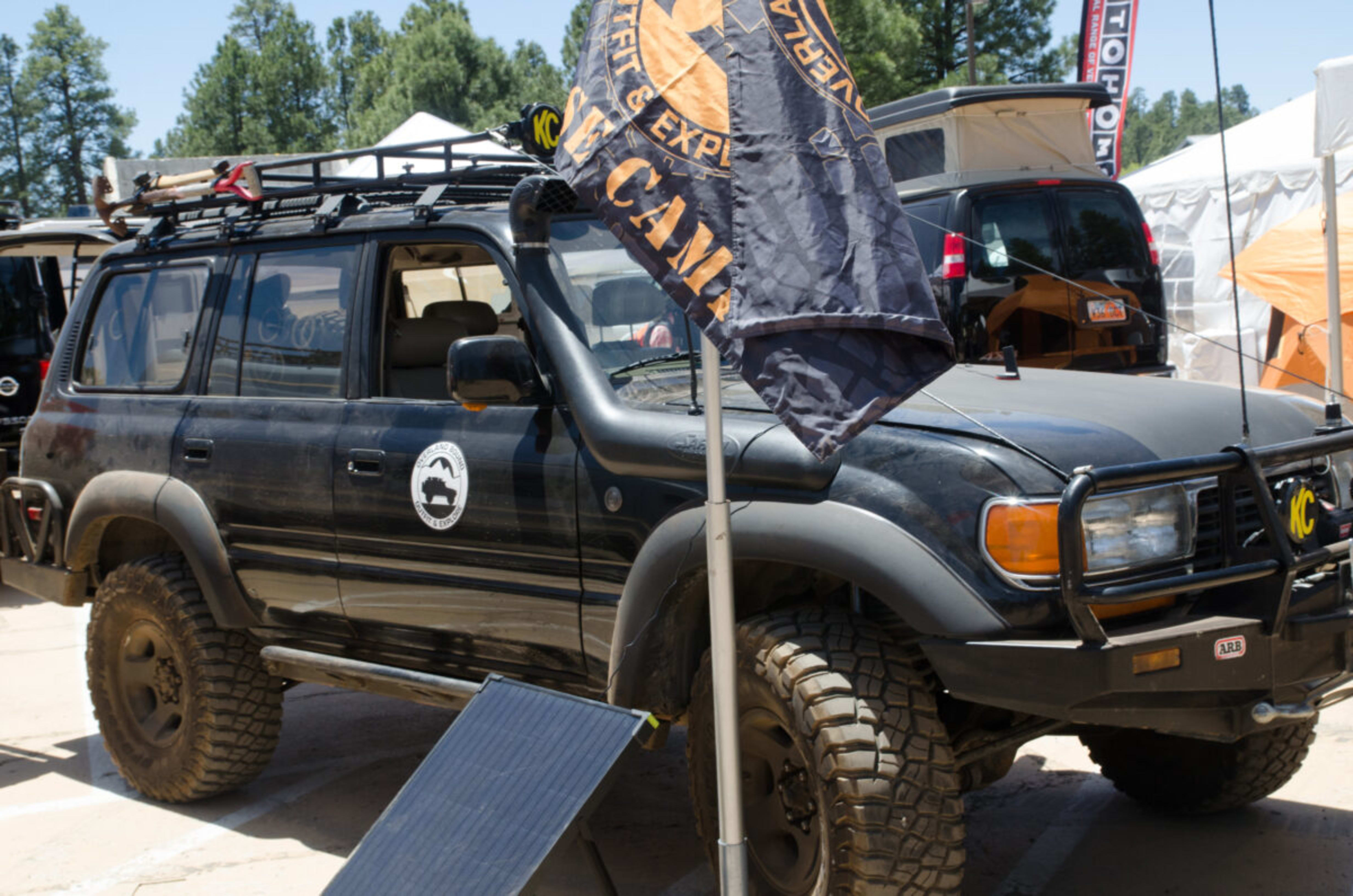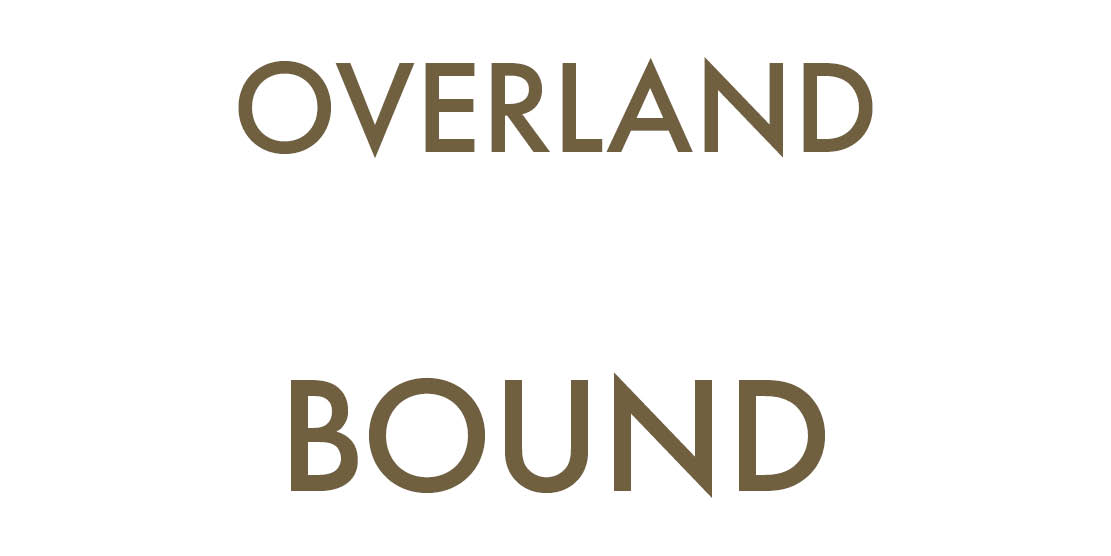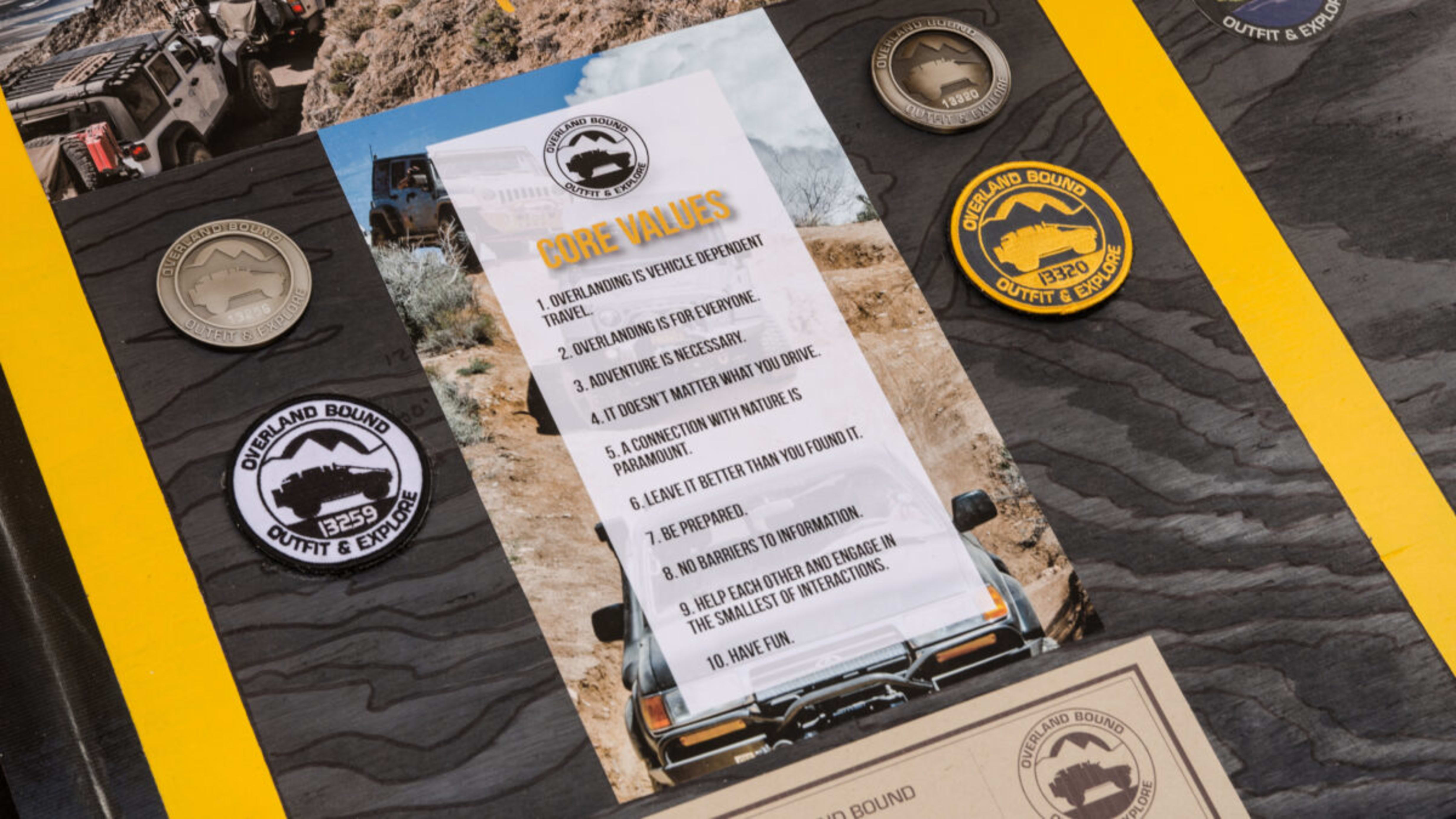 About the Overland Bound Community
Michael founded this vehicle dependent travel organization with a vision to provide resources, community and gear for passionate road warriors across the country so that they may get the very best from their overlanding adventures.
The beauty of this outdoor adventure community is that it is geared to be inclusive to open road travels from various walks of life. Whether one's goal is to chart all 57 National Parks on a motorcycle, RV or rugged 4-wheel drive rig, it is by definition, overland travel.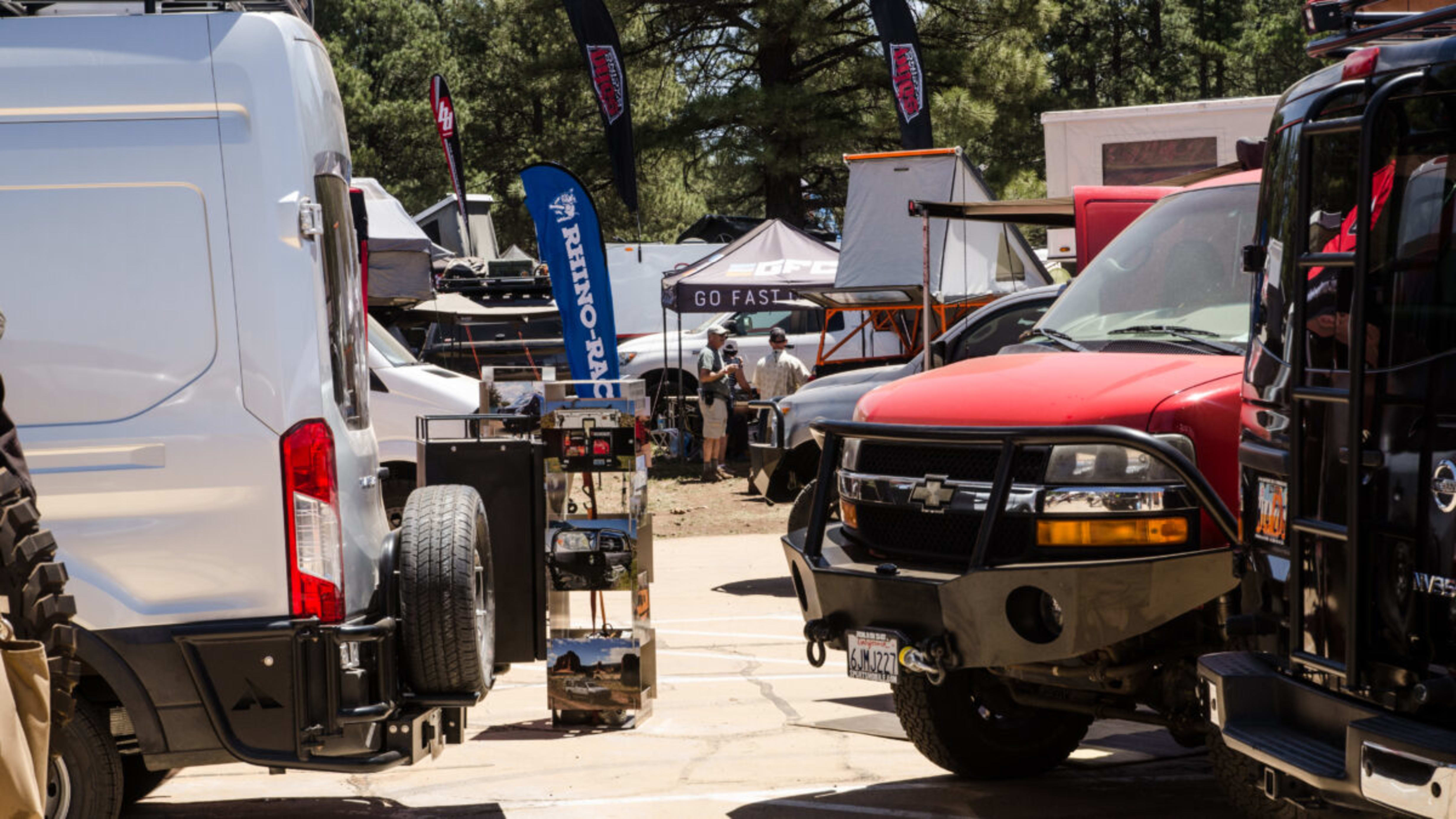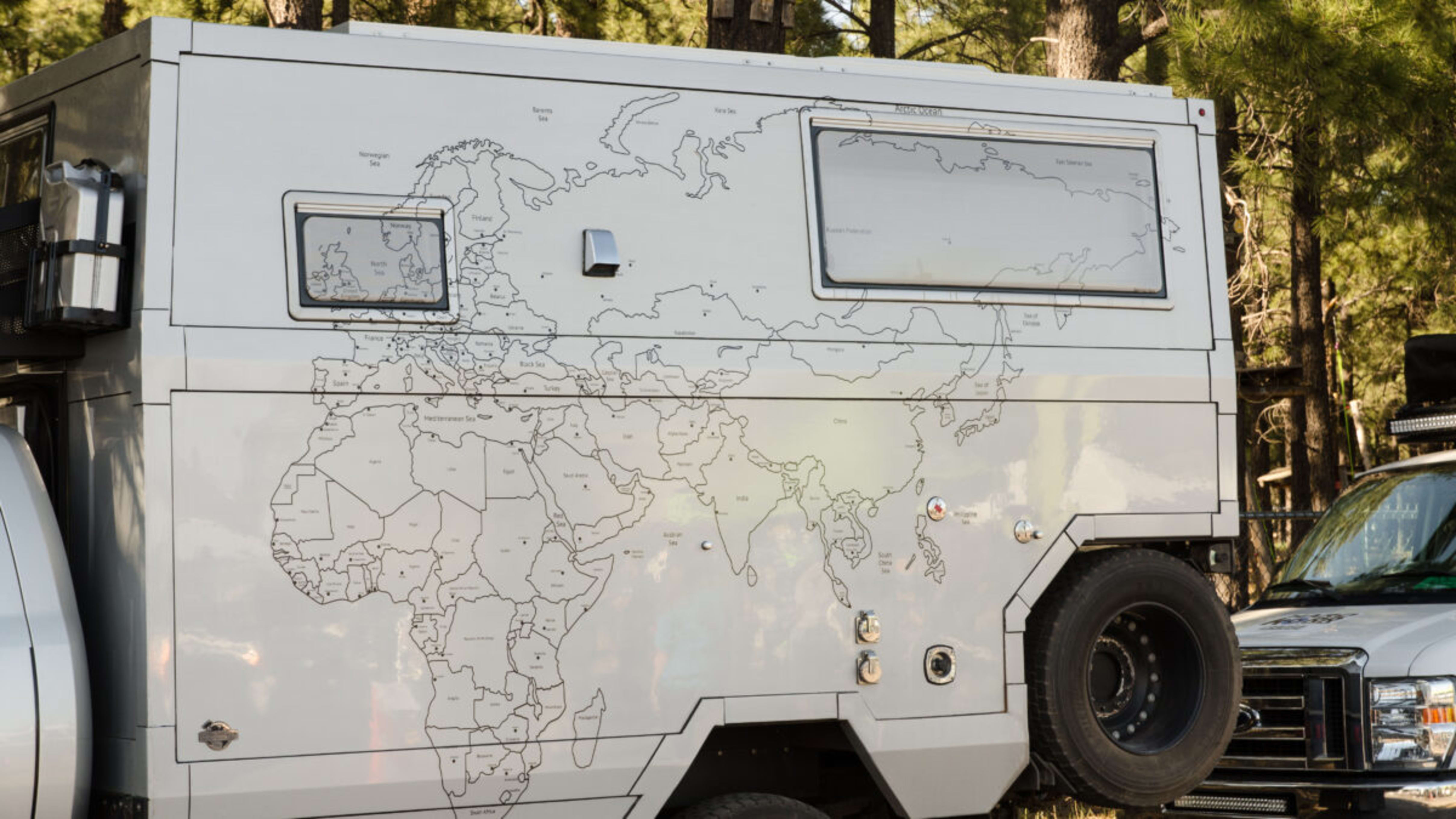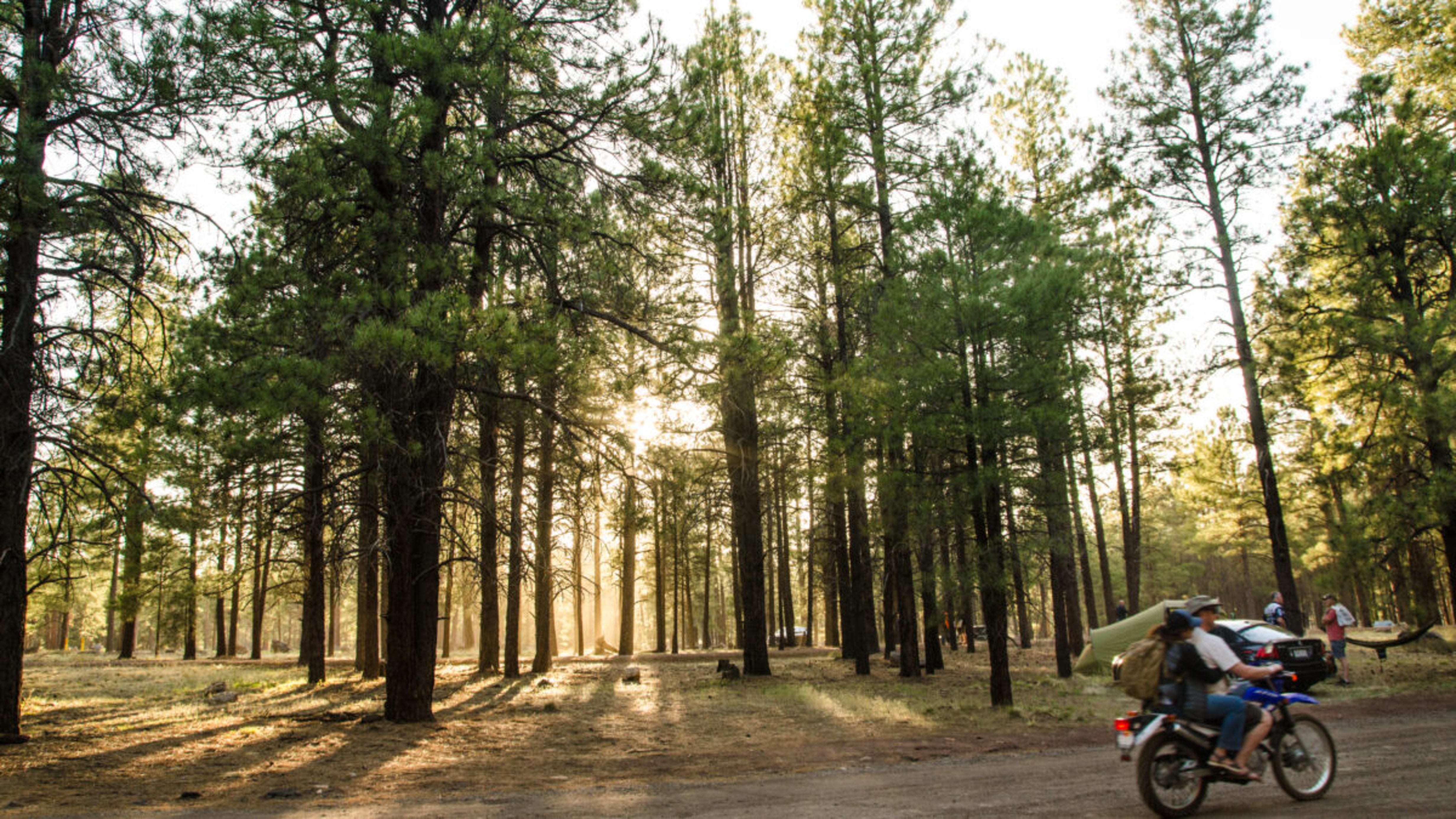 Off-Roading with Winnebago
We put a Winnebago Sprinter to the test by taking the Class B RV through the overland off-roading course.
To no surprise, the Class B proved that when it comes to designing RVs for overlanding enthusiasts, Winnebago has both comfort and safe travels in mind.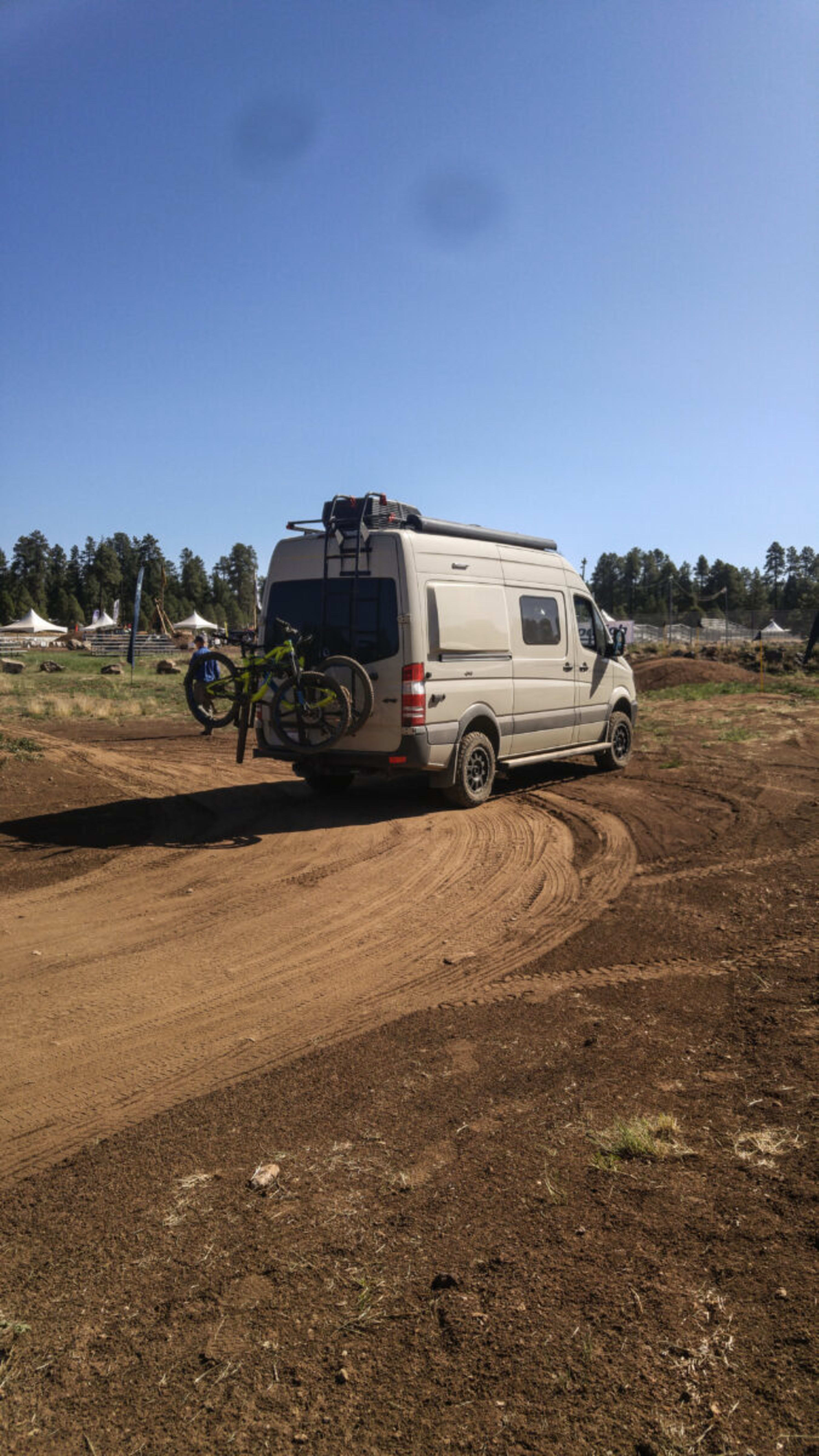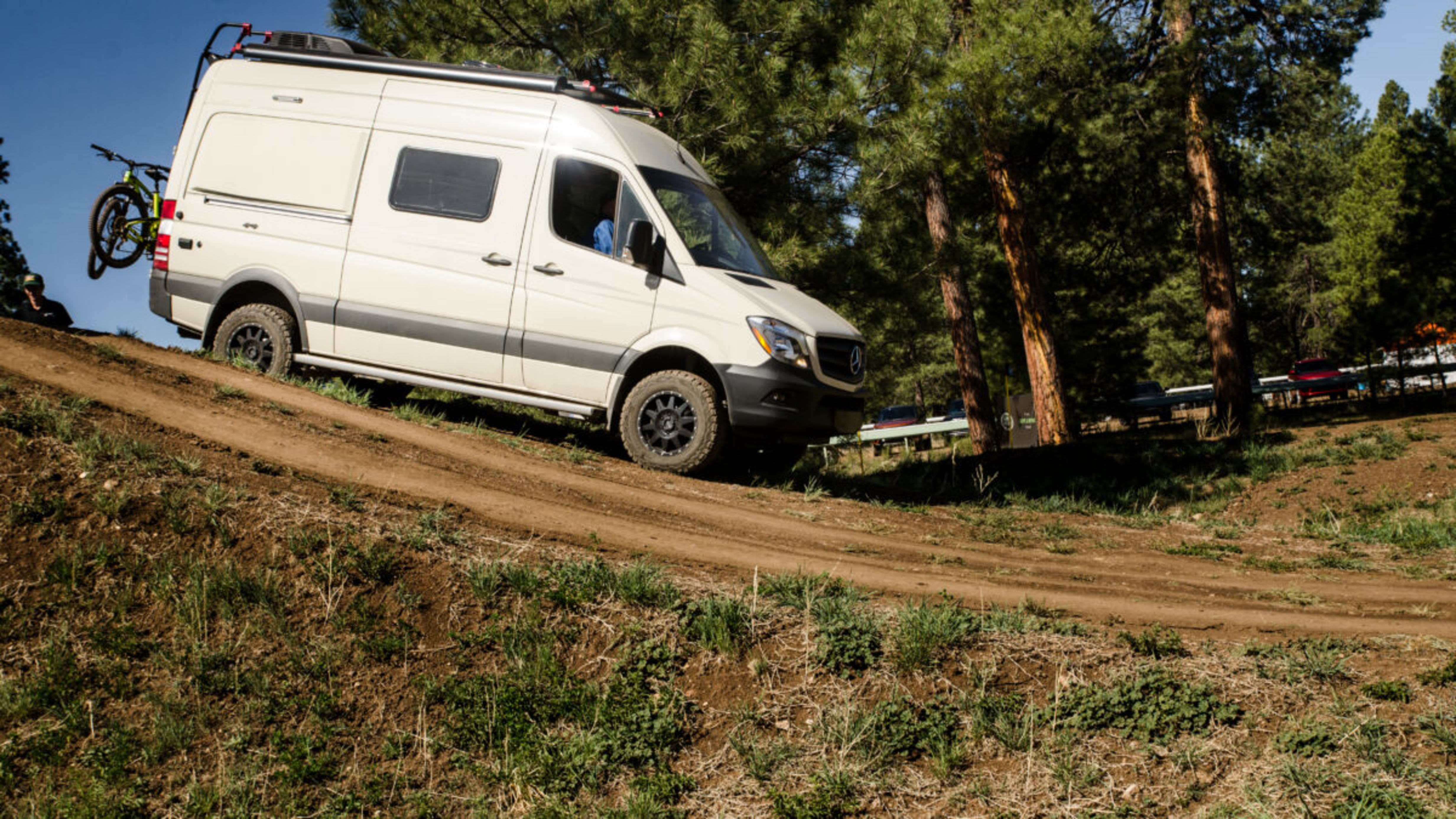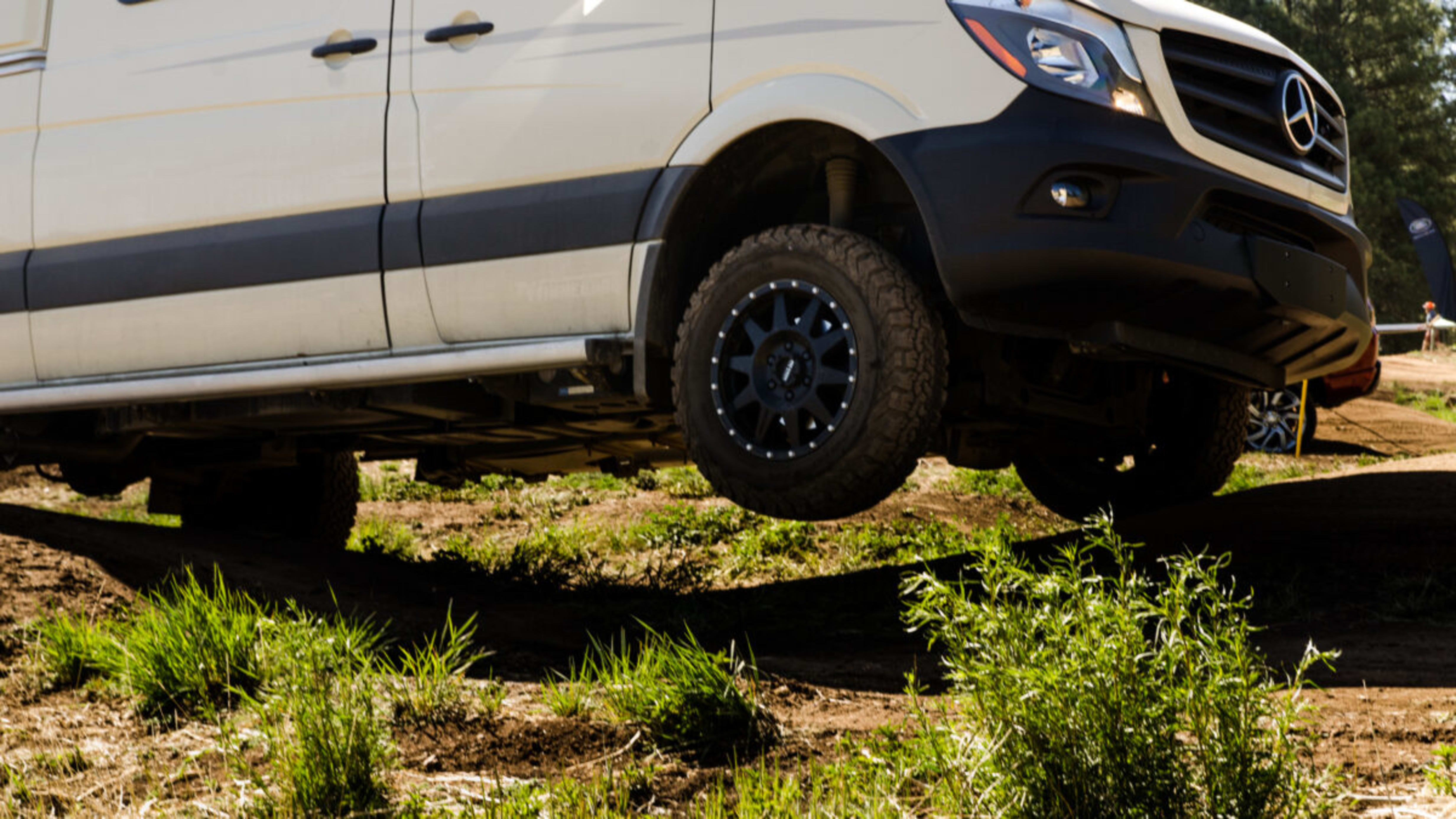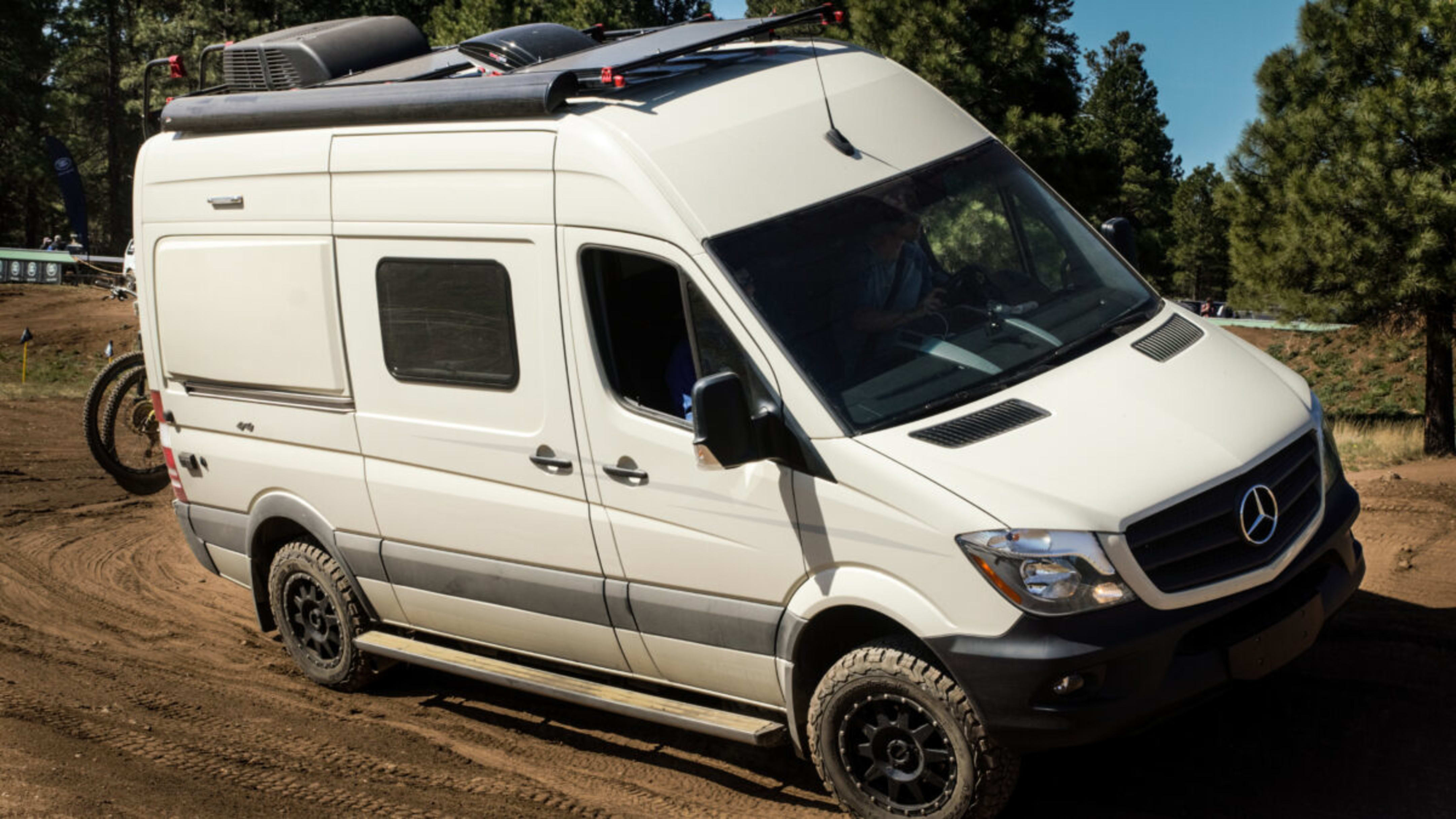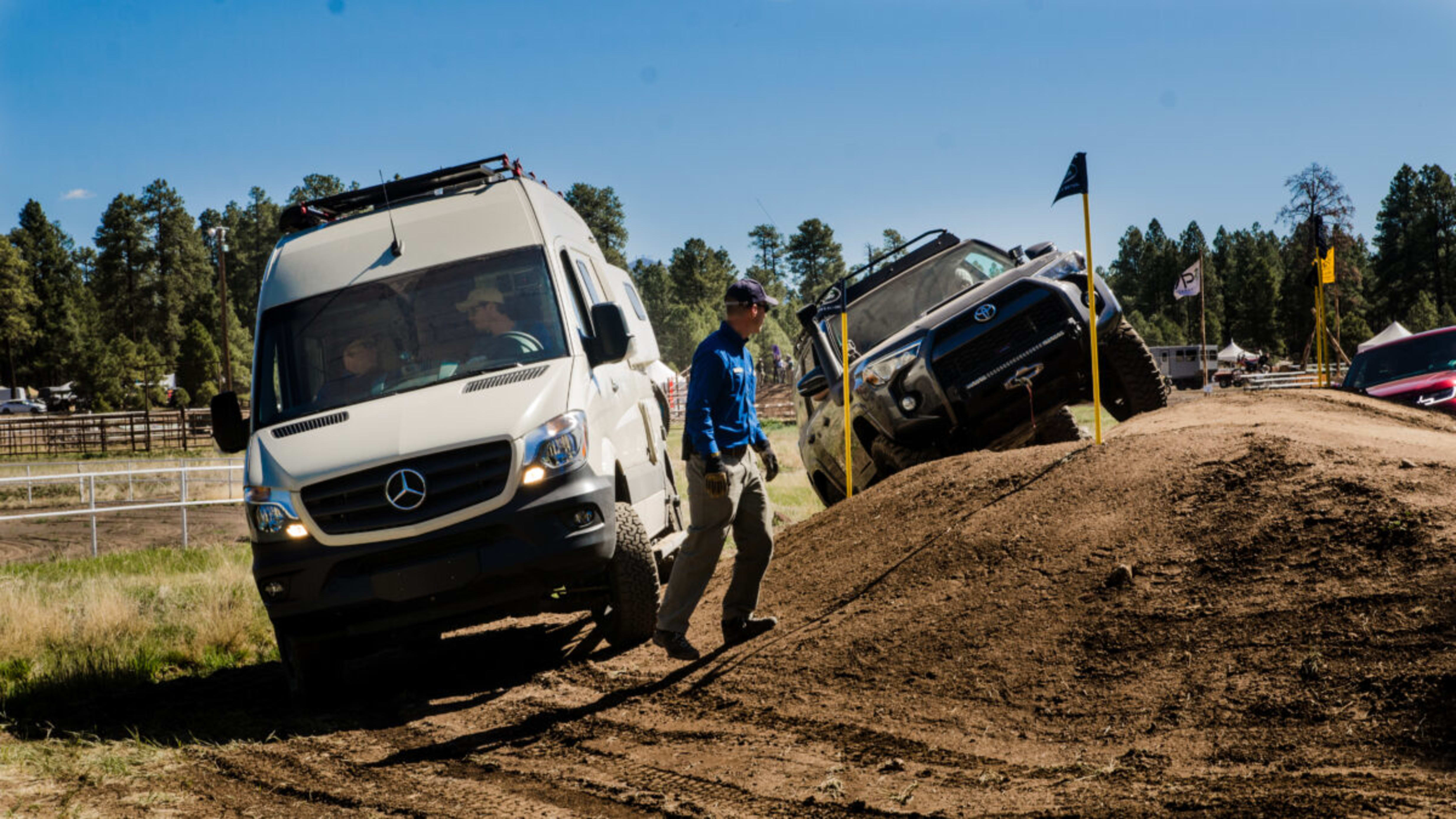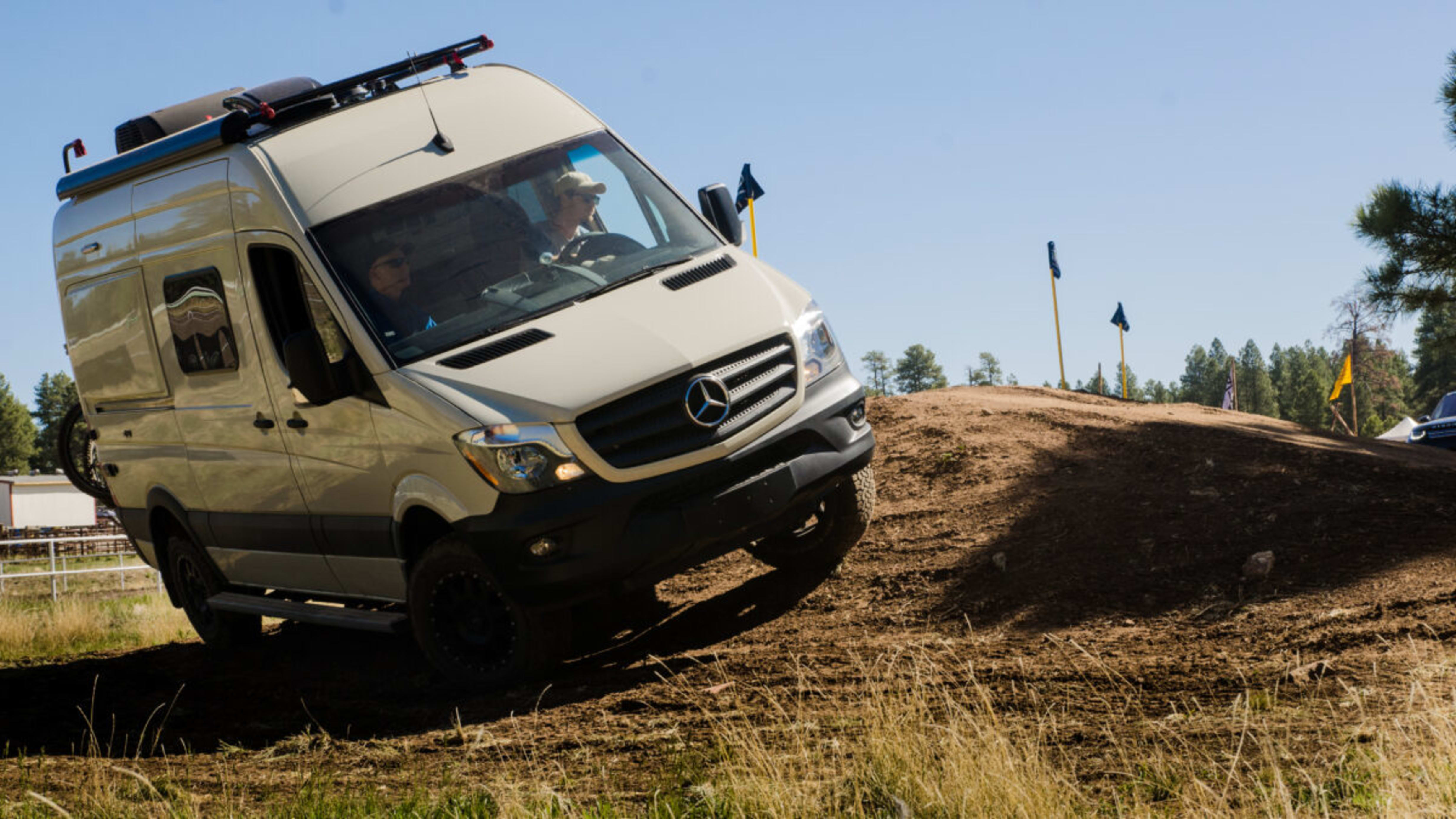 After the epic off-roading experience, we sat down with Chris Bienert, B Van Product Planner from Winnebago to get a bit more RV insight for overlanding adventurers.
LMRV: Which Winnebago vehicles would you recommend for the full-time overlander?
Chris: Definitely the Revel. These units are great gear-hauling, 4-wheel-drive, sprinter adventure vans. Beyond that, there's a lot of people that are getting out there and exploring in Travato's too. But really all of our compact coaches have been great. Though, for true overlanding, I'd go with the Revel.
LMRV: What has been your favorite travel experience?
Chris: Trekking up the North shore of Lake Superior in a Winnebago Via with my wife.
LMRV: Any overland road-trip plans in the works?
Chris: The guys at Overland Bound are talking about going up the Trans-Wisconsin trail in October and I'm thinking that's something I'd love to do.
LMRV: Any advice for new overlanders?
Chris: Learn – in overlanding, there's a lot of gear involved but also a lot of skill involved too. Here in Overland Expo we have classes, as well as, a huge community to dive into that are a great resource. (If you're an RVer) go with Winnebago because we're trying to be the 'easy button' to really get in there. There's lot of toys and tech you can have, but with our adventure vans, we take care of all that stuff.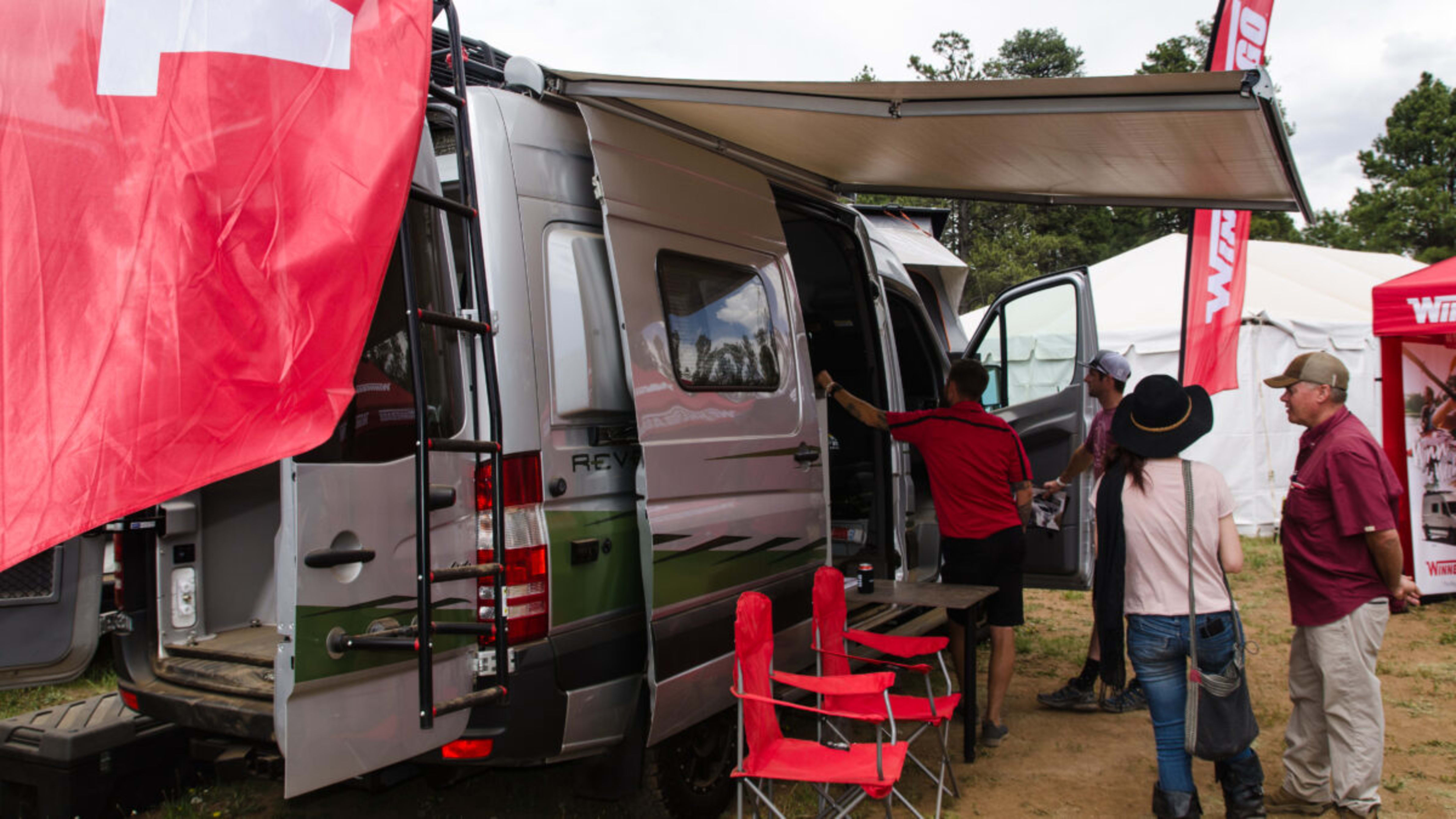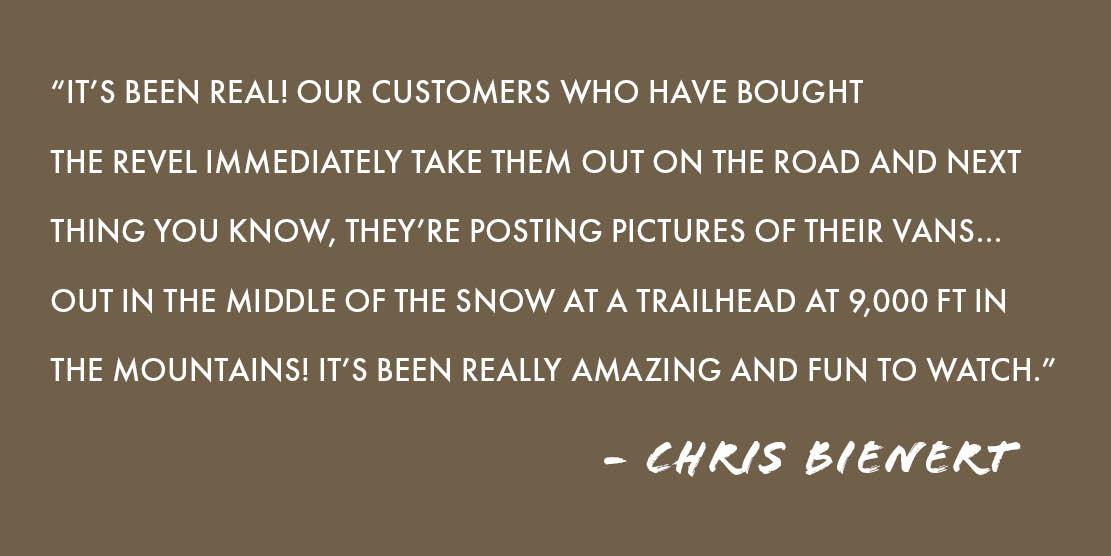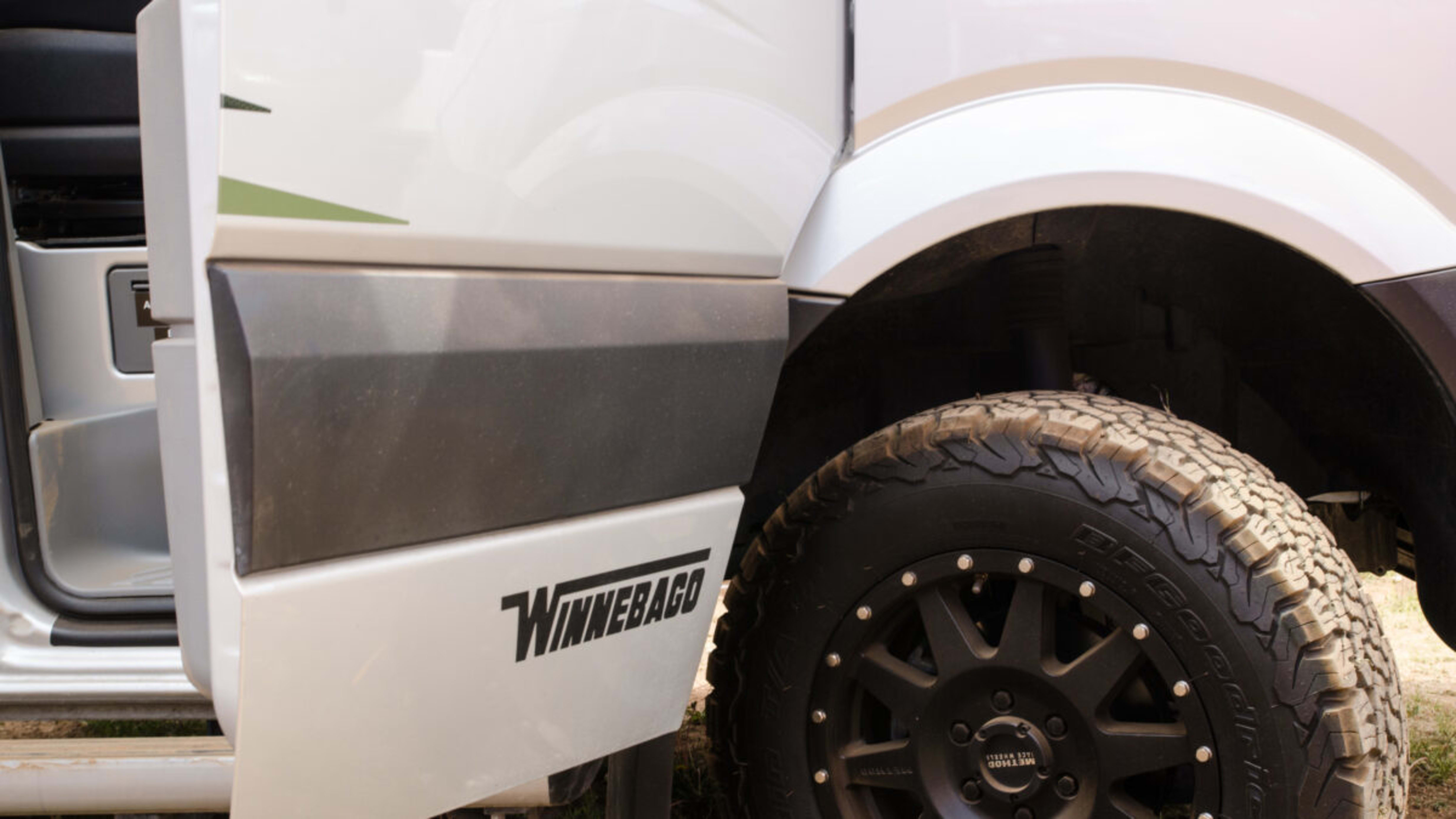 Winnebago Revel Fun-Fact: The rear power-lift bedding allows for 140 cubic ft. of wide-open storage space. The compact shower space can also be easily turned into closet space for when you have a bit of extra equipment on-hand.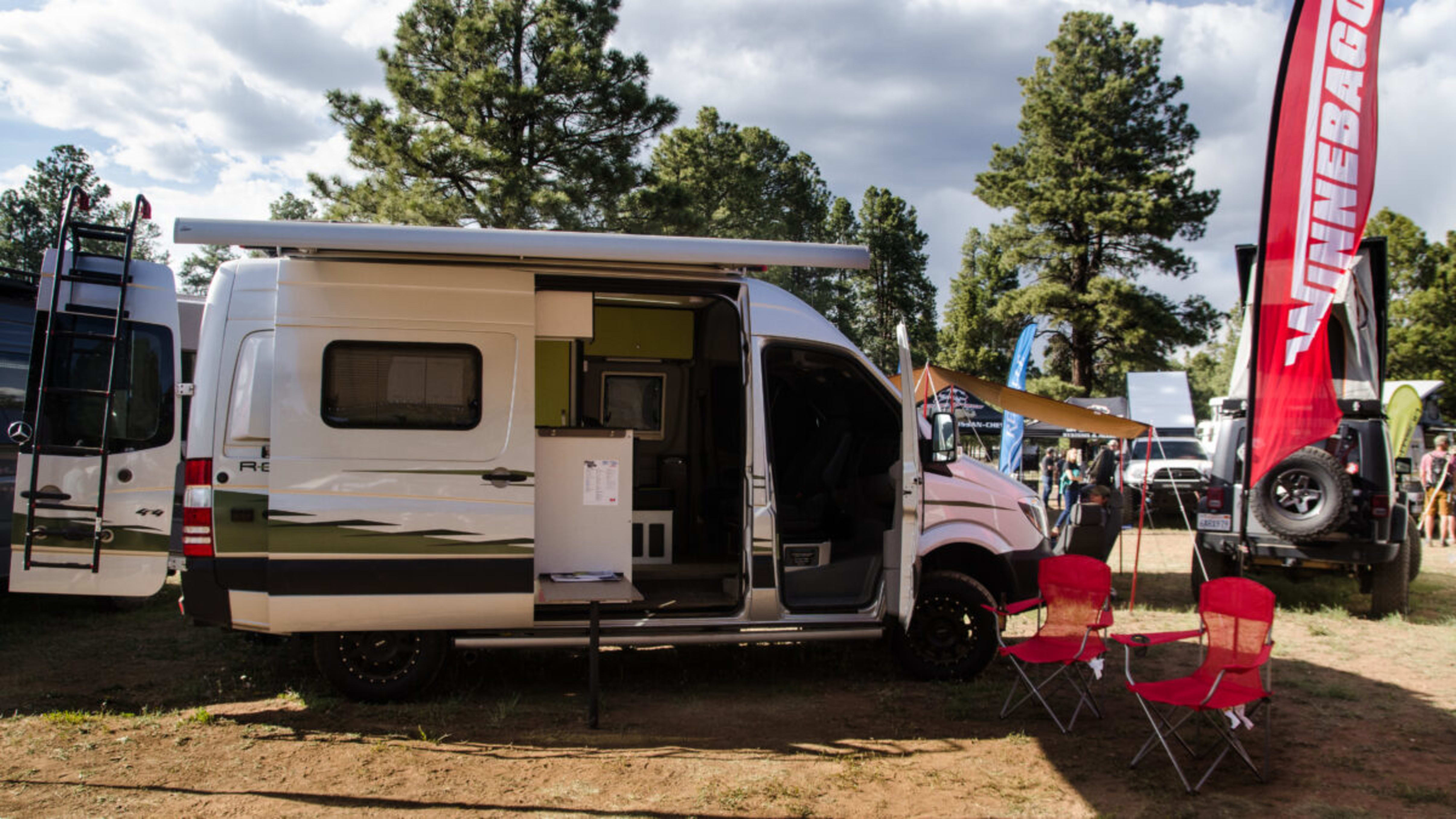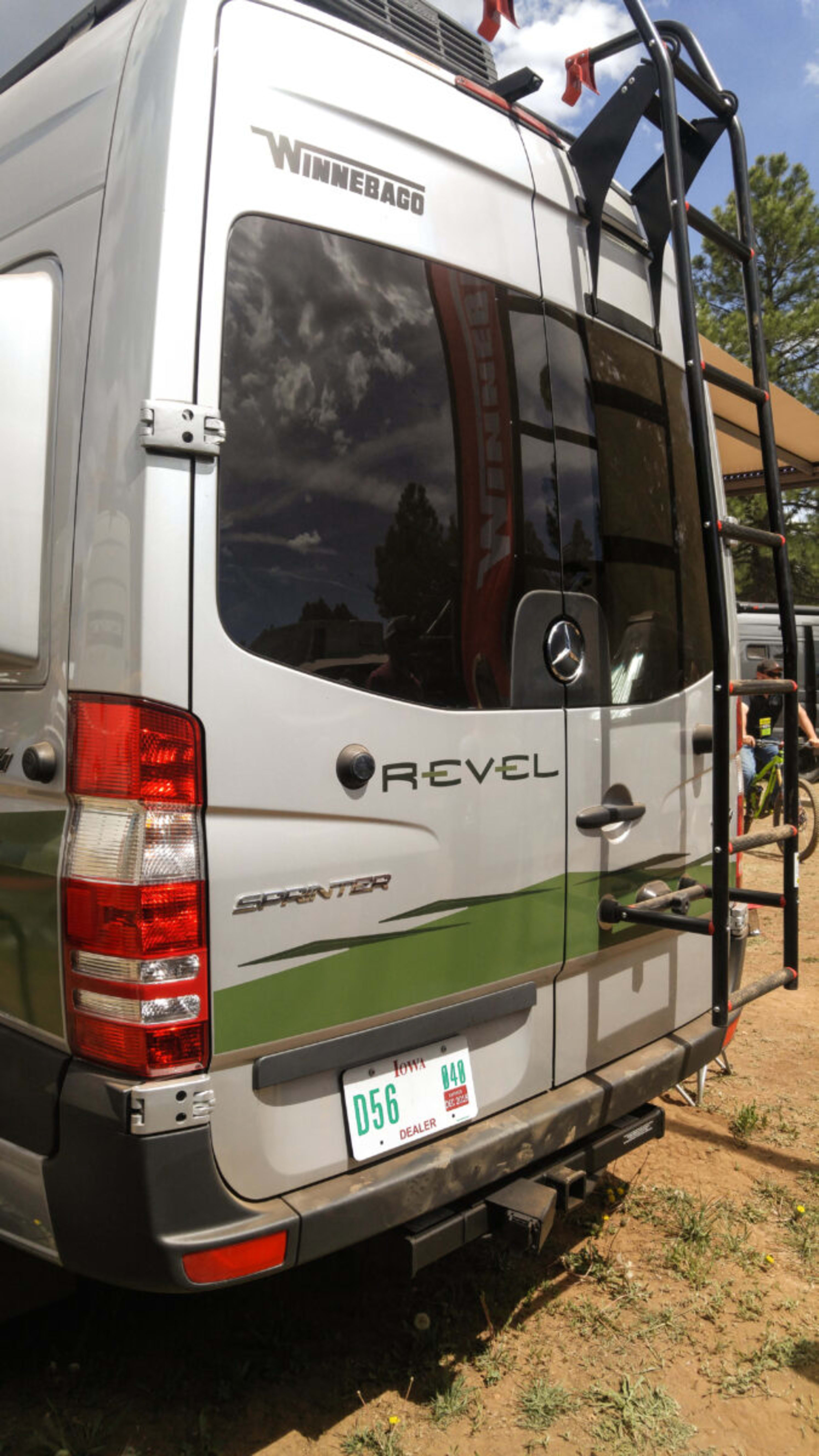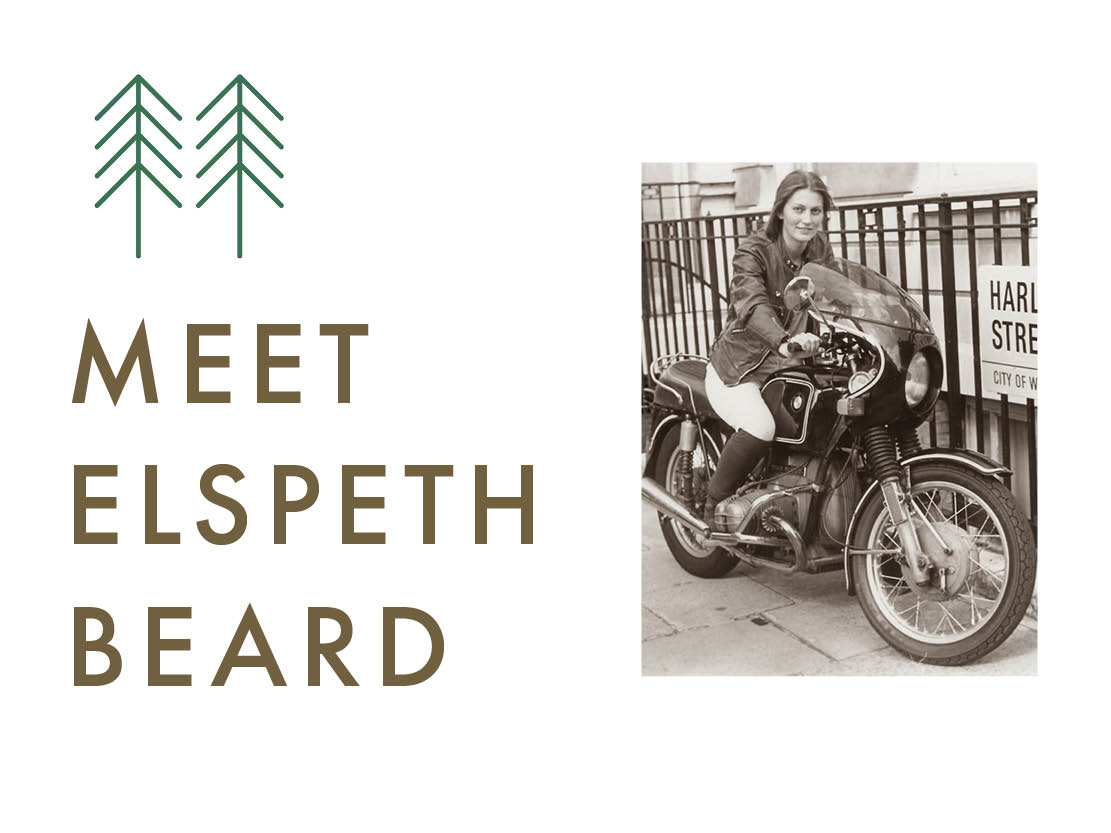 Elspeth Beard – Female Motorcyclist and Overlanding Pioneer
Meet Elsepth Beard. Many know her as one of the first female overlanders. In the early 1980s, Elspeth became the first British woman to complete and document a solo motorcycle trip around the world. After each adventure, Elspeth would strip down her BMW motorcycle, nut by bolt, to really know every inch of her ride – then put it all back together again.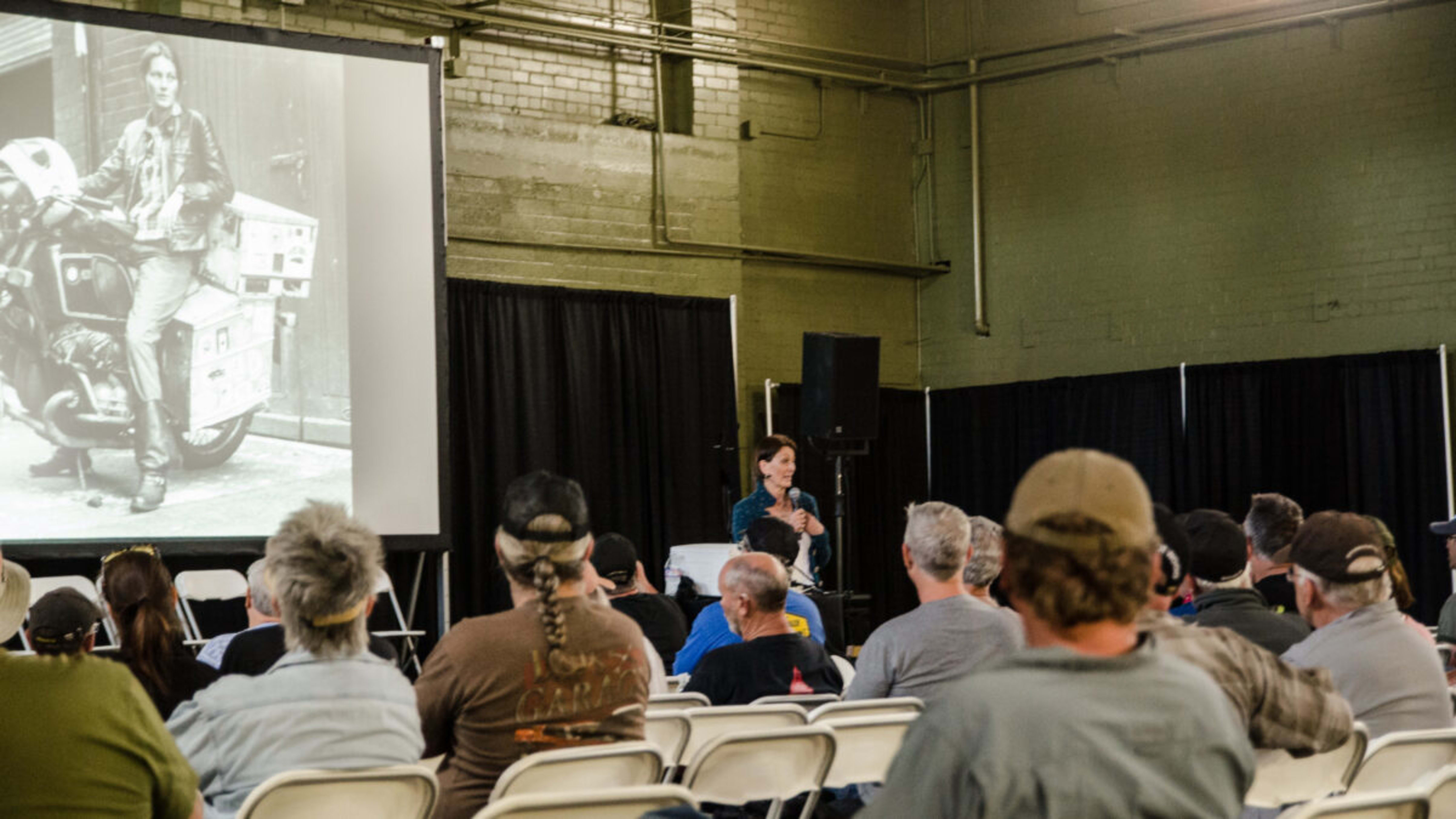 Sharing her fiery passion for adventure travel, Elspeth has become an inspiring role model for outdoorsy women everywhere. Beard shared her story at the Overland Expo, exhibiting her iconic photograph that's become a symbol of freedom for overlanding women across the country.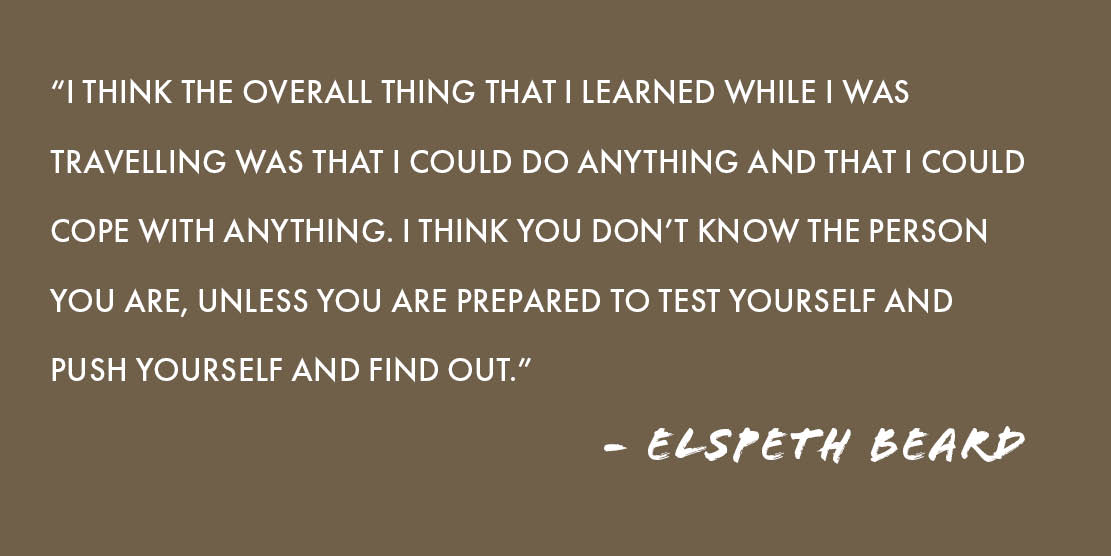 It's this sort of independent can-do philosophy that has inspired many women since to take on to the open road in their own way – whether on a bike, in a jeep or RV. Now, an award-winning architect, Elspeth still takes to the road and admits she never imagines to ever stop riding.
To learn more about Beard's story, we highly recommend picking up her book, Lone Rider, where she documents the exciting moments and lessons learned from her worldly travels.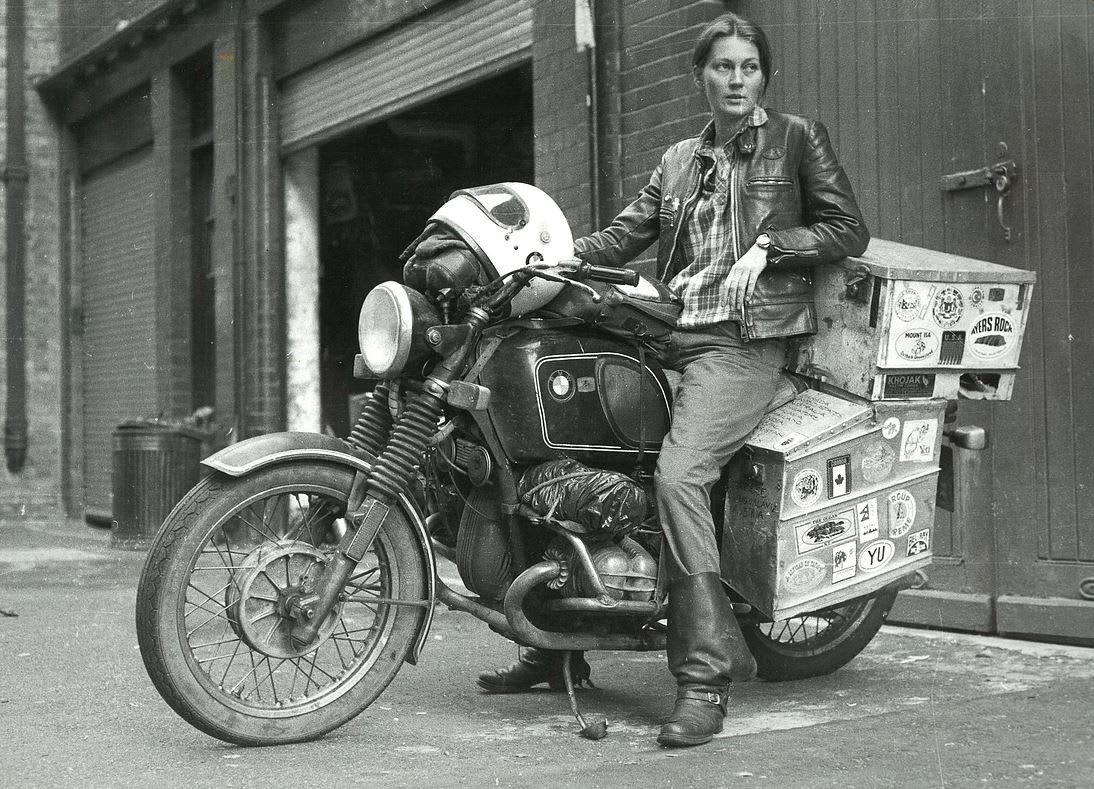 Great Tastes from Flagstaff
Drinking Horn Mead
For those seeking to unleash their inner Viking, Flagstaff is also home to Drinking Horn Mead. Some of their succulent libations include Mead with Strawberry, Carbonated Mead with Pomegranate and Mead with Pineapple!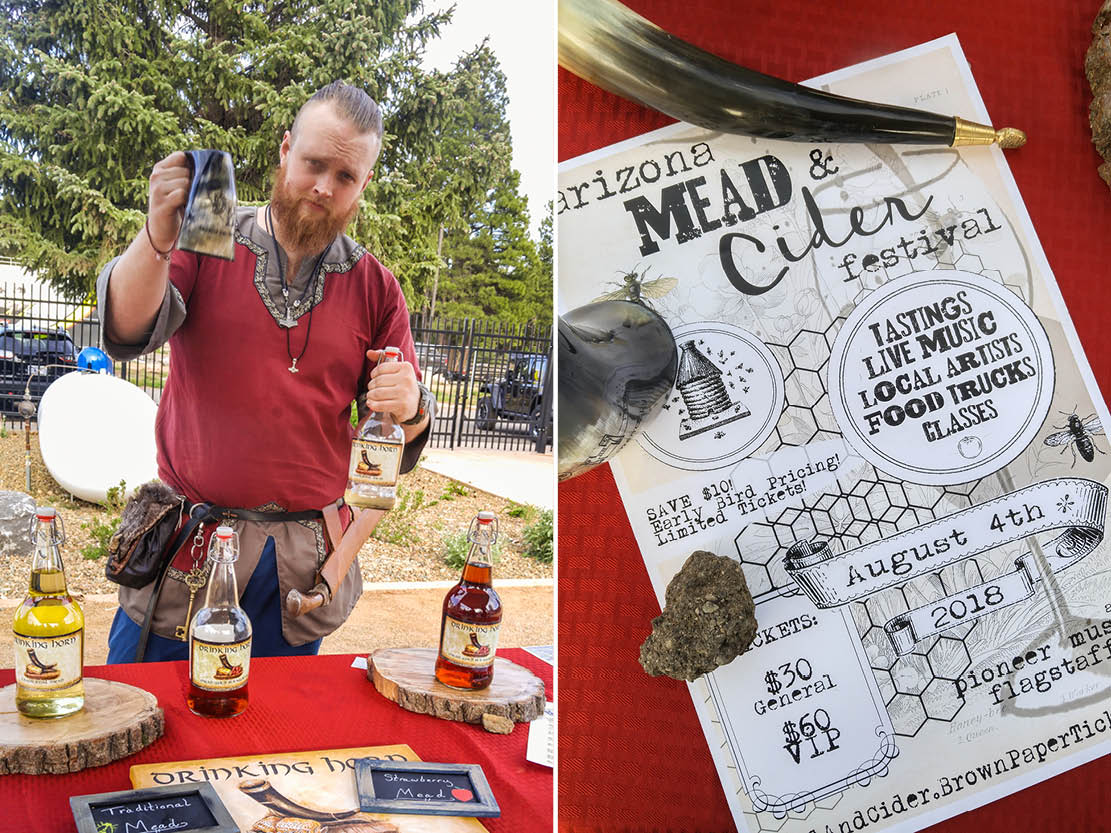 Hibachibot
If you're a fan of fusion foods, this Korean BBQ food truck is just for you! Created by a dynamic husband and wife duo, Eddie and Virginia Schenck, Hibachibot's mouthwatering menu includes rice bowls, tacos smothered in sriracha mayo and "mexorean fries"! Be sure to visit their site for their full menu and schedule, should you ever find yourself in the area of Flagstaff.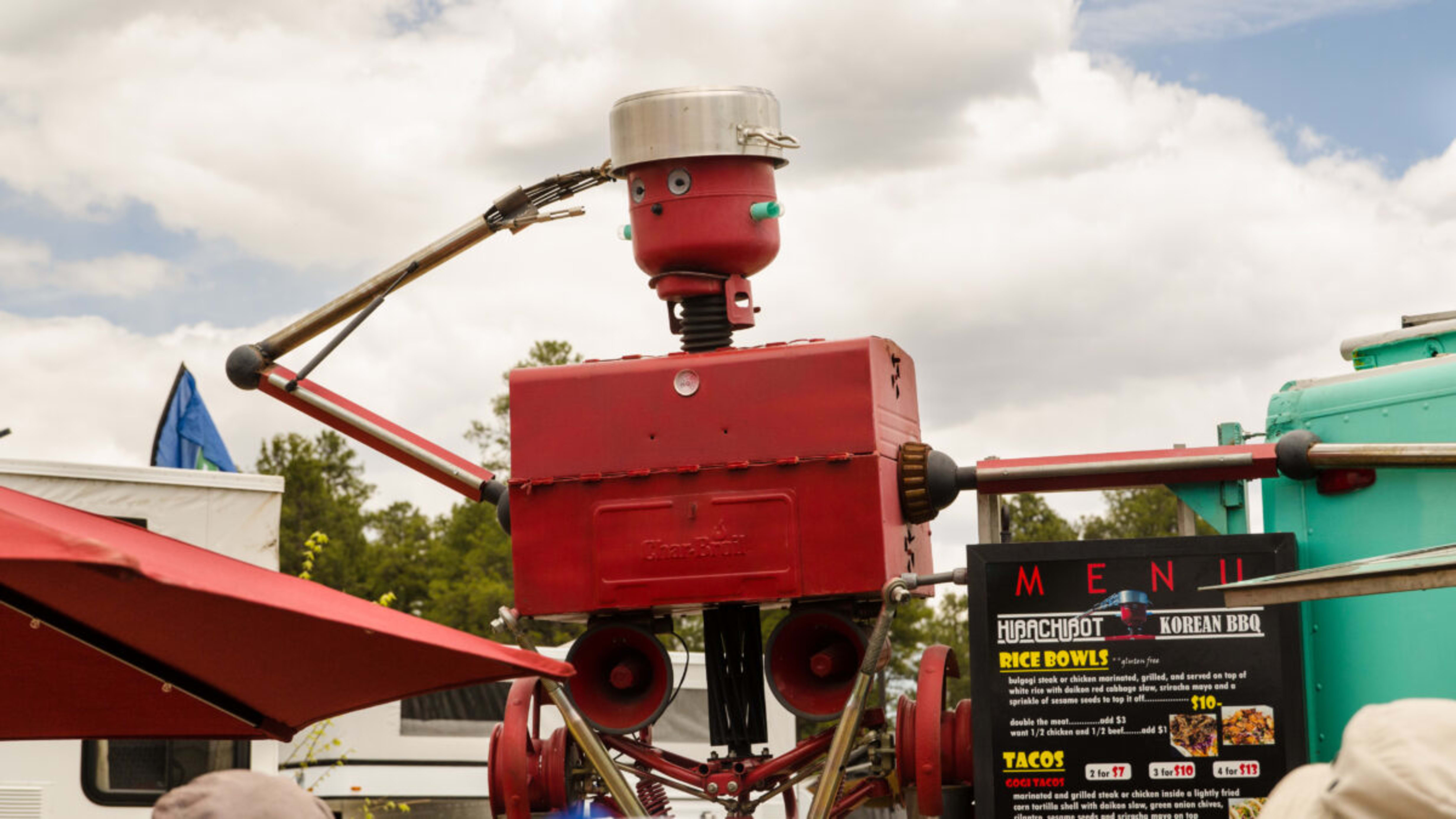 Did you attend Overland Expo West this year? What were your favorite moments? Let us know in the comments below or be sure to tag us in your throwback posts and to include the hashtag, #ExperienceLife to share your story!
Be sure to follow us on Instagram for the full interview in our Highlights with Mike and click here to learn more about the Overland Bound community, free travel resources, and find out how you can join the network!