Unique Valentines Day Trips
What could be more romantic then hopping in your motorhome with your Valentine and heading for some of the steamiest places on Earth? The allure of an outdoor tub with delicious views is enough to make anyone go on a hunt for a warm winter soak. We've outlined some of our favorite hot springs for you and your loved one to venture to this February 14th. We suggest going early to avoid crowds and remember – bring a towel (and since most of these areas do not allow alcohol, fill your hydro flask with Martinelli's to celebrate this day of love.)
Here is a list of some of our favorite hot springs.
Wild Willy's
Strawberry Park
Toketee
Chena
Mystic
Travertine
Big Bend
Wild Willy's Hot Springs in Mammoth, California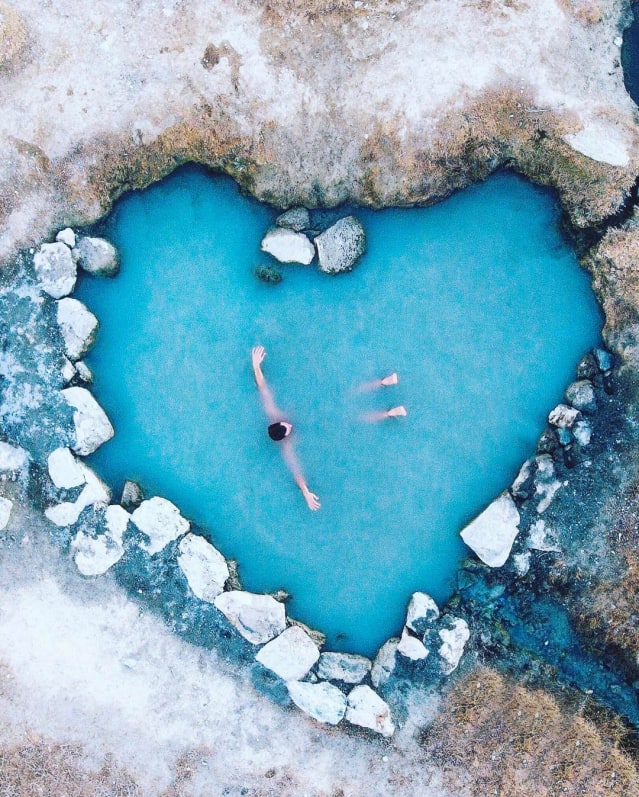 Photography @Erubes1
Details: Wild Willy's is not only stunning, it is free.
Directions: From Bishop heading North on Highway 395, take a right at Benton Crossing Road. If you go past the airport you've gone too far. Drive three miles until you pass a cow grate and take your immediate right. The road is 1.5 miles to a dirt parking lot. You will see an elevated manmade trail. Walk .2 miles down the trail that feeds into the spring. You will see the first pool which is not Wild Willy's but it's also very lovely at about 10 feet wide. Just pass this pool, about 50 feet further, you will find the mecca of hot springs – the crystal blue, heart shaped pool that you and your Valentine can soak, relax and enjoy the brilliant views of the Sierra's, together.
Strawberry Park, Steamboat Springs Colorado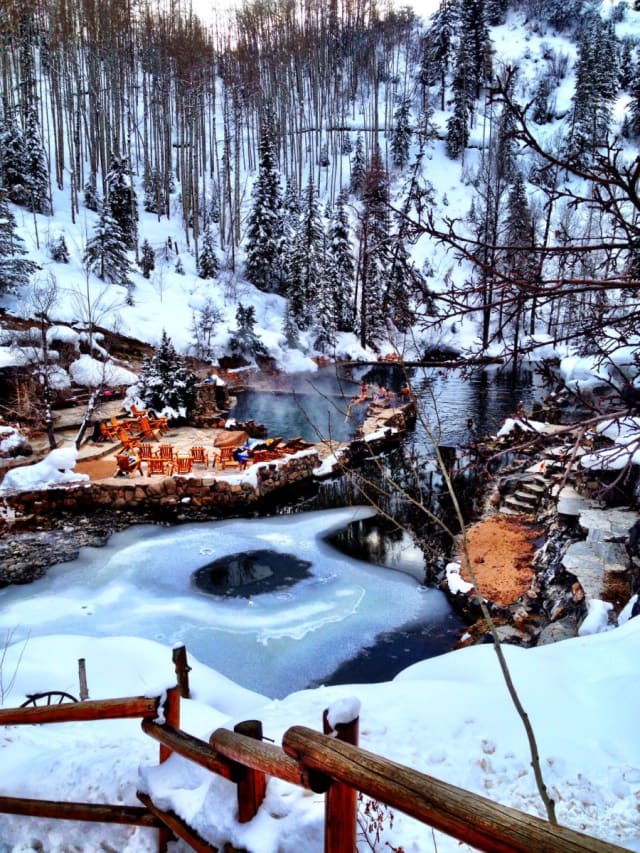 Photography Strawberry Park
Details: $15 CASH or CHECK ONLY
Imagine relaxing in 104 degree mineral water while some of the best snow in the country (literally coined Champagne powder) falls softly around you. Strawberry Park Hot Springs, located at 44200 Co Rd 36, merely 25 minutes outside of downtown Steamboat Springs, has multiple pools and a running river (for those brave enough to do the polar plunge) so there is ample space for privacy for you and your Valentine. There are numerous changing teepees set up around the springs and if you come at night be aware, clothing is optional. Please note: chains and 4-wheel drive are required to get to the springs in February.
Toketee Hot Springs, Umpqua Oregon
Photography @Helloamerica
Details: $5/payment envelopes provided in parking lot
Toketee, tucked away in the Umpqua National Forest, is not for the faint of heart. The short, steep hike opens to a variety of small pools with varying temperatures. The scenic outlook from the pools to the river below is pristine but keep in mind – the springs are always clothing optional and tend to draw a crowd. From Roseburg, OR take OR-138 east/northeast Diamond Lake Boulevard. Continue east on Highway 138, turn left at milepost 59 onto Forest Road 24. At the bottom of the hill turn left aross the concrete bridge. Drive 2.2 miles and turn right onto Forest Road 3401. Go .7 mile and you'll see the parking lot on your left.
Hot Sulphur Springs, Hot Sulphur Colorado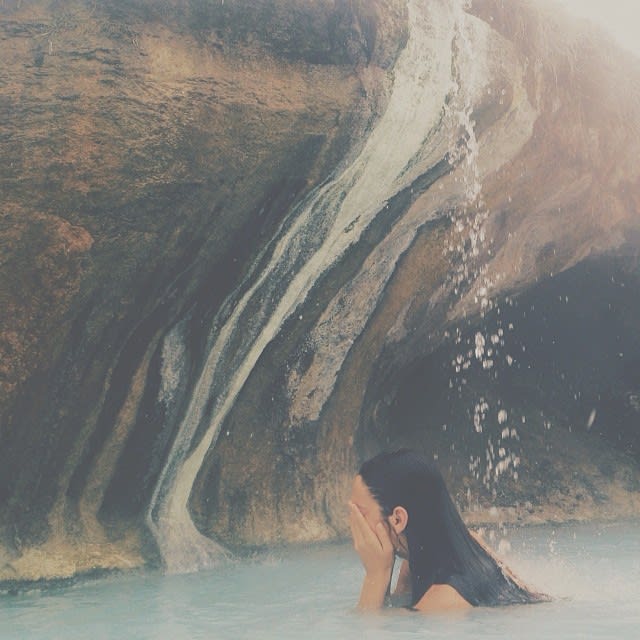 Photography @kristen_blanton
Details: $20 for day use or $30.50 for a two day pass
Hot Sulphur Springs is ideal for those who want a full spa experience this Valentine's day. Over 200,000 gallons of natural hot mineral-rich water flow through 21 mineral pools and baths every day. The pool temperatures range from 95-112 degrees F. No chemicals, filters or re-circulation. Cozy up together during this sweet Valentine's getaway. From Denver take I-70 west until you reach exit 232 (Highway 40.) Keep left at the fork to Hot Sulphur Springs. Resort is on the right.
Chena, Fairbanks Alaska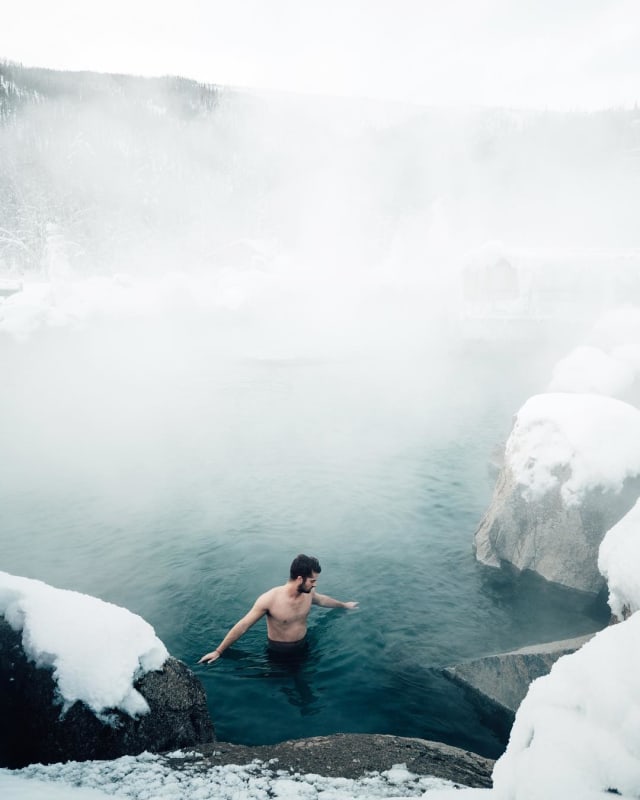 Photography @cory.s.martin
Details: $15
This natural wonder is the ultimate romantic experience. Located at the end of Chena Hot Springs Road, this forest-flanked paved road is parallel to the Chena River, 56 miles east of Fairbanks. The springs are at the center of a 40 square mile geothermal area. Come relax in the 18+ river with your loved one.
Mystic, Monroe Utah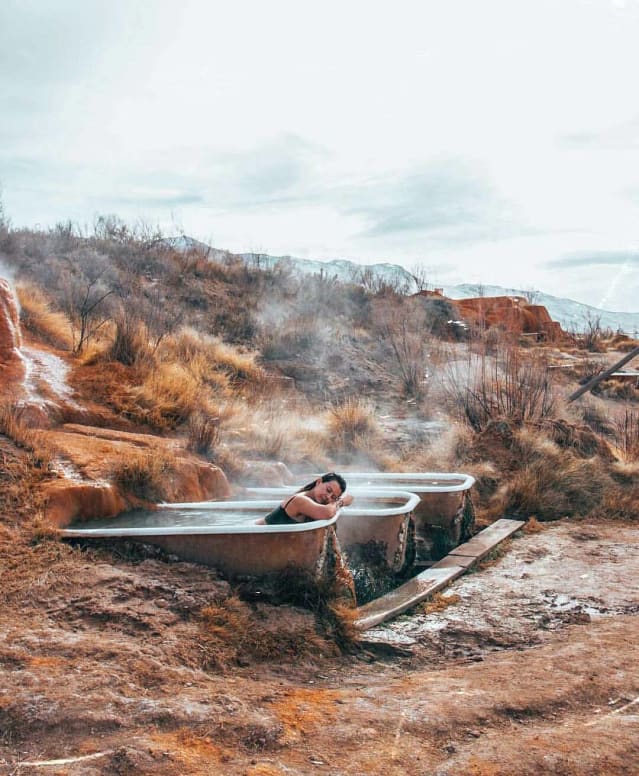 Photography @mystichotsprings
Details: $15
With two large pools and five singular bathtubs for soaking, you're sure to experience your own private oasis at Mystic Hot Springs. The naturally stunning area is an ideal place to take in Utah's landscape. Be aware, Mystic is mystic indeed. The funky vibe might not be for all but it's a great experience for the adventure seeker. From Salt Lake City, take I-15 south to the Scipio exit number 188. Take Highway 50 east (about 35 miles) to I-70 west and take exit 31. Continue two miles and take a right on Highway 118 until you hit Monroe. Turn left on 100 North and go up the hill five blocks to a large white building at the end of the road – you're now in hippy haven.
Travertine Hot Springs, Bridgeport California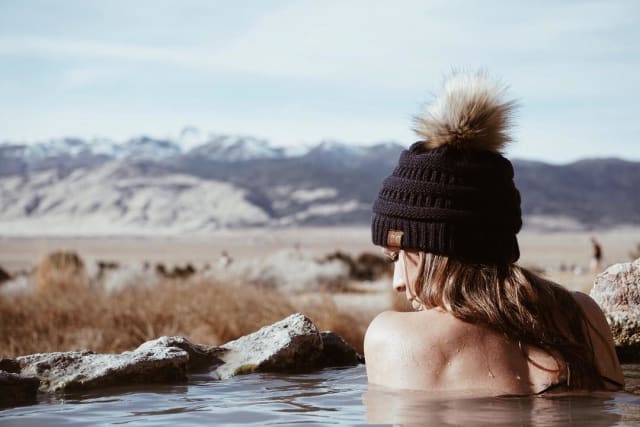 Photography @dailyyogaboost
Details: Free
Incredibly easy to access, Travertine Hot Springs lies on California State Park land just south of Bridgeport along Route 395. With stunning views of the Sierras, you'll bathe under those epic California hues in the middle of nature. Often the springs are busy, so February is a perfect time to head for a natural soak with your sweetheart.
Hot Springs Big Bend National Park 
Photography @americayall
Details: $25/vehicle entrance fee to the park
The drive to Big Bend National Park is enough of a reason to go. It is littered with beauty – the two-mile gravel road descends down a narrow wash to the Hot Springs Historic District and trail head. From the trail hike .25 miles to the "fossil water" heated by a natural geothermal process. You and your Valentine can soak, relax and enjoy the beautiful Texas scenery under the stars.