Well, fellow travelers – we're almost through the cold of winter, so what better way is there to welcome the coming spring season than to catch some of the nation's most breathtaking blooms? From lavender to tulips, poppy to daffodil, and everything in between, there is plenty to witness as nature wakes from a sleepy state to burst into a spectrum of color that would make a painter weep with joy. To help chart out the genesis of your 2022 springtime RV travels, we're coving the best wildflower destinations across the country.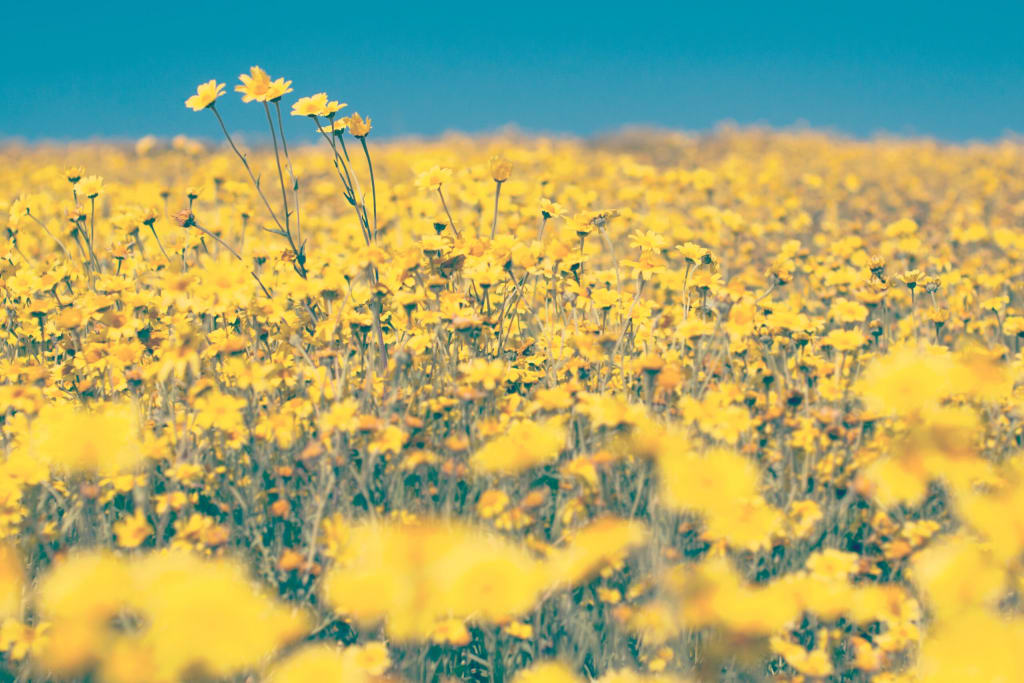 Carrizo Plain National Monument | California
This park brings a whole new meaning to why California is best known as the 'Golden State'. Take a scenic drive down the Pacific Coast Highway to arrive at the bright yellow plains of Carrizo, just about an hour away from San Luis Obispo. Featured flora include poppies, junipers, daisies, goldfields, fiddlenecks, baby blue eyes, larkspurs, and lupines. Historic Native American sites and pictographs are scattered throughout the park, bringing a sense of time travel to your visit. These blooming fields are also home to wildlife including elk, eagles, hawks, and pronghorns. There are plenty of hiking, biking, and camping amenities around the park, making it a great destination for RVers looking to begin and end their days surrounded by floral wonder.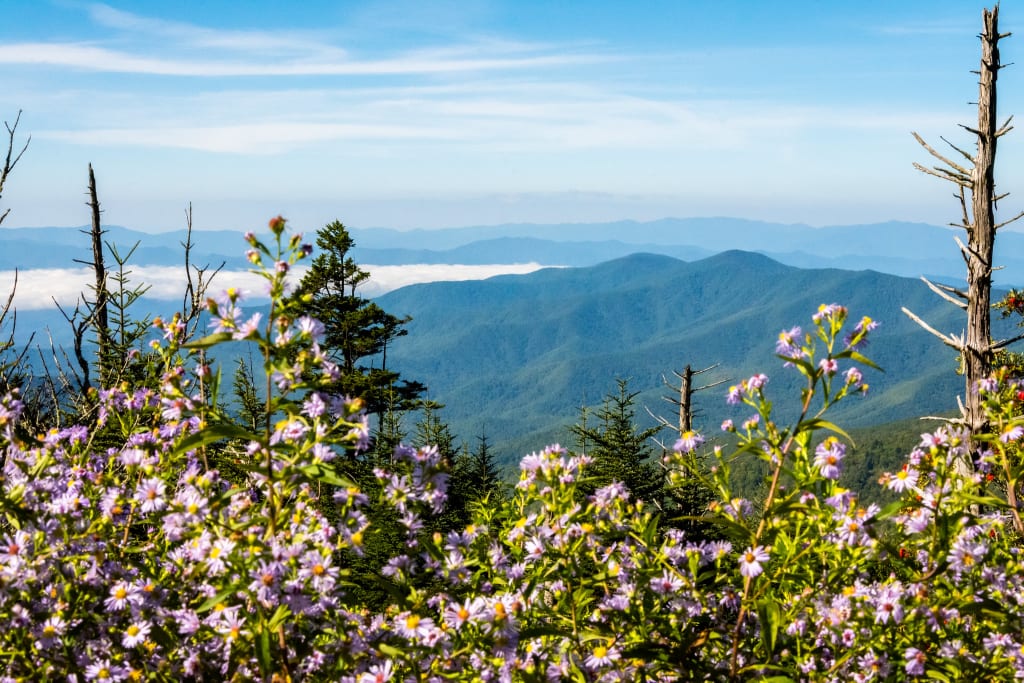 Photo Credit: Domenico Convertini
Great Smoky Mountains National Park | North Carolina
Take a mountain hike through the stretches of the Great Smoky Mountains with stunning wildflowers to keep you company along every step. The warm spring climate makes this the perfect place for an eastern springtime RV escape. Seasonal flora includes lady's slipper orchids, irises, cardinal flowers, lilies, and more. It's no wonder why this national park is renowned as the "Wildflower National Park" through the spring and summer seasons. You can even take an expert-led tour through the landscape highlights by taking a Spring Wildflower Pilgrimage in mid-April. Whether you're new to the park or a tried and true veteran, the warm season yields plenty of jaw-dropping views for you to get in the springtime spirit.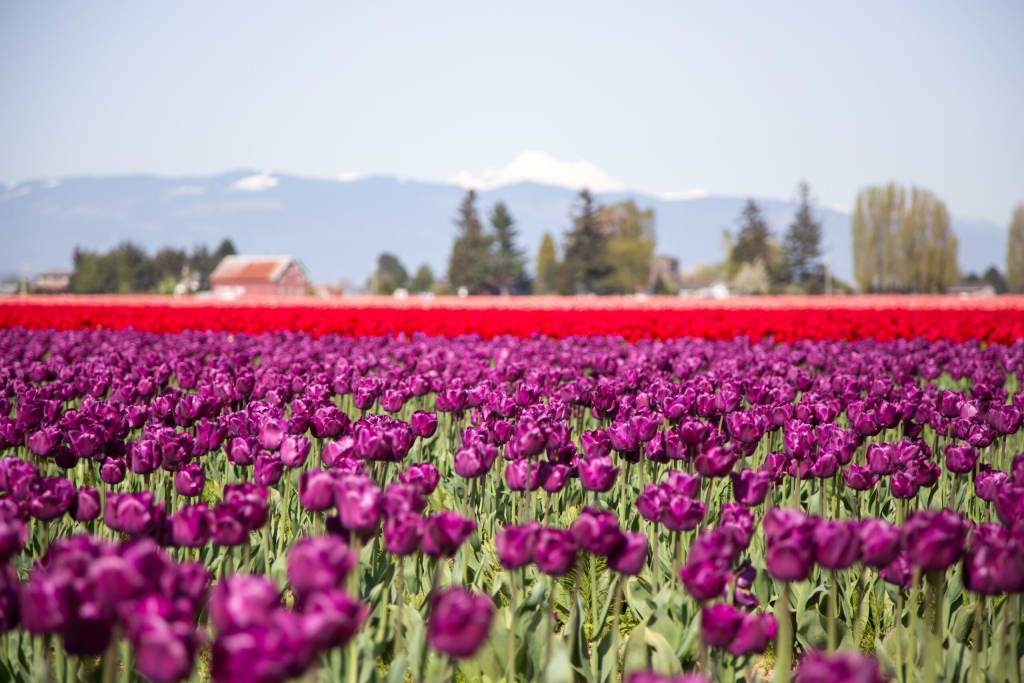 Skagit Valley Tulip Festival | Washington
If you're heading towards the Pacific Northwest for a spring RV trip, make sure to include this vibrant destination in your travel list. Millions of bright tulips take over the fields of Washington to make the most vibrant vistas of the season. While tulips can be found nearly anywhere along Skagit Valley, there are plenty of events and springtime activities to experience while you're visiting. You can also enjoy a unique daffodil view beside a rustic dutch windmill at Roozengaarde for a small entry fee of $7. The trolley rides of Tulip Town provide a stunning panoramic view for the same price. You'll feel as though you've traveled into the past as you're engulfed by the best of both old-world architecture and ever-living nature.
Lavender Fields | Oregon
Oregon offers the ideal vacation spot for RVers that need a bit of extra time to plan ahead for a road trip. The lavender fields are in full bloom between the months of April and August, bursting with the most heavenly sights and smells of the season. Want to fill your itinerary up with a mixed bag of outdoor activities? This is the place for you. Oregon is home to a slew of lavender farms and even hosts a festival to commemorate the peak floral bloom. If you're looking for a bit of inspiration, check into the northwestern state's list of lavender events and festivals. While you're visiting, you can pick up some great seasonal souvenirs including soaps, candles, perfumes, teas, and of course a bouquet for your beloved!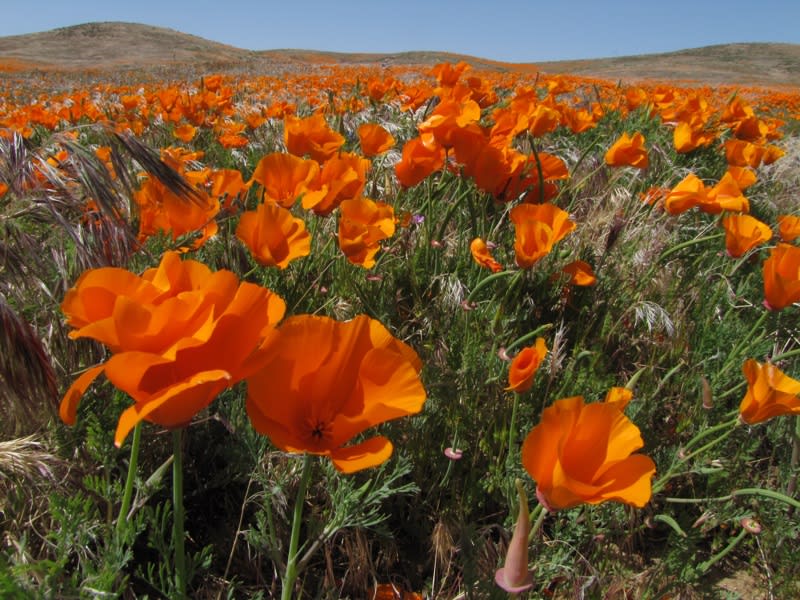 Photo Credit: Lyrinda Snyderman
Antelope Valley Poppy Preserve | California
Wander on to the golden state to witness the ever-popular poppy fields of Lancaster. You'll be basking in a sea of bright orange flora with the accompaniment of lupine, goldfield, and cream cups. This state park offers a mosaic of nature's most brilliant colors along eight miles of picture-perfect strolling trails. There are also paved sections available for wheelchair accessibility. While the wildflower blooms are hard to predict due to the dependency on climate settings, you can check in on the bloom updates for the Antelope Valley Poppy Preserve before making your way there. Visitors are welcome from sunrise to sunset for a nominal parking fee of $10.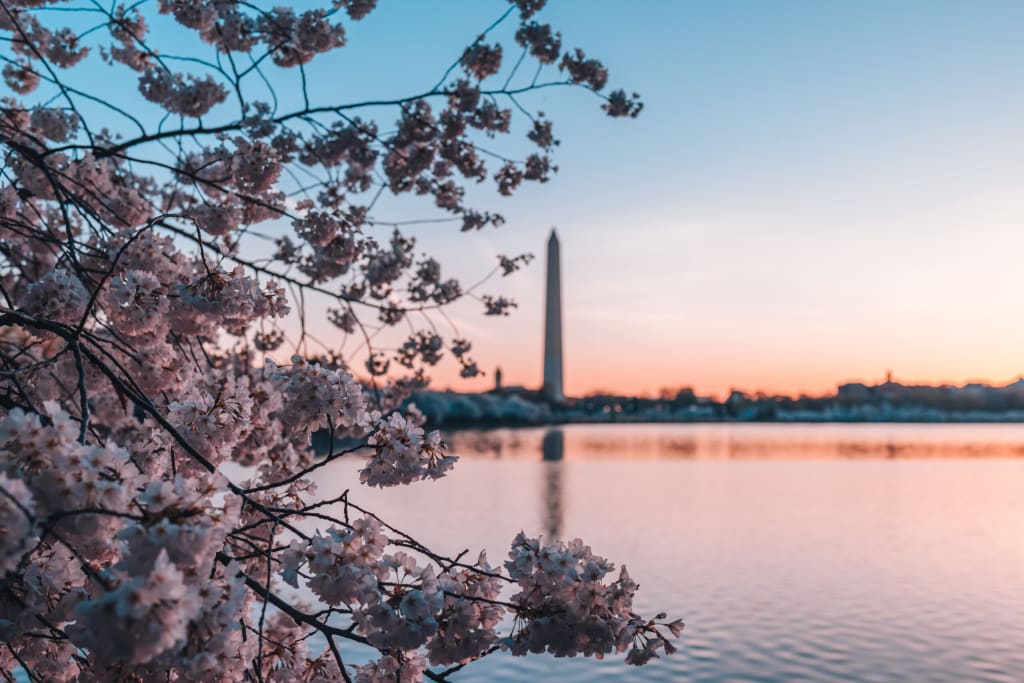 The Tidal Basin | Washington, D.C.
Great news! You don't have to travel all the way to Japan to witness the natural majesty of cherry blossems. Celebrating the friendship between nations, Yoshino cherry blossom trees were gifted to the United States by the mayor of Tokyo in 1912. Over one hundred years later, these trees still stand today. Peak bloom is typically around late March through early April, but the trees have been found to blossom sooner. If you're looking to avoid crowds, be sure to visit in the early morning. You'll be rewarded with a spectacular waterfront sunrise view of the Washington Monument. Take as many pictures as you'd like, but refrain from touching the blooms and branches or standing on the roots at all costs! The cherry blossoms are incredibly delicate. As beautiful as they are, they require a lot of tender love and care to last through generations of onlookers.
Crested Butte | Colorado
If it's not apparent already – Colorado is America's year-round playground for outdoor enthusiasts. When Crested Butte isn't hosting snowfall for skiers and snowboarders, its fields blossoms with stunning wildflower displays. Floral hues of pink, orange, and gold dance along the alpines to bring on the annual Wildflower Festival. This is a great go-to destination for hikers and trailblazers. The West Elk Mountains provide plenty of walking paths along various altitudes and vantage points for the springtime spectacular. While this location continues to grow in popularity, there's always plenty of space for you to enjoy seclusion within some of nature's finest moments.

Photo Credit: Bonnie Moreland
North Cascades National Park | Washington
Are you looking for a destination with a whole lot of nature to explore? As one of America's largest national parks, the North Cascades has plenty of springtime beauty to spare. The valleys and grasslands brighten with tiger lily, evergreen violet, fireweed, alpine aster, and plenty more for visiting hikers and mountain bikers to bask in. This national park stretches on over half a million acres for you to discover and capture with your camera. You can literally wake up and step out of your RV to smell the blooms of the season without the disturbance of overcrowding.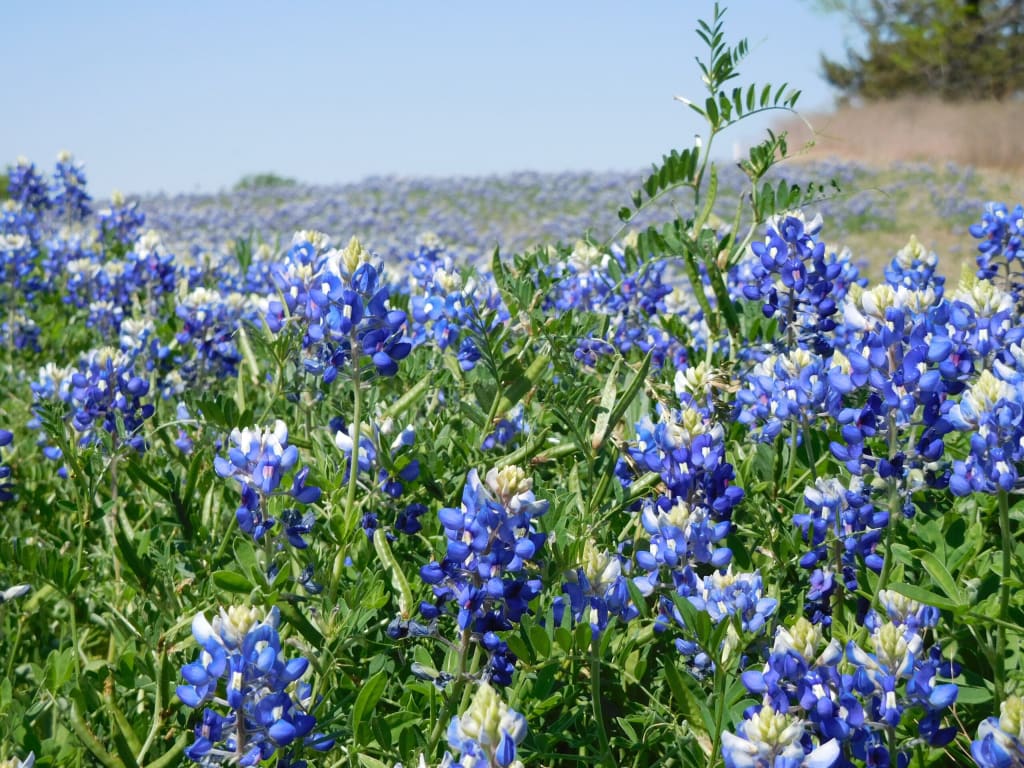 Brenham Bluebonnets | Texas
This destination comes with a serious caution – the blanketed fields of Benham will give you the urge to frolic for days. Wildflower season starts in April as bluebonnets take over the pastures with a sprinkled contrast of red Indian Paintbrushes, burgundy wine cups, and fair pink buttercups. If you've been itching to wander into Austin or Houston, you can easily make a weekend out of this breathtaking seasonal spectacle. Take your RV along Highway 290 for an unforgettable drive with a view. You can also enjoy the bluebonnets in the small town of Chappell Hill where an annual springtime festival is held, hosting over 250 local arts and crafts vendors, live entertainment, and cuisine you'll be calling home about. If you do wish to take the kids out for a photoshoot, be mindful not to trample over the blooms or pluck a bluebonnet (it's the state flower, so it's actually illegal to do so).
Are you in the market for a motorhome best suited for your family vacation travels? Whether you're traveling with one, two, or even four kids in tow, you're likely wondering what would be fit for your family travel needs, or even how to sift through your options. We've got your covered with our complete guide on How to Pick the Best RV for Your Family. You'll want to check this one out before you make your trip to the lot.