Who among us doesn't love chasing waterfalls? From powerful to gently flowing falls across the states, the U.S. offers numerous scenic waterfalls to venture to during the summer season. With campgrounds conveniently located near most of these desirous locations, RVers can easily go from falls to fall and enjoy the natural beauty the have to offer. Below we've highlighted ten of the most stunning waterfalls the U.S. has to offer. Check them out below and make sure to add them to your summer bucket list.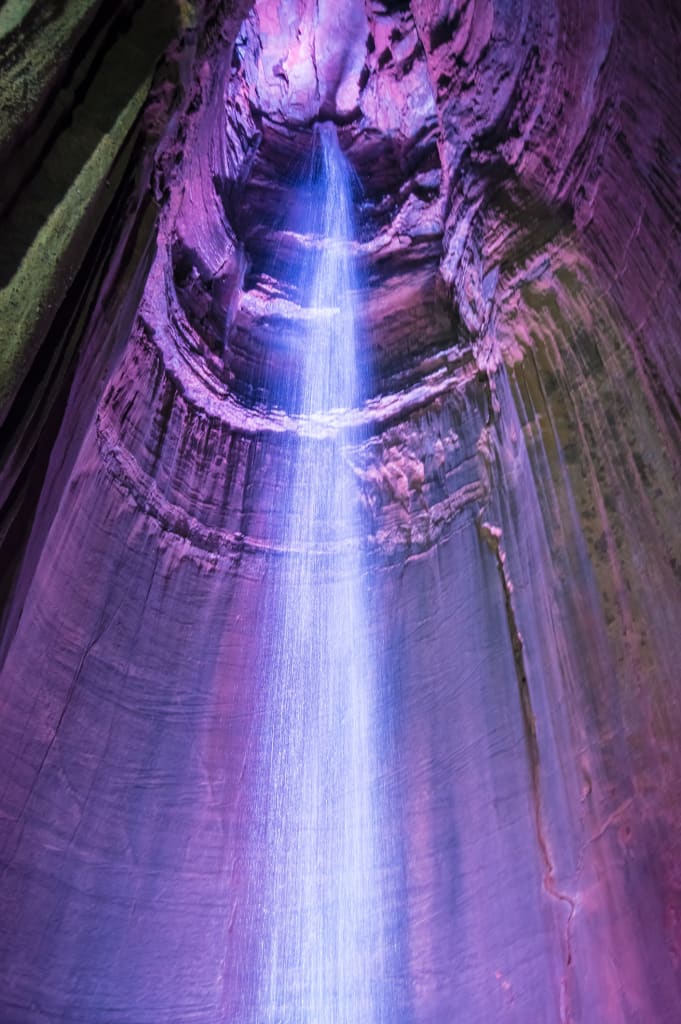 Ruby Falls
Where to Stay: Raccoon Mountain Caverns and Campground
Why We Love It: Ruby Falls offers an exciting adventure underground. Located inside Lookout Mountain near Chattanooga, Tennessee, Ruby Falls offers a chance to explore caverns while also seeing the deepest and tallest underground waterfalls open to the general public. Visiting Ruby Falls involves taking a glass-front elevator 260 feet below ground and walking along cave trails. Gentle walking tours, more challenging walking tours, and lantern tours of these cascading falls are available. Above ground, Ruby Falls offers a zip line adventure on Lookout Mountain. Tickets are required for cave tours and zip lines.
Alamere Falls
Where to Stay: Olema Campground
Why We Love It: Alamere Falls, located in the Phillip Burton Wilderness at Point Reyes National Seashore in California, offers a stunning view of water cascading over a 40-foot coastal cliff. Getting to the falls involves taking a scenic and somewhat challenging hike to Wildcat Beach, which is roughly 13 miles long round-trip. Visitors can park at one of three trailheads in the area, including Bear Valley, Five Brooks, or Palomarin, before beginning the hike to Wildcat Beach and Alamere Falls.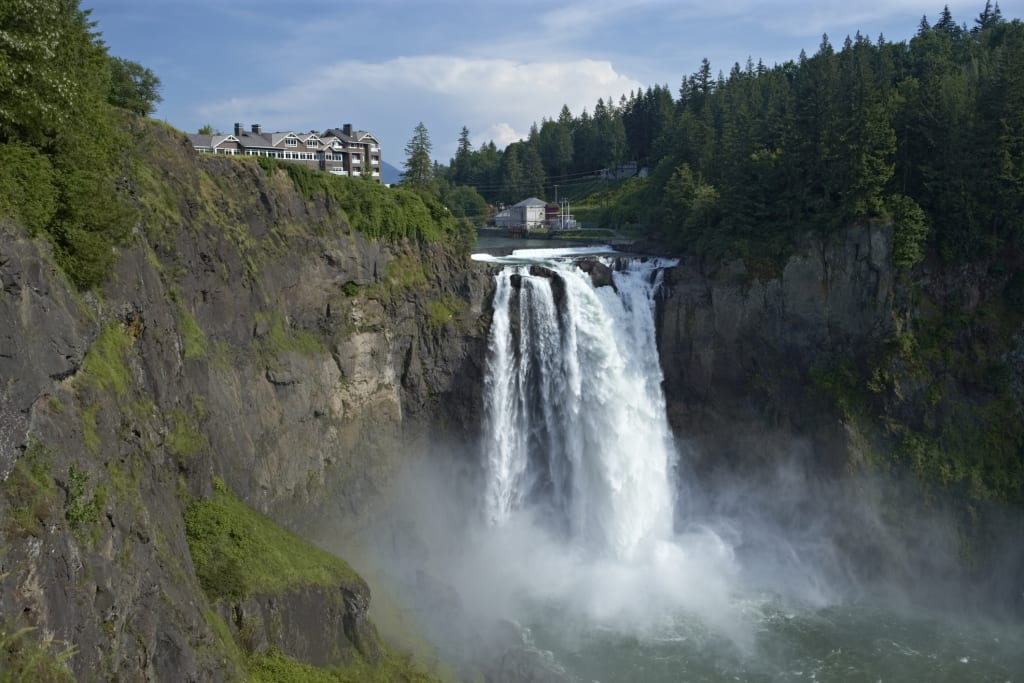 Snoqualmie Falls
Where to Stay: Blue Sky RV Park
Why We Love It: Snoqualmie Falls in Washington State provides breathtaking views from upper observation viewing areas and other points in the surrounding park. The falls cascade over granite cliffs from a height of 268 feet, offering picturesque views for those who visit this natural site. A steep trail that's roughly half a mile long allows visitors to get to the base of the falls for closer views. Historic downtown Snoqualmie is just a short walk away from the falls for additional sightseeing, as well as shopping and dining.
Nugget Falls
Where to Stay: Mendenhall Campground
Why We Love It: Nugget Falls near Juneau, Alaska, offers an incredible view of a glacial waterfall. The falls plunge from Nugget Glacier at two different heights of 278 feet and 99 feet into Mendenhall Lake. Located in Tongass National Forest, Nugget Falls can be viewed from along the lakeshore down below. Visitors can follow a low-grade walking trail to the base of the falls for stunning views. Nearby Mendenhall Glacier Visitor Center provides a great way to learn more about the area.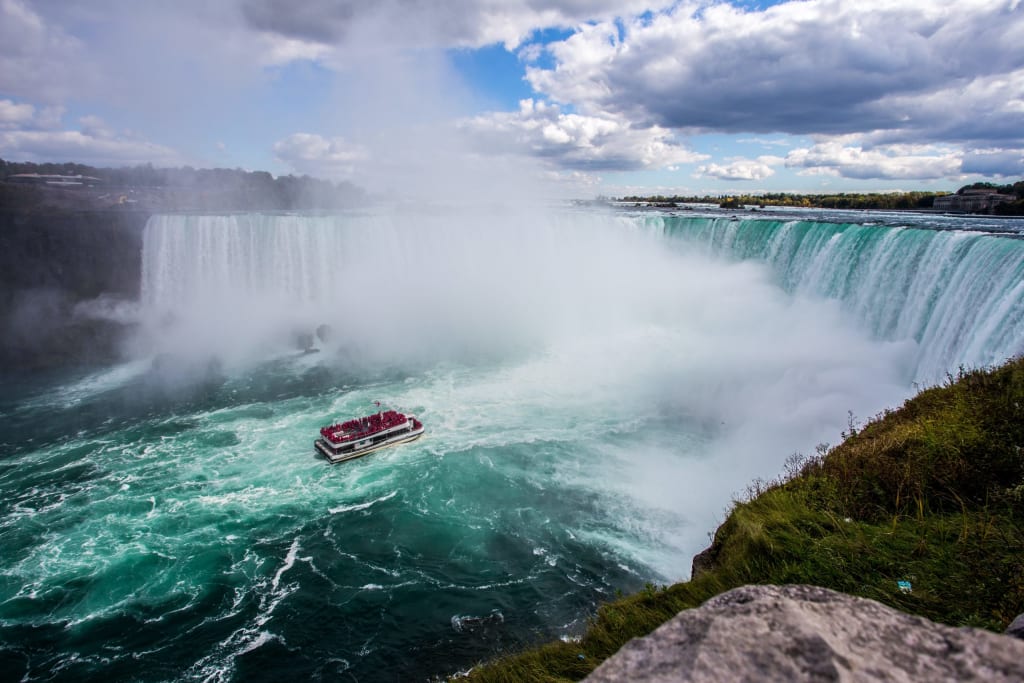 Niagara Falls
Where to Stay: Niagara Falls/Grand Island KOA
Why We Love It: For awe-inspiring waterfall views, there's no better place to go than Niagara Falls, New York. The thundering falls include Bridal Veil Falls, Horseshoe Falls, and American Falls, which pour 3,160 tons of water per second into the Niagara River. Being on the American side means being able to get up close to the falls on the Maid of the Mist boat tours, Cave of the Winds, and Observation Tower. Visitors can also get close to the river on Three Sisters Island and Goat Island and explore the park's many walking trails and sites, such as the Floral Clock.
Falling Waters Sinkhole
Where to Stay: Falling Waters State Park
Why We Love It: Falling Waters Sinkhole in Chipley, Florida, gives an unusual waterfall experience. Instead of looking up from the base to see water cascading down, this waterfall goes down into a sinkhole and flows to an unknown destination. Falling Waters Sinkhole is 100 feet deep and 20 feet wide, with water flowing 73 feet down to the bottom. Visitors can walk along shady Sink Hole Trail, which is lined with pine trees and other large trees, to reach the waterfall. Falling Waters State Park also has places to go swimming, fishing, and hiking.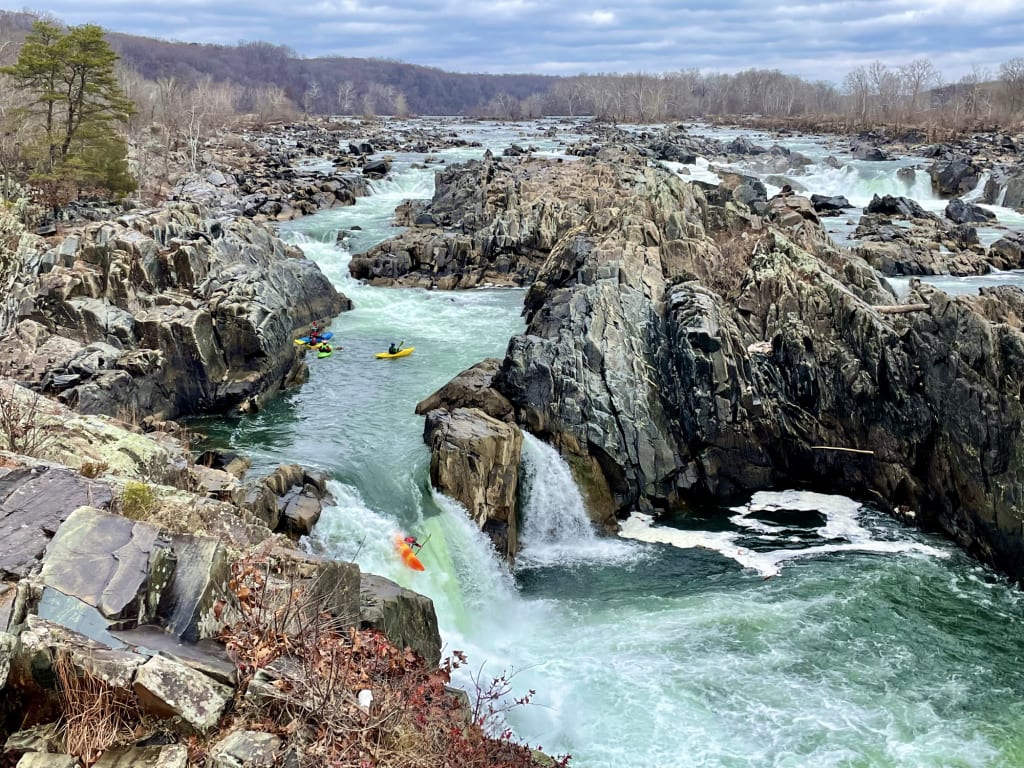 Great Falls
Where to Stay: Lake Fairfax Campground
Why We Love It: Great Falls offers a chance to explore both nature and history in the Potomac River region. Located in Great Falls Park, Virginia near the Maryland border, the falls and rapids in this part of the Potomac River flow over sharp, jagged rocks and wind through Mather Gorge. Visitors can walk to one of three overlook points to see the falls. Going to Great Falls means having the opportunity to learn more about the history of the area at Patowmack Canal and the Matildaville ruins. Visitors can also go kayaking in the Potomac Gorge and hike along the park's nature trails.
Kanarra Creek Waterfall
Where to Stay: Red Ledge RV Park
Why We Love It: Kanarra Falls, located just north of Zion National Park's Kolob Canyons in Utah, provides scenic views for those who want a more challenging outdoor adventure. Reaching these colorful canyon falls involves hiking just under 4 miles round trip over rocky, uneven terrain. Visitors need to climb a 20-foot ladder to get past the first falls, then scale a boulder to continue onto the second falls. About half a mile from the second falls is a swimming hole with a moss-covered slide. Tickets are required to hike the trail to Kanarra Falls.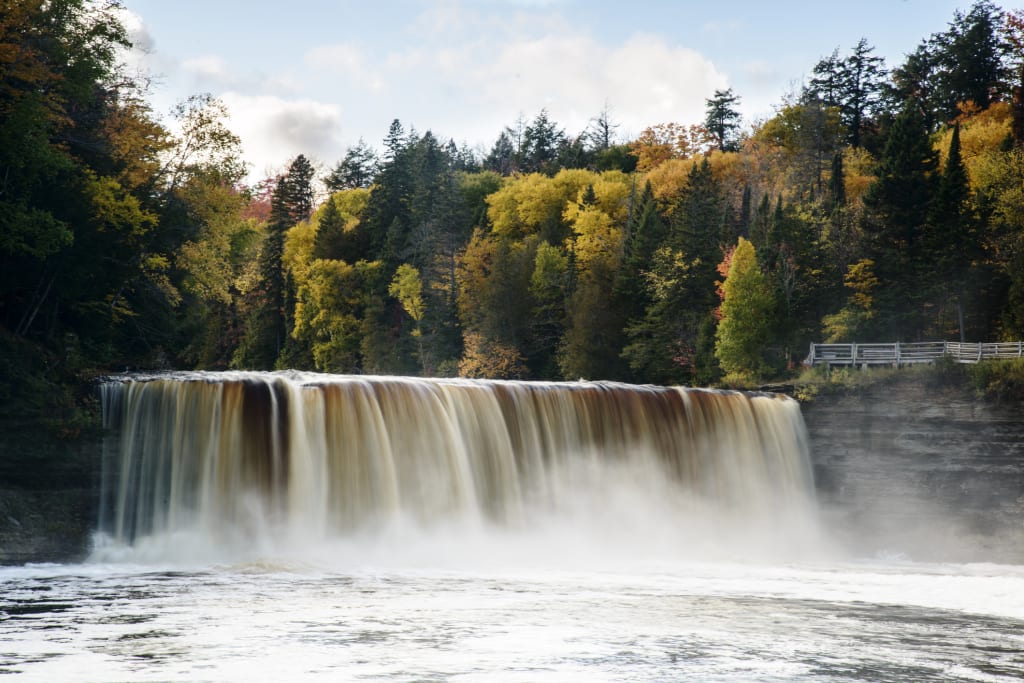 Tahquamenon Falls
Where to Stay: Tahquamenon Falls State Park
Why We Love It: Tahquamenon Falls in Michigan's Upper Peninsula near Lake Superior offer a chance to see powerful waterfalls in picturesque surroundings. The Upper Falls are over 200 feet across and have a drop of almost 50 feet, which leads to a flow of over 50,000 gallons of water from the Tahquamenon River per second. The Lower Falls, located a few miles downstream, include small waterfalls surrounding an island. Visitors can enjoy views of the falls from the banks of the Tahquamenon River, or rent a rowboat to get to the island.
Yosemite Falls
Where to Stay: Yosemite National Park
Why We Love It: Upper Yosemite Falls, located in Yosemite National Park, California, gives visitors a chance to see the tallest waterfall in North America. The Upper Yosemite Falls reach a height of 2,425 above Yosemite Valley. Visitors can hike along the historic Yosemite Falls Trail to get to the top of the falls and enjoy views of Merced River and Half Dome, as well as other peaks in the Sierra Mountains. The hike to the top of the falls is just over 7 miles round trip.
While these waterfalls offer stunning views, keep in mind that some are in remote or hard-to-reach locations. Always check local weather conditions before setting out, and come prepared for hiking or climbing over rough terrain if needed.