Are you looking for new experiences while RVing? If you are tired of visiting the same places, then it's time to try something different. Did you know there are quirky roadside attractions all across the states? Since they're not as popular, they often don't attract huge crowds, making them ideal destinations for summer 2022. Check out our list of some of the most popular quirky roadside attractions for you to include on your next trip below.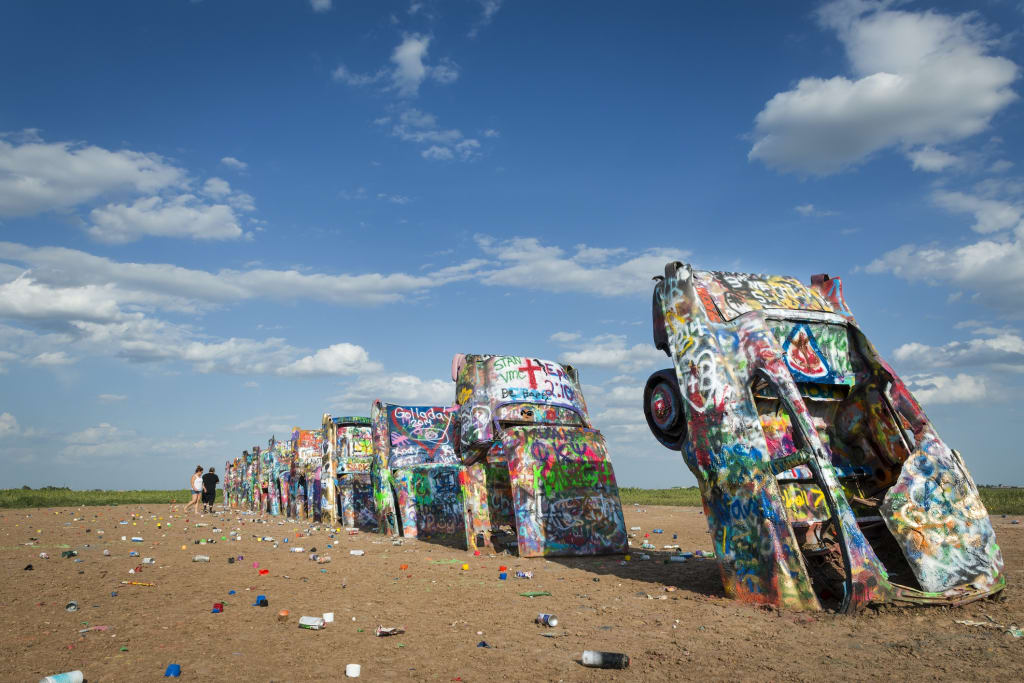 Cadillac Ranch | Texas
Address: 13651 I-40 Frontage Rd, Amarillo, TX 79124
Why We Love It: Cadillac Ranch is a public art feature created in 1974. This quirky roadside attraction consists of 10 Cadillacs that have been half-buried with the front end in the ground. Interestingly, this is not the original location of the Cadillac Ranch. The original location had to be moved due to the expansion of the city (Amarillo). Another interesting fact is that the original work didn't include the graffiti. The graffiti effect was the result of people taking it upon themselves to add their own "touches" to the attraction despite Texas banning it. If you click on the link above, you can see the artists who brought the art to life by stacking Cadillacs from the oldest in 1949 to the latest in 1964. When you go, you can add your own graffiti to the Cadillacs, since it is no longer illegal to do so. You can bring your own spray paint, or they have a Merch Truck there from Wednesday through Monday 9:00 am to 7:00 pm, weather permitting.
Hole 'N' The Rock | Utah
Address: 11037 South US-191, Moab, UT 84532
Why We Love It: Hole 'N' The Rock is a home that is carved out of a sandstone cliff. Albert Christensen started creating this 5,000 sq. ft. home in 1940 and his family moved into the home in 1952. In 1957, Albert died, and the home was then opened for 12-minute guided public tours. This site also has an unusual gift shop, a trading post, a souvenir shop, and an exotic zoo that are all open year-round.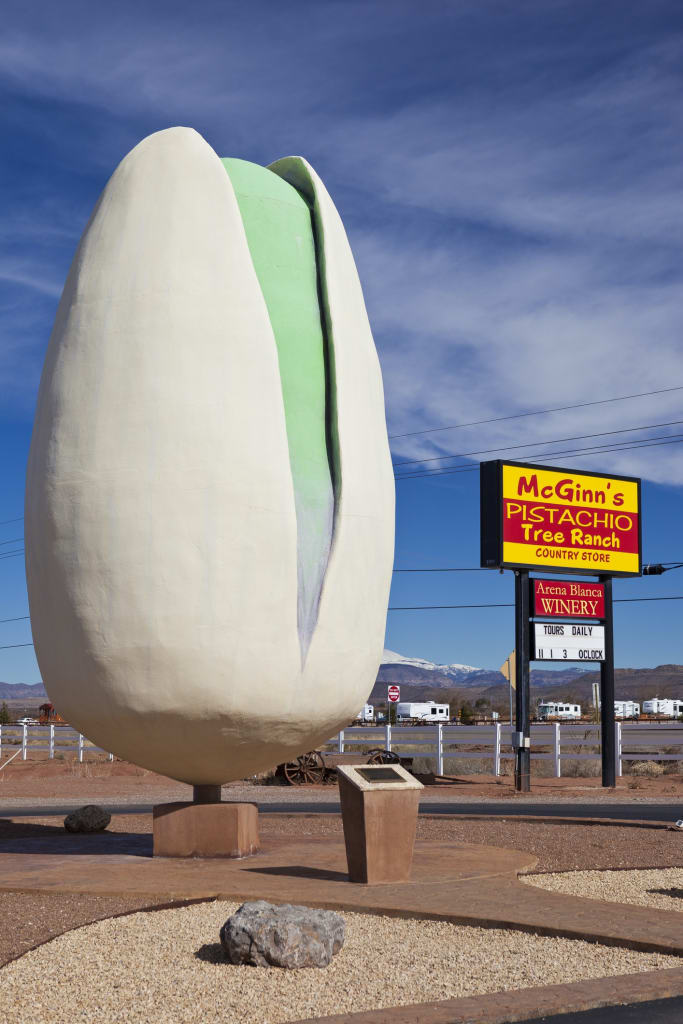 PistachioLand – World's Largest Pistachio | New Mexico
Address: 7320 U.S. Hwy 54/70, North Alamogordo, NM 88310
Why We Love It: PistachioLand is home to the world's largest pistachio and is called the Nuttiest Place in New Mexico. This is just an all-around great place. There is McGinn's Pistachio Tree Ranch Country Store, where they sell farm-made pistachio treats. They also have an ice cream parlor, as well as a farm tour. If you're not in a sweets mood, you can enjoy a glass of wine at the Arena Blanca Winery. PistachioLand also gives out samples of their flavored pistachios, farm-made candies, and wines. And don't forget to document this memory by taking a picture in front of the Worlds Largest Pistachio, the pistachio trees, and/or the vineyard. 
Lenny, the Worlds Only Life-Size Chocolate Moose | Maine
Address: 419 US-1, Scarborough, ME 04074
Why We Love It: Len Libby Candies – Home of the Life-Size Chocolate Moose is a famous chocolate shop in Maine that has the world's only life-size chocolate moose, as you probably already guessed by its name. The chocolate moose is made of 1700 pounds of top-quality milk chocolate. It became an attraction in 1987 and is still featured to this day. But don't just stop to see Lenny, you are really going to love the selection of the finest chocolates and other delectable treats, such as copper kettle fudge, brittles, caramel corn, Maine maple, saltwater taffy, Maine blueberries, and all sorts of dipped, double dipped, panned, and dunked treats. Yum, can't you just taste them now!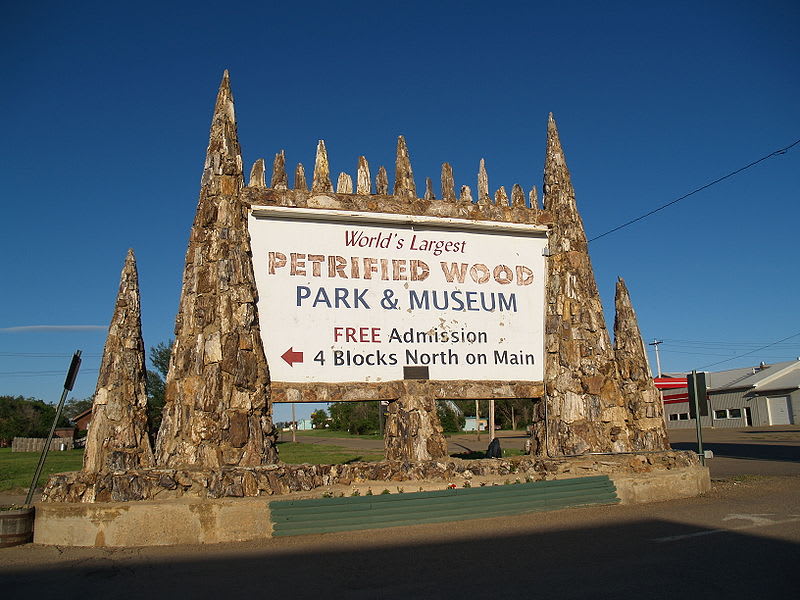 Petrified Wood Park | South Dakota
Address: 500 Main Avenue, Lemmon, SD 57638
Why We Love It: Petrified Wood Park & Museum is a park and museum that is just off U.S. 12 in Lemmon, SD. In 1977, this location was listed on the National Register of Historic Places, and it takes up an entire city block. The Petrified Wood Park was built between the years of 1930-1932. The museum is uniquely located inside of a petrified wood structure with cone-like points. This is sometimes called "the castle." There are other interesting artifacts there as well. These include town historical artifacts and features, petrified dinosaurs, mammoth bones, and even a miniature version of a petrified wood house. 
Crooked River Lighthouse | Florida
Address: 1975 Hwy 98 W. Carrabelle, FL 32322
Why We Love It: The Crooked River Lighthouse, also known as the Carrabelle Light, was built in 1895 replacing the Dog Island Light that was destroyed by a hurricane in 1875, and it was restored in 2007. It is now listed on the National Register of Historic Places. There is also a Coastal Country Market on the 1st and 3rd Saturdays of the month, a gift shop, history museum, playground, and picnic area. They also sponsor periodic events along with live music, a full moon climb, and more.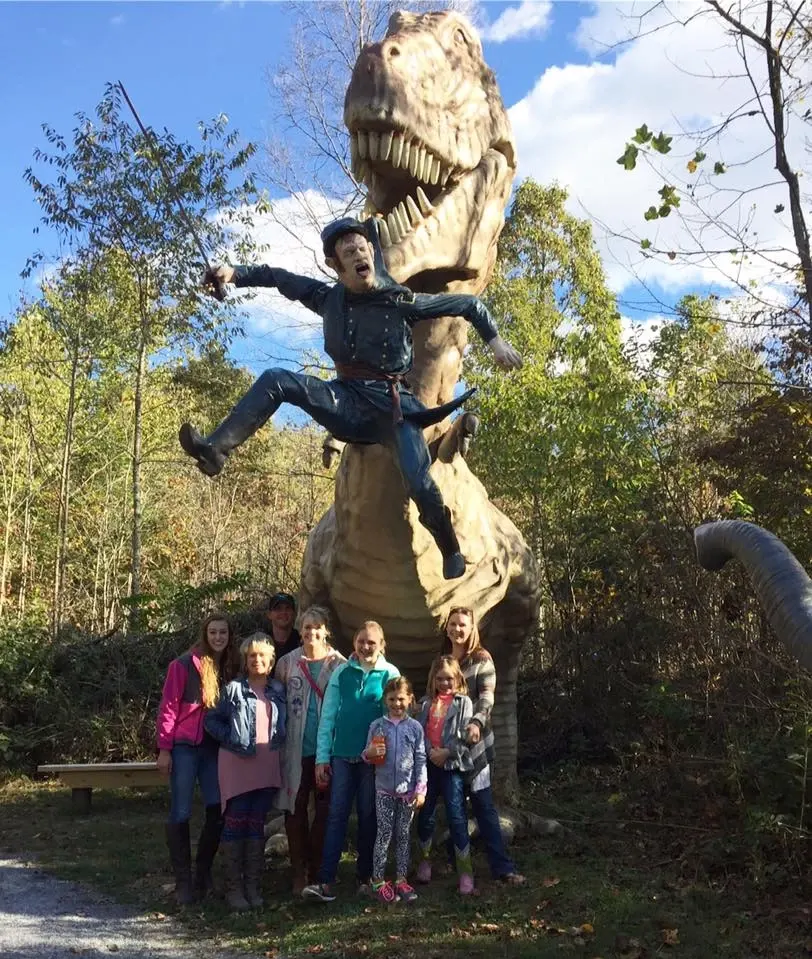 Dinosaur Kingdom II | Virginia
Address: 5781 S. Lee Highway, Natural Bridge, VA 24578
Why We Love It: Dinosaur Kingdom II consists of statues depicting a dinosaur attack on the Union Army and they are tucked into wooded forests. It offers an entertaining blend of history and science. This attraction is open year-round. You might also enjoy the wooded experience and walking adventure of the weirdest, craziest dinosaur park ever. There are other attractions as well. You could also visit the Natural Bridge Zoo and the Caverns at Natural Bridge. Buy a multi-pass to get admission to all three. 
Wild Blueberry Land | Maine
Address: 1067 US-1 Columbia Falls, ME 04623
Why We Love It: You can't miss Wild Blueberry Land because you will immediately spot its giant blue dome as you approach. The attraction was intentionally designed to look like a blueberry. This seven-acre family farm is a blueberry-themed theme park. So everything is blue. You can also play some miniature golf and enjoy some treats from the bakery that is inside the blue dome, which consists of all blueberry goods and treats, of course.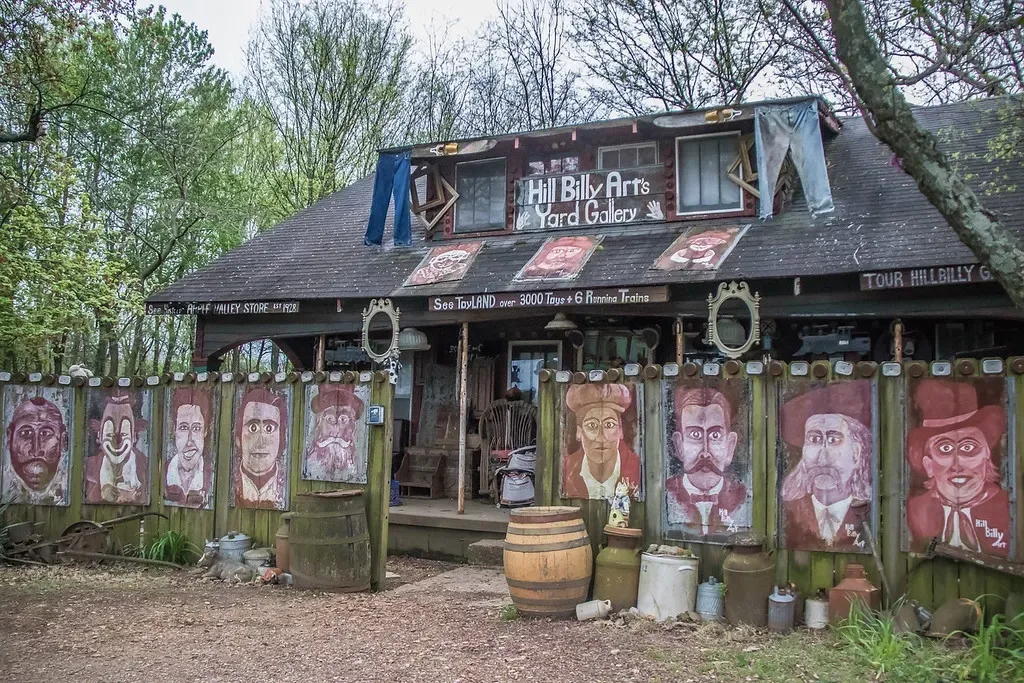 Apple Valley Hillbilly Garden and Toyland | Kentucky
Address: 9351 US-68, Calvert City, KY 42029
Why We Love It: Apple Valley Hillbilly Garden and Toyland is a massive eclectic art tribute to the days of the old tacky roadside attractions. It's an old, converted Gulf gas station, diner, and store that was established in 1928 and is now a really cool museum. There is Toyland, which has more than 3,000 toys and six running trains in a fantasy toy diorama. Then there's Hillbilly Garden, where you can walk through some quirky, funny folk art sculptures. When you're done, you can mosey on over to the Apple Valley Country Store Museum. You don't want to miss it.
Havre Beneath the Streets | Montana
Address: 120 3rd Avenue, Havre, MT 59501
Why We Love It: Havre Beneath the Streets is an underground museum based on the city's actual history. The free railroad museum tour tells the history of the Burlington Northern Railroad. Then there is a paid tour of the underground that survived when the city of Havre was almost all destroyed by fire. After the fire, the businesses conducted their business underground until the town could be rebuilt. They have a fantastic recreation of the bordello, bakery, pharmacy, blacksmith shop, and more. It's really fascinating, so even if you are not interested in history, you will still probably find this interesting. 
Most of these quirky roadside attractions are free or just require a small fee making them perfect for a budget RV vacation. An added bonus… most of them are attractions you can see year-round if you can't squeeze them into your summer plans.