Enjoying the great outdoors at one of America's national parks is an adventure and educational. Sharing the experience with a canine buddy takes it to another level of fun and excitement as you traverse scenic trails and discover all that the park has to offer. Not only is a walk through the park an enjoyable experience to share with a furry friend, but it also provides a non-stressful environment for outdoor exercise. With many dog-friendly national parks located throughout the United States, plan a visit with Fido or Fifi whether the park is located in your home state or if you have access to national parks while traveling.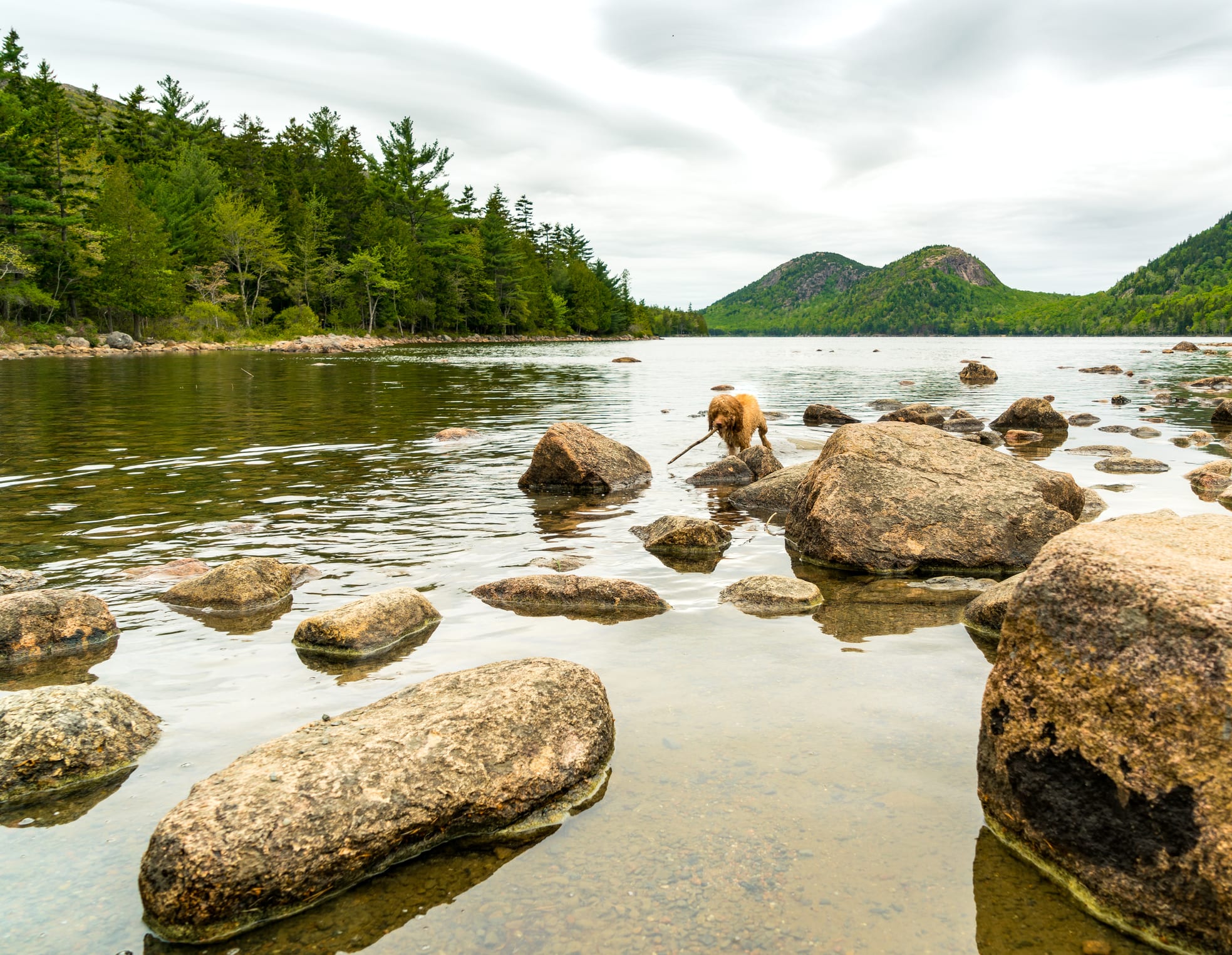 Acadia National Park
Located in Maine, Acadia National Park offers a day of hiking along trails through forested terrain and along the Atlantic shoreline. With over 200 trails for hiking and biking ranging from easy to difficult, there is no shortage of lush landscapes and scenic views to enjoy. Acadia is among the top 10 most visited parks each year. Within Acadia, pets have access to 100 miles of trails and 45 miles of road. There are trails that are closed to pets and others that are not recommended for pets to access. Check the website for a listing of these trails before heading out.
Several of the on-leash trails within the park include the following:
Ocean Path Trail
Jordan Pond Path
Gorham Mountain Loop
Cadillac North Ridge Trail
Great Head Trail
Ship Harbor Trail
Cuyahoga Valley National Park
Within Cuyahoga Valley National Park in Ohio, 100 miles of hiking trails await you and your dog. Whether you're out and about for a short jaunt or a longer challenge, you'll find plenty of scenic trails through diverse landscapes with assorted walking surfaces from crushed limestone or gravel to packed dirt. In Cuyahoga, the East Rim trails for mountain bikes are off limits to pets.
Hiking trails to consider include:
Lake Trail
Oak Hill Trail
Towpath Trail
Salt Run Trail
Pine Grove Trail
Cross Country Trail
Buckeye Trail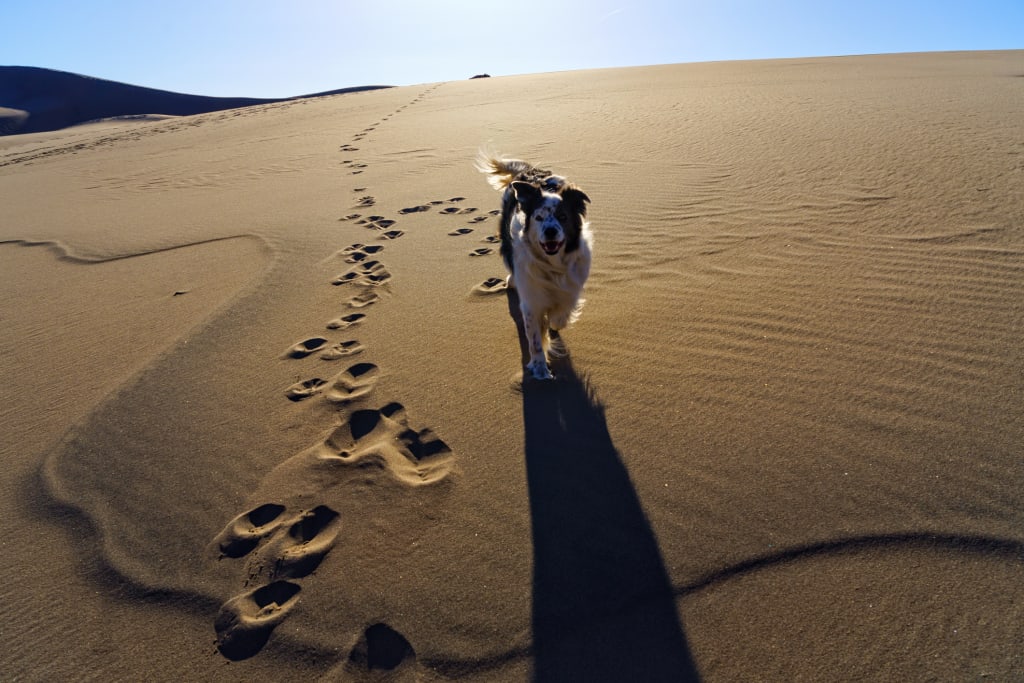 Great Sand Dunes National Park
For an unforgettable experience, plan a visit to the Great Sand Dunes National Park in Colorado. While visions of the Rocky Mountains and lots of snow usually come to mind when thinking about the state, the national park has a 30-square-mile sand dune field with no trails, just plenty of open space for you and your dog to run, roll, and play in the sand. Keep in mind the time of year and the temperature to ensure your pup's paws are protected from the hot sand. When the temps are too hot, Great Sand Dunes National Park has miles of forested trails for the two of you to explore. There are areas within the wilderness park that do not allow access to dogs.
Areas to explore include:
In the Preserve, which includes Mosca Pass Trail
Dunes Overlook Trail
Medano Pass Primitive Road
High Dune on First Ridge
Petrified Forest National Park
The pet-friendly Petrified Forest National Park in Arizona is all about enjoying the majority of the park's trails and paved roads with your dog. The landscape of the park is like looking at an artist's palette with its many colors and hues displayed by the petrified wood. Enjoy the park and take advantage of the Bark Ranger program designed for pet owners who want to know the best and safest ways to explore the park with fur buddies.
Trails to consider include:
Agate House Trail
Painted Desert Rim Trail
Blue Mesa Trail
Crystal Forest Trail
Giant Logs Trail
Historic Blue Forest Trail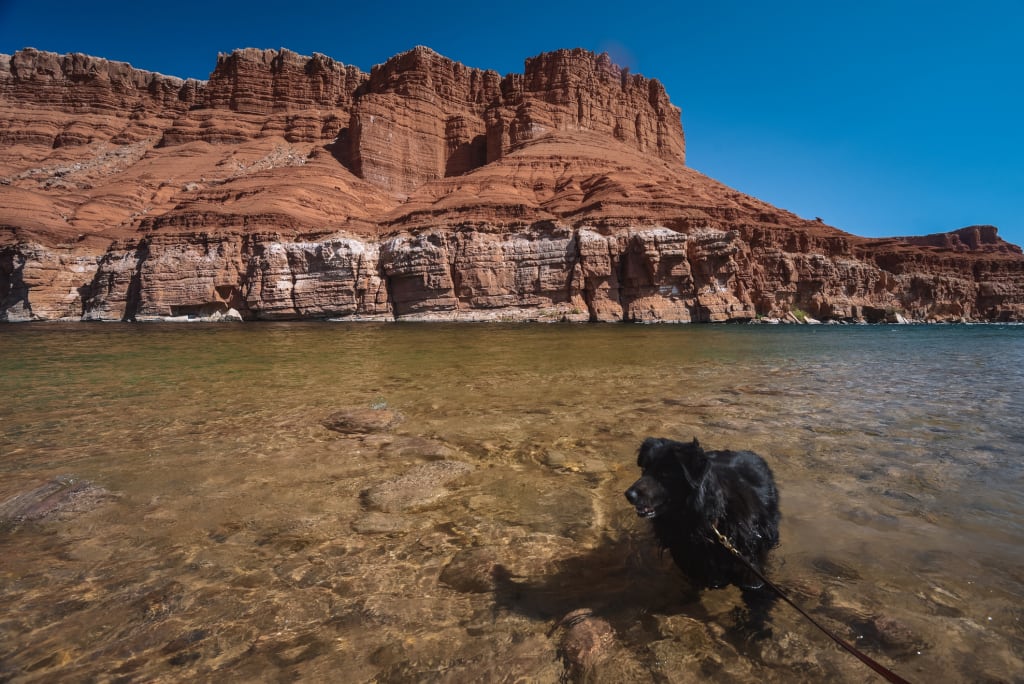 Grand Canyon National Park
Imagine miles of open scenic vistas stretching to the horizon enhanced by giant rock formations and you and your pup have arrived at Grand Canyon National Park. For those who want to enjoy the beauty of the park, access to dogs is limited. The trails along the south rim are open to dogs, but the inner canyon trails are off limits. A good place to start is on the Rim Trail, which offers 13 miles along the canyon's rim for viewing the inner landscape of the canyon.
Shenandoah National Park
Located in Virginia, you are sure to find a scenic trail through wooded areas and past waterfalls along one of the 500 trails in Shenandoah National Park. Most trails are dog-friendly with the exception of a dozen listed here.
Dog-accessible trails:
Rose River Falls Trail
Hawksbill Loop
Sugarloaf Loop via Piney Branch and Appalachian Trails
Big Run Trail
Appalachian Trail
Elkwallow, Mathews Arm, and Knob Mountain Cutoff Trail

North Cascades National Park
Like the Grand Canyon National Park, the North Cascades National Park in Washington has limited access for dogs to one trail, but that one trail offers one of the most popular and scenic hikes in the U.S. Enjoy a day-long hike along the Pacific Crest Trail that meanders along the western coastline. From snow-covered peaks in the winter to brilliant fall foliage in autumn, the park offers beauty and serenity at every turn.
Additional Pet-Friendly National Parks
Whenever you plan to travel, there are plenty of pet-friendly national parks to consider for a hiking adventure with your dog. Some parks are more dog-friendly than others, so, check ahead of time for trail availability.
Know Before You Go
Before you and your fur buddy head to the park, there are a few things to do and know before you go.
Check the park's website for any alerts that may be in effect due to weather or dangerous situations.
Read the park's rules regarding dogs within the park and on the trails, plus leash requirements.
Be prepared for unexpected changes in the weather, bring extra water along for your pup, disposal bags for cleaning up after your pet, and an extra leash, just in case.
Be prepared for your dog to hike along various surfaces.
Bring an insect repellant.
Be aware of dangers to your dog, such as resident wildlife, insects, poison ivy, and other plants.
Keep your pet on a leash at all times and never leave it unattended.
While national parks are beautiful destinations, they can be dangerous. Whenever you plan to visit a national park with your dog, always follow the rules and regulations. No exceptions. These policies are in place to keep you and your canine safe. Following the park's rules means more fun for everyone.