From sea to shining sea, we welcome you to join us for this year's National Park Week. NPW offers free entrance to all U.S. national parks from April 17-25th. If you've ever daydreamed about climbing volcanoes in Hawaii, summiting El Capitan, swimming with marine life in Florida, dirt biking in the desert, kayaking the Great Lakes or climbing mountains in the Pacific Northwest, this is your chance to make those dreams a reality.
The American landscape is vast and inviting. The road is open, winding and calling for you to pack up your RV and turn your eyes to the horizon for your next great adventure. We've outlined what you need to know before you go to each park as well as where you can park your motorhome.
*All of these great campground photography venues are in National Parks are listed by state in alphabetical order.
ALASKA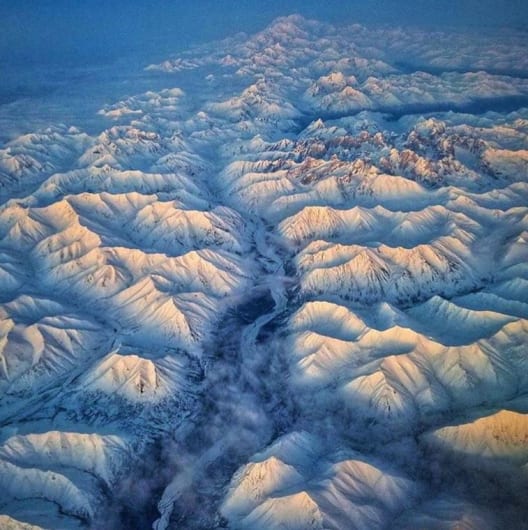 Photography @travelalaska

1. Denali
Know Before You Go: Park Road is the one and only road that runs in and throughout Denali. It is paved and accessible to private vehicles for the first 15 miles, which only gives access to the Savage River campground and hiking trail heads. After that, the road is graveled and only accessible by bicycle or shuttle bus. Free shuttles operate at the park entrance and Savage River. Reservations for Denali National Park camping, bus tours, and shuttle buses are highly recommended and are available online.
Where to Stay: Riley Creek Campground


Photography: @kanyeweist

2. Gates of the Arctic
Know Before You Go: There are no roads or trails into this wilderness park so visitors must fly or hike in. You can access the park in Fairbanks, Alaska. There are several small airlines that provide daily flights into the gateway communities of Bettles and Anaktuvuk Pass. If you plan to stay over 12 hours you will have to wilderness camp so leave your RV in Fairbanks and make sure you have all your camping gear necessities before you board your flight.
Where To Stay: Chena River Wayside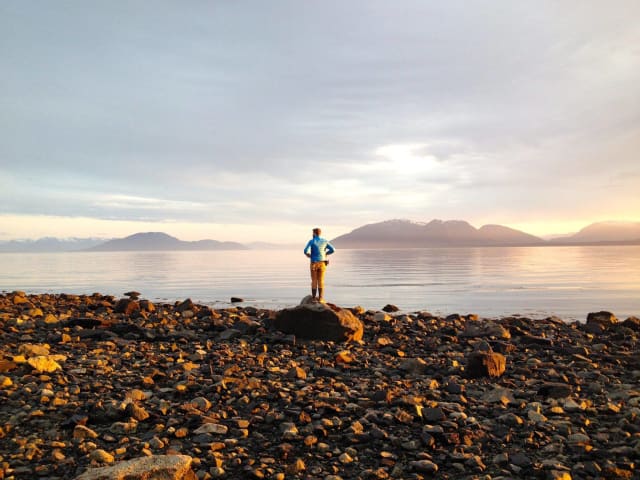 Photography: N. McMurray
3. Glacier Bay
Know Before You Go: The park can only be reached by plane or boat. Alaska Airlines provides daily jet service from Juneau to Gustavus in the summer season. Most visitors arrive as passengers on board cruise ships, tour boats or their own private vessels.
Where To Stay: Spruce Meadow RV Park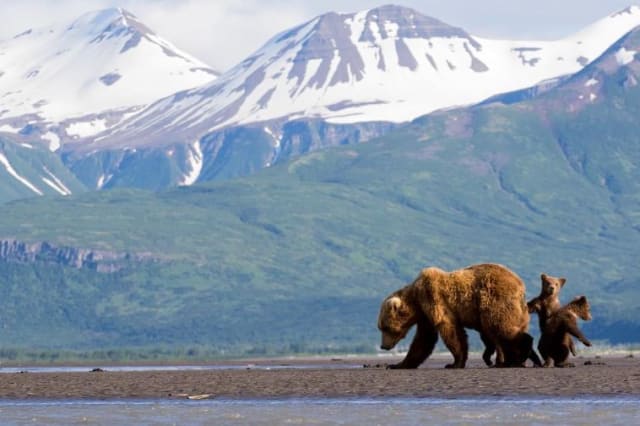 Photography: @bradjosephphoto

4. Katmai
Know Before You Go: Like other national parks in Alaska, most destinations in Katmai are directly accessed via air taxi flights. Try Anchorage, Dillingham, Homer, King Salmon or Kodiak. Regularly scheduled commercial flights to King Salmon are available from Ted Stevens Anchorage International Airport via PenAir and Alaska Airlines. Boats can also access the Pacific coast of Katmai.
Where To Stay: Golden Nugget RV Campground


Photography: @alliemtaylor

5. Kenai Fjords
Know Before You Go: You can drive to Kenai Fjords National Park, but be aware the park is often inaccessible by vehicle during winter months. Advance planning is extremely helpful for visiting since some activities may require outfitters/guides – and if you plan to do a boat tour of the Fjords, reservations are necessary. To ensure an enjoyable experience in this unpredictable environment, it's very important to take safety precautions and prepare yourself for extreme weather. There is no RV camping in Kenai Fjords.
Where To Stay: Stoney Creek RV Park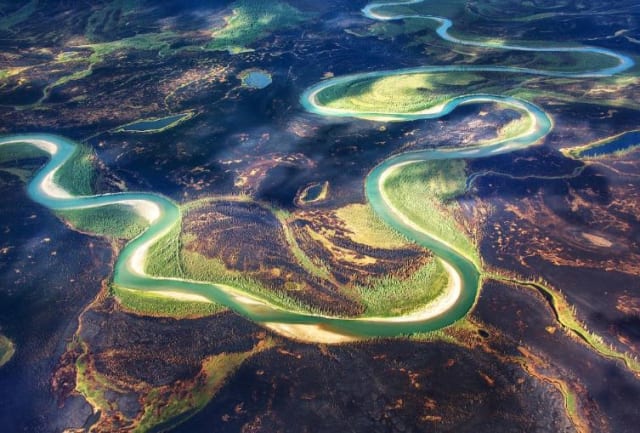 Photography: @rkroenert

6. Kobuk Valley
Know Before You Go: Visitors should be prepared to enjoy a non-traditional national park experience. There are no roads, trails, campgrounds or regularly attended ranger stations in Kobuk Valley. Access is typically by small aircraft, which can cost several hundred dollars per hour. Flight companies are available in Kotzebue and Bettles.
Where To Stay: Alaskan Angler RV Resort 


Photography: Kara Lewandowski
7. Lake Clark
Know Before You Go: Lake Clark is located on the Alaska Peninsula north of Katmai, 120 air miles southwest of Anchorage. Like many areas in Alaska, Lake Clark is not on the road system so travel takes place primarily by small plane. Fixed-wing aircraft are allowed to land on all suitable lakes, rivers, beaches, gravel bars and open ground in both the park and preserve, unless the area is closed or otherwise restricted.
Where To Stay: Ship Creek RV Park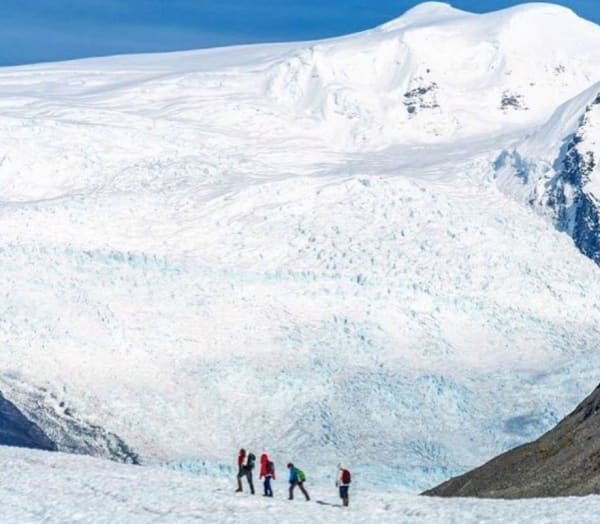 Photography: @everythingeverywhere

8. Wrangell – St. Elias
Know Before You Go: Most of the park is backcountry but you are able to drive into Wrangell. There are two roads that lead into the park: the Nabesna Road and the McCarthy Road. Both are dirt roads maintained by the state of Alaska. Most prefer to take the shuttle bus system, but seats are limited so make reservations before you go.
Where To Stay: Base Camp Root Glacier 

AMERICAN SAMOA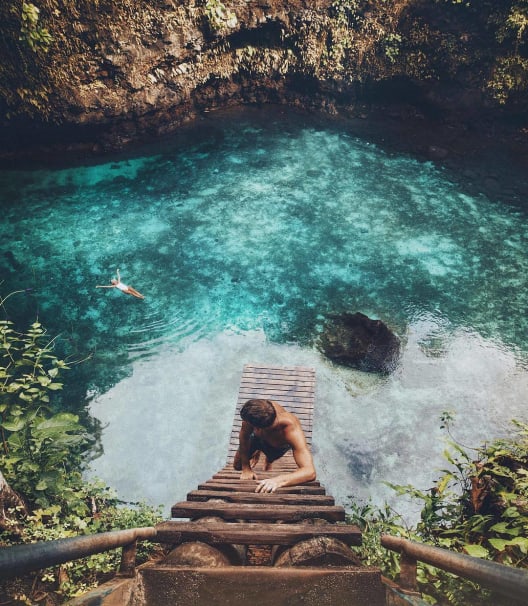 Photography: @doyoutravel
9. American Samoa
Know Before You Go: Since the park is in a remote part of the South Pacific and has limited access opportunities, unless you live in American Samoa, more than casual planning is required to visit the park. Hawaiian Airlines is the only major carrier to American Samoa. They provide two flights a week round-trip from Honolulu. Small planes serve park areas on Ta'u Island and the nearby nation of Samoa. Transportation to the other park area on Ofu Island is by local boat from Ta'u. Several car rental agencies are available near the airport. On the island of Tutuila, taxis are available at the airport and throughout the island.
Where To Stay: We hate to say it, but leave your RV at home for this one and try Homestay Lodging 

ARIZONA 

Photography: @helloamerica
10. Grand Canyon
Know Before You Go: The majority of visitors come to the South Rim each year. If you want to skip the crowds, check out the North Rim, accessible between mid-May to mid-October. Looking for an even more remote experience? The West Rim, an emerging destination is on tribal reservation land – offers limited services, but is open 365 days a year. As it is tribal land, the national park entrance fee does not apply and Golden Age passes are not applicable. Entry to Grand Canyon West starts at $44/person. 
Where To Stay: Trailer Village Park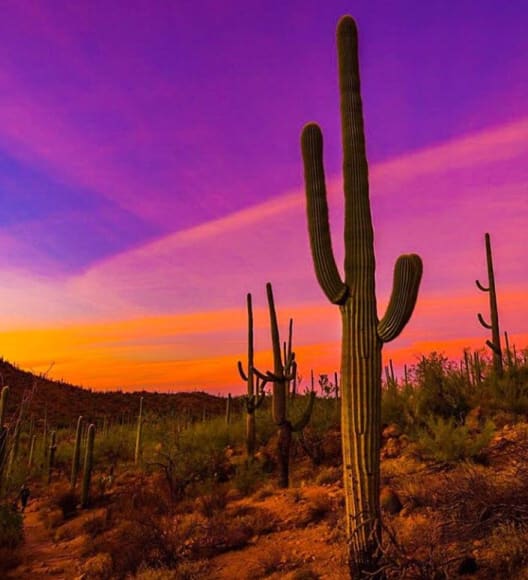 Photography: @usinteriors
11. Saguaro
Know Before You Go: The park is open every day of the year except Christmas Day. Flash floods occur during the monsoon season (July-September). Avoid hiking in washes (dry riverbeds) when thunderstorms are occurring anywhere nearby. Do not try to cross a flooded road in your vehicle under any circumstances. Daytime temperatures can reach up to 105 degrees so stay hydrated.
Where To Stay: Valley of the Sun RV Park


Photography: @jonathan_irish
12. Petrified Forest
Know Before You Go: Petrified forest is one of the most pet friendly national parks. Keep your furry friend on a leash and they are welcome to go anywhere in the park (except inside buildings). There are no campground facilities in the park. One of the most continuous sections of Triassic-aged rocks anywhere in the world can be seen at Petrified Forest. These rocks were deposited by enormous rivers between 208 and 228 million years ago and include an incredible diversity of fossils.
Where To Stay: Petrified Forest KOA

ARKANSAS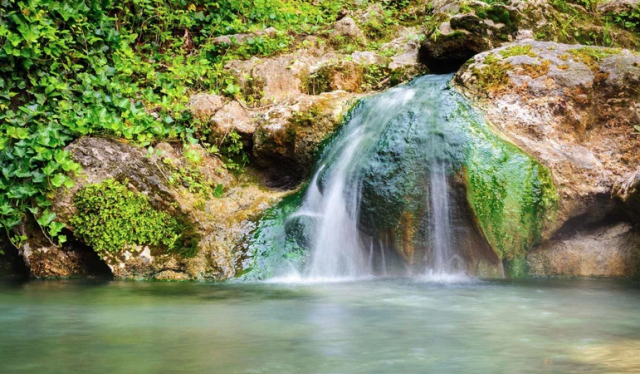 Photography: zrfphoto/gettyimages
13. Hot Springs
Know Before You Go: The park is best known for the 47 hot springs that come out of the Hot Springs Mountain (at an average 143° Fahrenheit.) Hot Springs is mandated to give away its primary natural resource to the general public in an unending and unaltered state. Drinking the hot springs water is perfectly normal, in fact, it's even encouraged. 
Where To Stay: J&J RV Park

CALIFORNIA

Photography: @channelislands_park
14. Channel Islands
Know Before You Go: There are no stores (for amenities or food) on the island, which means no remedies for poor planning once you have arrived. Decide the length of your visit and activities and prepare accordingly. The islands are only accessible by park concessionaire boats and planes or private boat. Check out the Channel Islands National Park website to prepare for your exact itinerary. 
Where To Stay: Oceanside RV Park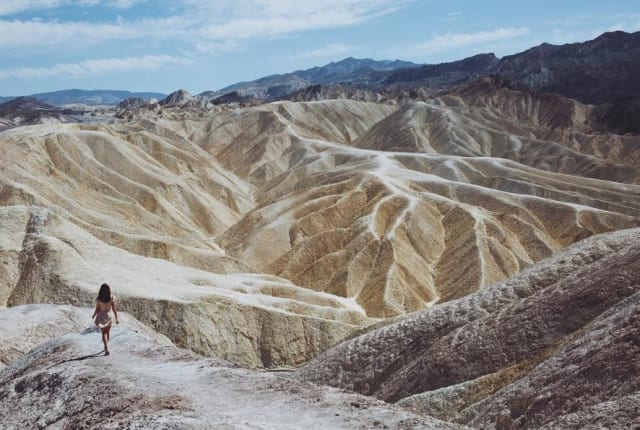 Photography: @helloamerica

15. Death Valley
Know Before You Go: As the temperatures rise in spring, shorts and light clothing are enough, but at higher elevations you will encounter chilly weather so be prepared with a jacket. Summers are extremely hot and dry. Daytime temperatures may exceed 120°F and nights remain hot with overnight lows in the 90s. Outside activity is not recommended at that time of year, except in the mountains. Plan to keep to the main roads and utilize your vehicle's air conditioning.
Where To Stay: Stovepipe Wells RV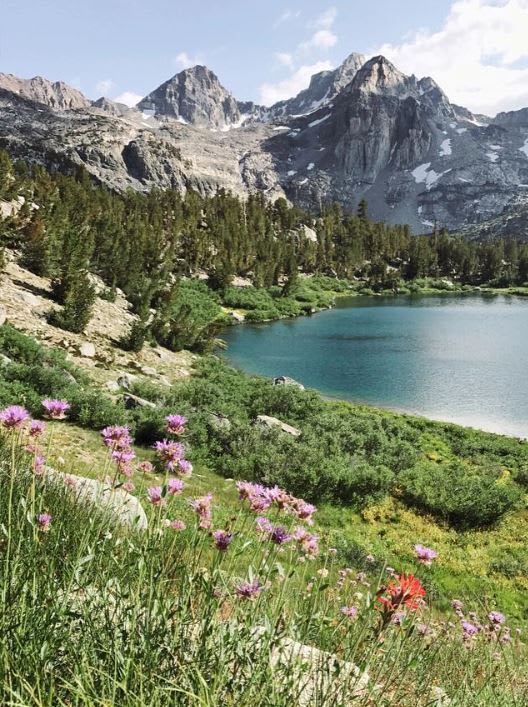 Photography: @kevinruss
16. Kings Canyon
Know Before You Go: This park is home to black bears so being bear wise is a must. Bears can grab unattended food or break into cars that have ANY food in them. Follow food-storage rules during your visit to protect yourself in the wildlife. When camping, be prepared to remove all food and scented items from your vehicle.
Where To Stay: Sentinel Campground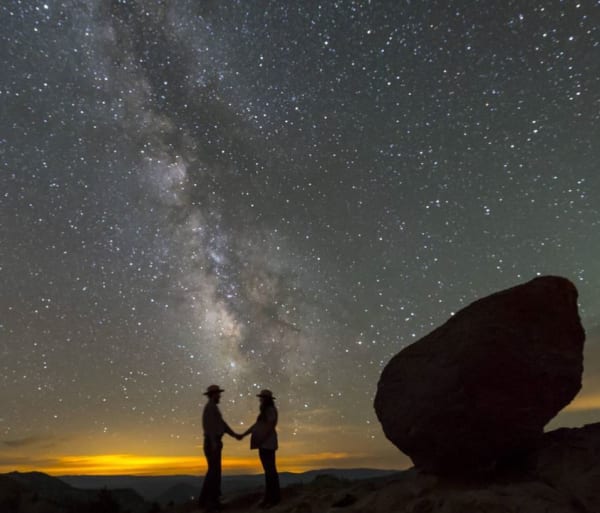 Photography: @lassennps

17. Lassen Volcanic
Know Before You Go: The 30-mile park highway connects the northwest and southwest entrances of the park. This scenic route passes through dense forest, traverses a ridge with views of Lake Almanor, crests at 8,512 feet near Lassen Peak trailhead and descends steep volcanic slopes into the southwest area. There are no guardrails on this route due to snow removal requirements. The southern section of the highway is windy and includes a handful of switchbacks. 
Where To Stay: Butte Lake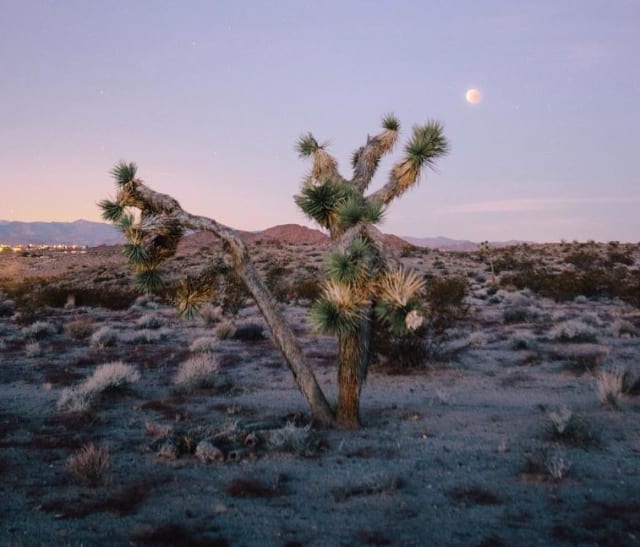 Photography: @thejoshuatreehouse
18. Joshua Tree
Know Before You Go: There is NO CELL SERVICE in the park. Plan your activities ahead of time as you will not be able to do research while at the campground. Summer temperatures get above 100 degrees. Do not plan on hiking more than a few hours during high temperatures or your little trip for campground photography might surprise.
Where To Stay: Indian Cove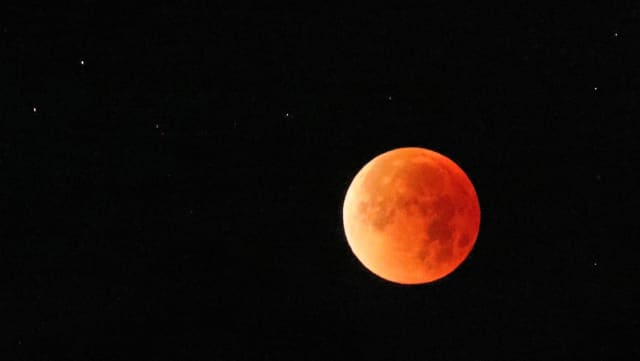 Photography: Paul G. Johnson
19. Pinnacles
Know Before You Go: If you are planning on hiking through the Balconies Cave (open seasonally) or the Bear Gulch Cave, you will need to bring a flashlight as they are required. The caves are dark and flowing water may cover the trail. You will encounter low ceilings, narrow passages, uneven footing and a dark environment. This trail is for the experienced hiker. 
Where To Stay: Pinnacles Campground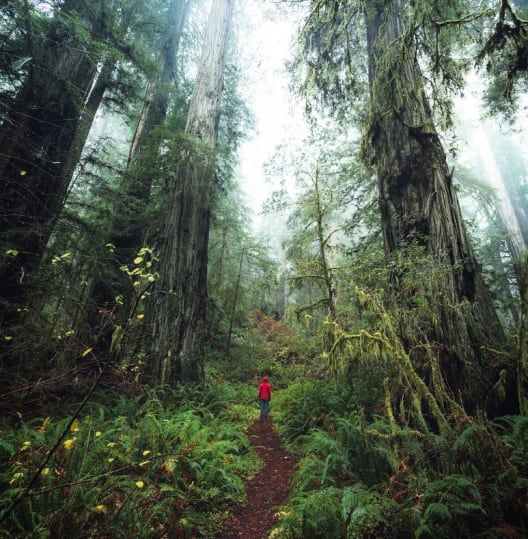 Photography: @michaelmatti

20. Redwood
Know Before You Go: The park is a highly desirable destination. RV camping reservations are only available between mid-May through September 30. Reservations must be made at least 48 hours in advance and no sooner than 6 months before your anticipated camping date. After September 30, all camping in developed campgrounds will be available on a first-come, first-served basis until mid-May.
Where To Stay: Jedediah Smith Campground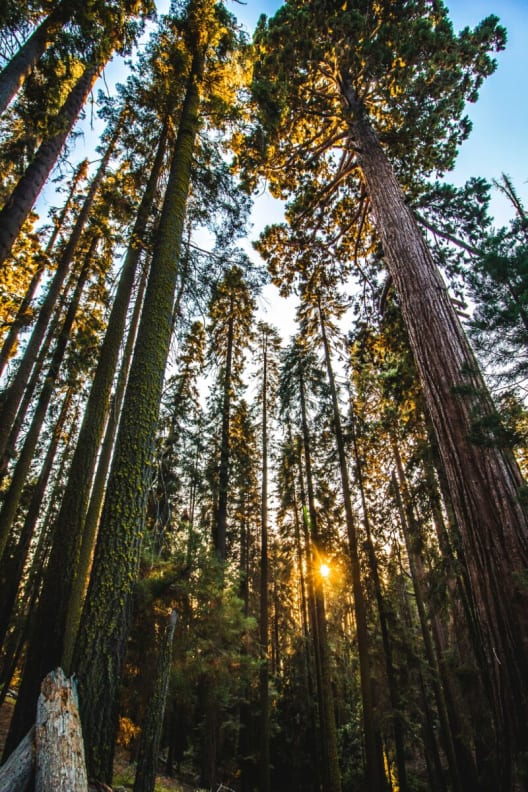 Photography: @robertography
21. Sequoia
Know Before You Go: As fire danger increases in the summer, restrictions may begin early in the year, including limits on campfires, BBQs, smoking, and wilderness campfires. It may seem like a bummer, but it's incredibly crucial you keep to fire regulations. Only service dogs are allowed in the park.
Where To Stay: Lodgepole Campground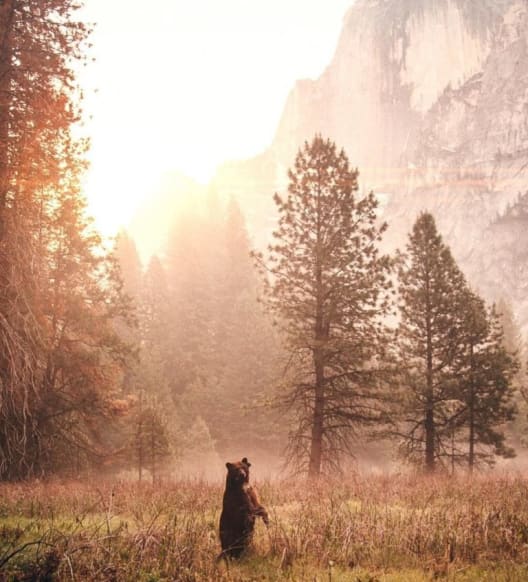 Photography: @joshua_currie
22. Yosemite
Know Before You Go: Yosemite Falls is the tallest waterfall in North America at 2,425 feet. If you plan on going in August and want to see the waterfall, rethink your trip date, as the fall is often dried up at this time of year. Yosemite is an incredibly popular camping destination. Make sure you book your RV reservations as far in advance as possible.
Where To Stay: Upper Pines Campground

COLORADO

Photography: @kylepshivers
23. Black Canyon of the Gunnison
Know Before You Go: The park contains 12 miles of the 48-mile long Black Canyon of the Gunnison River. The South Rim is most popular, with its proximity to many hiking trails. Many trails are steep so take caution and keep children close. 
Where To Stay: South Rim Campground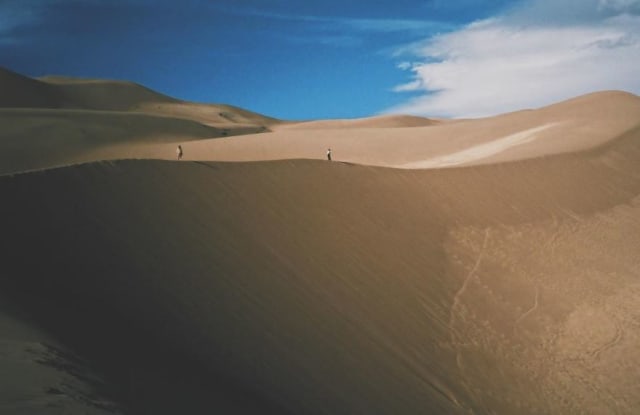 Photography: @kristen_blanton

24. Great Sand Dunes
Know Before You Go: The park holds the tallest dunes in North America. Storms can arise quickly, bringing cold, wet conditions any time of year. Be prepared for a wide variety of conditions during your visit. 
Where To Stay: Pino Flats Campground 


Photography: @jonathan_irish
25. Mesa Verde
Know Before You Go: Mesa Verde offers a spectacular look into the lives of the Ancestral Pueblo people who made it their home for over 700 years. The park protects nearly 5,000 known archeological sites, including 600 cliff dwellings. These sites are some of the most notable and best preserved in the United States.
Where To Stay: Morefield Campground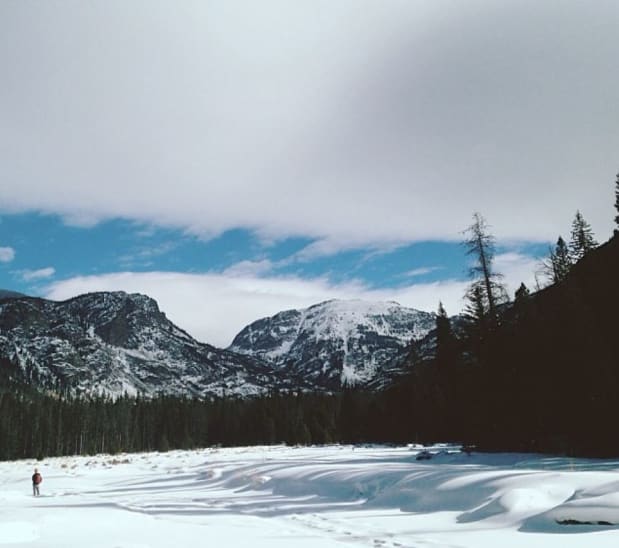 Photography: @helloamerica
26. Rocky Mountain
Know Before You Go: The park is a major destination for fishing. Fishing in the park requires a Colorado fishing license for persons 16 years or older. Persons 12 years old or younger may use bait in waters open to fishing, except in designated catch and release areas. Hunting in the park is prohibited. 
Where To Stay: Glacier Basin Campground

FLORIDA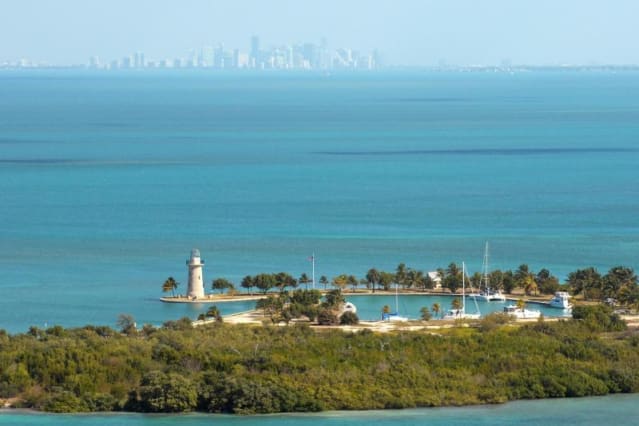 Photography by National Parks Services
27. Biscayne
Know Before You Go: The park works with the state of Florida to promote fishing regulations that ensure the sustainability of fisheries resources. Check out the regulations for saltwater and lobster fishing so you know ahead of time what is and is not allowed. Leave your RV at the parking lot and take off for an adventure of primitive camping at nearby Boca Chita.
Where To Stay: Tent Boca Chita Key (only accessible by boat)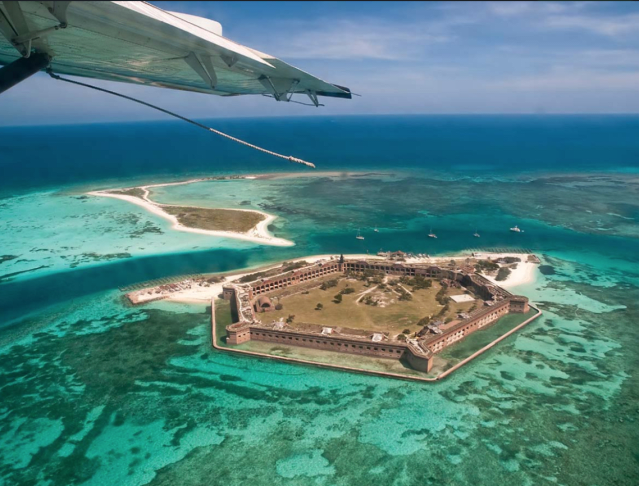 Photography: Seaplane Adventures
28. Dry Tortugas
Know Before You Go: The park is located roughly 70 miles west of Key West. Transportation to and from the park can be made through the parks concessionaire-operated ferry and seaplane. Visitors are allowed to bring private boats but services are nonexistent, so be sure to bring water and fuel tanks. Leave your RV in Key West and enjoy primitive camping on the island. 
Where To Stay: Garden Key Campground

Photography: @mollysteele
29. Everglades
Know Before You Go: The Everglades has two very distinct seasons: dry and wet. Dry season lasts from November to March and is the busiest season because of the warm winters that attract the largest variety of wading birds and their predators. Wet season goes from April to November. It is quite buggy and many ranger programs are no longer offered at the time. Come prepared with bug spray and keep an eye out for wildlife.
Where To Stay: Miami Everglades RV Resort

HAWAII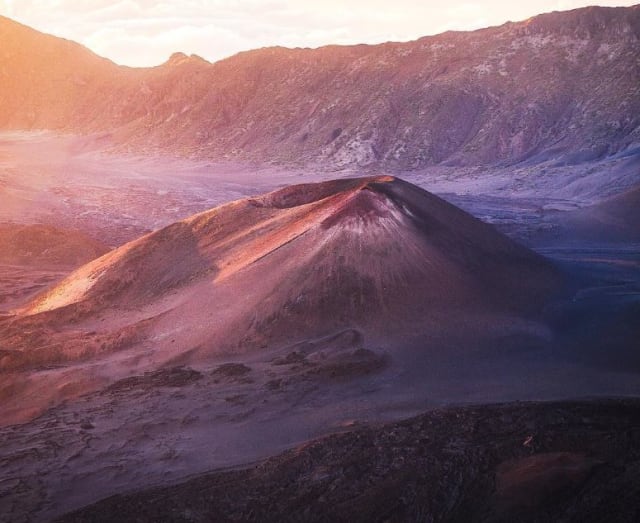 Photography: @michaelmatti
30. Haleakala
Know Before You Go: Dress for hot, humid, rainy weather. Fill up your gas tank and bring your meals as you will not be able to access these needs in the park. Mosquito repellent is highly recommended. Medical assistance is at least an hour away due to the parks remoteness. Flash floods and sudden rock falls can occur at anytime. Swimming and wading in streams is not recommended. Only wilderness camping is available. 
Where To Stay: RV Park of Lahaina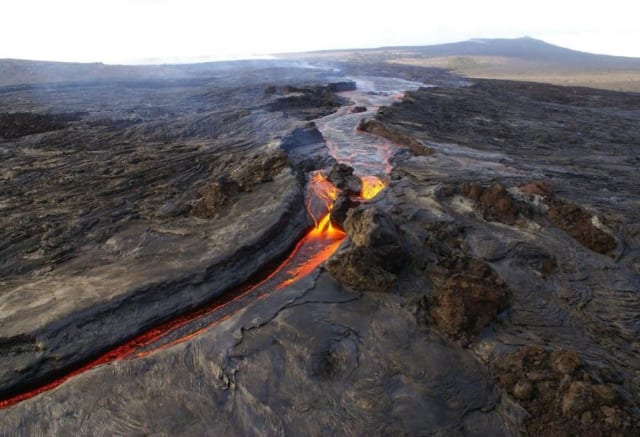 Photography: @hawaiivolcanoesnps
31. Hawaii Volcanoes
Know Before You Go: Hilo Airport is serviced by inter-island carrier Hawaiian Airlines. Rental cars may be reserved at both Hilo and Kona airports. At various locations on the island, the public bus (Hele On Bus), commercial tour buses, taxis, motorcycles, and bicycles are available. No rental vehicles or bicycles may be obtained in the park.
Where To Stay: Nāmakanipaio Campground 

KENTUCKY

Photography: @lindarella_60
32. Mammoth Cave
Know Before You Go: White-Nose Syndrome, a disease in bats that is killing these vital animals by the millions, is a potential threat to Mammoth Cave and the bats that live there. The Park is working to prevent WNS, which will affect what you can wear or bring with you into the cave when you go. Clothing, footwear and handheld items that have previously been worn in the caves may not be brought into Mammoth Cave. Click here for those exact details.
Where To Stay: Mammoth Cave Campground

MAINE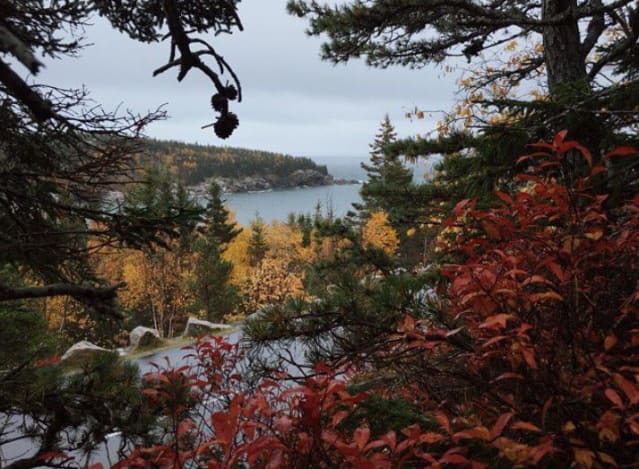 Photography: @kevinruss
33. Acadia
Know Before You Go: The park is the oldest national park east of the Mississippi. It covers 47,000 acres and consists of a cluster of islands along the coast of Maine. The terrain encompasses wetlands, meadows, forests, mountains and beaches. It is one of the best biking parks in the country so bring your bicycle.
Where To Stay: Blackwoods Campground
MICHIGAN

Photography: @savydaveoutdoors
34. Isle Royale
Know Before You Go: The park is a remote island wilderness in the middle of Lake Superior. It is only accessible by ferry, seaplane, or private watercraft. Weather influences traveling to and from the island, as well as your trip once you arrive. So if you plan on visiting, be flexible with your expectation of your experience.
Where To Stay: Grand Marais Campground 
MINNESOTA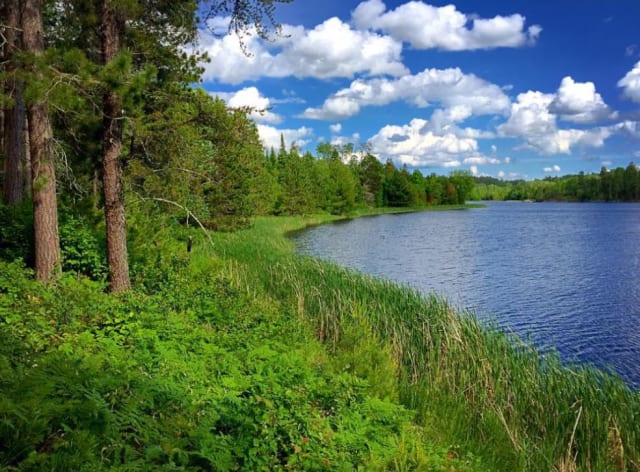 Photography: @voyagursnps
35. Voyageurs
Know Before You Go: The park shares its northern boundary with Canada and lies just west of the Boundary Water Canoe Area Wilderness. The park visitor centers are accessible by car but in order to truly experience the park you should access the park by boat. All camping is limited to tent camping so leave the RV behind and try your hand at the unique offer of Houseboat camping.
Where To Stay: Voyageurs Houseboat Camping

MONTANA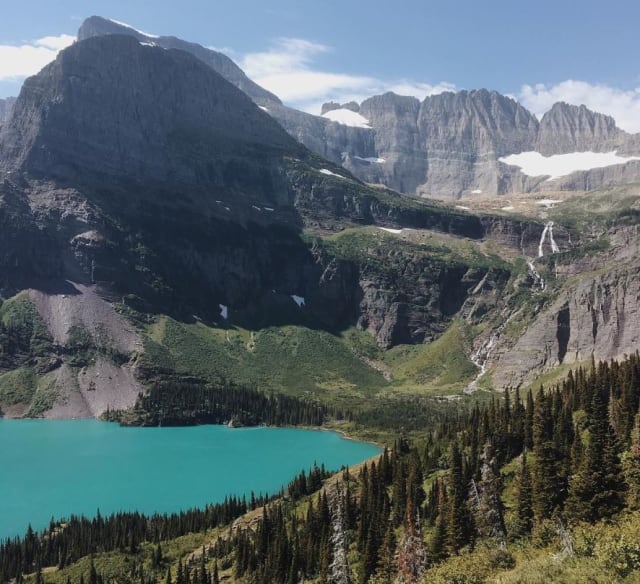 Photography: @helloamerica
36. Glacier
Know Before You Go: The park is open year-round but depending on the season, you may be able to only access certain areas. The famous Going to the Sun Road is usually fully open beginning late June. Even if roads are open, not all trails will be. With weather patterns differing from year to year you need to make sure you check in ahead of time. View the webcam to better distinguish what time of year is right for your visit.
Where To Stay: Mountain Meadow RV Park
NEW MEXICO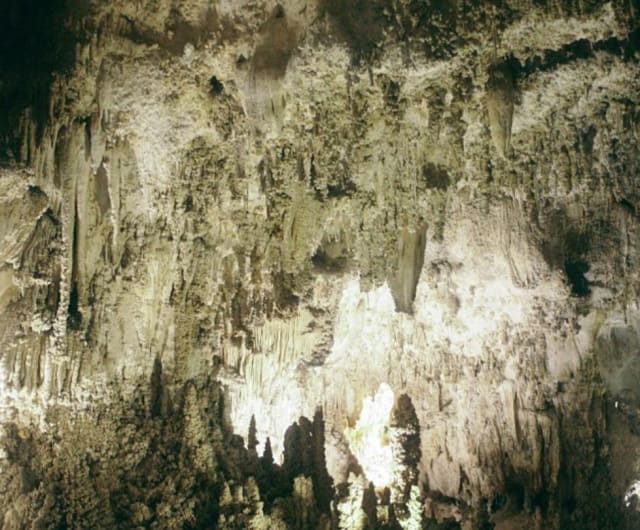 Photography: @ourwildabandon
37. Carlsbad Caverns
Know Before You Go: Reservations are highly recommended for all guided cave tours at Carlsbad Caverns. You will need to reserve your ticket 48 hours in advance of your scheduled tour. Tour options and ways to make your reservations can be found here. 
Where To Stay: Carlsbad RV Park and Campground

NEVADA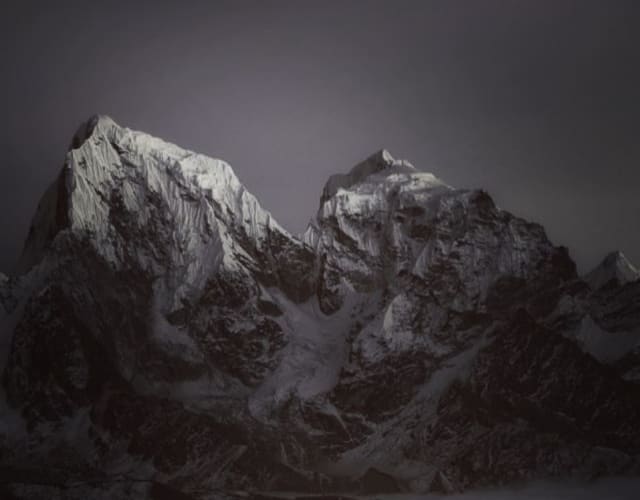 Photography: @greatbasinnationalpark
38. Great Basin
Know Before You Go: There is almost an 8,000 ft difference in elevation between Wheeler Peak and the valley floor, thus weather conditions in the park vary with elevation. In late spring and early summer, days in the valley may be hot, yet the snow pack may not have melted in the higher elevations. The park is a desert, with low relative humidity and sharp drops in temperature at night. In the summer, fierce afternoon thunderstorms are common. It can also snow any time of the year at high elevations. Make sure you pack accordingly.
Where To Stay: Whispering Elms Campground

NORTH CAROLINA

Photography: @kevinruss
39. Great Somky Mountains
Know Before You Go: Cell phone service is unavailable in many park locations, including Cades Cove and in Cataloochee but is generally available in the communities surrounding the national park. Plan ahead and acquire your own plan of action in the event of an emergency as you are not able to access cell service. Reserve your campground before you go.
Where To Stay: Abrams Creek Campground

NORTH DAKOTA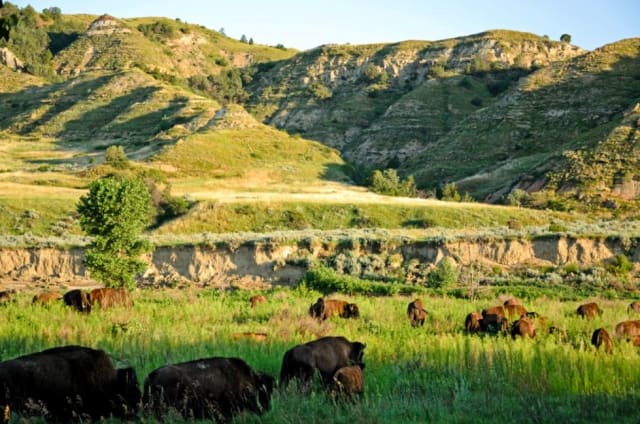 Photography: @everywhereonce
40. Theodore Roosevelt
Know Before You Go: Interesting fact – bison were nearly driven to extinction in the late 1800s. Today, scientists at the park and across the continent are studying bison DNA to discover how that chapter of history changed their gene pool, and bison themselves, forever. Enjoy a ranger hike and learn more about these beautiful creatures.
Where To Stay: Cottonwood Campground

OHIO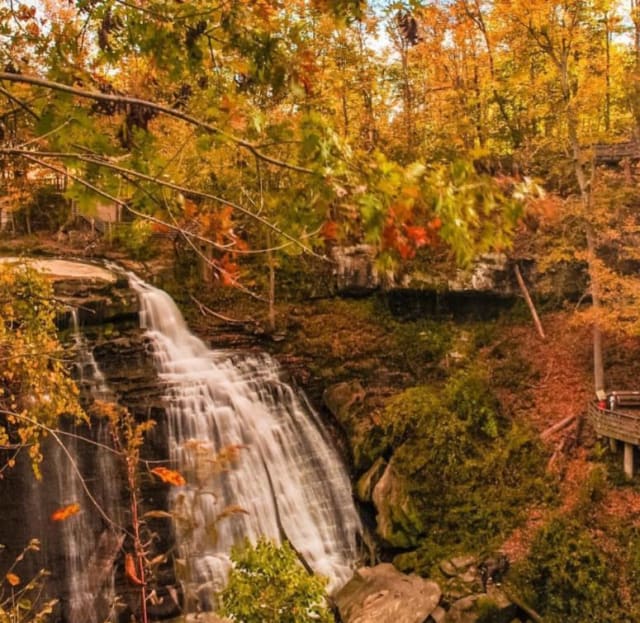 Photography: @sophalyan
41. Cuyahoga Valley
Know Before You Go: Dressing in layers is advisable as summer temperatures range from 49 to 95 degrees during the day. In the fall, days can get up to the low 70s and freezing temperatures during the night. Fall foliage often peaks in mid-October. 
Where To Stay: Woodside Lake Park
OREGON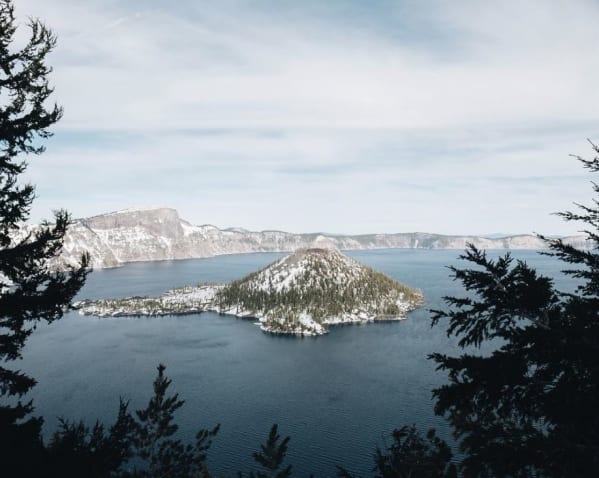 Photography: @atranphoto
42. Crater Lake
Know Before You Go: Crater Lake is the deepest lake in the United States with a depth of 1,943 feet. Scientists consider Crater Lake to be the cleanest and clearest large body of water in the world. Crater Lake rests in the belly of a dormant volcano with its last eruption dating 7,700 years ago.
Where To Stay: Mazama 
SOUTH CAROLINA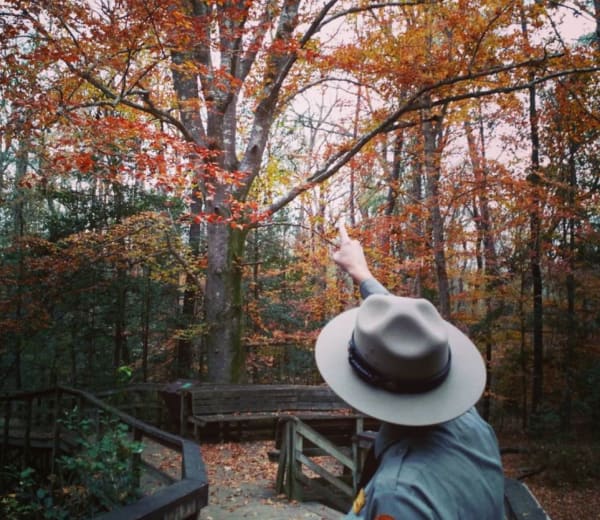 Photography: @congareenps
43. Congaree
Know Before You Go: Flooding can happen with little or no warning, so make sure to check water levels for Cedar Creek and the Congaree River. During the summer, mosquitoes are highly active. Bring insect repellent whenever you are outside. Cell phone reception within the park is unreliable and may not be available when hiking or kayaking.
Where To Stay: Elliott's Landing and Campground

SOUTH DAKOTA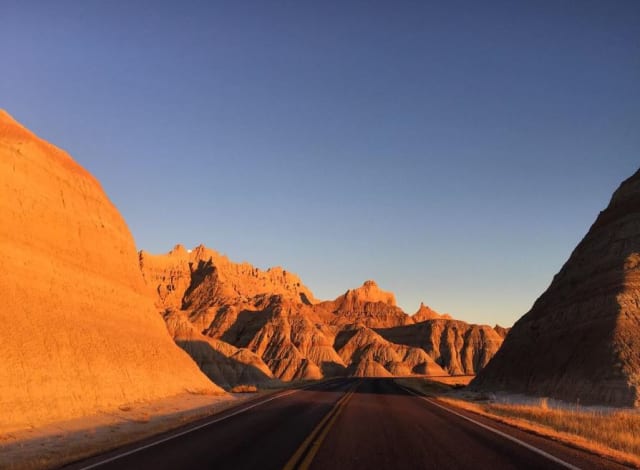 Photography: @badlandsnps
44. Badlands
Know Before You Go: The parks weather is variable and unpredictable with temperature extremes ranging from 116° F to -40° F. Summers are hot and dry with occasional violent thunderstorms. Stay alert by checking the weather here.
Where To Stay for Campground photography : Cedar Pass Campground


Photography: @jonathan_irish
45. Wind Cave
Know Before You Go: Summer brings warm daytime temperatures paired with cool evenings. Severe thunderstorms are common in June and July and can produce large hail and severe lightning. Slow moving storms can dump large amounts of rain over a small area, leading to flash flooding. Be alert of these conditions and check the weather before you go.
Where To Stay: Elk Mountain Campground

TEXAS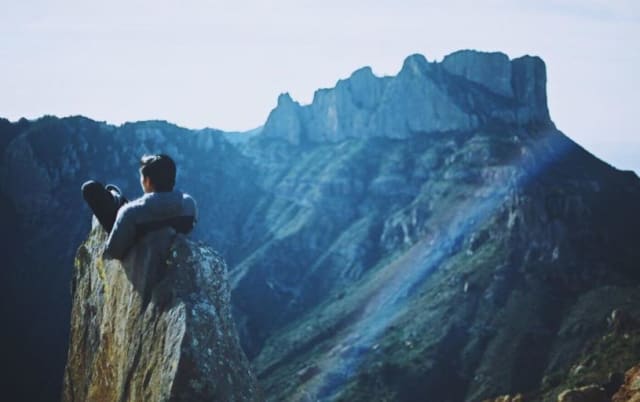 Photography: @helloamerica
46. Big Bend
Know Before You Go: The Rio Grande serves as the international boundary between the United States and Mexico. If you desire to go into Mexico, a passport is required.
Where To Stay: Rio Grande Village RV Campground

Photography: @usinterior
47. Guadalupe Mountains
Know Before You Go: There is no gasoline available in the park. If you are traveling from El Paso, TX, Dell City is the closest town with all your needed amenities. When traveling from New Mexico, Whites City is the last place that offers all of your food and beverage needs. There is no cell reception in the park.
Where To Stay: Dog Canyon

UTAH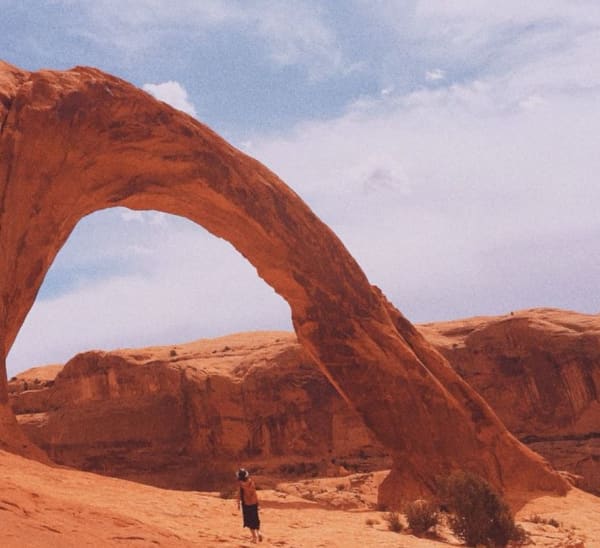 Photography: @helloamerica
48. Arches
Know Before You Go: There are over 2,000 natural stone arches within the parks boundaries. Do your research ahead of time and figure out which ones you want to see as to not become overwhelmed while in the park. You can reserve your campsite up to 6 months in advance and we suggest you do as they are limited and highly desirable.
Where To Stay: Devils Garden Campground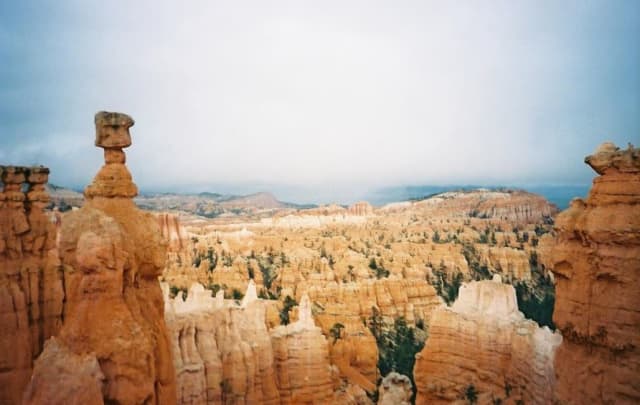 Photography: @kristen_blanton
49. Bryce Canyon
Know Before You Go: All trails below the rim involve steep climbs out of the canyon. Some trails are shared by horses and mules from April to October. Hikers must yield to the animals. In winter, crampons and ski poles are advised when hiking. 
Where To Stay: Sunset Campground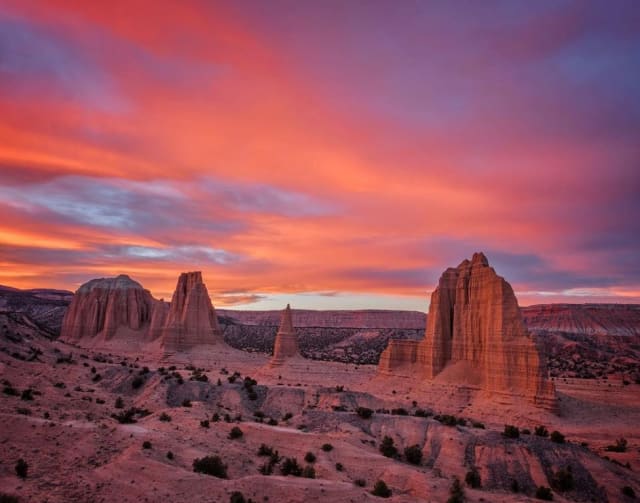 Photography: @jonathan_irish
50. Canyonlands Campground photography
Know Before You Go: There are no roads within the park that cross the rivers to directly link any of Canyonlands' districts. Though they may appear close on a map, traveling between districts requires two to six hours by car. Most people find it impractical to visit more than one or two districts in a single trip. You should plan on bringing everything you'll need (food, water, etc.) during your trip.
Where To Stay: Canyonlands RV Resort & Campground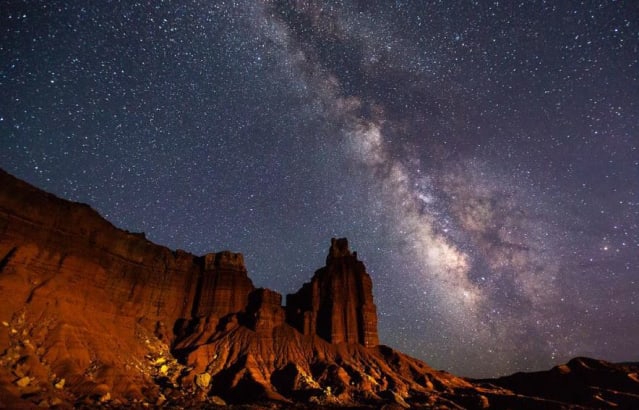 Photography: @capitolreefnps
51. Capitol Reef
Know Before You Go: Because of the darkness of the night sky and the park's commitment to reducing light pollution, this park has become the seventh unit of the NPS to achieve designation as an "International Dark Sky Park" by the International Dark-Sky Association. This makes the park an ideal place for star gazing and night photography. 
Where To Stay: Fruita Campground 


Photography: @mattjozwiak
52. Zion
Know Before You Go: Planning a trip to Zion National Park can be as challenging as exploring the park itself. The park newspaper contains a wealth of information to help you plan your visit. We suggest doing some major digging to discover when you want to come to the park based on what you want to see and do. The park is incredible, so the at home research is worth it.
Where To Stay: South Campground

VIRGINIA Campground photography

Photography: @shenandoahnps
53. Shenandoah
Know Before You Go: The park is a mere 75 miles from Washington D.C. so you can enjoy both the nation's capitol and natural beauty while on the same road trip. Check in with weather conditions as the park is known to encounter wind damage in the winter leaving uprooted trees in the park.
Where To Stay: Big Meadows Campground 

VIRGIN ISLANDS

Photography: @loci_p_
54. Virgin Islands
Know Before You Go: As noted by the NPS after hurricane Irma, "We have made tremendous progress in its recovery efforts. All beaches and trails are open except the Francis Bay boardwalk. There may be limited facilities available at the beaches but our waters are once again pristine blue and our sands almost snow white.  You will find snorkeling a bit different as corals, sea fans, and sponges have toppled."
Where To Stay: Cinnamon Bay Resort & Campground (tent camping)
WASHINGTON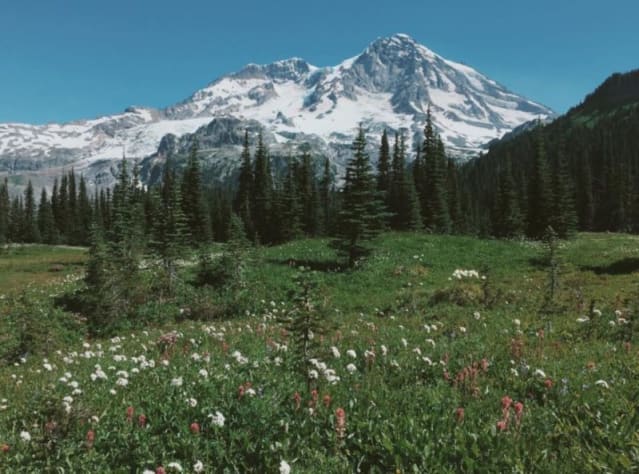 Photography: @kevinruss
55. Mount Rainer
Know Before You Go: Mount Rainer is an active volcano. Active steam vents, periodic earth tremors and reported historical eruptions provide evidence that Mount Rainier is sleeping, not dead. Seismic monitoring stations around the mountain should provide days or weeks of advance warning of impending eruptions, however, other geologic hazards like debris flows, glacial outburst floods, and rockfall can occur with little warning. Detailed geohazard information is available at park visitor centers and from scientists at the USGS Cascades Volcano Observatory.
Where To Stay: Mouthhaven Resort 


Photography: @kevinruss
56. North Cascades
Know Before You Go: Many of the facilities in the park are only open in the summer. Decide what you want to do before you come to the park and then check in here to see when those activities are offered.
Where To Stay: Newhalem Campground
Photography: @justin.james.jackson 
57. Olympic
Know Before You Go: Olympic National Park is open 24 hours a day year-round although some roads, campgrounds and facilities are open seasonally. Operating Hours and Seasons should be viewed before hand in order to create your ideal park experience.
Where To Stay: Fairholme Campground
WYOMING

Photography: @yellowstonenps
58. Yellowstone
Know Before You Go: Yellowstone is one of the top 5 most visited national parks. Try and plan your trip around fall or spring seasons to avoid the crowds. Many ask about swimming and the details are as follows: Swimming is not recommended because most lakes and streams are dangerously cold. Firehole Canyon, near Madison Junction, has a swimming area popular in the summer. Soaking in thermal features is illegal. The area known as Boiling River, north of Mammoth Hot Springs, allows soaking in the Gardner River near thermal outflow, but not in the feature itself. Soaking is allowed during daylight hours only and at your own risk.
Where To Stay: Fishing Bridge RV Park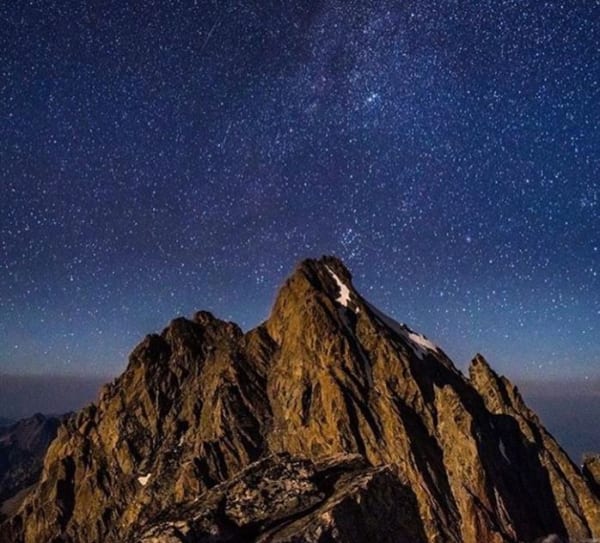 Photography: @finsty
59. Grand Teton
Know Before You Go: Seasonal road closures may limit auto access to some areas in the park during the winter. Operating hours of facilities vary depending on the season. In winter, services are very limited. Warm days and cool nights prevail in July and August and afternoon thundershowers are common. September through November offer sunny days and cold nights with occasional rain and snowstorms.
Where To Stay: Colter Bay Campground

Heading out on a road trip adventure for National Park Week? We want to hear from you. Leave us a comment in the section below sharing where you'll be headed this 2021 for a chance to be featured on our La Mesa RV Instagram.