The 2020 coronavirus pandemic has intensified people's interest in being able to live and work from anywhere. Workplaces across the country are encouraging their employees to work remote, making today the perfect time to sell or rent out your home, buy an RV and hit the open road. The desire to have more work-life balance and freedom over your day-to-day lifestyle is more than justified with today's climate, and we're here to help make that transition happen for you. Class B RVs are the ideal adventure mobile for your live-work space needs. With easy driving maneuverability, they're great for boondocking, have easy everyday parking, get the best gas milage for RV class type, and are equipped with cutting-edge RV technology, making them the go-to pick for those who work remote. To learn more about Class B RVs and the best types for remote work, continue reading below.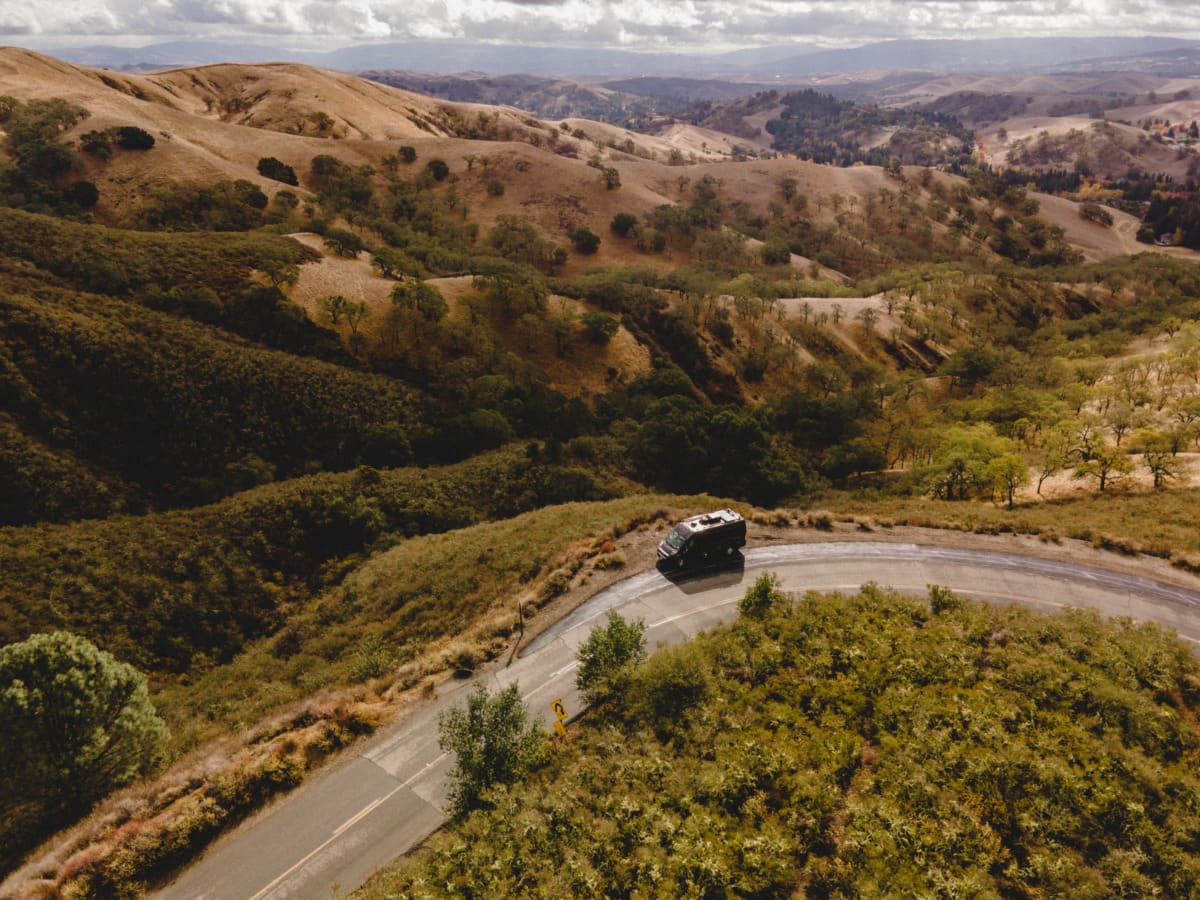 Best Class B RVs For Work and Travel
What is a Class B RV?
A Class B RVs, or camper van as it is sometimes dubbed, is an RV built from an automotive van or on an automotive van chassis. It's the smallest of the three types (classes) of motorhomes available. With a more compact size, Class B RVs can feel more comfortable and less overwhelming than larger motorhomes on the market. Especially to those who are new to the RV life. These small motorhomes are perfect for couples and single people, because they easily sleep one to two people, and in select units, up to three. They can work well for small families or families with one or two small kids, especially if the Class B RV comes with a pop-top option that provides an extra sleeping area on the roof. These RVs are easy to drive and maneuver, much like a minivan or SUV, and they usually get better gas mileage compared to their bigger motorhome siblings.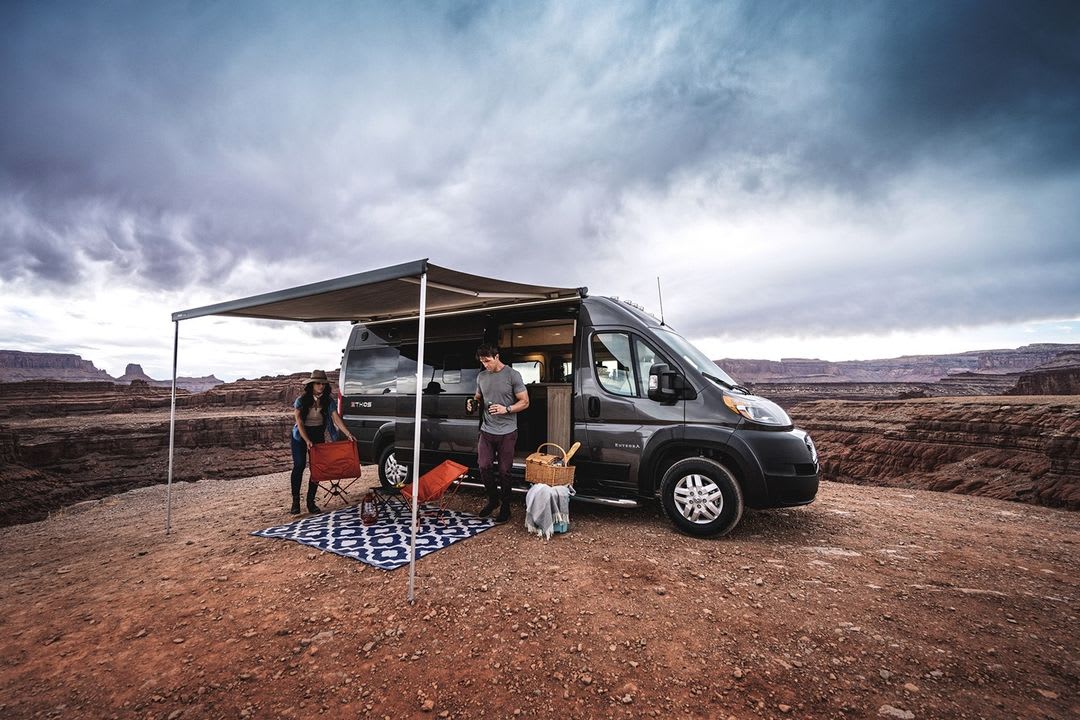 Photography: @entegracoach 
8 GREAT CLASS B RVS FOR WORKING REMOTELY (in alphabetical order):
Entegra Coach – Ethos – Click Here for Inventory 
The Ethos is Entegra Coach's first Class B RV. It features two unique floor plans that provide a Class B RV with a lot of flexibility. When working remotely, the 20T is a great choice with its flip-out table at the Passenger seat, providing a functional workspace for writing and typing on a laptop computer. It has a rear wet bath, two twin beds, a galley kitchen, and ample overhead cabinet storage. Built on a Ram Promaster chassis, with a V6 gas engine, this motorhome is easy to drive and maneuver wherever you need to go.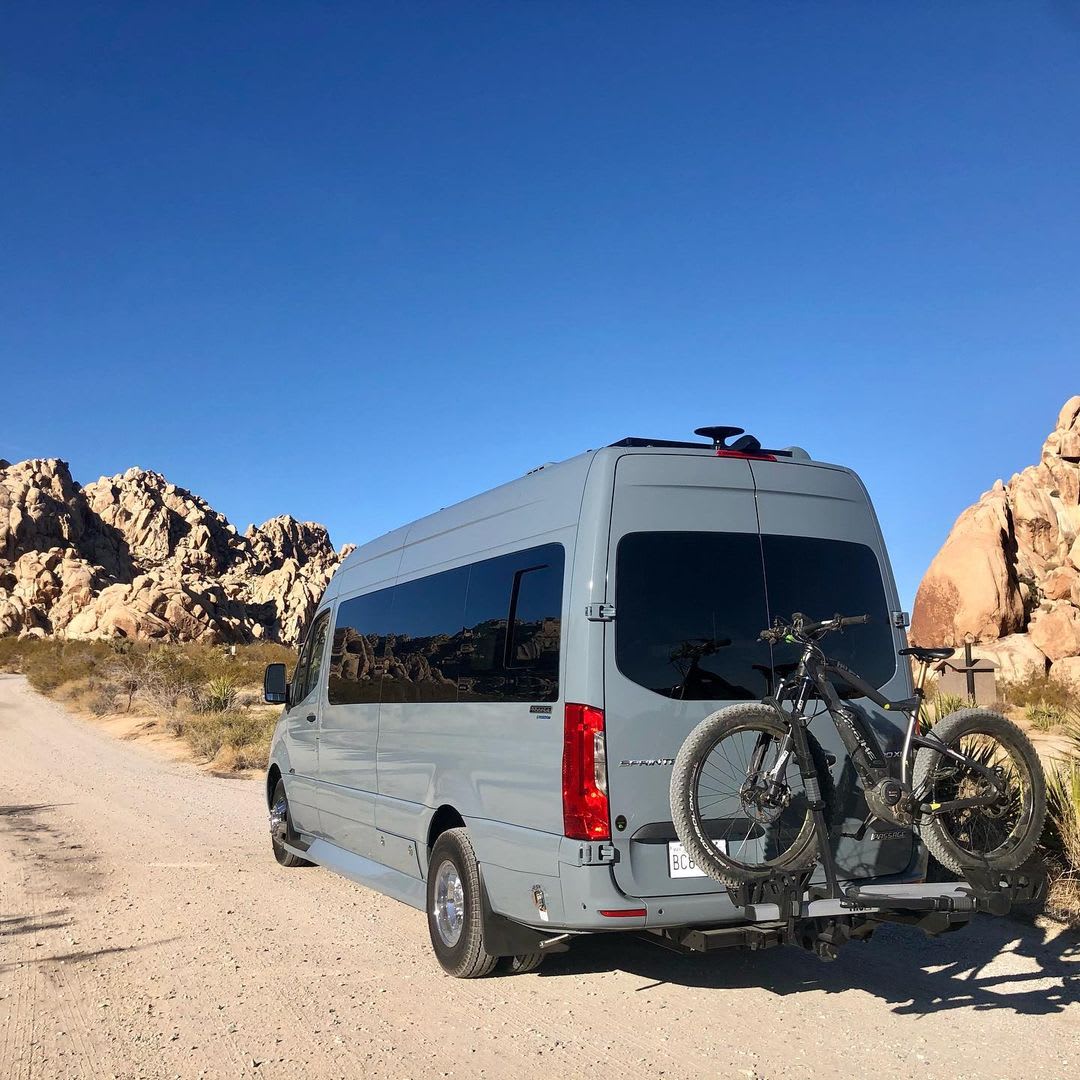 Photography: @sanchezwong
Midwest Auto – Passage – Click Here for Inventory 
When you want luxury in your Class B RV, the Midwest Automotive Designs Passage Sprinter RV is a top choice. Built on a Mercedes-Benz Sprinter chassis, with a diesel engine and a host of safety features, the Passage is longer than a typical camper van, providing extra space that's great for working remotely. There's multiple table surfaces and workstations, at both the Driver and Passenger seats, and in the rear bed/lounge area, making it easy for you to move your workspace and adjust to your needs. The Passage is packed with all the typical Class B motorhome features, and so much more.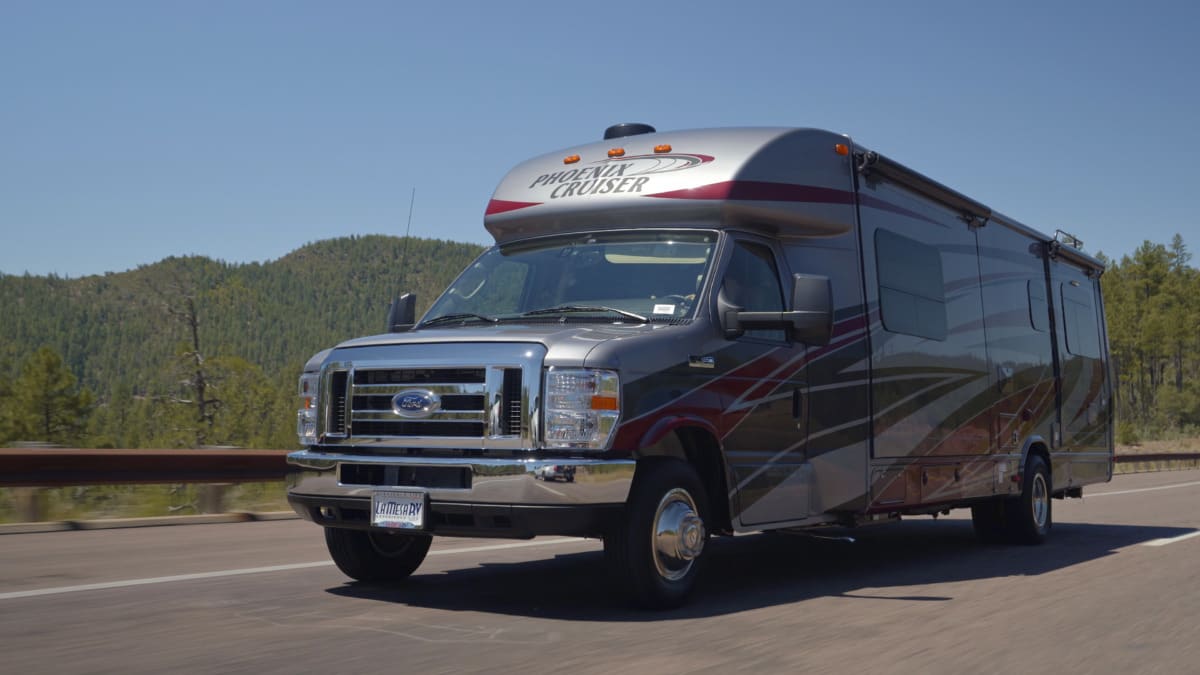 Is the Phoenix TRX the best Class B RVs for work and travel?
Phoenix USA RV – Phoenix TRX – Click Here for Inventory 
In 2019, Phoenix USA RV introduced the Phoenix TRX Class B motorhome as its answer to those looking for something just a bit bigger in this Class. Each TRX is built on a Ford Transit chassis, sleeps two, has a full kitchen and dry bath, and premium features that make working remotely easy. It comes in two floor plan options, the Double Sofa or the Sofa Dinette, both with expansive workspace. The Sofa Dinette with its Ultra Leather custom seating and built-in tabletop is perfect for working on a laptop, taking Zoom calls, and being productive wherever you go.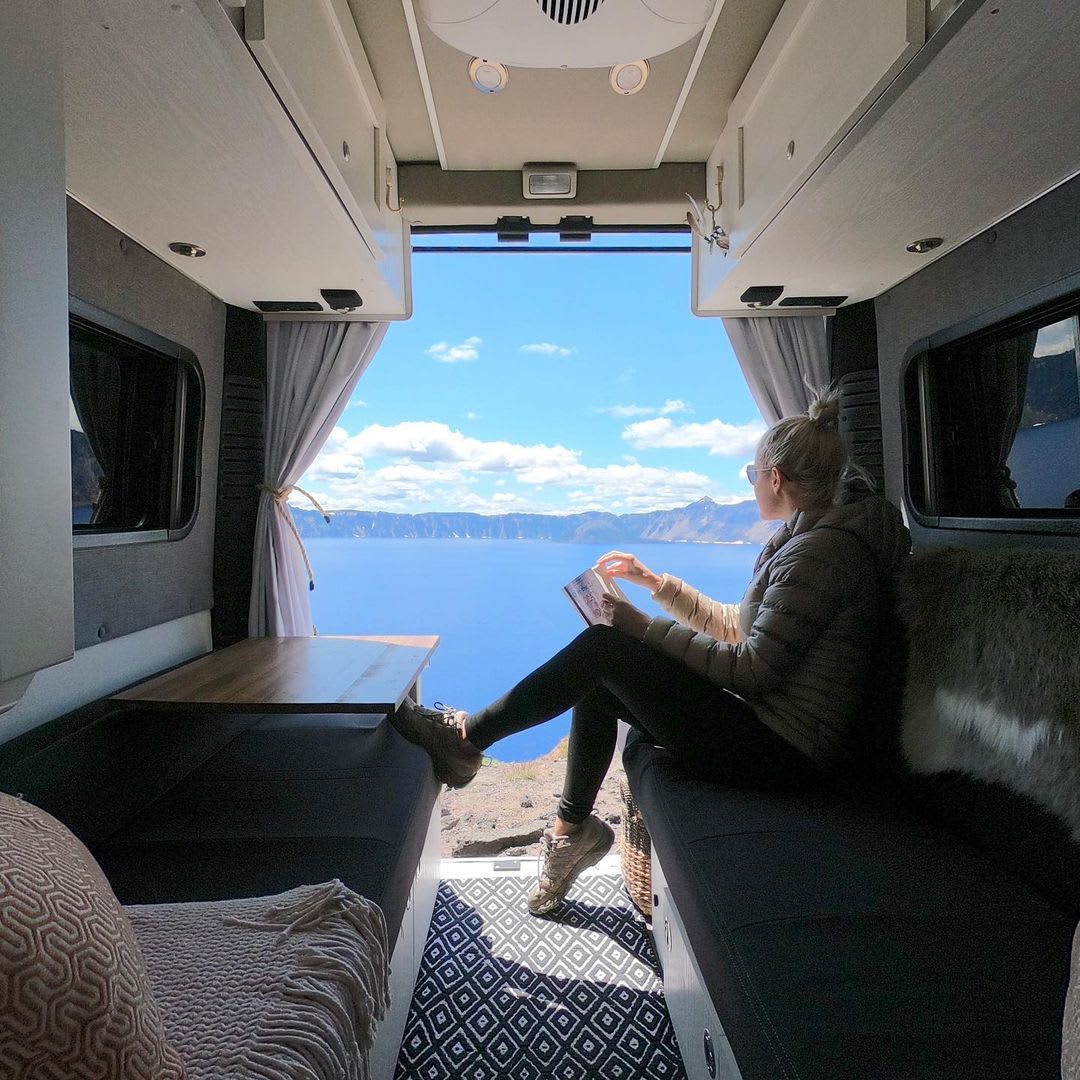 Photography: @sarah.mcgraw.explores
Roadtrek – Zion – Click Here to for Inventory 
If you love the outdoors, then the Zion may be the perfect travel companion for you. The open concept floor plan allows you to pack all your gear, from kayaks to mountain bikes, in the very spacious center aisle. Both the twin bed sofa layout and the forward-facing sofa layout have a large pedestal worktable that's great for a relaxed and convenient rear "office". This Class B RV provides space for two people to work separately, with both Driver and Passenger seats having the ability to swing around and share a large pedestal worktable. A built-in bathroom, galley kitchen, large refrigerator, and lots of storage, provide all the functionality you'll need for your road trips.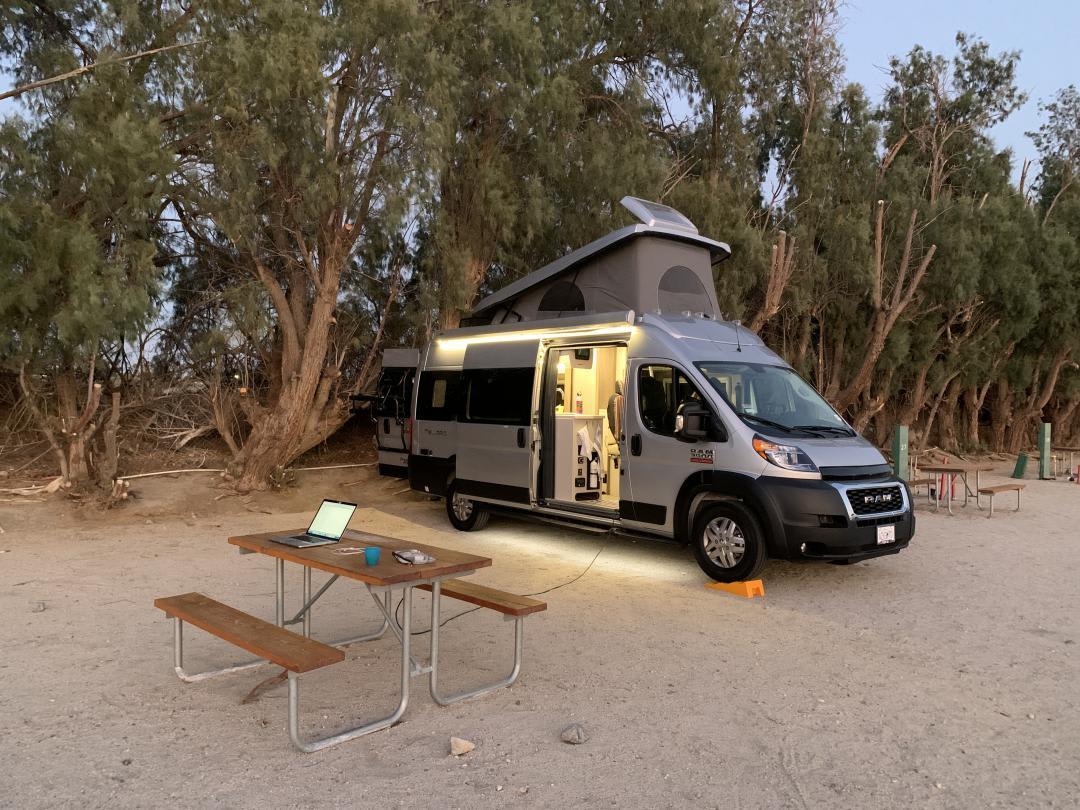 Photography: @fredericeenma 
Thor Motor Coach – Tellaro – Click Here for Inventory 
Tellaro will remind you of the European camper vans of the past, both from its Italian name, and its optional pop-top sky bunk sleeping area (featured in the 20AT floor plan). This Class B RV is built on a Ram Promaster chassis, with a nicely appointed Euro-Style interior. The 20AT plan features an optional retractable roof and has a work-friendly dinette table with dual seating from either the dinette booth seat or the swivel driver's captain chair. The pull-out bed in the rear has generous under-bed storage, and the kitchen and bath areas have everything you'll need during your workday.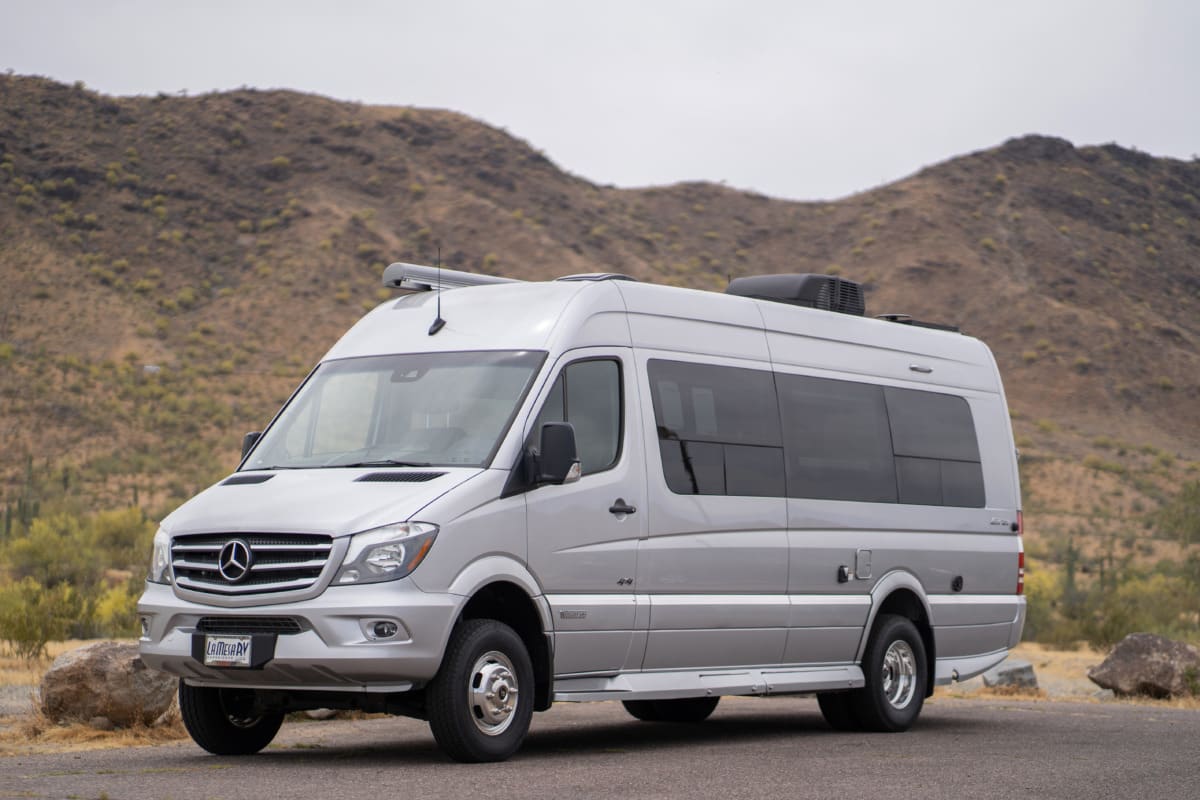 Winnebago – Era – Click Here for Inventory 
With extra length, the Winnebago Era is another great option for working remotely in a Class B RV. In both the 70B and 70X floor plans, the front cab area has multiple seats at a large movable pedestal table, providing collaborative workspace and the perfect mobile office, or you can setup the movable table in the rear where the Sofa/Bed is located. This prudent flexibility means you can work where you feel most productive and comfortable. With a large kitchen and wet bath, plus high-end finishes and bountiful storage space, the Era is a Class B RV that is sure to delight you.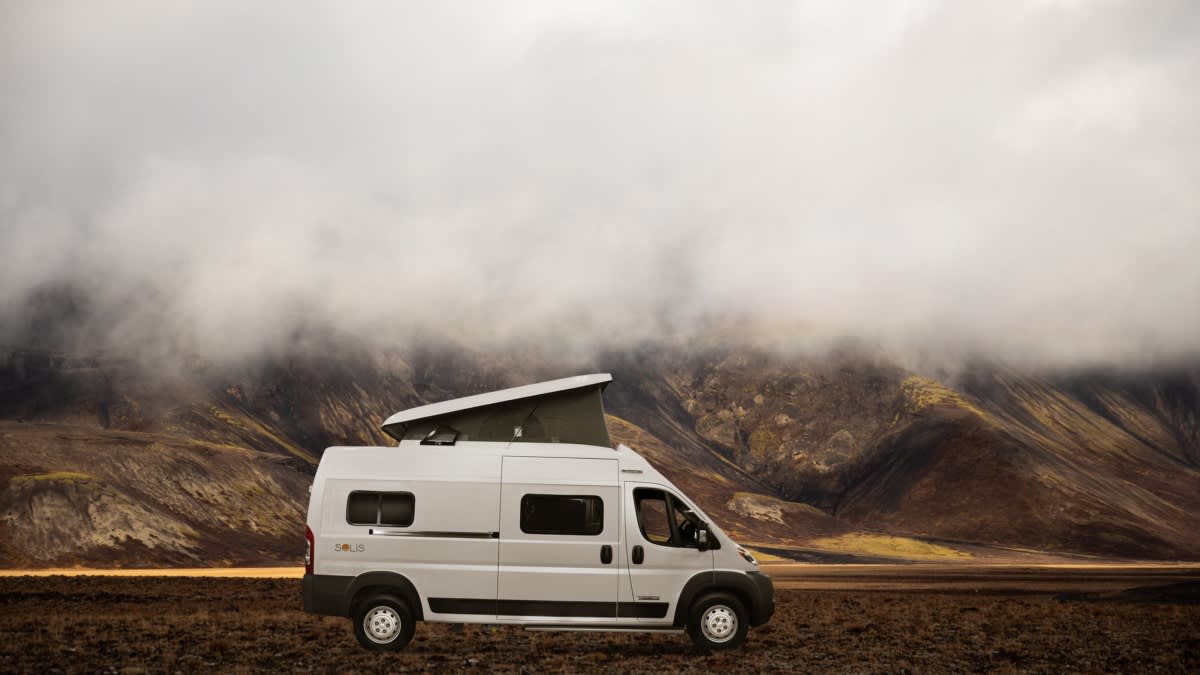 Winnebago – Solis – Click Here for Inventory 
The pop-up top, premium insulation, and solar charging capabilities of Winnebago's Solis make it an intelligent choice for remote work, especially when boondocking. In both available floor plans, the Solis has a pedestal table that's an excellent work surface from either the the dinette seats or the driver's seat. There's also a movable table that can be used as a work surface with the rear Murphy+ Bed in the back of the Solis (except when the Sofa/Bed option is chosen). The Solis is built on a Ram ProMaster gas-powered chassis. It's one of the more affordable, value-focused Class B RVs, so it's definitely one to consider on a tighter budget.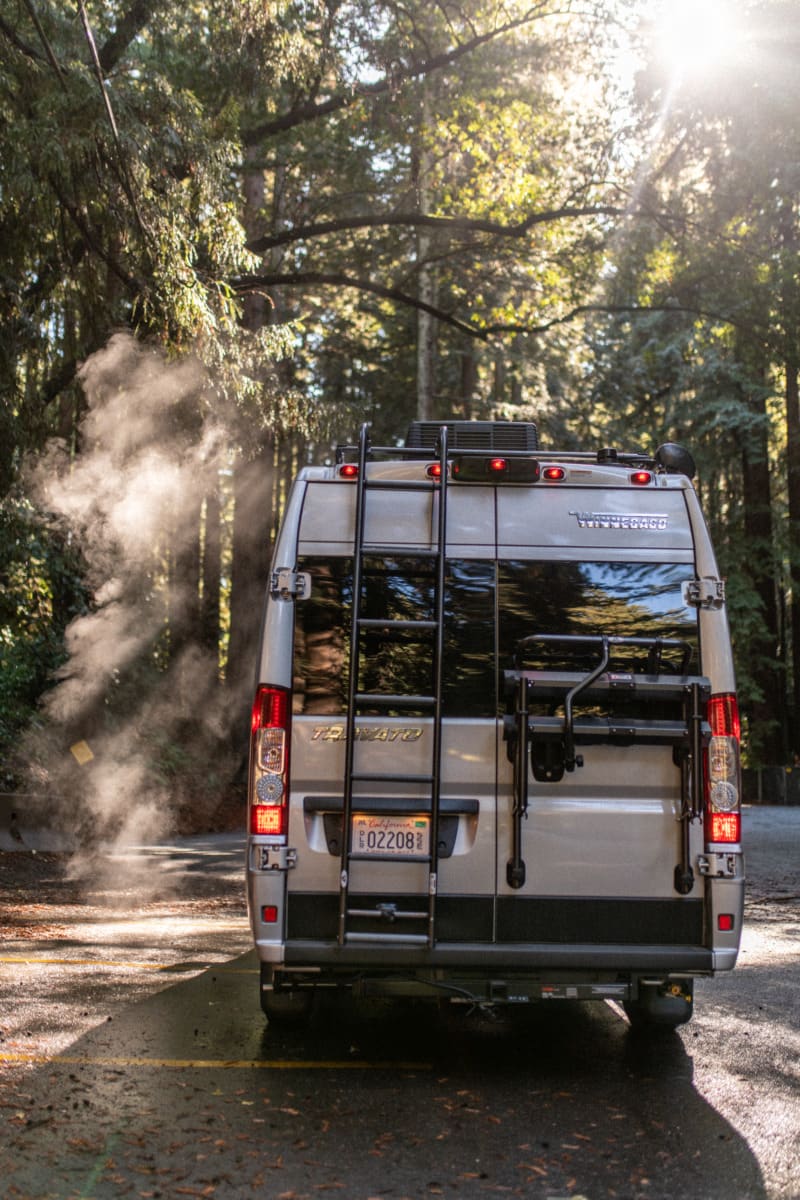 Winnebago – Travato – Click Here for Inventory 
The Travato has been one of the top selling Class B RVs in North America, so you'll definitely want to check it out for working remotely. With a package that includes high solar power charging capabilities, fuel-efficient systems, and all-season construction, it's a value-packed option for those looking to work on the road over an extended period of time…from just about anywhere. All of the Travato's available floor plans feature worktable surfaces, either in the form of a dinette near the cab or as part of the twin sofa beds. There are two different wet bath layouts and an excellent galley kitchen area that will make your workdays productive and convenient. Do you think this Travato is one of the best class B RVs for work and travel?
Do you work from your van full-time? We'd love to hear from you. Leave us a comment sharing your story for a change to be featured on our Experience Life Blog.