Looking for the best place to pick apples to make your own cider this fall? Planning on carving pumpkins with the family and are in search of the pumpkin patch nearest you or a place to, you guessed it, chuck a pumpkin? October is in full swing and with it comes some of our favorite outdoor activities! From roaming through corn mazes to enjoying hayrides and so much more, we've outlined the best fall events for RVers to enjoy this 2020. Check out the details below.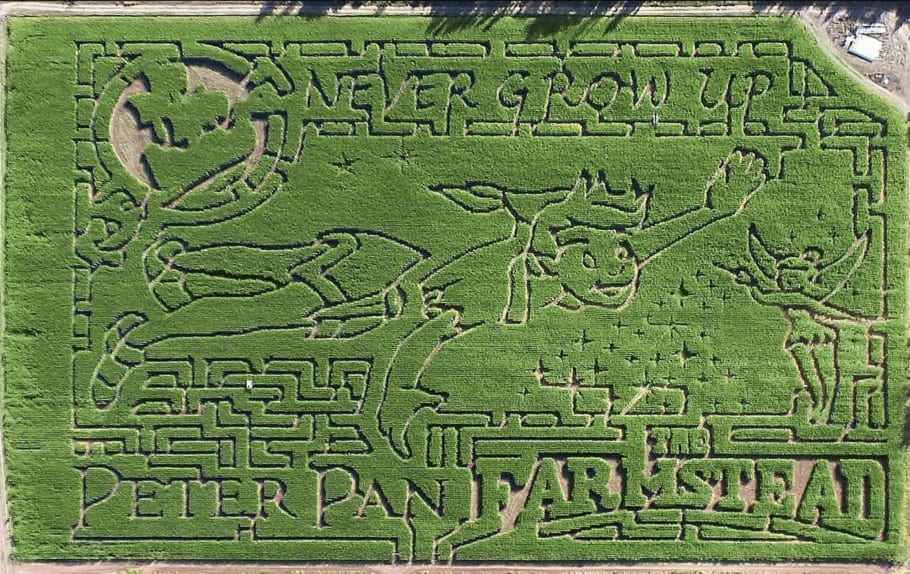 CORN MAZES AND PUMPKIN PATCHES OPEN IN 2020 ACROSS THE USA 
JAEMOR CORN MAZE
Where: 5340 Cornelia Highway | Alto, GA 30510
When: Now through November 8th, 2020
Details: Enjoy hayrides, a petting zoo, pumpkin train, apple cannons, farm slides, and of course, a farm maze! Admission is $14/person while children 2 years of age and younger are free.
FALL ON THE FARM AT BLOOMS AND BERRIES FARM MARKET
Where: 9669 S. OH-48 | Loveland, OH 45140
When: Now through November 1, 2020
Details: Experience an incredible seven-acre maze where you will scour the labyrinth to find the five innocent dragons hidden throughout. After the maze, continue your fall festivities with a pumpkin patch, sunflowers, hayrides, and best of all, a smaller corn maze made specifically for the littles! Online tickets for the farm must be purchased in advance and can be accessed by clicking here.
LYON FAMILY FARMS
Where: 130 Bellview Road | Taft, TN
When: Now through October 31, 2020
Details: The farm features a petting zoo, corn maze, hayrides, pillow bounce, pumpkin patch, monster slide pig race, fireworks every night and so much more! Admission is $10/person on weekdays, $12/person on weekends. Children two and under are free.
SEVER'S FALL FESTIVAL 
Where: 3121 150th Street West Shakopee, MN 55379
When: Open Friday, Saturday, and Sunday now through November 1, 2020
Details: Besides their beloved corn maze, Sever's Farm will be offering an obstacle course, zip lines, petting zoo, wildlife shows, lie music, pumpkin patch, and a pumpkin blaster, as well as so much more during their 2020 fall festival. Due to Covid-19, tickets will be sold exclusively online and capacity will be limited. Click here to purchase tickets!
LOWE FAMILY FARMSTEAD 
Where: 2500 South Eagle Road | Kuna, ID 83634
When: Now through October 31, 2020
Details: Welcome to Idaho's original corn maze! Consistently ranking as one of the top 10 corn mazes in America for multiple years running, this year's MAiZE is carved into 18 acres of corn and will surely invite you and your friends to get lost on this fall adventure (bring a compass!) If you're not ready to take on the big maze there is a mini-maize offered for those who want to enjoy it along with other fall activities like roaming through the pumpkin patch, flower field, and taking on the field of screams! Admission is $8.49 (Mon-Thurs) and $13.21 (Fri-Sun).
CHERRY CREST ADVENTURE
Where: 150 Cherry Hill Road | Ronks, PA 17572
When: Now through November 7, 2020
Details: Voted America's Best Corn Maze of 2020 by USA Today Readers' Choice, this maze is not to be missed! Not only does this 5-acre corn maze rock, but the farm is also family-owned and completely solar-operated with over 300 acres of different crops! Talk about impressive. This fall, come to the farm to enjoy wagon rides, a hay cute, the barnyard jump, farm tour, flashlight maze, paintball range, tractor pull, duck races and so much more! Admission starts at $16.95/person.
PETALUMA PUMPKIN PATCH AND CORN MAZE
Where: 405 Stony Point Road | Petaluma, CA 94952
When: Now through November 1, 2020
Details: Come enjoy carnival fun, pony rides, a corn maze with a second-story viewing platform, pumpkin patch and so much more in Sonoma County!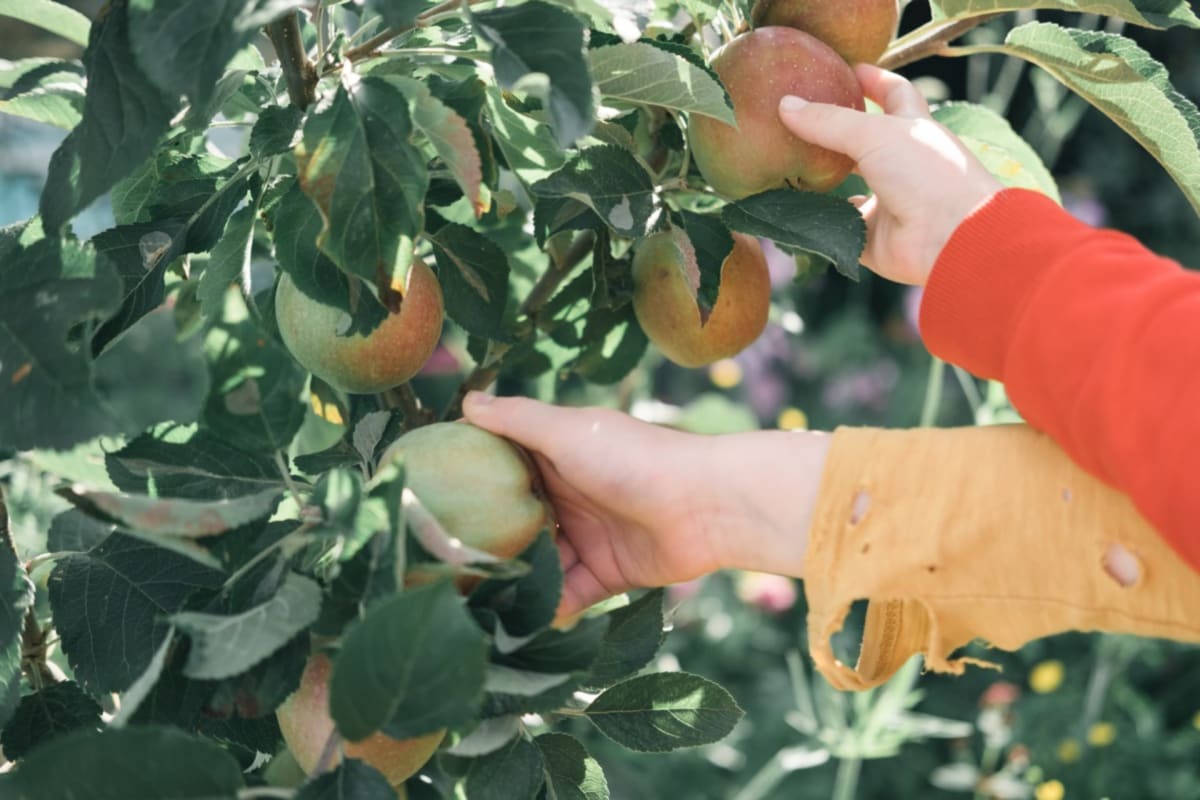 THE BEST APPLE PICKING LOCATIONS ACROSS AMERICA 
GRANDAD'S APPLES N' SUCH
Where: 2951 Chimney Rock Road | Hendersonville, NC 28792
When: Closed Mondays
Details: Spend a beautiful fall day walking through 30 acres of apple (packed with nearly 30 varieties) and peach trees! Once you finish your picking journey, make your way into the barn where you will find a plethora of apple goodies. From apple cider doughnuts to apple cider slushies, apple pies, caramel apples, and cider slushies. Bonus: there are a pumpkin patch and corn maze!
LAKELAND ORCHARD AND CIDERY
Where: 1649 Lakeland Drive | Scott Township, PA 18433
When: Now through November 1, 2020
Details: Come experience Lakeland's U-Pick Apple season. With over 20,000 trees and more than 30 different kinds of apples, there is a type for even the pickiest of eaters. While you're here be sure to catch the iconic Halloween light show!
SHOWALTER'S ORCHARD
Where: 17768 Honeyville Road | Timberville, VA 22853
When: Now – November 1, 2020
Details: For over 50 years, Showalter's has been growing apples, pressing juice, and fermenting hard ciders. With over 30 varieties of apples, you'll enjoy walking through the orchard and picking out your most beloved apples. The Orchard market hours run Mon-Sat 9 AM to 5 PM and Sunday 1 to 5 PM. The Old Hill Cider Tasting Room is open daily from 11 AM to 6 PM.
Looking to catch this year's fall foliage in your RV? Check out our RVers Guide to the Best Places to Catch the Changing Leaves in 2020. Leave us a comment in the section below sharing where you'll be headed this fall for a chance to be featured on our La Mesa RV Instagram!