Are you dreaming of the open road while quarantining? Do you long for an adventure story that will whisk you away during these uncertain times? The best medicine for getting lost is waiting right at your fingertips. Let yourself sink into some of American's greatest travel and adventure stories right from the comfort of your RV. From growing old in the woods to solo hiking the Pacific Crest Trail, these wildly popular and inspiring stories are for every type of RVer. Click on the title of the book you'd like to bring home and you'll be directed to Amazon where you can easily purchase these best sellers.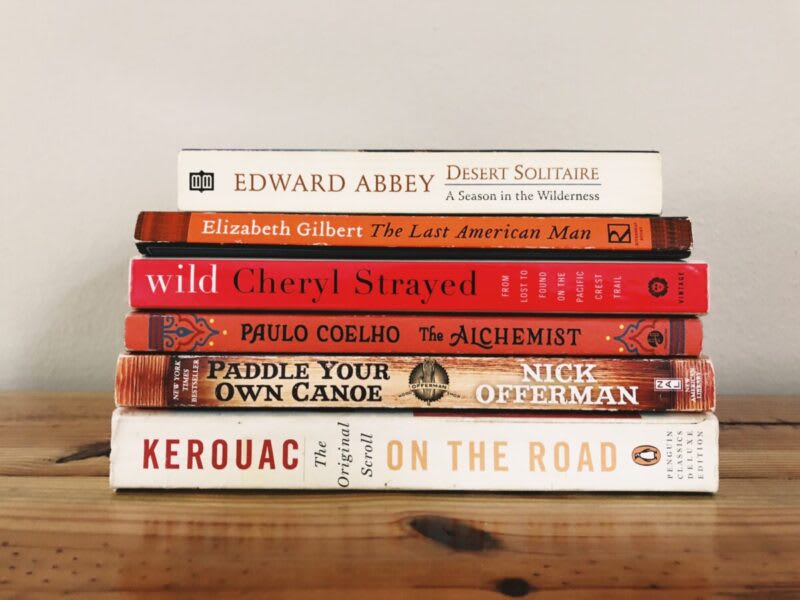 That Wild Country: An Epic Journey Through the Past, Present and Future of America's Public Lands
Author: Mark Kenyon
Genres: Non-Fiction, History, Nature, Travel, Environment
Details: One of the treasures of traveling is having the hands-on experience to explore the history of the lands that we dearly love. Part travelogue and part historical translation, this travel book traces back to the inception of a handful of America's most renowned parks and public lands. Outdoorsman and author Mark Kenyon reveals the tense push and pull between the motive to conserve lands and to develop the valuable resources they have to offer, covering every space in this heated debate. If history sends you reeling for more to explore, this book is the perfect isolation companion for you.
The Longest Road: Overland in Search of America, from Key West to the Arctic Ocean
Author: Philip Caputo
Genres: Travel, Non-Fiction, Memoir
Details: Can't get enough of the RV lifestyle? Renowned American author and journalist Philip Caputo shares an epic journey across America with his Airstream in tow, traveling from Key West to the Arctic Ocean. This travel memoir begins with Caputo in Alaska, marveling at a class of Iñupiat Eskimo schoolchildren pledging allegiance to the flag, just as the children of Cuban immigrants in Key West did in his recent travels. This sets him off to explore the question: "How does the United States, made up of people of every race on earth, remain united?" Caputo travels from the nation's southernmost point to its northernmost point, discussing this very question with everyday Americans along the way. If you love exploring culture across state lines, this travel book will take you there.
The Last American Man
Author: Elizabeth Gilbert
Genres: Biography
Details: An intimate portrayal of the fascinating true story of Eustace Conway, The Last American Man is a look at the mythical-legend of a man who has spent the last few decades in the Appalachian Mountains surviving off the land and who has worked to convince Americans to give up their materialistic lifestyles and turn back to nature. Gilbert (author of the bestseller Eat, Pray, Love) uses the protagonist to challenge our assumptions on what it means to be a modern man in America. It's a beautiful story of love, loss and how we often end up the person we never set out to be.
The Road Not Taken and Other Poems
Author: Robert Frost
Genres: Classics, Poetry, Fiction, American Literature
"Two roads diverged in a wood, and I —
I took the one less traveled by,
And that has made all the difference."
Details: Almost every outdoor enthusiast has heard a portion of this classic poem by Robert Frost. Are you a poetic soul? If you haven't read the works of Robert Frost already, this classic American poetry collection is the perfect companion. Including the famed poem of The Road Not Taken, this poetry book includes deceptively simple lines inspired by everyday incidents and rural imagery. Beloved for his simple, clear and colloquial writing style, Frost touches the traveler's heart with lyrical prose dense with meaning and wider significance. Be still and let the words of Robert Frost whisk you away.
Found: A Life in Mountain Rescue
Author: Bree Loewen
Genres: Non-Fiction, Memoir, Outdoors, Nature, Survival, Adventure
Details: For thrill-seekers looking for a good travel read, Bree Loewen brings the perfect story. A leader of a volunteer-based search and rescue operation, Seattle Mountain Rescue (SMR), Loewen recounts her constant confrontations with danger, risk and often death on her harrowing rescue missions that never made the local news. This survival memoir is filled with fearless moments, dark humor and utterly honest and disarming intensity, while still painting vivid imagery of the wilderness landscapes of Seattle. If high-stakes danger fuels your imagination, this memoir is just for you.
A Walk in the Woods
Author: Bill Bryson
Genres: Non-Fiction, Travel Literature 
Details: A Walk in the Woods is the story of Bill Bryson, who upon coming back to the States after living overseas for two decades, decides to reacquaint himself with his American homeland by walking the 2,100 miles of the Appalachian Trail. Filled with humor, an unexpected hiking buddy and majestic landscapes, this is a beautiful story of friendship, aging and what we all can learn from nature.
On the Nose: A Lifelong Obsession with Yosemite's Most Iconic Climb 
Author: Jayme Moye & Hans Florine
Genre: Non-Fiction, Mountaineering, Sports
Details: What is your greatest travel goal? How far would you go to get there? In this travel story, Hans Florine completes one hundred and one ascents of Yosemite's most iconic mountain climb. While most travelers take anywhere from 12 to 96 hours to take the Nose trail, Florine has managed to complete the trail in a mere 2.5 hours, though, this record wasn't achieved in just one try. This memoir follows the persistence and dogged determination of a mountain climbing veteran of 30 years as he makes one hundred more mind-blowing, death-defying ascents to achieve his astounding record. While answering the question of why would anyone undertake one of the greatest adventure epics on earth 100 times, Florine also provides unique insight on how to live a satisfying life, achieve great goals, and how an ordinary rock climber can become a rock star.
The Alchemist
Author: Paulo Coelho
Genres: Novel, Fantasy, Quest, Adventure 
Details: The Alchemist tells the mystical story of Santiago, an Andalusian shepherd boy who yearns to travel in search of a worldly treasure. His quest leads him to riches far different than he ever imagined. Santiago's journey teaches us about the essential wisdom of listening to our hearts, of recognizing opportunity and to above all, to follow our dreams. The book is an international bestseller and has been translated in over 80 different languages with over 65 million copies sold. 
Under the Stars: How America Fell in Love with Camping
Author: Dan White
Genres: Non-Fiction, History, Travel, Nature
Details: Happy campers have roamed the wilderness for decades, but have you ever wonder how timeless traditions came to be? Journalist and author Dan White brings the history of outdoor recreation to life with highly animated anecdotes from his travels. Learn how the likes of Emerson, Thoreau, Roosevelt, Muir and other visionaries pioneered the trail of Transcendentalism to today's movement of Leave No Trace. Filled with research, enthusiasm and geography, this travel book is made for nature seekers with a love for all good things that come with camping in the great outdoors.
The Pink Steering Wheel Chronicles: A Love Story
Author: Laura Fahrenthold
Genres: Non-Fiction, Travel, Memoir, Adventure
Details: If you are looking for a good travel tale to tug on your heartstrings, Laura Fahrenthold has just the story for you. Suddenly widowed and with two young daughters, Fahrenthold shares a moving portrait of mourning and moving on as she decides to cope with her loss on her own terms. She does so by buying an RV and taking her family across the United States and Canada in a search for healing and understanding. Follow along on her 30,152-mile long road trip as she shares her adventures, hilarious misadventures, and deeply-layered love story.
Desert Solitaire 
Author: Edward Abby
Genres: Biography, Autobiography, Nature Writing
Details: If you're interested in conservation and want to read the words of a man who doesn't claim to be a poet but inherently is one, you must check out Desert Solitaire. The book is a collection of vignettes about life in the wilderness and the nature of the desert itself by park ranger and conservationist, Edward Abbey. Often compared to Thoreau's Walden, Desert Solitaire is a powerful discussion of life's mysteries set against the backdrop of the American Southwestern wilderness.
On the Road
Author: Jack Kerouac
Genres: Classics, Fiction, Travel, American Literature
Details: No travel-inspired reading list would be complete without the works of Jack Kerouac. Published in 1957, On the Road remains to be a reading favorite for travelers across the globe. This American classic shares a fictionalized account of Kerouac's journeys across America with friend, Neal Cassady as a beatnik odyssey that has left readers entranced for decades. If you haven't picked up this classic already, we highly recommend it as an absolute must-read. You'll soon discover exactly why this fiction has been referenced by fellow explorers.
Wild: From Lost to Found on the Pacific Crest Trail
Author: Cheryl Strayed
Genres: Autobiography, Travel Literature
Details: You've probably heard of this #1 National Bestseller and the major motion picture starring Reese Witherspoon, but if you haven't read the novel, you should take the time to get lost into Strayed's wild world. At twenty-two, she lost her mother, her marriage was deteriorating and her family was falling apart. With seemingly nothing to lose, she made the impulse decision to hike the 1,000+ miles of the Pacific Crest Trail from Mexico to Canada, alone. Her resilience and strength are matched along the way. Told with humor, suspense and heart, Wild is a story of a woman's success against all odds and the lessons nature teaches.
Where The Crawdads Sing
Author: Delia Owens
Genres: Novel, Mystery, Bildungsroman
Details: The New York Times called this bestseller, "Painfully beautiful," and they weren't kidding. Follow the murder mystery and coming-of-age narrative set in the marsh of North Carolina in the late 1960s. Prepare yourself, this book will make you want to drive your RV straight to the Carolina's after exploring the nature and elements of the land through Owens timeless description of a stunning and sacred place.
Home is Where You Park It
Author: Foster Huntington
Genres: Art Photography, Non-Fiction
Details: This photo book is perfect for all your van, camper, motorhome and RV inspiration needs. Photographed over three years around North America, this stunning coffee table book depicts all types of travelers, their rigs and the beautiful places they've ventured to, together.
Stuck inside during the pandemic and in need of a delicious, easy recipe to get you through the week? Check out our RVers Chicken Taco Recipe! Do you have a favorite RV recipe you'd like to share? Leave us a comment in the section below for a chance to share your favorite RV recipe with your fellow RV community.