Looking for a romantic getaway in your RV this Valentine's Day? What could be more dreamy than hopping in your motorhome with your valentine and heading to some of the steamiest places on Earth? The allure of outdoor hot springs with stunning views is enough to make anyone go on a hunt for a warm winter soak. In honor of Sunday's most holy day of love, we've outlined 10 of our favorite hot springs for you and your loved one to venture to in your motorhome this February 14th.
We advise you to hit the hot springs early to avoid crowds and bring your own towel (some of our coveted spots don't have rentals – they're that off the beaten path) to celebrate this sentimental holiday. Below you will also find information on those hot springs that have adjusted their hours or require reservations due to Covid-19 procedures.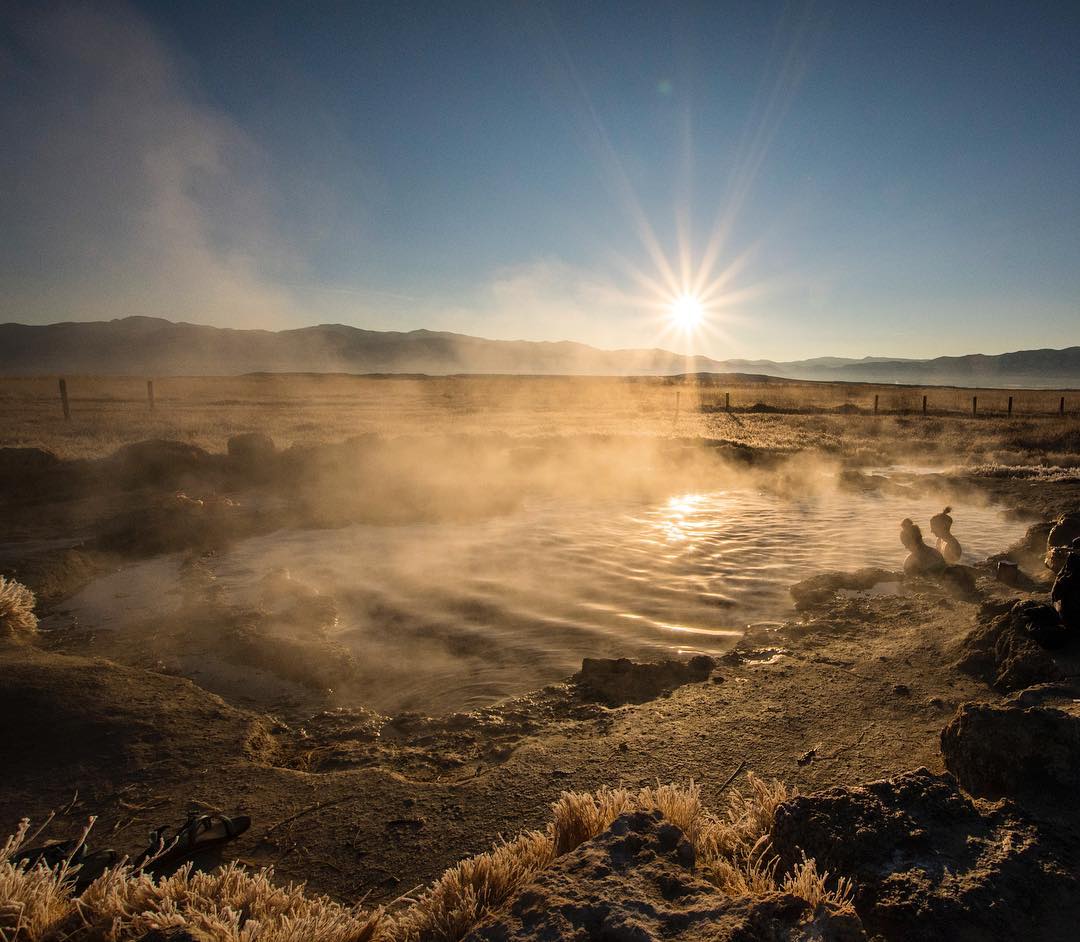 BEST HOT SPRINGS ACROSS THE USA

STRAWBERRY HOT SPRINGS 
Where: Steamboat Springs, Colorado
Admission: $15 cash only
Details: Imagine relaxing in 104-degree mineral water while some of the best snow in the country (literally coined Champagne powder) falls softly around you. Strawberry Park Hot Springs, located at 44200 Co Rd 36, merely 25 minutes outside of downtown Steamboat Springs, has multiple pools and a running river (for those brave enough to do the polar plunge) so there is ample space for privacy for you and your Valentine. There are numerous changing teepees set up around the springs and if you come at night be aware, clothing is optional. Please note: chains and 4-wheel drive are required to get to the springs in February.
HOT SPRINGS NORTH CAROLINA 
Where: Hot Springs, North Carolina
Admission: Click here for details 
Details: Make your way to this town that is actually named hot springs this Valentine's day. The 100-acre resort and spa features jetted hot tubs that line the banks of Spring Creek and the French Broad River. Each tub is filled with natural hot mineral water. The spa has a certified massage therapist on-site, should you and your loved ones want to opt for an extra relaxing soak. Best of all, there's a campground right across the road so you can soak without ever moving your RV.
WARM MINERAL SPRINGS
Where: North Folk, Florida
Admission: $20
Details: Known as the fountain of youth, Warm Mineral Springs is comprised of 51 minerals, which is in fact the highest mineral content of any natural spring in the United States. It is also the only hot spring in Florida, making it the perfect destination for those love birds who are down south this Valentine's day. Soak in the warm waters and experience the wellness this inviting spring offers.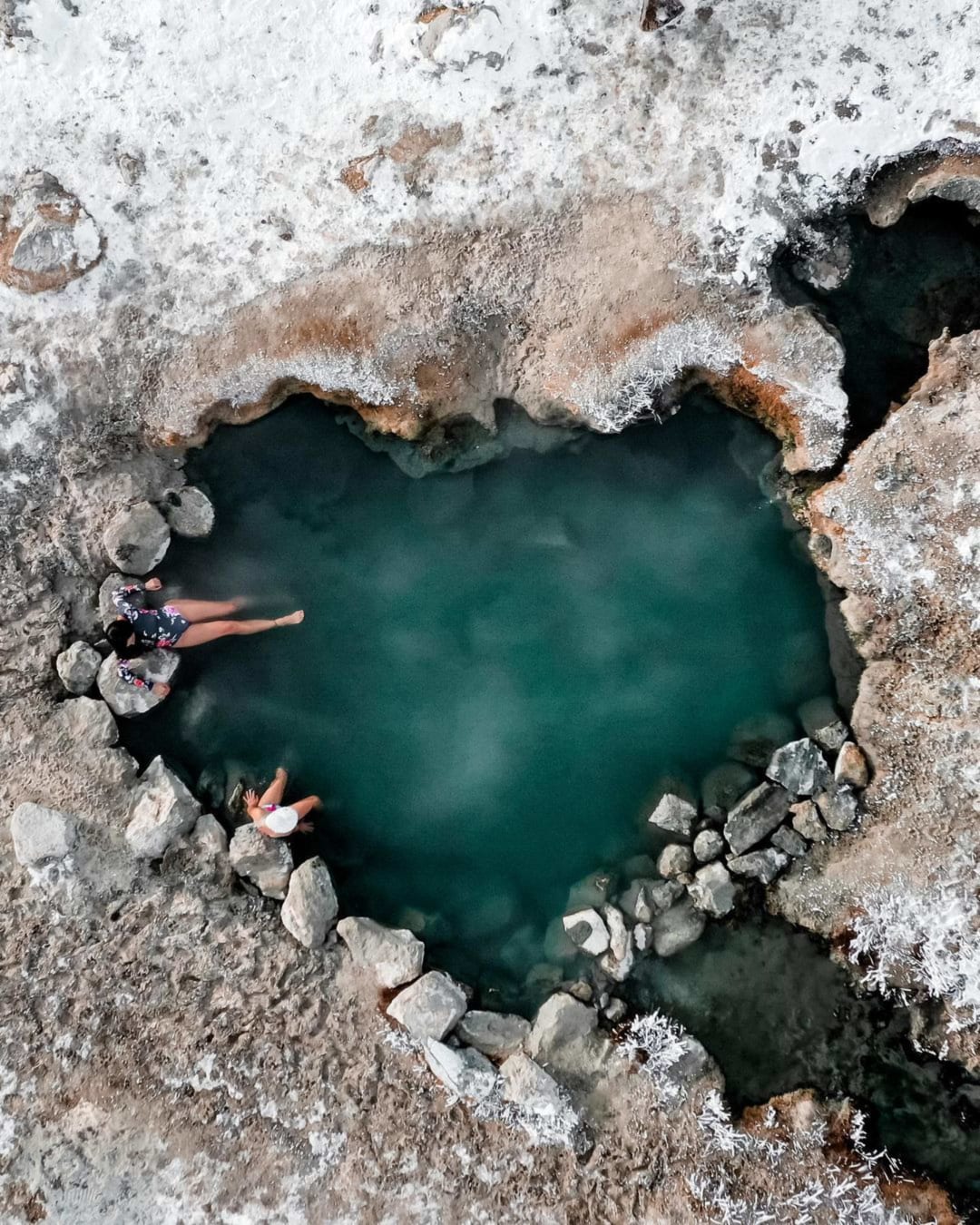 Photography: @cata_rinconm
WILD WILLY'S HOT SPRINGS
Where: Mammoth, California 
Admission: Wild Willy's is not only stunning, but it is also free.
Directions: From Bishop heading North on Highway 395, take a right at Benton Crossing Road. If you go past the airport you've gone too far. Drive three miles until you pass a cow grate and take your immediate right. The road is 1.5 miles to a dirt parking lot. You will see an elevated manmade trail. Walk .2 miles down the trail that feeds into the hot spring. You will see the first pool which is not Wild Willy's, but it's also so lovely at about 10 feet wide. Just pass this pool, about 50 feet further, you will find the mecca of hot springs – the crystal blue, heart-shaped pool that you and your Valentine can soak, relax and enjoy the brilliant views of the Sierra's, together.
MYSTIC HOT SPRINGS
Where: Monroe, Utah
Admission: $15
Details: With two large pools and five singular bathtubs for soaking, you're sure to experience your own private oasis at Mystic Hot Springs. The naturally stunning area is an ideal place to take in Utah's landscape. Be aware, Mystic is mystic indeed. The funky vibe might not be for all but it's a great experience for the adventure seeker. From Salt Lake City, take I-15 south to the Scipio exit number 188. Take Highway 50 east (about 35 miles) to I-70 west and take exit 31. Continue two miles and take a right on Highway 118 until you hit Monroe. Turn left on 100 North and go up the hill five blocks to a large white building at the end of the road – you're now in hippy haven.
HOT SULPHUR SPRINGS
Where: Hot Sulphur Springs, Colorado
Admission: $20
Details: Hot Sulphur Springs is ideal for those who want a full spa experience this Valentine's day. Over 200,000 gallons of natural mineral-rich water flow through 21 mineral pools and baths every day. The pool temperatures range from 95-112 degrees. No chemicals, filters or re-circulation is necessary here. Cozy up together during this sweet Valentine's getaway. From Denver take I-70 west until you reach exit 232 (Highway 40.) Keep left at the fork to Hot Sulphur Springs. The resort is on the right. With the resort right off the highway, this is an excellent spring to drive your motorhome too.
BAGBY HOT SPRINGS
Where: Estacada, Oregon
Admission: Free!
Details: You're going to want to grab your loved one and head to Bagby Hot Springs right this instant. Available for 24-hour usage, this cabin in the woods hosts three bathhouses, five cedar log tubs (each in a private room), three log tubs on the lower bathhouse open deck, and one large round tub on the upper open deck. Prepare for winter weather conditions as the roads are not maintained for winter travel. We suggest using your towed vehicle to get up to these unique hot springs. Clothing is optional on the bath decks. The springs are located 45 minutes southeast of Estacada, Oregon. Drive up the Clackamas River Basin on Hwy 224, turn south and follow the Collawash River. Park in the parking lot located at the trailhead, Bagby Trailhead. Then follow the trail through the Successional Reserve Forest by immediately crossing a footbridge. Walk 1.5 miles to the springs.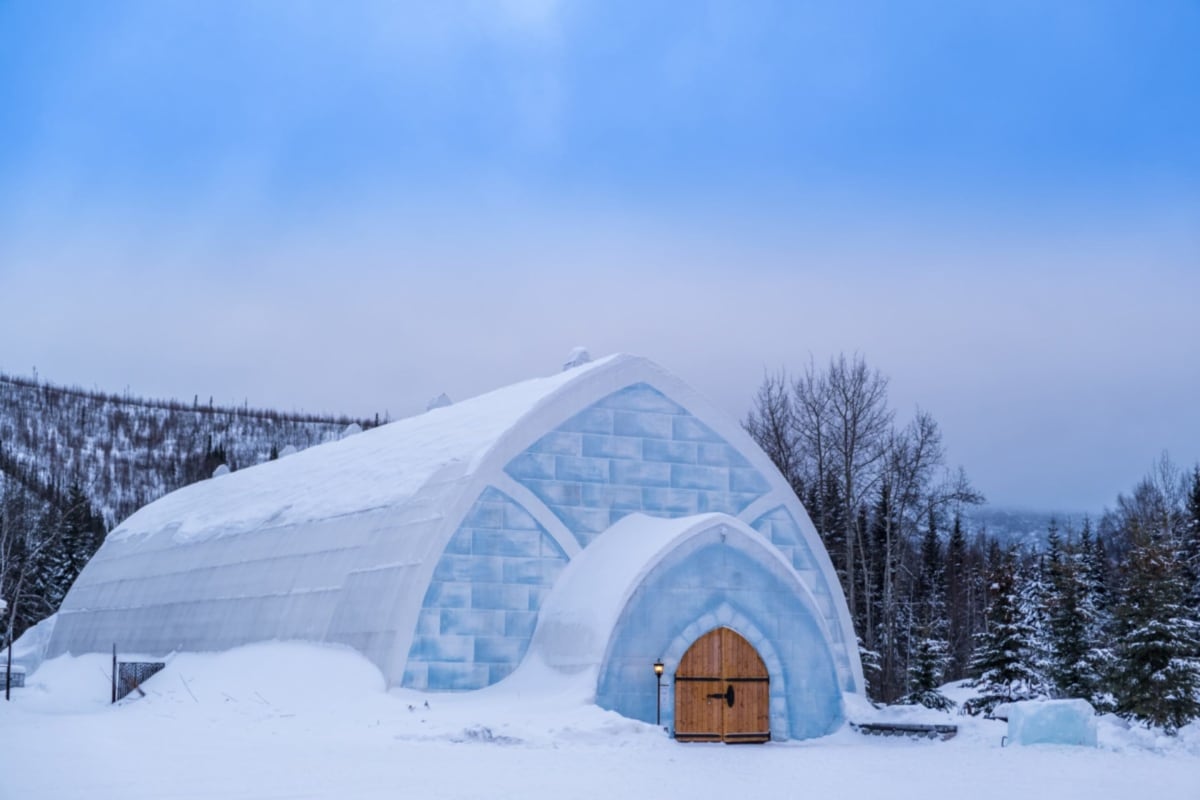 CHENA HOT SPRINGS
Where: Fairbanks, Alaska
Admission: $15 adults | $13 seniors age 60+
Details: This natural hot spring is the ultimate romantic getaway. Enjoy this magical spot with your sweetheart under a fresh blanket of snow. The pool and outdoor natural hot springs rock lake is open from 7 AM until midnight. You can opt to stay at the resort, or park your RV nearby. Located at the end of Chena Hot Springs Road, this forest-flanked paved road is parallel to the Chena River, 56 miles east of Fairbanks. The springs are at the center of a 40 square mile geothermal area. Come relax in the 18+ river with your loved one.
QUAPAW BATHS AND SPA
Where: Hot Springs, Arkansas
Admission: $20
Details: As a town named Hot Springs, you better believe this Arkansas oasis has some stunning options for love birds. Quapaw Baths and Spa is a luxury spa, ideal for a romantic mineral soak. The bathhouse was constructed in a stunning Spanish Colonial Revival style in 1922 and was a well-known hangout for big names during the roaring 20s. Be sure to treat yourself! The hot springs offer modern spa amenities and comforts that are perfect for couples looking to splurge this Valentine's Day.
DUNTON HOT SPRINGS
Location: Telluride, Colorado
Admission: Make your reservation by clicking here
Details: If you are a wellness couple, these springs are made for you. Dunton Hot Springs, made of calcium bicarbonate with dissolved iron, manganese, and lithium, is recommended for therapeutic uses. These highly mineralized waters are known to assist in opening peripheral blood vessels and helps to improve circulation to the body's extremities. Magnesium converts blood sugar to energy and promotes healthy skin. Say hello to the ultimate romantic wellness bathhouse! Temperatures range from 85 – 106 degrees and the springs are a restored 19th-century bathhouse!
Looking for the best RV destinations in 2022? Check out our recent article featuring the Top RV Destinations Across America in 2022 and be sure to leave us a comment in the section below sharing how you'll be celebrating this Valentine's Day with your loved one!