The Florida Keys are known as the Dive Capitol of the lower 48. The 126-mile island chain is surrounded by calm, clear water and the only living coral reef in the continental United States. The reef makes for a stunning natural habitat for all species of tropical fish, barracuda, goliath grouper, eel and sharks and with the bounty of shipwrecks off the islands, endless adventure awaits for those who desire.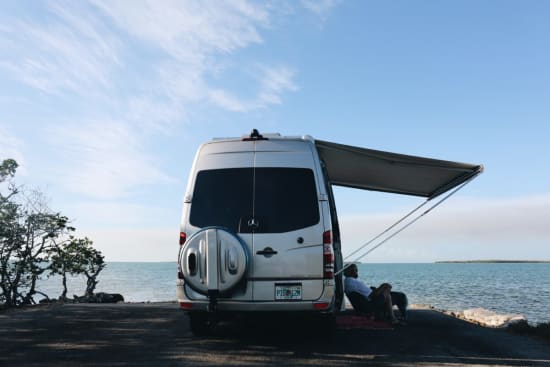 All photography provided by Hello America
It was no surprise that when we asked Hello America, the photography duo known for their outdoor travel photo work with brands like Eddie Bauer and Sperry, to take a Roadtrek SS Agile to the Keys for a week of diving and camping they said, "Yes! Can we leave tomorrow?"
Hello America Dive Guide to Key Largo
The adventurous couple dive in Key Largo often and every time they go, they book with the premier dive shop, Rainbow Reef. When it comes to affordability, have excellent rental equipment, comfortable boats and a friendly staff, you just can't beat Rainbow Reef, as they come highly recommended.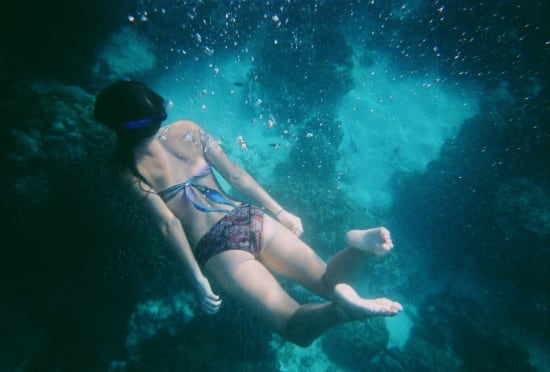 For the Water Newbie: Pickles Reef
Do you like history? Pickles Reef is ideal for you as it's a site of a civil war era wreck. Your dive guide will give you all the local and historical information on the how and why of the wreck, and then you get to swim through it! This site is perfect for snorkelers and beginner divers with depths ranging from 6 to 30 feet.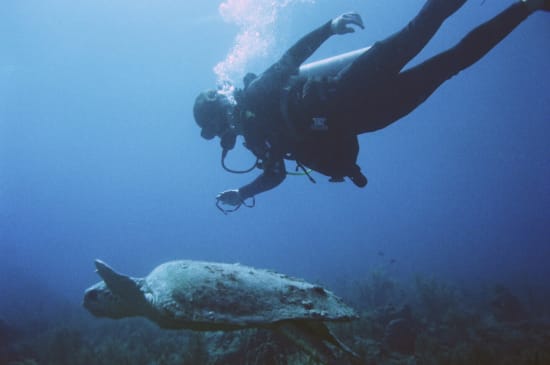 For the Everyday Diver: Dive Molasses Reef
This site is the most requested in the National Marine Sanctuary. With over 600 possible species of creatures, corals and plants to see, there is no wonder why. Depths range from 6 to 90ft. This is the perfect drift dive as the currents on the outside edge of the reef make it ideal for drift diver training.
For the Advanced Certified Diver: Dive Spiegel Grove Wreck
The Spiegel Grove wreck was once a 510 foot US Navy landing ship. If you're interested in viewing her entire beam, she requires divers to make two dives, just to see her outside structure! The Spiegel Grove is the backbone of the artificial reef system that has formed in the area. Over 130 species of fish create an enormous biodiversity in the region. If you want to enter the ship on your dive, you must have a guide.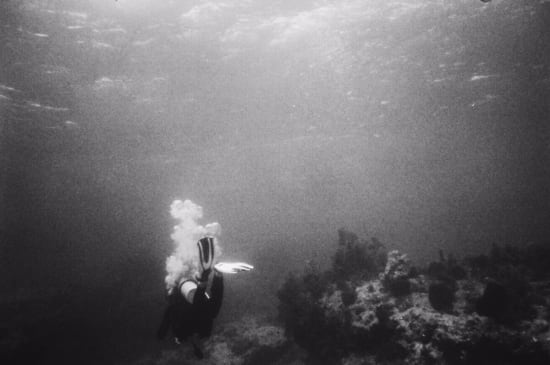 For the Thrill Seeker: Night Dive French Reef
Nigh diving is ideal for those who want to experience the full thrill of the ocean. French reef is well known for its swim-through's (which are optional). This dive is diverse with numerous depth options ranging from 15-40 ft. This unique dive opportunity is one you do not want to miss.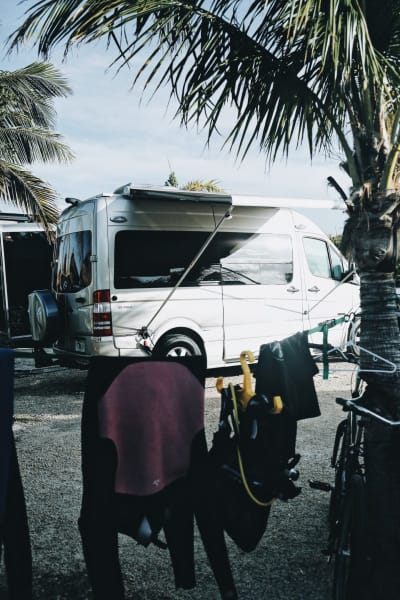 Where to Stay: Key Largo Kampground
This RV campground is situated on a stunning cannel at the edge of the coral reef. Each waterfront lot has its own private shaded dock and a picnic table with a gorgeous view of the water. It's ideal for summer barbecues, kayaking and night swims. The campground is also pet friendly!
RV full hookup waterfront rate: $110/night
RV full hookup non-waterfront: $70/night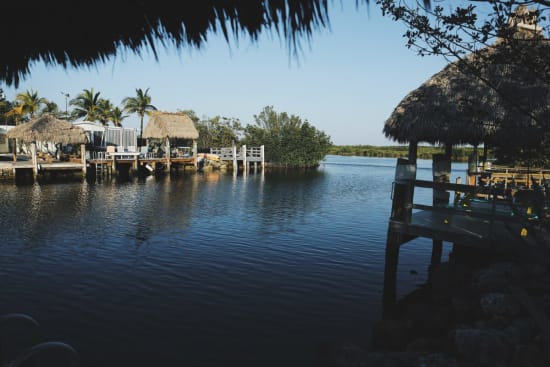 Where to Eat:
One of the main reasons this couple loves diving so much is the 'celebratory' beer after they've realized they just beat the system and found the cheapest way to be an astronaut (by exploring a new world right here on Earth.)
Key Largo Fisheries Bayard Café: Get the Hogfish Sandwich/platter. Really just make sure you try their local iconic fish. It is delicious!
Sharky's: This waterfront restaurant is where all the local guides go for bar food and great drinks. If you're looking for a rum cocktail, they've got you covered.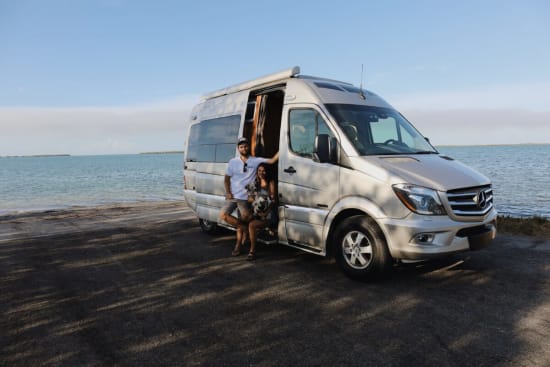 Do you have a favorite campground, restaurant or dive in Key Largo? Let us know in the comment section below!