From Starbucks to REI and Amazon, a handful of the worlds most iconic brands have come out of Seattle, Washington. We've not even mentioned its impact on pop culture, with the creation and web sensation of cute animal pics, (anyone remember I can has cheezburger?), and the film classic Sleepless in Seattle. With this in mind, you can bet this Pacific Northwest city is one of the most innovative and creative in the United States.
This rainy yet stunning hub is a destination in and of itself. RVer's are no strangers to bustling cities, so we decided to pack up the RV, hit the road and make the epic trek from Seattle to Olympic National Park. Below you will find part I of our road trip guide. This outline features Seattle's best museums, attractions, and delicious coffee, as well everything you need to know en route to Olympic National Park. Stay tuned for part II, where we explore the treasures of the park in detail coming this Friday.
MUSEUMS & ATTRACTIONS
Chihuly Garden and Glass
Address: 305 Harrison Street | Seattle, Washington 98109
Hours: Monday – Sunday 8:30 AM to 8:30 PM
Admission: General (ages 13-64) $32 | Senior (65+) $27 | Youth (ages 5-12) $19
Details: This stunning museum features an exhibit of glass creations and sculptures by artist Dale Chihuly. You have to experience the beauty first hand, as it is like nothing you'll ever see. Perfect for patrons of all ages, let your mind get lost in the sky as you walk through this glass museum full of colorful glass flowers, with the city skyline as its backdrop.
Living Computers: Museum + Labs
Address: 2245 1st Ave South | Seattle, Washington 98134
Hours: Tuesday – Sunday (Closed Monday) 10 AM to 4 PM
Admission: General $22 | Children up to five years of age are free
Details: Come geek out! This museum features vintage and modern computer technologies as well as a range of rotating exhibits. Loving Stranger Things 3 and feeling nostalgia for the 80s? Check out the museums "Totally 80s Rewind" exhibit where you can step into the life of an 80s teenager for the day. Bring the kids and enjoy a multitude of workshops, lessons, and game making activities while you're here!
Museum of Pop Culture (MoPOP)
Address: 325 5th Ave North | Seattle, Washington 98109
Hours: Monday – Sunday 10 AM – 7 PM
Admission: General (ages 18-64) $30 | Seniors (65+) and Students (with school ID) $27 | Youth (ages 5-7) $19 | Children under 5 are free
Details: This nonprofit museum is dedicated to contemporary pop culture. It's mission is simple: to feature creative expressions of today's world and highlight the every evolving ways in which artists connect and inspire the communities around them.
Space Needle
Address: 400 Broad Street | Seattle, Washington 98109
Hours: Monday – Sunday 8 AM – 12 AM
Admission: Regular $38 | Senior (65+) $33 | Youth (ages 5-12) $29
Details: The Space Needle is a world famous landmark in the Pacific Northwest that was built for the World's Fair in 1962 and now serves as an observation tower in the heart of Seattle. "The tower's futuristic design was inspired by the idea that the fair needed a structure to symbolize humanity's Space Age aspirations." -Space Needle, LLC
Fun Fact: In late summer 2018, the Space Needle received its first phase of renovations, which includes a multi-level, floor-to-ceiling glass observation room. If you make your way to Seattle soon, you can be among the first people to experience this breathtaking view!
Pike Place Market
Address: 85 Pike Street Room 500 | Seattle, Washington 98101
Hours: Open 24 hours 7 days a week
Admission: Free!
Details: Welcome to Seattle's original farmers market! Established in 1907, this community within the heart of Seattle's downtown is a beloved and renowned attraction that you cannot miss. Stroll through the market and enjoy hundreds of vendors featuring farmers, crafts, fish, specialty foods, collectibles, and more! This is an excellent spot to eat as well! From casual dining (try Athenian Seafood for you guessed it, killer seafood and an amazing view of the Ferris wheel) to Cafe Campagne for fine dining French cuisine. Don't forget Shug's Soda Fountain + Ice Cream for all your sundae, novelty and float needs!
BEST SEATTLE COFFEE FOR THE RVER
Preserve and Gather
Address: 358 NW 85th Street | Seattle, Washington 98117
Hours: Monday – Sunday 7 AM – 5 PM
Details: This contemporary neighborhood cafe features great coffee, biscuits and baked goods. It's simple, delicious and is perfect for those rainy Seattle days.
What to Order: Cortado, Strawberry mint lemonade and frangipane tart.
Anchorhead
Address: 1600 7th Ave #105 | Seattle, Washington 98101
Hours: Monday – Sunday 6:30 AM – 7 PM
Details: Located in Downtown Seattle, this coffee shop is the kind of place you want to stay a while. All syrups are homemade, the food is to die for and their drinks are so innovative and delicious you'll want to try each and every one.
What to Order: Pistachio matcha latte and the quaffle (cinnamon roll made from layered croissant dough, cooked to order in a waffle iron!)
Starbucks Reserve Roastery and Tasting Room
Address: 1124 Pike Street | Seattle, Washington 98101
Hours: Monday – Sunday 7AM – 11 PM
Details: While we tend to steer away from big chains and like to feature mom-and-pop shops, this Starbucks is like no other and should be experienced first hand. The roastery offers a variety of events including tours and tastings where you will dive into the history of the world renowned chain and enjoy a private tour that takes you on a journey from farm to cup!
What to Order: Your normal Starbucks order so you can see first hand just how good this place really is.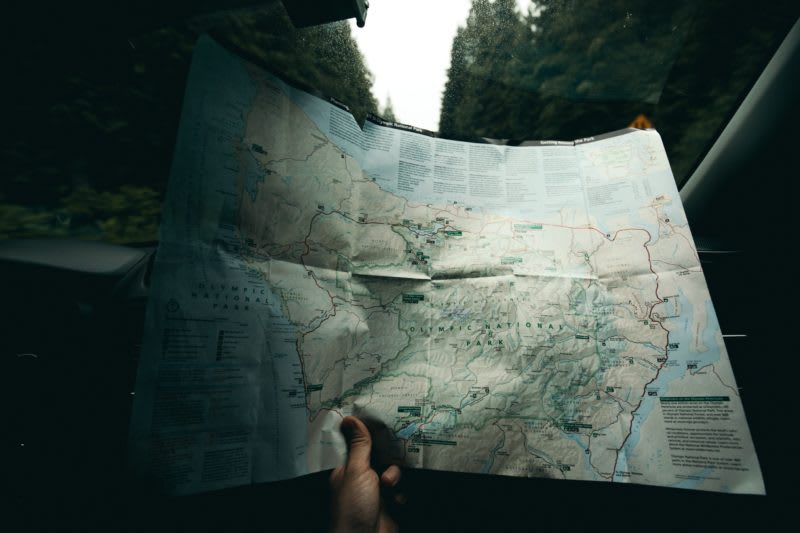 THE RV ROUTE FROM SEATTLE TO OLYMPIC NATIONAL PARK
This drive is epic and beautiful. It is to be enjoyed in an RV, at a leisurely pace. Slow down, take your time, and remember to stick your hand out the window every once in a while to feel the crisp Pacific Northwest air on your fingertips. Pro Tip: Play your favorite rainy/moody music (may we suggest everything from the Twilight Soundtracks (shockingly good) to Pearl Jam, Jimi Hendrix and Kurt Cobain (all Seattle natives). It will set the mood for this once in a life time trip.

The RV Route:
– From Seattle drive south on I-5.
– Exit onto I-5 South towards Tacoma/Portland.
– Drive 21 miles and exit on 132 toward WA-16 West
– Keep right at the fork and continue on Exit 132B
– Follow signs for Gig Harbor/Bremerton/WA-16 West
– Keep left and merge onto WA-16 West
– Drive 27 miles and mere onto WA-3 North
– Drive 25 miles and follow WA-104 West and US-101 North to Olympic National Park Visitor Center
THE ROUTE DETAILS
Number of Miles: 130
Driving Time: 2.5 to 3 hours
Pass through Cities: Olympia, Tacoma, Gig Harbor, Port Orchard, Silverdale, Discovery Bay, and Port Angles.
Best Place to Stop for Coffee: Discovery Bay Village Store
Best Place to Stop for Last Minute Camping Gear: REI 
Best Place to Stop for Lunch: Happy Belly in Tacoma, Washington. Vegan and vegetarian options as well as a wide selection of teas, coffees, snacks, sweet treats, burritos, smoothies, bowls, juices, sandwiches and salads! 
Gas Stations: There are over 30 gas stations on the route so you won't run out of fuel.
RV Friendly Roads: You'll enjoy easy, RV driving en route to Olympic National Park. The roads are spacious, there isn't much traffic in the off season and you'll encounter a bunch of fellow road warriors.
What You'll See: Wildlife, wildflowers, lots of RVers, bridges, and bodies of water!
ARRIVING AT OLYMPIC NATIONAL PARK
Plan Your Destinations: Make sure to plan your destinations en route to Olympic National Park. The park features over 1,442 square miles of terrain to explore. That includes everything from beaches to glaciers, hot springs, rivers, waterfalls, rainforests, and lightly-treaded backcountry areas. Our favorites, including the Hoh Rainforest, Hurricane Ridge, Rialto Beach, Marymere Falls, and Sol Duc Hot Springs will be featured on our part II road trip guide coming out this Friday.
Packing: Check out our two guides featuring Everything you Need to Know and Pack for a Hike in the Rainforest and What to Pack on your Washington Road Trip.
RV Campgrounds: Your chosen destinations within the park (more on that later this week) will dictate where you camp. If you're planning on day tripping to any one of these epic waterfalls (Marymere, Sol Duc and more) check out which campgrounds you should stay at here.
Stay tuned for our road trip guide through Olympic National Park and if you're looking for the best places to eat in and around the park, check out our Four Day Food Guide to Olympic National Park. Leave us a comment in the section below sharing your favorite feature on the park for a chance to be featured on our blog!