With leaves turning bright shades of red, orange, and yellow, fall provides even more stunning views than usual in national parks and other outdoor areas. RVing isn't just a great way to see the outdoors, it also gives you a unique chance to visit multiple areas of the U.S. to see fall foliage at its best. The following guide can help you decide where to go to see trees in all of their autumnal glory. Read on for all the details!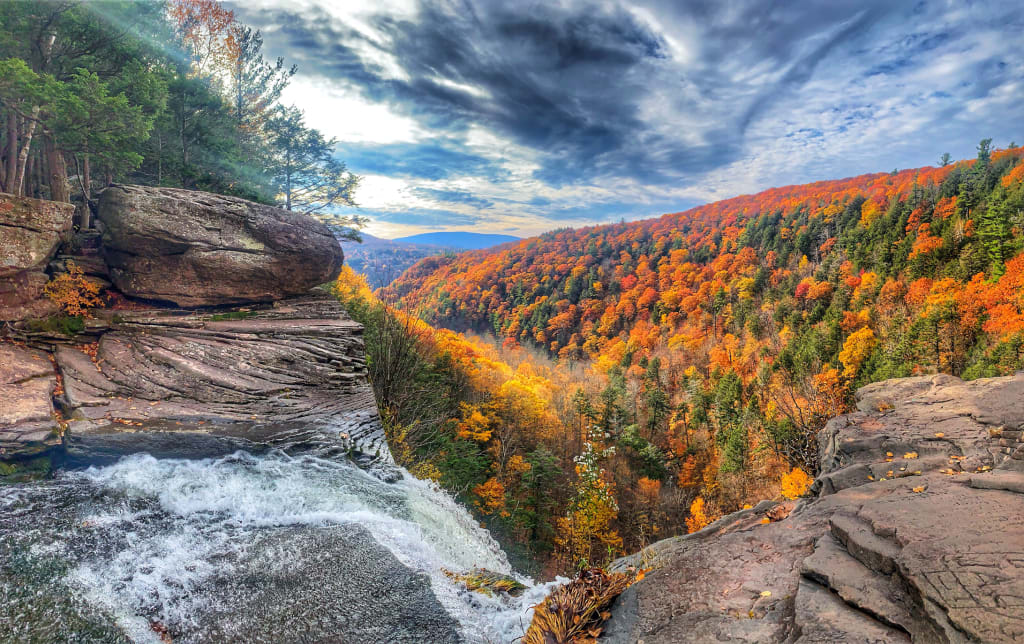 Northeast
New England and other parts of the northeastern U.S. offer many places to see stunning displays of fall colors. Acadia National Park in Maine provides tree-covered cliffs with leaves in shades of deep red, bright orange, vibrant yellow, and earthy brown. While you're there, you can also enjoy views of the Atlantic Ocean, go hiking, take a carriage tour, or go climbing. The park has a few campgrounds available for RVs. Keep in mind that you'll need to make a reservation for a campsite ahead of time. Other notable mentions for fall foliage in the northeast include the Catskill Mountains in New York and Giffords Woods State Park in Vermont.
Mid-Atlantic
The mid-Atlantic region of the U.S. provides spectacular views of mountains covered with chestnut, red oak, maple, ash, and other trees in their fall colors. Shenandoah National Park in Virginia includes the Blue Ridge Mountains, a top fall destination for RVers who want to see fall foliage. Take a drive along Skyline Drive through the park to take in panoramic mountain views, or hike your way along the park's many nature trails. Campgrounds with RV campsites are available in the park, but you'll need to reserve a spot. Other great destinations in this part of the country include Cunningham Falls State Park in Maryland and Killens Pond State Park in Delaware.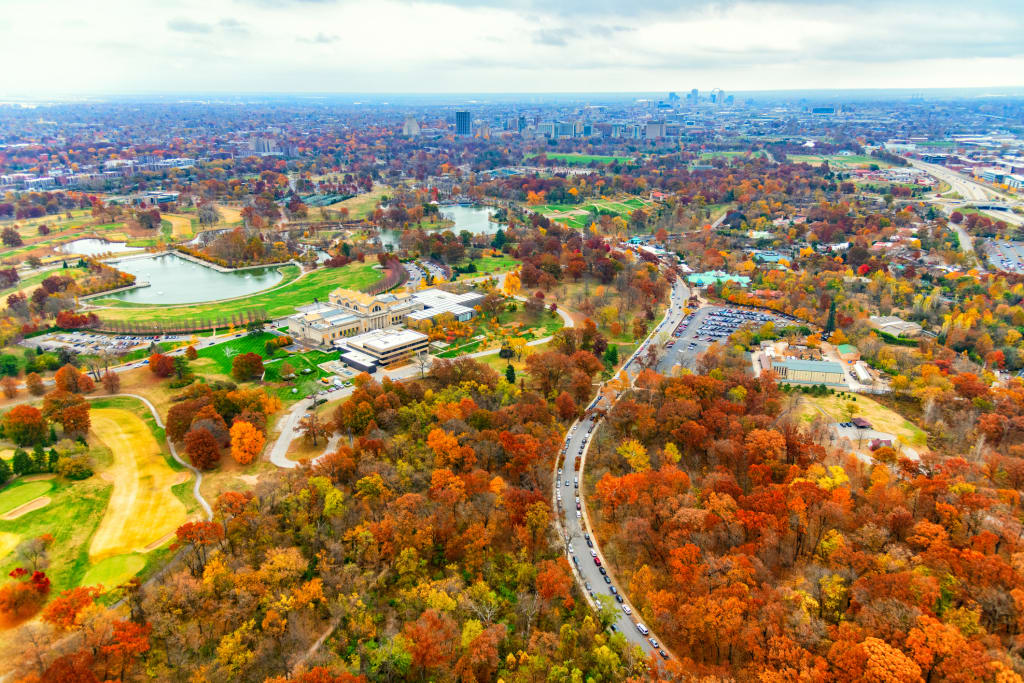 Midwest
The midwestern region of the U.S. offers several places to see fall foliage near lakes, mountains, and other natural settings on hickory, sweetgum, maple, oak, poplar, and other trees. Admire vivid foliage while gliding along the lake in a paddleboat or kayak at Lake of the Ozarks State Park in Missouri. You can also hike through woodlands and glades, take a tour of the caverns, go fishing, or go biking. The park has RV campsites available, which you'll need to reserve ahead of time. Other notable areas for fall foliage in the midwest include Black Hills National Forest in South Dakota and Indiana Dunes State Park in Indiana.
Southeast
While many people think of the north for fall foliage, the southeastern U.S. has quite a few places to catch scenic views of colorful leaves. DeSoto State Park in Alabama offers a chance to enjoy beautiful views of gold and red leaves, as well as a waterfall that plunges 104 feet into a rock canyon. Explore the park's hiking trails, have a picnic, kayak on the Little River, or brave a zipline adventure through the trees. Reserve a spot at one of the park's RV campsites for a memorable fall foliage trip. Other places to visit in the southeast during fall include Table Rock State Park in South Carolina and Great Smoky Mountains National Park in North Carolina and Tennessee.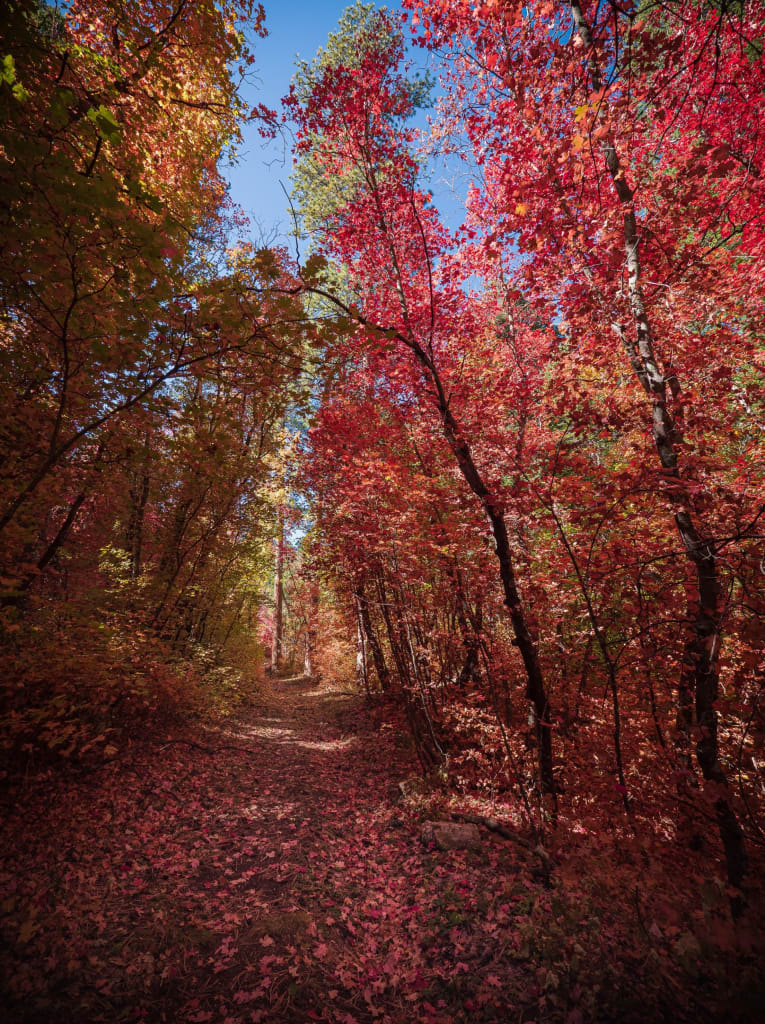 Southwest
The southwestern U.S. provides picturesque views of golden aspen trees, orange and yellow walnut and oak trees, and deep red oak trees. Great Basin National Park in Nevada is filled with gorgeous views of bright yellow, red, and orange aspen groves, as well as impressive views of Wheeler Peak with its 13,063-foot summit. While you're there, you can also head underground to check out Lehman Caves or go hiking to see the Great Basin Bristlecone pine tree. The park's RV campsites can comfortably accommodate smaller RVs, while the nearby town of Baker offers spots for larger RVs. Other places to visit include Santa Fe National Forest in New Mexico and the North Rim of the Grand Canyon in Arizona.
Northwest
Larch trees, aspen trees, and other trees turn to colorful shades of yellows, oranges, and reds in the northwestern region of the U.S. Helena-Lewis and Clark National Forest in Montana provides scenic views of several mountain ranges, as well as meadows, woodland valleys, and coniferous forests in fall hues. Go hiking on nature trails, go fishing in streams, see waterfalls up close, or take a scenic drive to see a wider area of the park. Several campgrounds for RVs are available on a first come, first served basis. Other destinations for fall colors include Yellowstone National Park in Wyoming and Round Lake State Park in Idaho.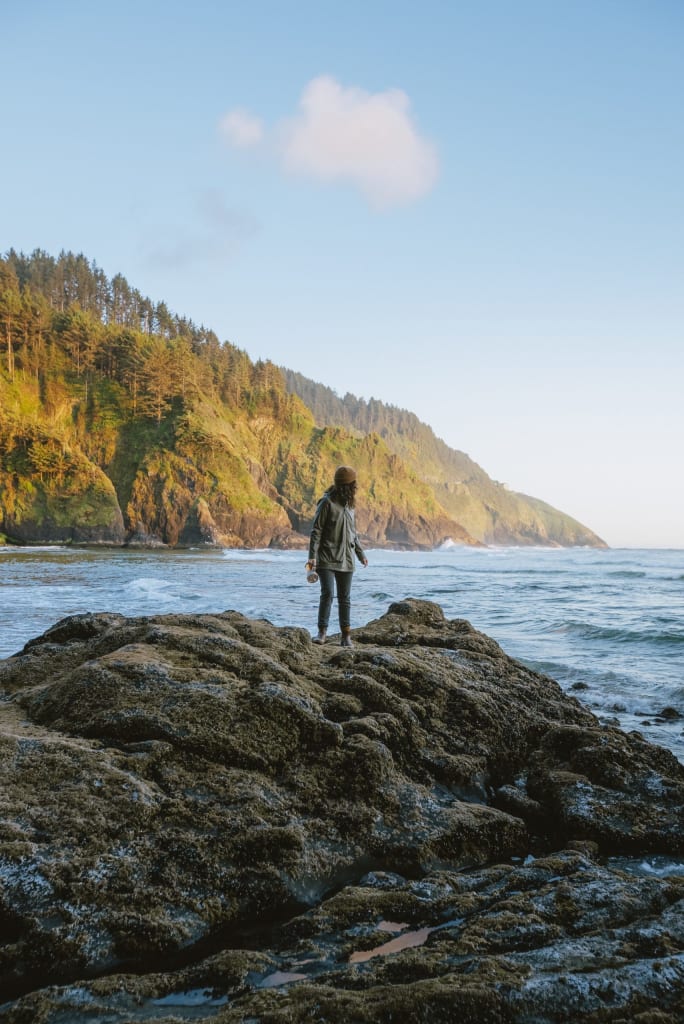 Pacific Coast
The Pacific Coast has many great locations for beautiful fall foliage views. Mount Rainier National Park in Washington offers stunning golden hues and other vibrant tones as larch trees and other trees, as well as huckleberry bushes, change color. Take hikes through the wilderness, go fishing in lakes and streams, and enjoy other outdoor activities in cooler weather. RV campgrounds are available in the park through the end of September. Other places to visit along the Pacific Coast include San Bernardino National Forest in California and Mount Hood National Forest in Oregon.
Looking for an RV to take you into the fall season and beyond? Visit La Mesa to see a wide selection of RVs, including used and new.