RVing in Minnesota..
Guest Post by Ingrid of Live Laugh RV
Experiencing breathtaking scenery, hillside forests, rocky cliffs, cobblestone beaches, waterfalls, and unspoiled fresh air is an RVers dream. It's why we keep our RV wheels rolling, always in search of the next hidden gem.
I don't think my younger self fully appreciated the captivating, rugged beauty found 'Up North'. Having grown up in Illinois, my travel dreams always centered around visiting enticing places like Colorado's Rocky Mountains or Utah's Red Rock Country, but those locations were a daunting drive away from the Chicago suburbs in comparison to northern Minnesota. So, as a newly married couple on a budget, Minnesota's North Shore became our summer vacation destination, at least until we actually moved west to Colorado.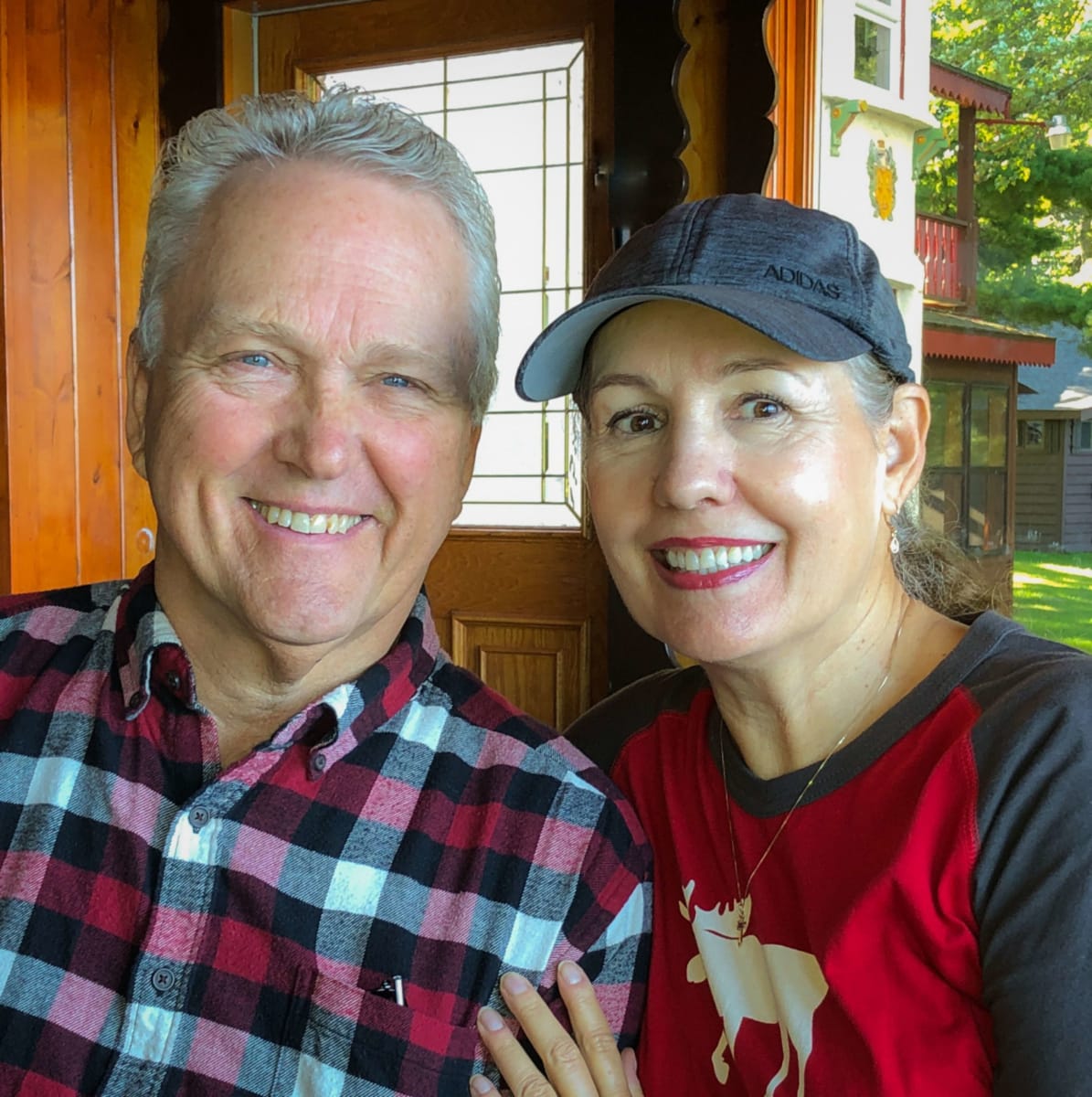 All photography by Ingrid 
The landscape from the Rocky Mountains and westward is undeniably stunning, and our 5th Wheel has allowed us to experience life and immerse ourselves in some jaw-dropping scenery. It is incredible country, and as much we have so many more places in the west to explore, during the summer of 2019, we felt the Midwest calling, a calling to return to our roots.
We wondered, after twenty-five years, would we still recognize the North Shore? How much had changed? Would we fall back in love with the landscape or would we be disappointed? Time to find out!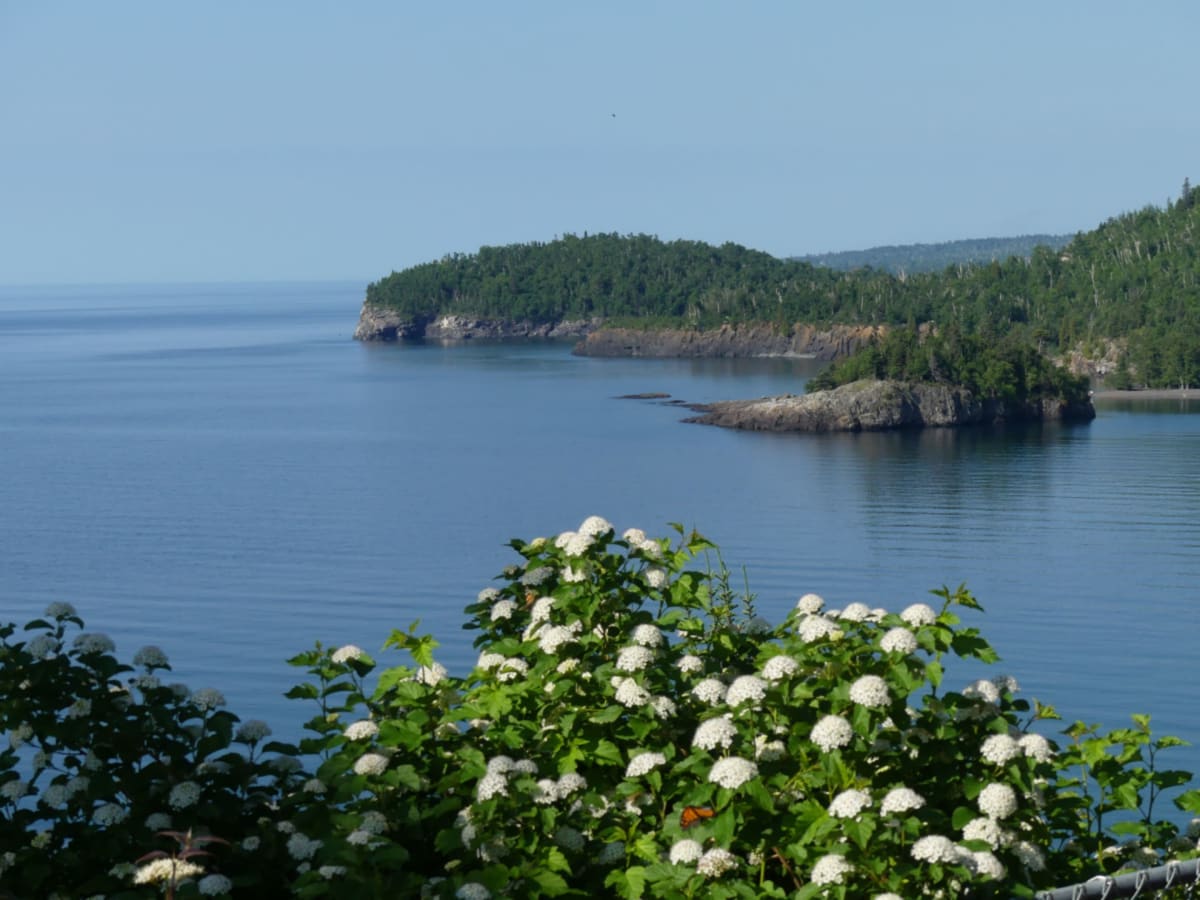 RVing in Minnesota Hugging the North Shore of Lake Superior
Lake Superior is the largest freshwater lake in the world and feels more like an inland sea than a lake, especially when seeing large oceangoing ships and barges traverse the waters. The North Shore of Lake Superior is a picturesque coastline that runs from Duluth, Minnesota to Ontario, Canada. Designated as an All-American Road, Highway 61 is a scenic byway that follows the rugged shoreline of Lake Superior taking visitors through small towns, historic sites, and pristine wilderness. Along the way, travelers are greeted by flowing rivers, cascading waterfalls, and forested parks.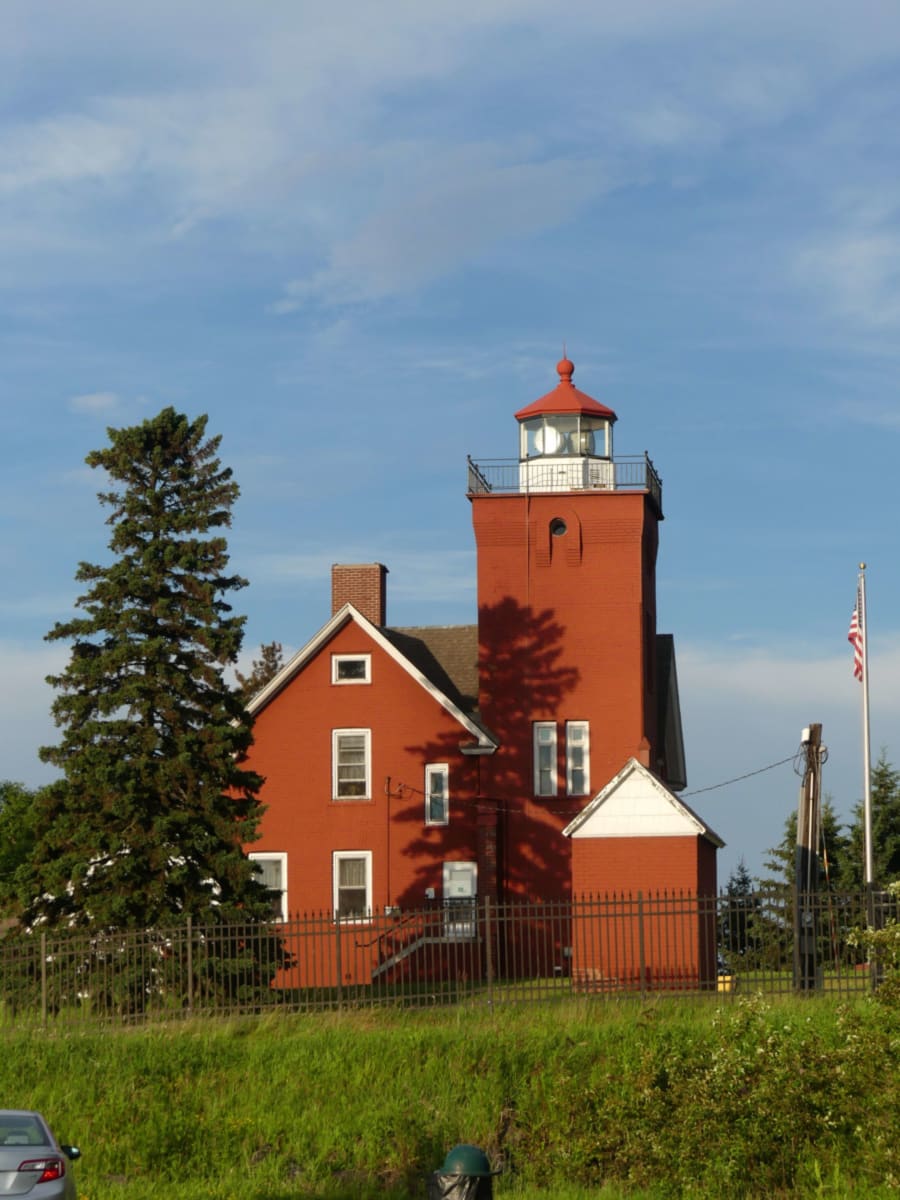 Visiting Duluth, Minnesota
After settling into our RV campsite in the quaint little town of Two Harbors, we retraced our route to start our explorations in the city of Duluth. We had driven through this city many a time on our way to our vacation destination along the Gunflint Trail all those years ago but never had the time to do more than just drive through. The RV lifestyle allows us the luxury to leisurely explore not only the coastline but this interesting city as well.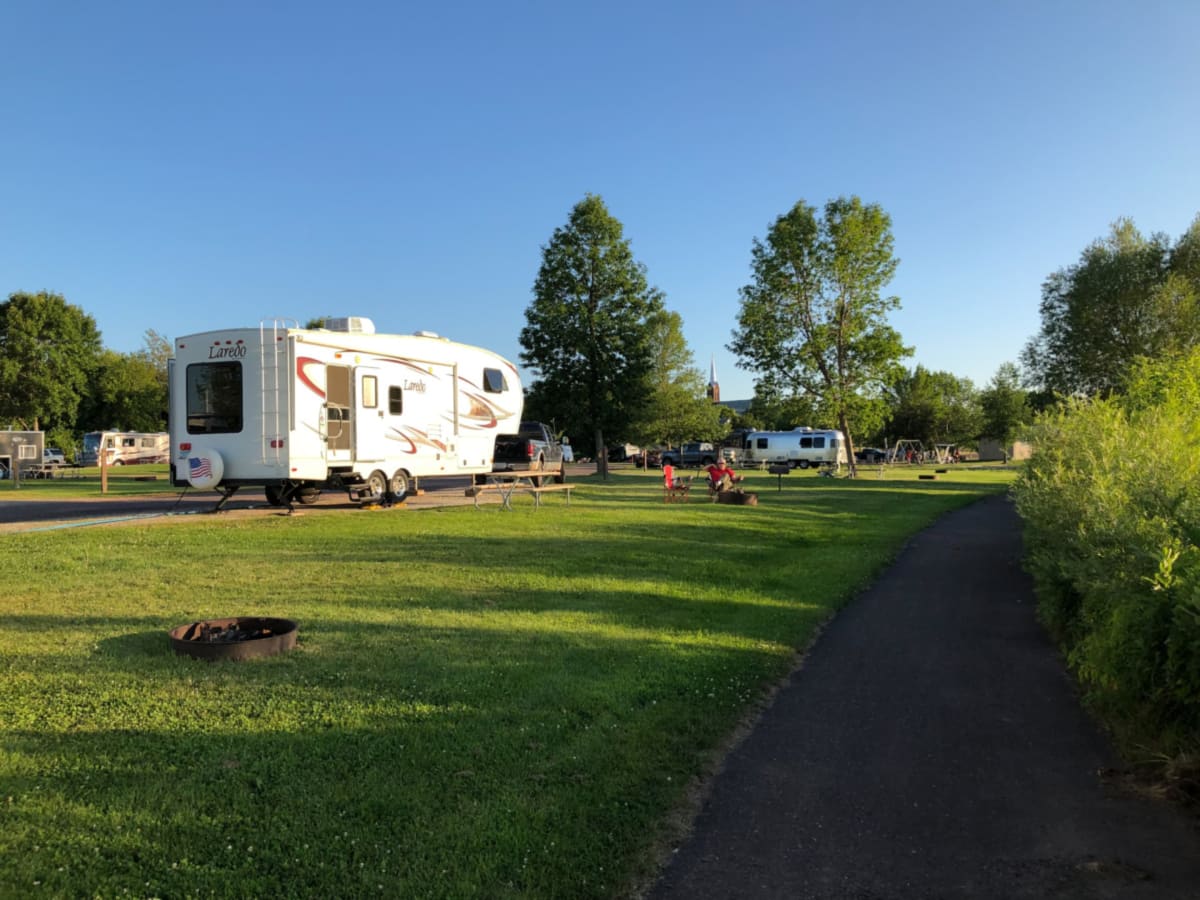 Day one began at the westernmost tip of Lake Superior and along the Great Lakes busiest ports. The first stop is Canal Park, the entertainment hub of Duluth. This old warehouse district has been converted into an attraction offering an array of restaurants, shops, a Maritime Visitor Center, Aquarium, and the famous Aerial Lift Bridge.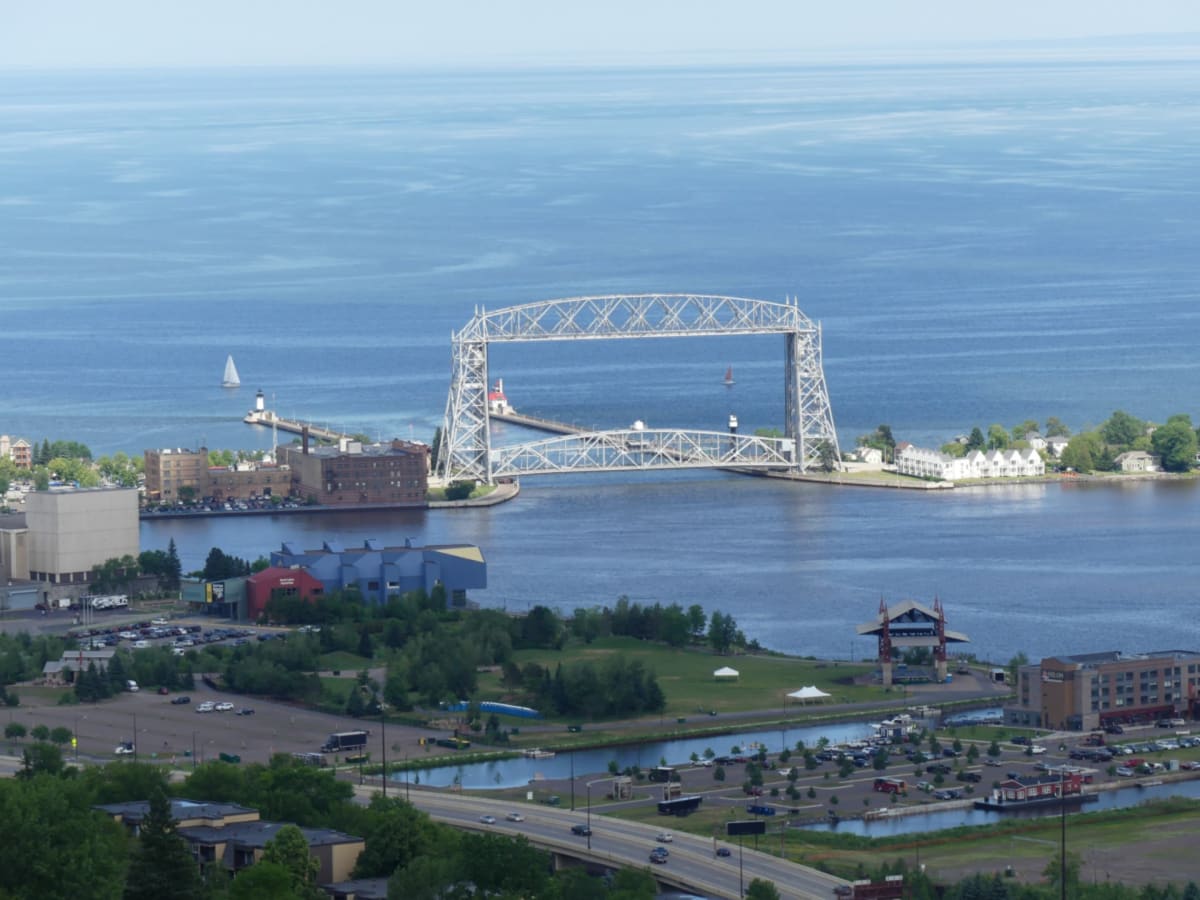 I really enjoyed walking along the paved lakefront trail as well as out to the lighthouses, but the highlight was watching a huge ship pass under the famous Aerial Lift Bridge, a Duluth landmark. You cannot fathom the size of these ships/barges until you stand near one. There is actually a ship watch schedule available online so you can time your visit along with one of these ships passing through the canal. What a unique experience.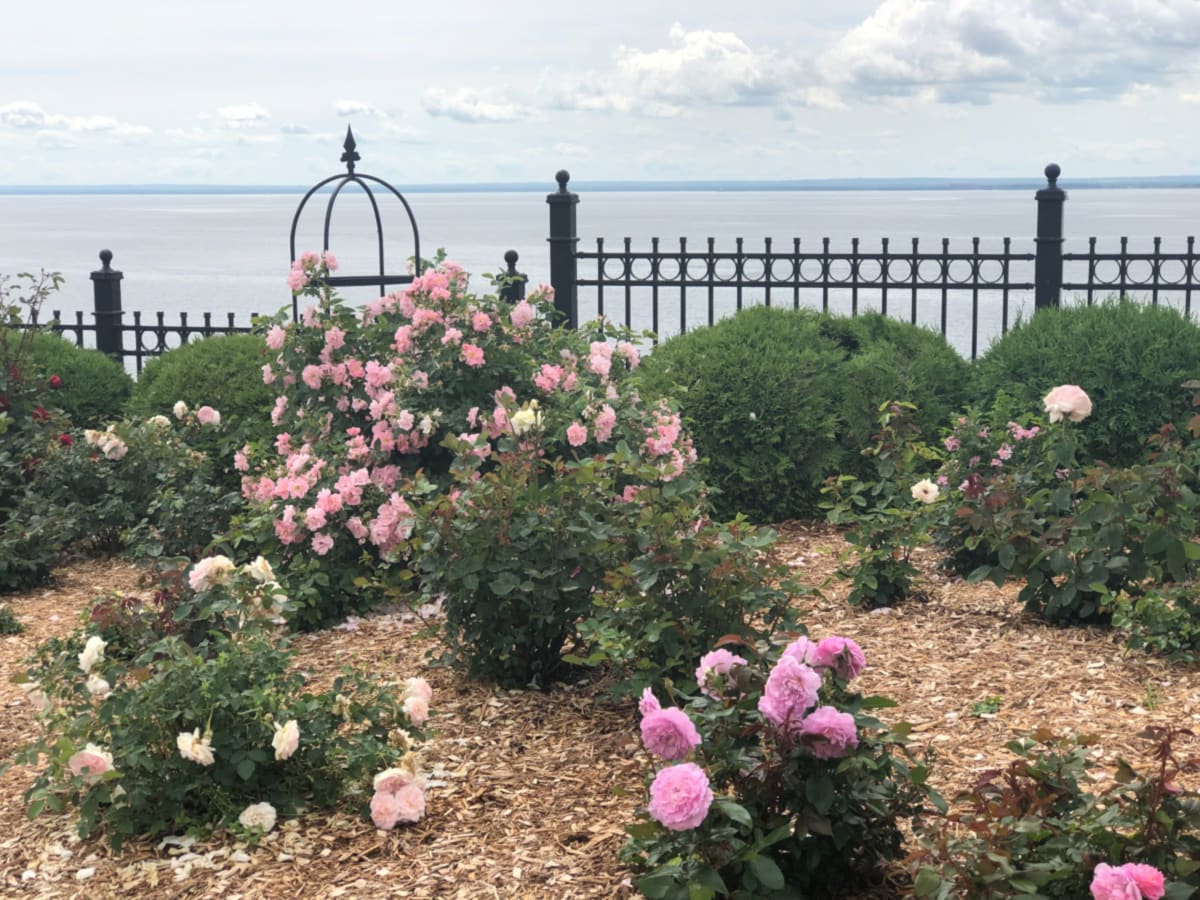 The mere mention of a rose garden piqued my interest and became a must-see. The Duluth Rose Garden is an extension of the Leif Erikson Park and offers a stunning arrangement of more than 3,000 rose bushes and other flowering plants. We seemed to time our mid-July visit perfectly to see the blooms at their peak. The rose garden sits high above the lakeshore offering a beautiful view of Lake Superior and in the distance Canal Park and the Aerial Lift Bridge, but for an even better bird's eye view of the lift bridge, I recommend a drive up to Enger Park.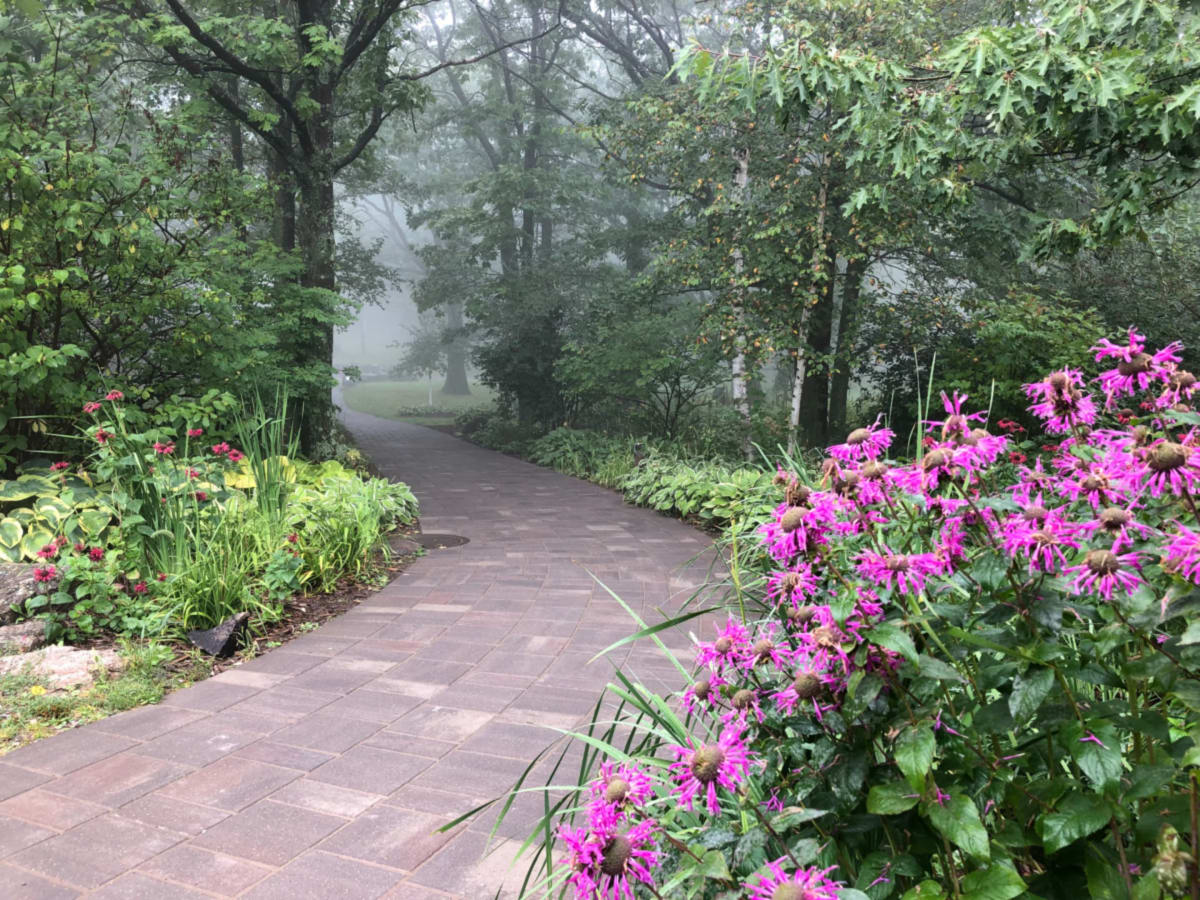 Enger Park is a hidden gem that required me to pull out the GPS. Once we arrived, it was worth all the turning around required prior to my stubborn self finally turning on the GPS, much to my husband's entertainment. The Enger Park Tower and Gardens sits 600 feet above Lake Superior and provides a panoramic view of Duluth and the harbor. This is a wonderful place for a picnic, a stroll around the lush grounds, and the perfect perch to watch ships move about the harbor.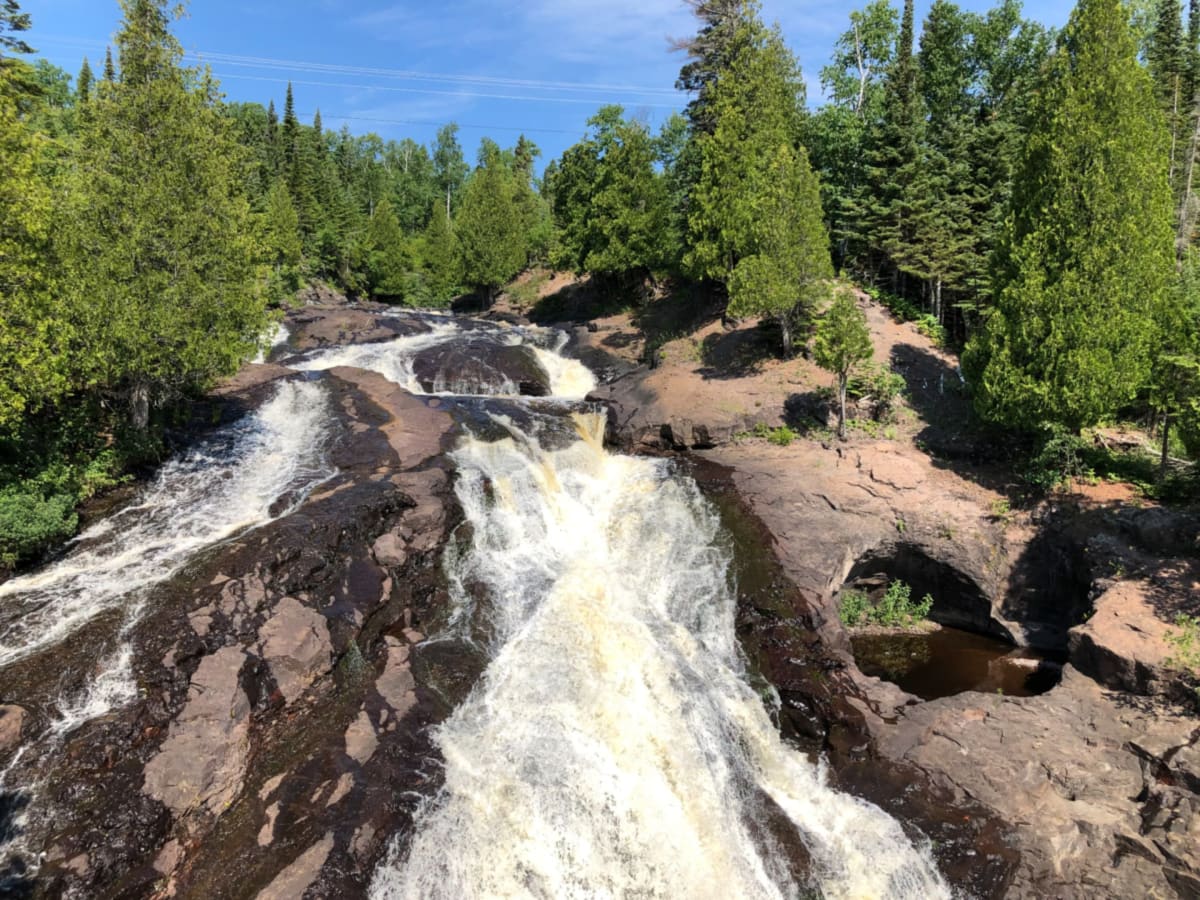 Time to Experience a Place that's Unlike any Other
The following day, we drove east via scenic byway 61 passing the Glensheen Mansion. One day we plan on touring this historic estate, but for the next few days, I was in search of lighthouses, waterfalls, and photo-ops. Near our campsite is the historic Two Harbors Light Station. First lit in 1892, it is the oldest operating lighthouse in Minnesota. She is beautifully maintained and worthy of a tour.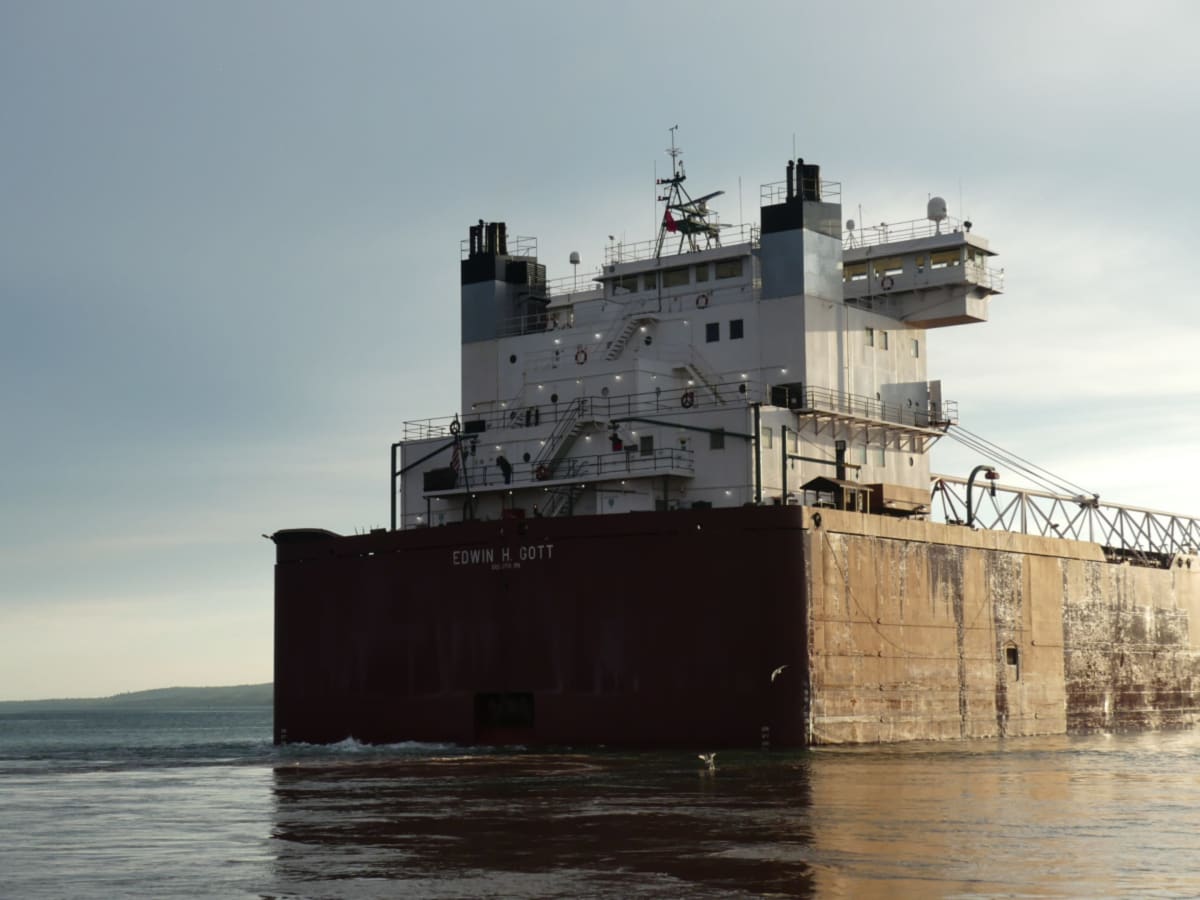 Although my goal was to visit the lighthouse, my attention was also drawn across Agate Bay to some strange-looking structures. The structures are docks that are made out of steel. They are 1,300 feet long and seven stories tall. Once again I'm awed by the massive size of these barges. Shipping schedules can be found online at harbor lookout.
RVing in Minnesota You will find a thousand lakes.
As we continued our explorations along Highway 61, it's clear visitors will be faced with the daunting task of deciding where to stop. I know that was my biggest problem. There is an abundance of picturesque beaches, waysides, overlooks, parks, towns, and marinas to stop and explore not to mention all the fun little eateries to indulge our tastebuds. Quintessential to the North Shore are eight beautiful State Parks each with its own personality. The majority of these parks offer a visitor center with large parking lots perfect for getting in a quick hike and grabbing some photo-ops of the stunning scenery.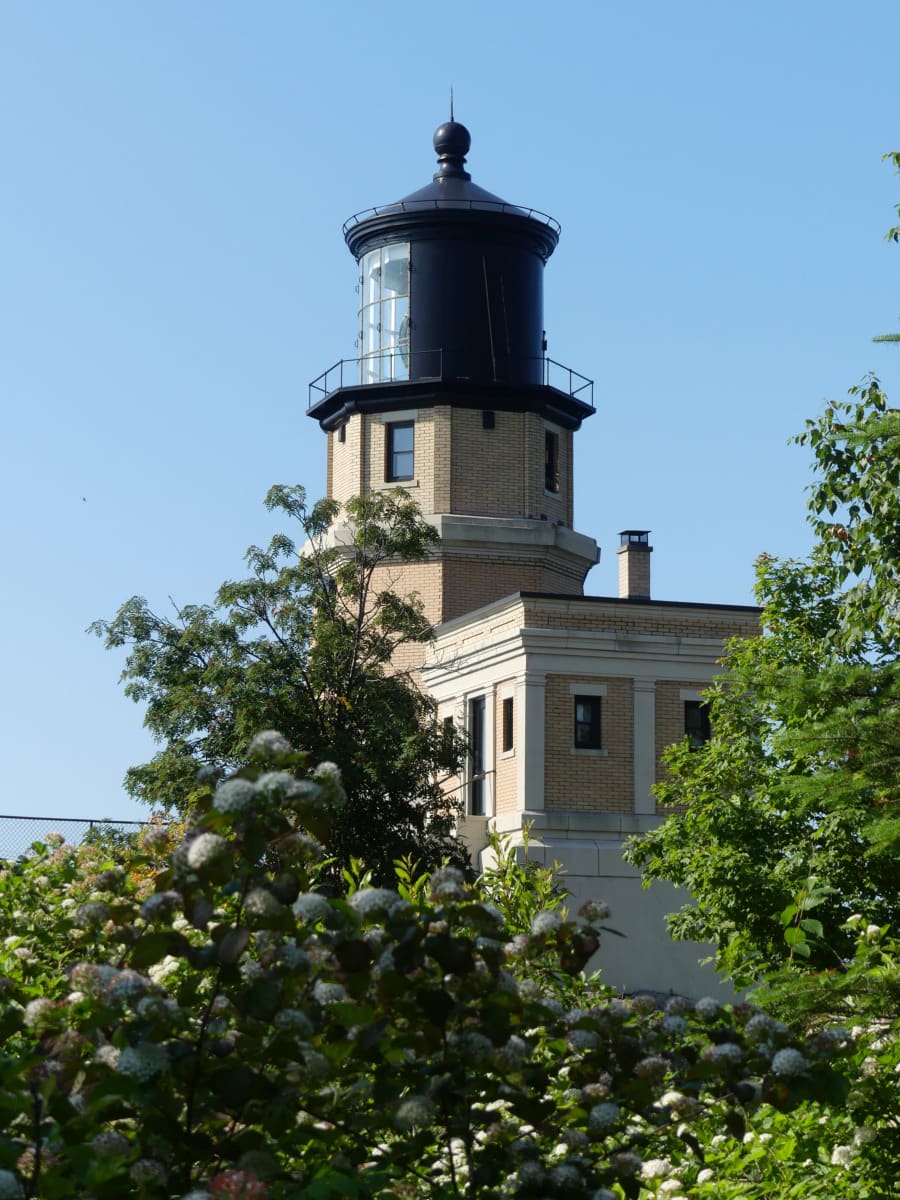 The rocky cliff shoreline serves as a reminder that these waters can be dangerous, thus the need for so many lighthouses on Lake Superior. The most photographed lighthouse in America and the one I'm most intrigued by is the Split Rock Lighthouse. Completed in 1910, Split Rock Lighthouse is a historic landmark. East of Gooseberry Falls State Park and just a few miles west of the entrance to the Split Rock Lighthouse State Park is a scenic overlook that's a must especially if your plans don't include an actual visit to the lighthouse. The view is breathtaking and there's even a 'selfie station'.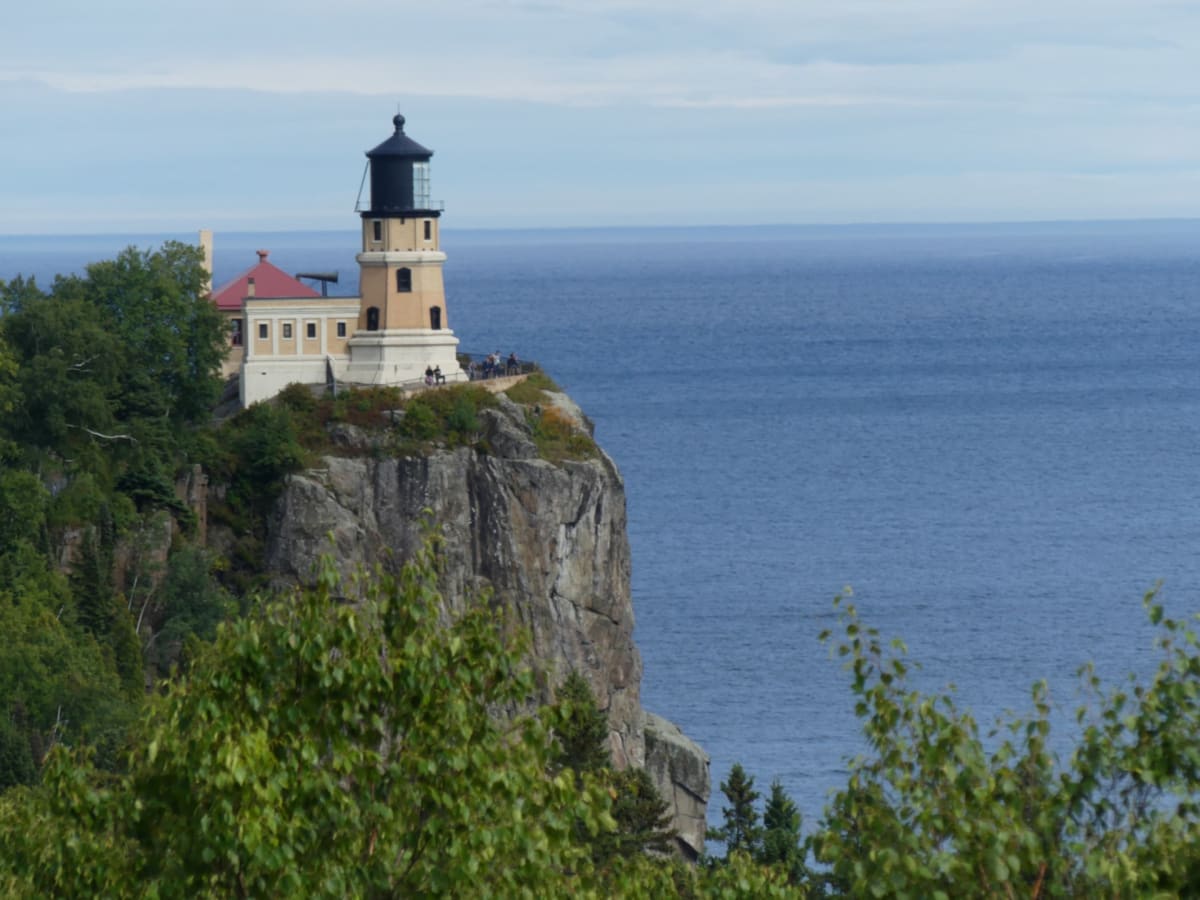 While Lake Superior lies on the south side of the highway, dense forest and hills lie on the north side. Considering the north shore can receive well over 90 inches of snow during an average winter, all that snowmelt has to go somewhere creating some spectacular waterfalls. The waterfalls alone make visiting Minnesota's north shore worthwhile.
I was hoping to photograph at least one waterfall during my visit and chose Tettegouche State Park for that mission. For a couple of reasons, my photographic mission was an epic fail but the stroll from the visitor center to a gravel beach where the Baptism River meets Lake Superior was an epic win. Seriously, you just can't go wrong with the scenery along the North Shore but do remember to bring bug spray and dress for the weather which includes a lot of humidity.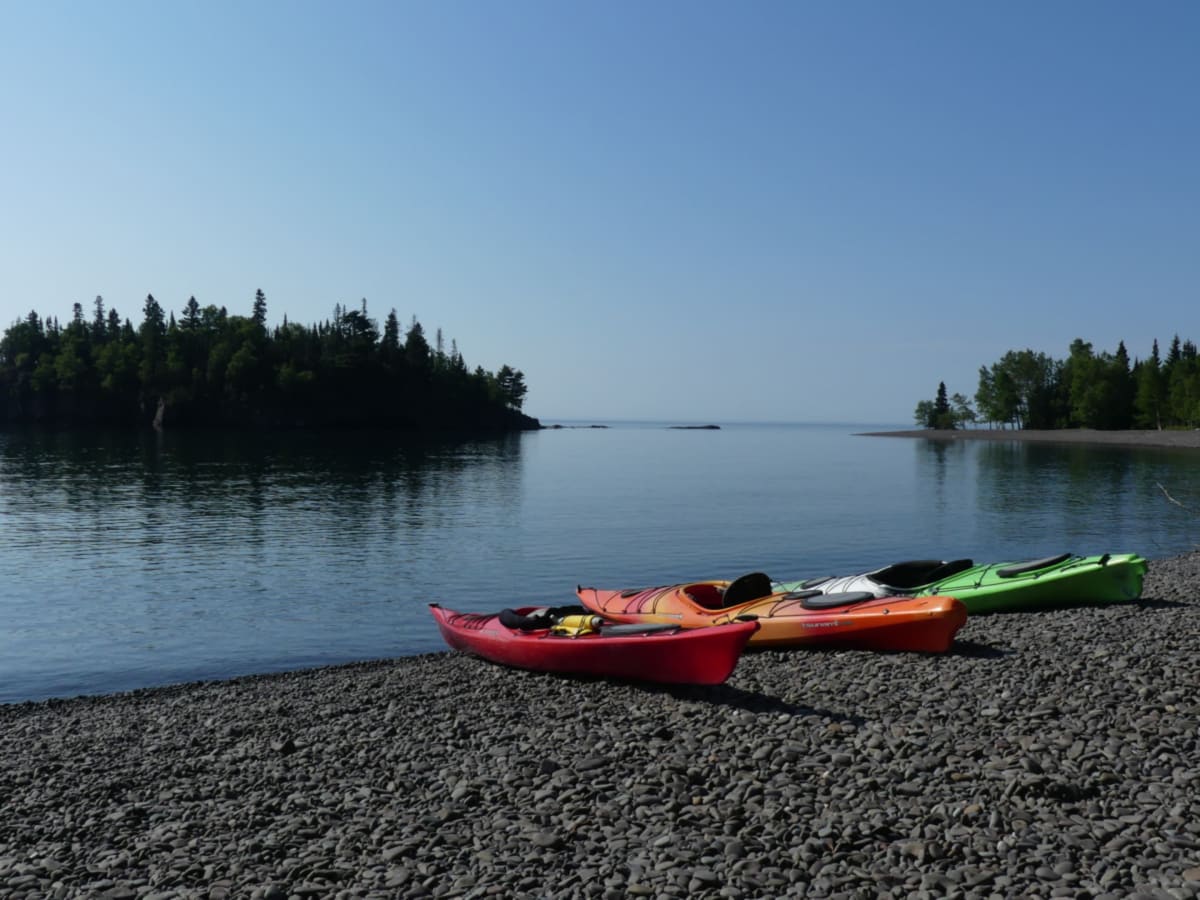 Our final stop was the artsy little town of Grand Marais (pronounced – Grand Ma-ray) This small town boasts a population of fewer than 1,500 people and serves as the gateway to the Gunflint Trail leading visitors into the Boundary Waters Canoe Area. When Al and I used to vacation in this area, Grand Marais was the town where we would replenish our provisions during our trips. It was pure magic for us to return twenty-five years later and see much had not changed. There were many of the same businesses with the addition of a few more here or there but the personality and look of the area hadn't changed.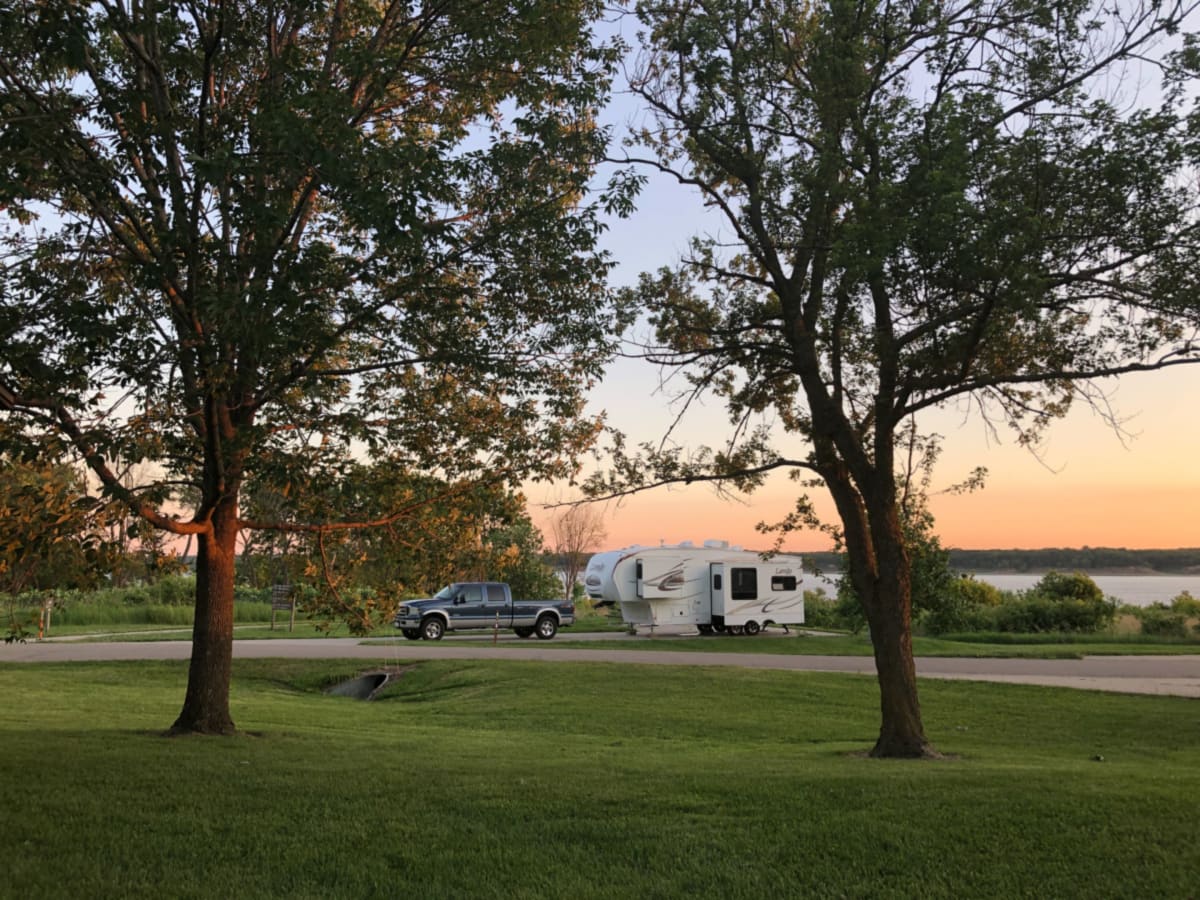 We'll Be Back
If you are looking for an RV destination off the beaten path with stunning scenery around every bend in the road, then you'll want to consider a visit to Minnesota's North Shore. My husband and I were thrilled that much of the landscape remained in its original unspoiled raw beauty over the past twenty-five years. We loved returning to an area that will always hold a special place in our hearts and are already planning a return this summer.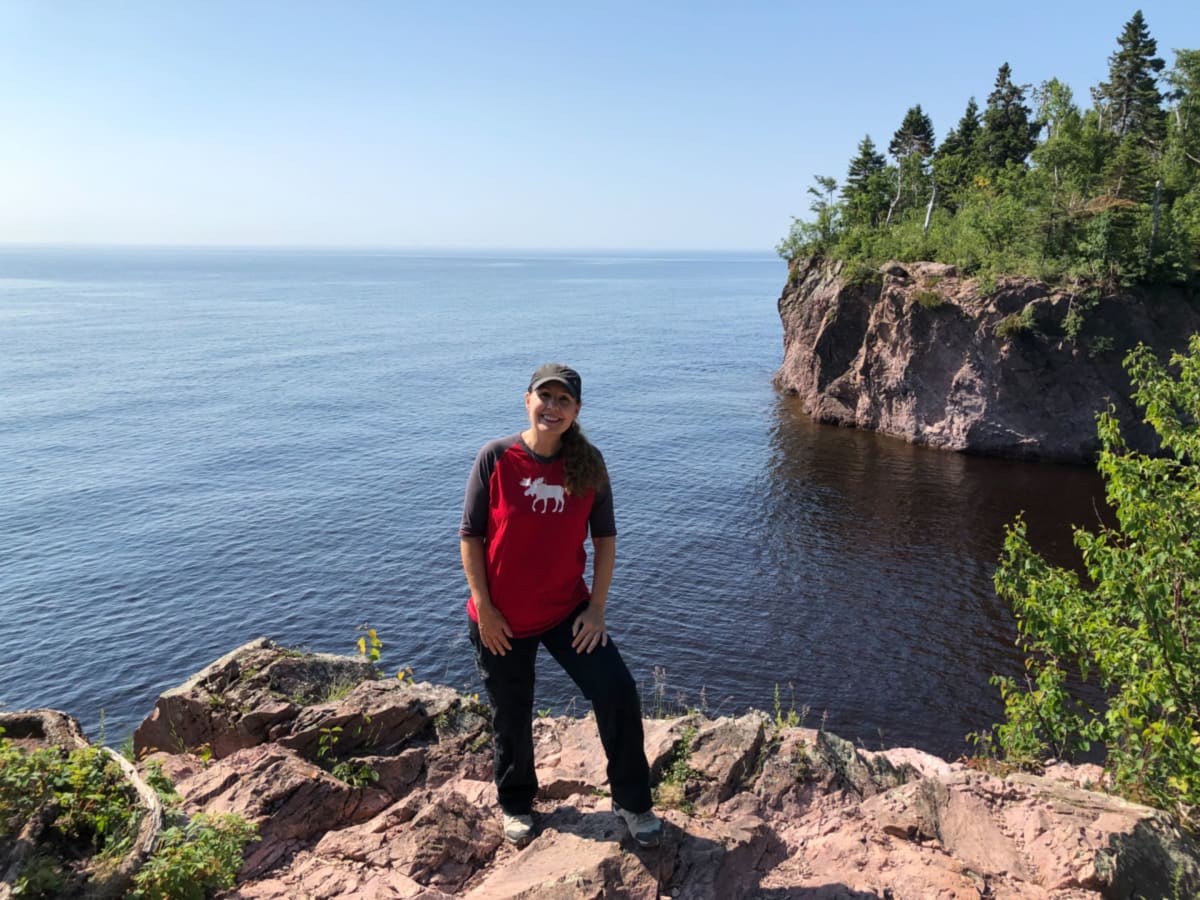 About Ingrid: Ingrid and her husband, Al, have been full-time RVers since 2013. Having met in the airline industry, travel has always been a part of their lives. Although they have changed up their RVing style of travel, they have no plans to end their RV lifestyle anytime soon. As an amateur photographer, Ingrid enjoys sharing her photographs and stories on her blog at Live Laugh RV.
Did you enjoy this story about RVing in Minnesota? Here are a few more travel posts we hope you like.
A Classic Florida Road Trip in the Winnebago Travato