Craters of the Moon National Monument
The drive was slightly longer than we anticipated, but oh so worth it. As we rounded the bend in the road, we were greeted by a strange and foreboding landscape. The land looked more like a moonscape and appeared stark and lifeless at first glance. Upon closer observation, we would soon discover that there is a vast array of thriving life among this surreal landscape.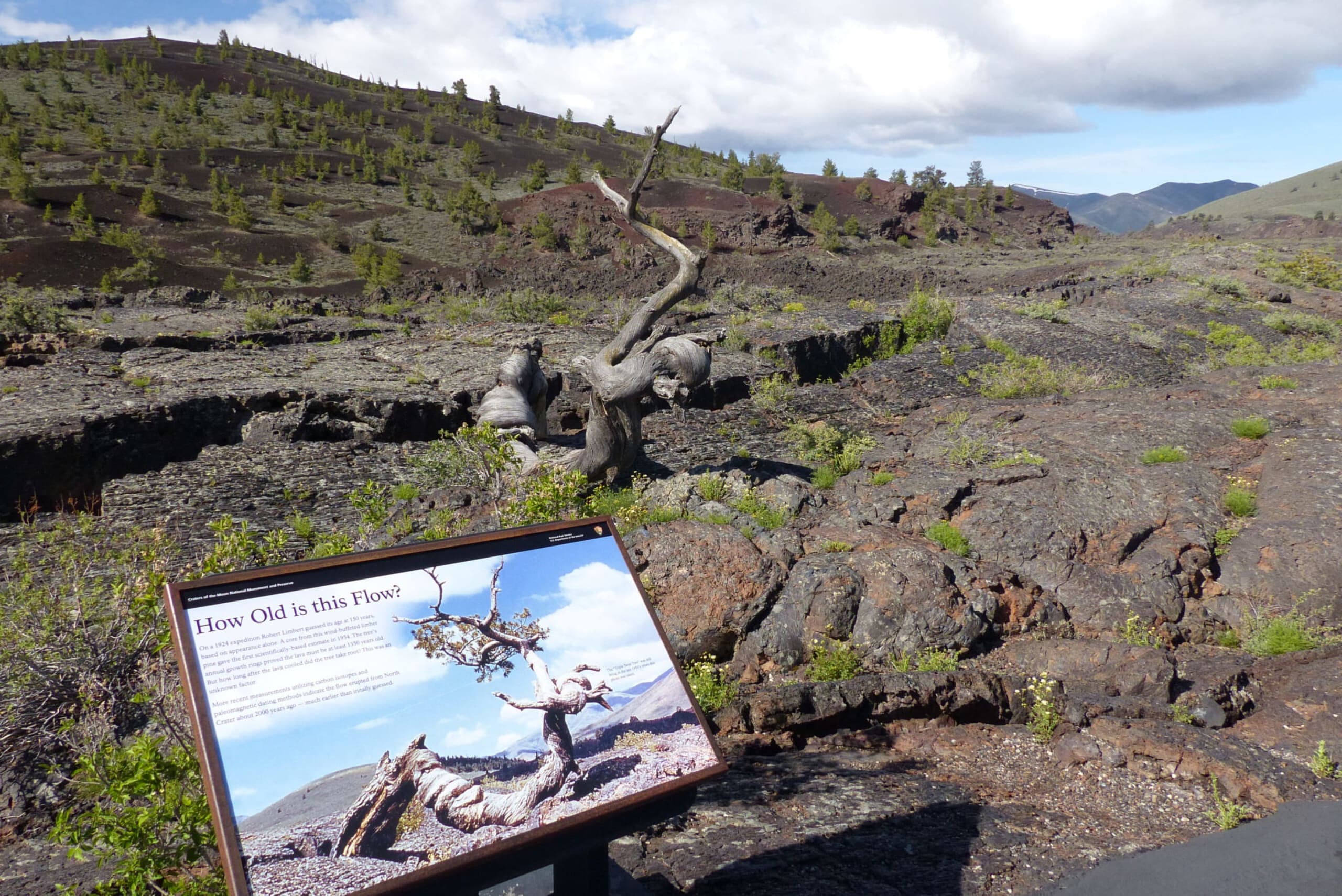 Guest Post by Ingrid of Live Laugh RV
Perplexing sight!
Entering Craters of the Moon National Monument and Preserve, we stopped at the fee station and showed our America the Beautiful Pass. The ranger handed us a park map and proceeded to inform us that we timed our early June visit perfectly for wildflower season. The harsh and seemingly barren landscape appears otherworldly and we were perplexed by the mention of wildflowers. Trusting the ranger and her recommendations, we set off to drive the seven-mile scenic loop road.
The landscape consists of scattered islands of volcanic cinder and spatter cones, craters, and ancient lava flows. There are numerous pull-outs, parking lots, and picnic areas to get up close and experience this unique geological wonder. Our enlightenment continued as we strolled several paved trails in the park complete with informative plaques.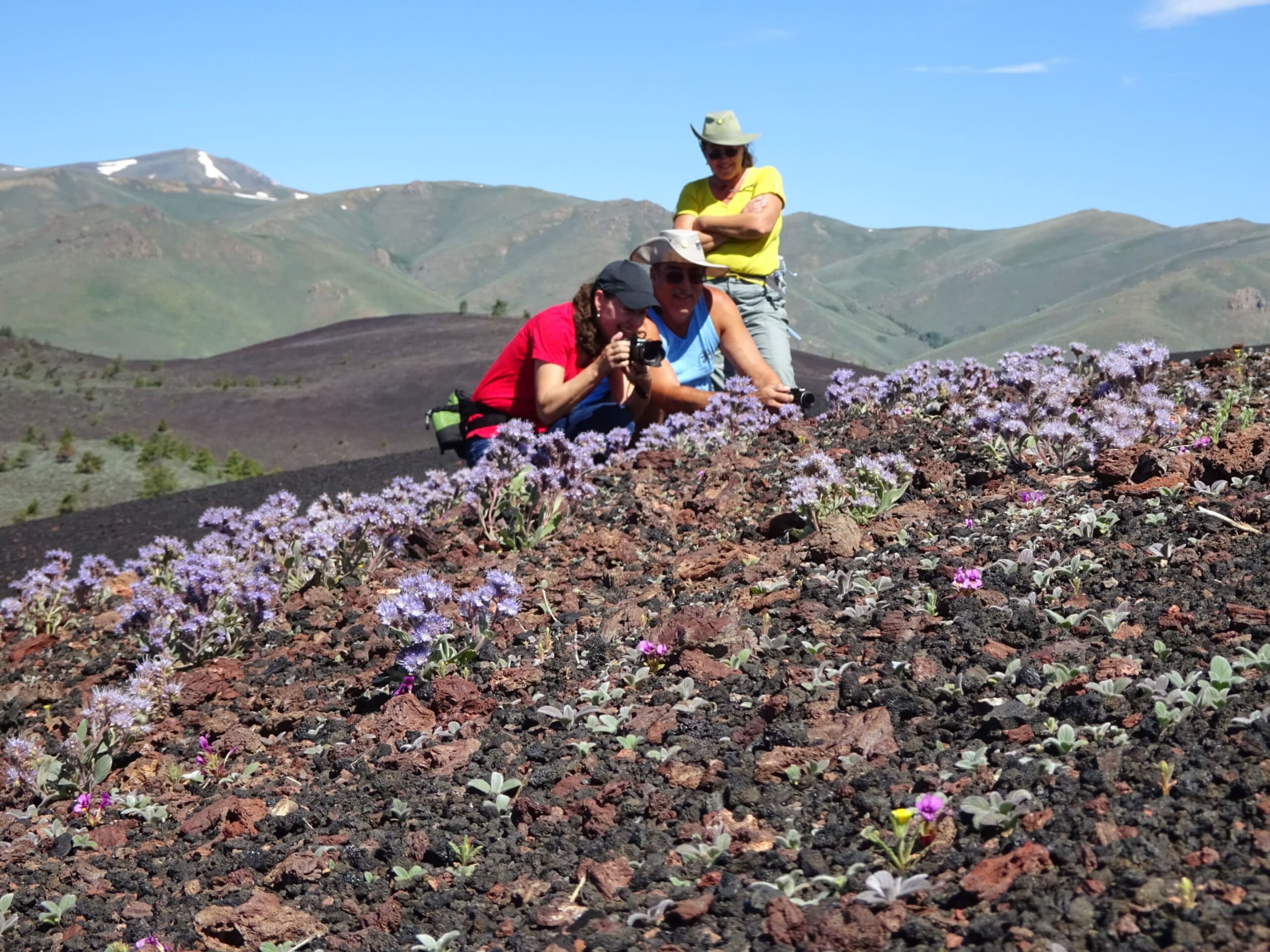 What delighted us most were the colorful carpets of wildflowers seen in all directions. The normally lackluster landscape was alive with vivid color in all directions. Our senses were assaulted in the most wonderful way from striking pinks to vibrant purples and every shade of yellow imaginable. How fascinating to see such delicate blooms emerge from such bizarre ground.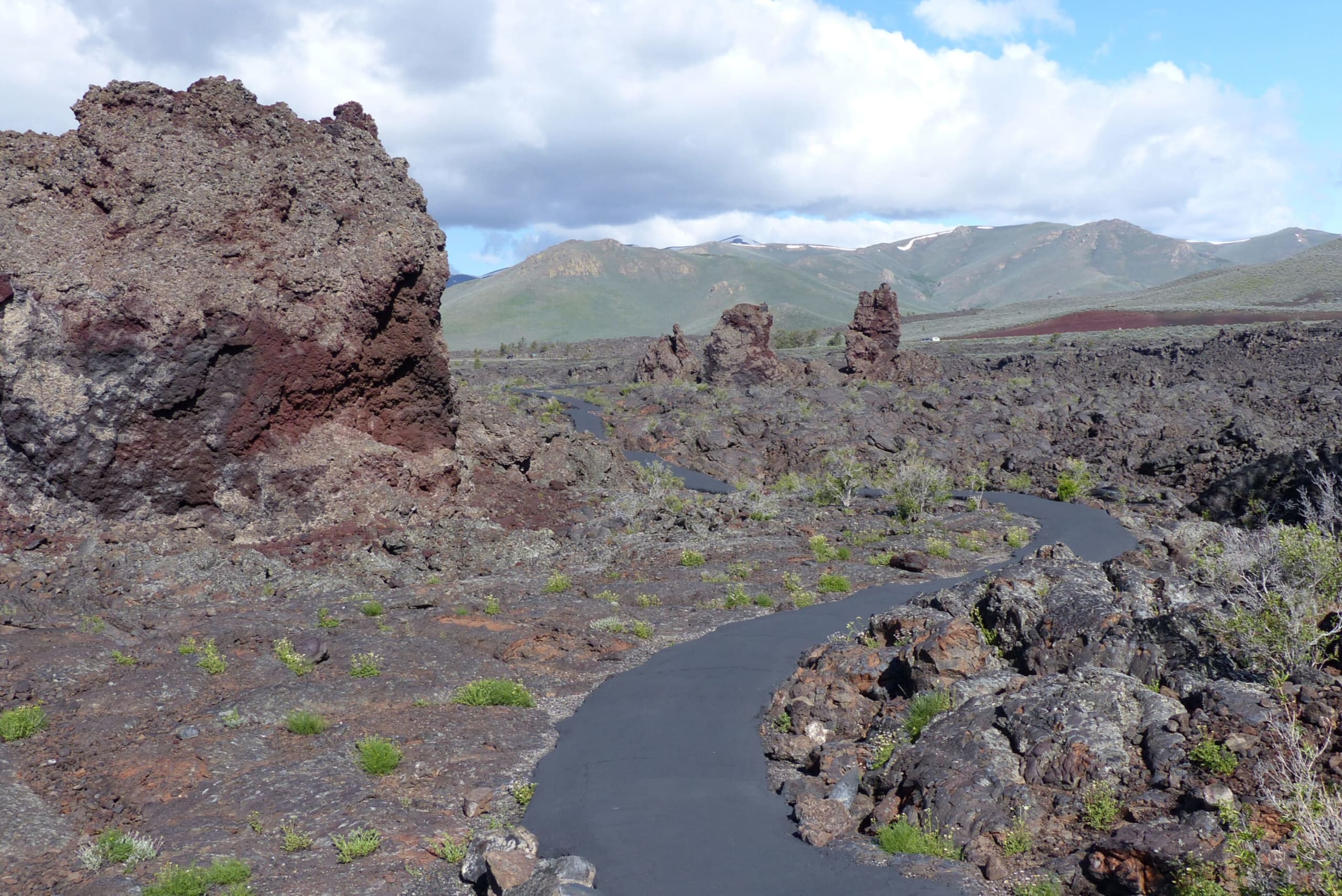 A violent past, a calm present, and an uncertain future.
The scenery at Craters of the Moon National Monument was created by a handful of lava flows over time. You won't find any large volcanos here, but you will see around 25 cinder cones, each one qualifying as a small volcano. The lava here didn't erupt out of volcanoes, but rather oozed out of fissures in the earth and occasionally spewed out of vents. The monument's volcanoes aren't extinct, merely dormant.
These lava fields are considered to be the oldest in the United State, and thus, perfect for NASA research and space training. We were able to talk to several NASA researchers staying in our RV Park in Arco. They were studying the basalt rock and furthering their research for an impending Mars exploration. After two weeks at Craters, their research would continue in Hawaii where they would study the youngest basalt rock. In 1969, Apollo 14 astronauts prepared for their trip to the moon with a visit to Craters.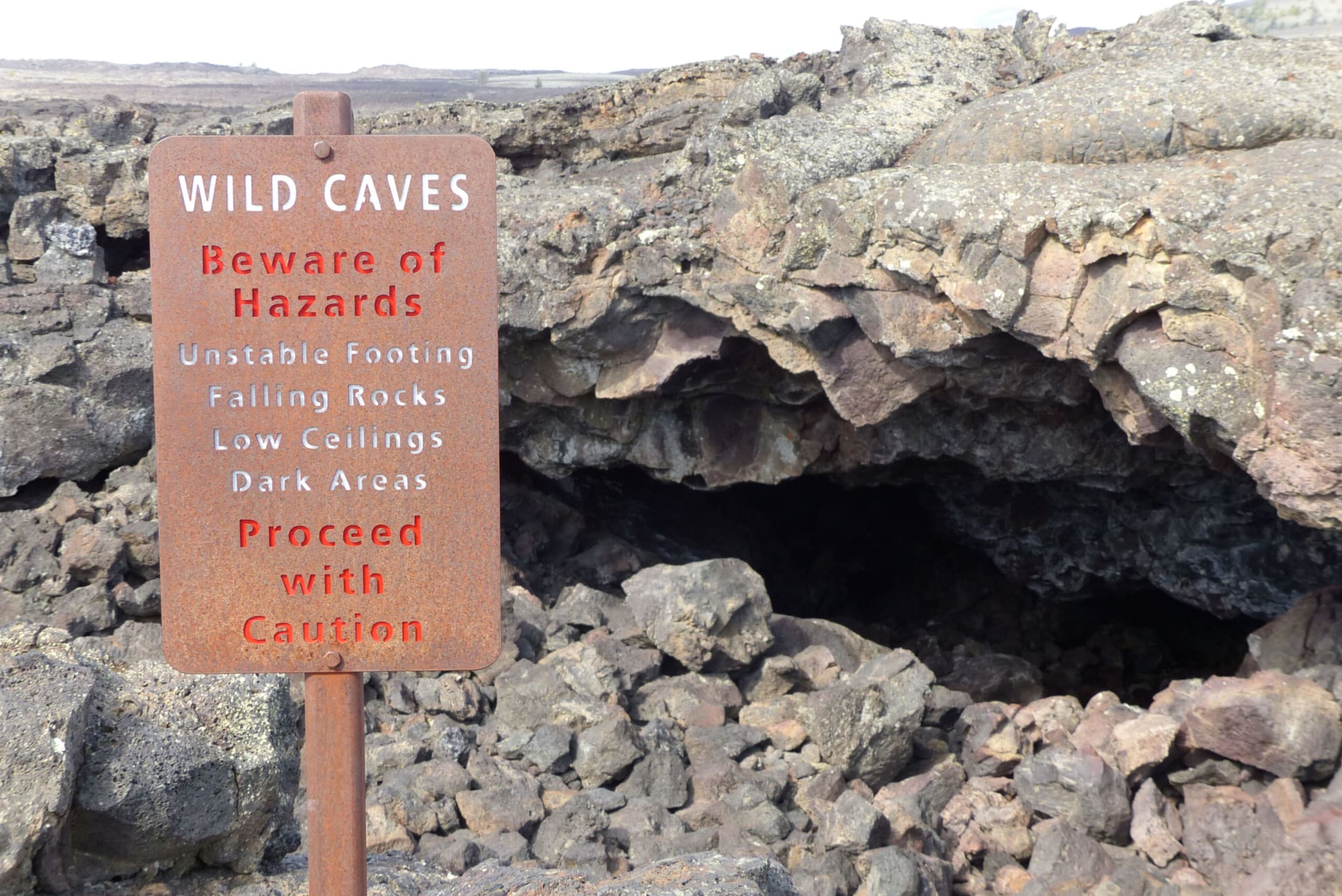 Diving deeper into the land.
Craters of the Moon is well-known for its lava tubes. These underground passageways were created by lava flows and were capable of transporting great quantities of lava long distances underneath the surface. When the supply of lava stopped flowing, it left behind an empty cave-like tunnel.
There are several lava tubes within the park that can be explored. The easiest and most popular is the Indian Tunnel. It is a 1.6-mile roundtrip hike that starts with a staircase leading down into the earth. The trail scrambles through the tunnel over rocks and boulders and emerges out of a large crevice in the earth. The return trail took us across a lava bed, and we were grateful we wore sturdy shoes for this trek. Light shines into Indian Tunnel from places where the tunnel has collapsed over time. A flashlight would be handy but not necessary. What is necessary is a free permit obtained at the visitor center.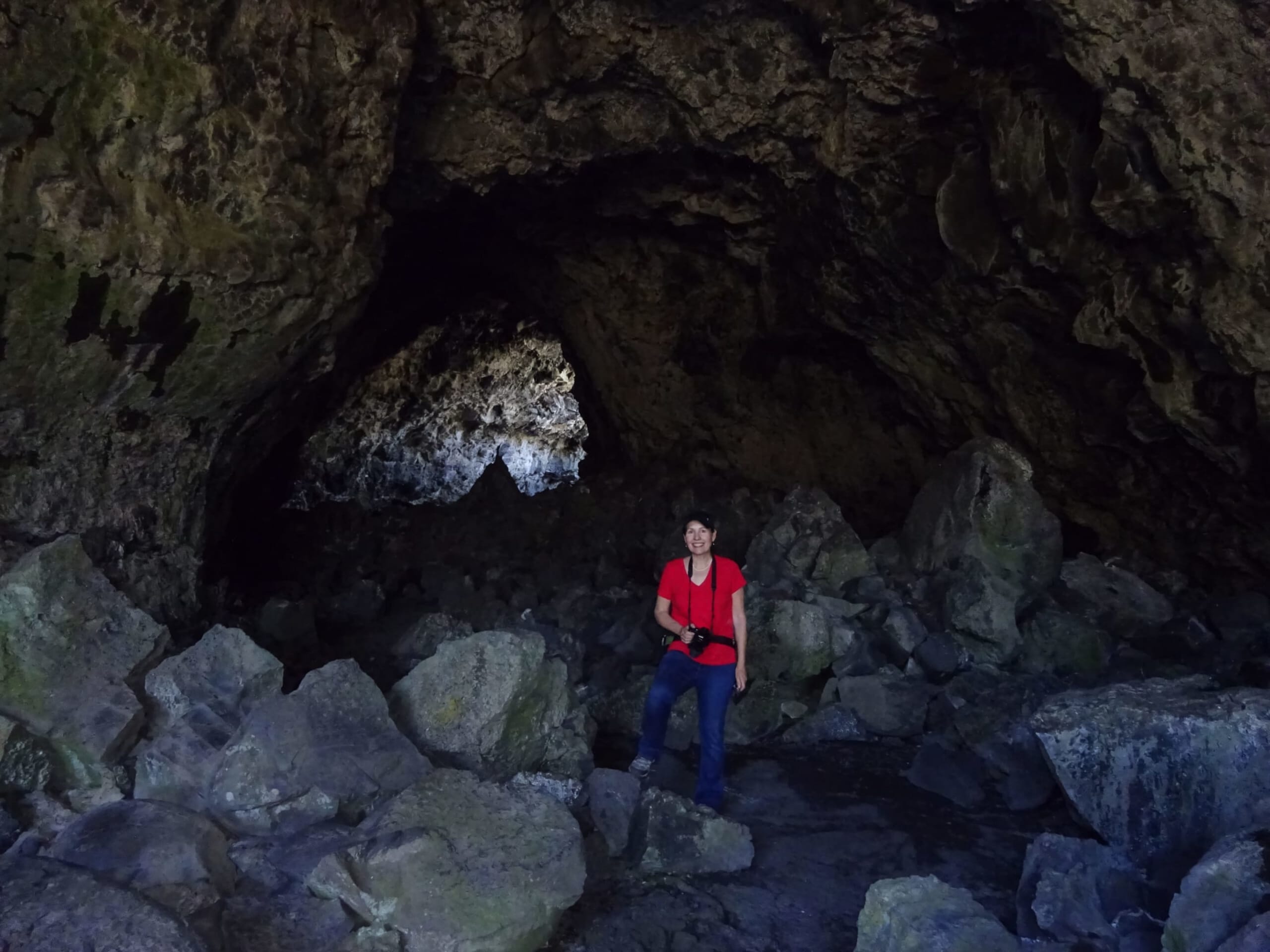 These lava tubes are home to several species of bats. Some bats are susceptible to the White Nose Syndrome disease which has a very high mortality rate. The disease does not affect humans, but it can live on surfaces for a long time and be carried by people from cave to cave on clothing and equipment. Therefore, in an attempt to prevent the spread, the park service requires guests to obtain a permit before hiking any lava tube. The park rangers also check these lava tubes regularly for safety.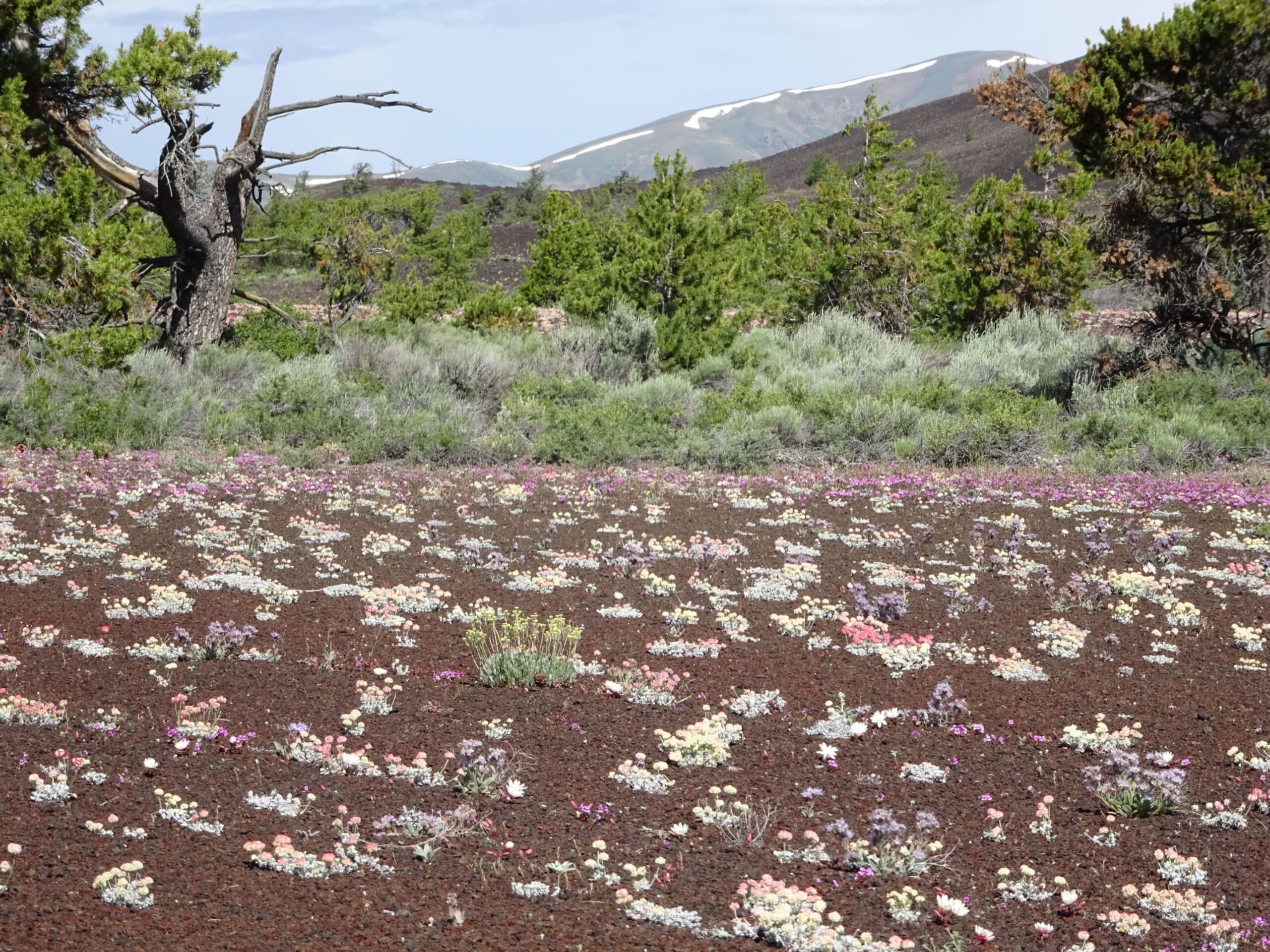 From low to high.
After exploring beneath the surface, it was time for a birds-eye-view. We were up for the challenge and embarked on the steep climb up to the top of the popular Inferno Cone. Our reward was an impressive 360-degree scenic view filled with cinder beds, cones, lava flows, hoodoos, and a panoramic view of the overall strange landscape.
Although this relatively small park can be explored in a day, we allowed ourselves three days and are so glad we did. After taking in the most popular sights, we were able to spend time at the visitor center and then explore other trails as well as do some repeats. Our knowledge expanded with terms like lava bombs, spatter cones, molten, cinders, hibernacula, and more.
Unfortunately, we experienced some overcast skies during our visit and were unable to photograph the Milky Way. Craters of the Moon National Monument is designated as an International Dark Sky Park and has some of the darkest skies in the national park system. There is a total lack of light pollution here making it a popular spot with astronomy enthusiasts and photographers alike.
Whether you part-time, full-time, or some-time, the RV lifestyle is a great way to experience life and explore ancient lands rich in history. We were thrilled with the surreal scenery and geologic variety of cooled lava fields, tunnels, wildflowers, and wildlife. Discovering this national monument in central Idaho was a pleasant surprise, but the drive to get here was also interesting and full of history.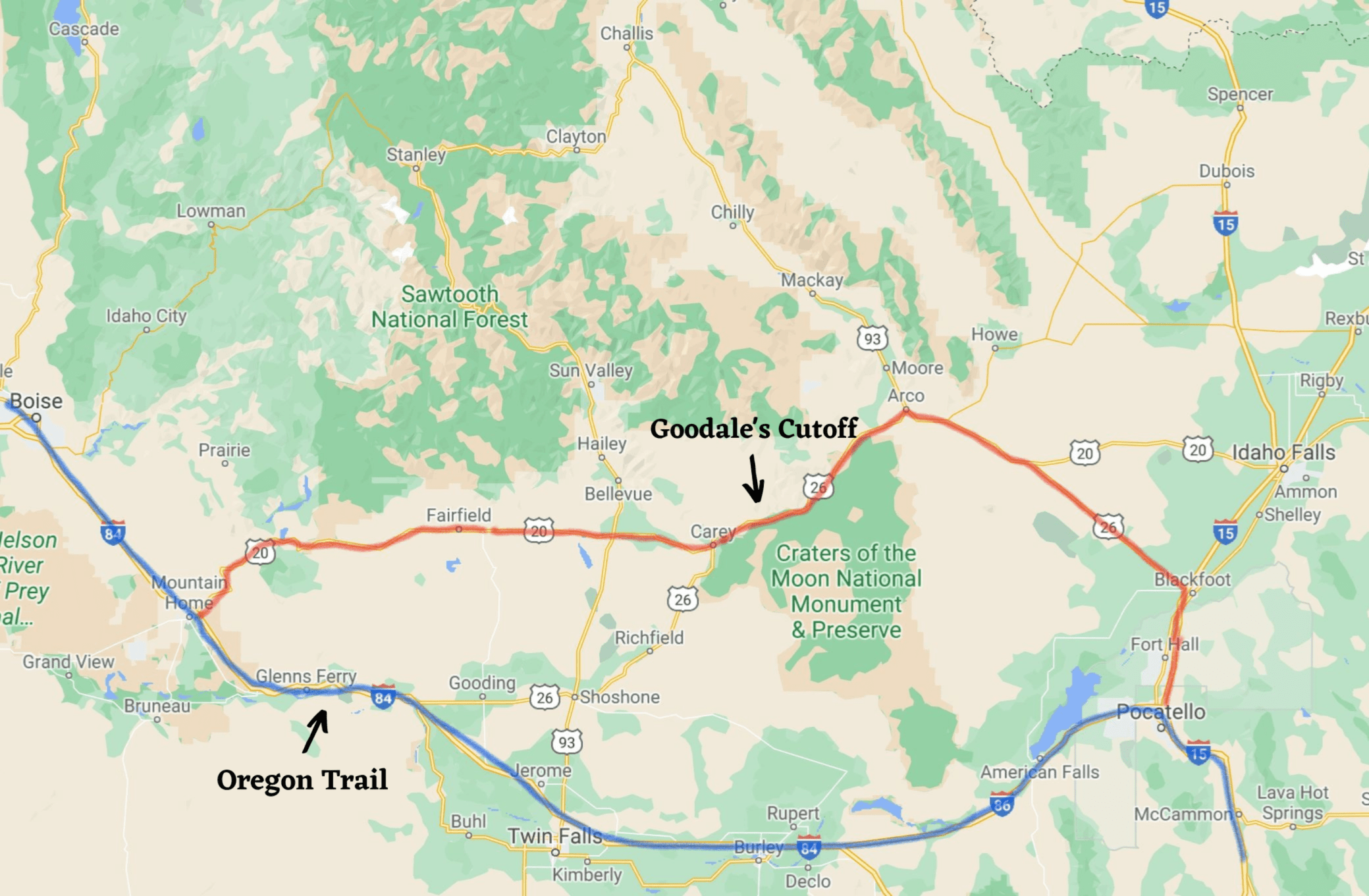 Goodale's Cutoff
The Oregon Trail was roughly a 2,000-mile route from Missouri to Oregon and was traversed by thousands of pioneers to emigrate west during the 1800s. In the state of Idaho, the trail traveled along the Snake River and became a popular area for armed skirmishes to break out between the Shoshone Indians and the emigrating pioneers traveling by wagon train.
To avoid attacks, pioneers began trying new routes including a narrow passageway between the treacherous lava fields and steep mountains. This cutoff was named after Tim Goodale, an early guide on the route. Today, portions of the trail are covered by the modern highway but remnants are still visible and marked with white markers.
Driving along this route, I couldn't help but wonder what went through the minds of those early pioneers when confronted with such desolate and dismal scenery. The thoughts were humbling as we drove a portion of Goodale's Cutoff with all the comforts of our climate-controlled truck and our equally comfy Fifth-Wheel pulled behind. We were traveling in luxury, for sure, but as RVers in search of new places, new adventures, and new discoveries are we today's version of a pioneer? Hmm, let's ponder that thought as we continue to experience life on the open road.
Ingrid and her husband have been full-time RVers since 2013. You can follow their journey at LiveLaughRV.