Along the I-10 freeway between Los Angeles and Phoenix, RV travelers will find themselves in the heart of a quaint town of Quartzite. This town remains as the perfect pit-stop for RVers looking for peaceful respite in the quiet of the Southwestern desert. Though here, every new year is kicked off with the largest RV gathering in the country.
At first passing glance, one may think this small town doesn't see a lot of travelers. Would you believe us if we told you this Sonoran Desert hotspot gets over two million visitors a year? Yes, you read that right. TWO MILLION. Not only is this place known for being the "Rock Capital of the World" but it might just be the RV boondocking capital of the world too. Want to know why? Keep reading below to learn about this not so hidden gem (pun intended).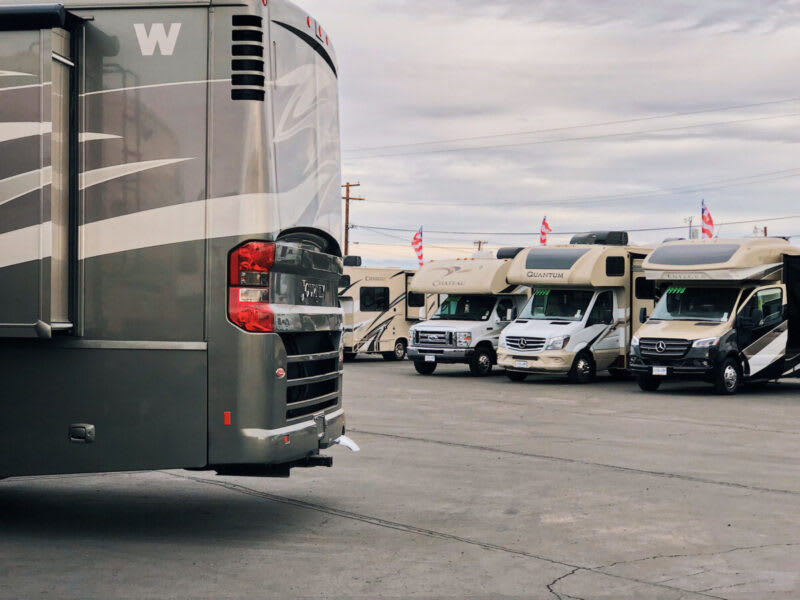 LA MESA RV QUARTZSITE
FREE BREAKFAST SERVED AT SILVER BUCKLE CUSTOMER OASIS
If you are an absolute RV enthusiast or seeking the perfect fit for your new home on wheels, there's no better way to kick off a year than by making your way to La Mesa RV in Quartzsite. During the first two months of every year, La Mesa RV opens the doors to the Silver Buckle to provide passing RV travelers a free pancake breakfast and up-close opportunity to walk through the latest and greatest models from top manufactures including Entegra Coach, Heartland, Leisure Travel Vans, Tiffin Motorhome, Winnebago and more! Free breakfast is served Monday thru Saturday from 8am to 10am, so be sure to stop by if you're looking to fuel up before a full day at Quartzsite!
MEET BOB TIFFIN AT LA MESA RV
This year, La Mesa RV partnered with Tiffin Motorhomes to provide our proud Tiffin owners with a unique (and did we mention free?) opportunity to meet the legend behind the brand himself, Bob Tiffin. Quartzsite marked the start of Bob Tiffin's meet and greet tour with La Mesa RV, where fans of Tiffin brand could step into an all-new Allegro Bus for an up-close and personal chat with Bob Tiffin.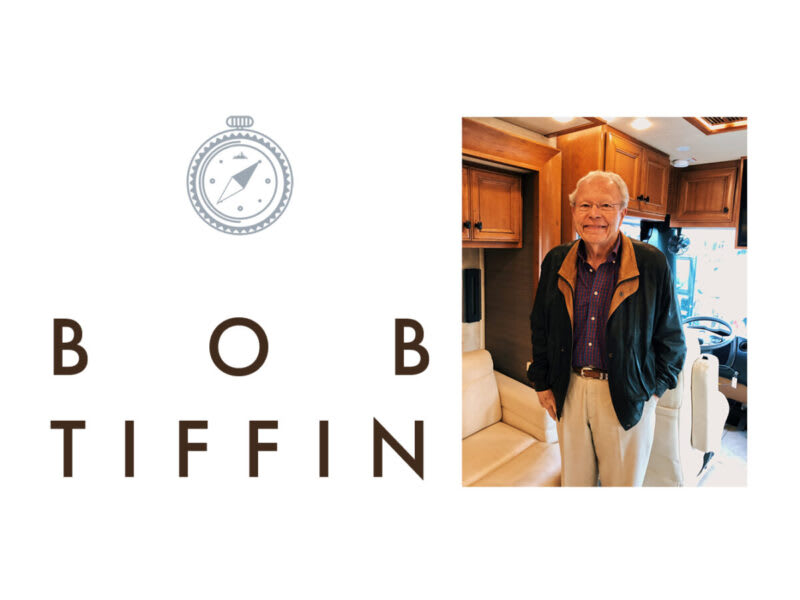 As road warriors crowded, Tiffin owners Chris and Laura brought along a shelf from their motorhome, a memento was made with a signature from Bob Tiffin.
"We've been wanting to come to Quartzsite for a couple years. This is our first time and when we found that Bob was going to be year, we figured it was the perfect opportunity to see him and the new Phaeton," Chris said.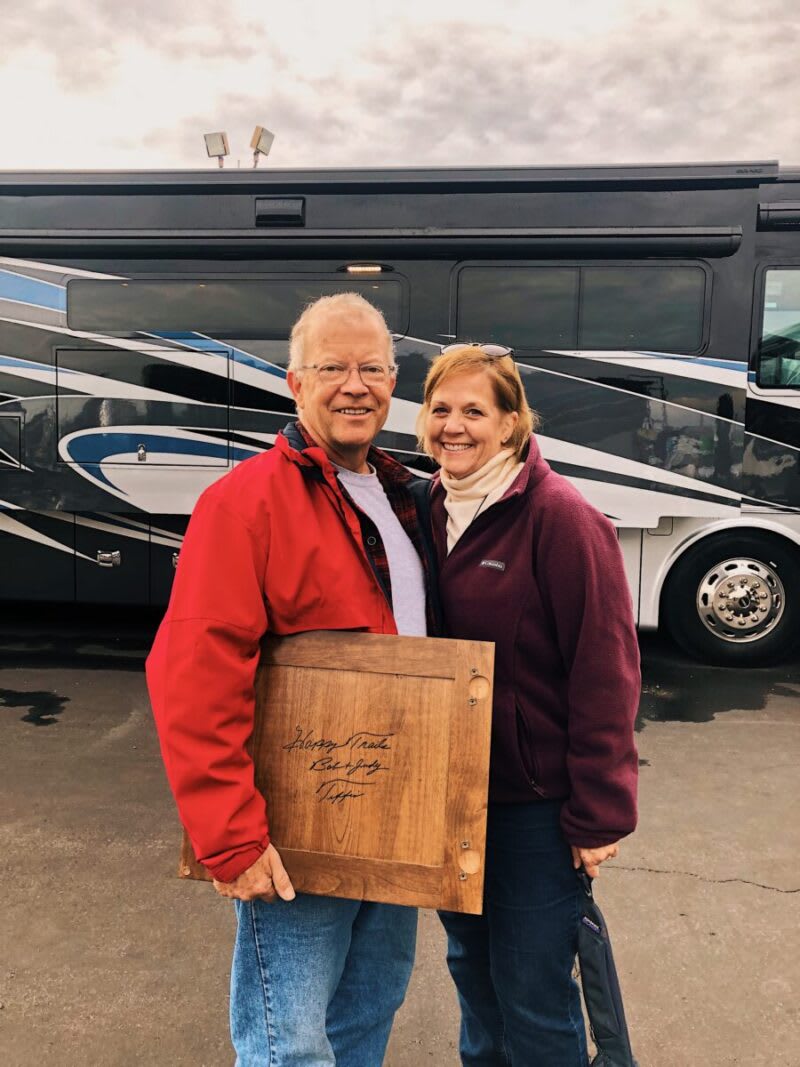 If you have yet to find your own dream RV, and are on the fence on which would be the right fit, take Laura's advice: "Some people say, 'get whatever you can afford and just go'. But I think it's more important to get what you are comfortable in. That makes the biggest difference!"
"Research, research, research!" Chris and Laura did their due diligence and traveled to several RV shows to find the perfect RV. And what better place is there to do your RV homework than on a paved lot in the largest RV gathering town in America?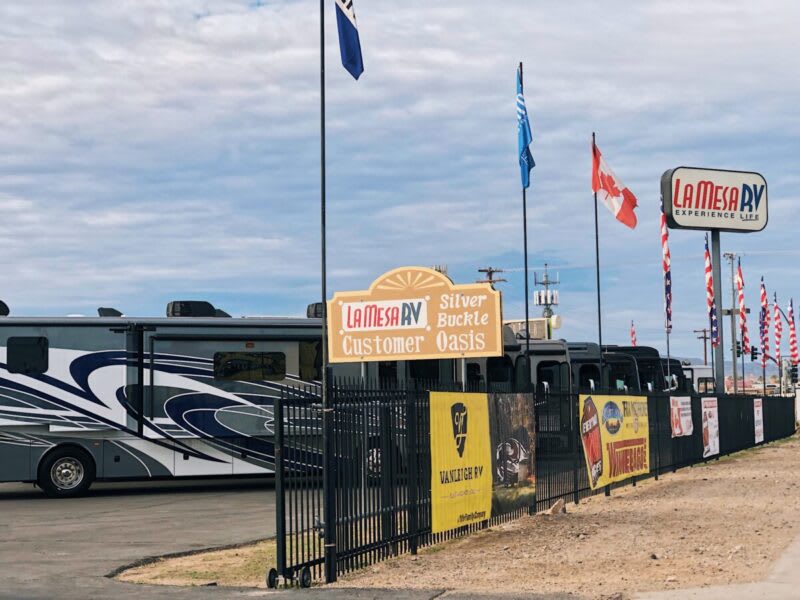 QUARTZSITE SPORTS, VACATION & RV SHOW
The surrounding mountains and pristine desert views hosts a week long Sports, Vacation and RV Show that is completely free to the public. This 20 acre facility has turned into a mecca for all adventure seekers, making the event "The Largest Gathering of RVers in the World." In walking distance, you will also find a two-month long Gem Show and Swap Meet that takes place every January and February. Exhibitors from all around the world bring their unique treasures to sell, while visitors gaze at the vast array of rocks, gems, mineral specimens and fossils.
Worried about where you're going to park your rig in such a small town? The Quartzsite sun shines down on over 20 RV parks, as well as, a number of BLM areas where you can stay up to two weeks for free. Quartzsite happens to be surrounded by a significant amount of federal land, so if you choose to stay at a RV park, expect the cost to be much lower than other areas of the country. For more information on RV accommodations, visit here. You can expect to see RVs in the thousands during this time, so tell your fellow road warriors to join for the ride!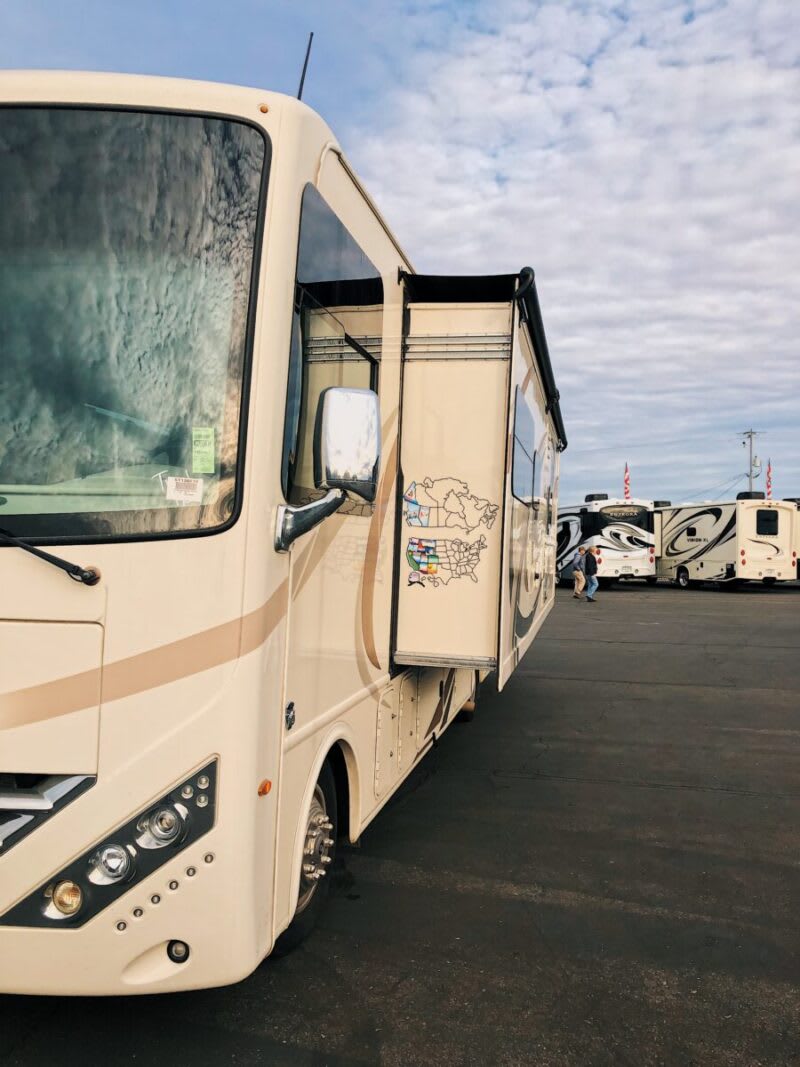 LOCAL GEMS AND MUST-SEE SPOTS
RV PIT STOP
Need a fill up? Have you run out of propane? Need a spot for the night or even long-term? RV Pit Stop is truly your one stop shop. With 40 RV spaces, custom hoses and parts, sewage dump hook-ups and propane refilling stations, your RV will come out of this site one happy camper (yes you guessed it, pun intended). We had the pleasure of meeting the owner Cathy Daniels and we can say that without a doubt, she will make sure you feel right at home. Also, make sure to check out her #1 recommendation in Quartzsite, Gem World. In her words, "If you love jewelry, this is the place for you."
ROCKMANIA
Now, an absolute must-see in this town is one of our favorites, Rockmania. Even if you're not an avid rock hound, you will still be amazed by the quality of gems, fossils, spheres, amethyst and rocks this place has to offer. In business for only three years, Rockmania has quickly become a fan favorite in this city, sourcing most of their items from Brazil, Morocco and Mexico. Among all the gems, the real treasure you will find in this establishment is the owner, Hank. He will welcome you with all the rock knowledge one person could ever have and make your experience a memory that will last a lifetime.
HI JOLLY MONUMENT
Whether you're in town for the RV show or just making your way through, be sure to stop at the Hi Jolly Monument that memorializes one of the United States Government's first official camel riders, Philip Tedro. In 1856, Philip was one of the first camel drivers hired by the US Army to lead the camel driver experiment in the Southwest. This living legend stood out from the rest of the riders due to his ambition and feisty nature.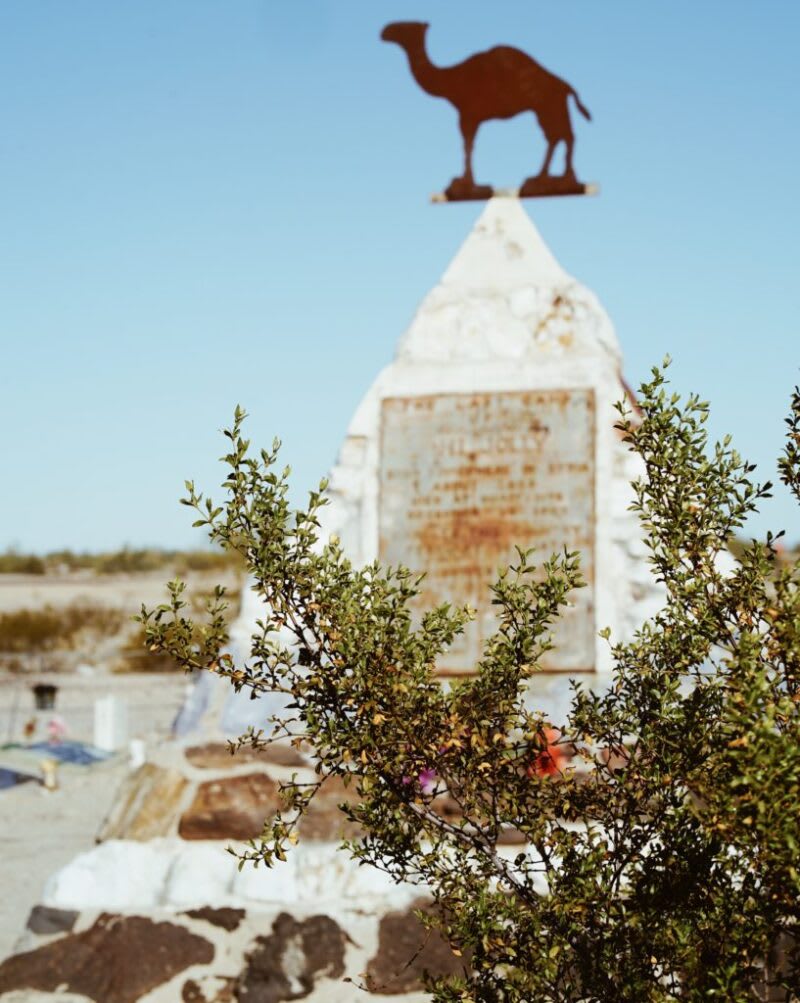 After 30 years of serving the U.S. government faithfully, Philip settled down with his family in Quartzsite and was a well-respected, well-liked individual in the town. His monument, a pyramid made from stones built by locals in the pioneer graveyard, is comprised of multicolored petrified wood and of course, quartz. It is topped with a beautiful copper camel. A serene desert vista can be seen from every viewpoint, making this monument a very special place for Arizona locals and visitors.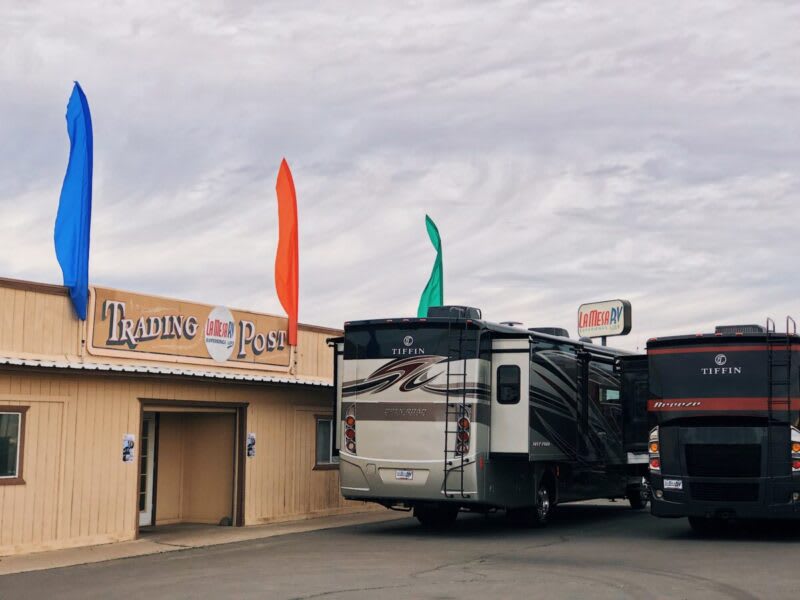 TOP RV CAMPGROUNDS IN QUARTZSITE, ARIZONA
Kofa Mountain RV Park
Details: This big rig friendly RV park is ideal for those who want to stargaze, enjoy wildlife and explore the beauty of Quartzsite.
Address: 170 N Central Boulevard | Quartzsite, AZ 85346
Daily Rate: Click here for pricing
Pet Friendly: Yes
Full-Hook Up: Yes
Split Rail RV Park
Details: This 80 space RV park is located on the northern edge of Quartzsite and is a great location to relax, sit back and enjoy the beauty of this quaint town.
Address: 1258 N Central Blvd | Quartzsite, AZ 85346
Daily Rate: $30
Pet Friendly: Yes
Full-Hook Up: Yes
B10 RV Park and Campground
Details: With over 120 campsites, free Wi-Fi, shower and laundry facilities, pet walk and potlucks, you'll have everything you need at B10.
Address: 615 West Main Street | Quartzsite, AZ 85346
Daily Rate: $ 27 – $37
Pet Friendly: Yes
Full-Hook Up: Yes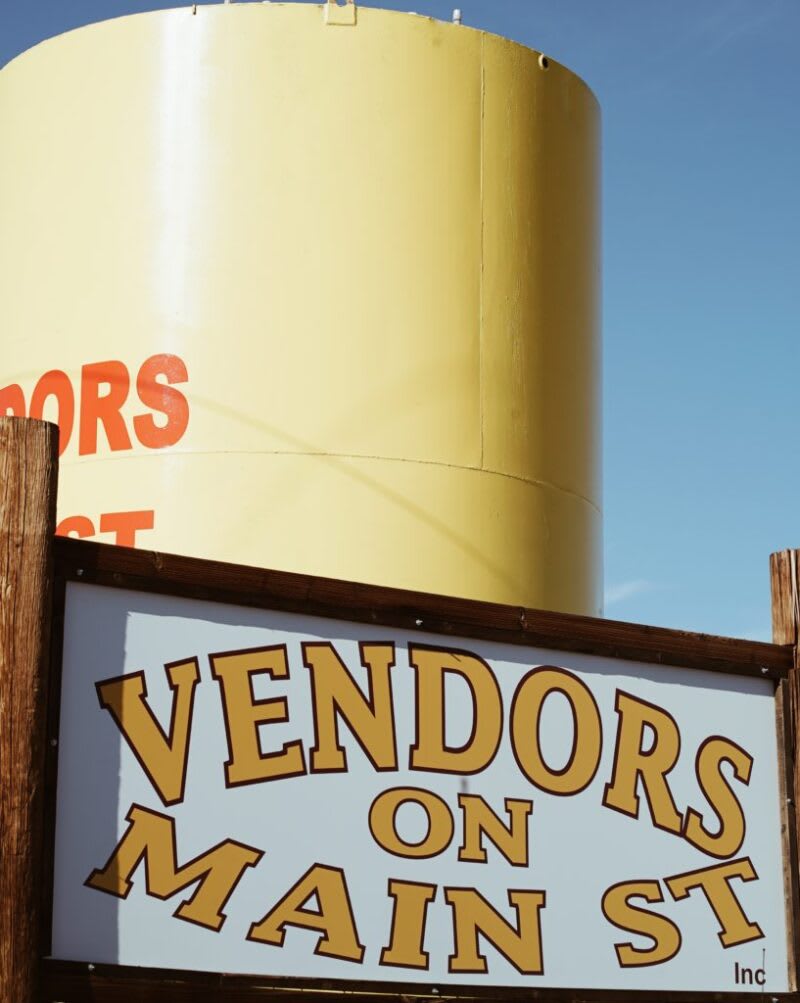 VENDORS ON MAIN STREET
RUG GALLERY OF QUARTZSITE
Open for 13 years, the Rug Gallery of Quartzsite has been a staple in serving its community. You can expect to see owners Donna and Karl out here everyday talking to customers, serving hot cocoa in the chilly months and making sure that every visitor feels welcomed. They live out of their Cedar Creek Hathaway Edition 5th Wheel, which they actually purchased from La Mesa RV Quartzsite around a year ago. We were so pleased to hear about their experience when they shared with us, "The process was seamless. Smokey was our sales rep who was extremely helpful, along with the finance team. We wanted to do a trade in, so we walked in, picked out the one we wanted and 30 minutes later had our new RV." Meeting this couple was a treat, so if you're in the area, stop in and say hello – they will welcome you with open arms.
ARTZY THINGS
If you are a lover of anything quirky, Artzy Things is the place for you. Open for 25 years, Becky and her husband Mike have kept this shop alive with spunky suspenders, marionette puppets, magnetic salt & pepper shakers and the deliciously sweet, Montana Jam. Montana is where they call home in the summer months, so they make sure to bring a hefty supply when traveling back down to Arizona for the winter. These snowbirds are as friendly as they come, so stop in, say hello and don't forget to pick up some jam or freshly made syrup on your way out.
UPHOLSTERY GUY
Does your rig need some TLC? If so, Randy is your guy. From repairing RV seat cushions to OHV accessories, this handyman can take care of it all. Randy and his wife have been RVing full time for six years now and have always loved to camp, fish and hunt. Growing up, they went on summer camping trips with their families and always made time for the outdoors. We knew there was no better man to trust when we asked what he could fix and his response was, "Anything that can be covered."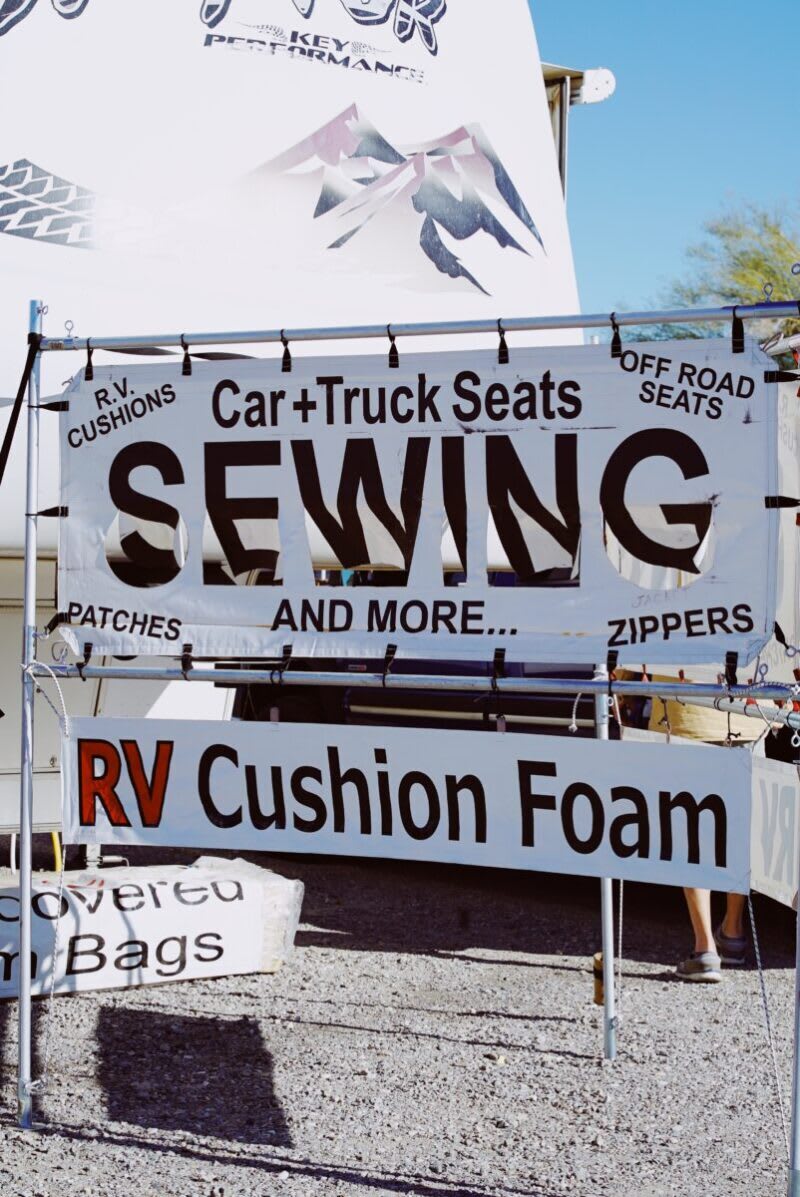 JG'S ITALIAN & AMERICAN FOOD
Did you really think we would leave without giving you a food recommendation? If you find your stomach grumbling on I-10, there's no better place to quickly stop than JG's. This food truck can whip up a mean biscuits and gravy, or if you're feeling Italian, their lasagna is unmatched. Best of all, if you and some friends are staying for the RV show, JG's does deliveries for groups!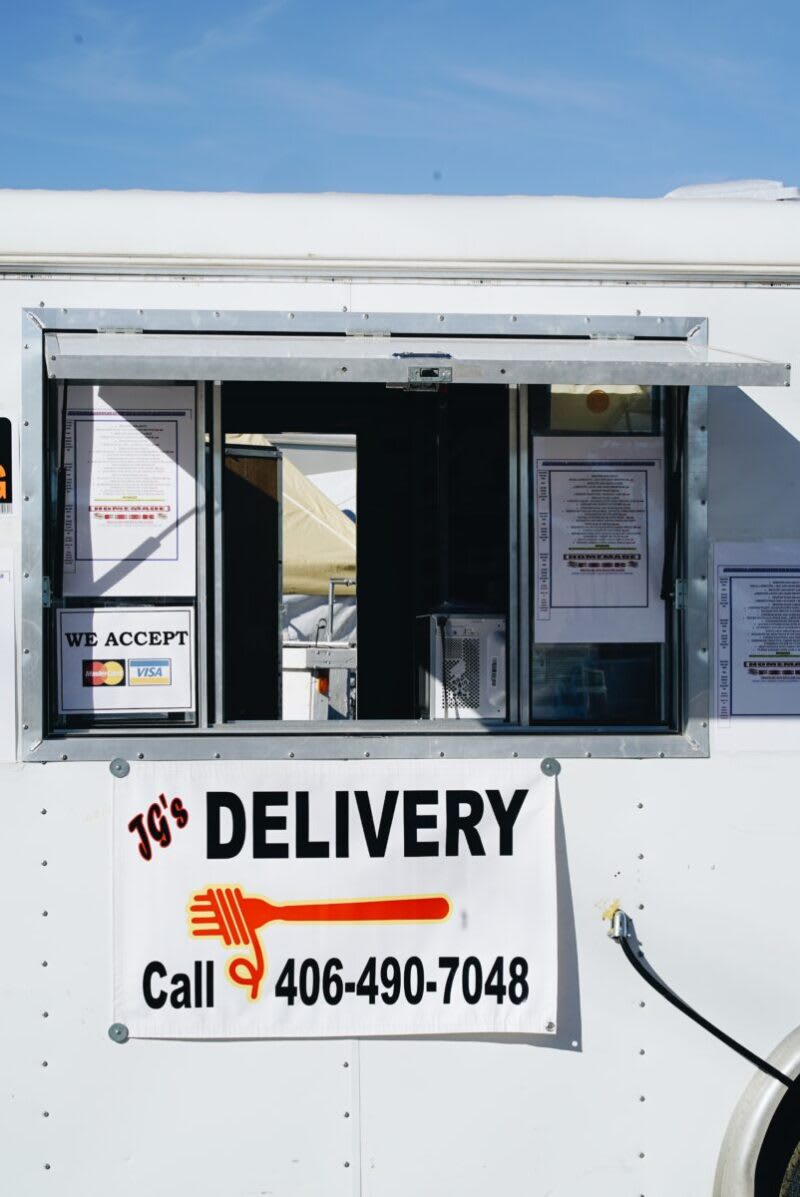 Are you still in the market for your dream RV? Check out our list of the Top Five Trending Customer Favorite RVs for a peek into the models that have already made the most buzz this year!