If we told you that this couple had never tent camped, stayed in an RV or at a campground before they sold their home and moved into an RV full-time, would you believe us? It sounds like a fantasy take on the adventure lifestyle, but that's exactly what Scott and Van did, and they haven't looked back. This impressive couple, along with their 12-year-old daughter, are living the RVing dream!
"We haven't been everywhere yet, but it's definitely on our list," the duo shared with us when we touched base for this interview. To say that we're inspired by this family is an understatement. They've been bottling up what makes this lifestyle so special and sharing with the RV community. From a day in the life full of working, homeschooling and exploring, there is so much to learn from The Adventure Detour. Check out the interview below and be prepared to want to sell your house and get on the road.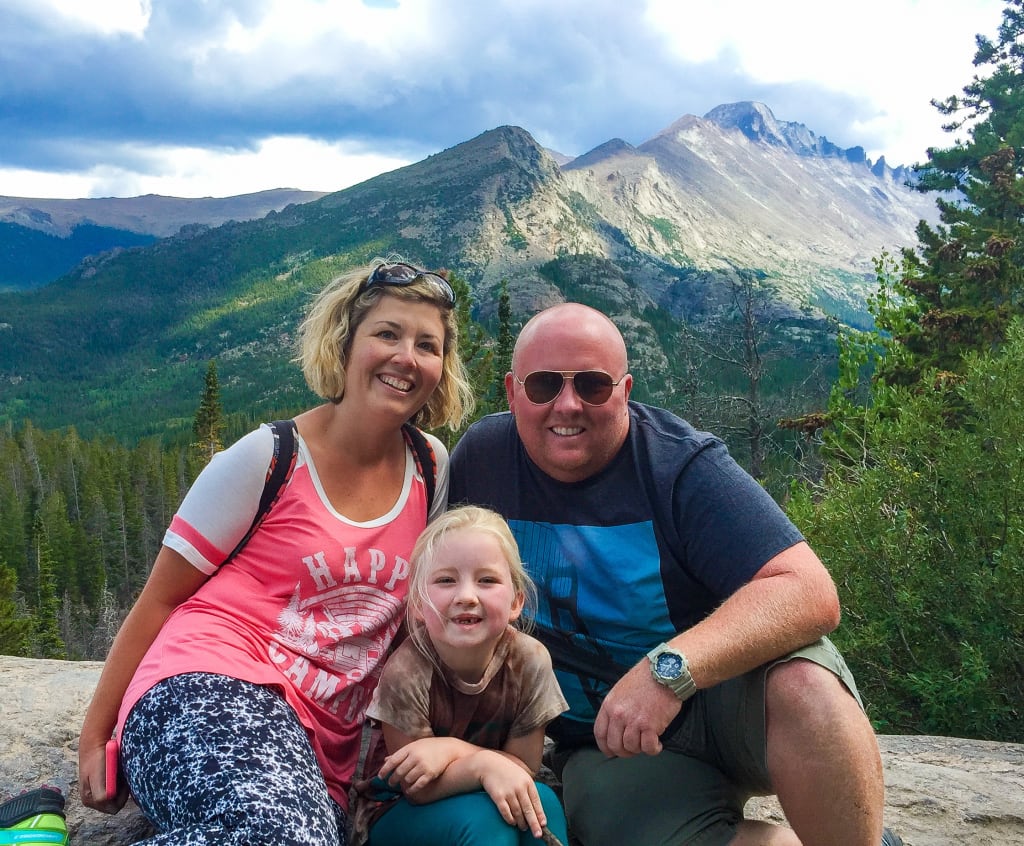 All Photos By Scott and Van 
La Mesa RV: Tell us about yourselves! What do you do for a living? How did you meet? 
Scott & Van: Scott and I actually met all the way back in high school on a popular cruising strip. I flashed my headlights at him, he pulled over, and the rest is history. We have been married 22 years and have a 12-year-old daughter, Sissy. Scott works in sales and we are working on developing a second income through blogging and content creation.
LMRV: What got you interested in the RV lifestyle? How long have you been on the road?
S&V: Would you believe that we had never been in an RV, never tent camped, and never stayed in a campground when we made the decision to sell our home and buy an RV to travel full-time? There is nothing quite like selling everything and jumping in with both feet! We felt strongly led to the full-time RVing lifestyle and really wanted that adventure for our family.
I think we were craving more freedom and the chance to spend more time together. I was also drawn to the educational aspects of taking my daughter to all of the national parks and states as we travel. I wanted to create lasting meaningful memories as a family and we have done just that.
We sold the house and began RVing full-time back in 2015. Our 7-year Nomadaversery is in September. We have visited 42 states, all 5 Great Lakes, Canada twice, and 38 national parks so far. We haven't been everywhere yet, but it is definitely on our list!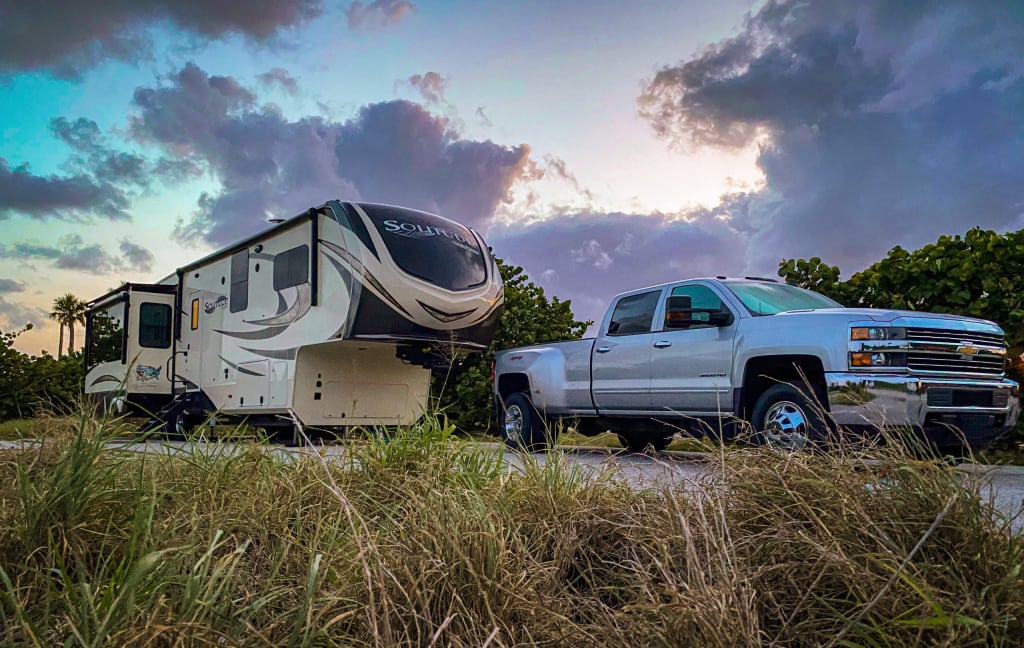 LMRV: Which RV(s) do/have you owned? Why did you choose the rig you have now? 
S&V: We have owned two new 5th wheels during our full-time RV adventure. We started in a 40' Heartland Bighorn Silverado which was a rear bunk floor plan with two bathrooms. We loved the large bunkroom and the outdoor kitchen on this model. This one was The Adventure Mobile.
After our first three years on the road, we bought a 2019 Grand Design Solitude 377mbs. This is a 41' mid bunk floor plan with a loft. We decided to get this RV because we wanted a larger living room and kitchen area. We love the large refrigerator, pantry, and loads of counter space that this model offers. The open rear living and kitchen area is just what we were looking for! Sissy is a huge fan of the loft. This RV is The Adventure Mobile 2.0.
LMRV: Where are you currently and what destinations are on the horizon for 2022?
S&V: We are currently in Florida, which is one of our favorite states. We plan to spend the rest of the year here exploring different state parks. We love checking out new beaches, paddle boarding the crystal clear natural springs, and hiking in the state parks. 
We are also headed to the Florida Keys at the end of the year which is our favorite place to camp directly on the ocean. There is just nothing that compares to looking at the ocean right from your RV and sleeping to the sound of the waves. Then you can just walk the paddle boards over to the water and hop right on. It is just paradise for us!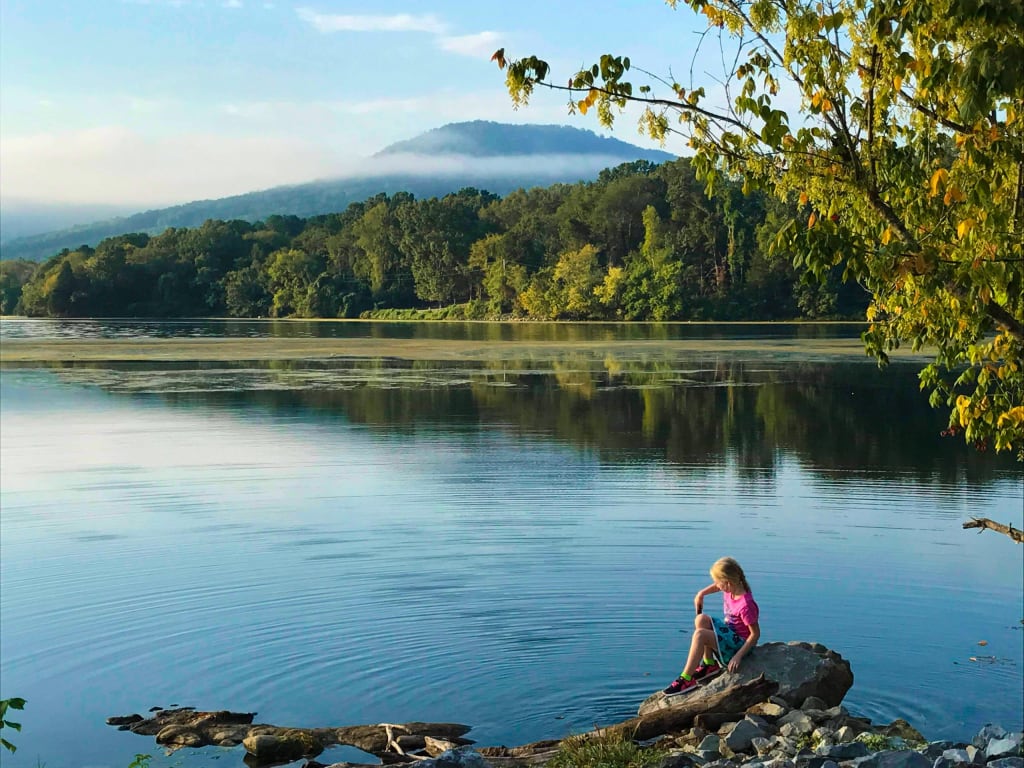 LMRV: Run us through a day in the life of living and working on the road. 
S&V: No two days are alike for us living out on the road. We are blessed to have job flexibility which means we often plan work and homeschool around our travels. We opt to adventure during the weekdays when crowds are low and then catch up on work and school on the weekends or at night. 
A typical adventure day would be to start work and school first thing in the morning, eat lunch, then go out exploring in the afternoon, come home to have dinner, and possibly finish a few more tasks if needed. We always stay home on the weekends to avoid crowds and catch up.
Our homeschool/roadschool is extremely flexible and happens just about anywhere. It can be on the couch, at the kitchen table, or outside on the picnic table when we are home. But many times it also happens in the car and sometimes while out exploring. The things we learn in our travels out exploring nature, historical sites, and geography are experiential learning that is a huge part of our homeschool.
It is really important as a full-time RVer to balance daily living with travels or you can get burnt out. It took us many years to find what works for us but now we have travel weeks where we adventure and weeks where we rest and take care of life tasks. We have also found that two-week stays are the perfect pace for us to have time for both exploring and daily living.
LMRV: Top 5 favorite things about your RV? 
S&V: We love the open rear living room and kitchen area, the pantry, the larger refrigerator, the counter space, and the loft.
LMRV: What are your tips for RVing with a kiddo? What is your daughter's favorite thing about RVing?
S&V: When RVing with kids you have to find a pace of travel that doesn't wear out the whole family. Many RVers want to try to travel as far and as fast as possible to try to see as many states, national parks, or places as they can. The problem with this is that exhausted kids are cranky kids and after a while, no one is having the fun time that you planned. 
When traveling with kids, sometimes less is more. Staying in one general area and exploring what is located there, is usually better than trying to cover large distances with long travel days. Do you remember taking a trip as a child and your parents wanting to go go go and all you wanted to do was swim in the hotel pool? It's exactly the same today.
I also recommend that you have a plan on travel days for where rest stops are located that will accommodate your size of RV for bathroom breaks. One benefit of traveling in an RV is that you can also just find a large enough parking lot and use your RV bathroom. Also, have a food plan for travel days. We pack lots of healthy snacks and all of us stick to just drinking water to limit the bathroom breaks. Our friend in the truck is the movie player. When we have a long travel day, movies save the day every time!
Sissy's favorite part about RVing is hiking, taking pictures, and visiting the national parks. I don't believe we would have ever discovered her love of these things had we not started RVing. She has over 120 National Park Junior Ranger badges from our travels. Her love of nature and outdoor exploring is really incredible.
LMRV: What made you decide to start your YouTube cooking Channel "It's Forking Simple"? (Amazing name by the way). 
S&V: We have placed It's Forking Simple on the back burner for now to have more time to focus on our RV travel blog TheAdventureDetour.com. This website is a resource for RVers who are considering a full-time RV lifestyle. It is also filled with amazing RV travel destinations including national parks. When we were researching back in 2014 on how to RV full-time before beginning our journey, there wasn't much information available for non-traditional full-time RVers like families, singles, and young working couples. 
I want to take our experience in full-time RVing and create a roadmap that makes the lifestyle easy to jump into for anyone that has this dream. Of course, the amazing travel locations you can visit in your RV are also another huge piece of the website that any RVer or travel lover would be interested in. I also currently have a FREE GUIDE available on the website: Secrets To Book Sold-Out and Hard To Get Campsites In State and National Parks. Click the FREEBIES tab on the website to grab the guide.
LMRV: Do you have any projects on the horizon? 
S&V: Yes! We plan to build a YouTube channel later this year for The Adventure Detour that has longer how-to RV full-time videos to create even more resources for people wanting to explore this lifestyle. 
Our long-term goal is to create a course to help people that want to start RVing full-time but feel overwhelmed with the process to get started. This would be the ultimate organized step-by-step resource to get started with the full-time RV lifestyle. Fear and uncertainty hold many people back from experiencing this dream and I want to help people to move past fear and into action. This project is our focus for next year.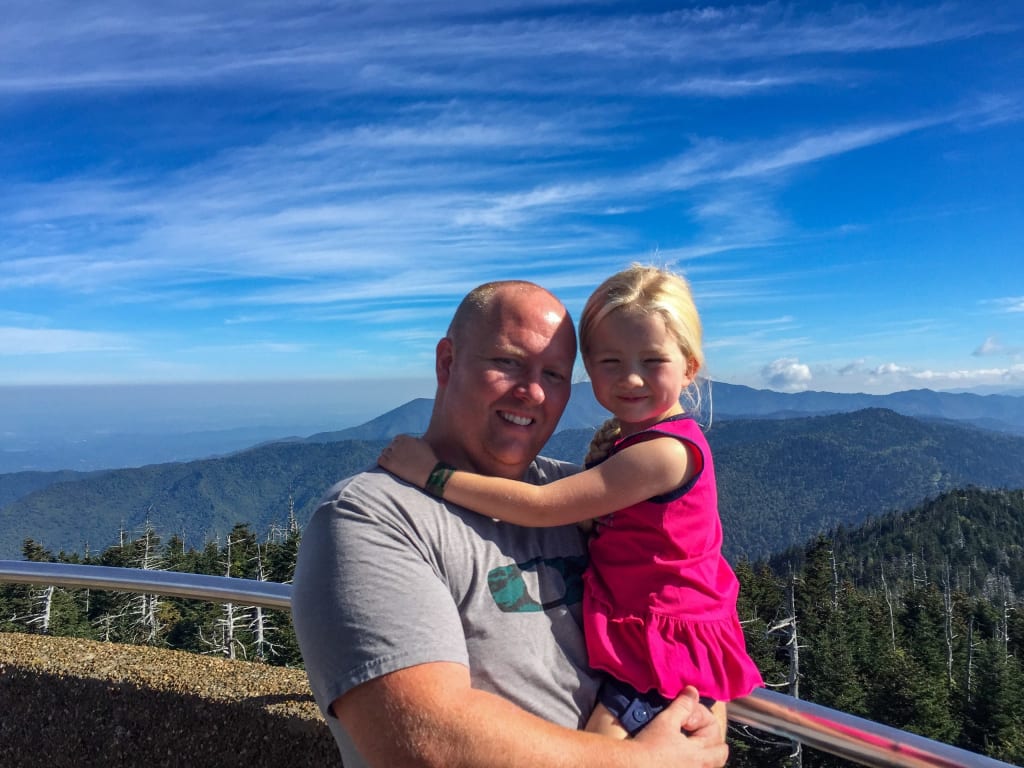 LMRV: Top 10 tips for newbie full-time RVers?
1. Consider an RV floor plan that works both for your daily living space needs but also fits into the locations you wish to stay in. For example, a large RV has amazing living space but doesn't fit into most national parks and some state park campgrounds. You have to find the right size balance to meet your needs.
2. Get a good full-time RV insurance policy. A full-time policy can have increased coverage on your contents since most of your possessions are with you in the RV. It can also cover you in case someone gets hurt at your RV, has emergency hotel coverage while your RV is being repaired, and can include RV replacement coverage on a newer RV.
3. Have a budget for RV repairs and emergency expenses. Things will go wrong out on the road and it helps if you have a budget to cover these challenges when they arise.
4. Make sure you have roadside assistance and that it covers the size of your RV.
5. Upgrade your tires, keep your speeds down, and prevent overloading the maximum carrying capacity weight of your trailer to prevent tire blowouts. Also make sure to check your tires visually, air pressure, and lug nut torque every travel day.
6. Use resources that minimize interrupting your travel plans when things go wrong. For example, using mobile RV repair services that come to you, can often keep you in your RV and on your travel schedule. Or using telehealth services for minor medical issues can keep you from waiting to get in-person appointments.
7. Find a pace of travel that includes time for daily living to avoid burnout. It is easy to want to see as much as possible as fast as possible, but you still need time for laundry, grocery shopping, paying bills, and most importantly rest. It's also okay to slow down and change plans when needed.
8. Make your reservations as soon as you know your travel plans. The popularity of RVing has really grown and securing peak season or popular location reservations can be more challenging now than ever. The earlier the better.
9. Not everyone will understand your journey or support your desire to live this lifestyle. Remember that the dream was placed in your heart and not theirs!
10. Avoid comparing your full-time RV journey with others. Everyone has different abilities and different needs. Find what works best for you and stick with it. This is your unique adventure. Enjoy every minute!
We love connecting with RVers and travel lovers. Please find us on social media and say hi. We hope to see you around the campfire soon!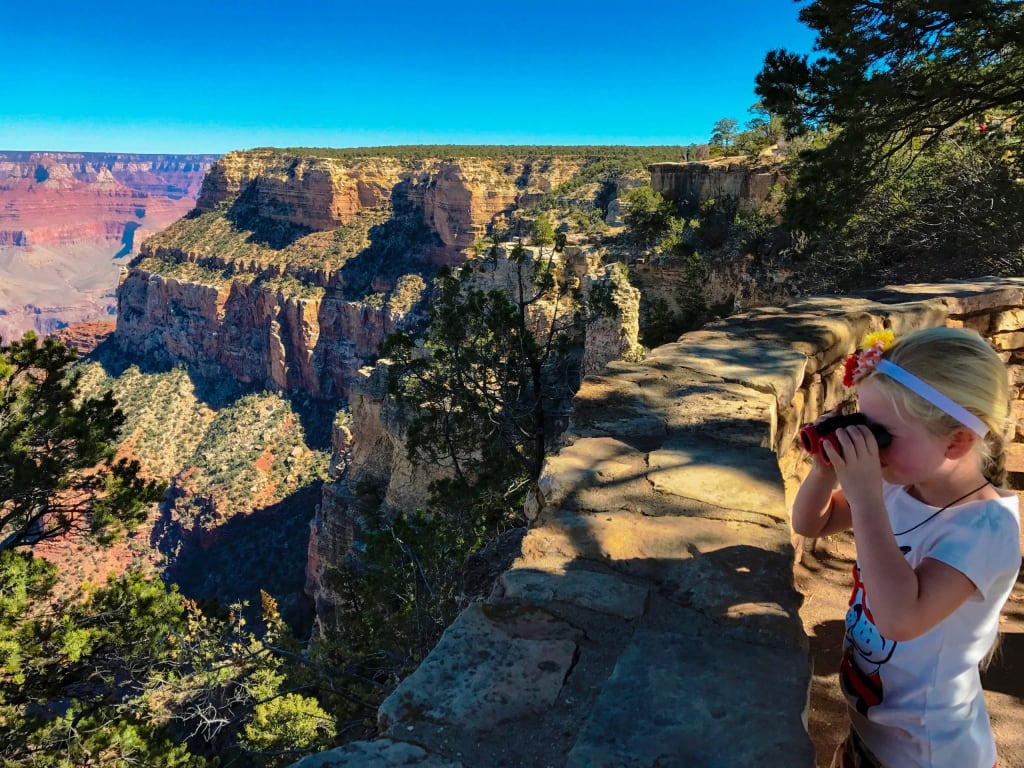 The Adventure Detour Bio and Links to Follow Along their Journey:
A full-time RV traveling family of two who sold it all in 2015 in search of more time together and amazing adventures. After 42 states, two RVs, and almost seven years, they are still rolling along. They share tips for full-time RV living and RV travel destinations at TheAdventureDetour.com and @TheAdventureDetour on Instagram, TikTok, and Facebook. Please connect with them online and say hi!