"Just do it! Jump right in, two feet first, and don't over think it," said Laura Georgieff, when we asked her advice for parents who want to RV with their children, but aren't sure how to make it happen. To say that we're inspired by the Georgieff family is an understatement. The family of five started a 2020 world tour travel that was quickly halted by the pandemic, but that didn't keep them from following a new dream. The Georgieff's began RVing full-time in April 2021 and haven't looked back. 
One glance at their Instagram, which chronicles their epic life on the road, and you can see that this family is paving the way for what is possible when it comes to traveling with kids. We got in touch the Laura, the matriarch of the clan, to discuss everything about full-time RVing. From money saving tips, to world schooling, their National Parks tour, family friendly campgrounds and so much more, check out all the informative details below.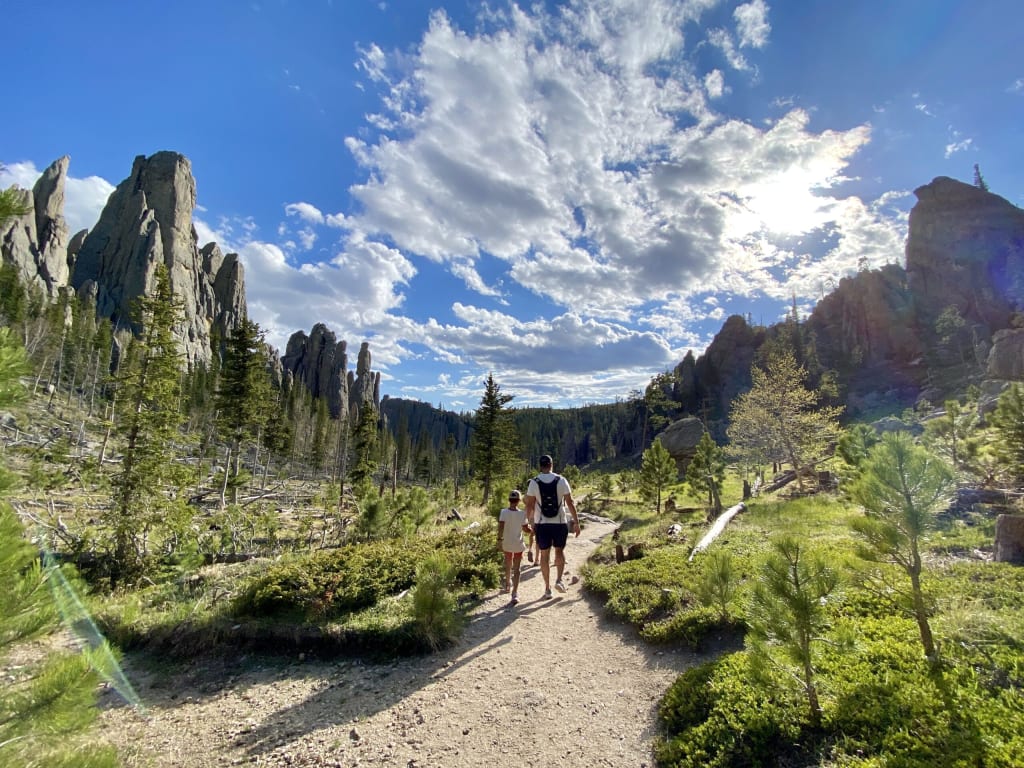 All Photography by Laura Georgieff
La Mesa RV: Tell us about yourselves! When did you start RVing? What type of RV do you have? Where are you currently?
Laura Georgieff: We are the Georgieff family and have been traveling full-time with our three kids for just over two years. After our 2020 world tour, shortened due to the global pandemic, we started RVing full-time in April 2021. We had loved RVing through New Zealand and Australia and thought it was our best shot at further full-time traveling in 2021. We started with a fifth wheel before finding our dream Class A at La Mesa RV, six months into our trip. We currently travel in our 2018 Tiffin Phaeton and truly enjoy every second of it! We are currently in Florida, which also happens to be our home state. We had to be back to run doctors, DMV, passport appointments, as well as allow our oldest daughter to audition for a school of the arts.
LMRV: How long have you been living in your RV full-time? What did you do before you started RVing?
LG: We have lived in our RV full-time for the last nine months. Before that, we traveled the world full-time for almost a year, after having spent 10 years in corporate America, Switzerland, and Germany.
LMRV: What was your first road trip like with children?
LG: We have always traveled with our children. I always say that the earlier you start them, the easier it is. It becomes second nature for them, and yourself! Our oldest daughter was eight weeks old on her first transatlantic flight and we have never stopped traveling since. We would usually fly and discover a new country, but not necessarily road trip, per American standards. New Zealand might have been our first shot at a true road trip, spending three weeks on the road, in a small van, with the three kids. We all loved the experience and decided to upgrade from a van to a small Class B for Australia to test a slightly different way to road trip.
LMRV: Walk us through a day in the life of your family while RVing!
LG: I think that one of my favorite things about traveling full-time, is the fact that we live without an alarm clock! Everyone naturally wakes up and has breakfast, and it is typically about 9 AM by the time we start homeschooling the kids. We work through their school lessons, while trying to get some work done on our businesses. My husband owns a network security camera online store, while I own a mattress and bedding review website. Our goal is to be done homeschooling all children by lunch time. Depending which timezone we are in, we start exploring between 1PM on the west coast and 4PM on the east coast – hint: we much prefer our west coast schedule! We are chasing the national parks and naturally avoid cities. So come 1 or 2 PM, we hit the nearby park or natural feature and go for long hikes or adventures with the kids. We move every two to four days, depending on how long we think each area needs to be explored, and we rarely make a plan. We much prefer moving on once we feel satisfied with our exploring.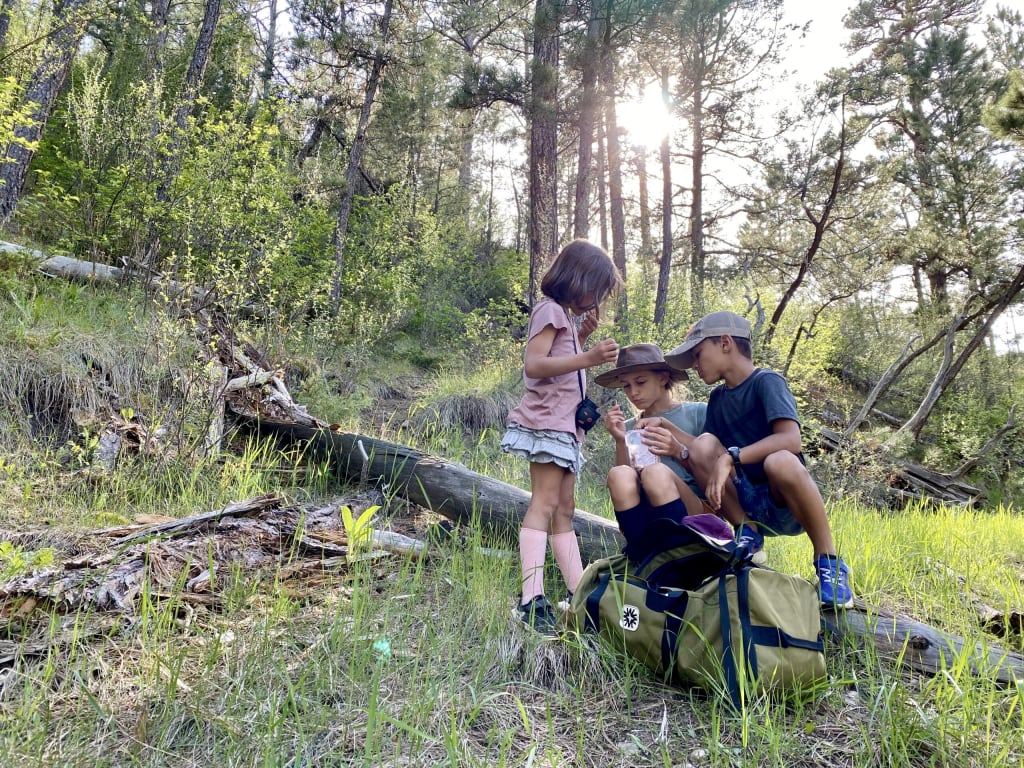 LMRV: What are some of the ways your family saves money on the road?
LG: Just like at home, we cook all of our meals and save a lot money from not eating out. We also own a U.S. national parks annual pass, giving us free access to over 400 parks across the U.S. – this is also the best way to world-school the children! We purchase very few things since we rarely spend time in cities, and live in a small space. Lastly, we have a Thousand Trails campground yearly membership, which has saved us hundreds of dollars on the west coast. We are also members of programs such as: Passport America, Good Sam, KOA, AAA, Harvest Host, and Boondockers Welcome – all providing us discounts on the road and helping us save money to live this lifestyle longer. We have also loved our ASTC membership, giving us access to kid and science museums across the U.S. Lastly, now that we upgraded to the Class A found at La Mesa RV, we have been able to boondock in BLM land a lot more frequently, which fills our happiness cup to the full! Not only are those nights free (up to 14 at a time), but they are in the most beautiful areas of our country!
LMRV: Family friendliest place or campground you've been to?
LG: We have loved two campgrounds above all (and we have visited over 150!): the Tucson KOA Resort was beyond fantastic with kids activities running all day long, amazing pools, mini-golf, and beautiful ground. We also had a really good time at the Yogi Bear's Jellystone Park Camp Resort in Estes Park, CO for its kids' amenities and accessibility to Rocky Mountain National Park.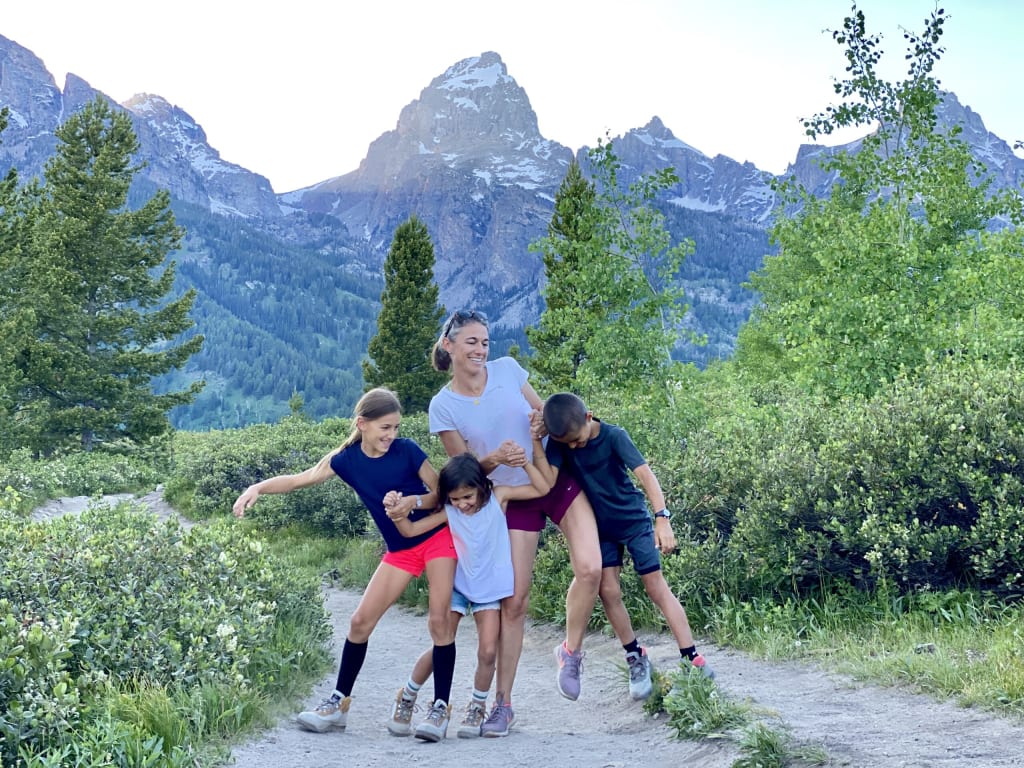 LMRV: Do your kids have a favorite place they've RVed? If so, where?
LG: Our kids have loved Montana! The people are incredibly kind and Glacier National Park quickly became one of our family's favorites!
LMRV: What is your most kid approved RVing meal?
LG: That's a tricky question… our kids eat absolutely everything but we have started cooking in new ways in the RV for some reason. I honestly feel like we eat much tastier than we used to at home. They love some of the crockpot meat we prepare and have come to love a loaded nacho recipe we make it the oven. How did I never think to make nachos at home?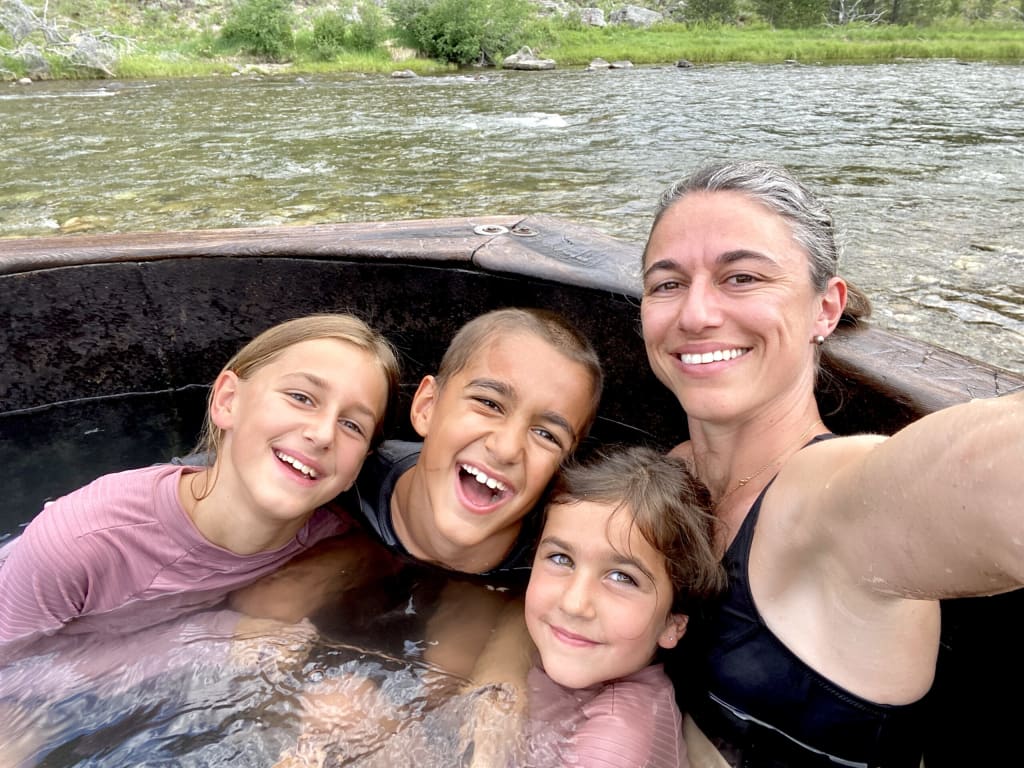 LMRV: What are your top 5 tips on RVing with kids?
LG:
1) Be flexible.
2) Don't make too many plans.
3) Go with the flow.
4) Integrate a few kid-friendly stops during the day.
5) Never run out of marshmallows (and have more on hand than you think you'll need)!
LMRV: How has RVing changed the way your kids experience the world?
LG: RVing feels very different than world traveling. Here in the U.S., we are exposed to so much geology and modern history. RVing also allows the kids to make many friends and stay very social, while living on the road. They love meeting new kids, learning from them, and having access to our national parks where they learn from incredible rangers.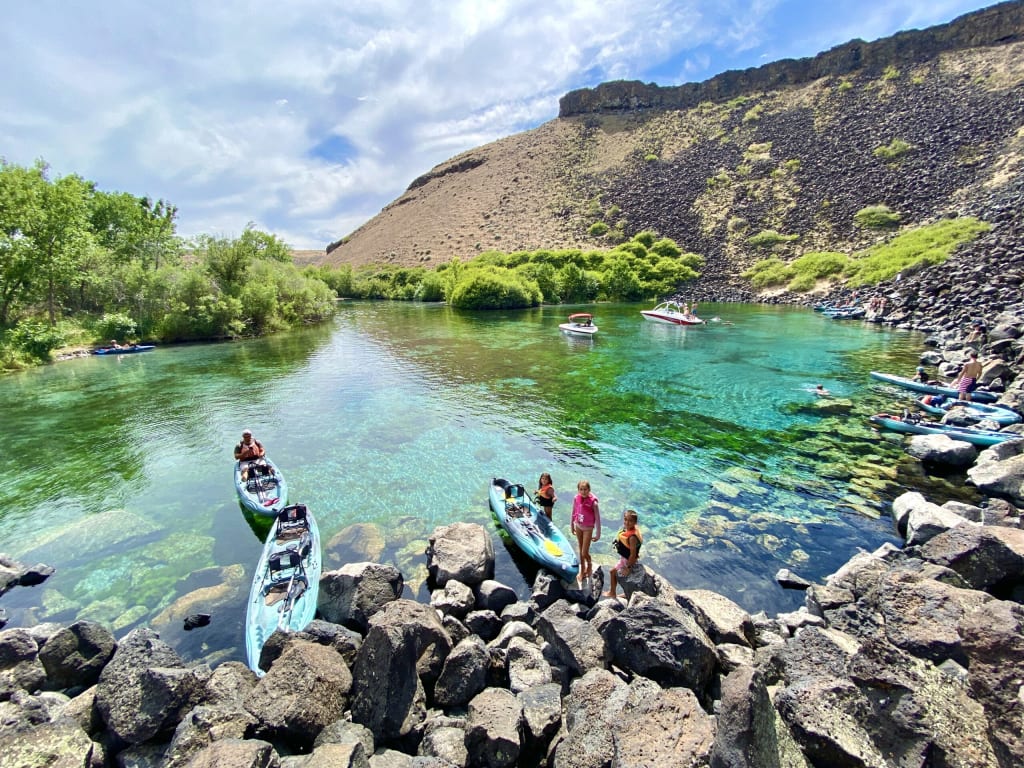 LMRV: Are there are any must-have gadgets or camping supplies that parents who RV with kids can't skip?
LG:
1) Make sure to pack their bikes (just watch for goat thorns out west and assume that you'll be replacing tires often).
2) A large bunch of Lego's.
3) Enough books or sign up for Amazon Kids for a large library of online books, and sign up for audio books (our favorite subscription is the Pinna app).
4) Kids need a lot less than you think they need – leave the toys at home!
5) If you have swimming suits and bikes, you're all good to go!
LMRV: What is your favorite part about RVing with your family?
LG: I love the time spent together and the learnings we all get from traveling. I always say that there isn't a day on the road, that we don't all go to bed without having learned something new! We have learned something new every single day of the past two years, adults included!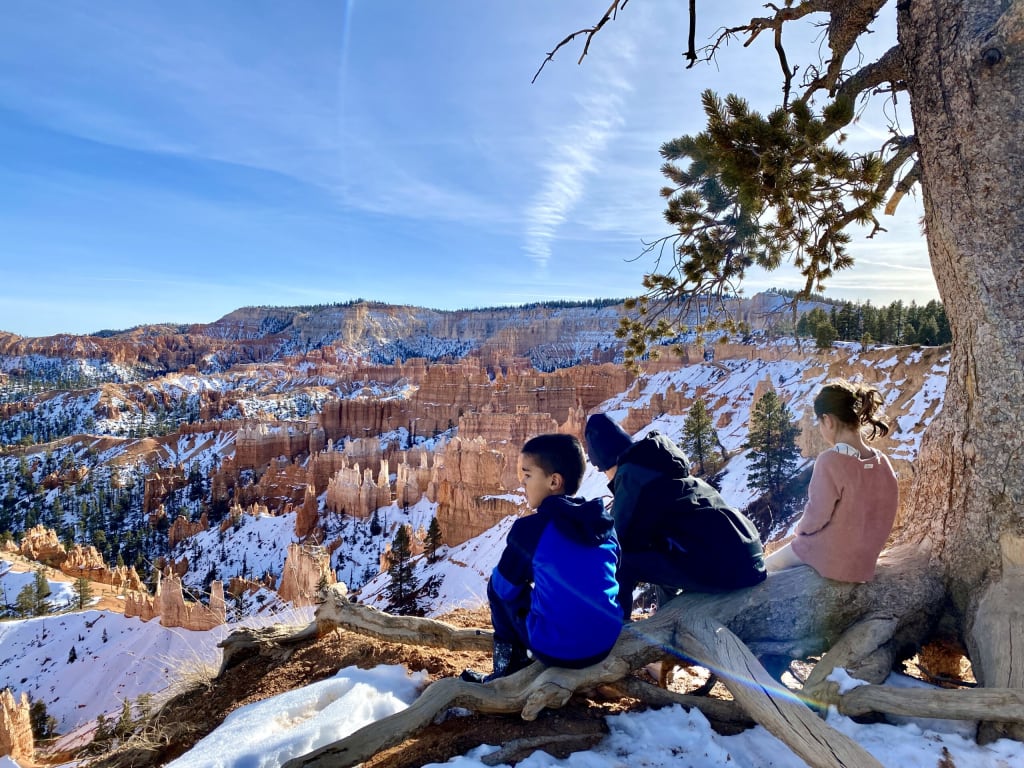 LMRV: Do you have any advice for parents who want to RV with kids but are nervous to take the leap?
LG: My single best advice is to just do it! Jump right in, two feet first, and don't over think it. No, there will never be a perfect time! Pack up your things, rent your home, buy an RV, homeschool the kids, and hit the road! Don't wait…
LMRV: Where do you plan to travel for the rest of the year?
LG: We covered the western part of the country in 2021. 2022 is all about the eastern side of the U.S., and hopefully a bit of Canada. After Florida, we will be skiing in Colorado and Utah for a month, before heading up north, hopefully crossing over to Canada, hitting the east coast through Canada, and driving back down the east coast.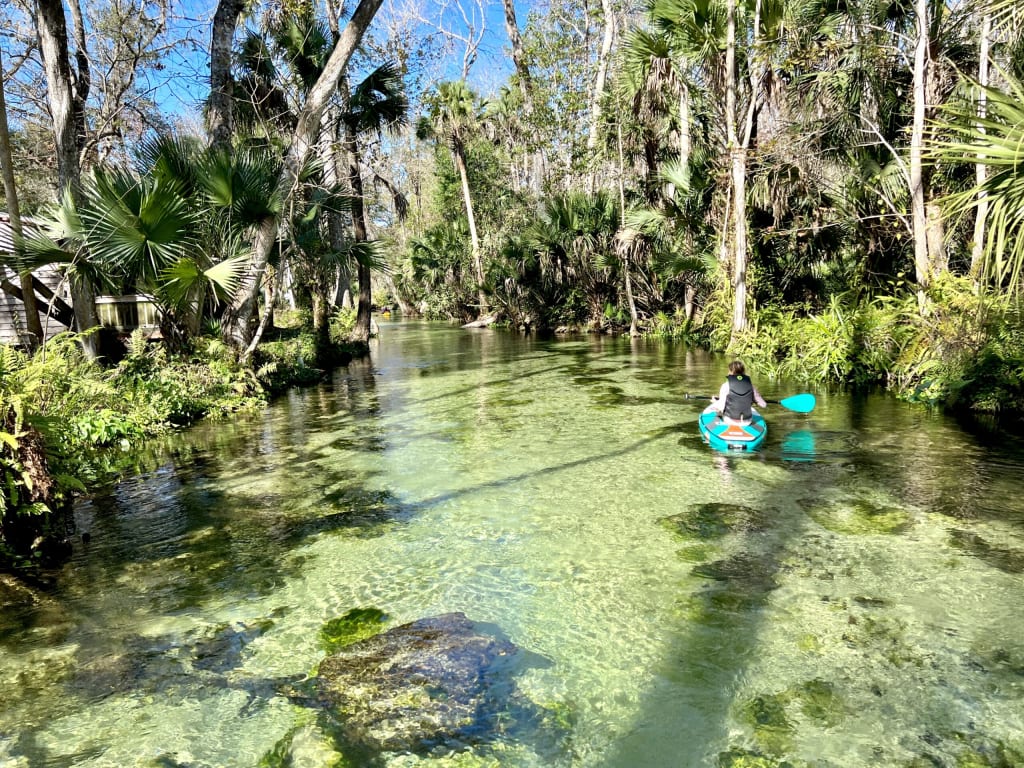 LMRV: Can you tell us about your "Chasing the National Parks"?
LG: We are big big fans of nature in all of its forms – unspoiled, large and small, colorful, filled with animals, mountains, trees, sea, lakes, plains. All of it! Cities and highly populated areas, on the other hand, do not bring us much joy. Our goal for this trip is to hit as many national parks as possible. We had to miss two on our itinerary due to the California wildfires, but other than that, we have seen incredible nature around the western half of the country. What we had not expected, was the richness and diversity of the parks in the U.S. National Park Service! We have found just as much joy visiting the national historical parks and some of our U.S. national monuments. In fact, I encourage everyone to download the free NPS app and to visit the closest national historical parks near them – they're so rich in history and those rangers are passionate about sharing their knowledge. They always end up being our favorites and we make a point of visiting all of the ones on our itinerary!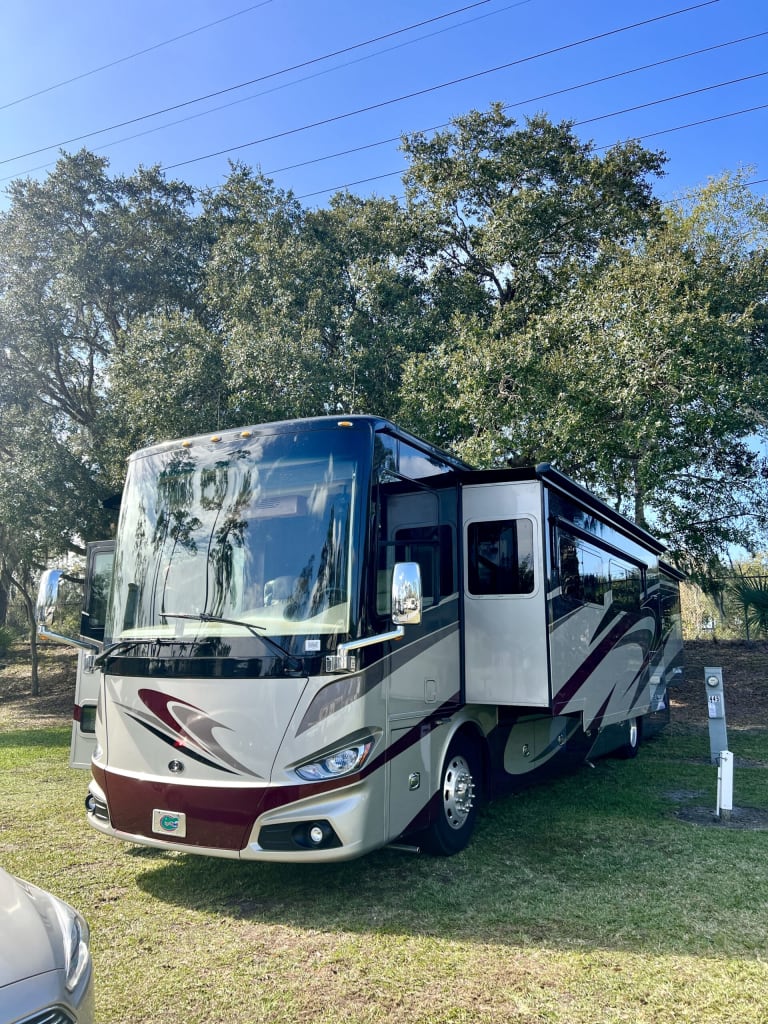 LMRV: Anything on the horizon you'd like to share with us?
LG: We're planning a fun month of skiing this year and have some airline credit from cancellations due to COVID during our world tour, so we may head back out of the country for a few weeks this year, which would fill up my wanderlust to the top! If we can't do that, we really hope Canada stays opened for us!
LMRV: Where can we follow your RV adventures?
LG: You can follow us on Instagram at @frugalforluxury or on our blog at https://frugalforluxury.com. Introduce yourself on Instagram, we love chatting with our followers and answering any questions related to this beautiful lifestyle!