Try to recall the first time you felt an inkling to get on the road in your own RV. Can you do it? Was it after your grandpa told you a story about his childhood motor home trips? Perhaps you read an article in National Geographic that caught your attention, or more recently, you watched We Are the Millers and thought, why not get an RV? Inspiration comes in all shapes and forms. With the advance of today's technology, many are sharing their epic road trip adventures, RV remodel projects and tips for living on the road on their own curated blogs. After diving into the depths of the internet, we've discovered 8 amazing female RVer's who are undeniably inspiring. So in honor of International Women's Month, here's who you need to be following, now.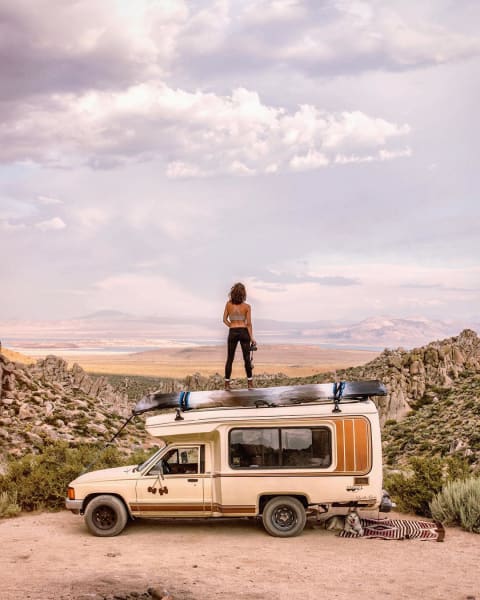 Photography: @ladyadventures
Genevieve of Lady Adventures 
RV: Toyota Bandit
Traveling Since: August 2013
Blog: Lady Adventures 
Originally from Florida, but born with a burning desire to travel, Genevieve decided to quit her marketing job and take to the road. She made a six month plan that outlined her way to freedom. It included details on working to save, extensive RV research, remodeling, selling everything and driving off into the sunset (with her fluffy companion, Sailor). By meeting other inspiring folks over years of travel, Genevieve created Lady Adventures, a lifestyle brand for women who are passionate about exploring nature and taking road trips. Her site is ideal for those looking for detailed information on how to make money while living on the road.

Photography: @van.project
Amanda of The Van Project
RV: 1964 Clark Cortez Tezarae
Traveling Since: November 2016
Blog: The Van Project
This 'digital nomad' left her 9-5 and apartment in San Francisco to pursue full time travel with her partner Matt. After making their RV fully solar-powered, the couple is now challenging themselves to go plastic free for a month. The eco-friendly couple vlogs and it is an excellent resource for living off the grid in an environmentally conscious way. They also took 6 months to renovate their RV and have shared ample information on what their process looked like and how it might be similar to yours.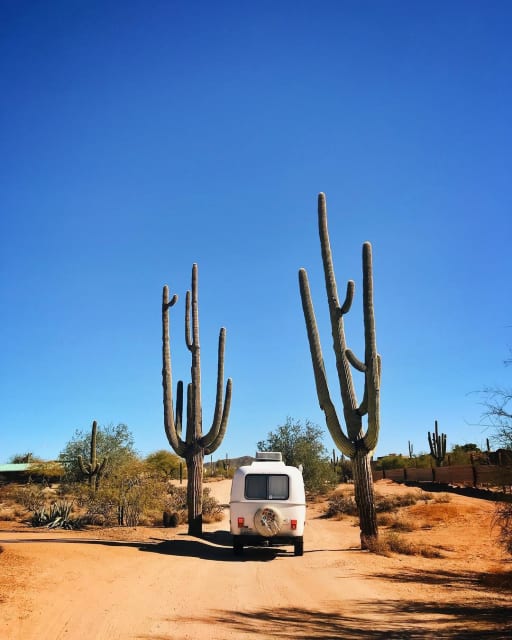 Photography: @mali.mish
Marlene of Mali Mish Airstream
RV: 2007 Airstream International 25FB Ocean Breeze
Traveling Since: 2008 
Blog: Mali Mish: A Family On The Road
A lot can happen in seven years. Just ask Marlene, who set out with her husband and 9-month old daughter to explore the US in their newly purchased Airstream. Fast forward to 2018 and their family has grown from 3 to 5. They've now traveled across the US twice, spent a summer in Alaska, traveled across Canada and into Mexico with no plans to stop. They are the go to inspiration for families looking to live on the road with children plus a cat.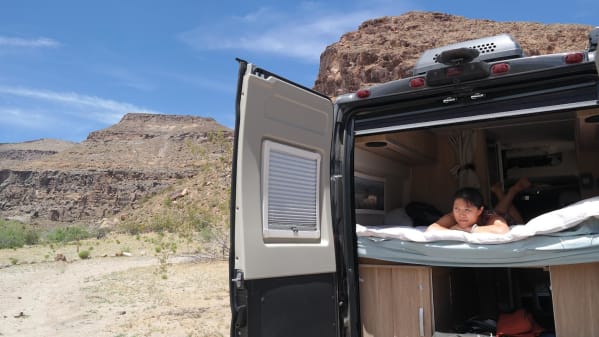 Photography: @weretherussos
Kait of We're The Russos
RV: Hymer Aktiv 2.0
Traveling Since: September 2015
Blog: We're the Russos
Kait and her husband Joe decided to quit their jobs, got rid of most of their possessions and hit the open road in 2015. If you're looking for first hand information on living out of a Class A and B (Kait has done both) this blog is for you. The site is full of road recipes, travel guides, tips and tricks, suggestions on RV accessories, camping reviews and a vlog. It's really a one stop shop for any and everything you could possible be looking for pertaining to RV travel.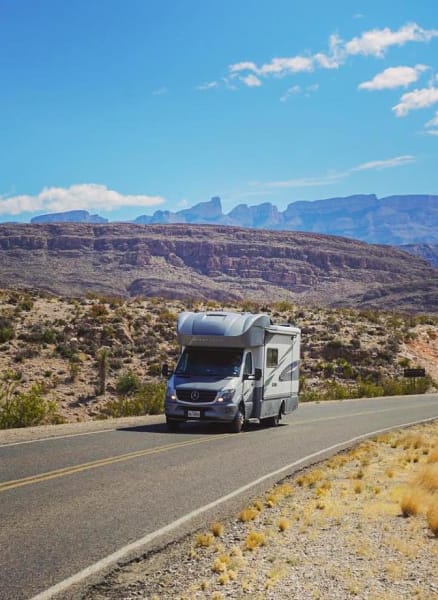 Photography: @follow_your_detour
Lindsay of Follow Your Detour
RV: 2005 Forest River Rockwood Fifth Wheel
Traveling Since: April 2017
Blog: Follow Your Detour
After a series of unexpected and life-altering events, Lindsay and her husband Dan agreed the challenges they were facing were merely "detours" and decided to buy a motorhome to travel the U.S. The couple had been traveling together, primarily internationally, for 10 years prior – thus creating their site, Follow Your Detour. Their blog offers great resources on how to finance your own detour, the ins and outs of being a full-time RVer, travel destinations and guides.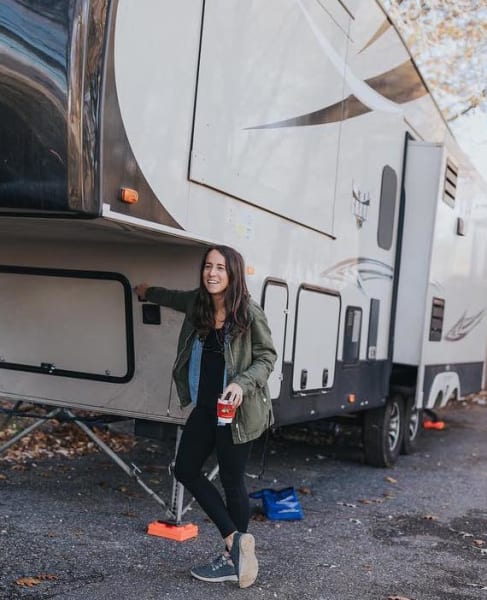 Photography: @peteandjordan
Jordan of Peter and Jordan
RV: Sabre 295CK fifth Wheel
Traveling Since: September 2017
Blog: Pete and Jordan
These newlyweds (plus their pup) live out of their RV full time and run a digital marketing company together. Their mission: to encourage, empower and enable entrepreneurs to build purpose-driven lives and businesses. If you're looking for information on how to grow your business, insight on the new Facebook updates, how to create Instagram ads, or are curious about tips and advice in the digital marketing sphere, they've got you covered.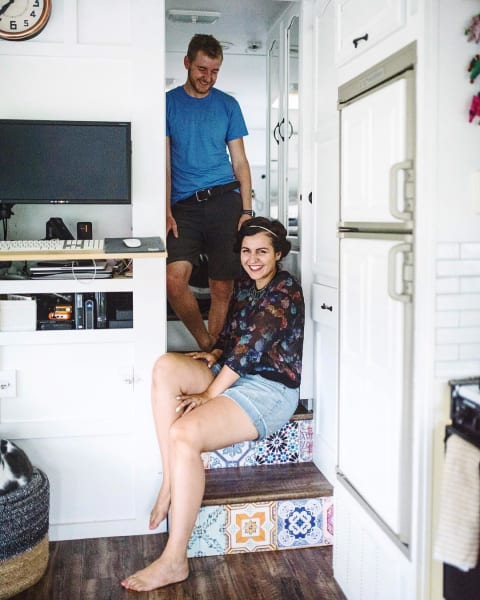 Photography: @188sqft
Mandy of 188sqft
RV: 2002 Keystone Cougar 276
Traveling Since: December 2015
Blog: 188sqft
This wedding photographer lives on the road full time with her husband and four pets. If you've been looking for RV renovation inspiration, Mandy has you covered. Her DIY blog category is filled with detailed information on demoing, coating countertops, changing out interiors, the list goes on. She's also a pretty cheeky writer so get ready for your not so average blog.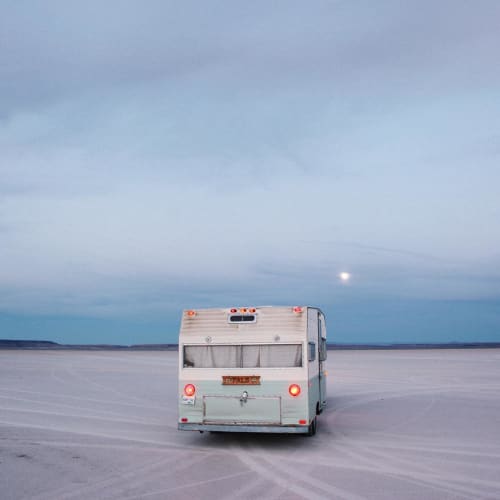 Photography: @ourwildabandon
Jill and Kyla of Our Wild Abandon
RV: 1969 Kit Companion
Traveling Since: 2013
Blog: Our Wild Abandon
Jill and Kyla are two Canadians whos fate connected them by their ex-boyfriends. Always hanging out together but never speaking, it wasn't until the girls decided to dump their men and start on an epic road trip of the States that they became the best of buds. The decision later changed the course of their entire lives. Now represented by Tinker Street*, the women are highly respected photographers with a mighty client list that includes but is not limited to, Google, Tourism New Orleans, STA Travel and T-Mobile. They escaped an insane crash of their original trailer unscathed, took a beat to save up again and then remodeled their current home, "Billy the Kit." Their road journal is wild and entertaining and their shenanigans across the states in bars and in nature are endless.