Are you in search of authentic travel? Are you chasing the challenge of RV life or eager to learn more? To satiate the wanderlust cravings that have taken multi-generational travelers by storm, make your way to Phoenix in April for this years Super B RV show. This event is one you don't want to miss as it will be packed with industry influencers, new RV products, guest speakers and so much more.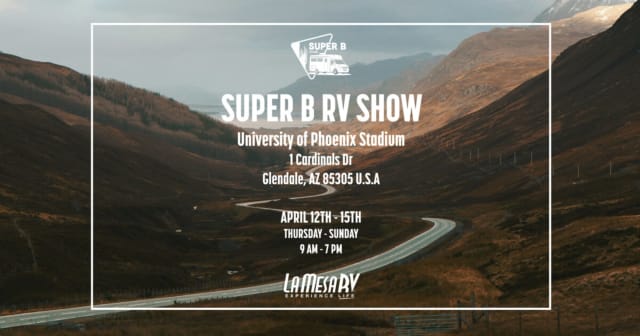 When: April 12-15, 2018
Time: 9am-7pm
Where: University of Phoenix
The four-day event includes free admission and parking and will be packed with mini motorhomes from top motor coach manufacturers such as, American Coach, Entegra, Leisure Travel, Pleasure Way, Roadtrek/Hymer/Carado, Regency Vans, Thor, Tiffin and Winnebago.
Factory representatives will be available at the event to offer insights and answer motor coach questions regarding product features and capabilities from specs to aesthetics. All RV units will be heavily discounted for immediate sale throughout the weekend event.
The Super B RV Show is a family-friendly event and a treat for travelers of all ages. Come hungry as food and refreshments will be available for purchase from Rojo Catering each day of the event.
Special event guests include:
JOE & KAIT RUSSO
We're the Russos Travel Bloggers
In-person Meet & Greet on Saturday and Sunday from 11am-1pm
MIKE & JENNIFER WENDLAND
Roadtreking Blogger, Videographer & Award-Winning Journalist
In-person Meet & Greet
Live Event Podcast with Mike & Jennifer
For open-road travel enthusiasts looking for the insider scoop on the latest features in the mini motorhome industry, the Super B RV Show will also be hosting the following industry leaders throughout the  event:
Brion Brady, General Manager | Entegra Coach Division
Jim Hammill, President & CEO | Erwin Hymer Group, NA
Dean Corrigal, Territory Sales Manager | Leisure Travel Vans
Toyer Allman, Strategic Account Manager | Mercedes Benz USA
Dean Rumpel, CEO | Pleasure Way Industries
Wayne Davis, Founder & CEO | The Wayne Davis Auto Group
Alan Osicka, President | The Wayne Davis Auto Group
Brian Hazelton, VP & General Manager, Motorized | Winnebago Industries
Ken Walters, VP of Sales & Product Development | Motorized Division, Jayco, Inc.
Trent Tiffin | Tiffin Motor Homes
Melanie Gibson | Truma Corporation
Coming to the event? Let us know in the comment section below. We can't wait to see you there!