RVing is a great way to take in all the wonders of fall. The leaves are changing color, the temperature is just right, and there are festive events happening all across the country. Whether you're looking for a small town festival or something bigger, we've got you covered!
If you love festivals as we do, then you have probably been anxiously awaiting fall to arrive. Fall festivals really have something for everyone to enjoy. Everything from arts and crafts, music, Renaissance, Oktoberfest, pumpkin and apple festivals, food and wine, Halloween and haunted festivals, and harvest festivals are all going on in the fall. Let's check out a few top festivals you can visit in your RV this fall.
Guest Post and Images by The Adventure Detour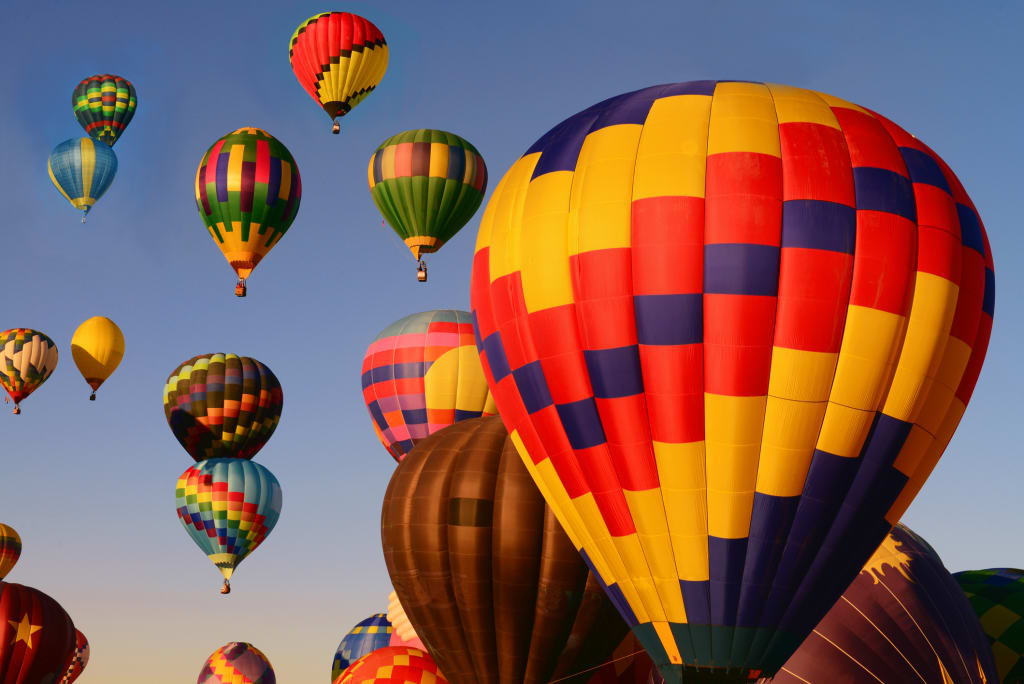 Albuquerque International Balloon Fiesta – Albuquerque, NM
This annual fall festival just may be the most known and most popular one among RVers. It's popular for a good reason. You can stay in your RV right there at the festival grounds and witness over 500 incredible hot air balloons daily from dawn to evening. This year the festival is celebrating its 50th Anniversary. It runs from October 1st to the 9th 2022.
Crowd festival favorites include dawn balloon launches and night balloon glows. There are also launches all throughout the day. They have launches called shape rodeos which are special shaped balloons such as characters, animals, or other fun shapes. The night shape rodeo is called the Glowdeo.
They not only have hot air balloons but also other fun entertainment like concerts, fireworks, skydiving, and chainsaw carving demonstrations. They also host many competitions among balloon teams. One competition involves navigating balloons to land on certain targets. Many balloon crews also get the crowd involved to help out. This festival should be on every RVer's travel bucket list! Fun fact: La Mesa is a proud sponsor of the fiesta and has been for many years!
Epcot's Food And Wine Festival – Orlando, FL
People flock from around the country down to Florida to enjoy Epcot's fall Food and Wine Festival. It runs from mid-July to mid-November each year. The festival features food booths with appetizers, small plates, and beverage pairings from all around the world. Foodies and Disney fans wait all year for this festival to begin. 
There are also nightly Eat To The Beat concerts from many popular bands to enjoy during the festival. Our favorite 2 performers to catch each year are Mark McGrath of Sugar Ray and Boys II Men. They both put on incredible performances. There are also themed World Showcase performances for some of the countries as you walk around.
Some of the food featured this year are from the following countries: The Alps, Australia, Canada, Belgium, Brazil, China, Coastal Foods, Plant-Based, Campfire Cooked Foods, France, Germany, Greece, Hawaii, American Beer &Food, India, Ireland, Italy, Japan, Kenya, Mac & Cheese Combos, Mexico, Noodle Dishes, Brunch Drinks, Sapin, Pork Dishes with Cocktails, and Morocco. Our favorite things to eat during the festival are the fish and chips usually offered in the United Kingdom Pavilion and the spiked coffees offered at the Joffrey's stands. There are also wine and beer pairings at most of the country food booths.
You can stay in your RV at Disney's Fort Wilderness Campground and hop right on the resort buses to conveniently enjoy Epcot. Or there are also many campgrounds nearby. We enjoy staying at Lake Magic RV Resort when we visit DisneyWorld.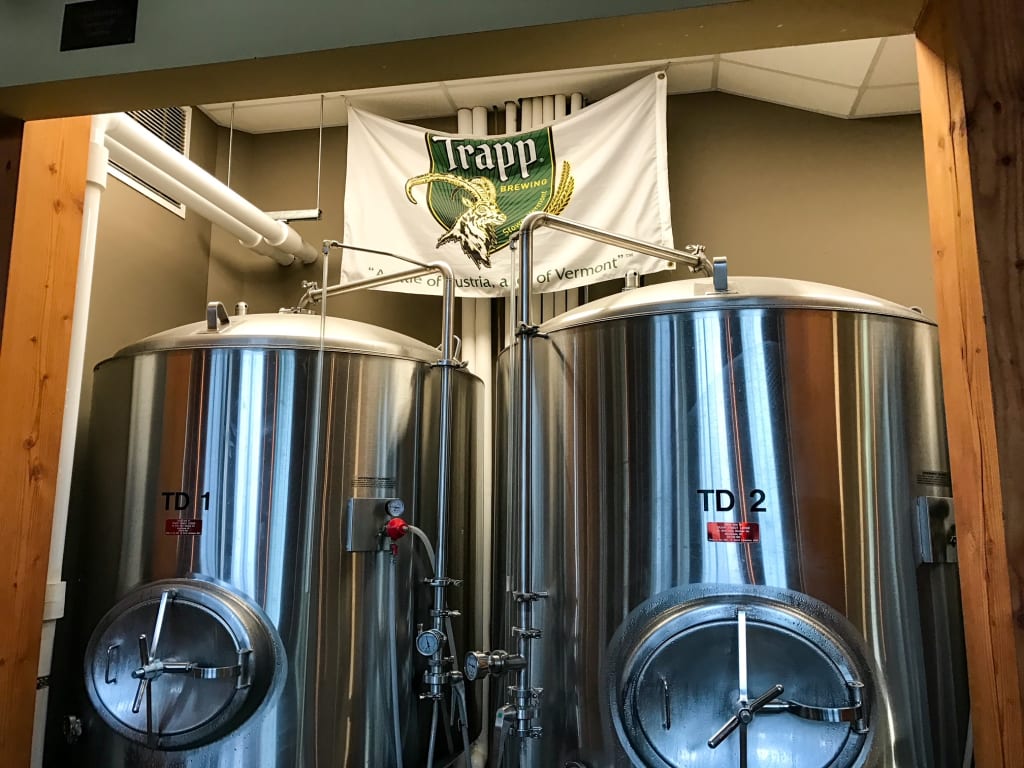 Vermont Pumpkin Chuckin' Festival – Stowe, VT
This fall festival in Vermont is a completely unique experience. It's part festival and part engineering competition with a ton of fun mixed in. You design and build your own pumpkin launching trebuchet for the contest. Depending on the size of the trebuchet you build, you can be entered into the competition as lightweight, middleweight, or in the heavyweight division. 
The festival provides plans to make an easy small walking arm trebuchet so even a novice can get in on the fun. Can you imagine viewing all of these unique trebuchet creations chucking pumpkins all day? The festival takes place this year on September 25th, 2022. It also features music, games, and fighting robots.
West Coast Giant Pumpkin Regatta – Tualatin, OR
Staying on the theme of really unique fall festivals, you have to include the Pumpkin Regatta. This year's festival takes place on October 15-16, 2022, and is all things pumpkin competitions. The highlight of the festival is when people take enormous 1,000-pound hollowed-out pumpkins and turn them into boats that they race each other in across the lake. Who knew that a giant pumpkin could float as a boat? Now that is something wild to witness!
This festival also has other unusual pumpkin competitions like pumpkin bowling, pumpkin golf, the biggest pumpkin contest and parade, pumpkin carving, costume contest, 5K, and a pie eating contest. This festival is the place to be for all things pumpkin.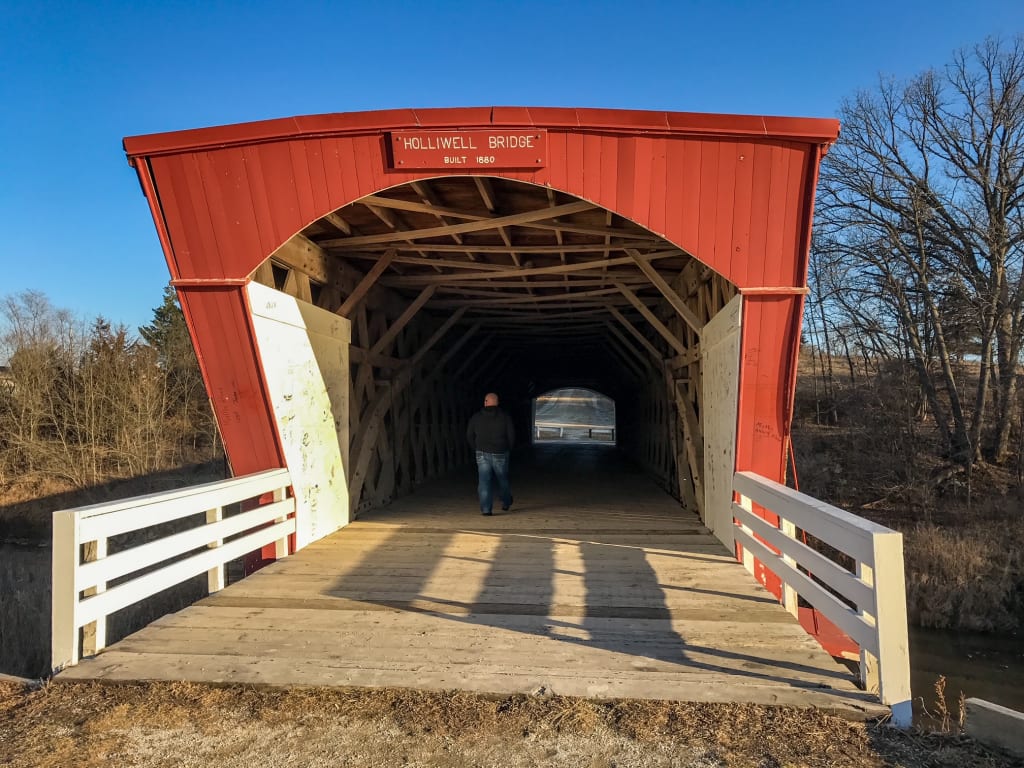 Madison County Covered Bridge Festival – Winterset, IA
Do you remember the movie Bridges Of Madison County? You can visit this quaint Iowa town during its fall festival from October 8th to the 9th 2022. The highlight of the festival is the covered bridge guided tour. There is just something nostalgic about covered bridges that just never gets old. We always get excited to visit one during our travels and here you can see 6.
This is also the birthplace of John Wayne and you can take a tour of his house and museum. The festival also has antique tractor rides, a quilt show, a spelling bee, a horseshoe tournament, a Civil War reenactment with cannon firing, horse-drawn wagon rides, and a parade.
Texas Renaissance Festival – Todd Mission, TX
The largest Renaissance festival in the country takes place in Texas on the weekends from October 8th to November 11th, 2022. This festival has themed weekends that draw over 500,000 visitors a year. The themes this year include Pirate Adventure, 1001 Dreams, All Hallows Eve, Heroes and Villains, Barbarian Invasion, Highland Fling, and Celtic Christmas.
The festival features a King's Feast Dinner Theater and also has a pub crawl. Many entertainment options are available including jugglers, knights jousting on horseback, acrobats, fire shows, and fireworks to delight the whole family. There are also activities to join in on the fun like ax throwing, archery, Jacob's Ladder, and rides such as the DaVinci Flying Machine and the Enchanted Forest Swing. What a fun festival!
Leavenworth Oktoberfest – Wenatchee, WA
In the mountain foothills of Central Washington lies the adorable German town of Leavenworth. This place is fun to visit any time of the year but it really comes alive during its annual fall festival. This year the festival will be held 3 weekends from September 30th to October 15th, 2022. It's been relocated to the nearby town of Wenatchee for most of the festival but there are shuttles still running from Leavenworth.
This 24th year of a traditional Oktoberfest will feature German food and entertainment including Polka music, Bavarian dance troupes, and a children's fun area. The festival kicks off with an opening ceremony that includes a parade of flags with music, a keg tapping ceremony, and a stein contest. What a beautiful place to enjoy the fall in your RV.
Dollywood's Harvest Festival – Pigeon Forge, TN
The Smoky Mountains of Tennessee are already on many RVers' fall travel bucket lists just to enjoy the beautiful fall foliage. Why not add in a fun fall festival at Dollywood? The Dollywood Harvest Festival runs from September 9th to October 29th, 2022 and is full of non-spooky family fall fun. 
The highlight of the festival is the Great Pumpkin Luminights where you can walk through thousands of carved and lit pumpkin displays and sculptures. This night walk is loaded with fun photo opportunities and just feels magical.  There are also enormous pumpkins that weigh up to 1,500 pounds, pumpkin and apple treats, and craftsman demonstrations. Then of course you still have all of the family amusement park rides. It's a fun stop to add to your fall RV itinerary.
Fall is a great time to visit some of the many festivals that take place around the country. Whether you're interested in food and wine, pumpkins and harvest activities, hot air balloons, Renaissance fairs, or Oktoberfest celebrations, there's sure to be something near your RV travels. Do you have a favorite fall festival? We'd love to hear about it in the comments below!
Looking for a new RV for your fall road trip? La Mesa has the selection to make sure you hit the road in the perfect RV for your adventures and festival travels this fall.
Scott, his wife Van, and their 12-year-old daughter Sissy have traveled full-time in their RV for 7 years. They have worked and homeschooled on the road through 42 states so far. They blog about RVing tips, travel destinations, and the full-time RV lifestyle on their blog TheAdventureDetour.com. They are also RV content creators @theadventuredetour on Instagram, TikTok, and Facebook. They love connecting with RVers so be sure to reach out to them and say hi!