RV campgrounds in the great state of Texas are numerous, though not all are the same in what they can offer you. If you are planning to see the beauty of Texas, you can expect to find very affordable options, luxury campgrounds, and some exceptional places to explore. Bookmark this article and reference it whenever you're heading to the biggest state in the south. Here's our list of the top 10 RV campgrounds and resorts through Texas!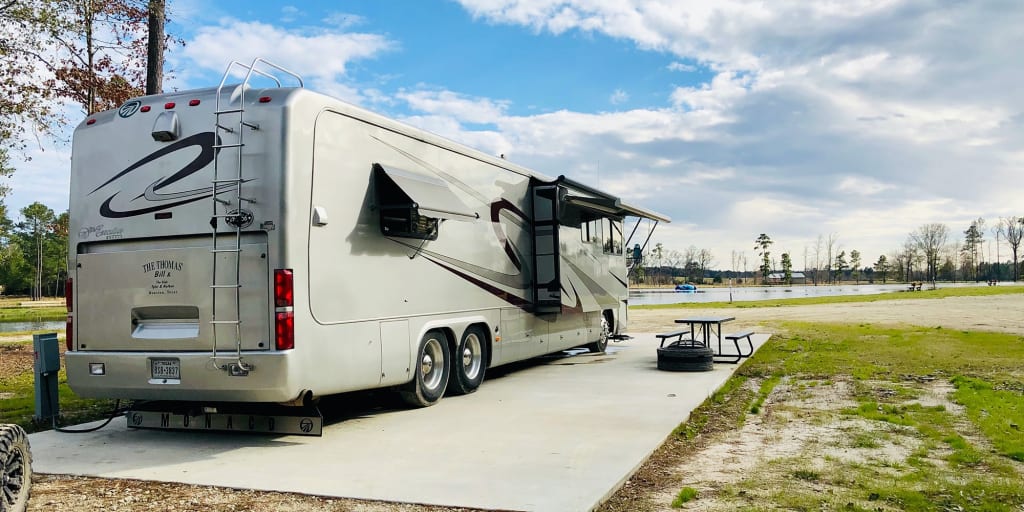 Trinity Luxury RV Resort and Cabins
Click Here to Book
Address: 1907 Pinecrest Rd., Trinity, TX 75862
Details: Set on a sprawling 140 acres of pine wooded property, Trinity Luxury RV Resort and Cabins is an exceptional location in East Texas, especially for those that love natural wildlife and open, expansive areas. For water lovers, the location offers kayaks, canoes, and paddleboards to take out onto the lake. It's possible to fish for largemouth bass, catfish, and perch here.
The multiuse trails make it easy to take a golf cart (available for rent) or just to bike or hike the dense forests. For those hoping to take a break from their RV for a few nights, fully loaded, beautiful, and well-maintained cabins are available. This private resort, established in 2018, is small, with just 5 larger RV sites.
Pedernales Falls State Park
Click Here to Book
Address: 2585 Park Road 6026, Johnson City, TX 78636
Details: The Pedernales Falls State Park is home to large limestone slabs that allow the Pedernales River to flow right over them, creating a beautiful and expansive area well worth exploring. Just 30 miles from Austin, this location is an ideal choice for those who like to hike, mountain bike, or bird watch. There is swimming available nearby, but the hike is more challenging due to the steep rocks.
The half-mile hike along Twin Falls Nature Trail is perfect for those who want an Instagram-worthy photo. For biking, be sure to check out the Juniper Ridge Trail, which offers a 10 mile, challenging drive best for advanced bikers. RV camping sites are available, including a few primitive sites. Reservations are required.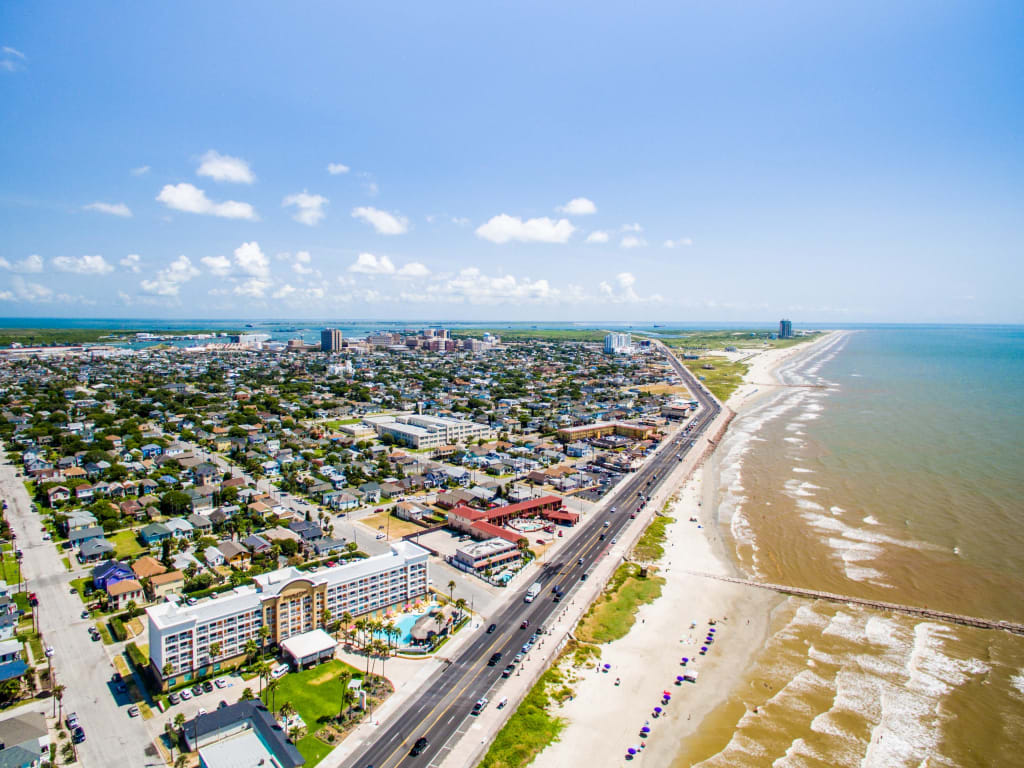 Sandpiper RV Resort
Click Here to Book
Address: 201 Seawall, Galveston, Texas 77550
Details: With 43 paved and landscaped RV sites, the Sandpiper RV Resort is an excellent choice for those who want beachfront camping. As a Class A resort, it is easy to find a reason to visit here, including the fenced and gated green space perfect for pets, the available Wi-Fi throughout the location, and the complete remodeled lounge site that offers a full, gourmet kitchen, high-definition TVs, and deluxe bathrooms.
Aside from those amenities, those visiting will find the infinity edge pool with a lounge and hot tub, which overlooks the Gulf Of Mexico, to be an outstanding reason to visit.
Oasis RV Resorts & Cottages Amarillo
Click Here to Book
Address: 2715 Arnot Road, Amarillo, TX 79124
Details: With 178 full-service RV sites, with 147 of them being pull-through locations, this is an easy choice for even larger RVs. There are 10 very small vacation cottages onsite for those who want a night outside of the campground. There's room for up to 6 people in them.
The location offers nice amenities, including a large game room, playground, and a dog run for pets. Other nice features include a large, inground pool and two spa areas, available seasonally. There's also a full-service propane service available most days of the week.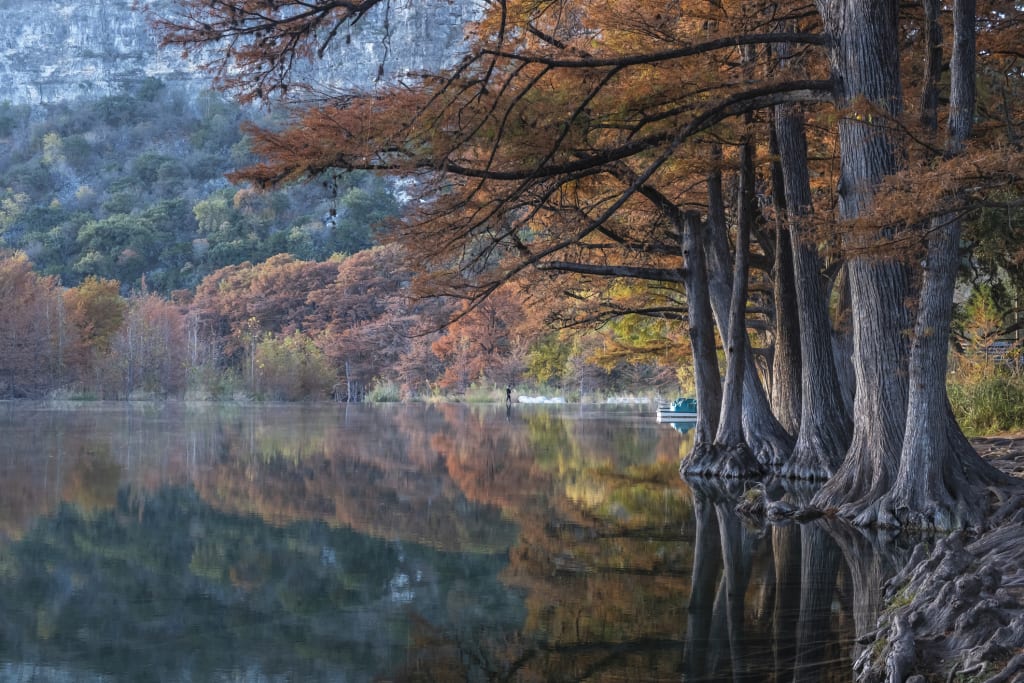 Garner State Park 
Click Here to Book
Address: 234 RR 1050, Concan, TX 78838
Details: Garner State Park is truly a beautiful location to visit, with tranquil waters in some areas and rapids perfect for whitewater rafting in others. It is the type of place to visit when you love to spend time swimming or just floating, but also want a fantastic view around you.
There are both cabins and RV locations available here with full hookups. All locations have a grill, picnic area, and fire rings. While that's all present for your needs, you are likely to spend time along the nearly 3 mile Frio River that runs around 1774 acres of Hill Country terrain. There's golf, geocache, bike riding, fantastic fishing, and areas for pets. There's also the Summer Dance, an event that has happened since the 1940s in which young people gather in the summer evenings for a jukebox dance.
River By the Campground
Click Here to Book
Address: 175 Riverview Rd, Kerrville, TX 78028
Details: With 65 acres of nature trails to explore along the calm and beautiful Guadalupe River, River By the Campground is a unique location. The RV and campground sites are very close to the river itself, making it easy to fall asleep to the sound of the water. There's a full 2,000 feet of shoreline to explore, with large cedar, cypress, and oak trees overhead.
Kayaking, swimming in the water, fishing, and hiking are popular options. Also nearby are several wineries, shopping areas, and a few restaurants.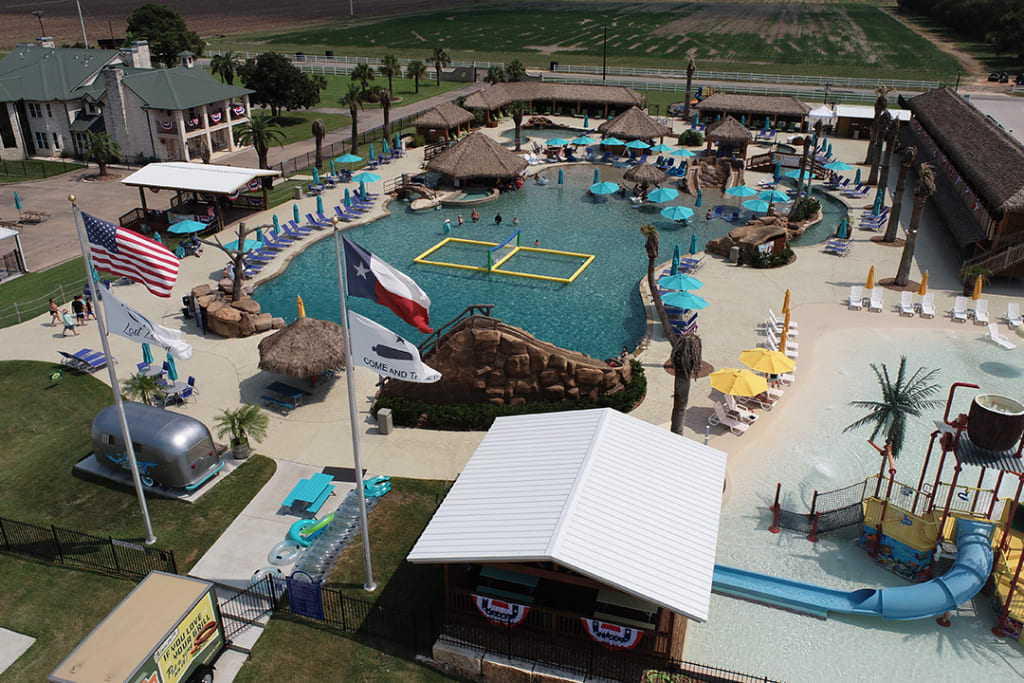 Lost Lagoon RV Resort
Click Here to Book
Address: 554 County Road 451 El Campo, Texas 7743
Details: Los Lagoon RV Resort is hard to miss with what it calls the largest swimming pool in an RV resort. There are over 200 V sites here. The area offers the Wibit Sports Park nearby, along with an onsite café and full bar. This is a family-friendly location that focuses on providing luxury amenities. The pool itself offers a lazy river, rope swing, Kiddie Lagoon area, and a slide. There are also luxury homes onsite for those who want to step out of the RV.
Blazing Star RV Resort
Click Here to Book 
Address: 1120 W. Loop 1604 North San Antonio, TX 78251
Details: With large concrete sites, Blazing Star RV Resort is an excellent location for those near I-410. There's a large, lagoon-style pool to relax in, two playgrounds, an arcade, and an onsite general store. There's also an ice cream shop, a free shuttle to nearby Sea World, and a gift shop. There are also fully furnished cabins on site to rent.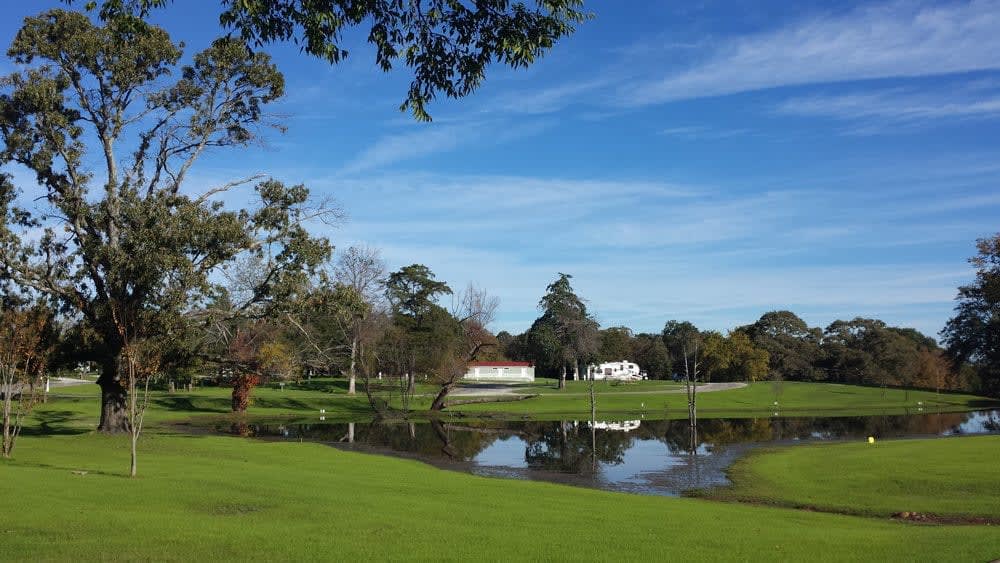 Mill Creek Ranch Resort 
Click Here to Book
Address: 1880 N Trade Days Blvd. Canton, TX 75103
Details: This 200-acre park offers outstanding amenities for the whole family. That includes amenities for basketball, board games, and lots of hiking areas. In addition to this, it is super close to miniature goal and Splash Kingdom Waterpark. The area is ideal with the Main Street area nearby that offers small shops and restaurants and a motocross park near the campground.
Fort Clark Springs
Click Here to Book
Address: 152 McClernand Rd. Bracketteville, TX 78832
Details: Fort Clark Springs is a 2,700 acre RV campground and resort area just off US Highway 90. It offers visitor everything they need including a large mega-pool, as they call it, hiking areas, and a full golf course to explore. There are camping sites here. For those with an RV, there are 85 full hook-up sites with full Wi-Fi access available. There are several bathrooms and showers available, along with a range of amenities such as TV area and laundry facilities. 
With a community firepit, and beautiful pecan trees overhead, the area is stunning when it comes to its natural amenities. There are areas of walking trails throughout this park, too.