Who doesn't want to indulge in a little luxury when on the road from time to time? While there is no limit to RV campground and RV resorts throughout the country, not all are created equal. From epic views to over-the-top amenities, the most dog-friendly campground, and proximity to prime destinations, there are a number of RV campgrounds and resorts that stand out in the crowd. We've rounded up our favorite, and arguably some of the best places to stay in your RV across the United States. Make sure to add these campgrounds to your list of destinations for 2022!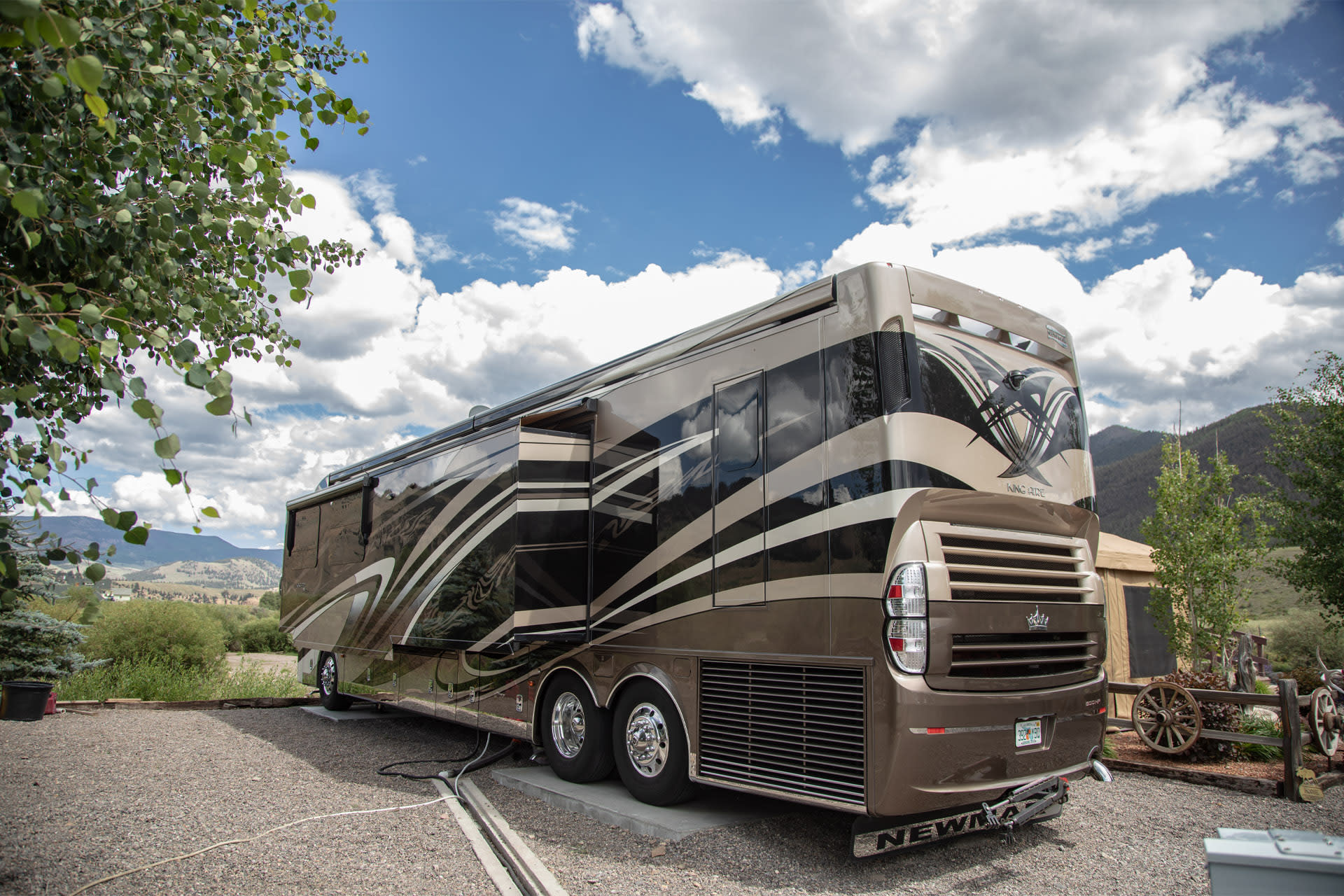 Photography Mountain Views RV Resort
CREEDE, COLORADO
Where to Stay: Mountain Views RV Resort
Address: 539 Airport Road, Creede, Colorado, 81130
Why We Love It: The stunning scenery of Mountain Views RV Resort is just one of the many reasons to visit this luxury destination. Located five hours from Denver, it offers ample room for even the biggest rigs and an impressive list of amenities. We're talking lodges with pool tables, a BBQ area with outdoor dinner dining, river frontage for fishing as well as a convenient fish cleaning station, paddle boat rentals, and planned activities. Reservations can be arranged for ATV excursions, horseback riding, theatre, rafting, and so much more. Located near a historic town with a truly charming set of restaurants and shops, RVers have everything they need nearby and can get a taste for the remote wild beauty of Colorado without sacrificing delicious meals and entertaining nightlife.
SCOTTVILLE, MICHIGAN
Where to Stay: Henry's Landing RV Campground
Address: 701 S Scottville Rd, Scottville, MI, United States
Why We Love It: Just nine miles away from the breathtaking beaches of Ludington, Michigan, lies a cozy privately-owned campground nestled along Pere Marquette River. Wake up with a riverside view and venture on for some swimming, fishing, or kayaking. Ludington State Park is a quick trip away where you can hike along the sights of clean beaches, a fishing pier, sand dunes, wetlands, and marshlands. Take a tour to explore the history of the Big Sable Point Lighthouse and lumber town. If you'd like to book an extended stay, Lake Michigan is also just a short drive away.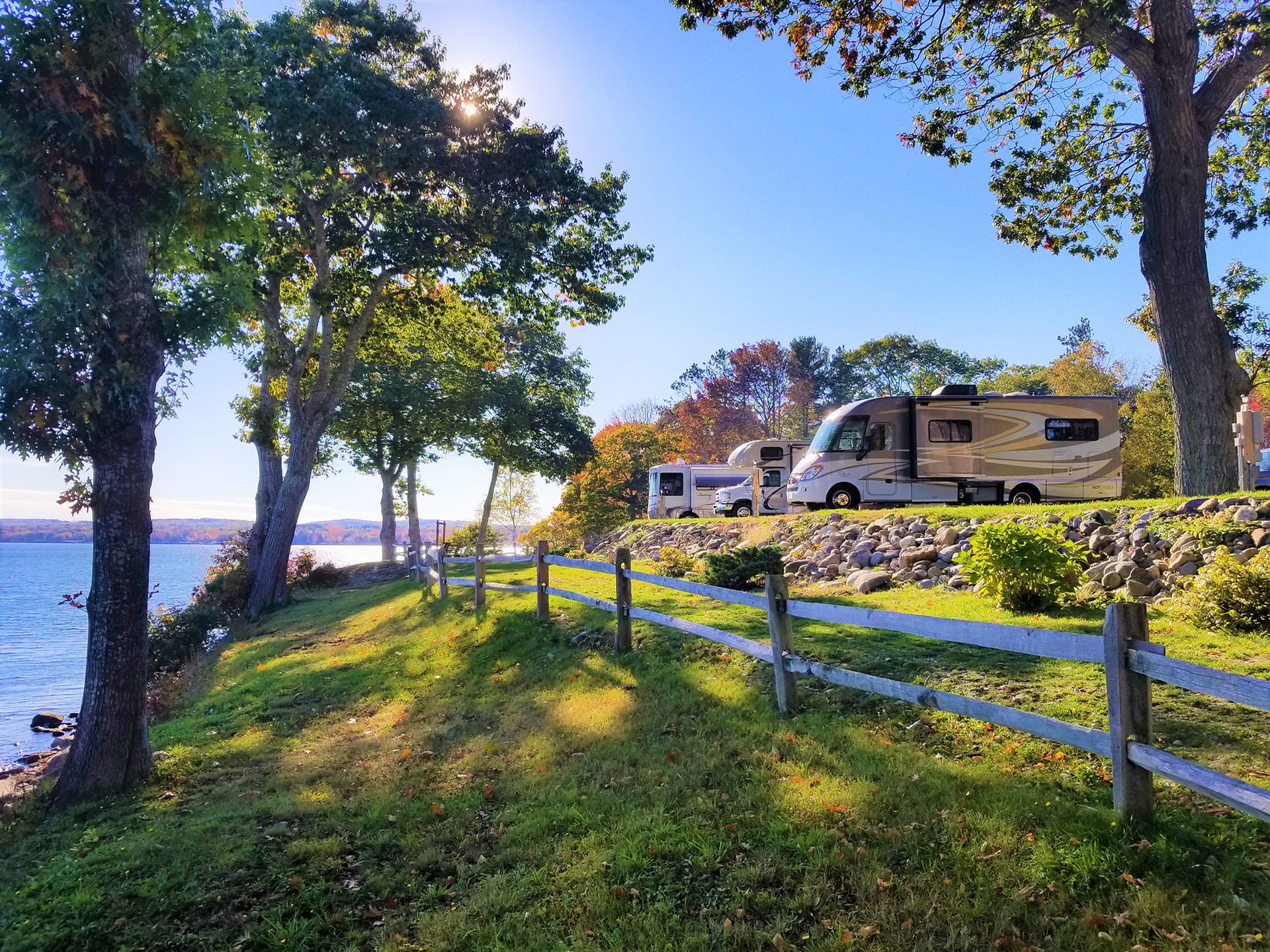 Photography Moorings Oceanfront RV Resort
BELFAST, MAINE
Where to Stay: Moorings Oceanfront RV Resort
Address: 191 Searsport Ave., Belfast, Maine 04915
Why We Love It: The stunning waterfront vistas along the coast of Maine are calling your name. This resort comes with an abundance to explore, including beautiful coastal villages, whale watching tours, and fresh seafood cuisine. Let the kids go wild at the on-site playground, or take the whole family boating or kayaking. If you're a lighthouse connoisseur, here are over a dozen in the local area. If you'd like to go the whole nine yards, be sure to visit Bar Harbor and Acadia National Park (just an hour north from the resort) for some seriously gorgeous hiking opportunities.
CAMP VERDE, ARIZONA
Where to Stay: Distant Drums RV Resort
Address: 583 W. Middle Verde Road, Camp Verde, AZ 86322
Why We Love It: Located in the middle of the state in wine country, Distant Drums RV Resort is one of the best RV resorts for pet-lovers heading out west. It features an enclosed dog park with lots of space to run, a free shuttle service to the nearby casino, nightly security, and a heated pool and spa. Get your hike on as you explore the Red Rock State Park, Montezuma Castle, and Jerome Ghost Mining Town, all within drivable vicinity. If you're looking for an adult's night out, be sure to check out the Wine Tours of Sedona or Verde Valley Wine Trail during your stay!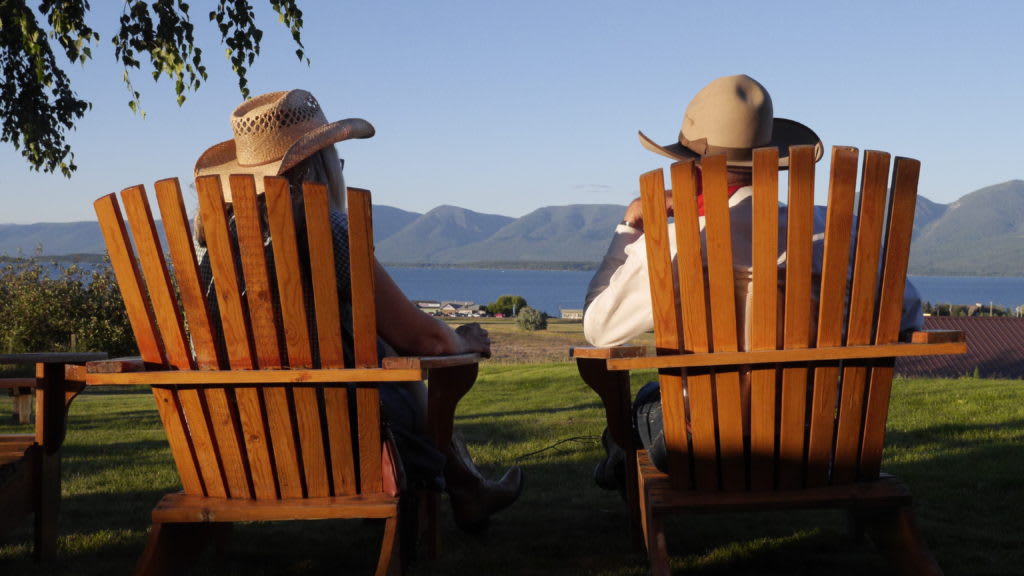 Photography Polson Motorcoach Resort
POLSON, MONTANA
Where to Stay: Polson Motorcoach Resort
Address: 200 Irvine Flats Road, Polson, MT 59860
Why We Love It: Treat yourself to exclusive Class A luxury accommodations at one of the finest resorts in Montana. Take in impressive views of Flathead Lake and surrounding mountains. Highlighted amenities include a fenced dog park, common areas with expansive views, fire pits, and outdoor kitchens. Local attractions include cherry-picking orchards, boat rentals, lake charters, and golfing at Silver Fox and Eagle Bend. You're also a short drive to Glacier National Park, where the real adventure begins. We encourage fishing enthusiasts to stop by Flathead Lake for some large lake trout and whitefish.
BISMARCK, NORTH DAKOTA
Where to Stay: Hillcrest Acres RV Park
Address: 5700 East Main Avenue Bismarck, ND 58501
Why We Love It: Close enough to Fort Abraham Lincoln State Park, yet far enough to enjoy a peaceful, quiet stay this campground includes all of the amenities you need for a classic RV getaway. It's also a pet-friendly destination! You'll have full access to an array of recreational activities from homesteading, swimming, and kayaking, to skiing, horseback riding, stargazing, and more! It's a treasure for history lovers who want to explore the rugged Badlands or attend a Native American cultural immersion tour. There's a huge lineup of adventure all year long, including snowmobiling and snowshoeing in the winter to marinas with boat ramps and equipment all summer long.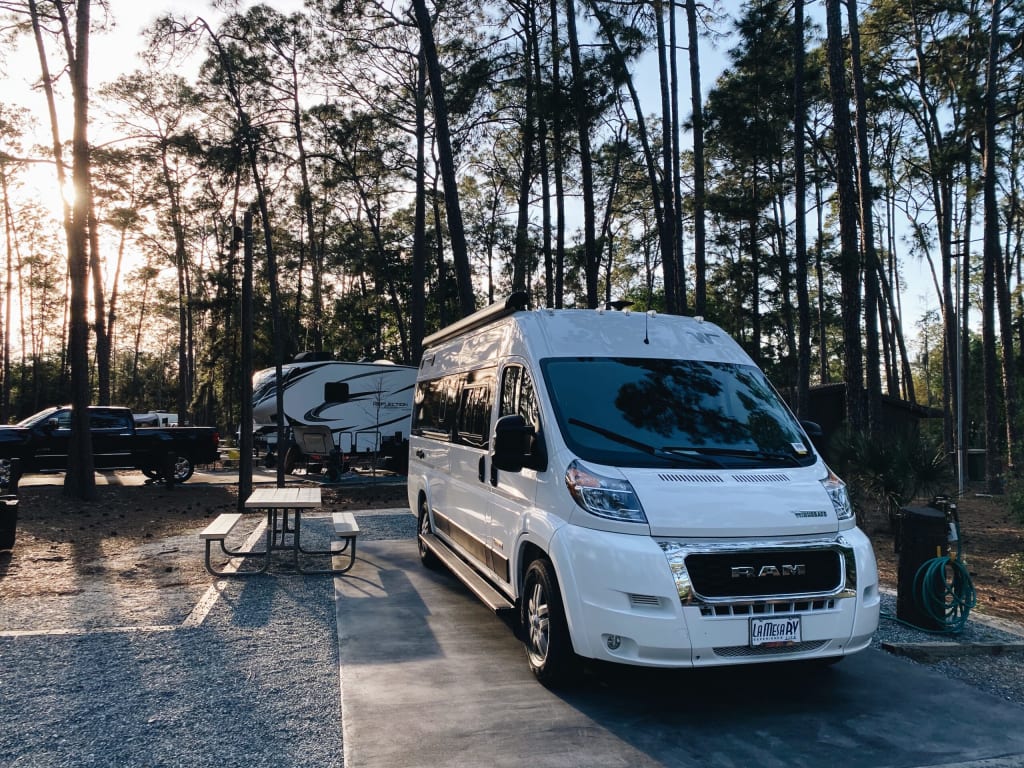 ORLANDO, FLORIDA
Where to Stay: Fort Wilderness Resort and Campground
Address: 4510 N. Fort Wilderness Trail, Orlando, Florida 32830
Why We Love It: A top-tier destination for RVer's with kids, Fort Wilderness brings all the magic to the whole family. From the working horse ranch, fun campfire sing-alongs, and the musical country dinner show, you're getting full access to classic camping experiences with a touch of Disney. Go Kayak, fish, enjoy some archery, or take a woodland sleigh ride if you map out your trip during the holiday season. If you're looking for a stress-free vacation, this resort has thought of everything. They also offer premium childcare services if you'd like to experience an adults-only dinner date!
SEARCHLIGHT, NEVADA
Where to Stay: Cottonwood Cove Marina 
Address: 126 Cottonwood Cove Road, Searchlight, Nevada, 89046
Why We Love It: If you're looking for a greater sense of seclusion, along your travels through the west, we highly recommend this campsite. Wind down to a waterfront view of Lake Mojave with the freedom to stroll along the south shore beaches. There are several water ventures to match the pace of your vacation, from high-speed watercraft rentals to fishing game along the lake. Expect to find largemouth bass, channel catfish, crappie, and bluegill sunfish, among others here. The marina also offers the especially unique chance to untether from land life with houseboat rentals.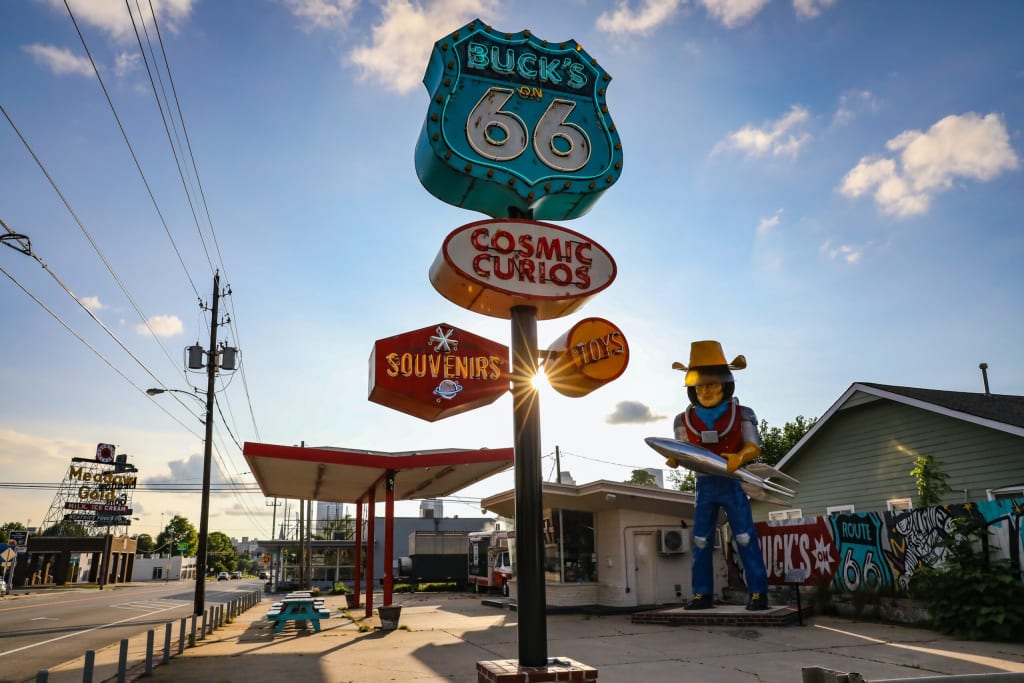 ALBUQUERQUE, MEXICO
Where to Stay: Route 66 RV Resort
Address: 14500 Central Ave., Albuquerque, New Mexico, 87121
Why We Love It: Take a first-class trip to historic Route 66 for a luxury resort experience you'll never forget. This destination comes with an array of activities, for both outdoor and indoor leisure. Your pup is also welcome to play in one of the two available dog parks. There's a dog wash station open seasonally too. Breathe in beautiful views as you soak in five-star resort style service. The large gathering space locations are perfect for family and friend reunions. This destination is just 20 minutes away from Albuquerque, yielding plenty of hiking adventure opportunities throughout your stay.
GLADEWATER, TEXAS
Where to Stay: Shallow Creek RV Resort
Address: 5261 Hwy 135 N., Gladewater, TX 75657
Why We Love It: Art, music, food — do we have your attention yet? Stop by to experience the Great Texas Balloon Race, Texas Shakespeare Festival, and Longview's Alley Fest. Aside from this, the views and proximity to the Southern Hills Golf Course, Lone Star Motor Speedway, Cherokee Trace Drive-Thru Safari, and much more make this spot a must-visit. The kids can have a blast at the resort waterpark and playground while you wind down at the hot tub or stocked pond. If you're all about country, be sure to drive down to Jacksonville for the Texas Country Music Hall of Fame! There are also plenty of surrounding lakes for your boating, fishing, and kayaking enjoyment.
Ride into 2022 with the RV of your dreams. Check out inventory today for your next adventure.