If you're not RVing south for the new year and plan on storing your rig for the remaining cold season, you will need to winterize your RV. The process of winterizing is fairly simple but requires a few detailed steps to ensure your unit is properly set for its hibernation. Winterizing your RV, motorhome and/or trailer will help protect its plumbing system (no RVer wants to deal with frozen water lines), keep moisture out and insects away so that you can enjoy your RV for years to come. We've compiled an easy checklist to make sure you're all set when it comes to winterizing your rig. From materials you need to a full how-to guide, check out the details below.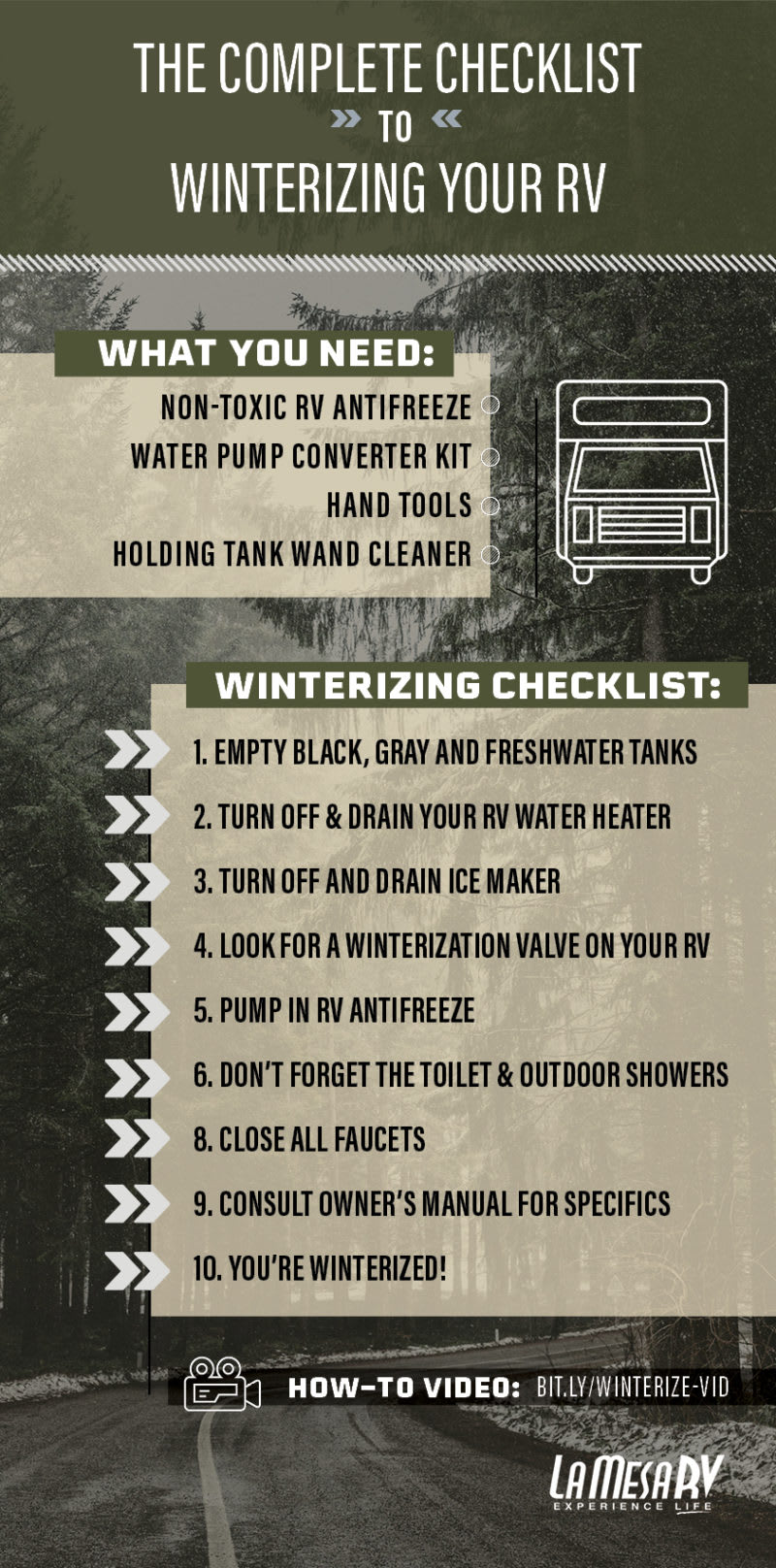 HOW-TO WINTERIZE YOUR RV
STEP 1: Empty black, gray, and fresh water tanks.
STEP 2: Turn on fresh water pump and open up all faucets (both hot and cold in the kitchen, bathrooms, and outdoor shower) to drain all the water out of the coach until it's completely dry.
STEP 3: Turn off and drain the ice maker line.
STEP 4: Turn off the breaker for the hot water heater before removing the cover. This will keep you from accidentally burning the electric element out once you bring your RV out of storage. Remove the plug and drain the water heater tank.
STEP 5: Once the water is drained, replace the plug.
STEP 6: Next, by-pass the water heater. The by-pass valve allows you to skip putting antifreeze into the water heater.
STEP 7: Once all your water is drained, turn off all your valves (including low point drains).
STEP 8: If you have a whole house filter you're going to want to remove it and discard it because it will be useless once you put antifreeze in it.
STEP 9: Some RV's have a winterization valve. If you have one, turn it on. The valve works by not putting water into the system when it's on, even if you connect your fresh water hose up to the valve and turn it on having forgotten your RV had been winterized (just like the by-pass valve).
STEP 10: Once that's all complete, you're ready for your antifreeze.
STEP 11: Insert a clear tube on the fresh water pump side, turn your water pump on and it will start drawing the antifreeze in.
STEP 12: Go inside your RV and repeat the process with your faucets. Turn on your hot and cold faucets until the antifreeze is coming through the lines.
STEP 13: Complete the process for all faucets in the RV (kitchen, bathrooms, don't forget the outside shower) and make sure there's antifreeze coming out.
STEP 14: Once the antifreeze is through the system, pour a quarter of a cup of antifreeze down each of your p-trap drains (kitchen, bathroom, and shower sink).
STEP 15: If your water heater has an electric heating element, make sure it's turned off. Close all faucets. Turn off the water pump.
STEP 16: You've done it! Your RV is now winterized. Watch the video tutorial below to learn more on how to get your motorhome ready for the season.
You want to winterize your RV water system to keep it from freezing. Always refer to your owners manual for unit specific guidelines.
STEP 1: Remove and by-pass any inline water filters you have before you begin.
STEP 2: Drain your fresh water holding tank. Drain and flush your gray and black holding tanks.
STEP 3: Lubricate the termination valves with WD-40.
STEP 4: Drain the water heater and remove the drain plug. Open the pressure relief valve. NEVER drain the water heater when it is under pressure or if it is hot.
STEP 5: Open all faucets both internal and external on your RV.
STEP 6: Open all low point drain lines (there is one for hot and cold water lines).
STEP 7: By-pass the water heater.
STEP 8: Disconnect the inlet side of the water pump, then connect a piece of clear tubing and add one gallon of non-toxic RV antifreeze. If you have a water pump converter kit you can use that instead.
STEP 9: Turn the water pump on and pressurize your system. First open the hot faucet, then the cold until you see the antifreeze.
STEP 10: Pour a cup of antifreeze down each drain. Don't forget the toilet!
Looking for the do's and don'ts when it comes to winterizing your RV? Check out our post How to Prep Your RV for Winter Traveling and leave us a comment in the section below sharing where you'll be headed in your RV in 2021!