Owning an RV is a thrilling and unique experience. Beyond having the mobility to pick up and go whenever you so desire, you have zero hassle with airports, taxis, hotels, reservations and best of all, your pet can stay with you at all times. We caught up with a bunch of road warriors to get their insight on traveling with their four legged companion, and all the things you need to know before you set out for the sunset with your furry friend.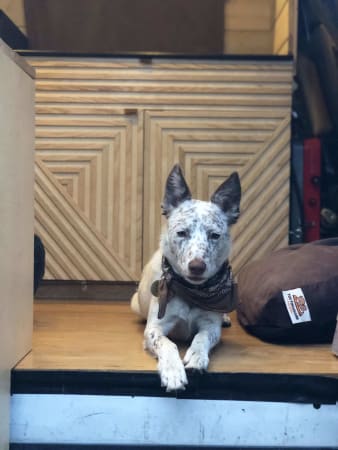 La Mesa RV: What is your Instagram handle? (so we can follow your sweet pup!)
Tommy Erst: @longroadtonowhere
LMRV: How long have you been on the road?
TE: We've been on the road a year and a half (on and off for jobs).
LMRV: What's your pups name and breed?
TE: Banjo. He's a Blue Heeler/Border Collie mix (we were told)
LMRV: How long has your pup been traveling with you?
TE: Since we got him, which was a little over a year ago.
LMRV: The best thing about traveling with your pet?
TE: He just constantly makes us smile and laugh. He's always making goofy faces and noises. He always knows how to cheer us up when we are down.
LMRV: Most challenging element when traveling with your pet?
TE: Keeping our van clean. He's got white hair and sheds a lot. Our van is often a furry mess.
LMRV: Fun fact about Banjo?
TE: He has endless energy. I'll take him out in a 15 mile mountain bike loop, and as soon as we are done he finds his ball and is ready to play more. There is no wearing him out.
Top 5 tips and tricks to living on the road with your pet:

1. Our biggest tip is that dogs are very adaptable. Don't change your ways because you have a dog. There really isn't much we do different because of Banjo.
2. Make sure you have a bed for your dog in your van. Dogs appreciate a place that is their own.
3. Be active. An active dog is a happy dog, and a happy dog is an obedient dog.
4. Remember, you need water for 3 now. Make sure you always have enough H2O, especially on really warm days. They need it even more than you.
5. Enjoy it. Everything is better with a dog!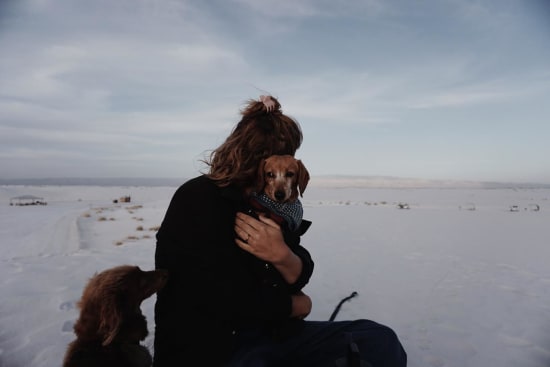 La Mesa RV: What is your Instagram handle?
Meaghan Kelly: @meaghanfranceskelly
LMRV: How long have you been on the road?
MK: I'm still new to this road life. I've been on the road for just over 2 months now. Before that, my husband and I did a 5 week road trip in a Dodge Caravan. We threw a bed in the back to see how we liked it before we committed to leaving everything behind.
LMRV: What's your pups name and breed?
MK: I have two miniature dachshunds, a long haired named Frankie who is 10 and a short haired named Lola who is 11.
LMRV: How long has your pups been traveling with you?
MK: We left them behind for our trial run last summer, but they've both been on the road with us for the full 2 months we've been travelling.
LMRV: The best thing about traveling with your pets?
MK: The best thing about travelling with my dogs is getting to share all of these amazing places with them. Honestly, I've lived in city apartments for the entirety of my adult life, first in Montreal and then in Toronto. That's the whole reason I opted for smaller dogs. I worked 9 to 5, so they were cooped up most of the day, and got walks in the morning and evening, and on weekends I tried to take them somewhere fun. When I travel, I am in all these big wide open spaces, and I've always wished I could let my dog out and watch them go bananas racing around in all that open space. Now I get to do that. Also, snuggling in the van is infinitely better with dogs.
LMRV: Most challenging element when traveling with your pets?
MK: The list of challenges when it comes to travelling with dogs is long. I basically only go places the dogs can go. It means no National Parks, no museums or tourist attractions. It can feel really limiting at first. But like with anything else, you just get used to it. Ultimately, they end up saving me a bunch of money because most of the things we do are free – it's all outdoors! When we first got on the road, they had a hard time adjusting and ended up with all kinds of stress related tummy troubles. We've finally figured out a balance that works. It involves pumpkin puree, coconut oil, digestive enzymes and a calming tincture for the anxiety. It's tough travelling with small dogs because they need help with everything from getting in and out of the van, to navigating hiking trails. But no matter how much longer the list of challenges VS benefits may LOOK, the benefits far outweigh the challenges. The whole thing would feel kind of empty without them.
LMRV: Fun fact about Frankie?
MK: I adopted Frankie five years after Lola and I had already been taking on life together. She fused into our little family seamlessly, but that first week I got her she got up to the weirdest things. One time, I was painting my kitchen, and left the room for a second only to come back to find a tiny dog turd floating around right in the paint can. These dogs are about 6 inches off the ground, so I have no idea how or why she did it, but she had paint on the tip of her tail, so I had to assume she was the guilty party.
LMRV: And Lola?
MK: She's just this ridiculously smart communicator. She's figured out so many tricks on her own. If she's thirsty and her water dish is empty she kicks it so I'll refill it. If she wants something, she puts her paw on my foot and makes really intense eye contact and then looks directly at the thing she wants. It's impossible to miss the signal. It's amazing.
Top 5 tips and tricks to living on the road with your pet:

1. Stick to a regular feeding schedule. Life on the road is anything but routine. I make sure I feed them at the same time everyday, no matter what we're doing so their bodies don't get thrown off.
2. Carry a dog bed! Seriously this is the best thing. They recognize the smell of it, and I can put it down just about anywhere, on a patio, in a park or next to the van, and they immediately calm down and feel at home.
3. If you do ever need to leave the pups behind for some reason, there are resources online that make it a lot easier. BringFido allows you to search for pet friendly accommodations and businesses in your area and includes information about leash laws, pet fees, etc. Rover is a cool service in that you can search for dog sitters in your area. You're able to read through reviews and chat with sitters before dropping your pets off, which makes the anxiety of leaving them with a stranger a little easier. I've only used it once when I had a ton of long work days to get through, but it was a positive experience.
4. Pay attention! To their poop, their breath, their mood, their appetite. I feel like this isn't new information to any dog owner, but on the road there are so many variables. Temperature, stress, altitude, smells, sounds and schedule changes. It's a lot for our own bodies, but at least we have the capacity to understand what's going on. Dogs are just thrown into situations and they react physically to the stress in some weird ways. We sourced a high quality dog food that we knew would be easy to find on the road, and we make sure to search for stores that carry it well before we run out so that we aren't trying to introduce new things into their system on top of all the other stress.
5. Trust your dog and live in the moment. I'm guilty of playing out worst case scenarios in my mind until I'm convinced they're actually going to happen – no matter how many odds and statistics tell me otherwise. I've learned that trusting their instincts, and letting go of the need to control everything all the time goes a long way in allowing me to enjoy the moment with these girls. And it's made life so much easier for all of us. Now I let them roam around and tire themselves out, and they honestly always come back. I've got the food, and the cuddles, and the van is our den. They're small, and I still get caught up worrying about everything from poisonous plants to predatory birds snatching them up, but in the end, we survived 10 years together in a busy downtown, so it's really just a matter of adapting to our new surroundings.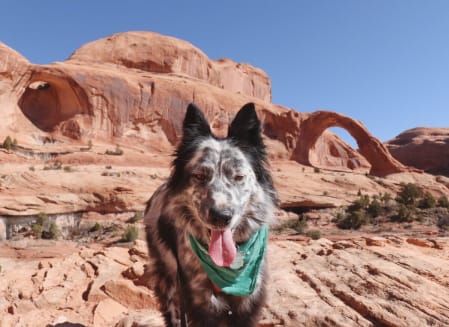 La Mesa RV: What is your Instagram handle?
Brooke Weeber: @brooke_weeber
LMRV: How long have you been on the road?
BW: I'm on and off the road. I live in Portland, OR, but take my van out on long road trips with my dog.
LMRV: What's your pups name and breed?
BW: Huxley and she's an Australian Shepherd/Blue Heeler mix, I believe. Hard to know for sure because she's a rescue.
LMRV: How long has your pup been traveling with you?
BW: I've had Huxley for just over 2 years now. She goes with me pretty much everywhere, but before the van, we would just travel in my Subaru Outback. She's my best adventure partner; it's hard to go anywhere without her.
LMRV: The best thing about traveling with your pet?
BW: The excitement written all over her face whenever I pull the van over. I love to see her having a great time, running free, smelling all the new smells. She absolutely loves the outdoors. Her excitement is so contagious. It rubs off on me. Traveling with her makes going it alone a lot easier because I genuinely feel like I'm sharing an experience with someone.
LMRV: Most challenging element when traveling with your pet?
BW: There are a couple of challenges about traveling with dogs and Huxley, specifically. First of all, you can't take dogs to National Parks. That means I would have to leave Huxley in the van if I wanted to stop and do any hiking. I feel way too guilty doing that and never felt comfortable leaving her along for very long. So sometimes that means skipping over some really beautiful areas, which is a little heartbreaking. My biggest struggle with Huxley is her bad car anxiety. She shakes and pants the whole time we're driving. I've tried a lot of remedies for this but nothing has worked yet. I know it's hard for her and I hate to see her upset. I'm hoping that someday we'll find something that calms her down or that she'll eventually get used to being in the van.
LMRV: Fun fact about Huxley?
BW: I brought Huxley on our South Sister hike a couple summers, which tops out at 10,358 ft and is a total round trip of 11 miles. She loved it! I know we were meant to be because she loves summiting mountains just as much as I do.
Top 5 tips and tricks to living on the road with your pet:

1. Make sure to have plenty of playtime. Nobody wants to be cooped up driving for 10 hours and then go straight to bed. It's good for everyone involved to have some time and exercise spent out in the fresh air.
2. Try to stick to dog friendly places, especially in the summer. Your dog wants to get out of a hot car just as badly as you do.
3. Make an effort to meet up with other dog owners. We spent some time with my friends who have a Blue Heeler puppy and it was great for Huxley as dogs need to socialize just as much as humans.
4. If you're worried about your dog moving around while you drive, consider a seat belt made especially for dogs. I have one for Huxley. It really helps me keep my focus on the road instead of constantly worrying about her jumping up front to be close to me. It's also a lot safer for the pup in the event of an accident.
5. I have a plastic mat that I keep on the ground in front of the sliding door of the van. It's where I have Huxley stand while I'm cleaning the dust and dirt off her before we climb into bed for the night. This is incredibly valuable to me. It doesn't always keep all the dirt out, but it works as a nice place to wipe her paws and body clean(ish).