When it comes to the ideal month to hit the road on an RV adventure, September simply can't be beat. The sun is still shining, but summer's extreme temperatures are on the wane. In some parts of the country, you may even enjoy the very start of colorful fall foliage.
With the changing seasons in mind, we've put together a list of 10 top RV destinations that are pretty much perfect in September. Of course, you'll want to check the forecast before you go to make sure you're prepared for whatever the weather may throw your way! From the West coast to the Eastern shores and everywhere in between, here are 10 great RV destinations to add to your "must visit in September" list.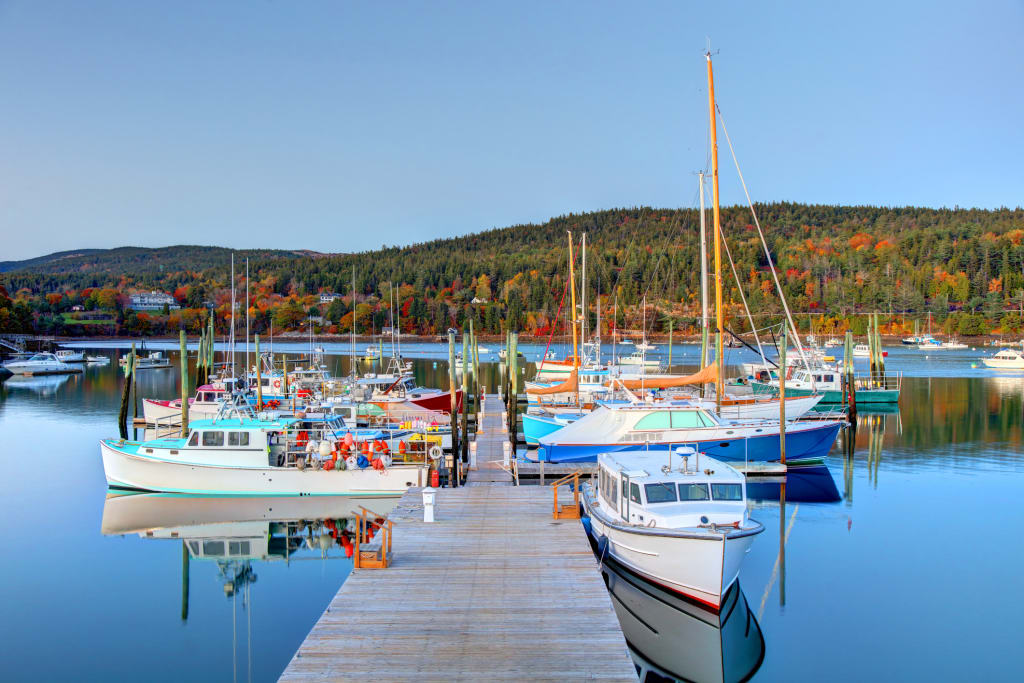 Acadia National Park, Maine
Late summer and early fall are the perfect times for planning an RV trip to explore Maine's Acadia National Park. The weather is still beautiful, and the crowds have dispersed (at least a bit) from the height of summer. Acadia National Park offers so many stunning sights, all packed into about 65 square miles. Rugged shoreline, pristine forests, clear lakes, miles of hiking trails… this gorgeous national park truly has something for every visitor. If you're there on a clear night, be sure to drive to the top of Cadillac Mountain for some world-class stargazing. Choose from several campgrounds with RV hookups within the park; just be sure to make reservations in advance. Click here to explore more amazing RV campgrounds in New England.
Tahquemon Falls State Park, Michigan
Before the weather gets really chilly, head to Michigan's Upper Peninsula. Here, Tahquemon Falls State Park offers photo opportunities galore. With 50,000 acres — most of it undeveloped — to explore, you can spend your days strolling through lush woodlands, renting a rowboat on the Tahquemon River, and marveling at the beauty of the two namesake falls. The Upper Falls is one of the biggest waterfalls in the region, with a 50-foot drop that's more than 200 feet across. The Lower Falls aren't quite as large, but include five separate, and dramatic, drops. For more accessibility, you can borrow a track chair, an electronic chair that can get to places traditional wheelchairs can't. They're available on a first-come, first-serve basis, and are free to use.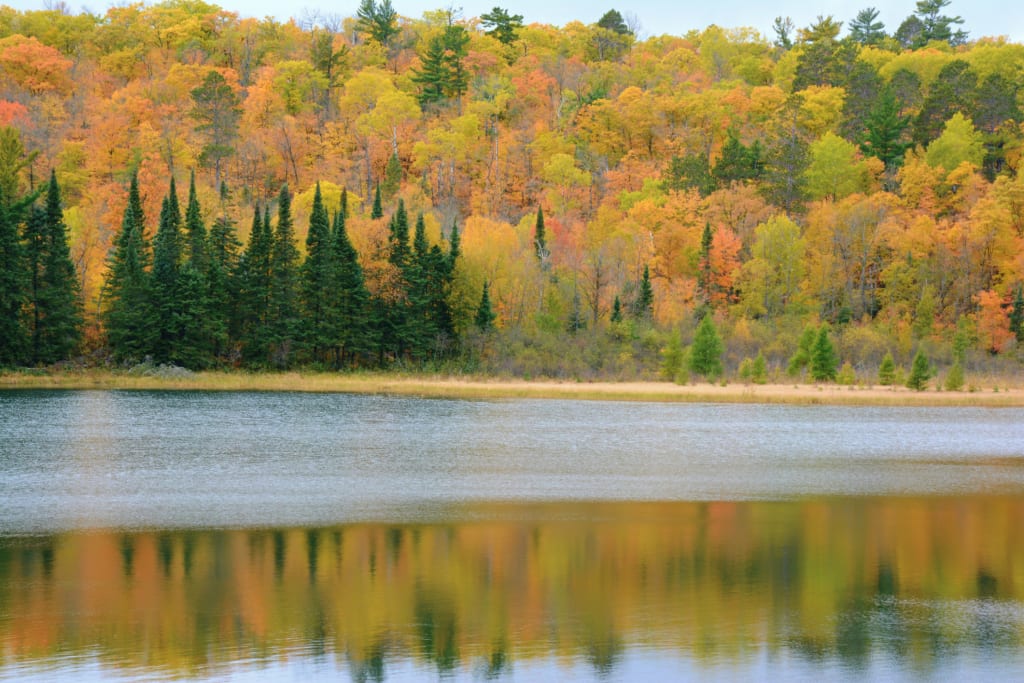 Itasca State Park, Minnesota
If you want to get away from it all and explore a bit of history, Itasca State Park has it all. This Minnesota landmark was established in 1891, and 32,000 acres to explore. Here you'll find more than 100 lakes and the origin point of the Mississippi River. Bring your camera and look for loons, wrens and woodpeckers in the Itasca Wilderness Sanctuary, or marvel at the old-growth pine forest. Choose from more than 200 campsites and be sure to stop in and tour the historic Douglas Lodge. Click here to explore more destinations in Minnesota's North Shore region.
Charlestown Breachway State Beach, Rhode Island
Rhode Island may be the smallest state in the U.S., but there's still a lot to do and see. If you're dreaming of an RV campsite with a scenic water view, head to the southern RI coast to stay at Charlestown Breachway State Beach. You'll enjoy ocean views from almost every direction as you sleep just steps from the golden sand beach. The area is known for its saltwater fishing, and offers convenient access to nearby attractions like the Ninigret National Wildlife Refuge and the Point Judith Lighthouse. Camping is for self-contained RVS, and can be found on the east side of the Breachway.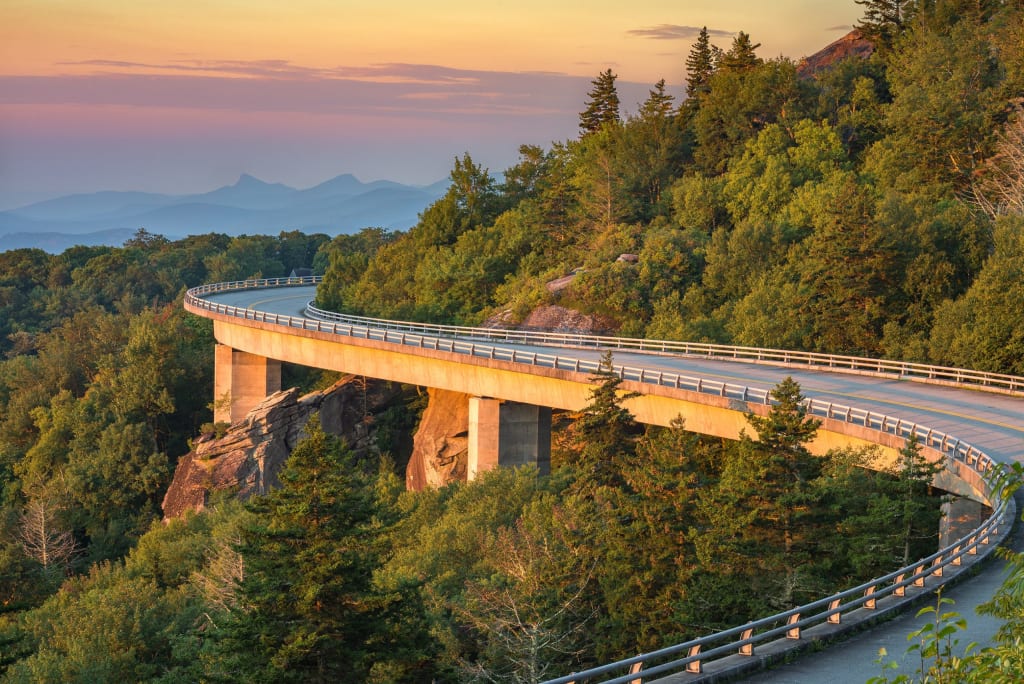 Blue Ridge Parkway, North Carolina
If you're planning a trip later in September, strike out for North Carolina's Blue Ridge Parkway to catch a glimpse of that famous fall color as the foliage starts to turn. The peaks lining this 250+-mile scenic drive are known for their stunning autumn palette. Along the way, you can choose from five campgrounds, all open until October. Though all are lovely, we recommend snagging a spot on the A-loop of the Julian Price Campground. This quiet campground is set on the shores of sparkling Price Lake, so you can enjoy the sunny September weather on a rented canoe, fishing or looking for local wildlife, like grouse, hawks and even the occasional bear.
Sugarite Canyon State Park, New Mexico
If you're into boating, fishing, hunting, or hiking — and you'd like to do it all in one place —hit the road for Sugarite Canyon State Park campground. Set on the border of New Mexico and Colordado, this year-round campground offers sunny September weather, with an average temperature of 76 degrees. The park offers an amphitheater, a visitor's center and 13 miles of hiking, natures and interpretive trails. Stop by the historical coal camp to learn about the area's rich past. The two in-park campgrounds offer eight sites with water and electricity and two sites with full hookups, so make reservations well in advance. For more on RVing in northern New Mexico, click here.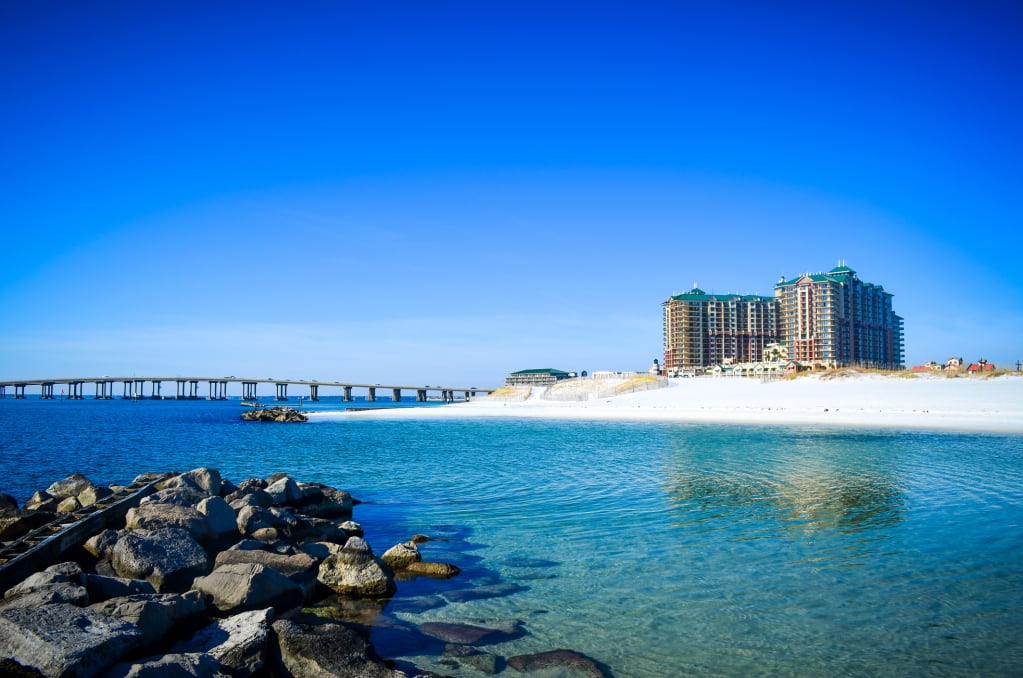 Destin, Florida
There's a reason why the city of Destin is so popular amongst snowbirds. This Florida panhandle town, set on the Gulf of Mexico, boasts clear emerald water, white sand beaches, and amazing weather. In September, temperatures and humidity drop a bit, with comfy averages in the 70s and 80s. You can sunbathe in Ft. Walton Beach or Miramar Beach, golf at one of Destin's many courses, and shop and dine at Baytowne Wharf and Harborwalk Village. Don't miss a day trip to Crab Island; rent a boat and head to this shallow sandbar, a local favorite for swimming and relaxing. Camping on the Gulf offers oceanfront RV sites and pools.
Bothe-Napa Valley State Park, California
There may be no better time of year to visit California's wine country than fall. Just a few miles from Napa, the Bothe-Napa Valley State Park campground makes a perfect home base for exploring the fall harvest. Vineyards, eateries, shopping and outdoor activities abound in this gorgeous region. Set on the banks of meandering Ritchie Creek, the campground is a destination in itself, with miles of hiking trails through peaceful forests. With more than a dozen wineries within a short drive from the park, it's the perfect place to spend those lazy fall days.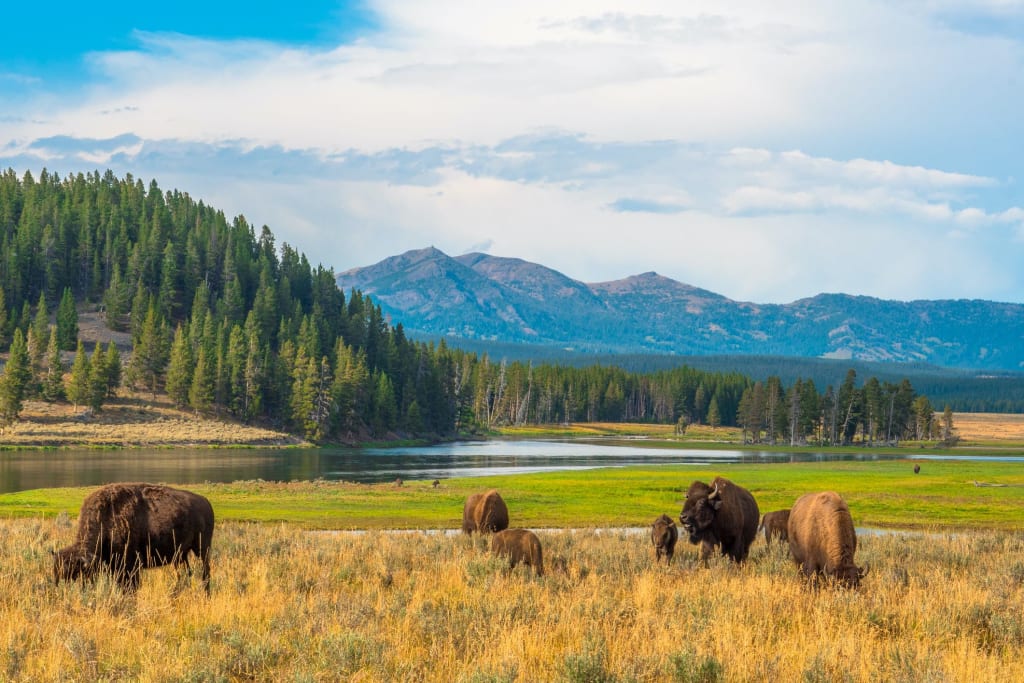 Yellowstone National Park, Montana
As one of the most-visited national parks in the country, Yellowstone is packed in summer. But once school's in session, numbers go down, making September a perfect time to visit. This gorgeous park is known for its geothermal activity and its wildlife, from bison to gray wolves, and neither will disappoint. Though Yellowstone has 12 campgrounds with over 2,000 sites, given the park's popularity, you must make reservations in advance. In fall, you may find last minute sites in Montana at the park's north entrance. The Canyon Campground is on the Yellowstone River and doesn't offer much in the way of amenities, but is first-come, first-serve.
L.L. Stub Stewart State Park, Oregon
Just 34 miles from the bustling arts, shopping, dining and entertainment in Portland, Oregon, L.L. Stub Stewart State Park is a must-visit fall destination. This 1,800 acre park offers 30 miles of trails, perfect for mountain biking, walking or hiking. You'll also find two disc golf courses, an amphitheater and a welcome center with a gift shop. Set in the peaceful Wilamette Valley, known for its agriculture and temperate climate, the wild and stunning Oregon coast is just a short drive to the west. Choose from 78 full hookup sites within L.L. Stub Stewart State Park.
Where's your favorite September destination? We want to hear all about it! Tell us about your dream fall RV destination in the comments, below.