Swinging beats, toe-tapping rhythms, inspired improvisations that will leave your mind melted for the rest of the night – what's not to love about the blues and jazz? It's a tried and true American genre that invokes a unique feeling song by song. International Jazz Day (April 30th) is a world-wide dedication to a music style that refuses to quit even in today's modern world. It's to no surprise either, as songs from some of America's blues and jazz legends still inspire a sense of nostalgia, whether romantic, heartbreaking or delightfully uplifting. 
If you're up to discover some swinging spots that will literally whisk you away this International Jazz Day, or any other day of the year you may find yourself looking for a touch of melodic magic, I've got you covered. This one goes out to you, dad! I wouldn't have known this awe-inspiring side of music if it wasn't for you and your late-night jam sessions. 
Guest Post by Deanna Paulsen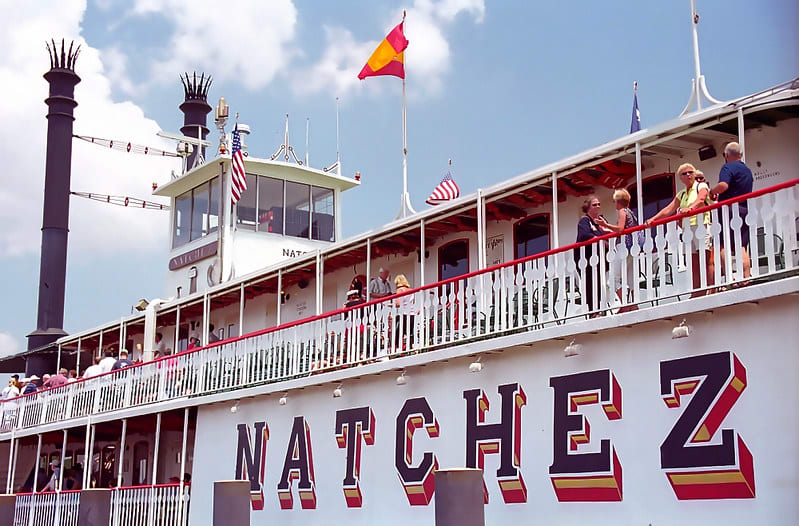 Photo Credit: David Ohmer
New Orleans, Louisiana
This toe-tapping destination guide wouldn't be complete without the birthplace of jazz – The Big Easy. New Orleans has long embraced thriving musicians, turning talented artists into legends. This is the hometown of Louis Armstrong and Sidney Bechet, championing a rich history of music that has inspired brass players across the world. It only seems fitting to start your journey at Louis Armstrong Park's Congo Square where you can take in the sights of jazz-inspired art and likely a street performance. This park is historically sacred as it was where slaves would gather to make music in the 1800s. The Perseverance Hall is a short walk away, where early jazz pioneers including Isador Barbarinm, Joe "King" Oliver, and Buddy Bolden graced the stage within these walls, preserved since its days of yore in the 1880s. Today it houses an exhibit that immortalizes some of New Orleans' most beloved music legends. 
The French Quarter is the epicenter of live jazz performance. There are several jazz clubs where you can catch a free show with only a one-drink minimum. Some of the most renowned venues around the area include: 
The Spotted Cat Music Club

– Jazz takes center stage at this renowned venue, popularly known as the beating heart of New Orleans' live music scene. You can catch a performance or two during the day or night.

Steamboat Natchez

– Enjoy a truly unique jazzy experience on the last authentic steamboat on the Mississippi River. The Dukes of Dixieland have been gracing passengers with their unforgettable music performances for decades.

Fritzel's Jazz Club

– This venue is one of the oldest jazz venues on Bourbon Street. The building was built in 1831 with a wraparound balcony that will simply transport you into the past.

New Orleans Jazz National Historic Park

– Take a walking tour through the history of jazz. Here you can catch a live concert, stop by the visitor's center. Be sure to stop by the exhibitions in the French Market for a full historic walkthrough.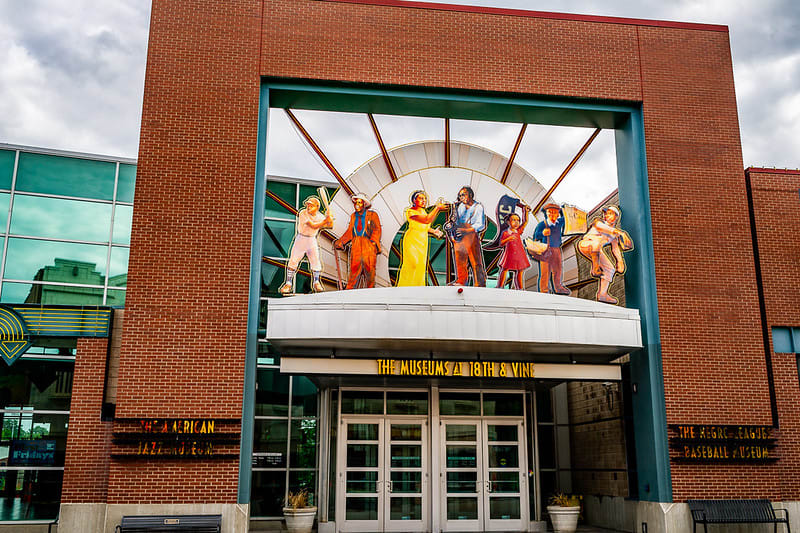 Photo Credit: Jazz Guy
Kansas City, Missouri
Some may have never guessed it, but Kansas City (also known as the "Paris of the Plains") serves as a hotbed for old-time jazzy vibes. It's the hometown of the legendary Charlie Parker and the very place where Count Basie started swinging with his orchestra. If big band jazz is your scene, this city will call your name with tunes that will leave you humming for days. From easy-going swing to heart-melting blues, there's plenty for music lovers to experience. Kansas City brings the best of laid-back Mid-western charm and exciting nightlife from music performances to dining that will have you begging for seconds.

Stop by the American Jazz Museum for a walk through Missouri's bustling jazz scene in the 1930s and 1940s. Treat yourself to interactive exhibits, artifacts, and films before diving into the live performance scene. I'm talking Charlie Parker and Ella Fitzgerald here! It doesn't get any better! The museum also houses The Blue Room – an on-location club where you can get to swaying for only $10 admission.
The Phoenix

– Found in the hip Burgeoning Garment District, this truly original hotel serves as a historic landmark from as far back as 1888. Enjoy live jazz five nights a week and a music accompanied brunch over the weekend. This is the best spot to get great food while enjoying tunes from the hottest cats in town.

Green Lady Lounge

– If you're looking for a truly authentic jazz experience, look no further than this TV-free venue. After all – the point of blues and jazz is to be whisked away by the purity of music. It's the perfect place for a stylish, sophisticated date night.

Black Dolphin

– This venus provides a more intimate experience to its neighbor, The Green Lady Lounge. If you're wanting a true venue experience than the feel of a lounge bar, you won't be disappointed. Enjoy live music with a mere $5 flat cover – totally wallet-friendly.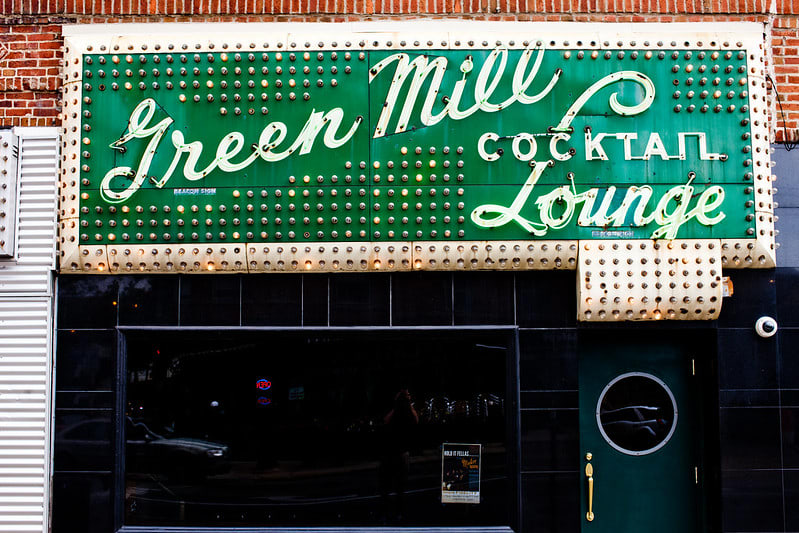 Photo Credit: Thomas Hawk
Chicago, Illinois
Some of the most renowned jazz clubs to ever open their doors can be found on the south side of The Windy City. There wouldn't be rock n' roll if it wasn't for the musical inspiration of those classic Chicago Blues in the early twentieth century. This city set itself apart in jazzy style thanks to the brilliant influence of key players including Bo Diddley, King Oliver, and Jelly Roll Morton. Think heavy string bass and guitar, long solos, and excitingly quick swing tempos. 
The blues and jazz founders of Chicago created their own unique sound with a refreshing combination of the New Orleans "Dixieland" style and Mississippi Delta. This quintessential style would later become a prime influence on rock n' roll. Here you can treat yourself to an up-close view of the home of Muddy Waters! It's been since redeveloped as a landmark to honor his legacy.
Green Mill Cocktail Lounge

– This is a must-see for music lovers visiting Chicago. Once a speakeasy during the prohibition era, this dive was a personal favorite haunt of Al Capone. If you're lucky, you can reserve a seat at his favorite booth at the end of the bar. The lounge is buzzing with soulful sounds every night of the week, well into the early hours of the morning.

Jazz Showcase

– Hosting Chicago jazz since the 1940s, this club has been graced by legends over the years including Ira Sullivan, Count Basie, Dizzy Gillespie, and Richie Cole. Witness homegrown talent any day of the week with family-friendly matinees available on Sundays (the kids can get in for free). It's the perfect spot to introduce your young ones to the ways of the blues.

Constellation

– Jazz is always evolving. This venue fosters the forward-thinking spirit of the genre by housing one-of-a-kind performances by today's most exceptional and experimental musicians. Enjoy a drink viewing one of the two stage spaces in Constellation.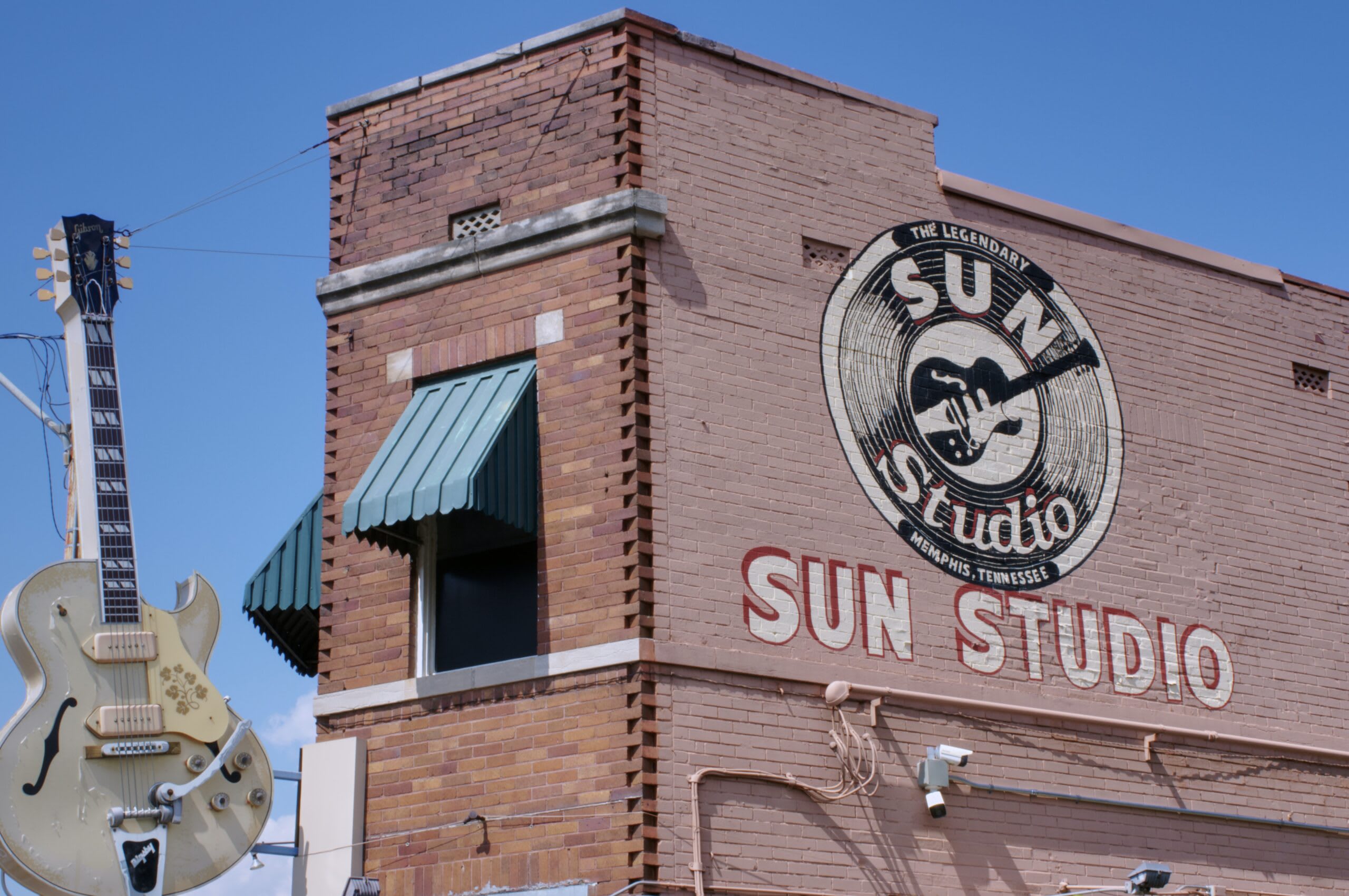 Memphis, Tennessee
Memphis has been beckoning the blues for over a century. After all, this area is best known as the birthplace of soul. Key musical attractions include Tour Sun Studio where B.B. King laid down some of his finest tracks, the memorabilia collections at the Blues Hall of Fame Museum, and the Rock n' Soul Museum highlighting pioneers who overcame racial and socio-economic barriers to create music that shook the world to its very soulful core. This is also where the sounds of rock n' roll was starting to take shape, with Elvis Presley, Howlin' Wolf, and Johnny Cash paving the way for a whole new landscape of enduring music styles.
If you're looking for a stroll with spontaneity, Beale Street is a pedestrian-friendly musical melting pot featuring plenty of live performance dives. This street was a stomping ground for B.B. King, Howlin' Wolf, Ike Turner, and Rufus Thomas. You can also take a Memphis blues self-guided tour (approximately 2 miles) where you can stop by historic spots at your own pace.
B.B. King's Blues Club

– Blues? Check. Soul? Check. Rock n' Roll? Check. Dive into delicious Southern dishes as you reel to the best original tunes Memphis has to deliver. Visit for lunch, dinner, or a late-night excursion with live music packing the dance floor daily. This place is conveniently located in the heart of downtown Memphis, within walking distance from most local bluesy landmarks.

Jerry Lee Lewis Cafe and Honky Tonk

– Experience the best of Delta music by an open-air fountain courtyard. If you're up to go all out, catch a stunning view of Beale Street in the balcony level lounge. This venue surrounds you with Jerry Lee Lewis memorabilia at every turn, putting you in the perfect mood to get shakin' any day of the week.

Rum Boogie Cafe

– Get ready to eat, drink, boogie, and repeat. This venue is open seven days a week and is home to stellar live music and mouthwatering Cajun barbeque. When you're there, don't forget to look up! Autographed guitars hang from the ceiling, creating an incredible ambiance.
What are some of your blues and jazz heroes, and what pulled you into this world of ethereal music? Share your story along with some of your sentimental favorites in the comments below! Wherever you choose to wander, here's to happy trails and swingin' times!