Often we see people express concern about using their RVs in cold, snowy conditions of the winter season throughout much of the U.S. In preparation for a second snowboarding season in our van, we wanted to share what we've learned, the products we love, and how to survive the cold when traveling in your van. Below are our top 10 tips on what we've found to be most helpful when RVing in our Winnebago Travato during the winter season. Bundle up and enjoy them below.
Guest Post and photos by Chris and Tracy of Helen of Troyvato
Tip 1: Pack warm clothing, shoes, and your favorite slippers.
There is nothing better during the winter than bundling up in warm clothing. One of our favorite finds are Sherpa-lined sweatpants! There are so many different brands for sale on Amazon. I swear we live in these during the winter months. Don't forget to keep your feet warm as well! We love having fuzzy slippers for indoors and boots to wear outside. Chris has insulted hiking boots, while I prefer snow boots. Everything fits neatly behind our driver seat and/or in our closet.
Pro-Tip: You lose more than 10 percent of your heat through your head and feet. A good beanie is great to keep warm and use quickly if you must go outside.
Tip 2: Keep those floors warm!
One of the biggest issues that we have with our van is the lack of insulation material in the floors and walls. Our floors are laminate material and can get incredibly cold during the winter. We tried several options to keep the floors warm, especially since the dogs sleep on the floor on their beds. The cold just radiates from the ground and up into our floors. Our solution: we bought an outdoor rug from a home improvement store (ie – Lowes, Home Depot) and cut it to the floor plan. This way we can easily take it out, wash it and protect our floors.
Pro-Tip: Consider adding pet beds as well. This will not only offer more insulation, but your pets will also love you for it.
Tip 3: Warm bedding.
We have trialed all sorts of different types of sheets to find the best combo for the cold weather and there is nothing better than curling up into a bed with warm, cozy flannel sheets. These stay warm even if the air and/or sides of the van are cold. For the best bang for your buck, we suggest checking out discount home stores, such as Home Goods, TJ Maxx, or Marshalls. We also exchange our lighter duvet insert for one with a warmer, more insulated insert. We love the variety of temperature rated 'down' IKEA has. Ultimately, we prefer normal bedding over a sleeping bag as feels more like home and we like to snuggle.
Pro-Tip: Grab a blanket, even with everything else, a good blanket goes a long way.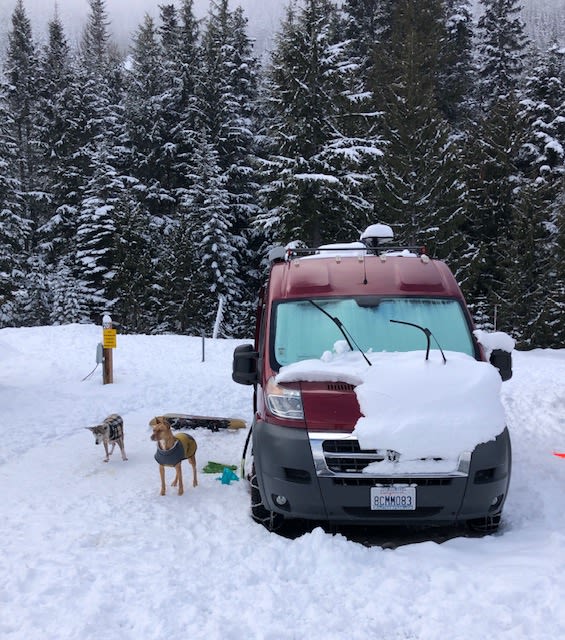 Tip 4: 4-legged friends need warm clothing too.
We can't forget about our dogs! One of the big reasons that we got the van was to be able to travel with them. While they love to play in the snow, Maya has very short hair and gets cold easily. So, in order to allow our dogs the ability to play outside when it's cold, we got them some snow jackets. These have fleece on the inside and a waterproof material on the outside. We, also, got these at discount home stores, but Amazon has some great options as well. Trust us, your pup will thank you when they're warm as well.
Pro-Tip: Everyone likes a pet in a snazzy outfit, it's a great way to break the ice in a new place and make dog friends.
Tip 5:  Keep those 4 legs dry and protected.
Our dogs love to wrestle and run around in the snow, ultimately getting wet. The paws are one of the worst offenders and there is nothing worse than wet paws causing wet floors and bedding/cushions. So, we invested in some quick dry towels to dry them off before they hop back into the van. We tried snow boots as well to help with their paws but they hated them. After doing some research, we found Pawtection, which is a waxed based product that you apply to their paws to help create a protective barrier.
Pro-Tip: This protection, also, doubles for use on long hikes and walks.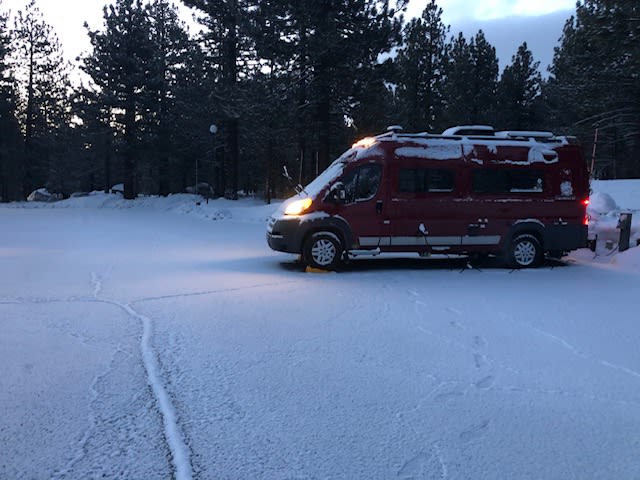 Tip 6: Insulate RV windows.
You would be amazed at how much heat you lose through your RV windows! Most have single pane, non-insulated windows. We have a ton of windows in our van, which allow us great sunlight and views. However, in the winter, it allows the cold to radiate in. This was a huge problem when trying to sleep as we have windows on both sides of our sleeping area, often you can feel the cold. We found some great, high quality insulated window coverings which help to prevent that cold air from invading our warm rig. We bought ours through Van Made Gear. Check with your local La Mesa RV center to see what they carry and there are also lots of great options on Amazon and Etsy specific for the different style of rigs and windows.
Pro-Tip: In the summer, they help reduce the heat, so they function year-round.
Tip 7: Heating pads.
We absolutely love our swivel seats in our van. They increase our livable space which is a huge bonus when you're in such a small area. However, the swivel chairs are cloth and we really missed our heated seats in our SUV, which was our go to vehicle before we got our van. Thankfully, we found a great product which easily converts our seats into being heated. Ignik is a company that makes portable heating covers and sleeping pads. They utilize USB and 12V chargers so we can easily plug it in and use it to our hearts content.
Pro-Tip: We can also use our seat cover on the mattress, under the sheets, while sleeping to add extra heat when needed. Best part is that it uses USB.
Tip 8: Use your heater (ours is a Truma).
It goes without saying that all RV owners, new and old, should familiarize themselves with their climate control systems. Many RV dealers, YouTube and owner's manuals can, also, provide great insight into how these systems work. Don't just wait until you arrive in 40 degree weather to figure out how your heat works, like we did. Thankfully it was easy. We read the manual, allowing us the usage of our biggest asset while cold weather camping: our onboard heater. While it's 4 degrees outside, it's 75 inside and we're in T-shirts watching snowboarding movies.
Pro-Tip: Always top off your propane, the last thing you want is to be out of propane at night and/or unable to get more until a later time.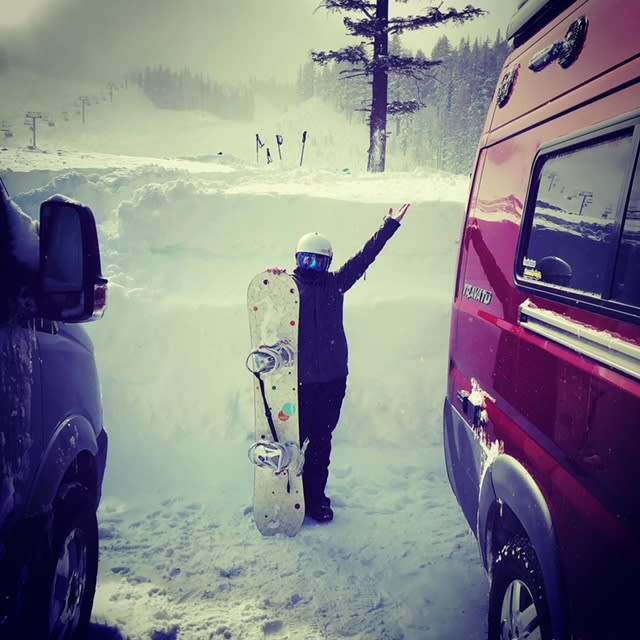 Tip 9: Prevent frozen/burst water pipes.
Most modern RVs come with Pex piping or similar, which are not as susceptible to cracking as more rigid material, such as PVC (think black waste valve). One way to prevent both from cracking or freezing is to:
1. limit the amount of time you exceed 50% capacity, as water will expand when it freezes so never keep any tanks at full.
2. Just like your tanks, your water lines should never be keep full/charged when not in use and, if possible, remove water under pressure by gently opening faucets and toilets. This way if a section does get too cold only a small amount will freeze, allowing you to use water from the tank to clear the lines.
Pro-Tip: If you do happen to freeze, don't panic and don't force things using your water pump. Try, if possible, to park in the sun or a warm area to raise the temps in the impacted areas.
Tip 10: Invest in self-heating Lithium batteries.
We saved this for last because this is one of the more expensive additions you can add but, also, one that has changed our winter camping abilities greatly. In our first year of van camping, we had a few nights where our aging AGM batteries died overnight, thus limiting how long we could use our heater and/or forcing us to pay for an RV park, etc. About a year ago, we decided to invest in a set (100 amp hour/each) of self-heating lithium batteries, which are externally located below our van. This means they are exposed to the elements. After an entire year of use at temps ranging from 115 to 4F, we swear by batteries with this self-heating technology. We were looking at "Zeravolt" and "Battleborn" and decided to go with Zeravolt as their pricing, at the time, was more in line with our budget. Additionally, the Zeravolts are Bluetooth ready without any additional hardware. We are 100% satisfied and they have paid for themselves over and over again by not needing hookups and expanding our boondocking possibilities.
We hope you enjoyed these tips and that they give you the confidence to get out there and enjoy camping when it's cold and, maybe, even snowing. As winter sports enthusiasts, having the ability to overnight at or arrive early and stay warm at the slopes has changed how we enjoy our days and nights. Not to mention how much we have saved by having our home on wheels just steps from the lifts. If this blog and video helped you in any way, please let us know, as well as, if you have any additional suggestions of things we missed. Check us out on our socials and see you out there!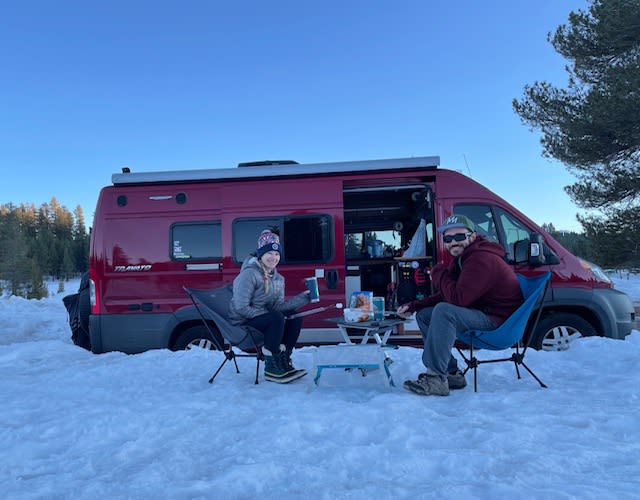 About Chris and Tracy:
We're Chris and Tracy. We love to travel, but we, also, have healthcare jobs which prevent us from being able to travel full-time but still allows us long trips. We like to categorize ourselves as part-time van lifers. During the beginning of Covid, all our international trips were cancelled, so we wanted to take the opportunity to see our own diverse and amazing country. After the first lock down and much research, we bought a used 2018 Winnebago Travato 59k in May 2020. We figured that this would be the best way to incorporate all three of the things we adore: travel, snowboarding, and our dogs. We haven't looked back since and can't imagine life without our van.
Since May 2020, we have traveled over 40,000 miles. We have visited 11 states, 15 national parks and 6 ski resorts (all with our dogs in tow). We have fallen in love with the spontaneity that the van allows us. It's given us the opportunity to see all the beauty that the US has to offer. It's also provided a space for us to escape the stressors of life and working in healthcare during covid. We've had so many amazing experiences since buying the van that we decided to start a YouTube channel, so we can share with everyone and, also, keep those memories for years to come.
We hope you come join us on our journey!- C&T
YouTube: Helen of Troyvato
Instagram: @Helen_of_Troyvato
Website: www.helenoftroyvato.com
Email: [email protected]