Being reachable, and able to reach out, while RVing is a matter of convenience and safety. Whether you are the full-time traveling family, the work-from-your-RV kind, or a weekend warrior, you will likely find yourself in some remote parts of the country where your cell phone signal drops. 
Sometimes, you will even see two bars, but it's Yosemite and the middle of the summer, and those poor cell phone towers are overwhelmed and can't handle the demand… those two bars will be worth nothing and unfortunately, won't let you connect calls, let alone use your data. So what are the best cell phone boosters for RVers? 
Guest Post and Photos by Laura Georgieff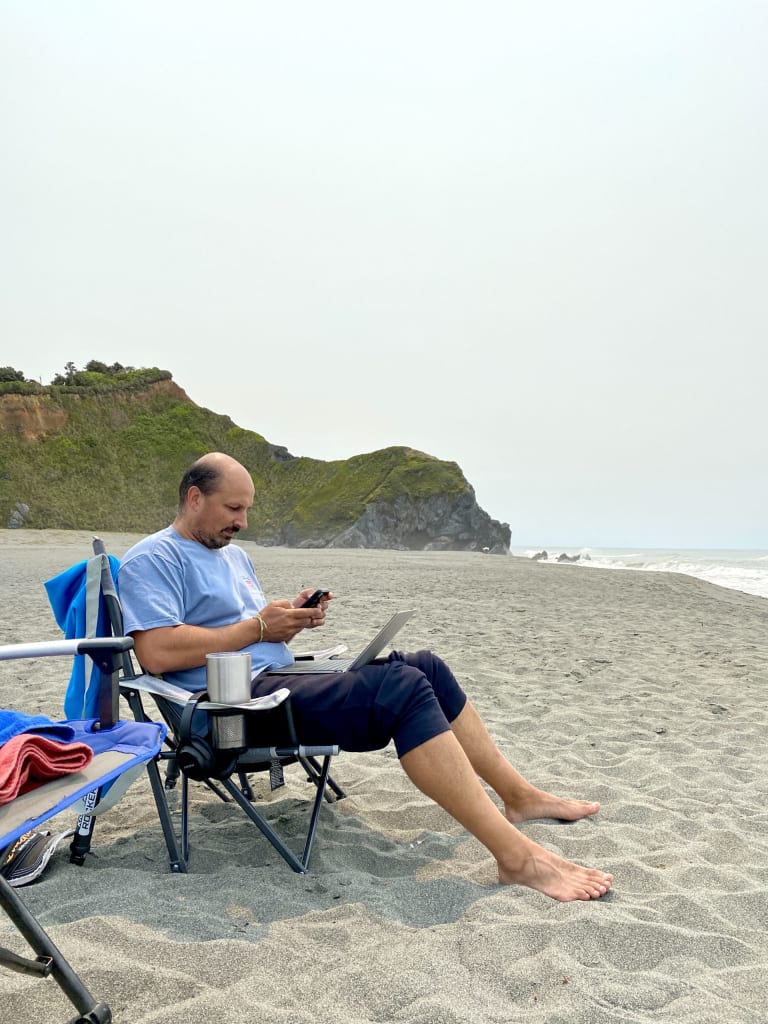 How Does A Cell Phone Booster Work?
A cell phone booster uses a stronger antenna than that of your cell phone or tablet, to create a stronger signal for your device to connect to and bypass the regular signal your device connects to. It should be getting you fewer dropped calls, faster internet speeds, and more reliable streaming. 
You can also purchase an antenna for the entire rig, boosting the signal and creating a network all of your devices can connect to, including cell phones, tablets, laptops, readers, hotspots, etc. 
Having a reliable cell phone booster is a huge part of creating a home environment on the road and can contribute to your success RVing.  
Some boosters are small enough to take with you on day trips and mount on your car. Many national parks and hikes are off the grid. Sometimes, your cellular booster will be strong enough to get you some service in some of those remote places. 
Another benefit of a cellular booster is the battery gain on your devices. With a stronger signal, your phone is not spending extra battery power trying to connect to weak signals. You can gain up to 2 hours of talk time on a signal charge in an area with poor signal!
Here are some of the best cell phone boosters for Rvers:
Best 5G booster: weBoost Destination RV
Most compact: SureCall Fusion2Go 3.0 RV
Best value: AnyCall 5 Band Cell Phone Booster For RV

 

Most manufacturer-trusted: Winegard RangePro
Most portable: SureCall N-Range 2.0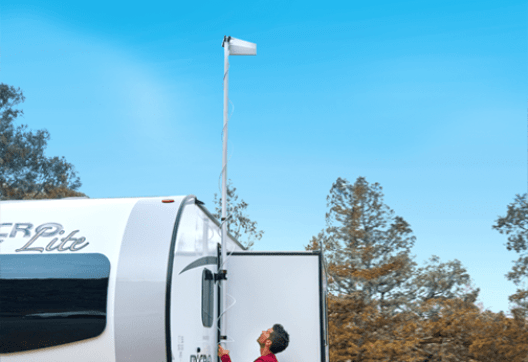 Best 5G Cell Booster – weBoost Destination RV
weBoost is a respected name in the remote working community, and was one of the earliest players on the market. They have been designing cell phone boosters for home, vehicles, and work for many years. 
When installing the weBoost booster in your RV, you will be mounting an outdoor antenna, indoor antenna, and the booster itself. They sell a couple of systems specifically designed for "large campers and trailers." 
A DIY installation guide is available in the weBoost app. Installation and take-down will take about 10 minutes and the system includes a 25-foot telescoping pole to catch more cell towers if you go with the Destination RV system. 
We love weBoost since their system works with all devices and North American carriers (U.S. and Canada). weBoost uses the latest technology and boosts 5G signals, which is our favorite feature!
weBoost offers 3 cellular boosters for RVs. We recommend the more expensive one, carrying the strongest boost, which can only be used when the RV is parked. The other two models are a little cheaper, can be used while the vehicle moves, but offer a decreasing boosting range.
If you are already on the road and getting things shipped is a challenge, weBoost can be purchased in stores such as Best Buy, Walmart, REI Co-op, Target, and more. Also available on Amazon. 
Price: $450 to $650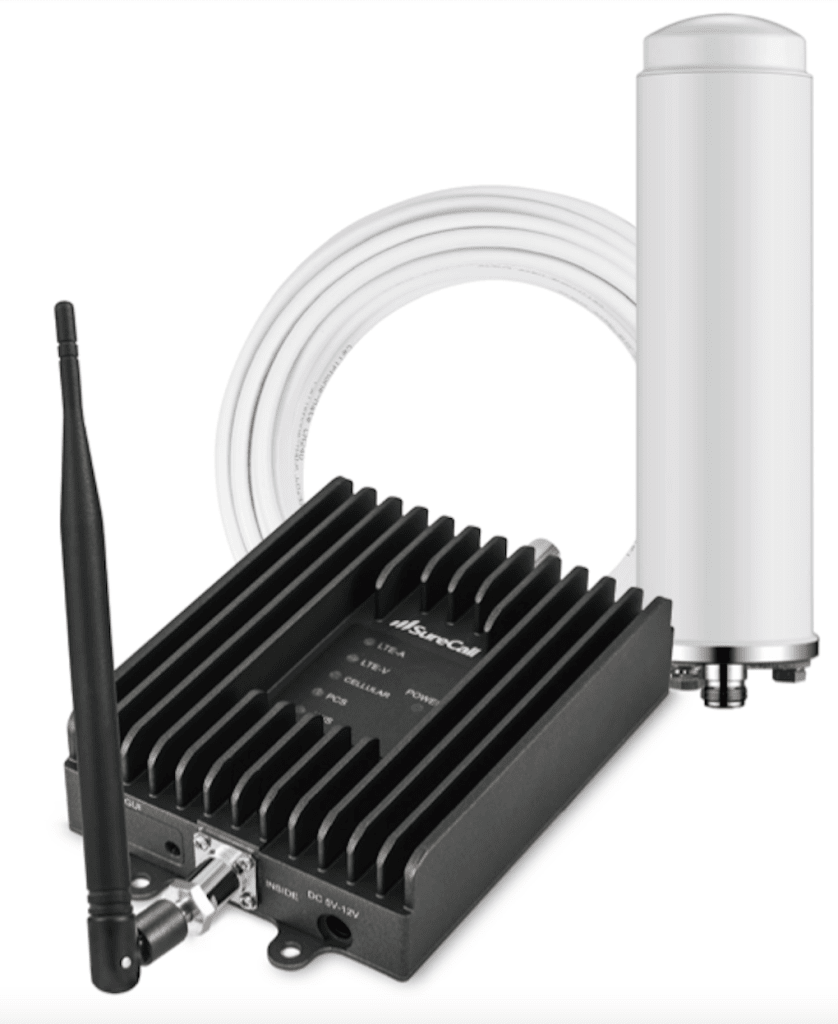 Most Compact Cell Booster – SureCall Fusion2Go 3.0 RV
The SureCall Fusion2Go 3.0 RV system is one of the smallest options on this list. The antenna is small and can be attached directly to the top bend of your ladder, or anywhere above your roofline, and does not need to be taken down while traveling. 
Similarly to the Winegard RangePro, you are sure to gain a minimum 20 dB gain, and up to 50 dB.
The SureCall Fusion2Go 3.0 RV boosts 4G LTE signals but is 5G compatible, supporting all 4G and 5G devices. 
We love that you can connect more than one device to the SureCall simultaneously, making it ideal for families, or if you work and play from more than one device at a time.
The 40-foot cable makes it a good option for big rigs. The SureCall Fusion2Go 3.0 RV can be purchased on Amazon, as well as Best Buy if you are on the road full-time and a couple more online stores. 
Price: $449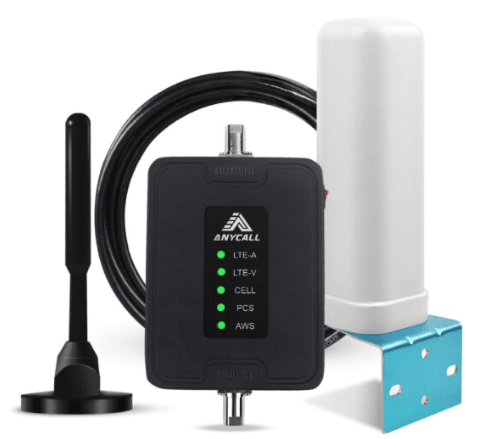 Best Value Cell Booster – AnyCall 5 Band Cell Phone Booster For RV
We love the AnyCall 5 Band Cell Phone Booster For RV for its value! It essentially provides the same benefits as other cellular boosters on this list, at about 2/3 to half of the price.
The AnyCall device boosts 2G, 3G, 4G, and 4G LTE signals, but unfortunately misses the 5G compatibility. It connects to all North American carriers and cellular devices, including hotspots. 
The system lets several users connect at the same time, making it another very good option for families or individuals connecting more than one device at a time.
Thanks to its compact antenna, you do not need to unmount it on travel days, making it an easy install-and-forget booster, saving you time on set-up and break-camp days. The initial build will take you about an hour. 
We love that the system has an inactivity mode and automatic power shut-down function, when no device is connected, allowing it to turn off when not needed. If you boon dock and rely on battery power, the AnyCall can be a great solution!
Similarly to other cellular boosters on this list, you can expect a gain of about 45 dB. Note that this is a 170-degree antenna. If your rig is parked on the opposite side of your carrier's antenna, adding a second antenna facing the other direction will help ensure to you are 100% covered. 
A clear advantage of the AnyCall cell booster is its 5-year warranty. All other devices on this list operate on a 3-year warranty. 
Price: $280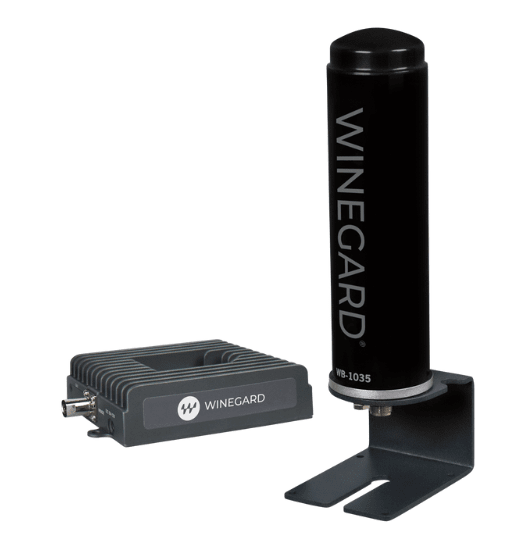 Most Manufacturer-Trusted Cell Booster – Winegard RangePro
Many RVs come with a pre-installed Winegard system, and you will often see a Winegard 360 system advertised by manufacturers. While this is typically a wifi amplifier, which helps you amplify park wifi services, they do sell a cellular booster as well, called RangePro.
We like that Winegard RangePro boosts signals for all North American carriers. You will automatically gain a 20 dB adjustment, which can go up to 50 dB based on your location. The drawback is that it only boosts 4G LTE signals, not 5G at this time…
The system comes with a flexible antenna that can be attached to your RV's ladder or directly on the roof, and it is recommended that you install it as far from the indoor antenna as possible, for the best results. 
The Winegard system works well for larger rigs, letting you connect multiple devices for the family.   
Price: $500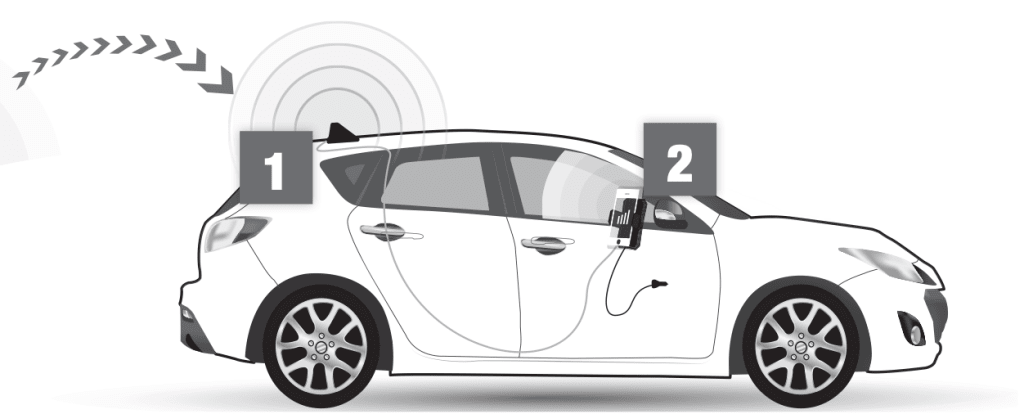 Most Portable Cell Booster – SureCall N-Range 2.0
Not specifically built for RVs, but working in any vehicle, including your RV, we are adding the SureCall N-Range 2.0 to the list for its portability. 
If you're an RVer on the move, you will likely find yourself on day trips to poor-signal areas. Some of the antennas above have a permanent home on your rig's roof, others need to be taken down while you travel, but are large and bulky antennas, that would not be convenient to take with you on a day trip.
We love the SureCall N-Range 2.0 for how easy it is to pack up with you! It boosts 4G and 4G LTE signals, but is compatible with 5G signals as well. 
While it works with all U.S. carriers and is compatible with all devices, including hotspots, this device can only be used by one device at a time. It is a great option for those looking to connect their cell phones, inside their RV or in the car. 
The portability is the biggest benefit of the SureCall N-Range 2.0. The device can be mounted with adhesive, a permanent-mount (if you plan to leave it in one place at all times), or a vent clip (for easy in-and-out). 
Set up is easy. Simply place the outdoor antenna on your vehicle's roof (car or RV), secure the cradle antenna with the best mounting option for you, connect the cable and connect the cradle antenna to a power source. 
Amazon is probably your best bet for purchasing the SureCall N-Range 2.0, though a couple other websites sell it. 
Price: $200
Best Cell Phone Boosters For RVers
A cell phone booster can be the difference between making it on the road, and quitting… If you plan on living the RV lifestyle for a while, seriously consider purchasing a cellular booster to ensure you are connected and able to use your voice and data almost everywhere. 
The booster can mean that you are able to boon dock for a few days, or stay at those neat national and state park campgrounds, otherwise unaccessible if you need to be reachable for work. 
This list gives you a good idea of what is currently on the market, and the different options based on what is important to you.