Are you an RV enthusiast who loves to tailgate? If so, you're in luck! This guide provides everything you need to know about tailgating in your RV. From tips on how to set up your space to fun activities, we've got you covered. Whether you are tailgating at an event parking lot, or in a campsite, we have tips for you. RVs are perfect for tailgating. So grab your cooler and camping chairs, and get ready for a good time!
Guest Post and Images by The Adventure Detour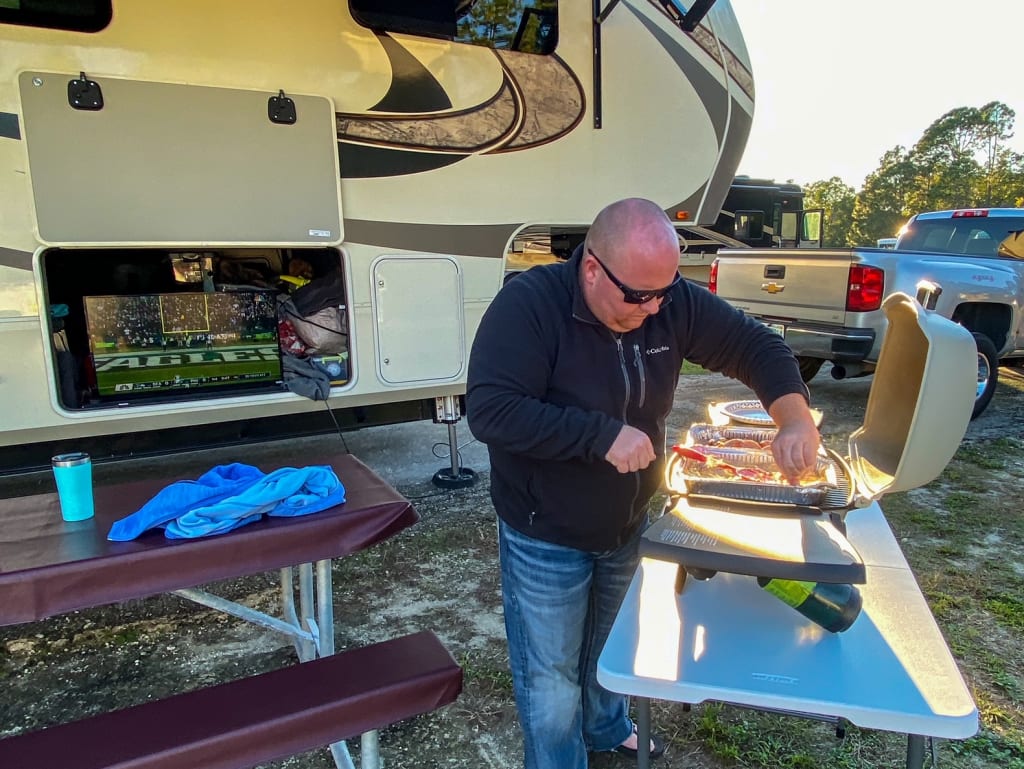 Why RVs Are Perfect For Tailgating
We always say that RVs are mobile fun wagons. I know that sounds funny but it is really true! They are so versatile to use for anything you desire. One week your RV could be a beach house, the next it could be a mountain cottage. They really can take you anywhere for whatever activities you are into including tailgating.
RVs are also the perfect vehicle for tailgating. What better way to enjoy a pregame or entire sporting event than with your mobile kitchen and bathroom on board? You can use your RV to tailgate in an event parking lot or in a campsite. Either way, your RV is equipped with everything you need to have a great time!
Parking Lot RV Tailgating
There are a few things to think about when using your RV for parking lot tailgating. Some advance planning can make the day go much smoother.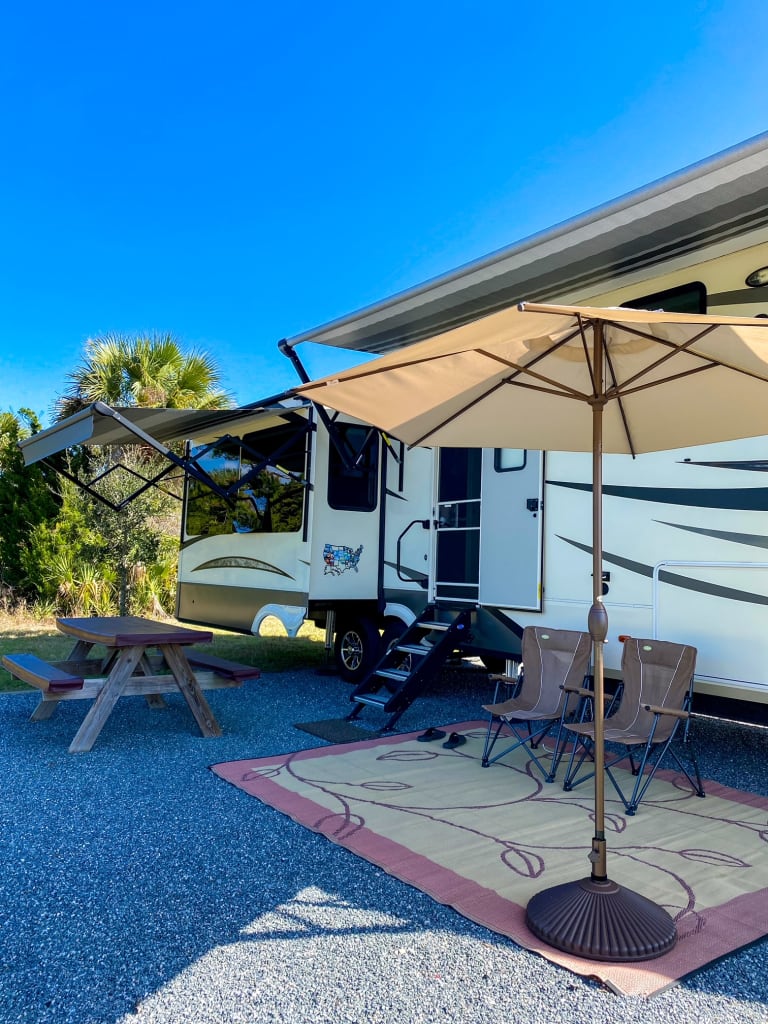 Picking A Good Parking Lot Area
The first is to choose a parking area with enough room to maneuver your RV safely and enough space to hang out outside. A parking area that is flat and has some space is ideal for setting up your tailgating supplies outside. 
It's also a huge bonus if you can find an area that has some shade and wind cover. Sometimes just parking the RV facing a certain direction can give you a little bit of both from the cover of your RV.
RV Water
An important item to take care of before heading to the game is to fill your fresh water tank. This allows you to have running water and to be able to use the bathroom in your RV without having any hookups in the parking lot. Having your own bathroom available is one of the huge perks of bringing your RV places. Goodbye, yucky porta-potty days!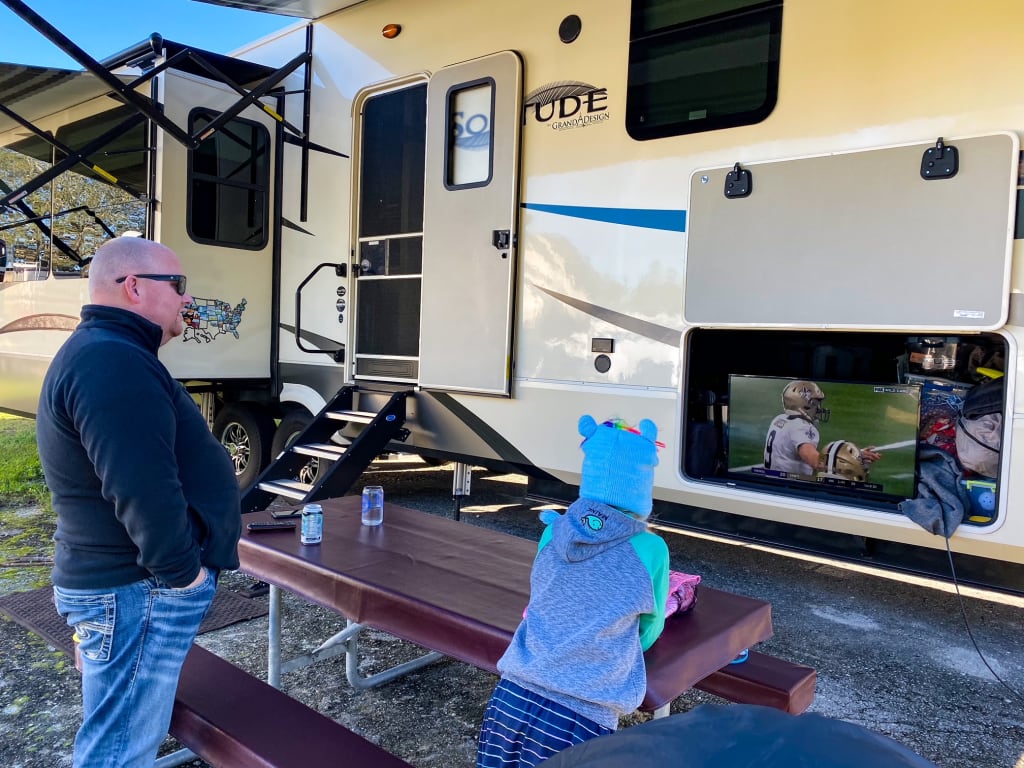 RV Power
You may find that you need power to use some of your tailgating accessories. Many RVs come equipped with generators onboard that you can use. If yours doesn't have one, you can pick up a portable power solution. There are many options for portable power that range from rechargeable to solar-powered.
There are also upgrades that you can make to your RV's battery and inverter setup that allows you to run electricity longer off of your RV battery. Whatever power setup you choose, while it's not necessary to have power to tailgate, it can be very nice to have.
Campsite RV Tailgating
You can also enjoy the fun of tailgating right in your RV campsite with all of the comforts of home. Just like with parking lot tailgating, it helps to choose a campsite that is flat and has enough room for all of your outdoor supplies. Wind cover and shade are always bonuses for any campsite when you can find it, not just for tailgating but just for camping in general!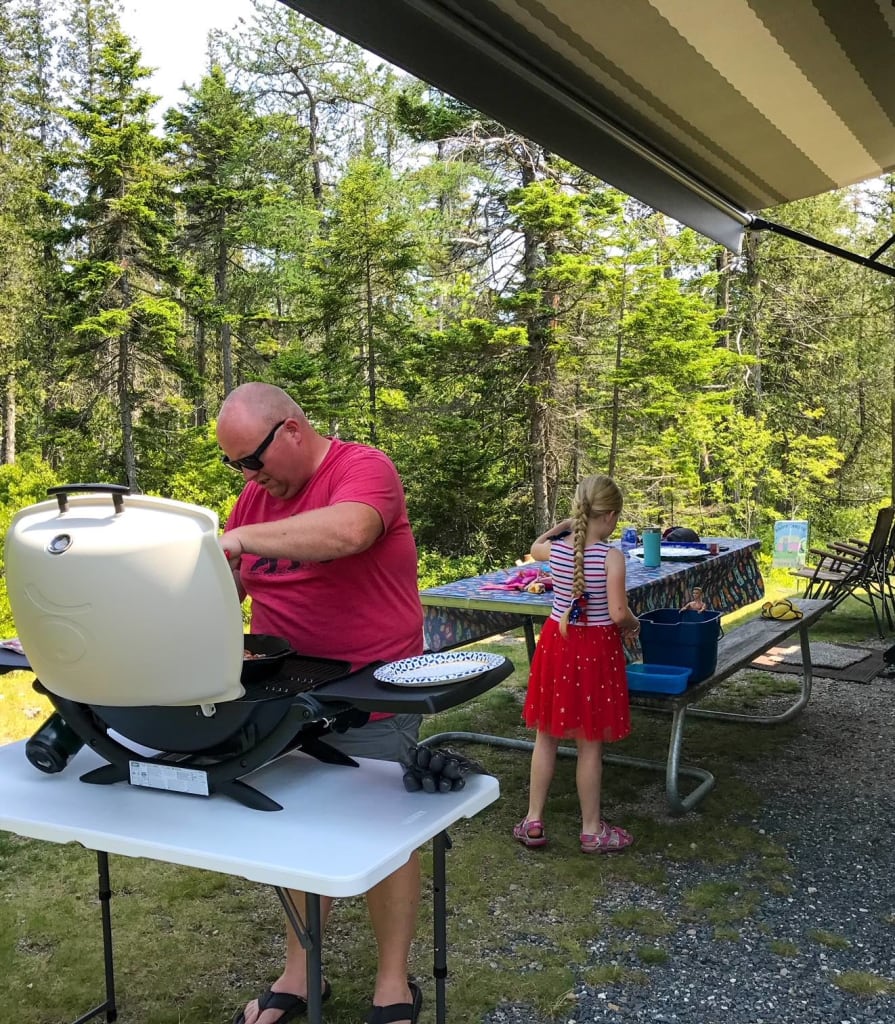 Tailgating Accessories
Now that we have where we are going to tailgate figured out. Let's get down to the fun part, planning all of the accessories that will make our tailgating party a blast. It always helps us to make a list ahead of time so that we can make sure to purchase everything so we are ready to start the fun when we arrive. There is nothing worse than getting all set up to start the fun and then realizing that you forgot something.
Team Gear
Don't forget to pack your team gear. For some fans, the team gear is even more important than the food! Well, maybe not but it is a close second. Bring your flags, apparel, foam fingers, or whatever you love to support your team.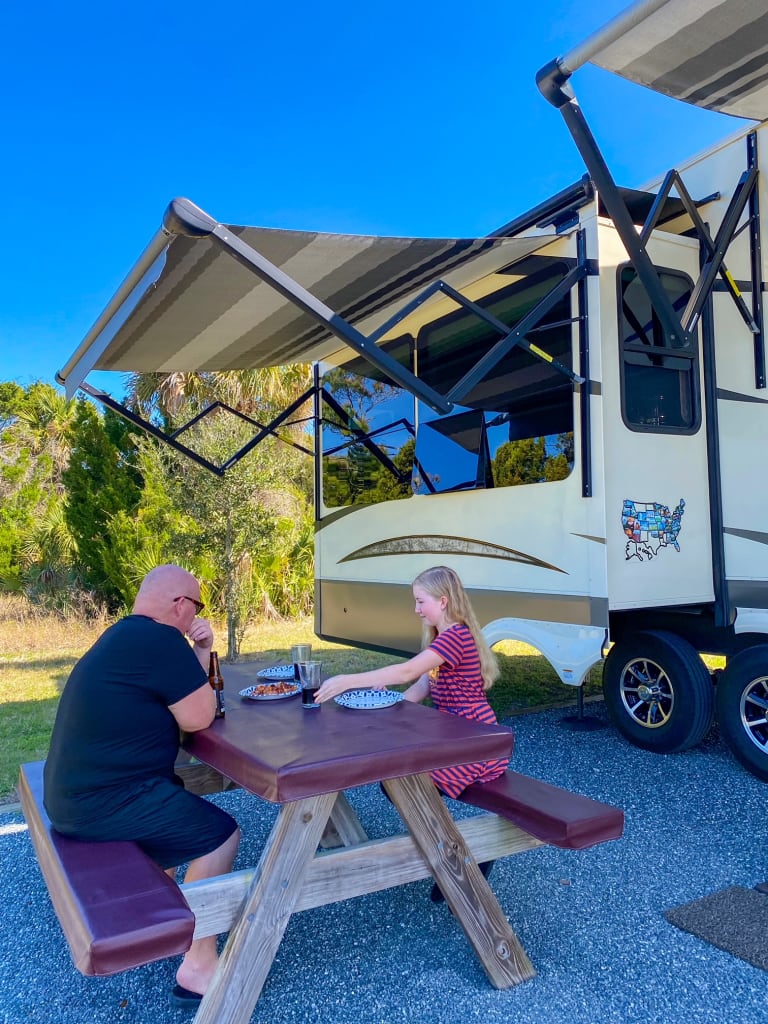 Game Time Munchies
Tailgating is all about the food! Pack tasty snacks, finger foods, and a fun assortment of cool drinks. Most people also associate tailgating with grilling, and it's for good reason. Grilling is a fun and delicious way to enjoy your game food.
Make sure you have your grill packed and the propane or charcoal and lighter fluid your grill requires. Also, bring a portable table to put your grill on and all of your grilling tools. There are some amazing options for portable camping grills and foldable camping tables available if you don't have your grill setup just yet.
If your RV doesn't have an outdoor mini fridge, or if you are tailgating without electricity, make sure to bring a cooler along. That way your drinks and treats are handy to grab outside.
Don't forget your paper goods. I can't tell you how many times we have had our food list to perfection and then forgotten the plates! It happens. Make sure you have the plates, napkins, paper towels, silverware, and cups. On that same note, bring trash bags and consider an outdoor trashcan. They make pop-up portable trashcans that look like collapsible clothes hampers that take up very little space in your RV. 
Comfort Items
When you aren't up playing yard games or standing and yelling at the sporting event, you are going to need a comfy place to sit down. It's insane the number of types of portable camp chairs that are available. You can choose anything from the traditional folding camp chair to reclining chairs, rocking chairs, and even chairs with footrests and pop-up side tables to hold your drinks and snacks. There really is a seat for everyone.
Watching The Game
Of course, there is no tailgating without being able to watch the pregame and the game. Some RVs come equipped with outdoor TVs, while others have outdoor cable jacks inside storage areas so you can connect your own TV outside. If you have outdoor speakers on your RV, you can even run the sound from the TV through your outdoor speakers for more of a surround sound stadium feeling.
A fun way to level up your night tailgating experience is to use a projector to show the game on the side of your RV using a white hanging sheet. As a bonus, you can use this setup to host fun movie nights outside.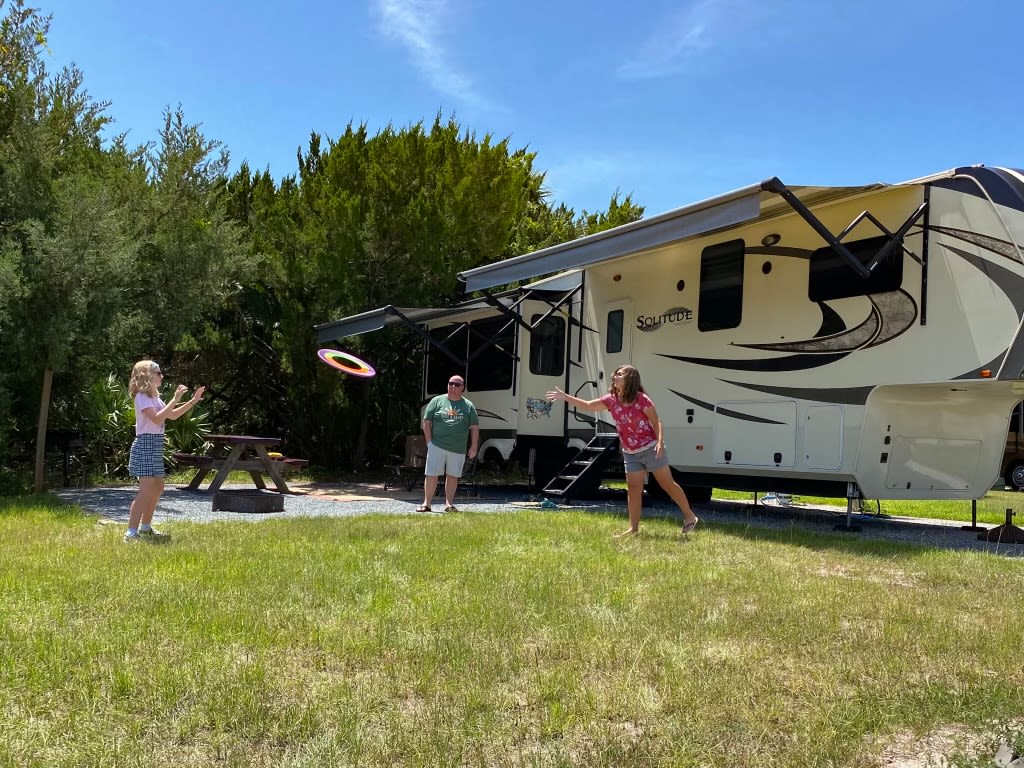 Fun And Games
Yard games are a fun part of any RV tailgating party. Go old school with a game of catch or frisbee. Or break out some RVing favorites like bags/corn hole, ladder ball/golf ladder, or Kan Jam. If you have kids along, grab some bubbles, sidewalk chalk, and coloring/art supplies.
A campfire can be a fun addition to your tailgating party, especially if it's cold outside. Make sure that campfires are allowed in the area you are tailgating. A portable propane fire pit can be a great solution for a contained fire just about anywhere that fires are allowed. Don't forget the propane and the s'mores supplies.
RV tailgating is a great way to enjoy the game with friends and family. You tailgate in a parking lot, set up at a campsite, or find a good spot near the stadium. No matter where you go, make sure to pack your snacks, grill, and games. And don't forget your camping chairs! Whether you watch from inside your RV or outside in the festivities, tailgating in an RV is sure to be a blast. Looking for an RV to tailgate in? La Mesa has the selection to meet any RV tailgater's needs. Click here to browse inventory.
Scott, his wife Van, and their 12-year-old daughter Sissy have traveled full-time in their RV for 7 years. They have worked and homeschooled on the road through 42 states so far. They blog about RVing tips, travel destinations, and the full-time RV lifestyle on their blog TheAdventureDetour.com. They are also RV content creators @theadventuredetour on Instagram, TikTok, and Facebook. They love connecting with RVers so be sure to reach out to them and say hi!