Early this week we introduced you to the inspiring full-time RVing duo Newstate Nomads, a couple who recently purchased their first RV from our very own La Mesa RV Ft. Myers. Today, we're discussing all things Winnebago Navion. From why they chose this rig as their new home on wheels to tips and tricks for new Winnebago owners and the RV accessories they can't live without. If you're in the market for a Class C, dive into this interview. It's full of juicy details on everything you'll want to know about your soon to be motorhome and it answers all the questions you'll have come purchase time!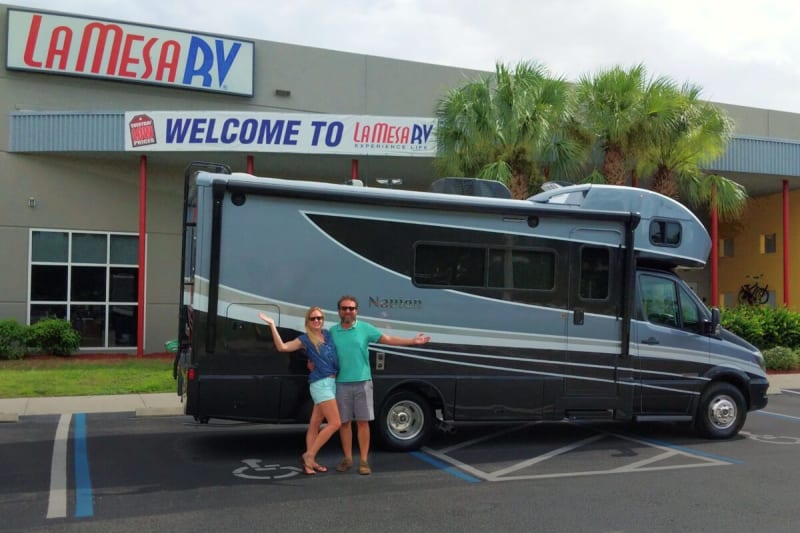 All photography provided by Newstate Nomads 
Why did you choose the Winnebago Navion?
NN: We aren't exaggerating when we say that we looked at hundreds of RVs during our purchasing journey. RVs with wet baths, murphy beds, king-size beds, twin beds, propane, diesel, gas, 19 feet to 35 feet, Class A, B and C… we looked at so many RVs they started to blend together. We quickly identified a few must-haves for our home on wheels which were: A separate (no wet bath) shower, enough space for us both to be able to work from and staying under 30 feet for ease of driving into cities and National Parks.
Katelyn: I'll never forget the first time we stepped into the Winnebago Navion. This sounds super cheesy, but it was totally love at first sight. Up until that point, I couldn't imagine us living in anything we had looked at. That all changed when we set eyes on the Winnebago Navion 24D. I remember telling Howard that I loved it. I hadn't said that about any RV we looked at. The finishes were incredibly nice, there was so much space for us to eat and work from, it was equipped with a separate shower and the oh-so-smart murphy bed. We might be a bit biased, but everything about the 2019 Winnebago Navion is pretty perfect for us. There is tons of storage, both in overhead compartments and under the couch and dinette seats, there is a closet as well as an actual pantry for food. A big bonus is that the kitchen is huge. It really is a fantastic layout for two people who RV full-time. We never feel cramped and often pinch ourselves because we can't believe that this is our house!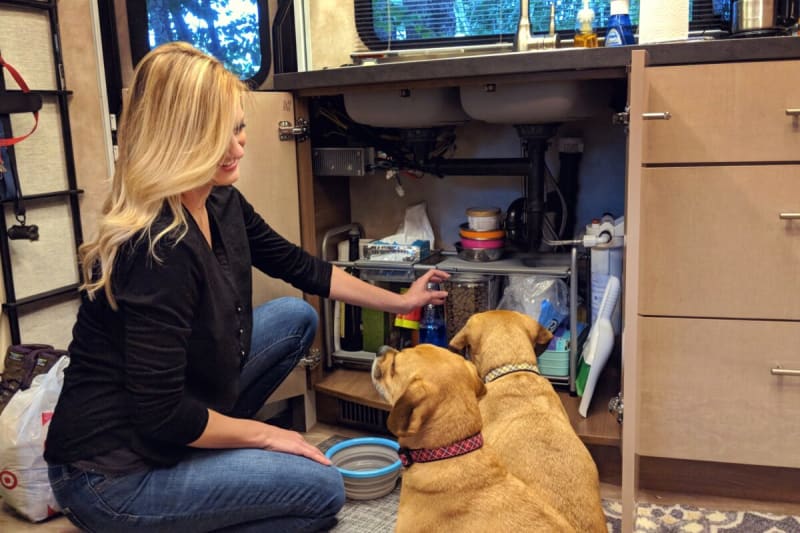 Top 10 'Rules' for keeping your home on wheels clean and functional:
1. Everything has a place.
We have spent a lot of time reorganizing the storage compartments, measuring small spaces to find the perfect shelving/bins and reorganizing again! This really helps on travel days when you need to pack up quickly and for day to day living when your goal is to keep a small space tidy.
2. No shoes in the house.
We try really hard to take off our shoes at the top of the steps every time we come inside. This definitely cuts down on tracking dirt, sand and mud through our home.
3. Keep the spice rack full!
We like to cook so that requires a lot of spices! We found a great storage solution that's a narrow drawer with two pull out shelves. We alphabetized the spices, and voila! It's so much easier to have them contained so they aren't clanking as we're driving.
4. Keep cleaning supplies easily accessible.
Whether there's a spill, dog mess (we were dealing with some sick pups in the beginning), or a need to tidy up, we like to we keep wipes, towels and wash clothes under the sink for easy access.
5. Do dishes right after you eat.
When we cook a meal, we clean up pretty quickly after we finish eating. Katelyn is a self-proclaimed neat freak, so this also helps cut down on the feeling of clutter. Plus, who doesn't love a clean kitchen?
6. Not necessarily a rule but worth noting, a cordless vacuum is a must, especially for pet owners.
Ours has several different attachments for crevices, rugs and hard surfaces. It's essential for quick and efficient clean up of pet hair and dirt that gathers around the RV.
7. Put clothes away.
If they are dirty, throw them in the hamper. If they can be worn again, neatly fold them up and put them in their place (because again, everything has a place!) so there isn't clutter laying around.
8. Do laundry before it piles up.
This is the not-so-glamorous side of full-time RV life, but let's be real, dirty clothes start to smell after a while and most small RV's don't have a washer and dryer on board. Our laundry days are often planned once every ten days so we have a thick, drawstring laundry bag to keep it all contained until then.
9. Get a shampoo dispenser and soap holder for the bathroom and hang it with water-resistant command strips.
We love our little shower, and adding a triple dispenser saves valuable space. The soap holder was a recent addition after we realized our soap bars were disintegrating too fast in the travel soap box.
10. Get the right black tank treatment, and use it.
Knock on wood, we have had no unwanted smells pop up so far, and we think it's due to our diligence in using treatment every time we dump the tanks. We have been advised that keeping a clean tank will help avoid repairs down the road, so see below for our treatment recommendation.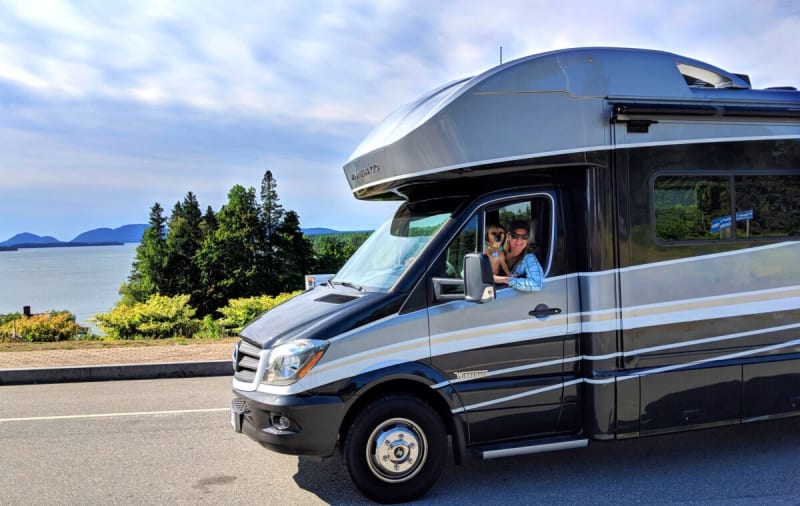 Any tips and tricks you have for first time Winnebago owners?
NN: Take your time getting to know your Winnebago. There are still little things we are learning! Don't hesitate to call Winnebago if you have a question and can't find it in the extensive manual. They are so friendly and eager to help. They definitely want you to have a good experience with their RVs. Pay attention to your options when you're looking for an RV and make sure your motorhome has the features you need.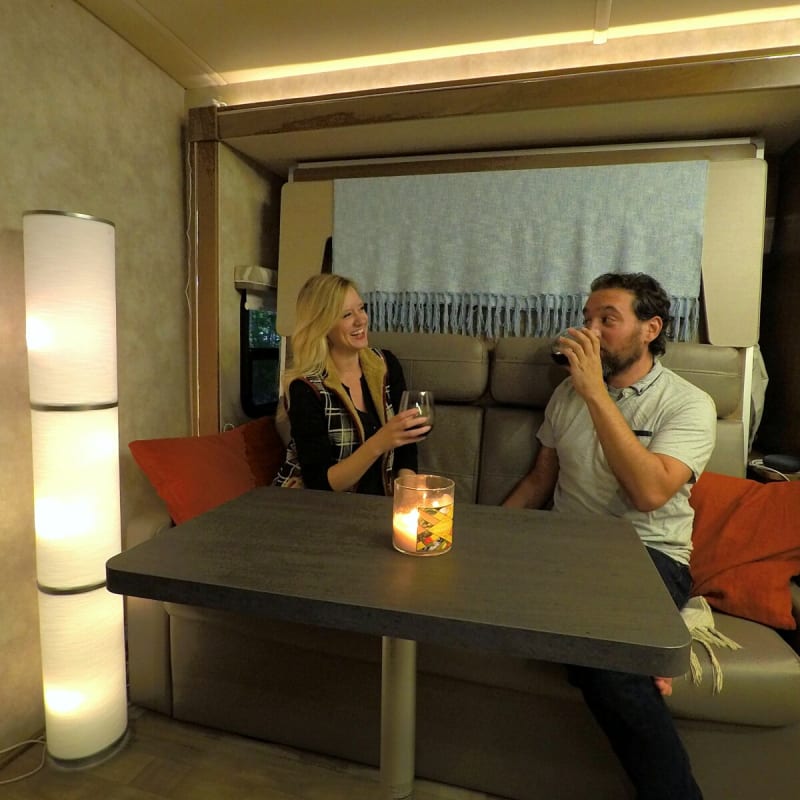 What RV accessories can you not live without?
Hughes Autoformer: Low voltage can destroy your electronics over time and campgrounds frequently have a hard time keeping the power in a safe range. The Autoformer is unique because it not only acts as a surge protector (it shows a green light if the outlet is safe to plug into or red if there is a serious problem), it will boost the voltage if it's too low, and reduce it if it's too high. Save your A/C and refrigerator from an early and expensive death. This is a must have if you stay in campgrounds.
LevelMatePRO Bluetooth leveling system: This makes leveling any RV a breeze. The configuration and mounting (just two screws) takes a few minutes to get going but will save you hours over the life of your RV. When you're looking for a level spot, fire up the app and it will tell you exactly how many inches to raise each wheel. There is no more guessing with the system and the newest version has an improved battery life.
Sea-To-Summit Nylon Stuff Sack: Imagine my surprise when the awesome new sewer hose I bought didn't fit the built-in hose storage! Rather then shake my fist at the sky, I got creative and found these waterproof nylon stuff sacks. Designed for campers, they come in an XL size that easily fits our hoses, extensions and accessories. It has a nice drawstring at the top for a good seal and we toss it in our basement storage when done. It's a great cheap find.
Peplink Pepwave Surf On‑The‑Go: Internet connectivity is key for us to work on the road. When researching options that could repeat campground/public WIFI but also automatically switch to a tethered USB mobile hotspot/mobile phone, the list got short pretty fast. This product is very inexpensive but packs a lot of features. We paired this with a Cellular signal booster from WeBoost and adapted the TV antenna on the roof to act as a WIFI antenna (who has time to watch live TV when exploring the country?) and we've now got a solid connection almost anywhere we go.
Happy Campers Odor Free Holding Tank Treatment: There are many tank treatments on the market but this one came from a trusted friend who has been camping for years. Happy Campers is a powder, so follow the instructions (don't just dump it in the toilet and flush, you need to add water and stir it to dissolve it before flushing) to avoid a clump sitting at the bottom of your tank. As I mentioned above, so far we've had zero smells. Find one that works for you.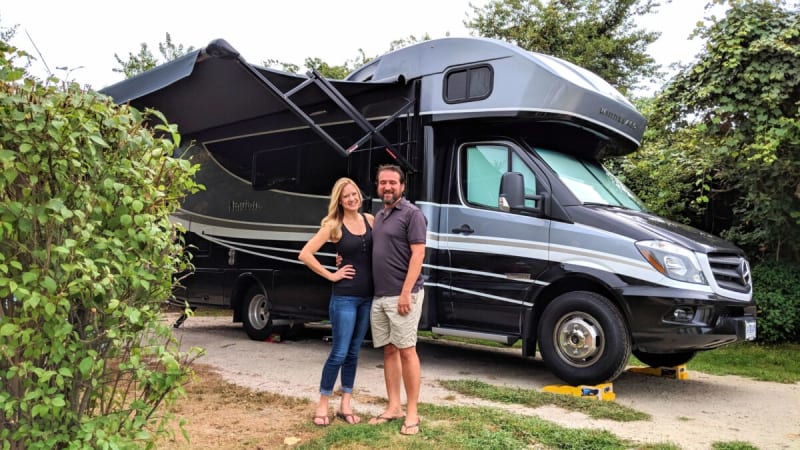 Tell us a little more about your experience buying from our LA Mesa RV store in Ft. Myers!
NN: We cannot say enough great things about the staff at La Mesa in Ft. Myers. We visited so many dealerships and we're so thankful we stopped at this location. Once we narrowed our search to Navions/Views, it came down to trying to find one in South Florida that had everything we needed so we could hit the road quickly. As it turned out, when we arrived at the showroom, LMRV didn't have many RV's on the lot! They had just moved them a few miles away to an RV show so the salesmen at the showroom gave us directions to the RV show and gave us the contact of their team member onsite who knew the most about the small Class Cs. I would like to note, La Mesa was the only dealership we visited that offered to let us test drive the vehicle! Getting to drive our future home sealed the deal that this was definitely the model for us. The delivery process was fantastic and the team at Ft. Myers went through everything to onboard the Navion during a thorough orientation. We felt extremely comfortable camping that night because of all the information we had learned. The La Mesa orientation really showed off when we were at a campground recently. We were next to another couple who struggled to get setup after buying a new Class C. The help La Mesa provided at the showroom allowed us to pay it forward, as we of course pitched in to help! We highly recommend La Mesa to anyone looking to buy an RV, especially if you're new to RV ownership.
Are you wanting to know more about Newstate Nomads travels? Check out our most recent post, How Newstate Nomads Manage RVing Full-Time and leave them some love in the comment section below!