If you are new to RVing and have questions on what that lifestyle looks like, we are here to debunk it. Just as any sport or club, there are unwritten rules and acceptable behaviors amongst this community. The good news? It is a truly awesome community, filled with easy-going, outdoorsy, like-minded folks. 
You can expect to be welcomed with open arms, asked to share a BBQ, bring a camping chair to have a drink, and more. The RVing family is the best and here are a few quick etiquette pointers to set you off with the best foot forward! 
Guest Post and Photos by Laura Georgieff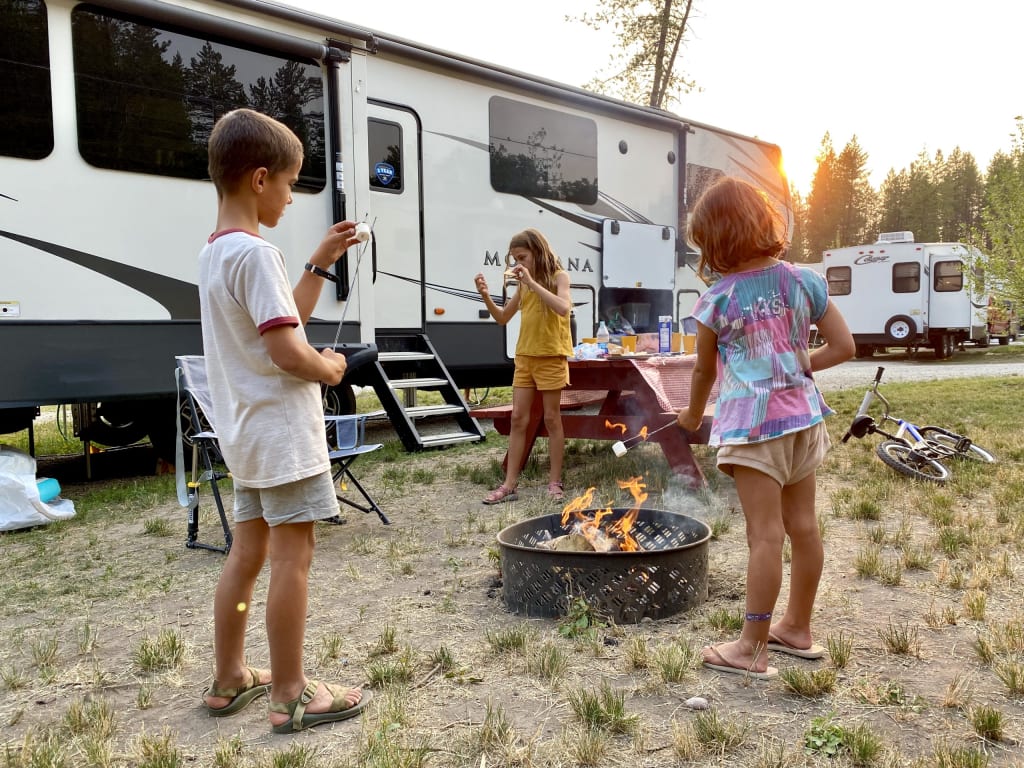 Stick To Your Site / Do Not Walk Over People's Sites
One of campers' biggest pet peeves is seeing other folks on their sites. There is a pretty strong sense of trespassing in campgrounds and you should do your best to identify where your site begins and ends, and make sure you stay on your lot (i.e., rig, people, hammocks, car, kids…).
Similarly, do not walk across or bike across other people's sites. Sometimes, it means going the long way and it is oh-so-tempting to shortcut through a site, but I promise you it's not worth it! Go the long way and only cross over unused sites, and make sure to teach your kids early on (if you don't, they'll learn quickly anyway)!
Lastly, as you park your RV on your site, take all slide-outs and decks into consideration. You might fit on your site when retracted, but as you lower your back gate (toy hauler) or take out your slide outs, make sure you are not infringing on the roads or other sites. 
Avoid Hanging Out Behind Your RV
As a general rule, most campers stick to their "front yard." Of course, some of the area behind your rig is your site and you will have your power / water / and sewer hoses hanging there. But to avoid being face-to-face with your neighbors, and with the idea of giving everyone privacy, you will probably be hanging out in your front yard, rather than your backyard. 
The backyard space is generally limited anyway, since you will likely try to park your rig as close to the hookups as possible, and those hookups are a good indication of where your site ends.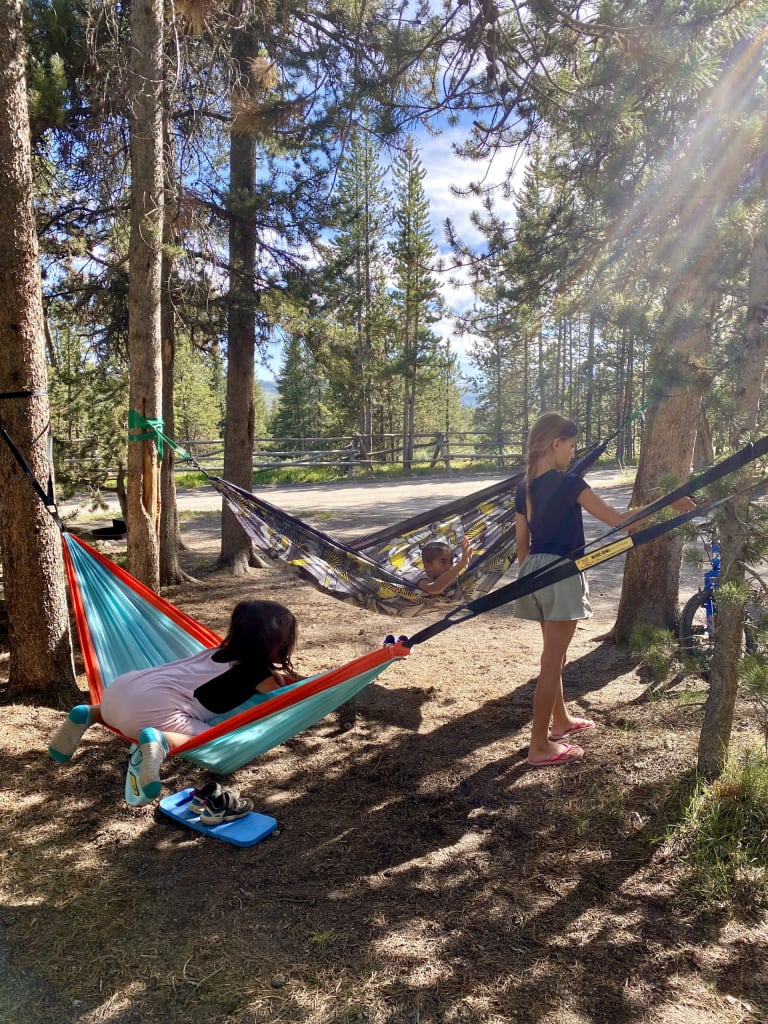 Sewer Business
The smelly business… it's a necessary chore carried out several times a week. If you can, try to avoid emptying your sewer while your next-site neighbor (on the sewer hookup side) are out having coffee or hanging with friends. 
It is smelly business and best done when no one is around. Additionally, make sure to keep your black tank closed until it is time to empty! There are many reasons for this with smell being a minor one, but the only one that could bother your neighbors. 
Call The Park Before Early Check-In
Always check your park's check-in time before rolling in. If you know that you will be there early, give them a quick call and ask for authorization to come in early, instead of just showing up. 
In most cases, campground owners are kind enough to let you get to your site as long as it is available early. We have even had a campground let us check in at 9 in the morning on a weird day when we escaped some tornado and boondocked nearby the night before. 
In some other cases, you may need to pay an early-check-in fee. And in rare cases, they will make you wait until check-in time. 
In a similar fashion, if you know you will be coming in after 5 or 6 PM, make sure to call the park and ask them how late check-in works. They will be able to tell you exactly what to do upon arrival, since the office will likely be closed.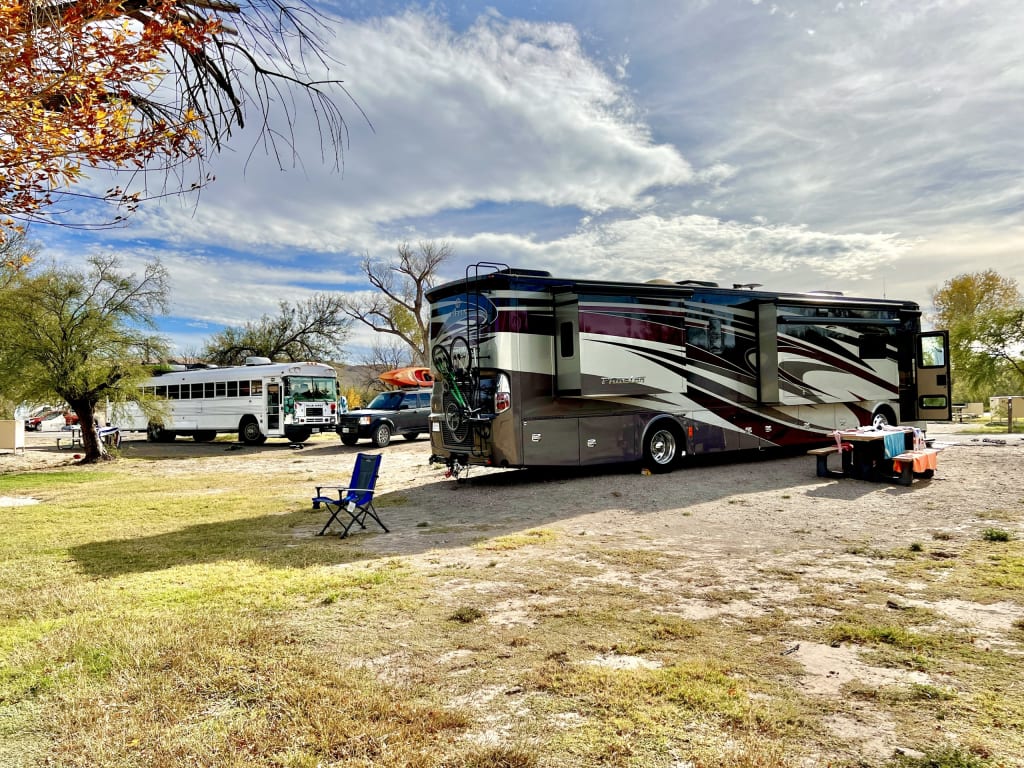 Leave By Check-Out
You can get in trouble when leaving your site late. It is also polite to respect check-out times to allow the campground staff to prepare the sites before the new guests come in. They generally make sure all is clean and raked, which can take them a little while to complete. 
Breaking camp can be a little stressful and time consuming. My tip is to get as much done as possible, the night before:
Remove everything outside, fold your rug (while it's dry – morning usually has dew and isn't a good time to brush your rug), put away chairs and tables, hang bikes, etc.

 

Inside, clean up, organize your fridge, tie TV screens and shower doors, etc.
That way, on check-out morning, you have time to have breakfast, fold tables and chairs, latch all doors, broom one last time before retracting, and take care of all hookups to leave right on time!
Respect Quiet Hours
Each campground has its set of rules, usually written behind the campground map and handed out to you at check in. Make sure to respect quiet hours, whether early in the morning or late at night. In general, try to avoid loud music at all hours of the day. Most campgrounds have campers live in very close proximity and a loud neighbor is never a good neighbor.
Your campground will also have clear generator rules, especially if you have no hookup, stay on state or national land, or boondock on someone's property. If generators need to be turned off between 10 PM and 7 AM, make sure they are.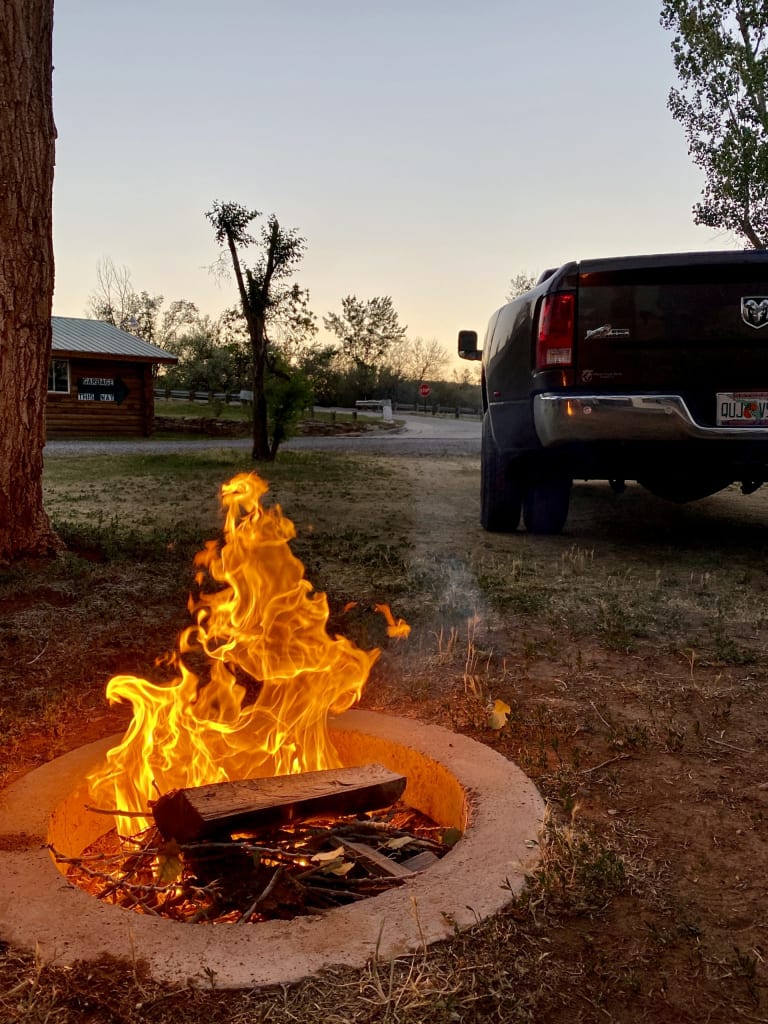 Don't Use Camp Fire Pits As Trash
Campgrounds include various amounts of amenities with each site, and it is very nice to get to a site that has a nice table and fire pit. 
Do not be the camper who uses the fire pit for a trash can. We have found glass bottles, bottle caps, and a wide range of other things that should not be burned (i.e. styrofoam, etc.). Campgrounds will do their best to ensure that you have a clean site, but sometimes either don't have the time, or don't check the fire pits. 
Out of respect for the staff and the next camper, make sure to only burn wood in your fire pit and leave only ashes behind. 
Tend To Your Laundry In A Timely Manner
If you plan on using campground laundry rooms (great choice!), be sure to empty washing machine and dryer when your load is up. 
If not, do not be surprised if you return to your load unloaded somewhere in the room, or an angry camper eager to give you feedback 🙂 
While on the laundry topic, know that most campgrounds do not allow dry lining outside.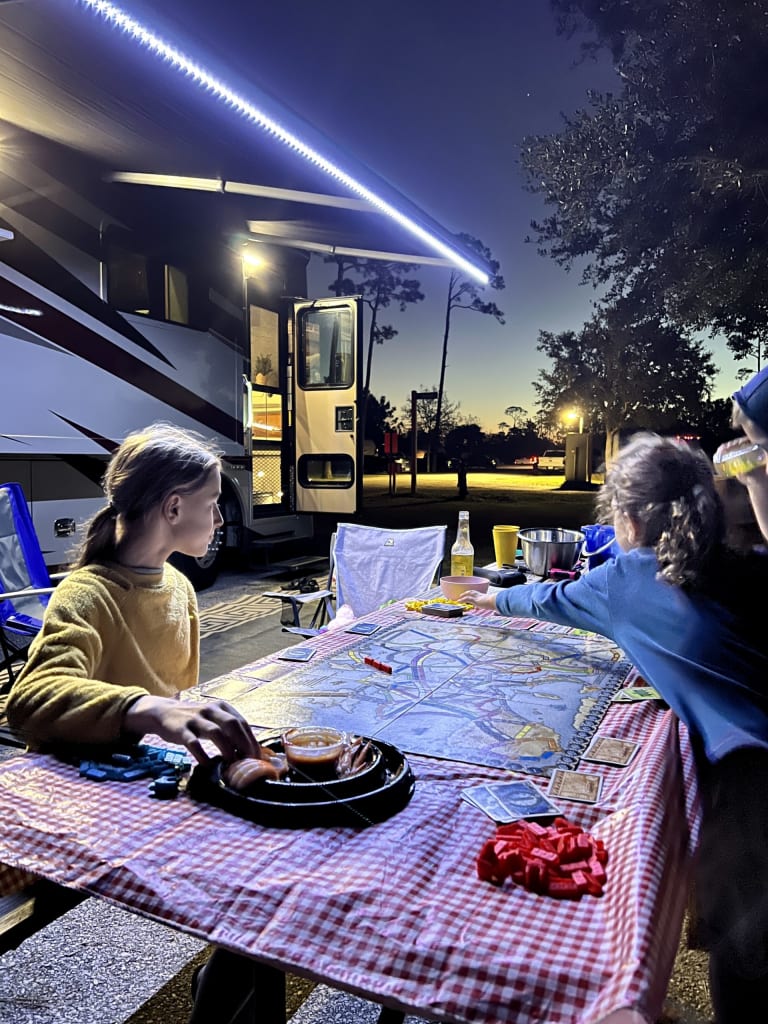 Call In To Check Package Policy
If you RV full-time or for longer periods of time, you will find that getting mail and packages can be challenging. 
When possible, try to use Amazon boxes, or get things delivered to a nearby UPS or FedEx store. When those options are not available, call your campground first and ahead of time, to ask if they will allow package deliveries. 
Note that you will likely be told that they don't hold mail and packages – in other words, you will need to time your delivery to the days you are staying at the campground. Some campgrounds will have a weight or size limit on packages they accept – we've had a camping chair returned to sender when the staff determined it to be too large for their office. 
From experience, we have also found that membership campgrounds (i.e., Thousand Trails) are not very helpful with packages and will often flat out deny mail service. State and national parks are in a similar boat. We have had the best luck with smaller privately-owned parks. But make sure to call ahead of time to get your packages in a timely manner. 
Check Before Washing Your RV And/Or Vehicle
Most campgrounds have a rule against washing the outside of your RV and vehicle while at the park. It is good etiquette to check your park's rules (typically handed out to you at check-in) before attempting to wash your vehicles. Seeing park staff rushing on their carts to stop you half way through is never pleasant.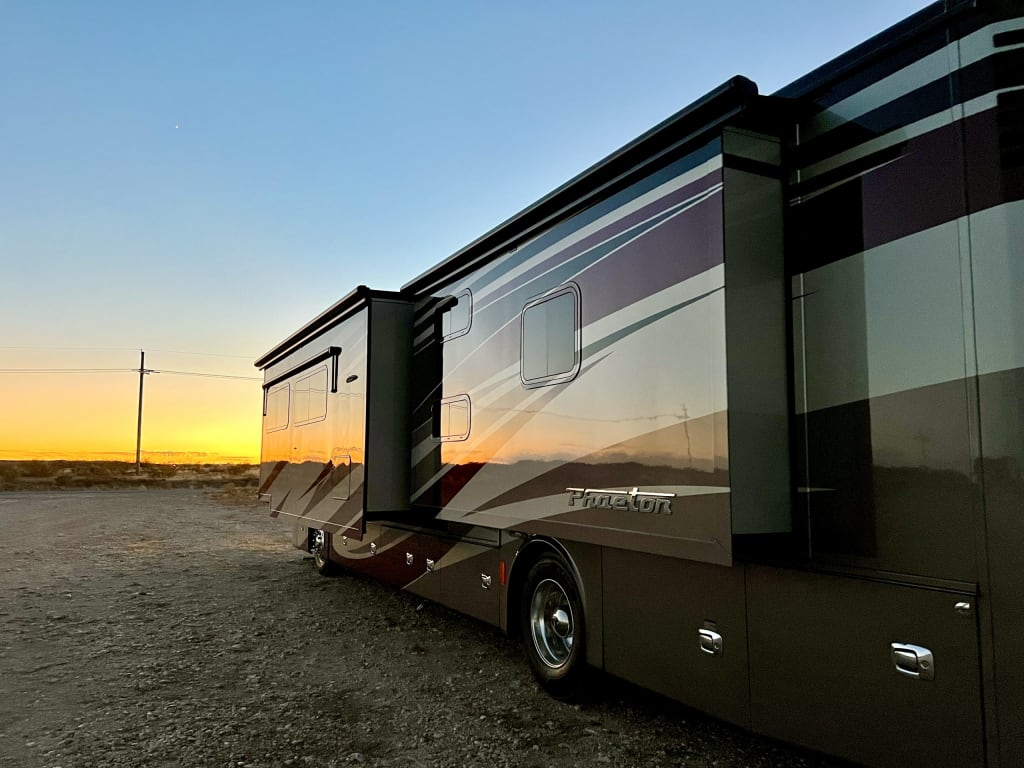 RV Etiquette 101
Those are 10 of the most common RV etiquette rules when RVing in the U.S. Do not be afraid to get started. A lot of RVing is very common sense. Treat others as you expect to be treated and respect personal space. Remember that it is real life, in much closer quarters than at home. As long as you keep a smile on your face, greet fellow RVers and compliment others on their set up, you are good to go! Have fun out there!