Looking to hit the road on a RV camping trip to close out summer? RV traveling is the perfect way to soak up the end of summer days. While summer camping can be a blast it can also be hot, humid, and buggy. Staying cool and bug-free while camping is the recipe for success to keeping the party going. Our family loves summer camping, but we definitely use many accessories to stay happy campers.
Looking for RVing gadgets and accessories to make your next summer RV trip both more comfortable and more fun? Read on to find out our go-to summer gadgets!
Guest Post and all Photos by The Adventure Detour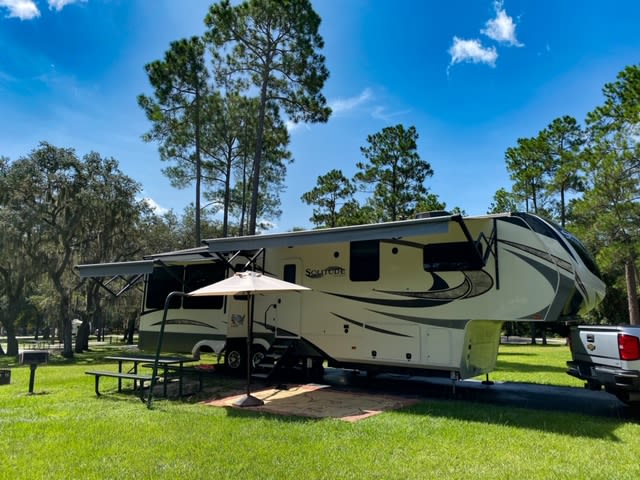 Shade Is Always A Top Priority
As a family that RVs full-time, it doesn't really matter where we are camping in the summer, shade is always our first priority to enjoy spending time outdoors. Getting overheated quickly leads to unhappy campers.
The easiest shade solution is to use your RV awning if you have one. Some campsites are still in direct sun though even with the awning extended. A great RVing gadget for additional shade is an RV awning sun screen. This long screen slides into the track of your awning edge and extends all the way down to the ground where you tie it off with stakes and tie downs.  Ours is the Carefree EZ Zip Blocker which has a zipper to quickly disconnect the screen in case a storm pops up and we need to bring the awing in
If you still find that using your awning with a sun screen isn't enough shade, there is an entire screen room that you can mount onto the edges of your RV awning. A screen room provides shade on all 3 sides as well as some protection for bugs. The Lippert Solera Family Room is a great option.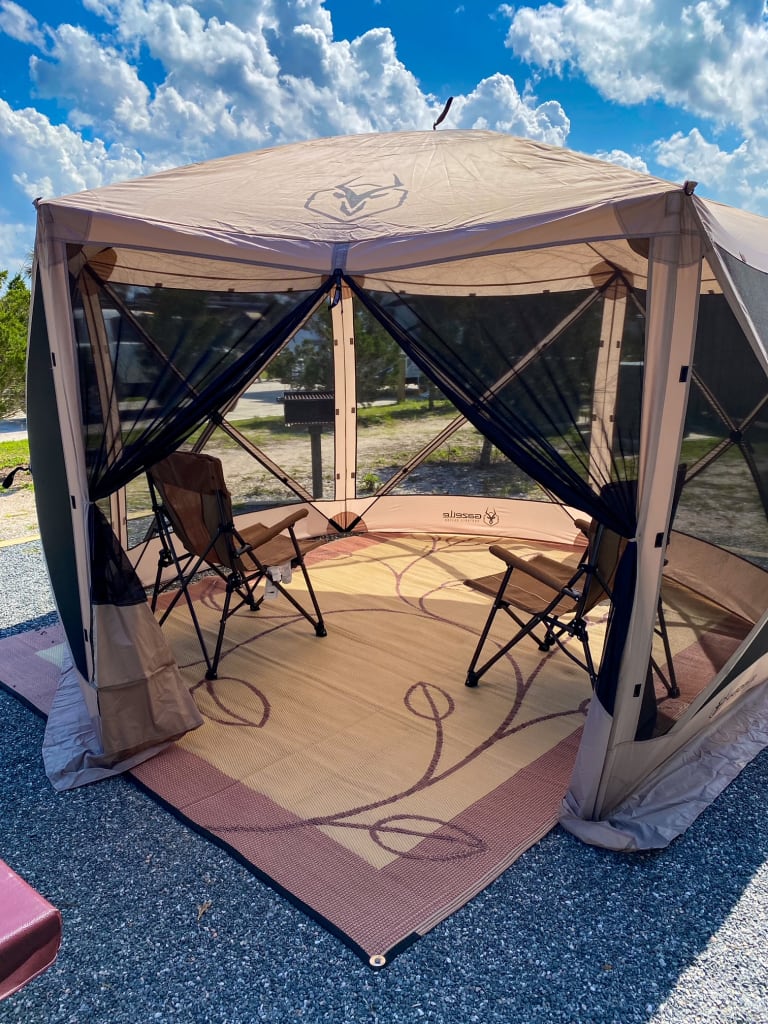 What about shade for other areas of your campsite? Sometimes you have an amazing view on a side of your campsite not near the awning that you would love to take advantage of. Or you would love to have more space in the shade to hang out than right next to your RV. This is where pop-up tents come in handy.  
Pop-up tents are a great accessory for RVing because they fold up small and are set up quickly. They provide instant shade wherever you want to put them. Some even have fully enclosed screened sides to help with bug protection. If your RV doesn't have an awning, or if your campsite has an obstacle preventing your awning from extending, then a tent for shade is the perfect solution.  We have the Gazelle G6 6-Sided Screen Gazebo. This model doesn't come with a floor but we use our RV rug underneath.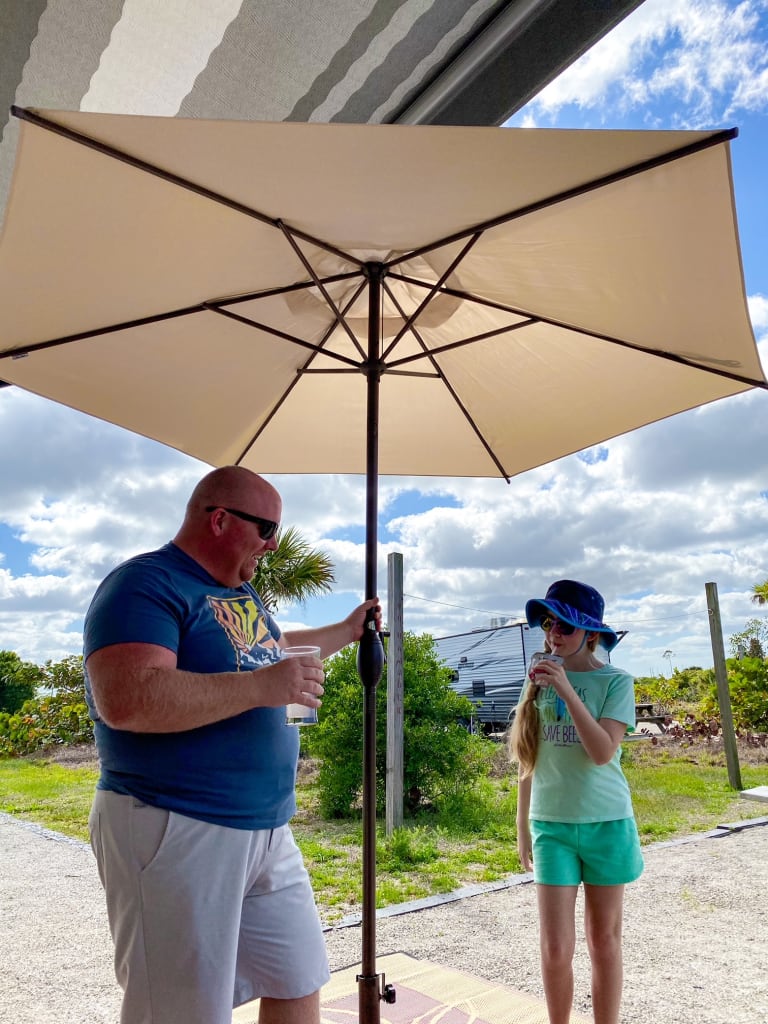 An additional accessory that can come in handy for shade is a portable umbrella. We have a lightweight base that we fill with water at the campsite for weight to hold it down and a large umbrella. This is a great portable shade option that we can set up wherever we like. We often enjoy sitting at the picnic table with our umbrella for shade. We have the Abba 9' Patio Umbrella and the Abba Patio Umbrella Base.
If even after all of these cool ideas you are still feeling a bit hot, try a couple of personal cooling gadgets. We love and use both cooling neck towels like Frogg Toggs and personal fans that hang around the neck like Easy Acc Hands-Free Necklace Fan. Having these gadgets is especially helpful to stay cool while setting up and taking down your campsite, hiking, or playing yard games.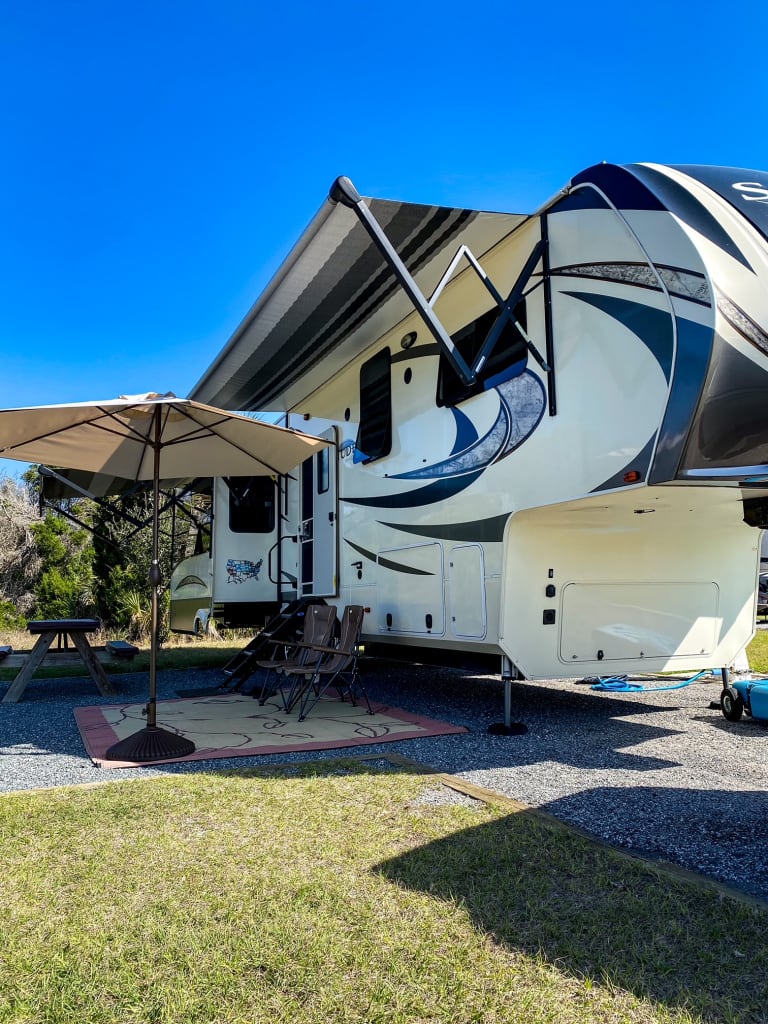 Keeping Uninvited Bug Guests Out Of Your Campsite
Isn't there a saying about ants ruining a picnic? Well, ants can be the least of your worries when you are camping in the summer. Biting insects can quickly put a damper on the fun. It's best to be prepared with accessories to keep the bugs out of your campsite.
One of our favorite gadgets for keeping bugs away from our outdoor areas is so simple but so effective. It's a heavy-duty outdoor fan. They make fans that are able to be out in the elements and that have a stronger air output. We leave it going to help keep us cool and then really crank up the power when the bugs start bothering us. As simple as this accessory is, it's a game changer! We have the XPOWER FC-300 Professional Fan and make sure to grab a couple of extension cords.
Another way to help keep bugs away is to break out the citronella to use around your campsite.  You can use either candles or oil lamps to spread this smell that bugs don't love. Citronella is the most helpful if you position multiple candles or lamps around your campsite in almost a perimeter. A great way to do this is through the citronella tiki torches. Plus they add a really great décor and glow to your campsite.
So now that you have the simple gadgets to help keep the bugs out of your campsite, what about keeping them off of you when you step away? Don't forget to pack bug spray. There are many options available for this including natural solutions. From sprays to lotions, be sure to bring along something to keep the bugs away. We like using Murphey's Lemon Eucalyptus Oil.
If you have ever spent time camping in the South, then you are cringing when I say the words No-See-Ums. Few if any, biting bugs are as bad as these and they seem resistant to almost everything! This is a pro tip and also the simplest gadget on this list. Dryer sheets. Yes, dryer sheets! Are you surprised? Find the old-school heavily fragranced sheets such as Bounce and rub the sheet on your clothes, shoes, hair, skin (if not sensitive), and put some in your pockets. This is the only thing we have ever found to help with No-See-Ums.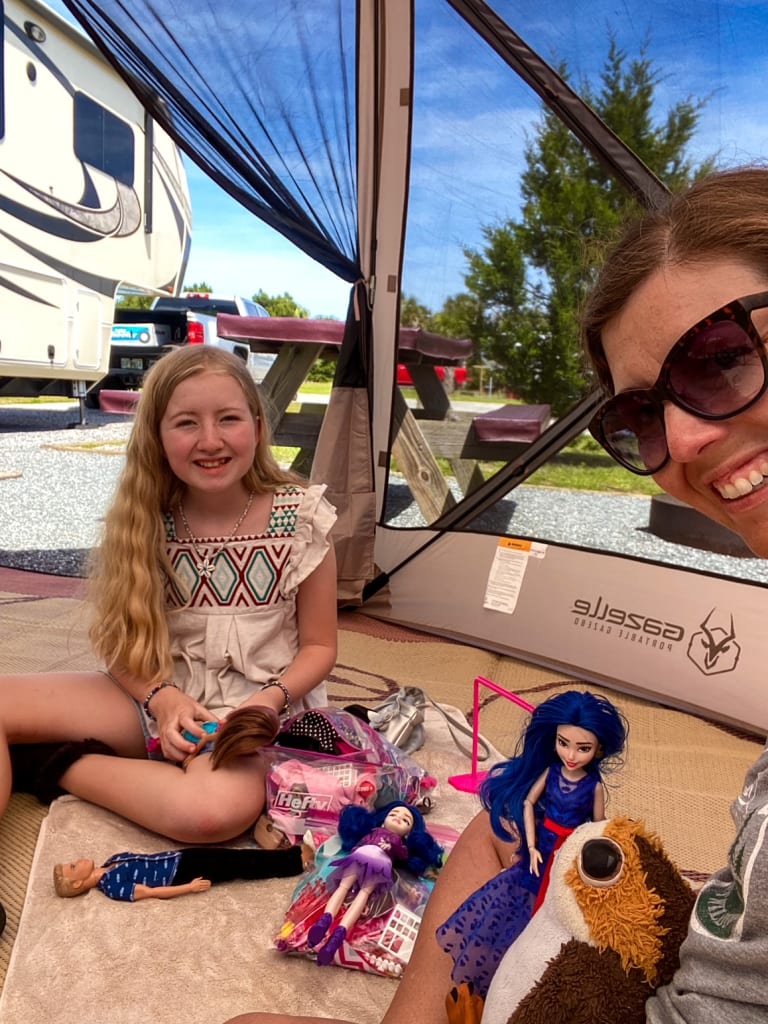 Bring On The Cool Tasty Treats
Now that we have our shade and bugs under control, it's time to break out a cool drink or treat. Some RVs have outdoor kitchens with mini-fridges that keep the cold drinks and snacks easily accessible. Another option is to have an outdoor cooler. Options range from a simple cooler with ice, all the way up to an electric cooler that can provide extra fridge and freezer space. Dometic is a popular brand of electric coolers.
Is it really a hot camping afternoon without a cool drink over ice? Sure you can fill ice trays in your RV freezer, but RV refrigerators don't freeze as fast as home freezers do. You can also buy bags of ice but that can be tough to fit into an RV freezer. Many RVers opt for a portable ice maker to use while camping. This little gadget makes lots of ice and fast! For example, the Frigidaire Countertop Ice Maker can pump out 26 pounds of ice a day.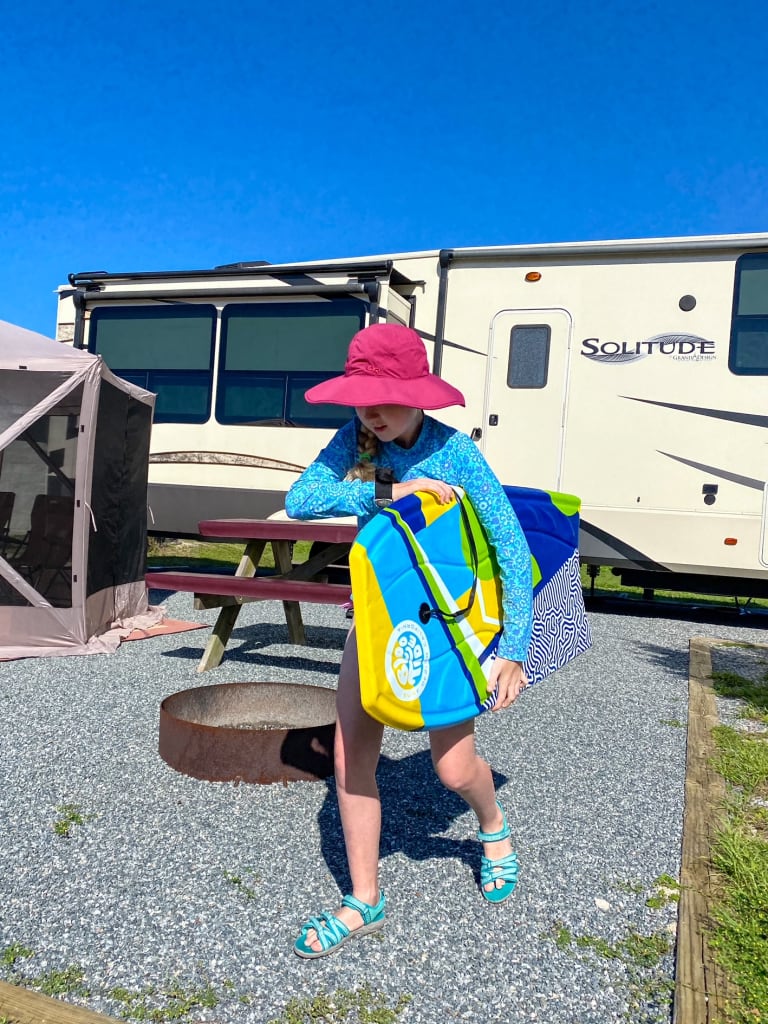 If you really want to up your game with outdoor cool treats, consider adding a slushy maker for the kids, or a margarita machine for the adults. Now we are really glamping!
Looking to purchase or upgrade to an RV that ticks all of your wish list boxes? La Mesa RV has a huge selection to meet your summer camping needs.
Scott, his wife Van, and their 12 year old daughter Sissy have traveled full-time in their RV for 7 years. They have worked and homeschooled on the road through 42 states so far. They blog about RVing tips, travel destinations, and the full-time RV lifestyle on their blog www.TheAdventureDetour.com. They are also RV content creators @theadventuredetour on Instagram, TikTok, and Facebook. They love connecting with RVers so be sure to reach out to them and say hi!