Let RV condensation be a thing of the past this winter. Today we bring you three simple solutions on how to get rid of that irritating and potentially concerning (we're talking mold and wood rot) water build up in your motorhome. This list will make your winter holiday travel season worry free! Check out our tips below.
Photography: @shackedup
GO STRAIGHT FOR THE SOURCE
– When cooking, cover your cooking supplies.
That means all pots and pans should be covered properly to keep water content out of the air. This will make a drastic difference in the amount of water build up your RV has. 
– Use your fans!
Your fans are not just there to keep you cool. When you begin to see condensation build up, turn on the mounted fans that are located in your bathrooms and living room. This will be especially useful when you are cooking and showering. 
– Insulate your windows.
You can purchase or create your own DIY insulator for the interior windows of your RV. This barrier will reduce condensation build up in your home on wheels. 
INVEST IN A DEHUMIDIFIER 
Dehumidifiers are ideal for winter travel in your RV because they reduce humidity in your rig without changing your desired temperature. There is only so much wiping down, venting and driving with your windows down during winter that one can handle. An overly humid interior will create the perfect habitat for pesky critters as well as an unpleasant stench and potentially unhealthy environment for you and your family. This simple, portable and effective device is well worth it to keep your RV investment in top shape, not to mention, it will make your winter travel experience much more comfortable. Check out this E 500 Dehumidifier for smaller rigs like your Class B or the EDV 1100 Dehumidifier for larger Class A motorhomes.
USE DAMPRID 
This simple and inexpensive solution to removing moisture from your RV is effective and safe. DampRid is a product made of calcium chloride crystals. You place the product anywhere in your RV and as the crystals dissolve, DampRid removes the excess water in the air. Best part, the container is refillable!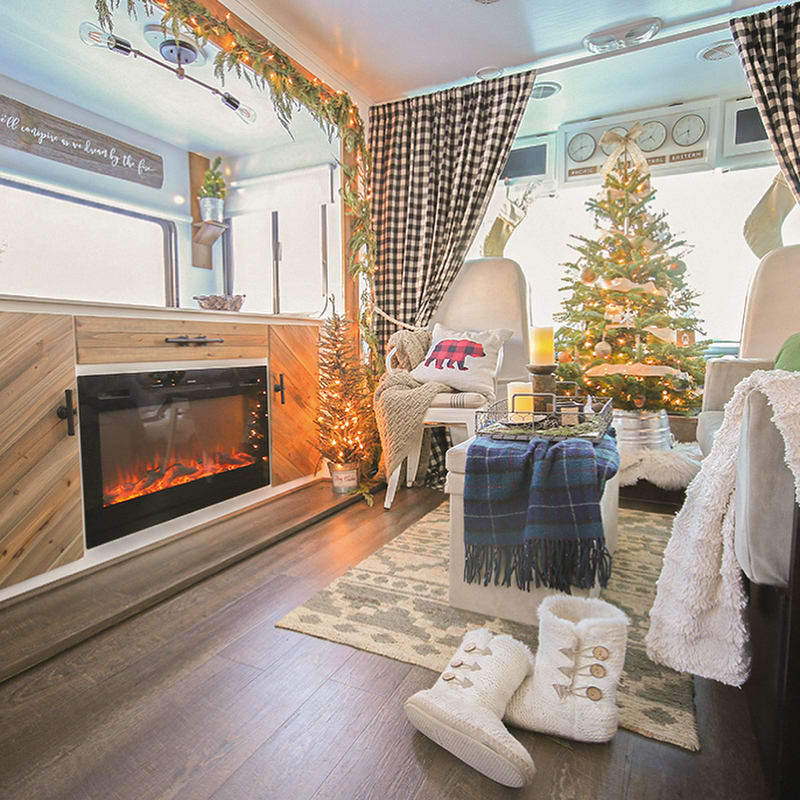 Photography: @mountainmodernlife
Are you RVing this holiday season? Check out our guide to Decorating your RV Campsite this Christmas, and be sure to leave us a comment letting us know where Santa will be visiting you on the road!