How Do You De-Winterize Your RV?
Hello, Spring! Say goodbye to the cold months and set your sights on warmer days. It's time to open those RV blinds and de-winterize. If you followed our step-by-step winterization guide last season, all you have to do is work that list backwards… we joke! Today we're explaining the de-winterization process and bringing you an easy to follow guide that will get your RV out of hibernation and ready for the open road ahead. Check out the details below.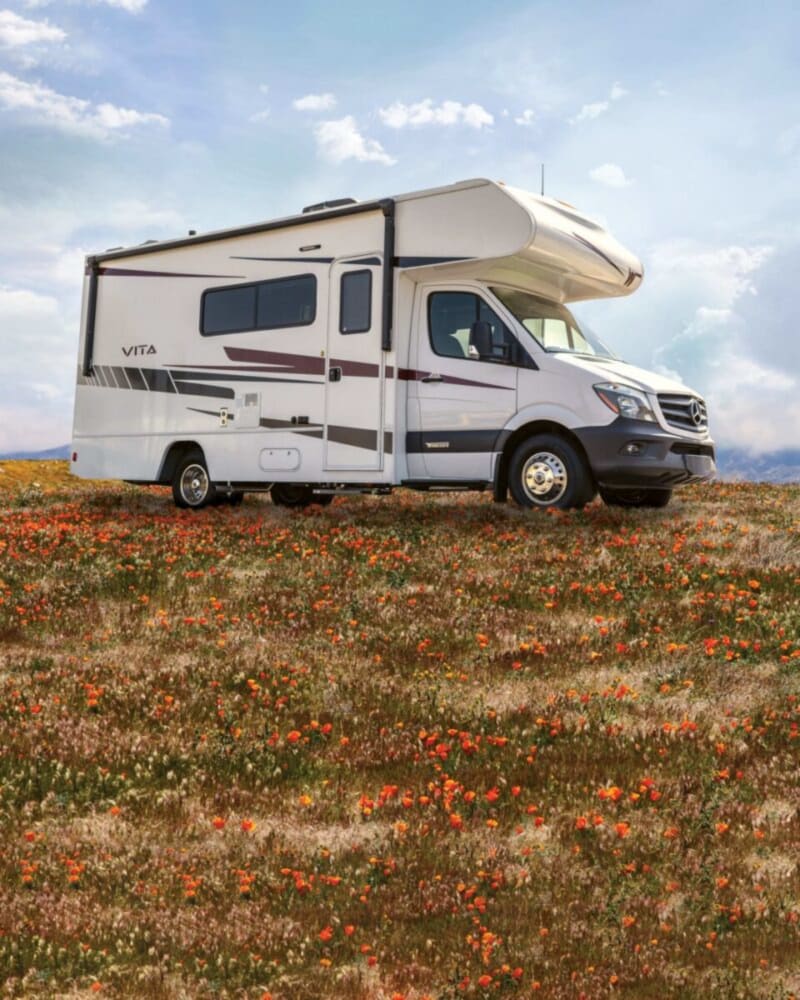 RV EXTERIOR
THE UNIT: Inspect your RVs exterior. Look for cracks or leaks on all exterior vents, doors, windows, exterior storage, slide-outs, sewer hoses, fresh water hose, etc. Like anything kept in storage for a while, there is a possibility your RV has developed mildew, mold, dust and so forth. Check all exterior holes and vents for animals or bugs that might have gotten in during your RVs long sleep. This is also a great time to practice those spring cleaning principles. Wash the exterior including windows and screens, clean off the awning (check that fabric is still in good condition) and make sure your lights are in working order.
RV TIRES:
Tires lose air pressure when in storage. Check the tire pressure and inflate each tire per the manufacturer's recommendation of your particular RV. If you notice wear in your tread or any concerning indicators that your tires may not be in a drivable state, be sure to address the problem BEFORE your next road trip. No one enjoys a tire blowout on the interstate.
RV INTERIOR
THE UNIT: Continue to use your spring cleaning principles when freshening up the interior of your RV. Dust, vacuum, mop, wipe down all surfaces and check all storage spaces in the kitchen and throughout the RV to make sure critters haven't gotten in and that there is no mildew lurking in any corners or on floorboards.
RV APPLIANCES:
– Open LP gas valve
– NOTE: make sure your water heater tank is full PRIOR to testing your water heater
– Check working order of all LP gas fired appliances
– Regular RV maintenance requires your LP gas system to be tested for leaks and gas operating pressure annually. If you need to make a service appointment, check out La Mesa RVs service department by clicking here.
– Plug in and test all 120-volt appliances and accessories to make sure they're in proper working order
RV WATER SYSTEM (SINKS AND SHOWER):
If you used antifreeze in your water system when winterizing your RV, follow these steps:
– Remove antifreeze by running all sink faucets until water is clear
– Flush the toilet and shower until water is clear and don't forget exterior showers!
– Turn the bypass into normal mode
– Fill the hot water tank
– Fill the fresh water tank and run all water systems again
– Check for all leaks
– Sanitize the water system by mixing 1/4 cup of household bleach to one gallon of water for every 15 gallons of tank capacity.
– Pump water through both hot and cold faucets and let sit for 4-8 hours
– Drain all water and re-fill the fresh water tank with potable water
– If you still smell bleach, continue running water until the smell has dissipated
WATER HEATER:
– Close the train and reset all water heater valves
– Run RV water pump and turn the hot water faucet on and let run until the water heater tank is full
– Turn off faucet
– If the pump comes on, this may indicate you have a leak
– Check under the sink for signs of leakage
ENGINE:
Don't forget about your RV engine! Check oil and all fluid levels. Make sure head and taillights are in working order.
RV BATTERIES: 
A battery can lose up to 10% a month while sitting in storage, if you dod not recharge your batteries during the long winter months, you'll need to start by charging them. If you're not comfortable working with batteries contact our La Mesa RV service department and set up an appointment with one of our trained technicians who will be happy to get your RV in top shape for the spring season.
RV GENERATOR:
Does your RV have an onboard generator? If so:
– First, check that your exhaust system doesn't have any damage
– If the exhaust system is in working order, turn on and test your generator
– If your oil levels are low, you can make an appointment with one of La Mesa RVs service technicians for servicing
THE EXTRAS YOU DON'T WANT TO FORGET:
Hitches – Make sure all hitches are rust-free
Filters – change air and water filters
Propane tanks – refill propane
Safety check – make sure your batteries are working on all smoke alarms and carbon monoxide detectors by testing each
This comprehensive guide to de-winterizing your RV will get your RV ready for the beckoning open road. Looking for the best place to RV this spring? Check out our list of Florida's Hidden Gems for the ultimate sunshine state road trip.