La Mesa RV was recently asked, "Do you have any advice for newbie RVers in their 60s who are trying to find the right RV?" The question was thoughtful and extremely relevant to our RV community so we thought an article made just for those of you who have recently retired, want to sell your home and make a new life on the road or who've always dreamed of buying an RV and traveling is in order. You can be a newbie at any age and we're here to tell you that newbie RVer is a great title, full of wonder and adventure. If you're new to the RV lifestyle, no matter your age, we've outlined some really important questions to ask yourself when trying to find the perfect RV for your lifestyle, how to turn those answers into finding your perfect RV and more. Check out the details below.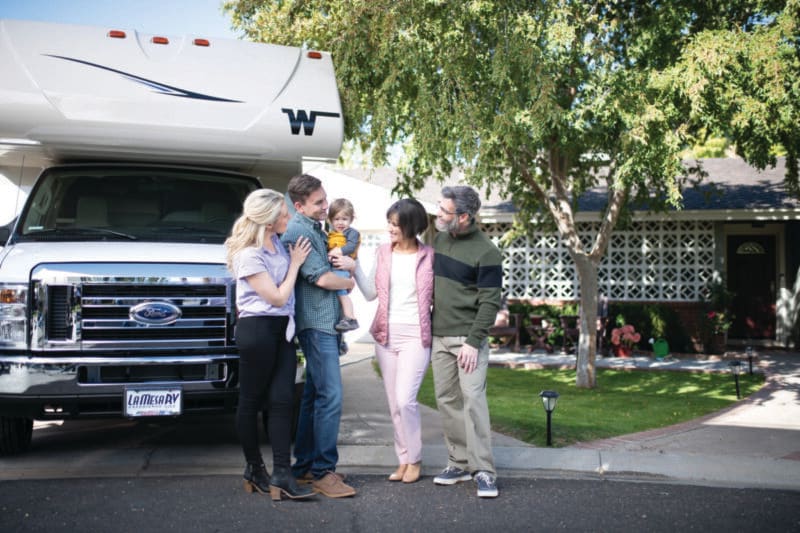 QUESTIONS TO ASK AND ANSWER FOR YOURSELF: 
Have you ever used an RV, gone camping or traveled in an RV?
What is your concept of an RV or what do you think an RV should contain or be able to do?
Where would you like to travel with your RV?  Be somewhat specific, state parks, national parks, off the beaten trail.
Do you have a preference between gas and diesel?
Where do you feel most comfortable camping – at an established RV campground or boondocking?
How often do you envision using the RV? Quick weekend trips? Extended periods of living in it full time? Just once or twice a year?
How many people will be traveling with you?
Will you be taking any pets with you?
When you eat most meals now, are they typically take-out, delivered or home cooked?
Do you envision the RV being something you tow with an existing vehicle such as a pick-up or SUV?
Do you envision being able to drive the RV instead of towing it?
Are you handy with tools and can figure things out or does a flat tire mean a call to AAA?
Do you have or want to take toys with you – motorcycles, Razors, jet skis, boat, kayaks, paddle board, etc.
When you take vacation now, where do you like to go? Why do you go there?
Will you be traveling with children? If so, how many and what are their ages? What needs should be considered when traveling with them?
Does anyone in the family have special needs that may need to be addressed?
Are you considering an RV to be used as part of your job?
What activities or hobbies do you have?
Where will you store the RV once you own it?
Do you live in an HOA or other community that may have CCRs or other parking restrictions?
Do you have a preference for a used or new RV?
Do you want your RV to have the comforts of your home?
Will you be RVing solo?
Once you've answered these questions, rate which are most important to you, 1 – 10 and eliminate anything that isn't relevant to your personal lifestyle. Next, we'd suggest keeping those answers in mind and turing an eye to RV Class types. Right away you'll notice a pattern. It might look like this: big toys, full-time living, home cooked meals, need to tow a vehicle. Or it might be: off the grid camping, just one or two of us, RV is part of the job, renewable energy is a plus. Or it could be something entirely different. As you start to understand your desires and needs out of your RV experience, you can then turn to RV Class Types.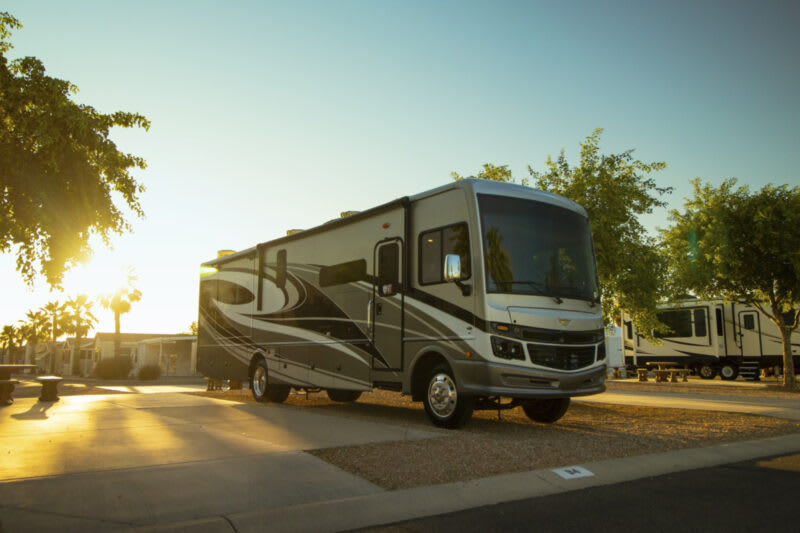 RV CLASS TYPES
RV Classes are category types of RVs. You have Class A, Class B, Class C, Fifth-Wheel Trailer, Toy Hauler, Travel Trailer and Pop-Up Campers. Each type has specific features, sizes, etc. Below we've outlined each. When deciding which RV or motorhome is right for you, keep your answers in mind. The Class type that most suits all your needs will be the best for your particular lifestyle.
CLASS A MOTORHOMES 
In this guide you will find the advantages of purchasing a Class A motorhome, size details, luxury amenities, and what to expect from life on the road. Click here to read our entire buyer's guide and enjoy La Mesa RVs YouTube channel below, featuring our Class A motorhomes.
CLASS B RVS
You can find the advantages of purchasing a Class B RV, size details, amenities, and what to expect from life on the road with this type of RV by clicking on this link to explore everything there is to know about Class B RVs. 

RV BUYER'S GUIDE TO CLASS C RVS 
From drivability to amenities and what to expect from life on the road with this a Class C RV, you can explore the benefits of a Class C and discover if it's the right recreational vehicle for you by clicking the link here to access our RV Buyer's Guide to Class C RVs.
FIFTH-WHEELS, TOY HAULERS AND TRAVEL TRAILERS
These RV types are excellent for those who don't quiet fit into the category of Class A, B or C motorhomes. To learn more about each, check out our extensive Buyer's Guide to 5th Wheel, Toy Hauler and Travel Trailers by clicking here.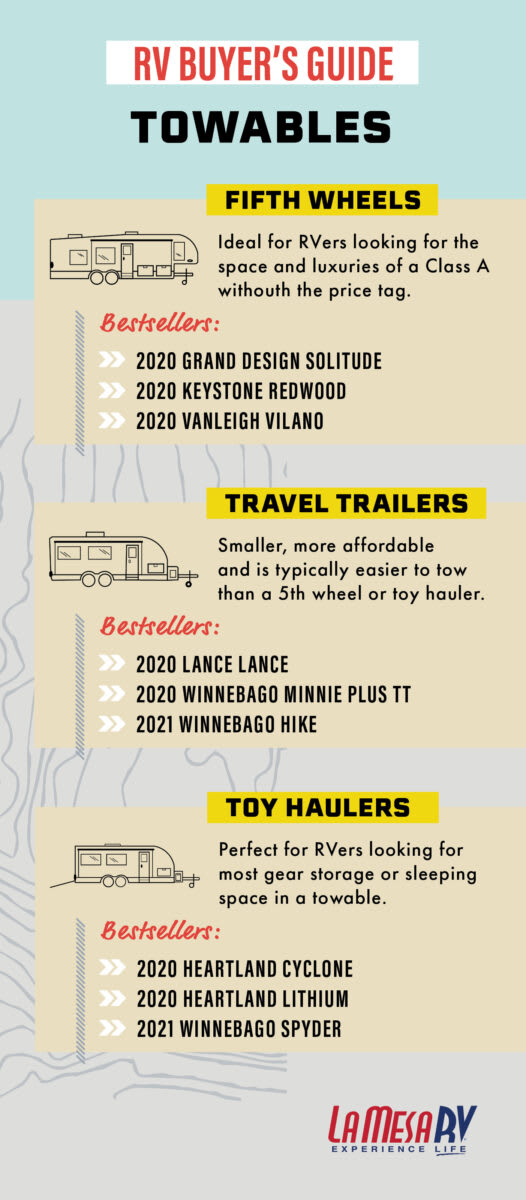 ADVICE FROM AN RV VETERAN
When Connie Morrow, a vibrant 72-year-old RVer reached out to us, we were immediately drawn into the wealth of knowledge she has regarding RV living. Having traveled throughout the lower 48 and seven Canadian Provinces, Connie has been RVing for over 13 years. You heard correctly, Mrs. Morrow has been living on the road full-time for over 4,745 days! Wintering in Florida in her camper and traveling for the rest of the year with her pug, Connie is the veteran RVer we only dreamed of interviewing. We've pulled her top 10 Tips and Tricks to RVing for you to enjoy below. If you're interested in the full interview with Connie, click here.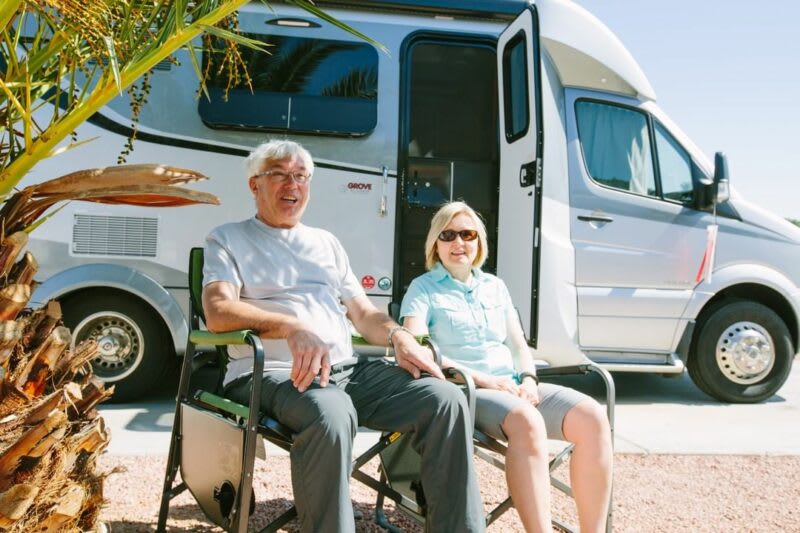 RVERS TIPS AND TRICKS TO RVING
I have a rule that in each state I go to, I must eat the local foods. Louisiana was a challenge. I had to learn to cook their food so I could control the heat level. Texas you just leave out the jalapeños if you're not a fan of spice. Iowa was great with steak and potatoes!
Read a local author. Preferably an author who writes about his/her state.
Command strips are your best friend. I hang pictures, hooks, posters. They are easy to use and leave no mark. You don't want to try and put a nail in that paper wall.
Get a quick release valve for your hose to attach to your trailer. It will lessen leaks and is so much easier than threading and removing the hose each time.
If you don't like the place or the people, leave! That's the beauty of living in a moveable home.
Don't travel too often or too long. I try not to go more than 300 miles in one day. That takes me about six hours so I usually stop in time to set up and relax before dinner.
Cracker Barrels are the best free overnighting place. I insist on using the local business that I am staying at, Cracker Barrel gives me two meals for about $15, what I would expect to pay to dry camp. Just don't abuse the privilege.  Walmarts, Flying J's and Loves are also good. I have heard that some Cabelas actually have power hookups. But you are not camping. Do not unhook, leave your rig, put out the grill or plan on staying more than one night.
Help other people! Be friendly. Backing up, setting up and be encouraging. I have had so much encouragement from others! Also, from a selfish perspective I think it labels you as a friendly, safe person.
But be careful about listening too hard on advice from others. They may look smart, sound smart, but really may not be any smarter than you. Trust your gut!
Do not listen to your friends who are not doing this. They might tell you how silly you are, how dangerous it is and so on. The reality is, they really have no idea. Don't let others tell you how to live your life. You only get one life!
If you're looking for more advice for RVing as a newbie, we encourage you to check out our Explorer Spotlight tab on our Experience Life blog. Here you will find extensive information from RVers on all walks of life. From how they navigate through the world in their RVs to advice to new RVers, tips and tricks of the road and so much more, there is truly something for everyone.