Fall is such an incredible season to take a trip in your RV. The weather is starting to cool down, the crowds slim, and the scenery is enhanced by the beauty of the fall foliage. Why not combine those benefits of fall travel with an RV trip to a national park?
National parks are some of our country's most treasured places. The scenery and wildlife is like no other place, making the fall season a perfect time to take a national park road trip. Read on to find out which national parks are the best to visit during autumn.
Guest Post and Images by The Adventure Detour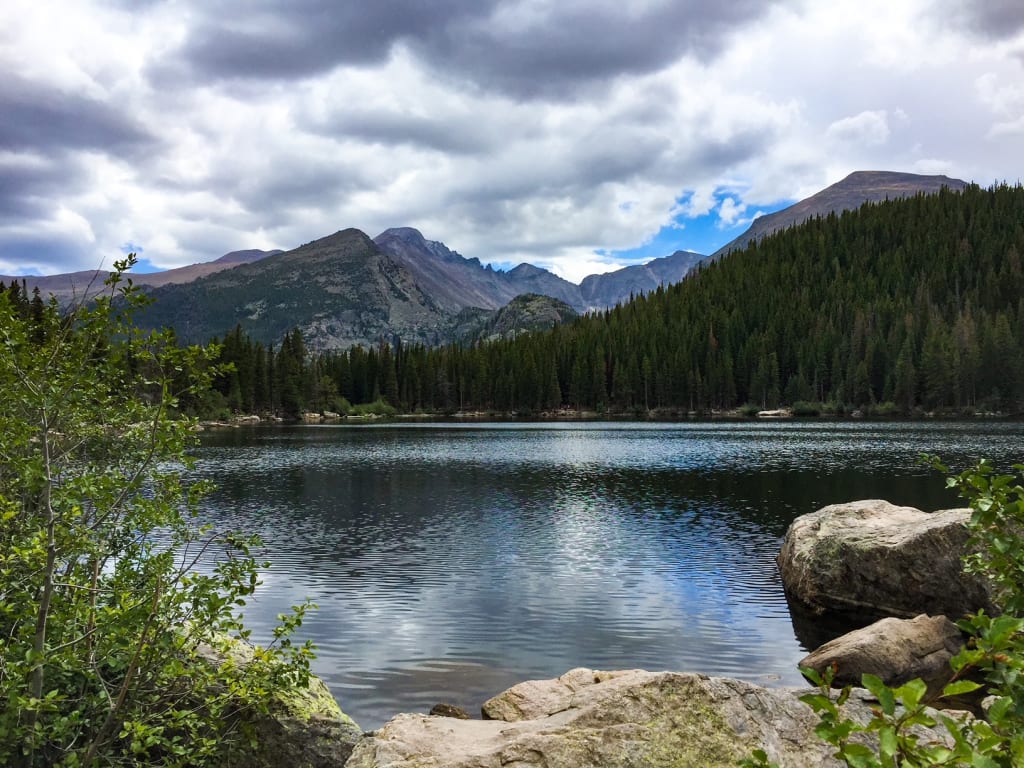 Rocky Mountain National Park, Colorado
There are so many amazing national parks that you could choose to visit on your fall road trip. One of our family's favorite fall national parks is Rocky Mountain National Park. The gorgeous mountain views and scenic lakes are all even more spectacular with the fall colors.
Don't miss the hike to Emerald Lake. This hike is chocked full of beautiful lakes surrounded by mountains. This hike takes you past Dream Lake and Nymph Lake on the way to Emerald Lake with incredible views of Hallet Peak. It's one of our favorite national park hikes that we have taken in our travels.
Also, be sure to drive up to the Alpine Visitor Center for an incredible view over the whole park. This visitor center is the highest one in the entire national park system at 11,796 feet! This area sits near the continental divide and has much different weather from the rest of the park. In fact, during our September visit, it was in the 70s in the town of Estes Park but started sleeting on the way up the mountain and was snowing at the visitor center. We ended up having to purchase sweatshirts up there because we were freezing!
The adorable town of Estes Park, CO sits at the foothills of Rocky Mountain National Park and is also a fun place to visit in the fall. Its cute shops and great places to eat are a huge draw for park visitors. In the fall when the elk are in mating season, they are extra active and can often be seen just strolling through the middle of the town. During our visit, we got to see elk on the main strip every day. Also, check out the historic Stanley Hotel that was featured in the movie The Shining. You can also take a historic hotel tour by day or a spirited haunted tour by night.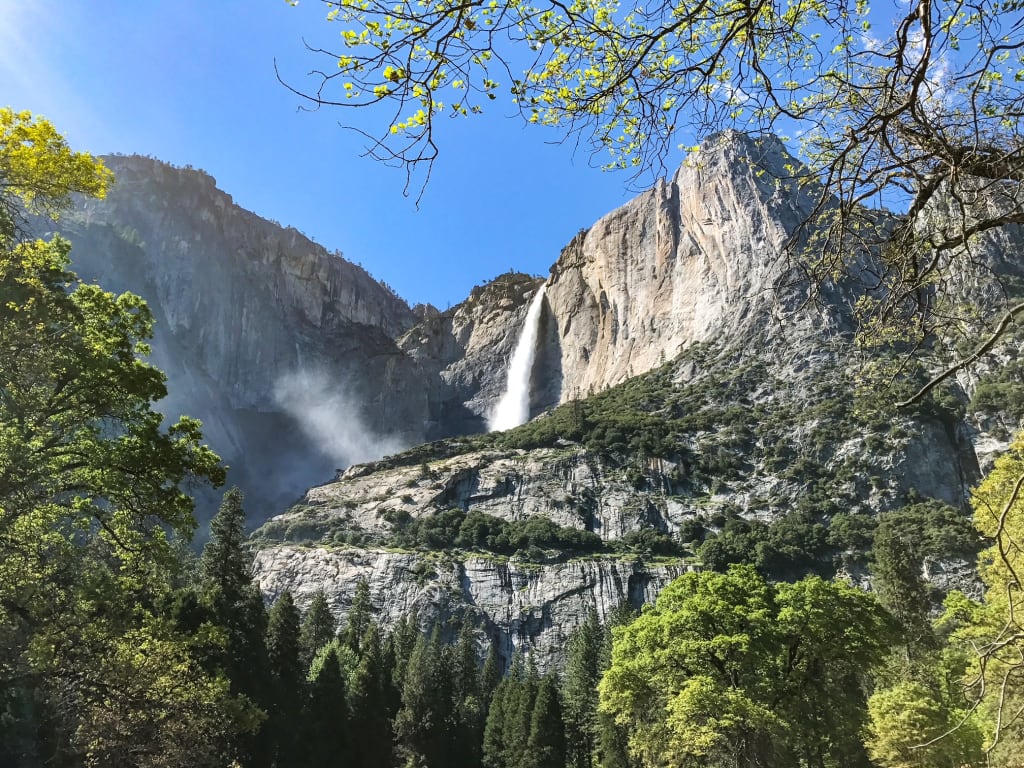 Yosemite National Park
The Yosemite Valley is incredible to visit any time of year, in fact, we would love to even visit it someday in the winter with a little bit of snow. Fall is a great time to enjoy this park. Not only is it a bit cooler, but the crowds are fewer which really adds to the enjoyment of this park. The valley is so beautiful but can also be extremely congested at times. A fall visit is just perfect.
Besides walking around the valley and viewing the gorgeous Yosemite falls, one of our favorite areas of the park is Glacier Point. Don't miss a drive up to this scenic lookout with views over the whole Yosemite Valley including Half Dome. Sunset is especially beautiful to watch from Glacier Point. One night we packed a picnic dinner and watched the sunlight bouncing off of the granite domes slowly turn to shadows. It is just spectacular!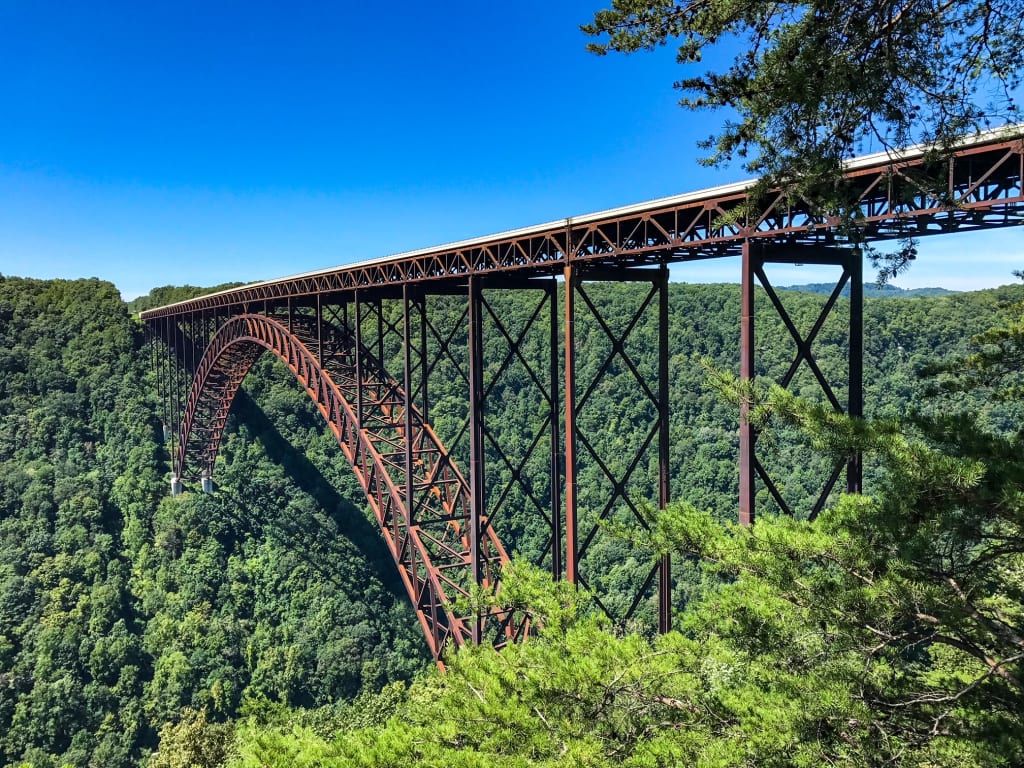 New River Gorge, West Virginia
West Virginia is a hidden travel gem that's not on most RV travelers' radar, but it should be! Many people also don't know about one of the newest national parks in the system, the New River Gorge National Park. We decided to check it out one fall and didn't catch the leaves turning yet but it was worth the trip.
This park is a river gorge area around the very scenic New River Bridge. The gorgeous mountains surrounding the New River are just perfect for fall foliage viewing. White water rafting is a popular activity in this area and if we go back again, we definitely want to try it. For daredevils, there is a thrilling opportunity to wear a harness attached to a line and walk a narrow walkway under the bridge. This allows you to cross the gorge from a completely different viewpoint. How exciting!
This area is also steeped in really interesting history. Don't miss the chance to learn more about coal mining and the history of the mines in this area. We took an incredible guided tour through one of the coal mines and it was one of our favorite experiences we have ever had in our travels. We hopped into a coal car at the Beckley Exhibition Coal Mine and rode through the mine while our ex-miner guide told us exciting stories from his coal mining days. This tour was incredible and we learned so much.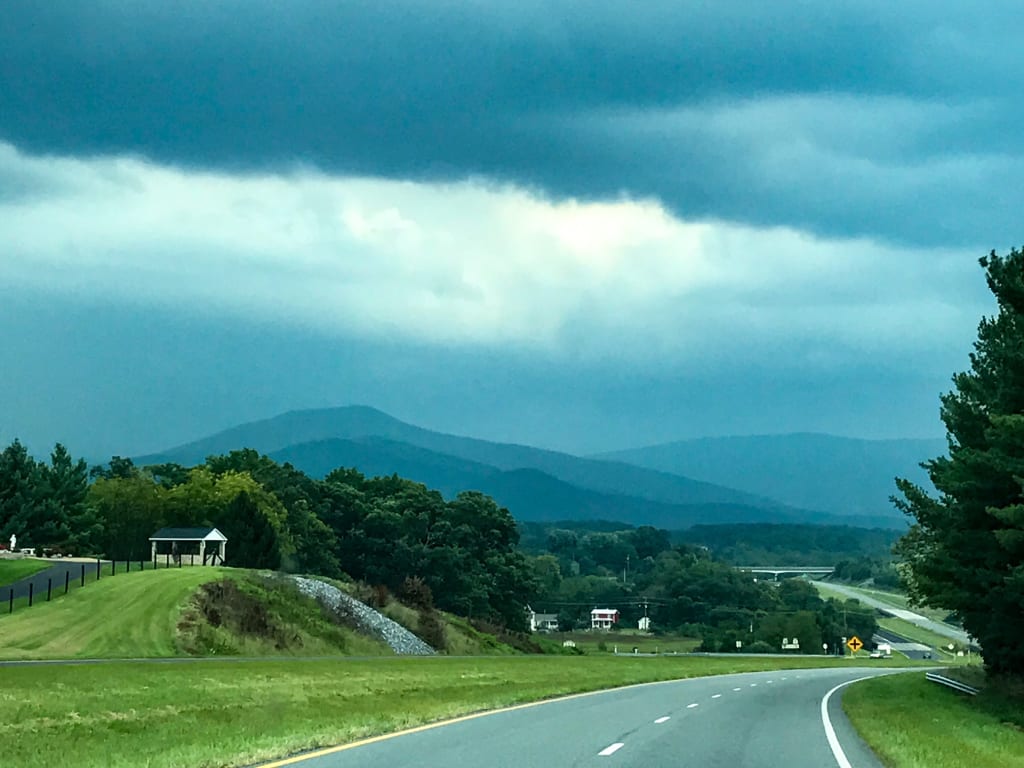 Shenandoah National Park – Virginia
Shenandoah is a national park along the ridgeline of the Blue Ridge mountains. This park gives you a bird's eye view of the surrounding areas that are perfect to see beautiful fall foliage. Don't miss a drive along Skyline Drive which runs along the mountain ridge with many scenic pull-offs to enjoy. We got to see a mother black bear and her cubs on this drive.
Shenandoah National Park is the northern end of the Blue Ridge Parkway that has stunning mountain views all the way to the south end at Great Smoky Mountains National Park. This is the perfect area for a fall RV road trip.
While you are in the area, be sure to check out another scenic location that may even be more beautiful, Harper's Ferry National Historic Park. Harper's Ferry is perfect for Civil War history lovers and the gorge scenery with the train and tunnel is just spectacular. One of our favorite parts of this park was the old fashioned-candy store that had candy by the year it was first produced. It was so neat to see and taste the original old-fashioned candy treats. We learned so much in this beautiful park.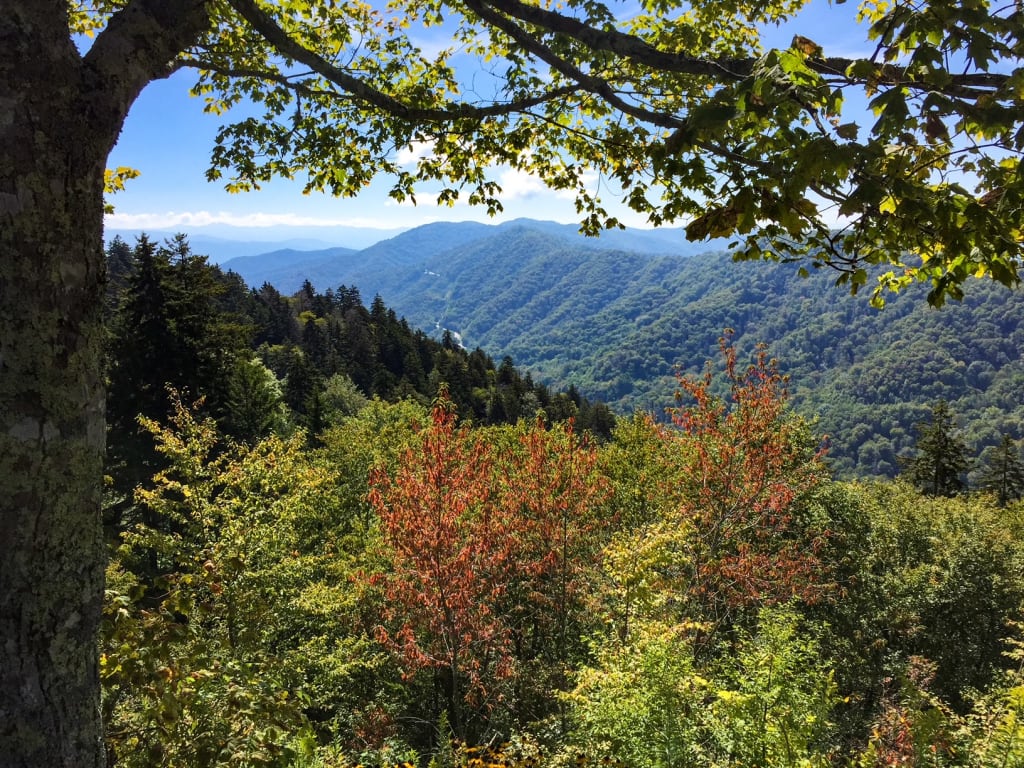 Great Smoky Mountains National Park
This is the most visited national park in the US and the fall is the peak season for this park but it really is worth it to view the incredible fall foliage in this park. We have visited twice now in the fall and both times we were just a bit too early to catch most of the leaves turning. The park is incredibly beautiful in any season but the fall is extra special and worth fighting the crowds for.
Don't miss a drive and hike up to the tallest viewpoint in Great Smoky Mountains National Park, Clingman's Dome. You are sometimes above the clouds at this lookout tower. It's the perfect spot to see the stunning fall colors and overlook the entire national park.
The foothills town of Gatlinburg is also a fun place to explore. It is packed with fun activities, shops, and restaurants. If you are into moonshine, there are many fun places that offer free tastings and even entertainment. If you are looking for a fun gondola ride to get another beautiful view of the area, we loved Anakeesta. Not only was the view spectacular, but there were many other fun activities included at the top of the mountain. The treetop canopy walk was our favorite part of this attraction.
There are many national parks that are perfect for an RV visit this fall. These are just a few of our family's favorite fall destinations. From the beautiful fall foliage, fewer crowds, and cooler weather, fall is just a great season to travel. I hope you get the chance to get out there and explore a new destination this fall in your RV!
Need a new RV perfect for a fall national park trip? Check out the large selection at La Mesa! They have just what you are looking for.
Scott, his wife Van, and their 12-year-old daughter Sissy have traveled full-time in their RV for 7 years. They have worked and homeschooled on the road through 42 states so far. They blog about RVing tips, travel destinations, and the full-time RV lifestyle on their blog www.TheAdventureDetour.com. They are also RV content creators @theadventuredetour on Instagram, TikTok, and Facebook. They love connecting with RVers so be sure to reach out to them and say hi!