Valentine's Day Breakfast Recipe Your Love One Will Love.
Valentine's Day is fast approaching and nothing says, "I love you" like something homemade from the heart. Being on the road enhances that romantic, nomadic and community feeling. Why not spend your morning making the perfect Valentine's breakfast for your loved one, your family or spread the joy to your campground neighbors? We've partnered with Alicia Lund of Cheetah is the New Black and family to try out a simple Chorizo recipe that is sure to spice up your Valentine's Day morning.
Photography by Daniel Primero
OZARK CAMPFIRE COFFEE
Campfire coffee is quick and delicious. Here's what you'll need to make the perfect brew:
Ozark Trail Stainless Steel 8-Cup Coffee Pot
Coffee Bean Grinder
Water
Coffee Beans (we suggest: Canyon Coffee or Stumptown Coffee)
Never used an Ozark coffee pot before? This coffee pot will serve up to 8 campers. Here's how easy it is to use:
Step 1: Pour freshly ground beans into aluminum filter
Step 2: Add water
Step 3: Place over fire
Step 4: Let the pot percolate until you see steam coming from the top
Step 5: Remove pot
Step 6: Let cool for 5 minutes
Step 7: Enjoy!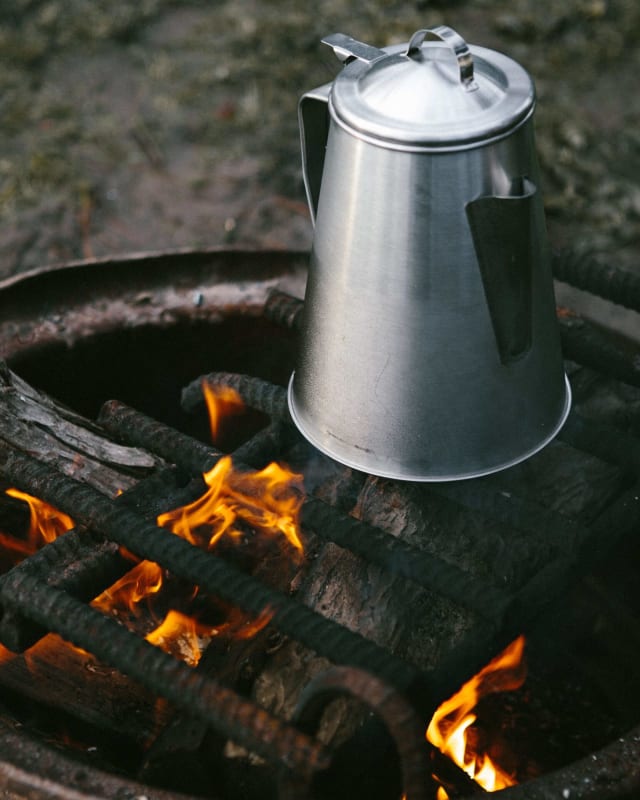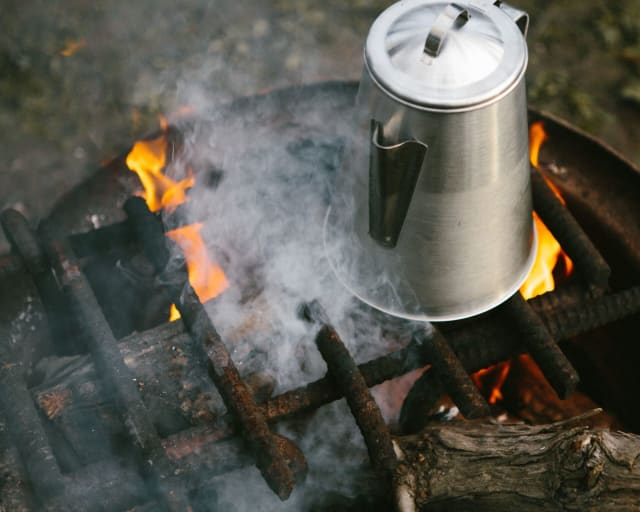 CAMPFIRE CHORIZO TACOS
INGREDIENTS
Cast Iron Skillet (x2)
Cheese Grater
Fresh Eggs
Chorizo from Simas Farms
Roasted Pepper Cheese from Petaluma Creamery
Green Chile Tortillas
Honey Maple Bacon
We purchased all of our local ingredients from Midtown Farmers Market in Sacramento, CA.
Pro Tip: Always bring cash to a Farmer's Market. Funny enough, our local egg vendor was cash only. When we mentioned we only had a card he suggested we trade his dozen eggs for something tasty from another local vendor! We were thrilled. However, this luck doesn't happen often. Always go prepared.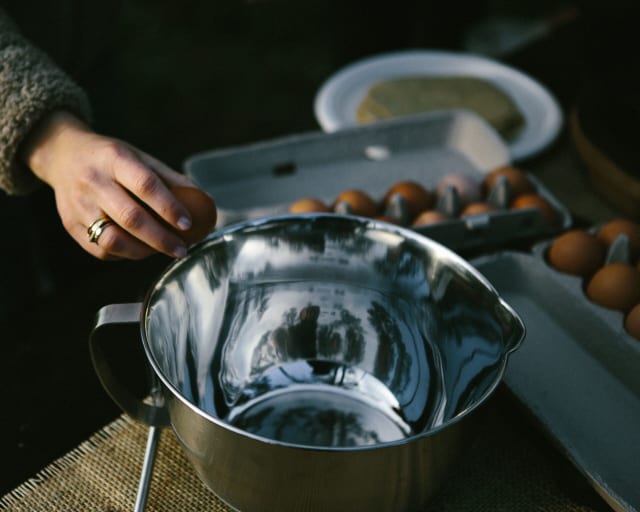 Valentine's Day Breakfast Recipe
Step 1: Crack eggs into a bowl.
Step 2: Beat eggs until blended.
Step 3: Grate cheese into bowl of eggs.
Step 4: Whisk together and place to the side.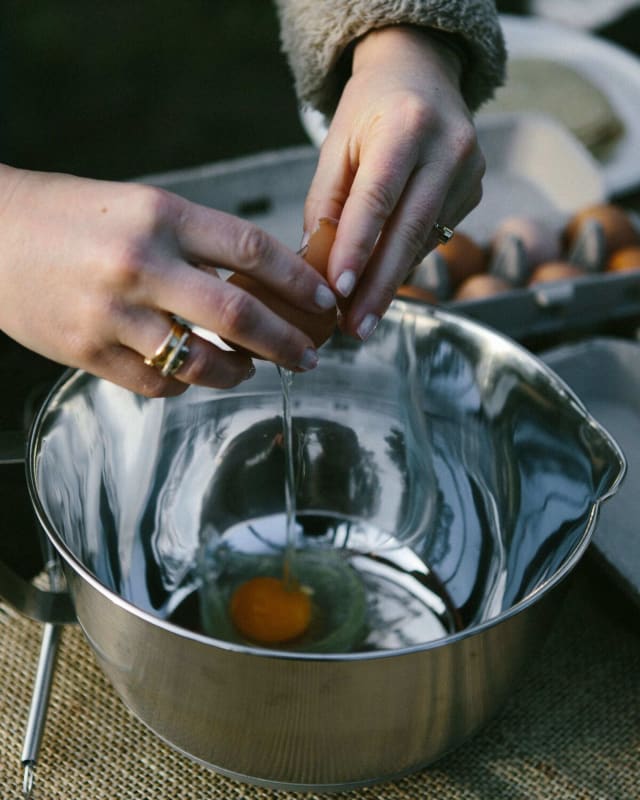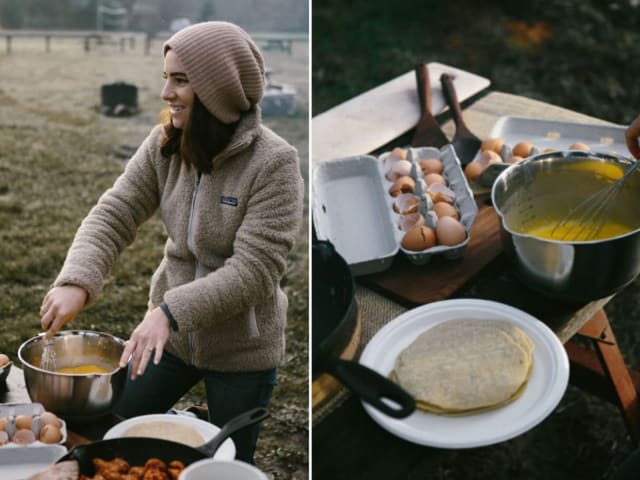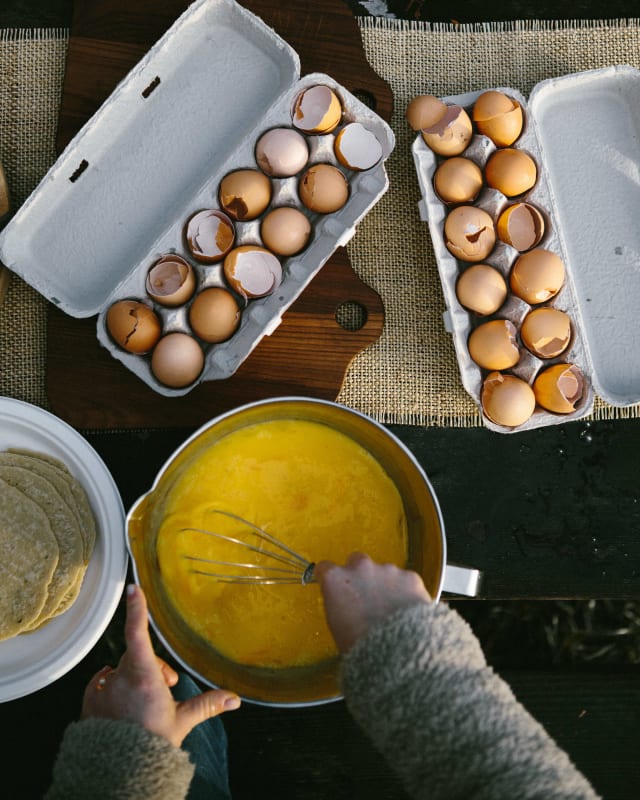 Step 4: Chop up chorizo and place in skillet.
Step 5: Add eggs and cheese gently into skillet.
Step 6: Place over fire.
Step 7: As your tortilla filling begins to set, gently pull the mixture across the pan with an inverted turner, forming medium soft curds of eggs, chorizo and cheese.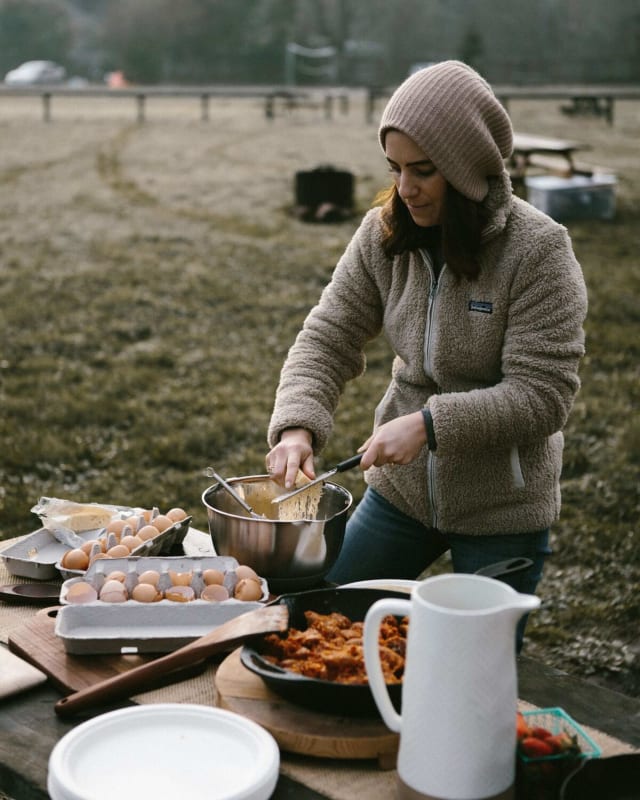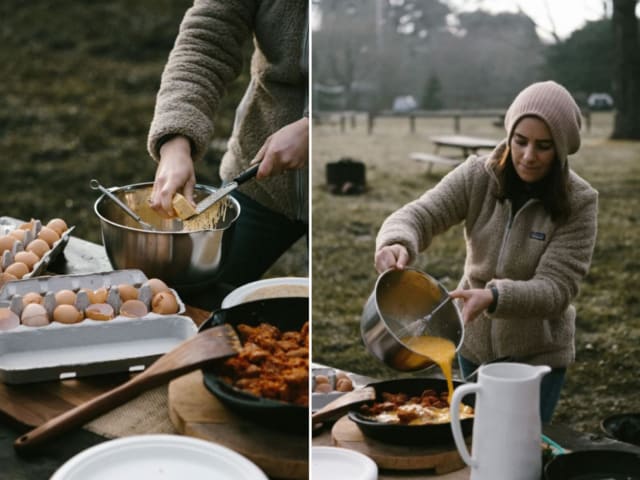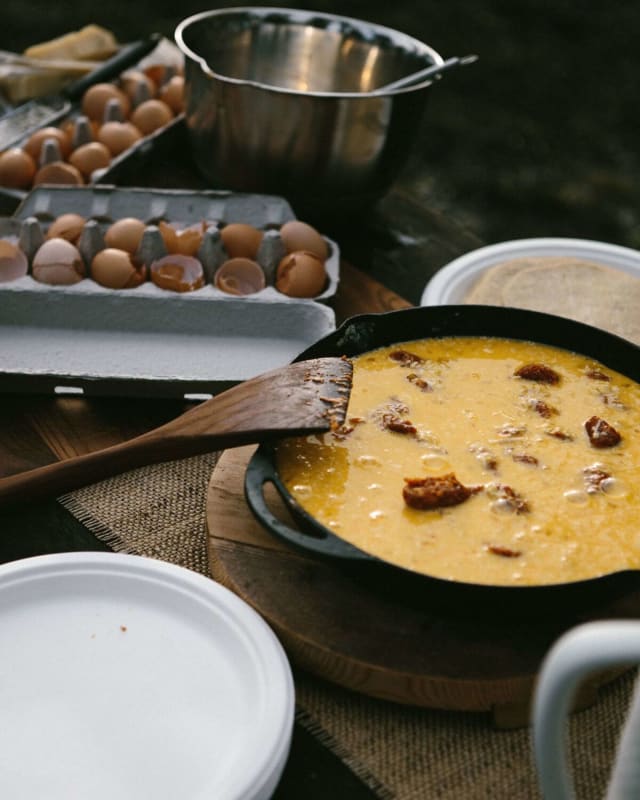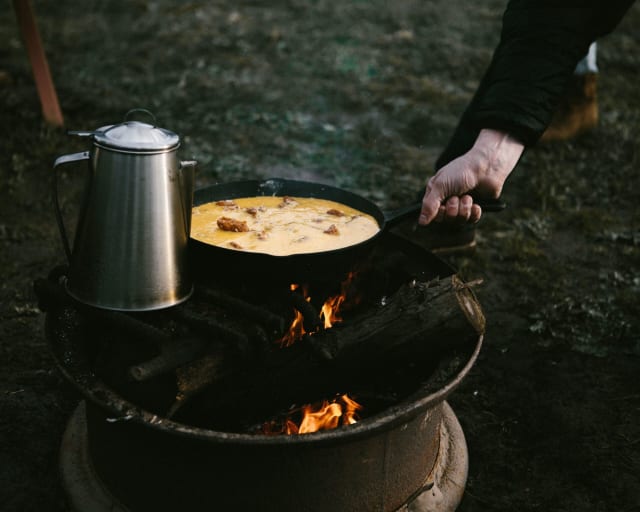 Step 8: Bring on the bacon! Place bacon strips in second cast iron, set over fire and cook to your liking. MMM that is a great looking  Valentines Day Breakfast.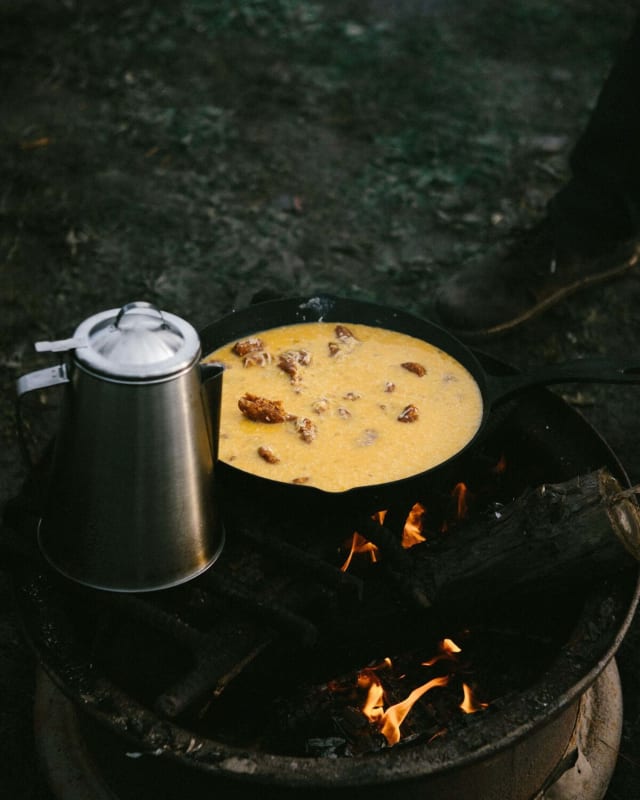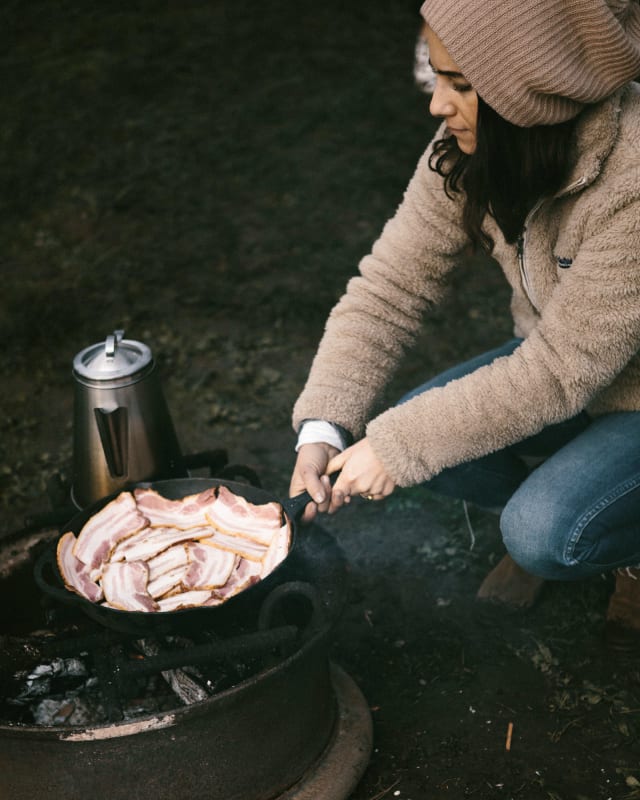 Final step: Place both skillets onto table and let your guests assemble their own tacos as they please.
Pro tip: If you can score some Chile Verde Tortillas from your local Farmer's Market we highly recommend it!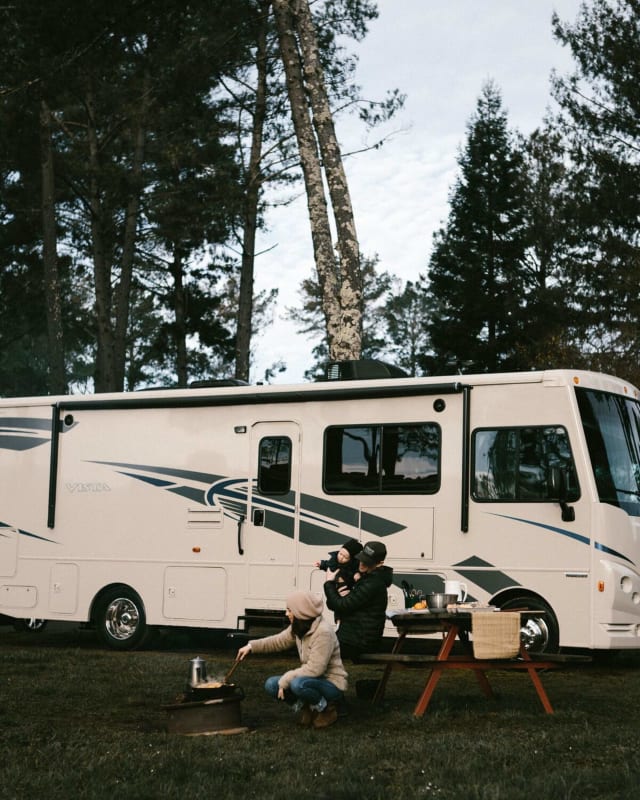 We hope you enjoy the spicy yet heavenly flavor of this easy morning recipe cooked over an open fire as much as we did. Happy Valentines Day from La Mesa RV!
Photography by Daniel Primero