The holidays are for spending time out in nature with loved ones, and what better way to bond than over making a festive treat with your family? With Christmas day around the corner (three to be exact), there's no better time to start planning your special treats and desserts for the family. We recommend unwrapping your gifts while devouring some healthy Grinch pancakes (made with spinach and yes, they are delicious). Follow your big Christmas meal with a delicious campfire apple dump cake, s'mores, and/or popcorn made right over the campfire. We also encourage you to sip on hot apple cider in between desserts, because what are the holidays if not to indulge in the simple pleasure of life? Explore these many delicious sweet treat recipes below.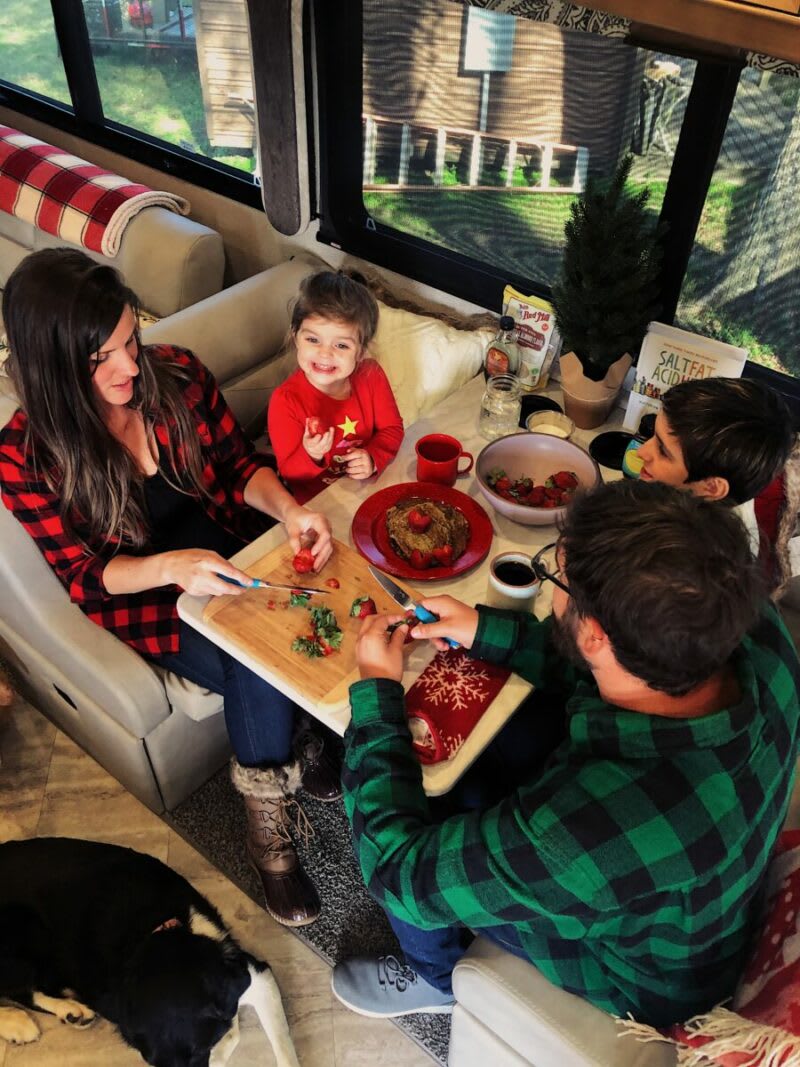 GRINCH PANCAKE RECIPE
These delightful and nutritious Grinch pancakes are (get ready) grain free, dairy free, gluten free AND refined sugar free. They're the ideal go-to Christmas morning breakfast item for those who are paleo as well as any other person we enjoys the sweeter things in life. The best part of this recipe is that is is super easy for kids to follow so bring them along the cooking process.
INGREDIENTS: 
– 2 cups almond flour
– 1/2 tsp baking soda
– 1/2 tsp sea salt
– 3 large eggs
– 1 Tbsp honey
– 1/2 cup water
– 1 cup baby spinach (packed)
– coconut oil for greasing (or any cooking oil)
– strawberries to top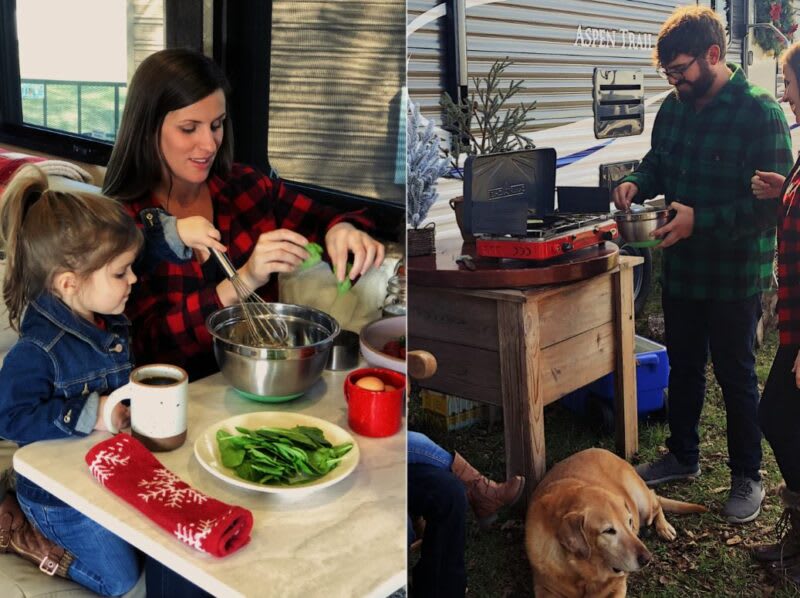 WHAT YOU'LL NEED:
– Mixing bowl
– Whisk
– Blender
– Knife
– Skillet
– Stove (or camp grill)
– A big Christmas day appetite!
STEPS:
1. Add almond flour, salt, baking soda, honey, water, eggs, and spinach to a blender.
2. Blend until smooth.
3. Heat skillet over medium and grease with coconut oil.
4. Pour 1/4 cup of pancake batter onto the grill.
5. Cook each flapjack for five minutes, then flip and cook for a remaining 2-3 minutes.
6. Cut your strawberries in half and top on each pancake.
7. Serve and enjoy!
CAMPFIRE APPLE DUMP CAKE
Get ready for the ultimate campfire dessert. The apple dump cake is a family favorite because it is bonkers delicious, can be done over the fire, and it's really easy to make. Get the kids involved in making this yummy sweet treat this Christmas day.
INGREDIENTS: 
– 1 box cake mix (white or yellow)
– 1 12.5 oz can of 7 Up or Sprite
– 4 to 5 red apples
– 1 tsp apple pie spice
– 1/4 cup brown sugar
– Ice cream to top (optional but recommended)
WHAT YOU'LL NEED:
– Campfire
– Dutch oven
– 1 Lodge Camp Dutch oven liner
– Knife
– Apple peeler
– Serving mugs
– Serving spoon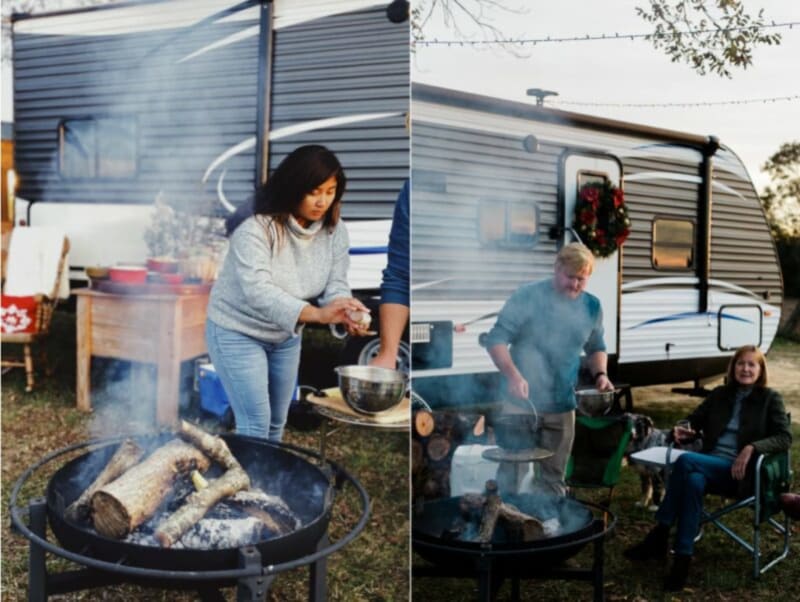 STEPS:
1. Start your fire and burn for at least 30 minutes to get hot coals burning.
2. Peel, core, and slice apples.
3. Place one Lodge camp Dutch oven liner in your Dutch oven.
4. Place apples, brown sugar, and apple pie spice in a bowl toss to combine, and pour into Dutch oven.
5. Dump cake mix over apple mixture – do NOT mix.
6. Pour 7 Up (or Sprite) on top. Again, do NOT mix.
7. Cover Dutch oven with lid.
8. Place oven over approximately 6-8 hot coals.
9. Place 12-15 hot coals on top of the lid.
10. Bake for 25 – 30 minutes.
11. When you begin to smell hot apple pie, your dessert is ready!
12. Carefully brush coals off the lid, remove the Dutch oven from all coals.
13. Serve immediately from the Dutch oven.
14. Top with ice cream for extra deliciousness.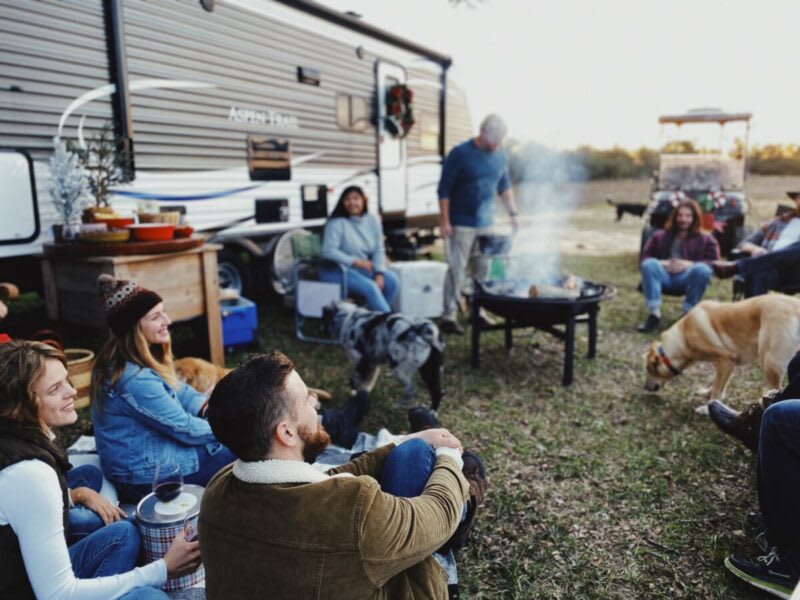 ADDITIONAL SWEET TREATS THAT ARE PERFECT FOR THE HOLIDAY SEASON
These additional desserts really bring the Christmas spirit. Simple and easy to make, you can start a new holiday tradition by roasting s'mores over the campfire on Christmas Eve, making hot apple cider (which can be spiked for adults if you're feeling a hard cider and are not driving), and popping popcorn at your campground. The classic candy cane is also necessary to have to laying around your RV for a late-night snack (and of course for Santa) this holiday!
We want to wish you and yours a very Merry Christmas and happy holidays!