Who doesn't love a cold, tasty, after dinner dessert while RVing? Finding a good, store-bought Keto ice cream is tough, especially when you're on the road. Instead of opting for one made with erythritol, which usually makes ice cream dense and hard, you can easily make your own soft and creamy Keto ice cream from the comfort of your RV.
We optimized The Diet Chef's original recipe to fit your RV lifestyle. Make this easy and tasty dessert with the whole family, your friends or when on a solo road trip. It's the perfect treat after a long day driving or hiking. This recipe is part of La Mesa RV's new YouTube cooking series. Be sure to subscribe to both our Experience Life Blog and YouTube channel for notifications on recipe releases!
EASY KETO PEANUT BUTTER ICE CREAM FOR THE RVER
You may be thinking that you need an ice cream maker to make this ice cream, but you don't. It's quick and easy to make in any RV. By shaking the five ingredients together for three minutes, you can bypass purchasing an expensive and spacious ice cream maker. When choosing your ingredients, opt for organic heavy whipping cream and organic peanut butter to optimize the nutrition of this tasty treat and to minimize chemicals and pesticides in your diet.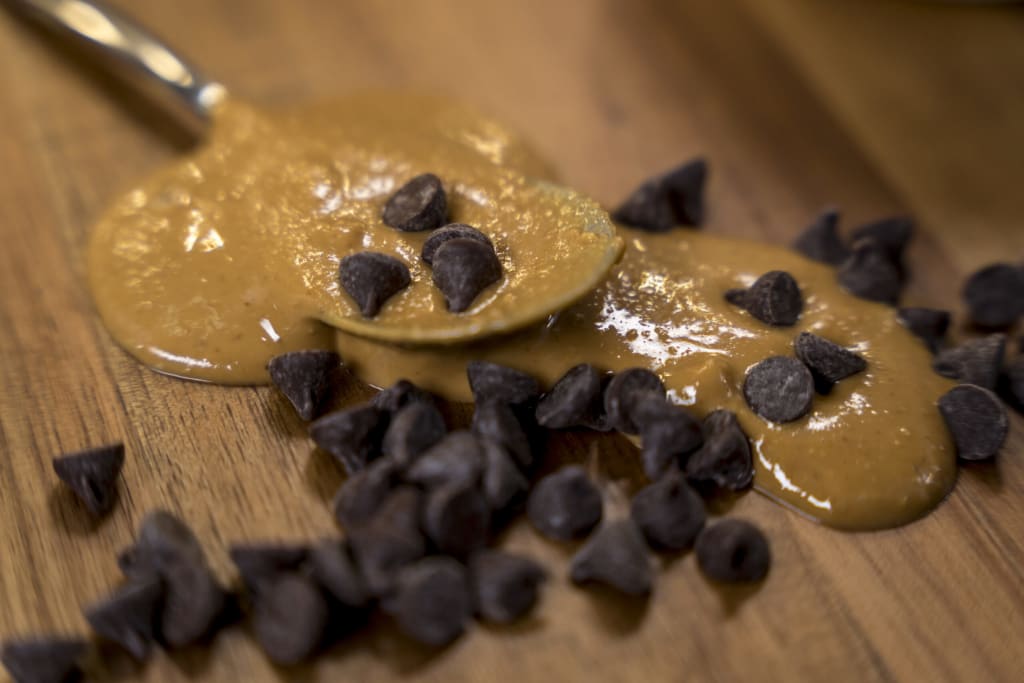 DETAILS:
The key ingredient in this recipe is allulose. This sweetener is naturally found in wheat, figs, raisins, maple syrup and jackfruit. This "rare sugar" has a sweet taste that you'd expect from sugar but without the calories. Great for those on a low carb or keto diet, as well as those watching their blood sugar, this sugar substitute can be purchased at specialty grocery stores such as Sprouts or Trader Joe's and can be ordered online.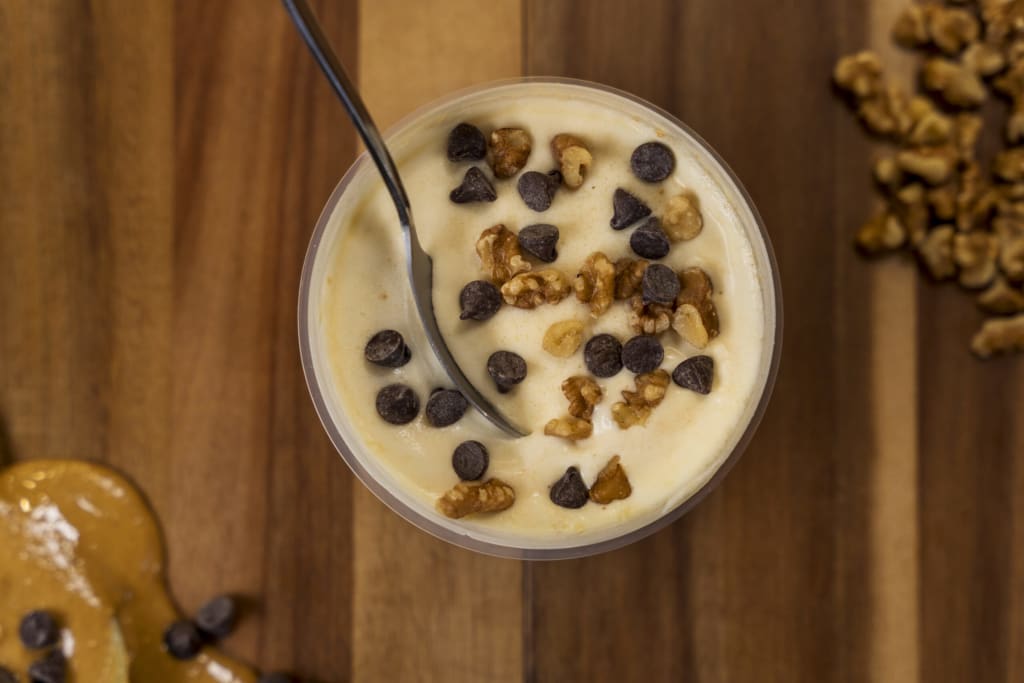 Disclaimer: La Mesa RV has no connection to any of the companies, brands or products listed in this recipe, blog post and video, and does not receive any financial consideration from the companies, brands, and products mentioned. No endorsement of La Mesa RV by the companies, brands and products mentioned should be assumed. 
RECIPE: EASY KETO PEANUT BUTTER ICE CREAM
Ingredients for 1 pint – approximately 14 ounces (2 to 4 servings):
– 1 Cup Heavy Whipping Cream
– 1/2 Tsp Vanilla Extract
– 3 1/2 Tbsp Fresh and Natural Peanut Butter, unsweetened and unsalted
– 1/3 Cup + 1 Tbsp Allulose Sweetener (or Allulose-Stevia sweetener blend)
– Pinch of Salt
OPTIONAL FLAVOR ADD-INS:
– 1/4 Cup Sugar-Free Baking Chips
– Enlightened Keto Cookie Dough Bites
– 1/4 cup Pecans, Walnuts, Hazelnuts or Macadamia Nuts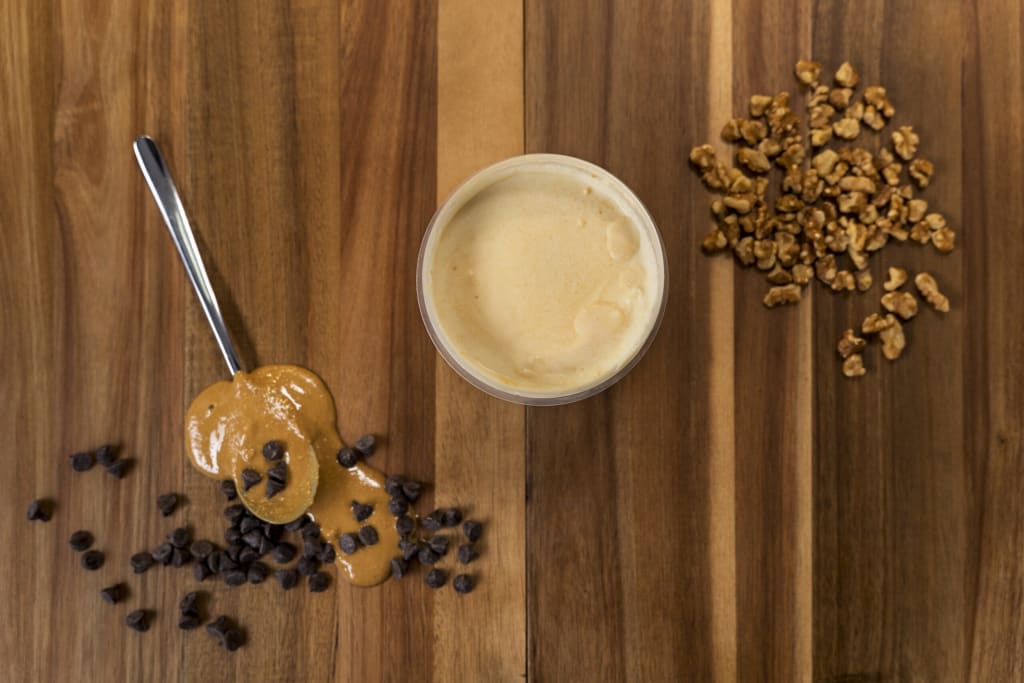 INSTRUCTIONS (step-by-step):
1. Add the heavy whipping cream to a 16 fluid once plastic screw-top food storage container or mason jar.
2. Add the vanilla extract, peanut butter, allulose sweetener and salt.
3. Use a spatula to scrape any peanut butter loose from the sides and bottom of the container.
4. Screw the lid on the container tightly and shake vigorously for three minute or until the heavy cream thickens up and the peanut butter is well integrated.
5. Freeze for at leave 4-6 hours (or longer) making sure the ice cream has fully solidified.
6. If you're using some optional add-in's it's best to add them after the ice cream has been in the freezer for about 2 to 3 hours. That way the ice cream is still somewhat soft, but not so soft that the toppings fall to the bottom.
Note on Sweetener: You can substitute an erythritol-based sweetener for the allulose sweetener, but erythritol sweeteners typically cause the ice cream to freeze more solid and hard instead of staying soft and creamy like regular ice cream. If you don't use allulose, you may need to let the ice cream sit out at room temperature for 15-30 minutes to soften and regain its creaminess.
Note on Peanut Butter: It's best to use freshly opened and stirred natural peanut butter that is runny. Make sure the only ingredient is peanuts and that it has no added sugar. Older, already long-ago opened peanut butter tends to clump and not integrate as well.
Note on Quantity: You can easily double this recipe and use a 1-quart (32 fluid-ounce) container to hold it.
START-TO-FINISH TIME: 15 minutes prep / 4-6 hours until ready to eat
NUTRITION FACTS:
COOKING TOOLS NEEDED:
– 16 fluid ounce plastic screw-top food storage container
– 1 or 2-cup liquid measuring cup
– Measuring spoon set
– Measuring cup set
– Dinner knife (to stir fresh and natural peanut butter within its jar)
– Small silicone spatula
– Timer (on phone or separate kitchen timer)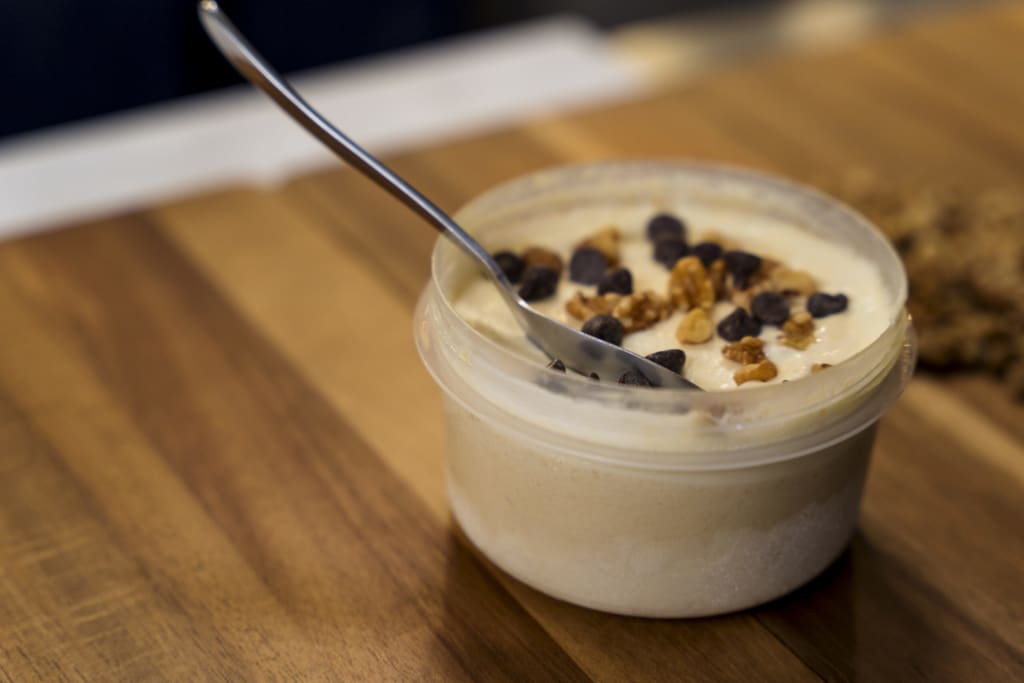 RV LIFESTYLE TIP: BUY ORGANIC DAIRY PRODUCTS INSTEAD OF CONVENTIONAL 
Studies have found that organic dairy products have a healthier nutrition profile than conventional dairy products. Why? Organic milk has been found to contain less omega-6 fatty acids and more omega-3 fatty acids. You want a ratio of higher omega-3's and lower omega-6's to help maintain cardiovascular health and to support your immune system.
Looking for more Get Cookin' recipe videos to elevate the way you eat while RVing? Click here for our YouTube playlist.